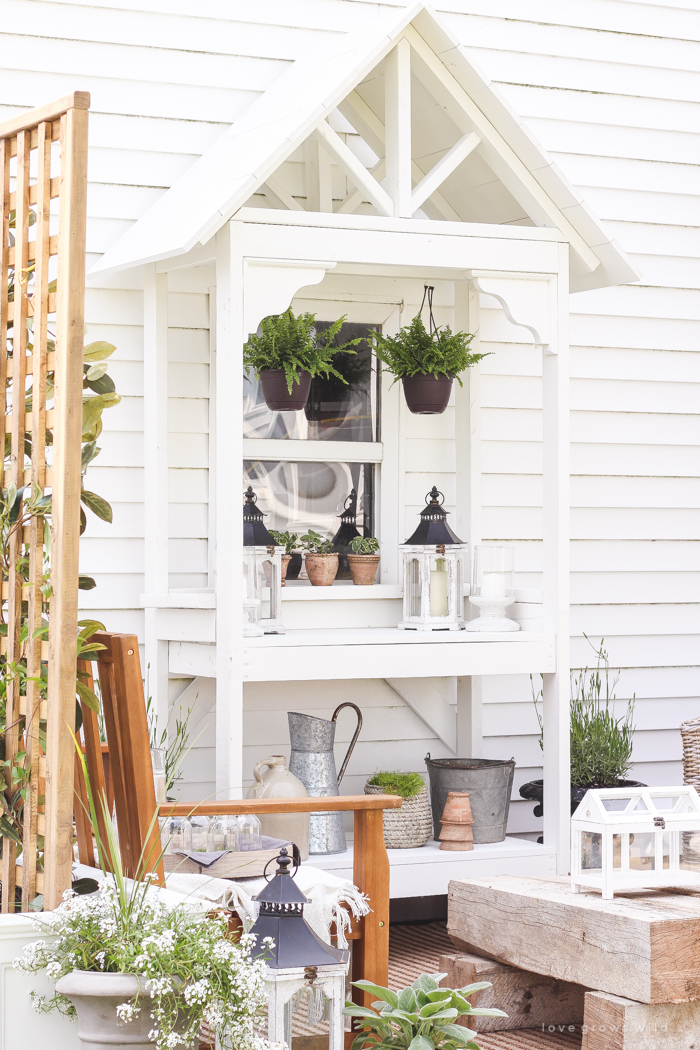 Hi, sweet friends! I have been working behind-the-scenes for weeks now on a big project that I am so excited to share with you today. I am joining 9 amazingly talented bloggers for a Summer Patio Makeover Tour sponsored by Joss and Main and featured by Country Living!
Here are the homes we'll be visiting on this patio makeover tour:
Ella Claire | French Country Cottage | Love Grows Wild | Rooms FOR Rent | My Sweet Savannah
Craftberry Bush | City Farmhouse | Jenna Sue Design | Dear Lillie | Kindred Vintage & Co.
Each day, one blogger will share their patio makeover and plus tips for creating the perfect outdoor living space. These ladies created some gorgeous patios, and I think you will be very inspired!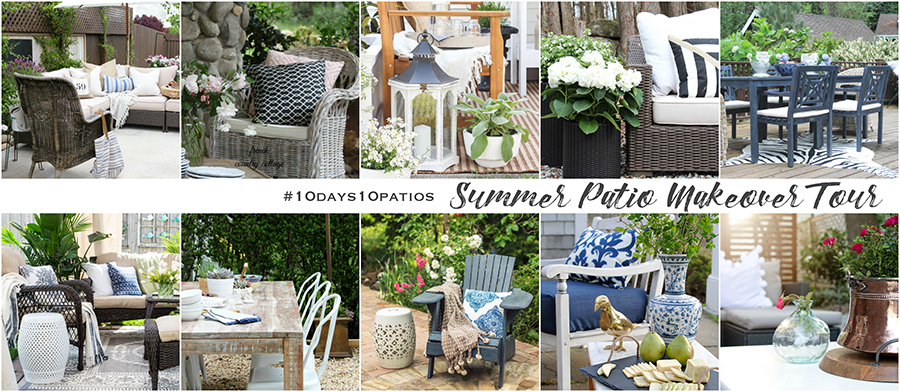 Note: Some of the links in this post are affiliate links, which allows me to make a small commission from your purchase, but your purchase price stays the same. Thank you for helping support our blog!
Our patio started out pretty sad this spring. We have a small slab of concrete on the side of our garage that wasn't used for much more than storage over the last few years.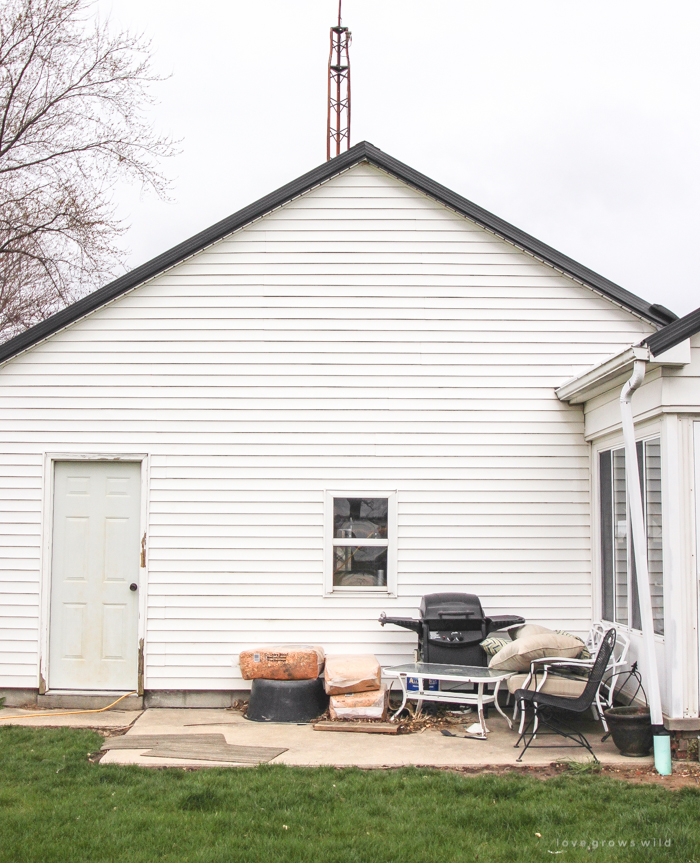 Once we cleared off all the junk and gave it a good cleaning, I started thinking about what I wanted this space to be. Somewhere to gather with friends and relax on summer evenings. A place to drink my coffee in the mornings. A space to grow plants and flowers and enjoy the beauty of nature.
I purchased many of the items for our patio (so you can re-create this look at home!) and also built a few of the pieces with Jeremy (I'll have tutorials on them coming soon!). Let's dive into the details of this patio makeover!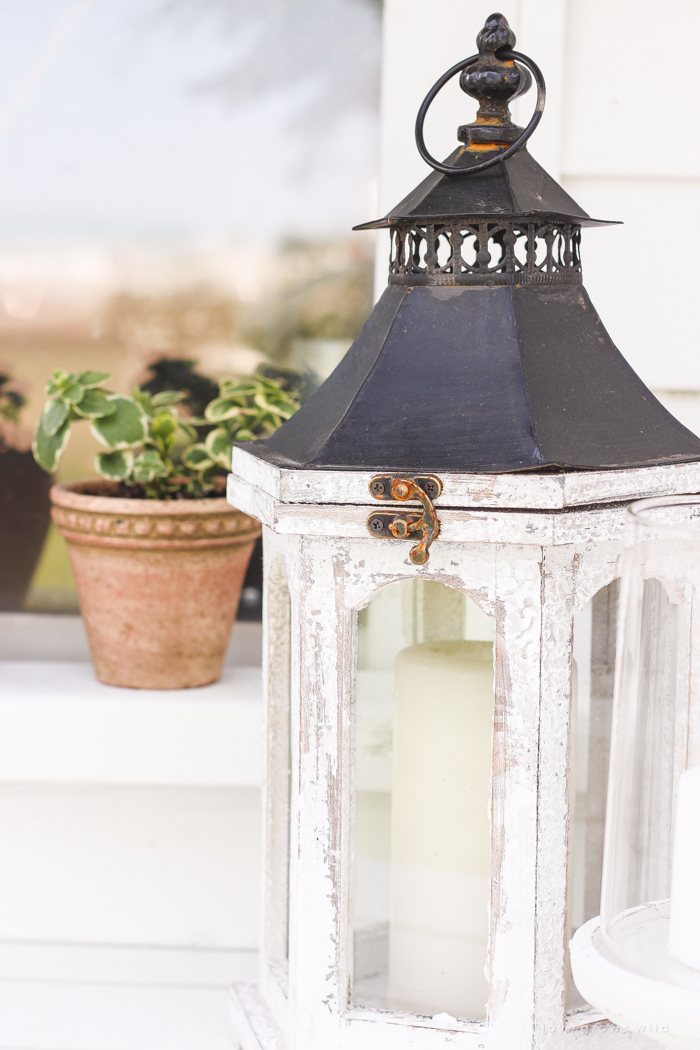 I started by creating a seating area with a large wood bench and two wicker chairs. I wanted to really warm up the space with wood tones since the gray concrete and white siding made the space feel cold and uninviting.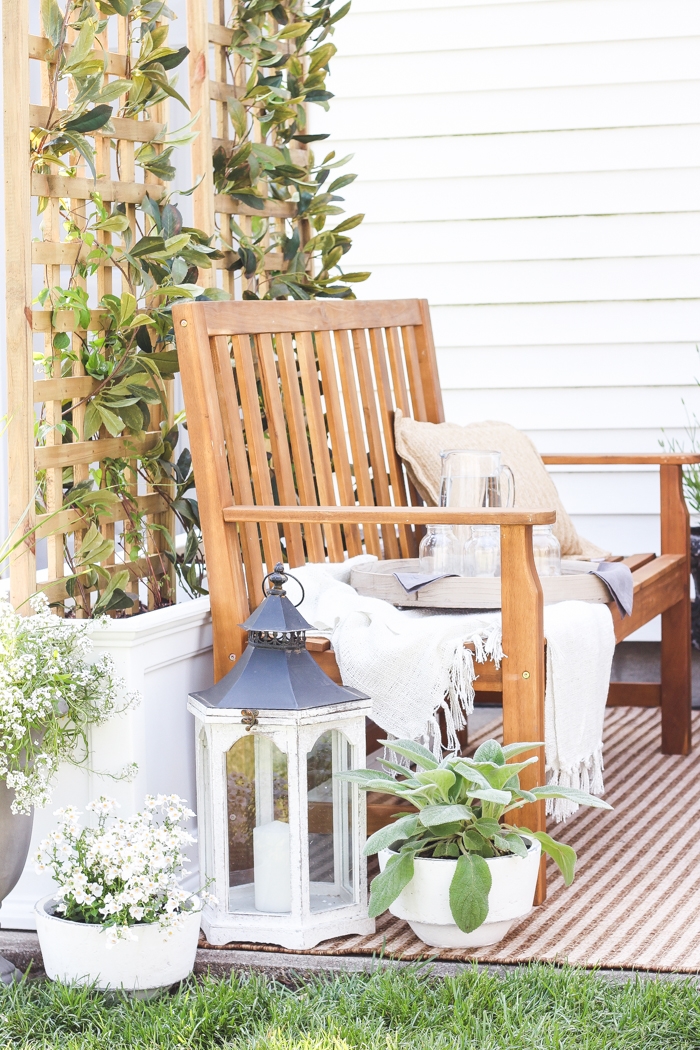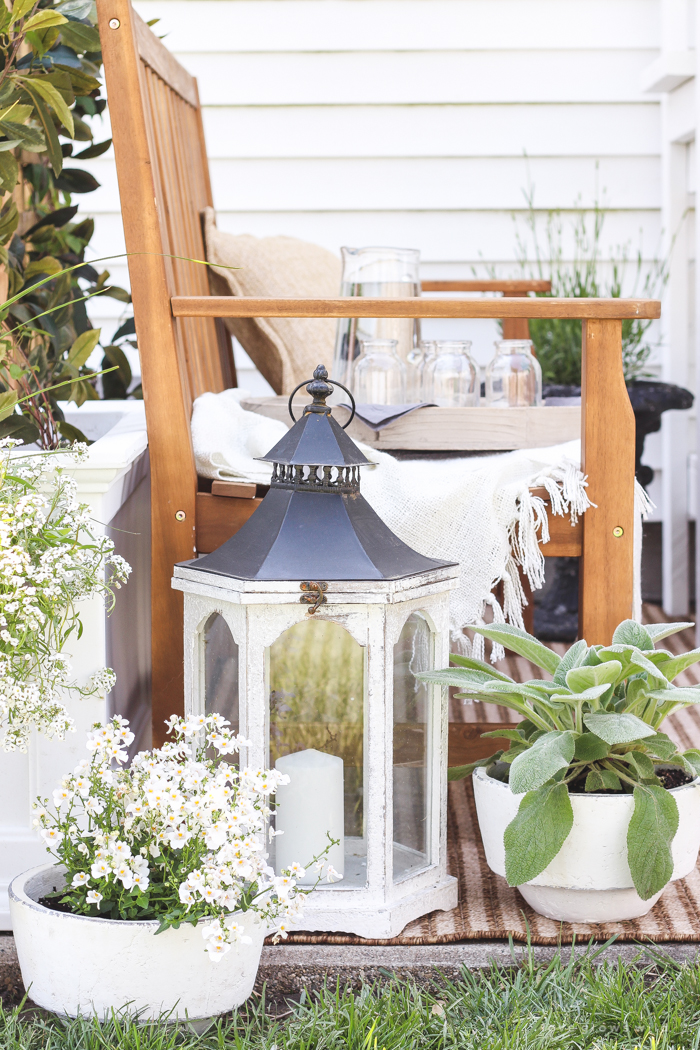 To help define the patio space and make it feel more cozy, I picked up two large rectangular planters and added trellis to them. I set the planters on the left edge of the patio, creating a backdrop for the bench and hiding our dogs' fenced-in area that sits just on the other side of the patio. I planted clematis in the planters, and my hope is that over summer the vines will fill the trellis and become a gorgeous "living wall". It is still early in the growing season, and the vines are looking pretty sparse right now, so I added some faux greenery in the trellis for these photos to give you an idea of what it will look like once the vines really take off. I can't wait to see the flowers bloom!
I posted a tutorial for the trellis planters here with more details on how I built them and how I got them to stand upright. It was a really simple project that added a ton of charm to this space! I also painted the dingy old garage door with Rust-Oleum's Door Paint in the color Iron Stone, which added some much need color (although neutral) to the white siding.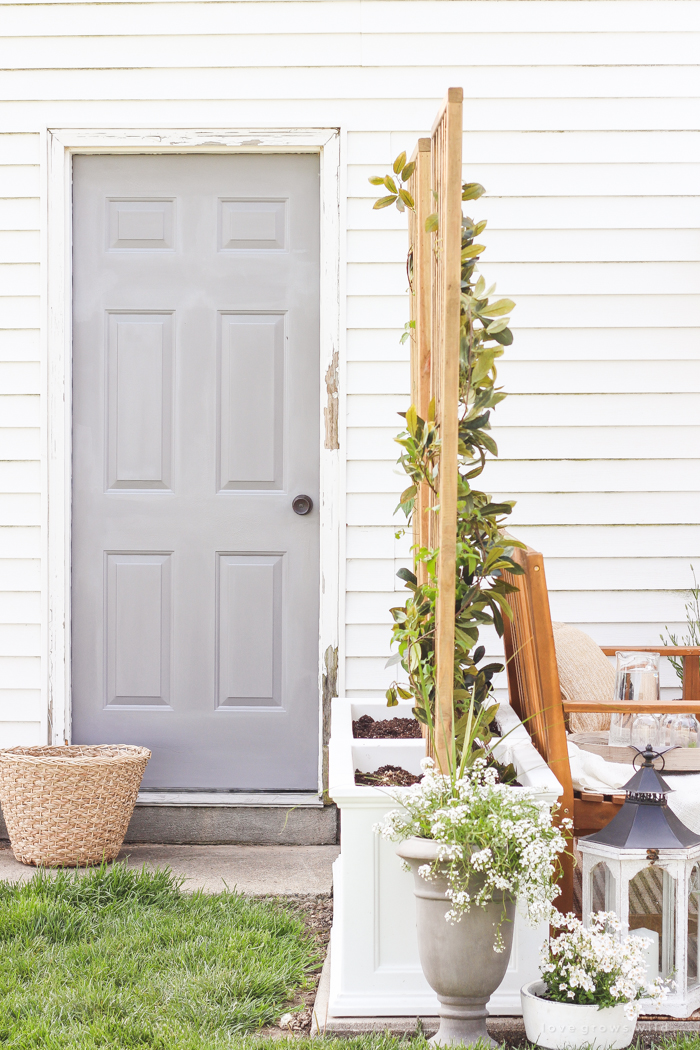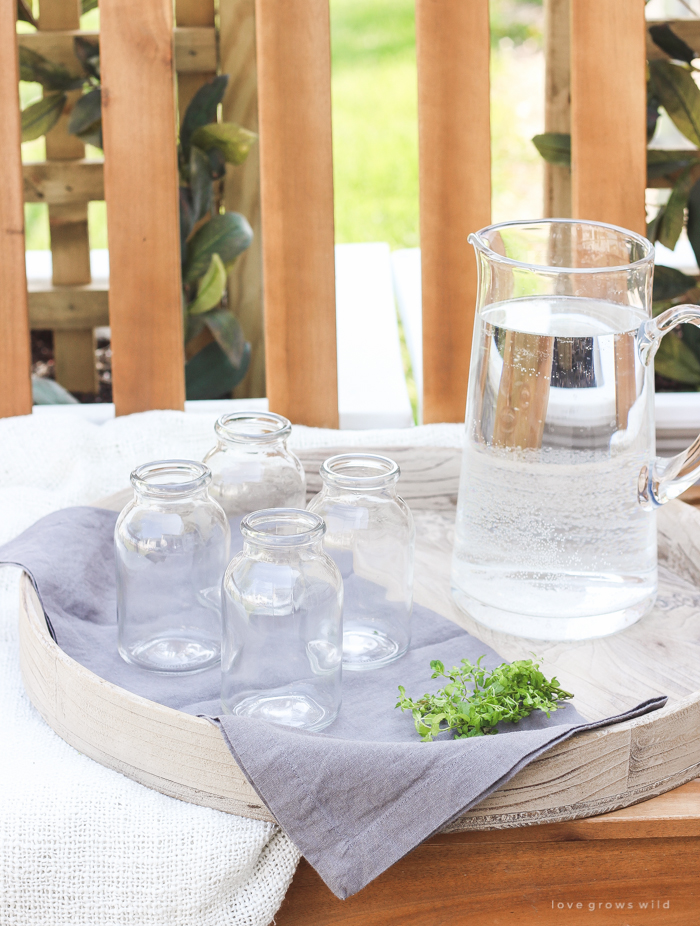 The other piece we built for our patio was this big, beautiful potting bench. You guys… I can't even begin to describe how proud I am of this build! I knew I wanted some kind of cart or potting bench to go against the back wall, and I envisioned this sweet, cottage-style piece with tons of charm and character. I started doing some sketches and came up with this design that features corbels, little side shelves, and a roof with beautiful detailing. I built the entire bottom of the potting bench by myself, and Jeremy helped design and put together the roof. I love so much when Jeremy and I get a chance to collaborate on projects like this for our home. Every time I see them, it brings back such sweet memories!
I'm calling this piece a "potting bench", but it really can serve so many purposes. I used it as a workstation as I was planting things for the patio makeover, but it is also a great storage piece and would be perfect for serving food and drinks when you have company over! I added hooks inside to display some hanging baskets and decorated the potting bench with these lanterns, candle holders, small pots, braided pot, and metal watering jug, all from Joss and Main.
You can find the full tutorial for the DIY Potting Bench here!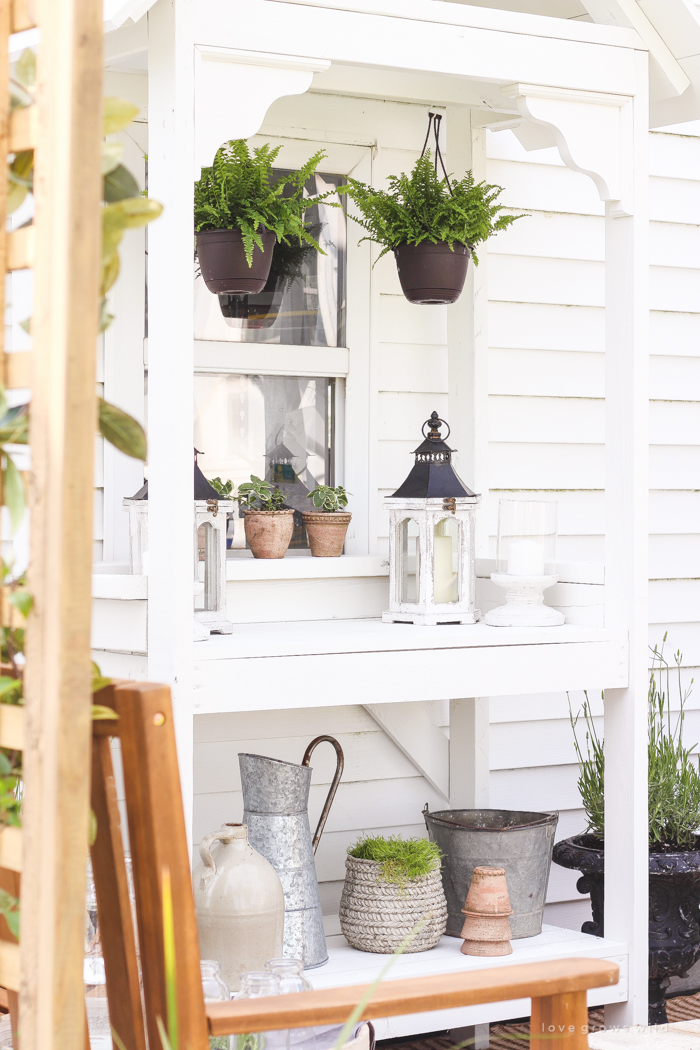 I needed a small coffee table for the patio and decided to keep it simple with some old barn beams stacked together. If you follow me on Instagram, you may remember this photo of Jeremy and I in one of our barns recently chopping up some of the old lumber we have stockpiled. The big, thick beams add the perfect touch of rustic charm to our patio, and I just love that they came from our farm!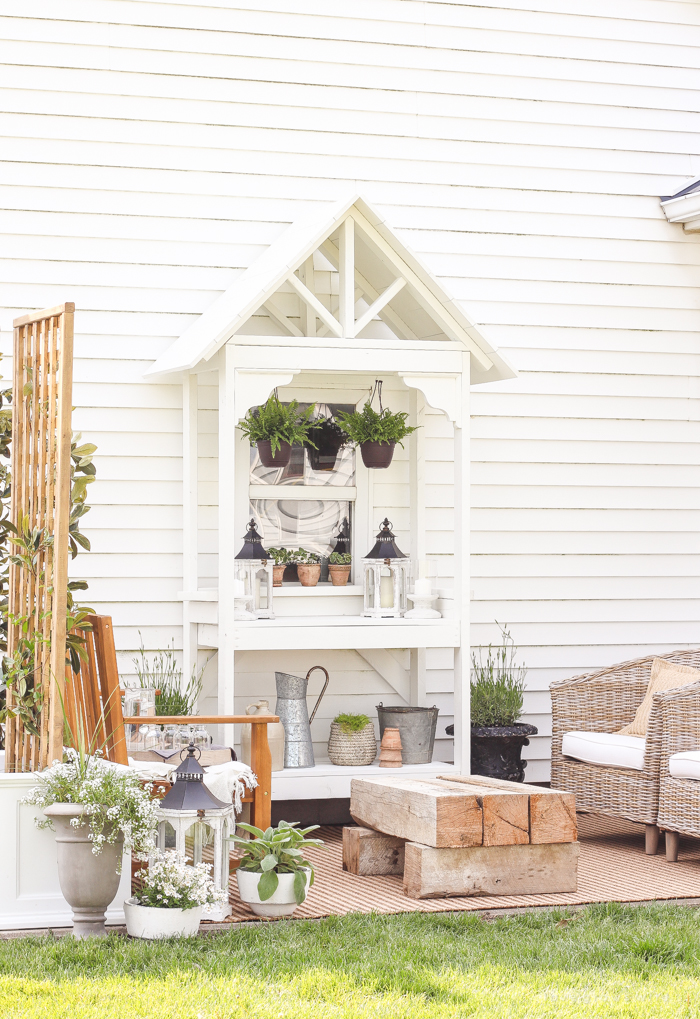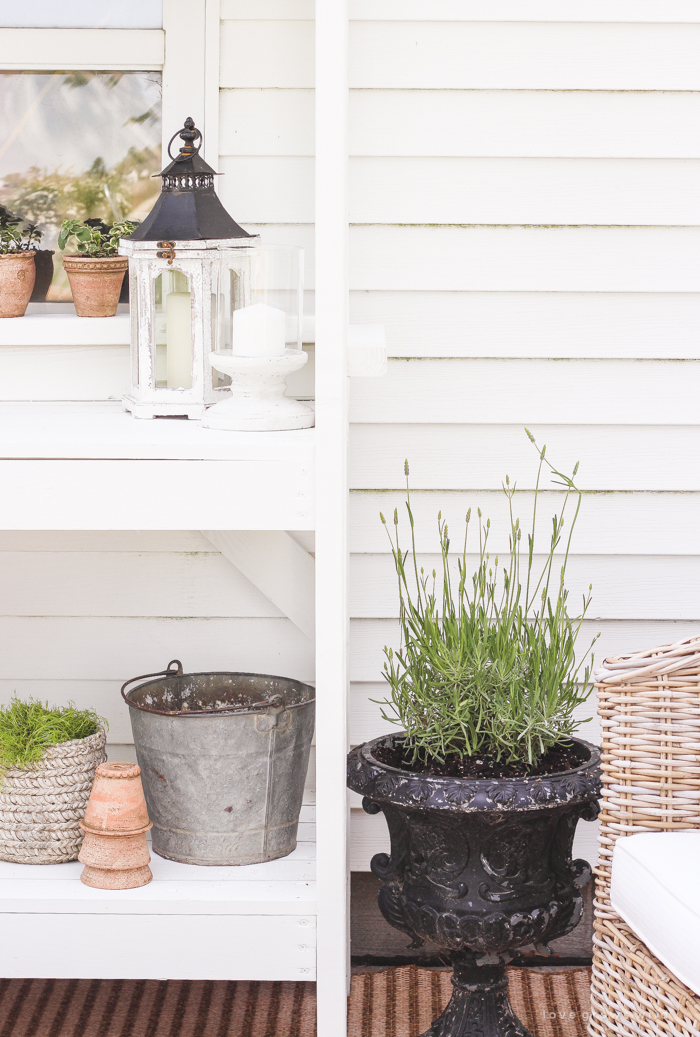 I created little groupings of potted plants and flowers, lanterns, and watering cans to decorate either side of the patio in front of the seating. It is such a pretty and inviting entrance to our outdoor space!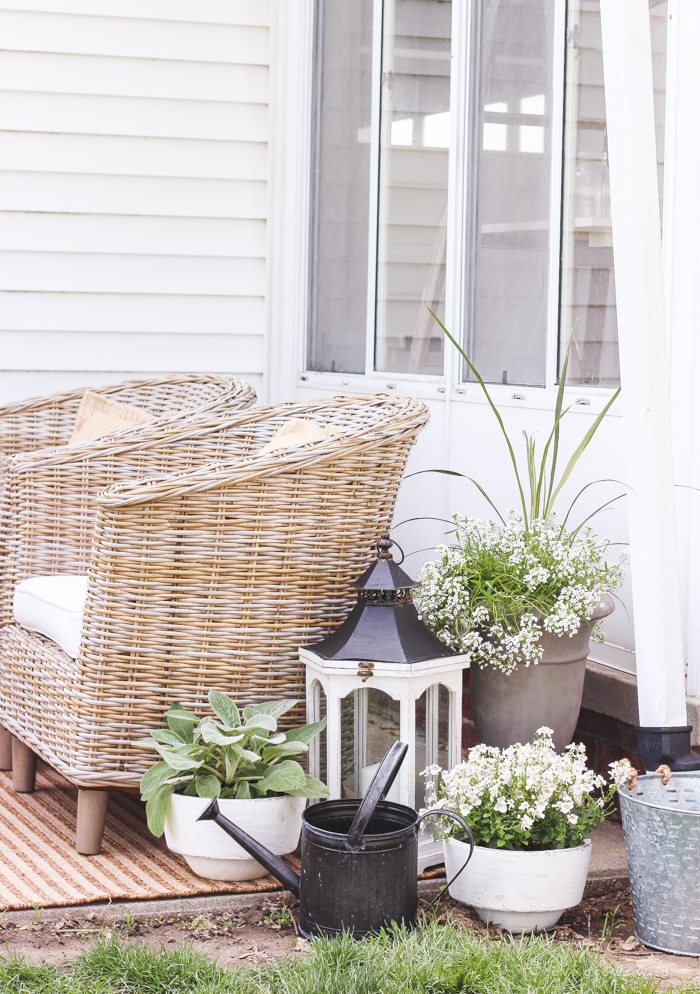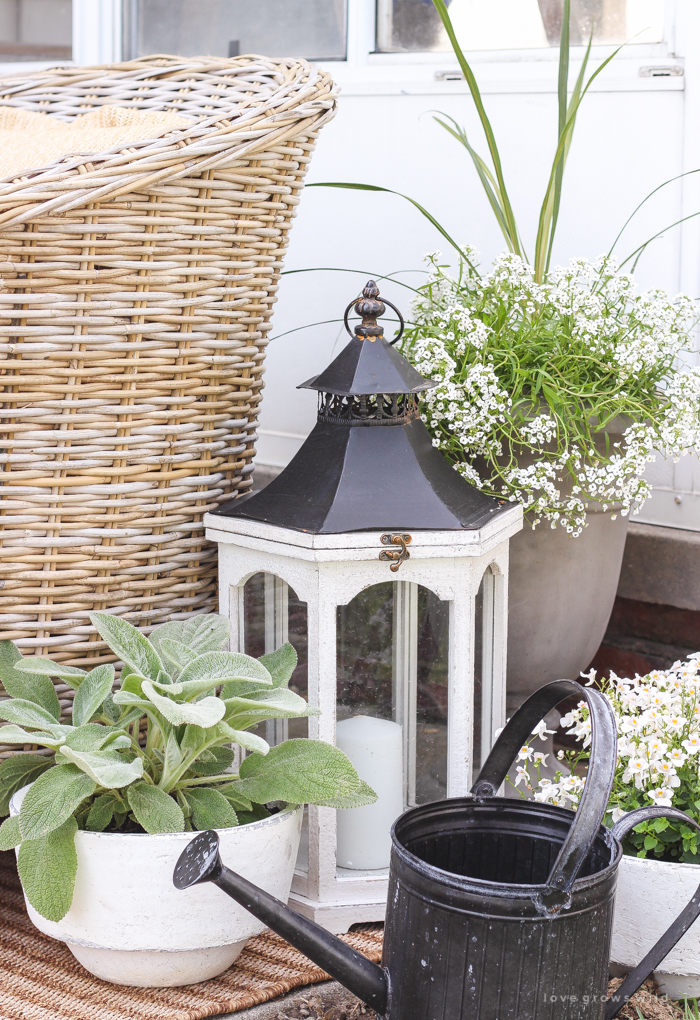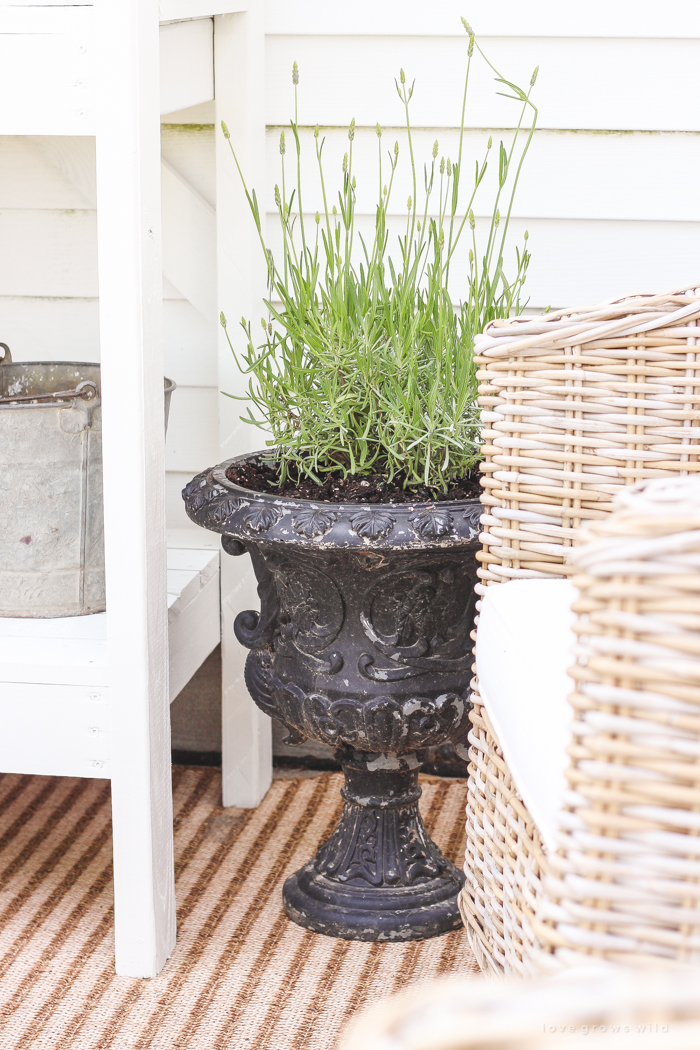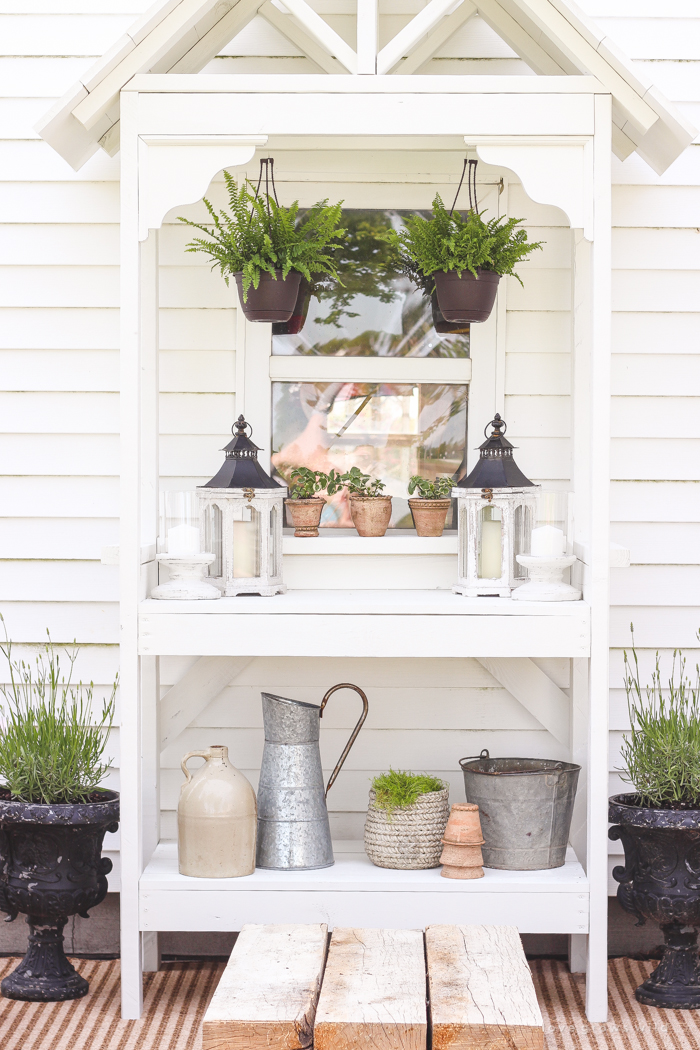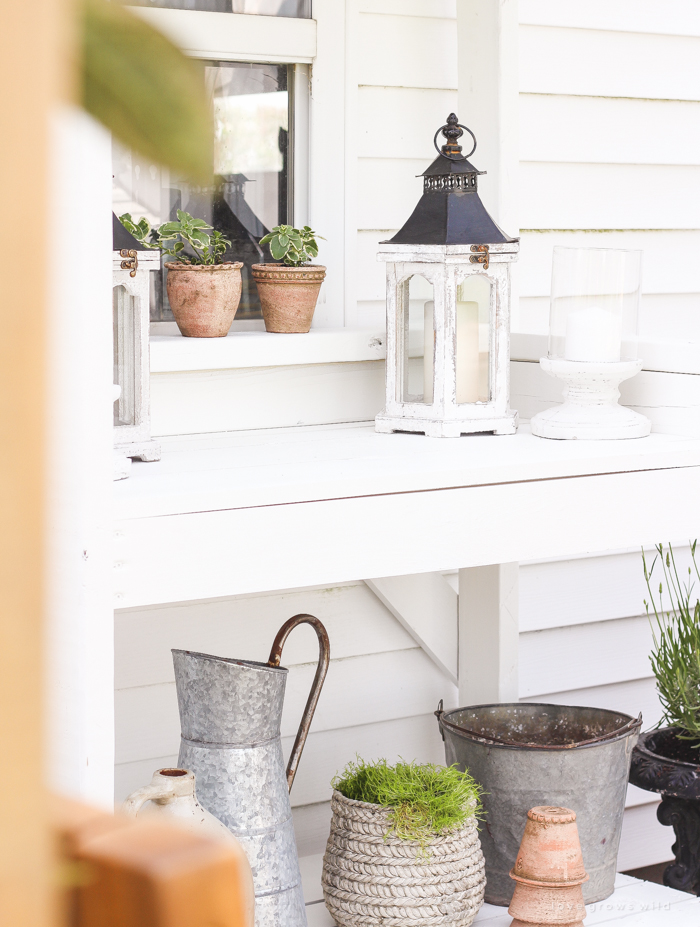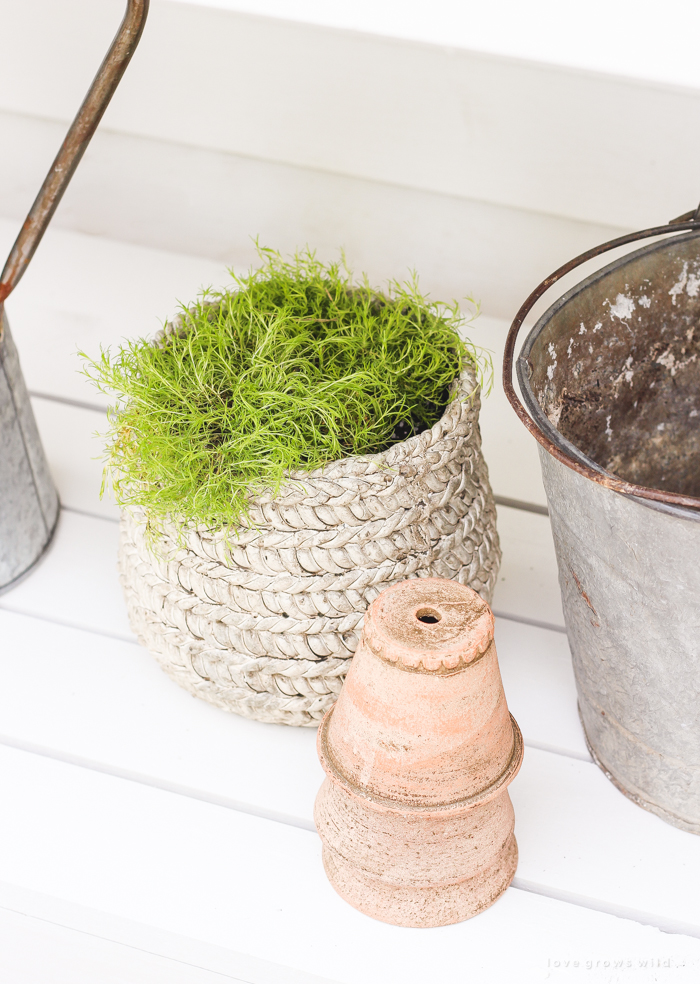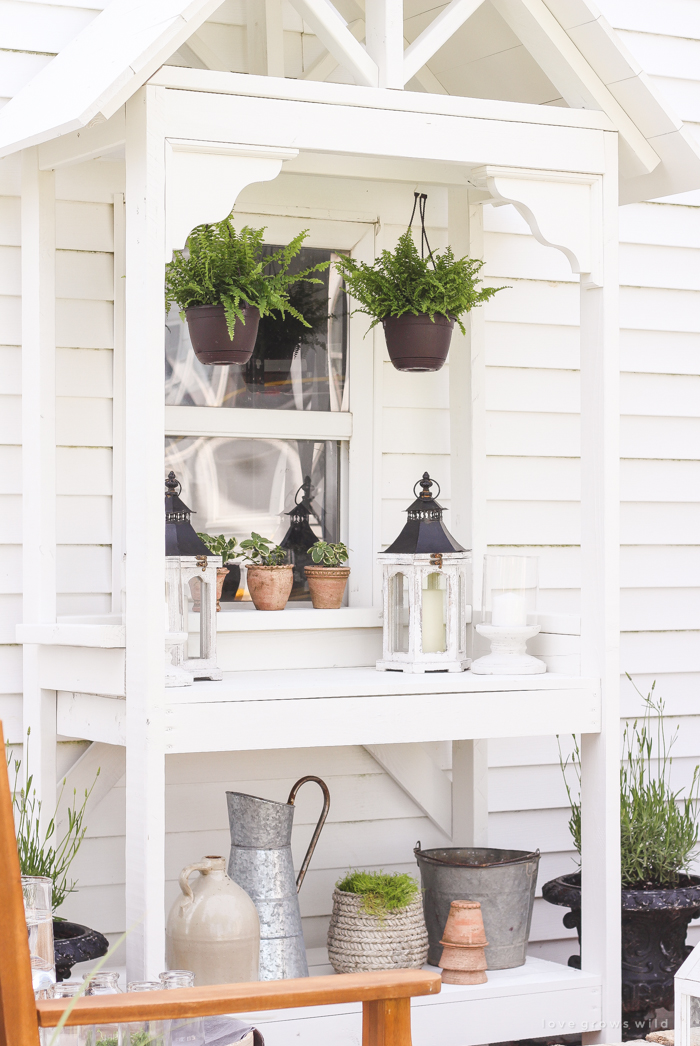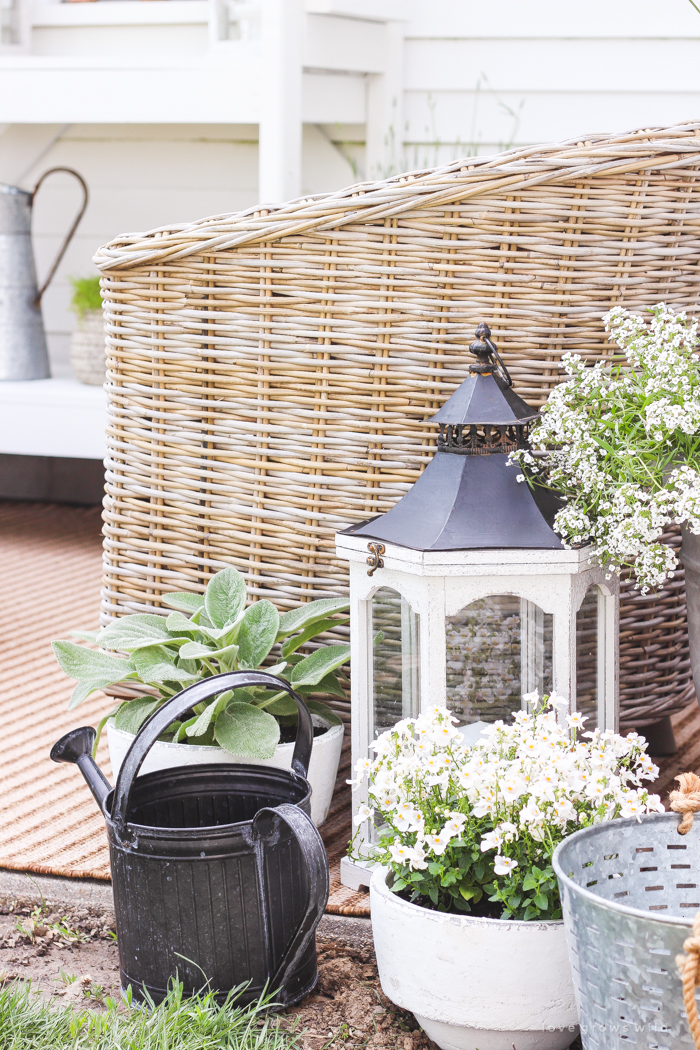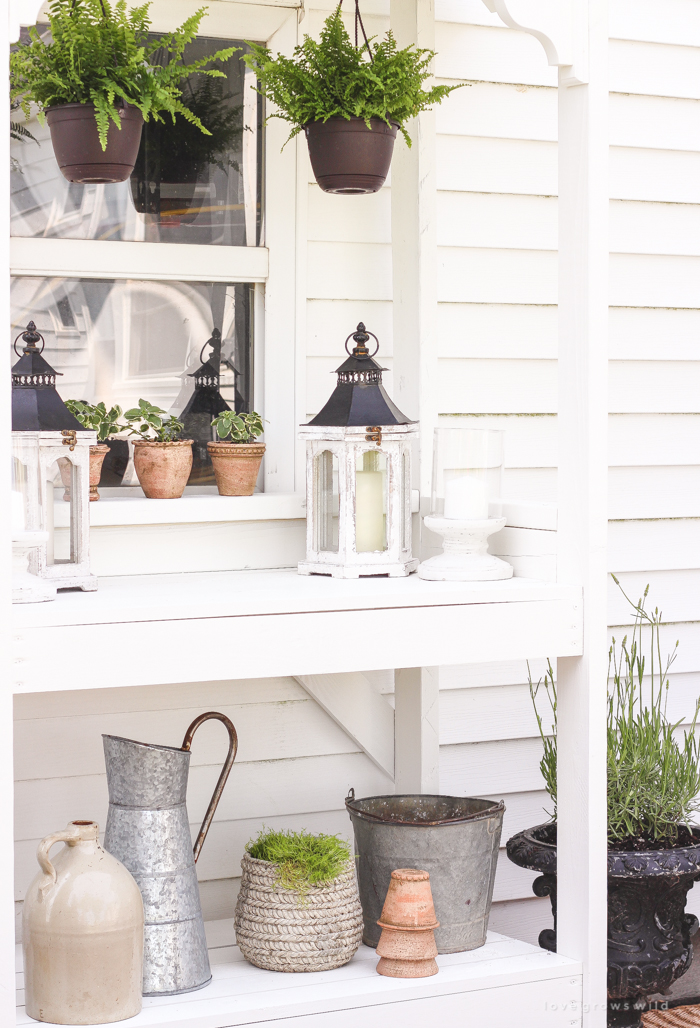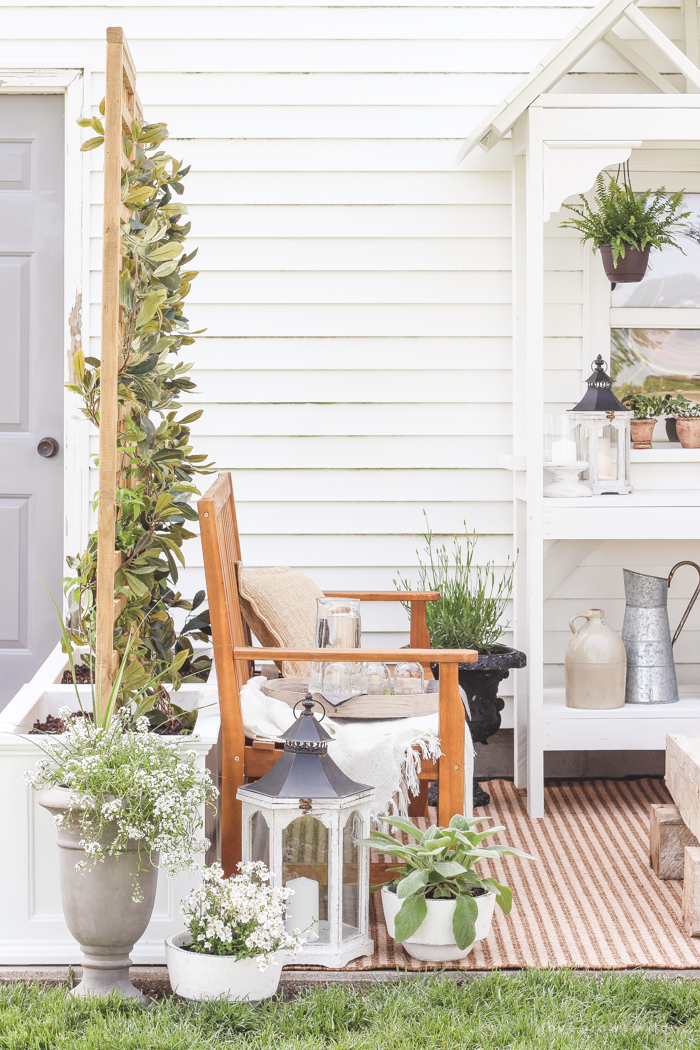 (items also pictured: fringe throw blanket + round wood tray)
Now that our patio is all finished, I feel like we gained an extra room in our home for the summer. I imagine we'll be spending quite a bit of time out here, and I cannot wait to entertain guests and watch as our plants and flowers flourish. I am really going to do my best to become a better gardener and keep everything watered this year!
I hope you've enjoyed seeing more of our little farmhouse today and that you will follow along with the patio makeover tour! Yesterday, French Country Cottage shared her gorgeous garden-inspired patio, and tomorrow Rooms for Rent will be showing us her big makeover!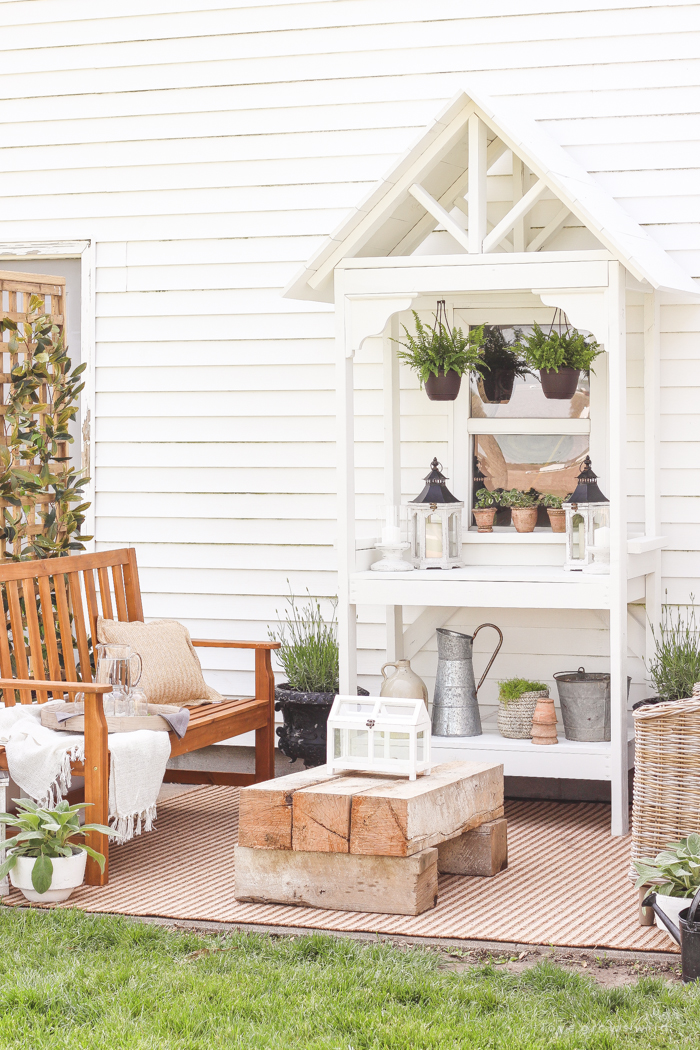 I'd love to hear your feedback… What was YOUR favorite part of the patio makeover? Leave me a comment below! Thanks for visiting, sweet friends!

---
LET'S KEEP IN TOUCH!
Subscribe to Blog | Browse my Shop | Follow on Facebook | Follow on Twitter
Follow on Google+ | Follow on Pinterest | Follow on Instagram