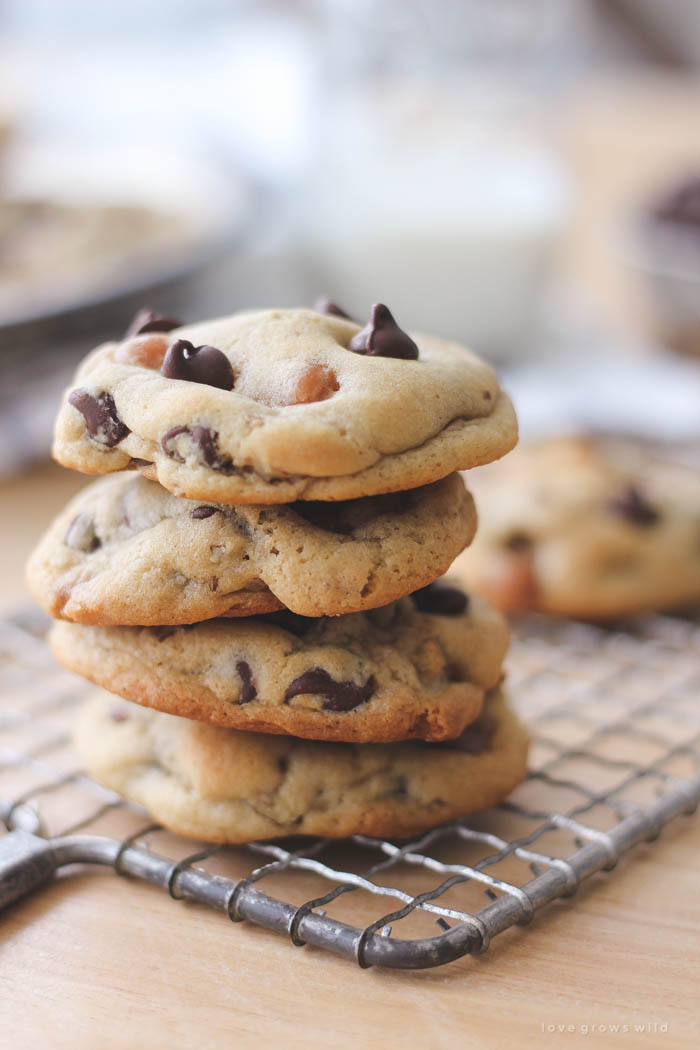 There's nothing better than the smell of freshly-baked chocolate chip cookies coming out of the oven, but these soft and chewy cookies are made extra delicious with the addition of caramel bits and pecans!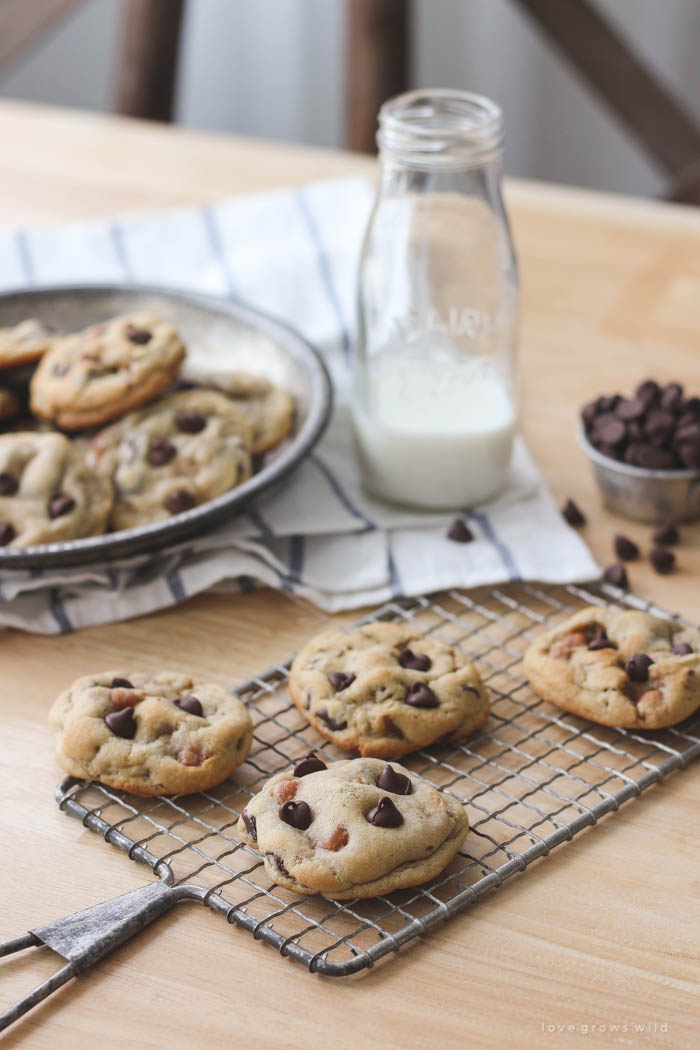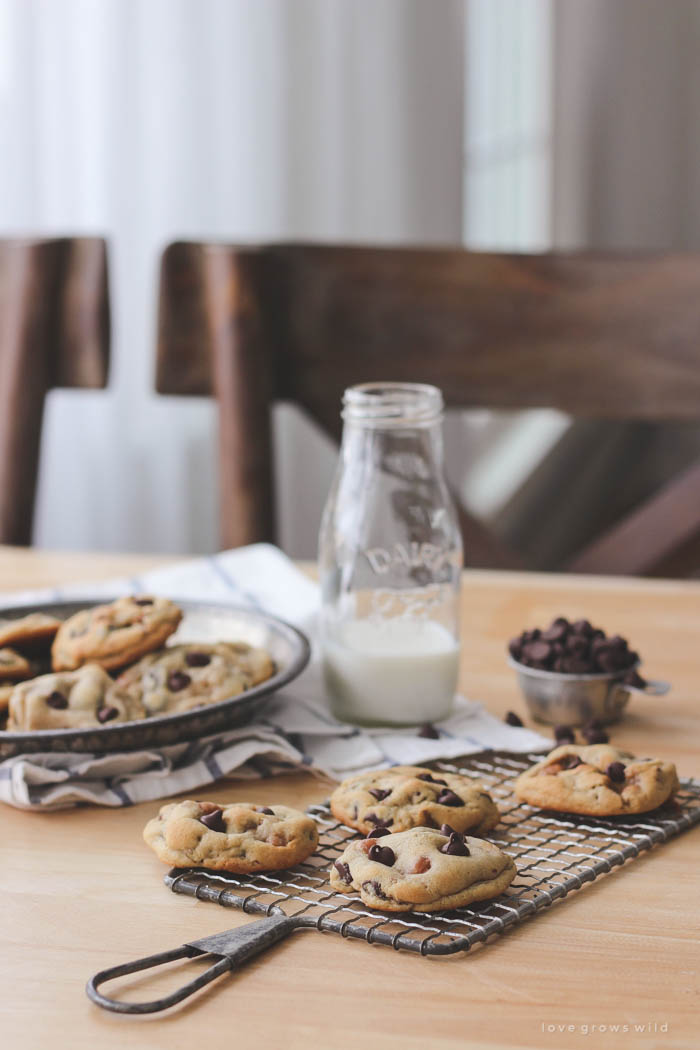 The other day I decided that the boys deserved a little after school treat, and I had cookies on my mind. Well, okay… I ALWAYS have cookies on my mind, but today I had a particular craving for them that just wouldn't go away! We had just made a batch of their favorite Monster Cookies for Alec's Valentine's party at school and my Cherry Chocolate Chip Cookies at Christmas time, so I wanted to do something a little different. Hmm… what's the perfect combination of cookie ingredients?
Semi-sweet chocolate chips + gooey, sticky caramel bits + crunchy, nutty pecans = a delicious turtle-inspired cookie!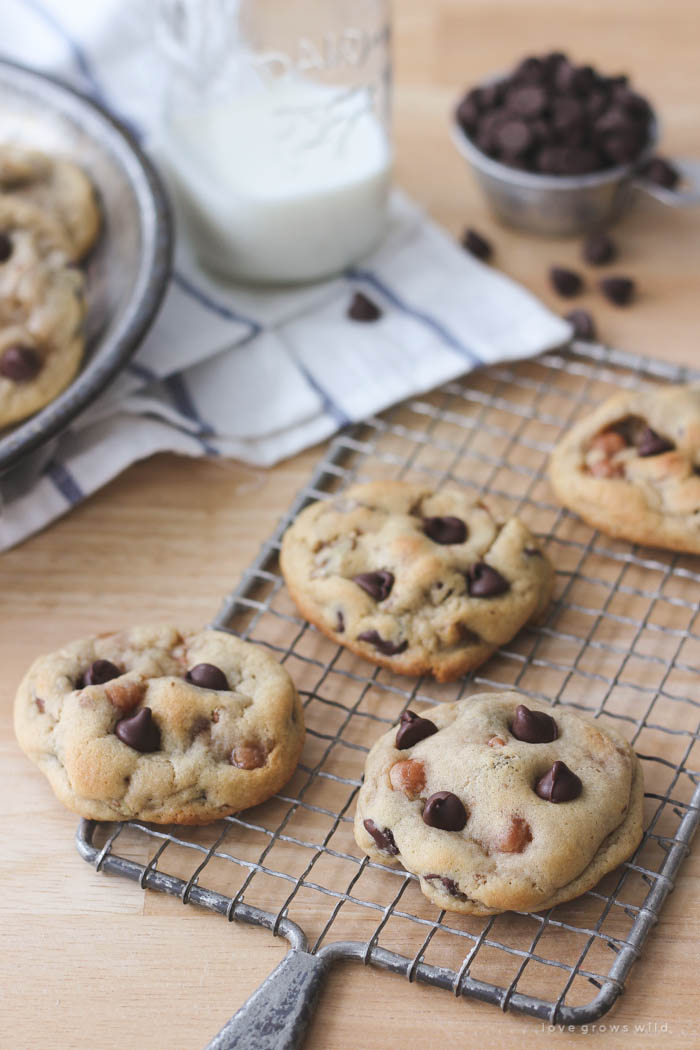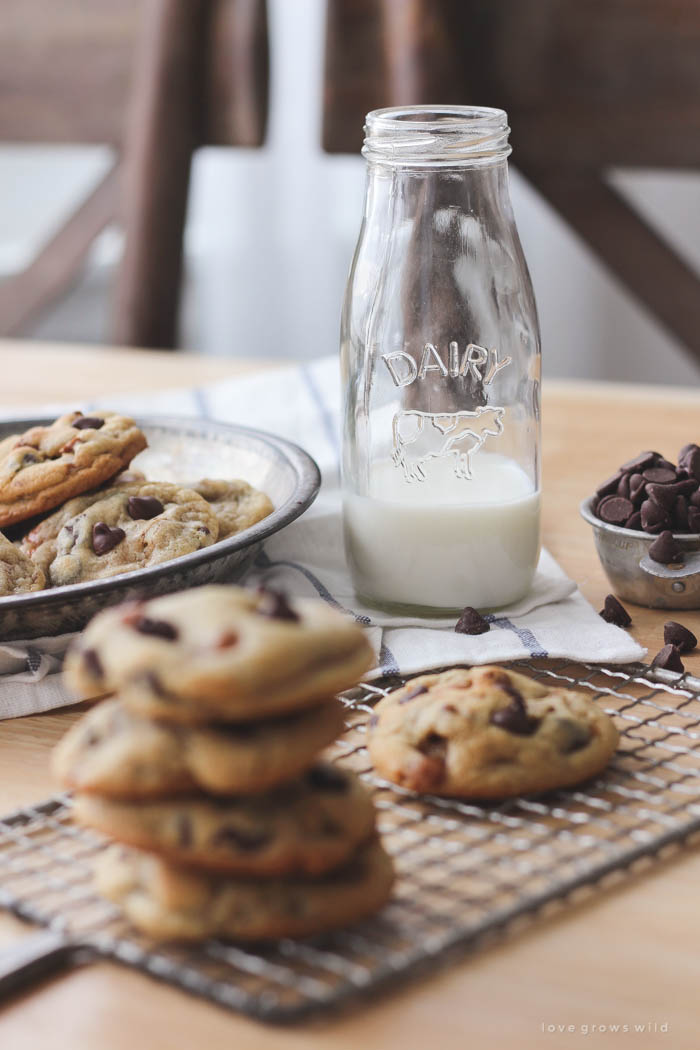 If you've tried my other cookie recipes, you probably already know what to expect. But if not, here are a few pointers for cookie perfection:
Chill the dough after making it. I know, I know… I want to eat cookies RIGHT NOW too, but giving the dough a chance to firm up and chill makes it easier to scoop onto baking sheets and allows them to bake much better. You don't want a flat, hard pancake cookies… we want big, puffy, chewy ones!
Bake the cookies until they are JUST golden around the outside. The cookies might still look a little under-baked in the center, but once they cool, they will be soft and perfect. Let the cookies cool on the baking sheets for just a few minutes to give them time to firm up a bit, then remove them to a baking rack to finish cooling completely. If you leave the cookies on the baking sheets too long, they will continue cooking and won't be as soft.
And be aware of cookie thieves that interrupt your photo shoot! 😉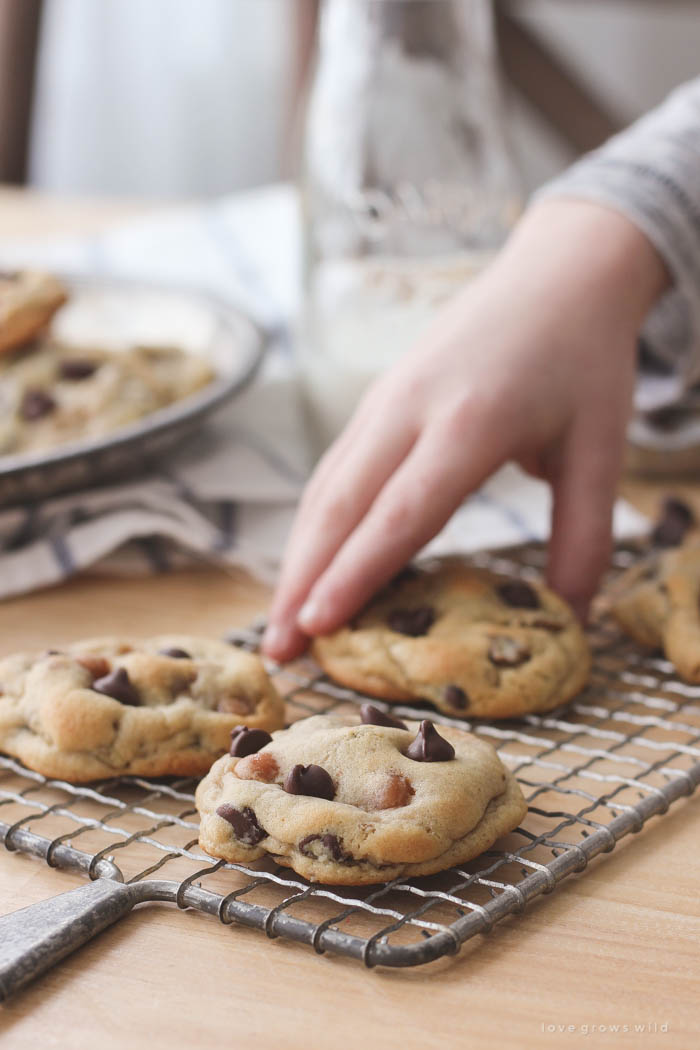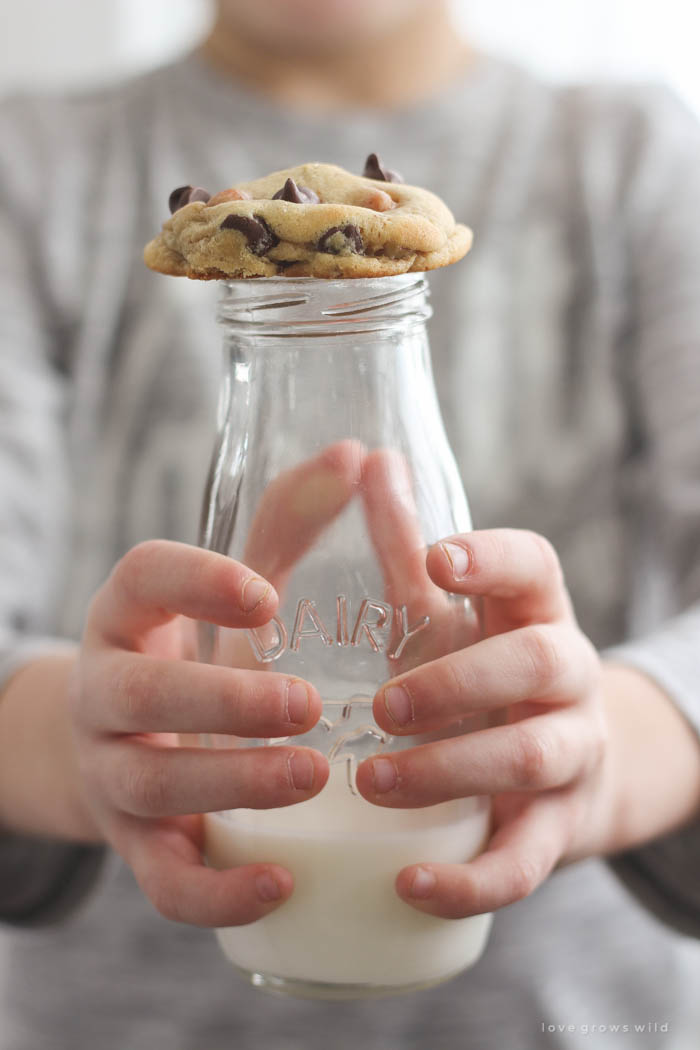 This little guy is lucky that he's so cute! The boys walked in the door after school to a kitchen scented with butter, sugar and chocolate, and I think they were more than happy to take a break from homework to enjoy some cookies with their momma. We certainly enjoyed this recipe, and I hope you do too!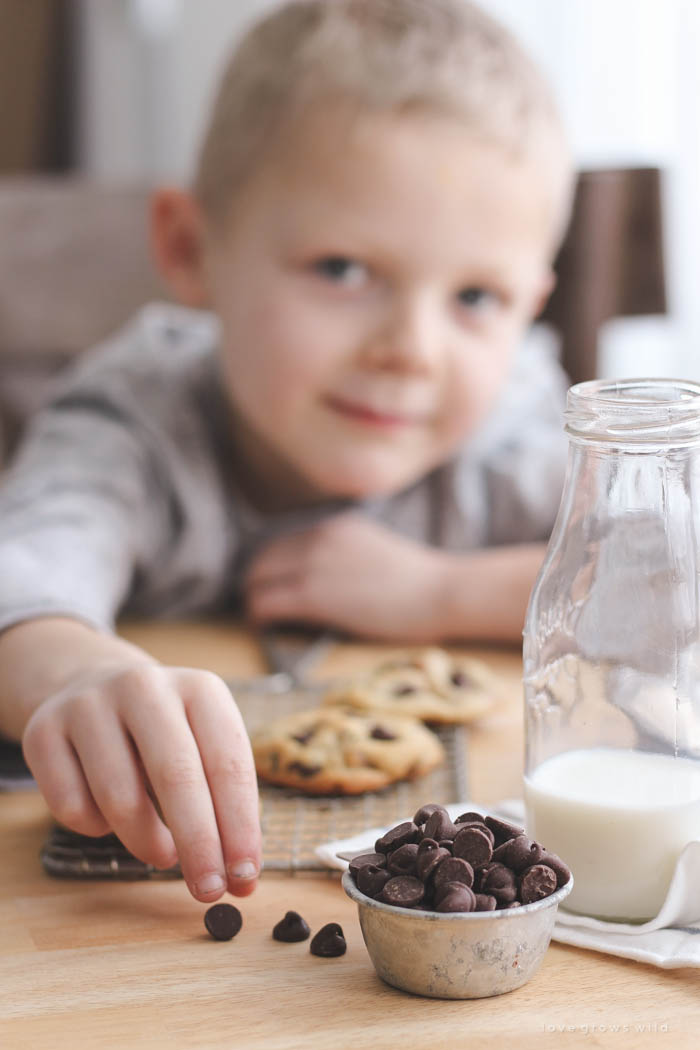 Chocolate Chip Turtle Cookies
Soft, chewy chocolate chip cookies baked with caramel bits and pecans inside!
INGREDIENTS
¾ cup unsalted butter, room temperature
¾ cup brown sugar
¼ cup granulated sugar
2 eggs
2 teaspoons vanilla extract
2¼ cups all-purpose flour
1 teaspoon baking soda
1 teaspoon cornstarch
¼ teaspoon baking powder
¼ teaspoon salt
1 cup semi-sweet chocolate chips
1 cup pecans, chopped
¾ cup caramel bits
INSTRUCTIONS
In a large bowl, cream together the butter and sugars with a hand or stand mixer until light and fluffy, about 3-4 minutes. Mix in the eggs and vanilla, scraping down the sides of the bowl as needed.
In a separate bowl, add the flour, baking soda, cornstarch, baking powder, and salt and whisk to combine. With the mixer on low speed, slowly add the flour mixture to the wet ingredients and mix until just combined. Stir in the chocolate chips, pecans and caramel bits by hand and cover the bowl with plastic wrap. Chill the dough in the refrigerator for at least 2 hours and up to 24 hours.
Preheat the oven to 350ºF and line baking sheets with parchment paper. Scoop balls of dough onto the baking sheets, and bake for 9-12 minutes until the edges are just starting the brown and the top still looks slightly undercooked. Remove from the oven and cool for 2-3 minutes on the baking sheet before moving the cookies to a wire rack to cool completely.

---
More Recipes from Liz's Kitchen:
---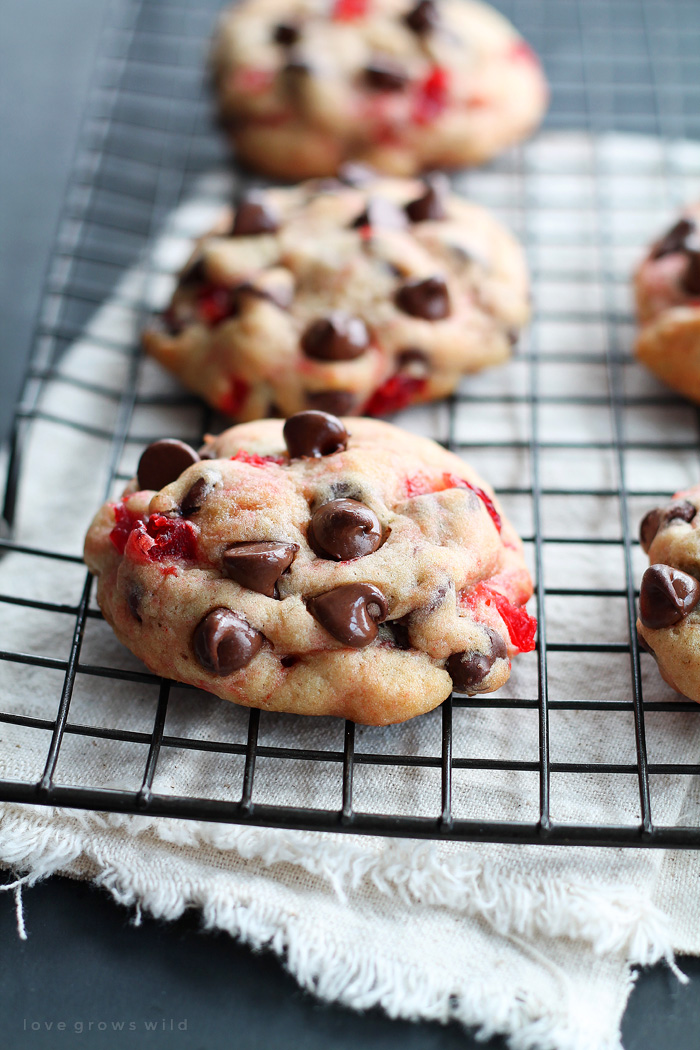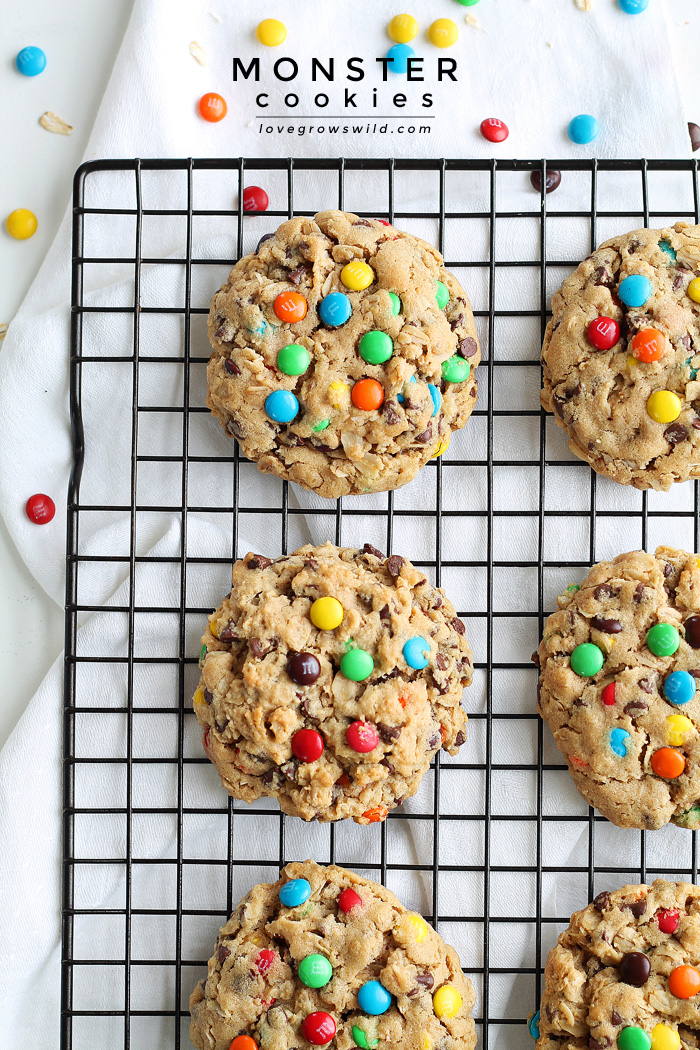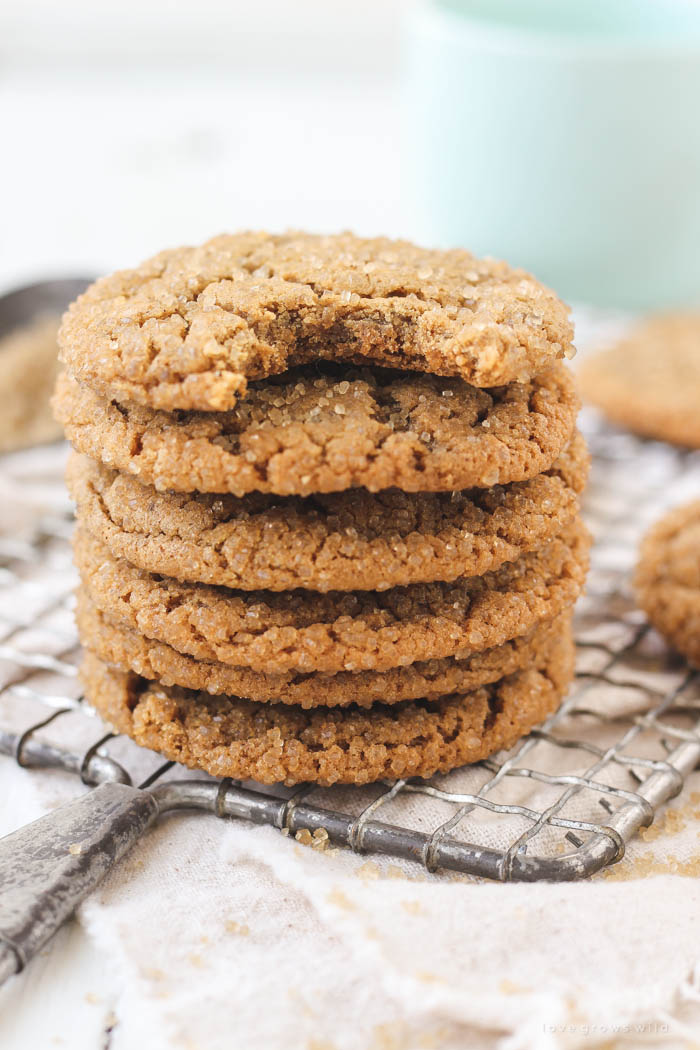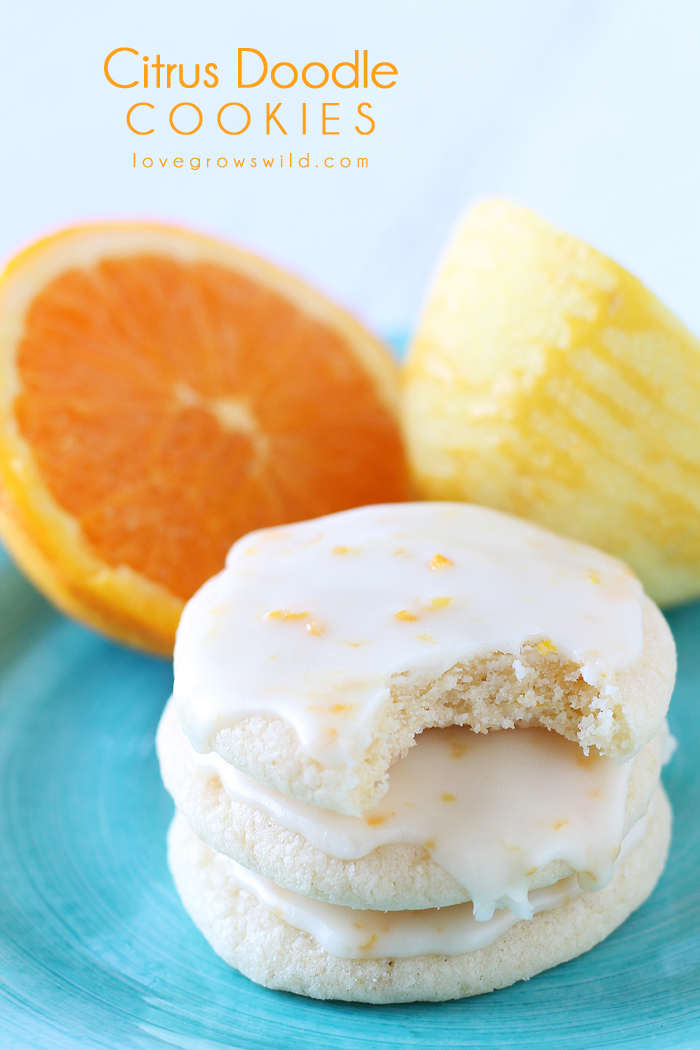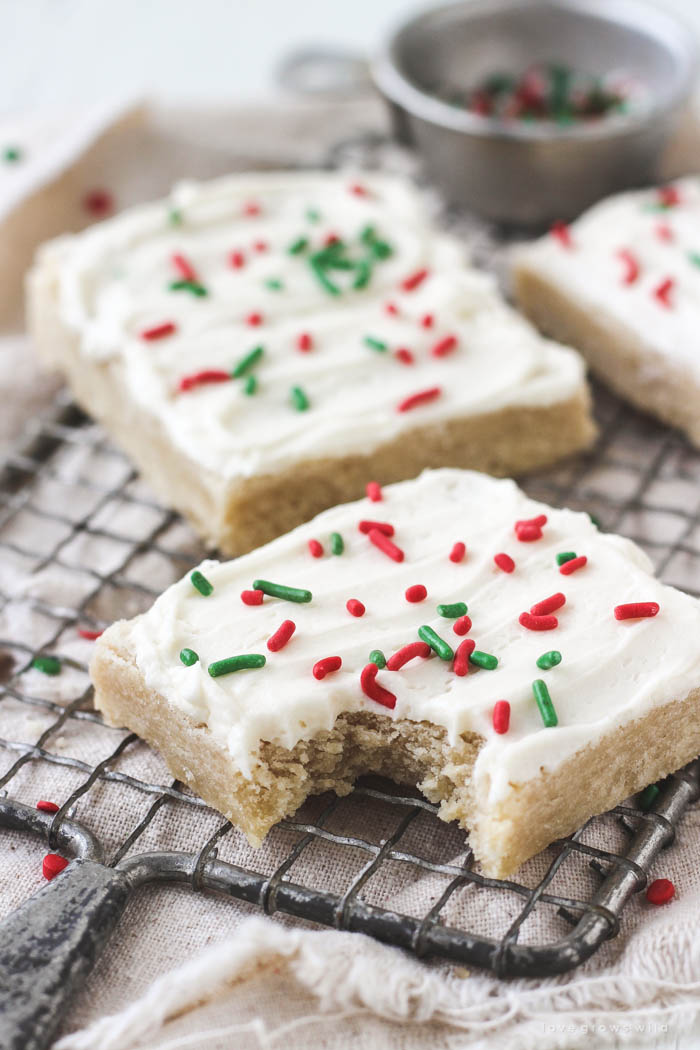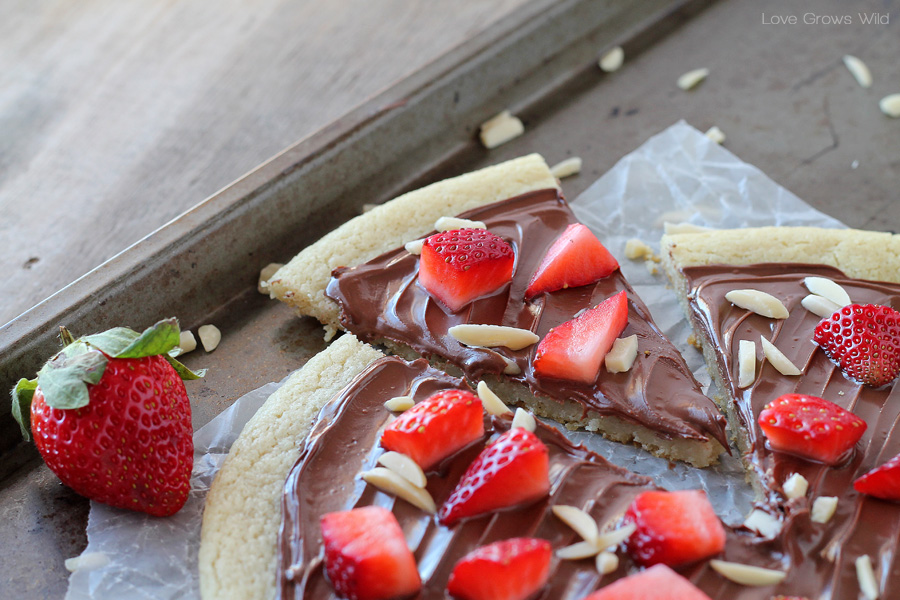 Chocolate Hazelnut Dessert Pizza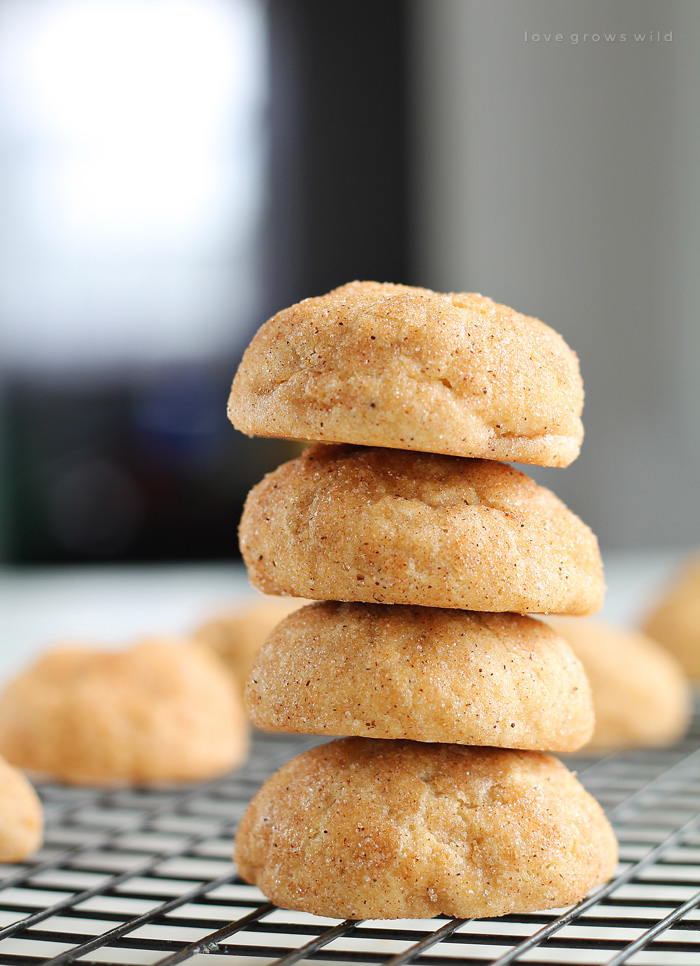 Pumpkin Apple Butter Snickerdoodles
---
LET'S KEEP IN TOUCH!
---
Subscribe to Blog | Browse my Shop | Follow on Facebook | Follow on Twitter
Follow on Google+ | Follow on Pinterest | Follow on Instagram