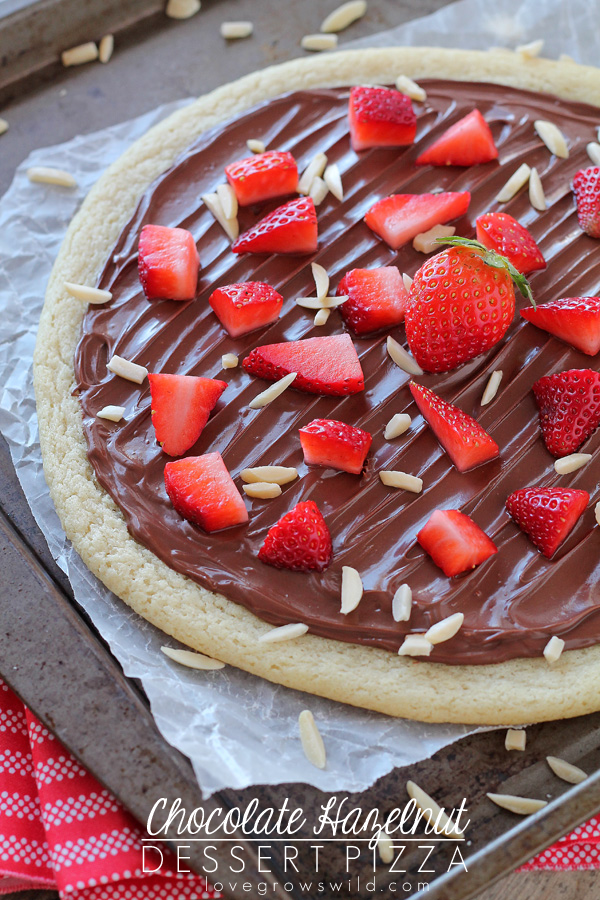 This decadent dessert pizza with a sugar cookie crust and creamy hazelnut Nutella spread is topped with bright red strawberries and crunchy slivered almonds for a Valentine's treat that will be loved by all! The classic chocolate and strawberry combination is absolutely divine in this super easy, 4 ingredient dessert!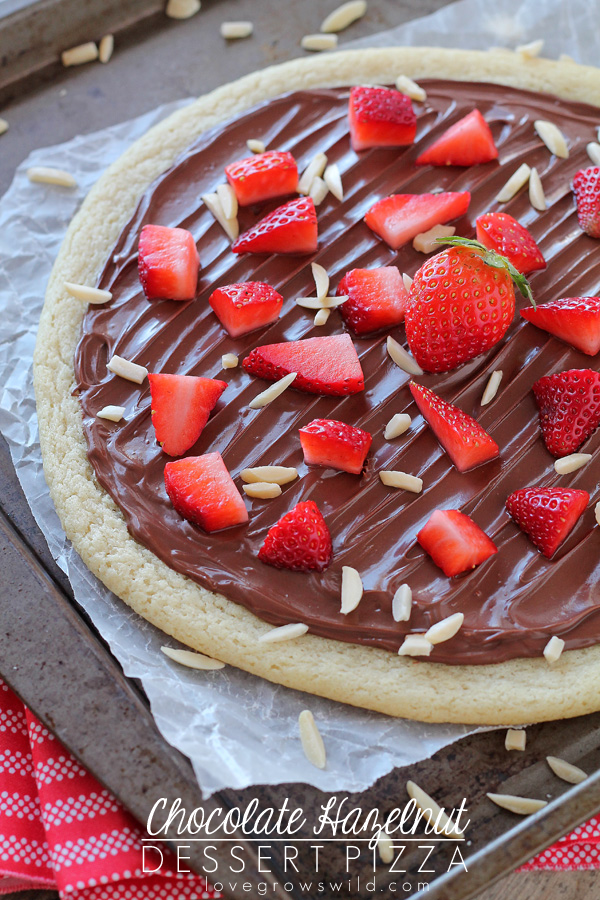 Do you ever have recipes that you dream about? Like you literally wake up and go, "I NEED to make that!"
As weird as that may have just sounded, that's exactly what happened with this recipe!
It all started with the incredible Taffy Apple Pizza my Mom made all the time when I was a kid. It's a Pampered Chef recipe that combines a boatload of delicious ingredients… The crust is made from sugar cookie dough, the "sauce" is a mix of peanut butter, cream cheese, brown sugar , and vanilla, and the pizza toppings include everything from Granny Smith apples and peanuts to caramel sauce! If that description doesn't have your mouth watering than I don't know what will!
I love this incredible dessert pizza, and it's been on my to-do list for quite awhile to come up with some new flavors to try. Nothing really struck my fancy until I woke up one morning with a serious craving for Nutella. I'm OBSESSED with Nutella! If you've never tried the stuff, you need to get in the car, drive to the store, and pick up a jar pronto. It's a hazelnut spread mixed with cocoa, and I keep a jar in my pantry at all times. If you're already a Nutella fan like I am, you know how delicious this dessert pizza is going to be!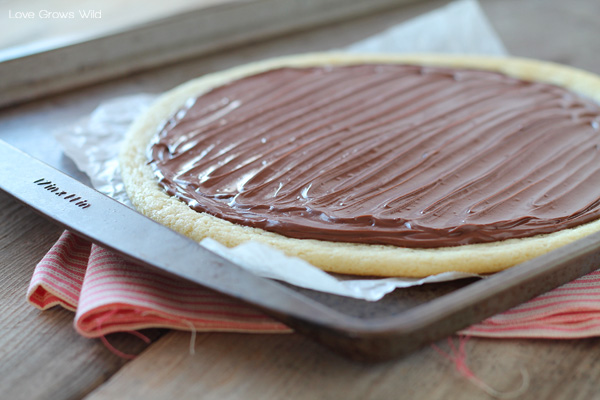 This chocolate hazelnut pizza starts off the same way as the original, with a giant sugar cookie crust. You can choose to make your own dough from scratch (this recipe is my absolute favorite!) or take a shortcut and pick up a package of refrigerated dough from the store. I honestly usually take the shortcut because it makes these dessert pizzas such a cinch to put together! Just roll the dough out, bake it, and add your toppings.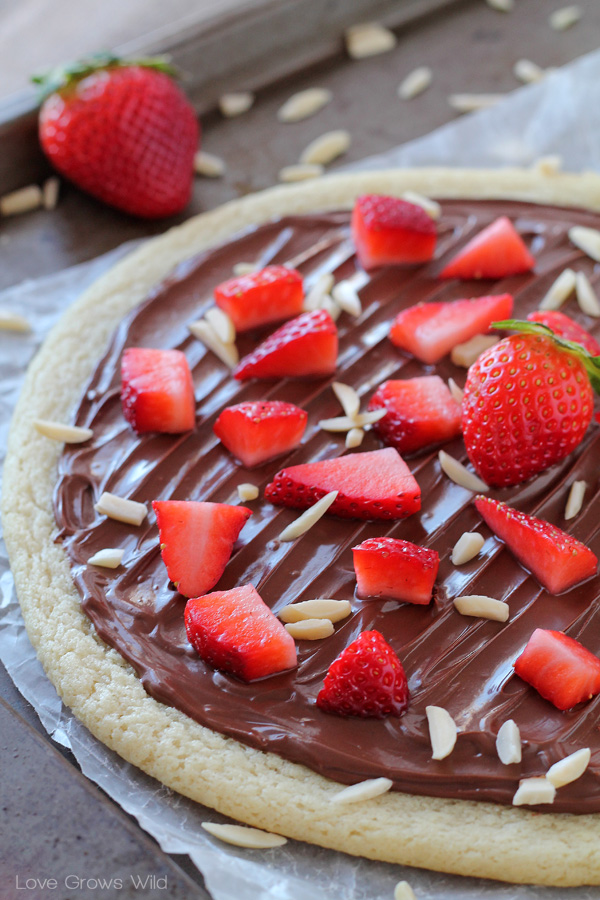 I decided to make this recipe into 2 smaller pizzas, so I just cut the dough in half and rolled each half into an 8″ circle. After baking and cooling, I added a nice, thick layer of the magical Nutella spread, leaving just a small border around the edges. I find that these dessert pizzas taste great at room temperature, but taste amazing when chilled! I stick the pizzas in the refrigerator for about an hour (or until ready to serve), and then add all the toppings. The pizzas are also SO much easier to cut and serve when they're chilled!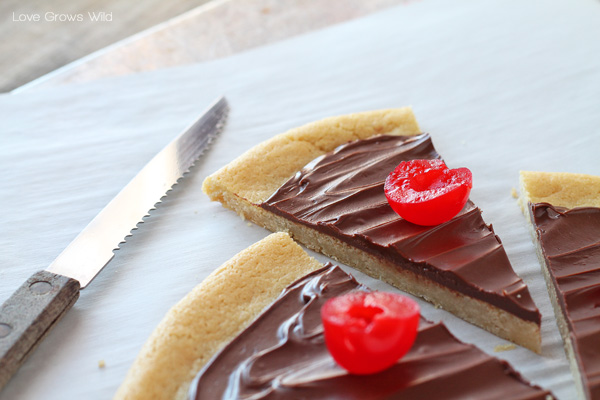 Inspired by Valentine's Day coming up, I decided to go with strawberries and cherries for my fruit topping. They pair perfectly with the chocolate hazelnut flavor, and the bright pop of red fruit on top of the pizza looks gorgeous! You eat with your eyes first, you know. 🙂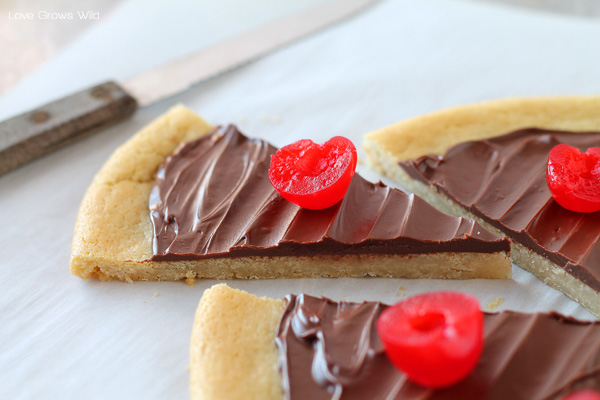 I've made some of these pizzas with just strawberries, some with just maraschino cherries, but my favorite is with both combined. The cherries are super sweet and the strawberries add a tart flavor that I just love. I also added some slivered almonds sprinkled on top to add some crunch because I'm all about texture in my food. If you're not a fan of nuts though, feel free to leave them out!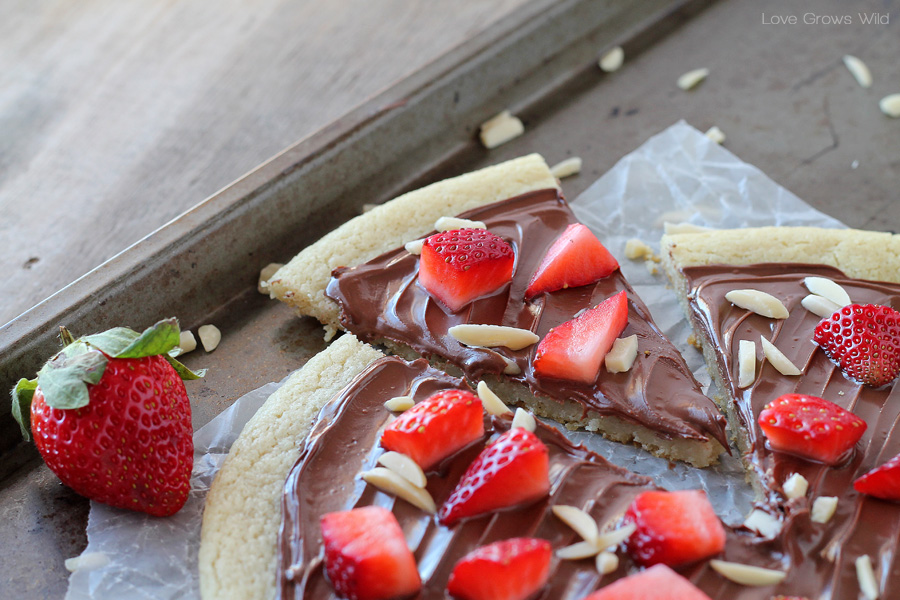 These dessert pizzas are insanely delicious, but the part I love most about them is how EASY they are! Only four ingredients are needed: sugar cookie dough, Nutella, fruit, and nuts. It doesn't get much easier than that, folks! I hope you love this delicious dessert pizza recipe as much as I do! Try the Taffy Apple Pizza version also!
Like what you see? Subscribe to Love Grows Wild so you'll never miss a new recipe!
Follow along on Pinterest, Google+, Instagram, and Facebook for more fun!
Chocolate Hazelnut Dessert Pizza
INGREDIENTS
1 - 16.5 ounce package refrigerated sugar cookie dough
or homemade
⅔ cup Nutella Hazelnut Spread
2 cups chopped fruit (such as strawberries or maraschino cherries)
¼ cup slivered almonds
INSTRUCTIONS
Preheat oven to 350 degrees F.
Open package of cookie dough and cut in half. Roll both pieces into 8" circles with a rolling pin. Transfer dough to a baking sheet lined with parchment paper and bake at 350 degrees for 10-12 minutes, until edges are just set but not yet browned.
Place the baking sheets on cooling racks and allow cookies to cool completely.
After cooling, spread ⅓ cup Nutella on each cookie and set in the refrigerator to chill 1 hour.
Sprinkle pizzas with chopped fruit and slivered almonds. Cut into wedges and serve!
NOTES
- I find it easiest to roll the refrigerated cookie dough into circles by placing a piece of parchment paper between the dough and rolling pin. This way the dough won't stick!

- 11 minutes was just about the perfect bake time for my oven. You want the edges of the cookie to be firm but not browned and the center should still appear soft. It will firm up after cooling.

- I think these dessert pizzas are best served cold, so I keep mine in the refrigerator until serving. It's also much easier to cut the pizzas into pretty wedges when they're chilled!

- Prep time does not include chill time.
More delicious desserts from Love Grows Wild: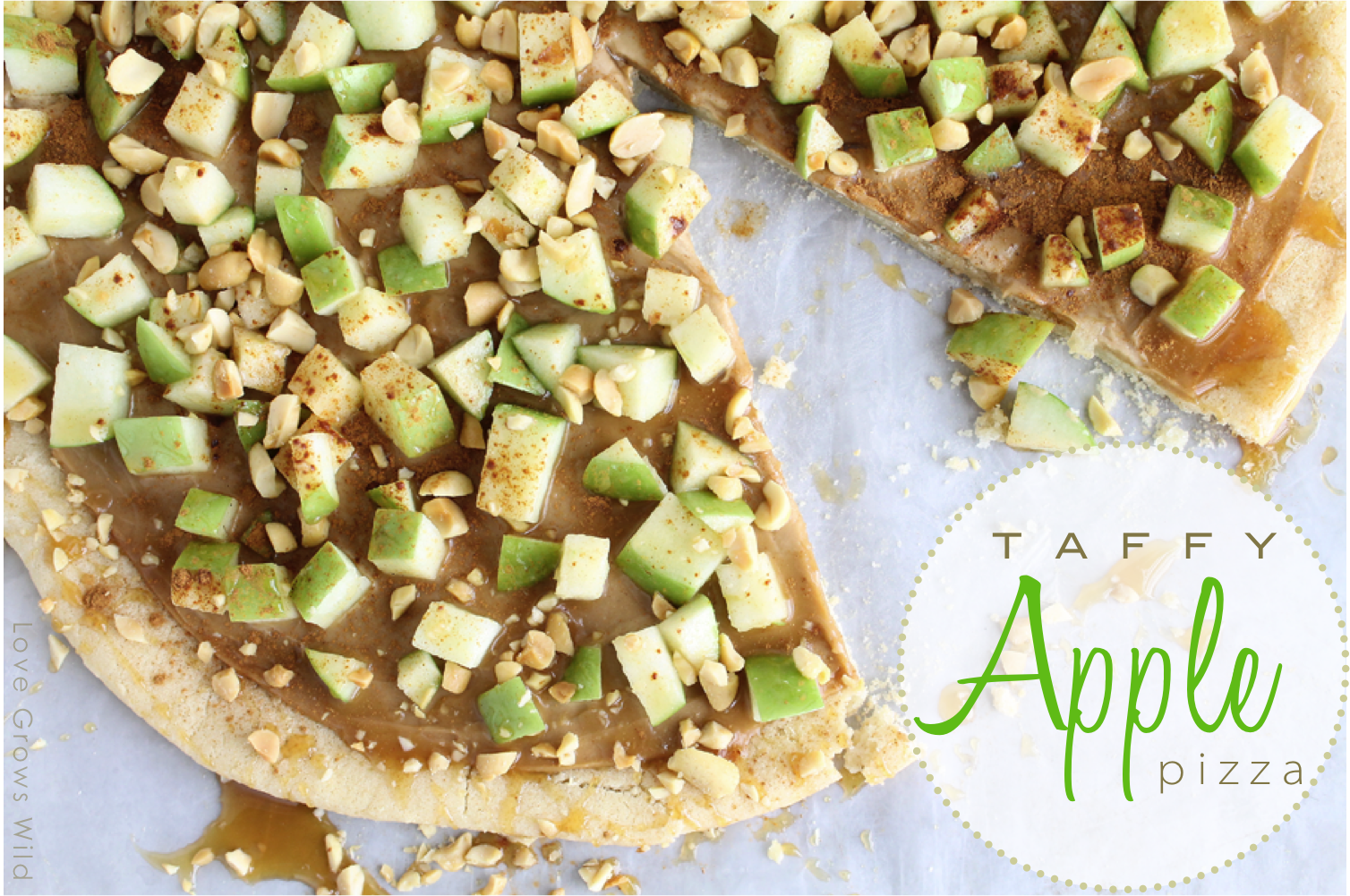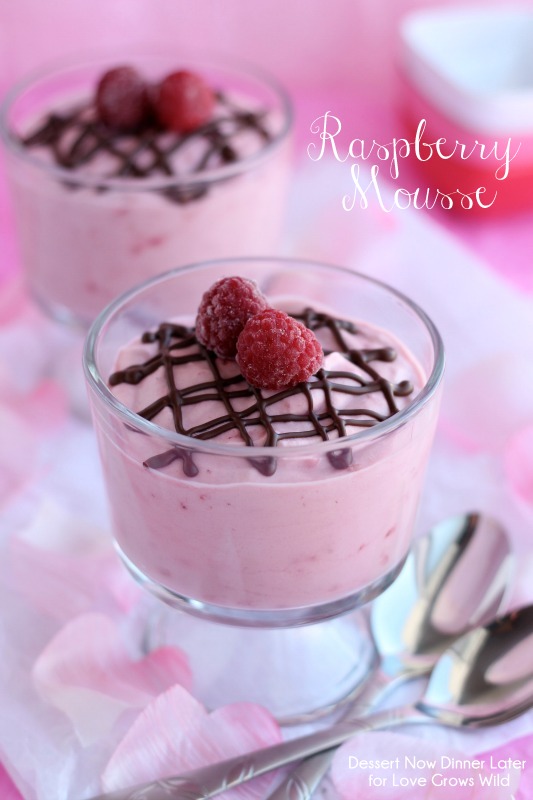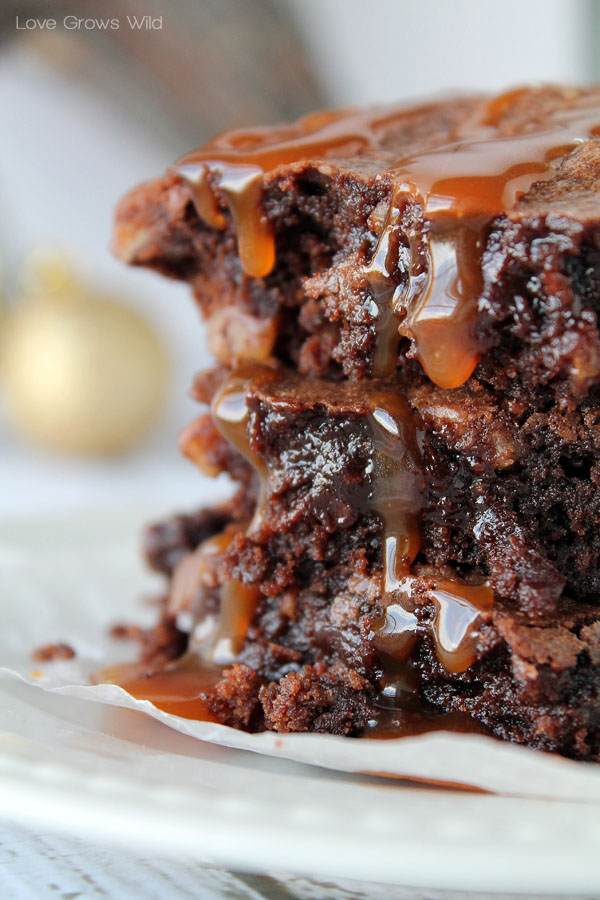 Let's Keep in Touch!
Subscribe to Blog | Browse my Shop | Follow on Facebook | Follow on Twitter
Follow on Google+ | Follow on Pinterest | Follow on Instagram