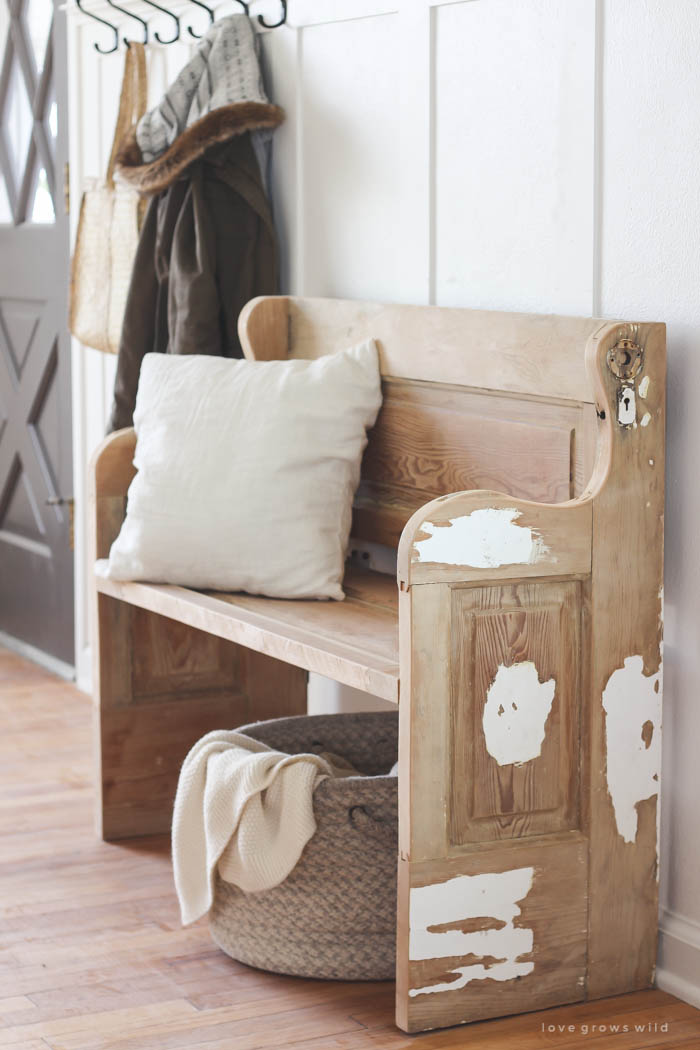 Do you remember this old door that's been hanging out in my office? Yeah, that crooked one without much of a purpose? Well, it just got a pretty big makeover, and now not only is it functional… REALLY functional actually, but it is also the most beautiful piece of furniture I have ever laid my eyes on! Take a look at the new bench we have in our entryway:
It's not often that I get THIS excited over a project, but this bench has completely stolen my heart. I was sitting in my office late one afternoon, typing away on a blog post, and somehow the idea hit me… I wonder if I could cut the door up into pieces and turn it into some kind of bench? I have been on the hunt for an old, antique church pew for our entryway for awhile now and have had little to no luck finding one even close to my price range. Maybe, just maybe, I could make this door into the church pew bench I've been looking for.
I started by removing the door knob (which was quite a task with rusted hardware) and cutting the door into sections using my circular saw. I used the recessed panels on the door as a guides:
I split the top of the door down the middle to create a back and seat for the bench.
Then I cut the bottom of the door in half to create the sides of the bench, cutting around the small panel in the middle of the door.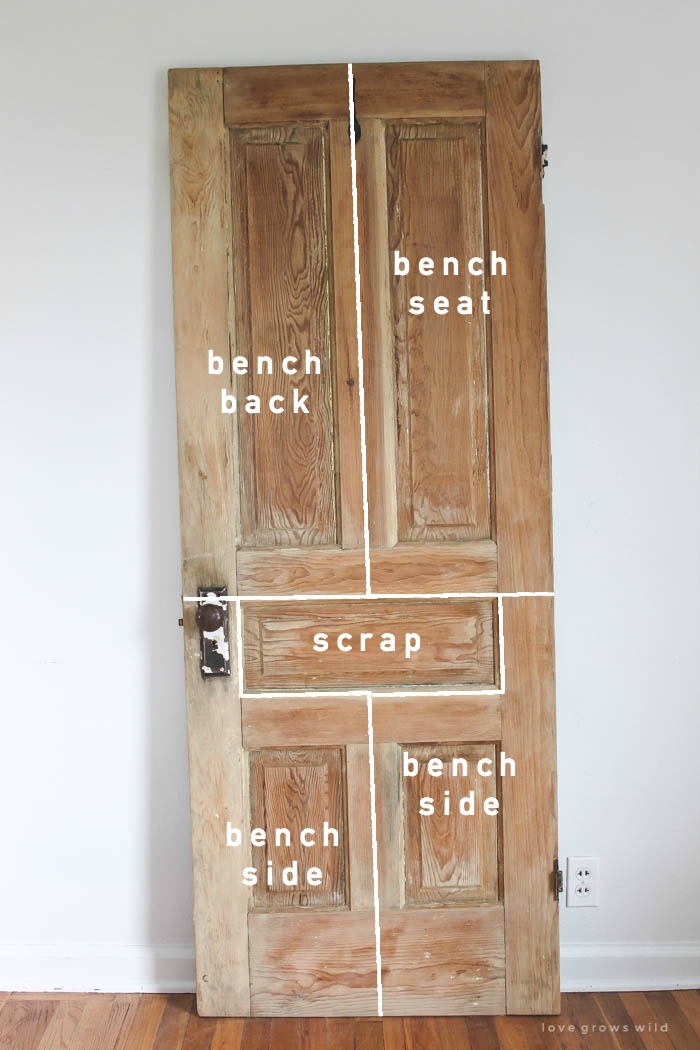 Note: Some of the links in this post are affiliate links, which allows me to make a small commission from your purchase, but your purchase price stays the same. Thank you for helping support our blog!
Once all the pieces were cut apart, I sanded down all the rough edges and rounded the corners a bit. At this point, it was almost 10:00 at night, and I was standing outside in our freezing cold breezeway working on the bench. Power tools and cold, nearly-numb fingers are not something I like to mix very often. I was just going to leave the top of the bench side pieces with square edges so I could head inside and warm up quicker, but Jeremy thought they would look so much better with a little curved detail. He grabbed a pencil and sketched out the curves, then cut them with a jigsaw. They turned out beautiful and gave the bench that church pew look I was going for. He earned a whole lot of brownie points from this girl on that cold, late night.
To assemble the bench, I attached the back piece to the sides using 6 Kreg Jig pocket holes and screws on either side. If you've never used a Kreg Jig before and like to do little furniture building projects like this, I HIGHLY recommend you pick one up. I've used mine over and over again since I first purchased it for our farmhouse coffee table!
To finish the bench, I attached the seat piece to the sides in the same manner as I did the back, using 6 pocket holes and screws underneath the seat on either side. This was actually a really quick and simple build, and by using the pocket holes, you don't see any of the screws because they are hidden on the back side and underneath the bench seat.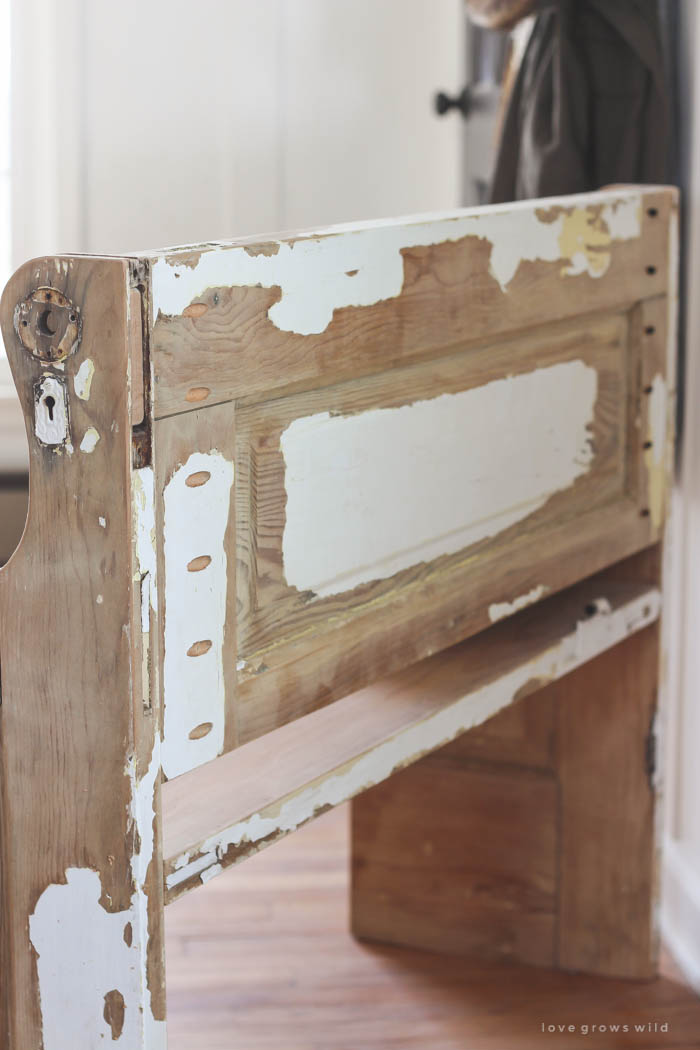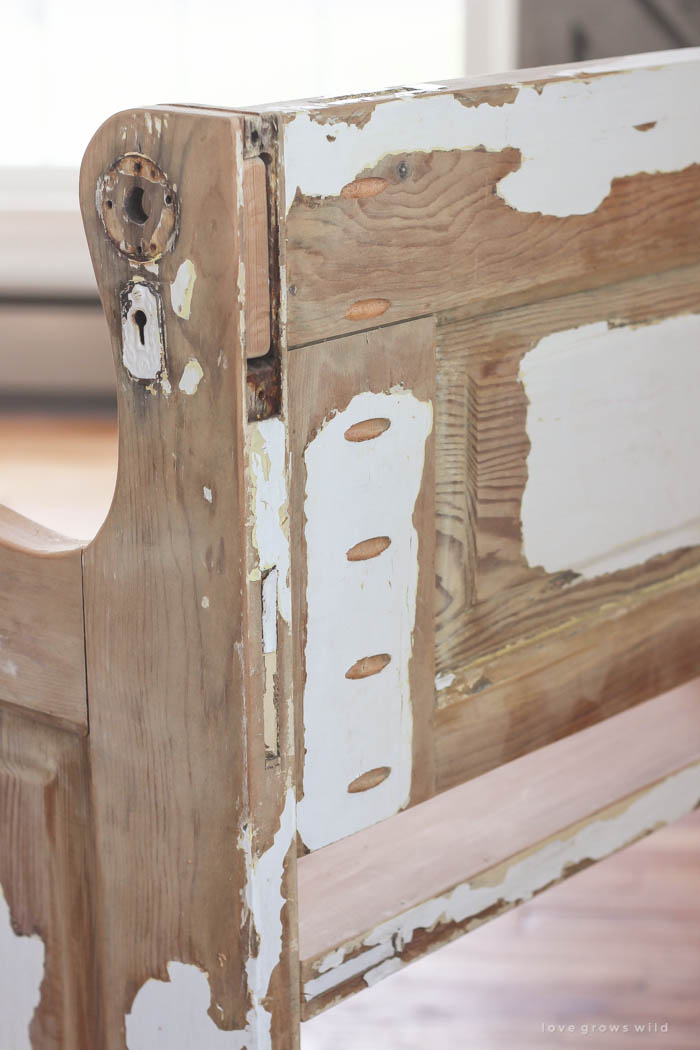 I had previously sanded all the paint off one side of the door, but the other side still had some white paint left. You all know I'm a big lover of chippy white paint, so I decided to leave the paint exposed on the outside. I think it just adds to the character of the piece. But my FAVORITE detail of the entire project is the old keyhole and doorknob hole that we were able to keep on one of the side pieces. It makes my antique, reclaimed, DIY heart extremely happy.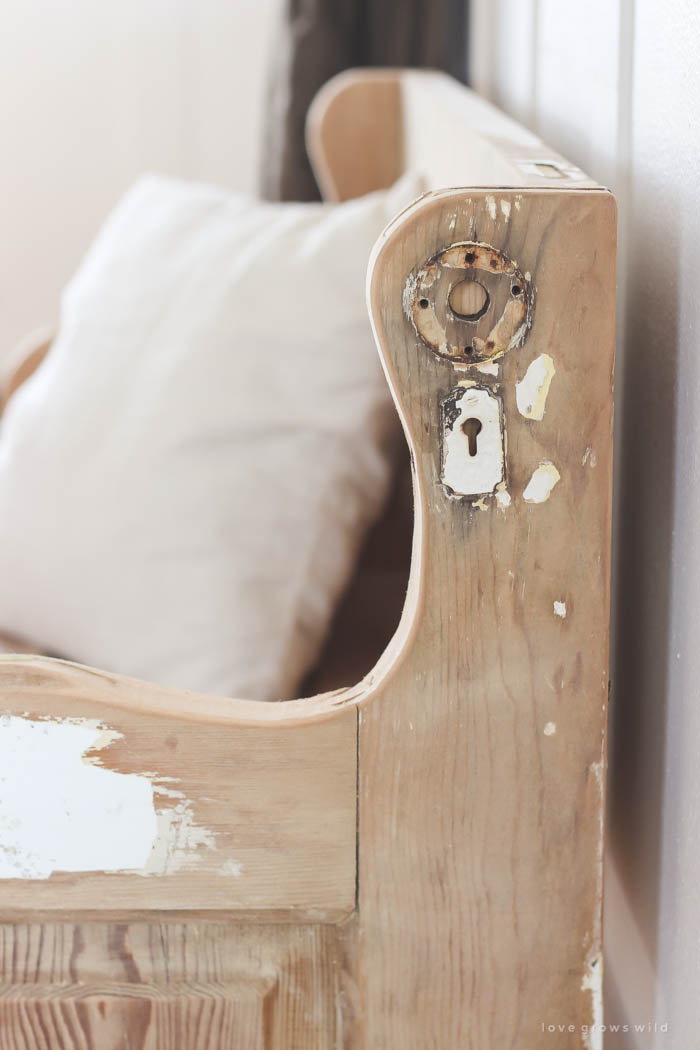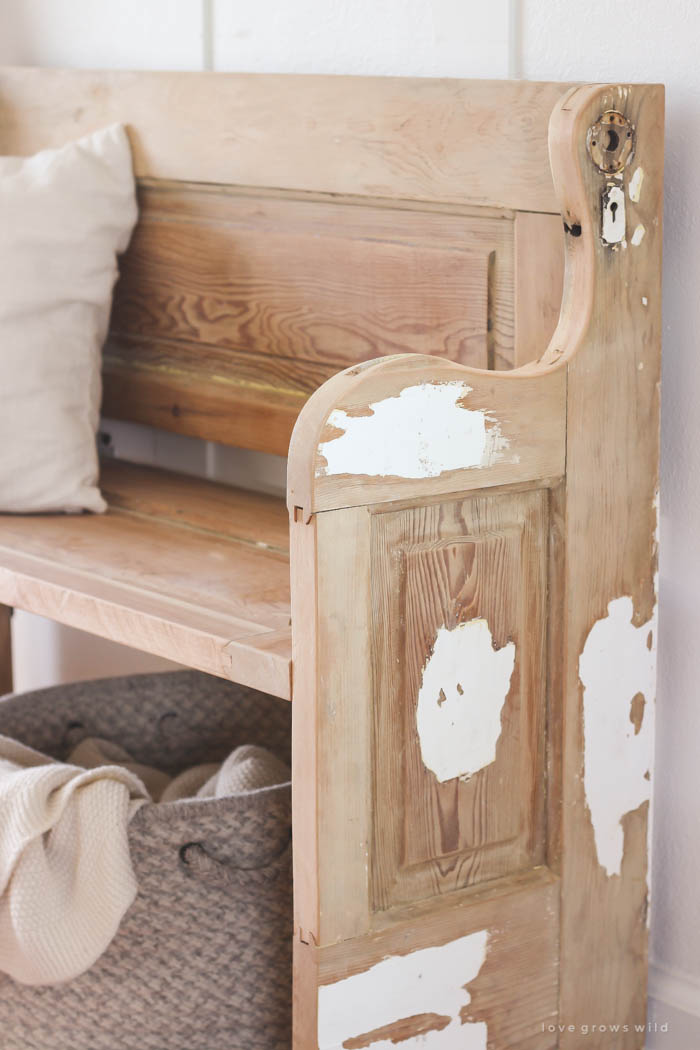 I've been making some pretty big changes in the dining room since all the Christmas decor came down a few weeks ago, and it feels so much more open and organized in here now. I'll show you guys more of our progress in a blog post next week!
It was pretty hilarious taking these photos of the bench yesterday… we're currently in the middle of a major kitchen renovation right on the other side of my dining room wall (details on the kitchen coming soon too!), so I have drywall and plaster dust EVERYWHERE right now. Literally 2″ of dust on every. single. surface. I mopped up the floor around the bench at least twice, if not three times, but I have a feeling it's just going to be awhile before this house is dust-free again. The joys of home renovation, right? It actually doesn't bother me too much because I know at the end of all this, we'll have an amazing new kitchen to enjoy.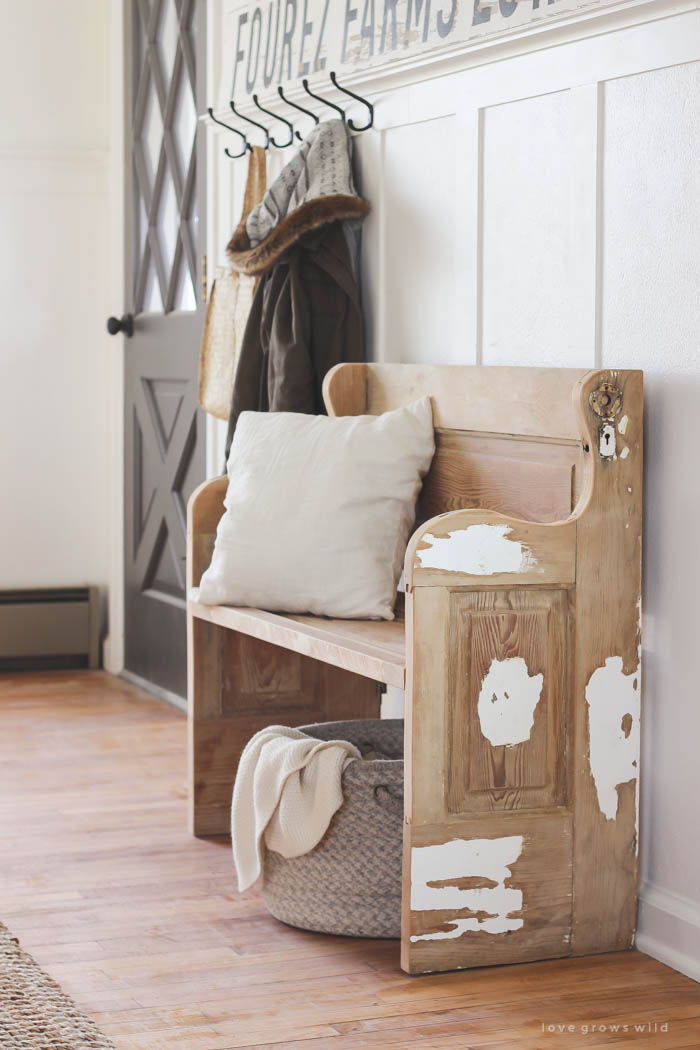 But until then, I'll just enjoy my beautiful, new/old bench.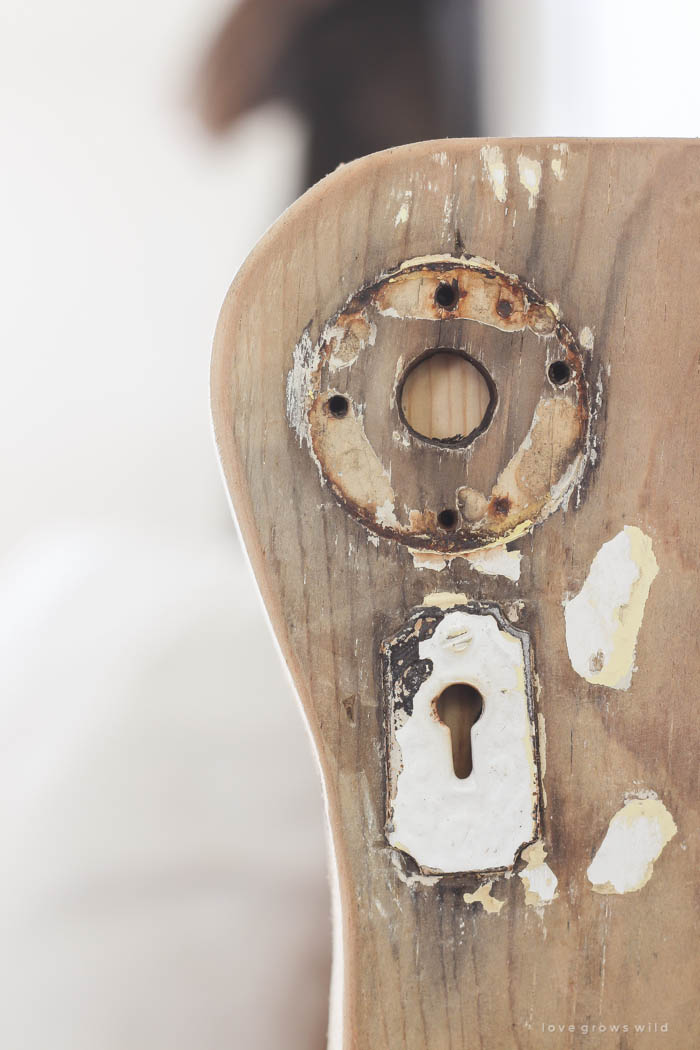 So what do you guys think of our FIRST project of 2016? I thought I'd start the year off with a bang, and it's going to be pretty hard to top this guy. Next time you spot an old door at an antique store, be sure to snatch it up!

---
More projects from our farmhouse:
---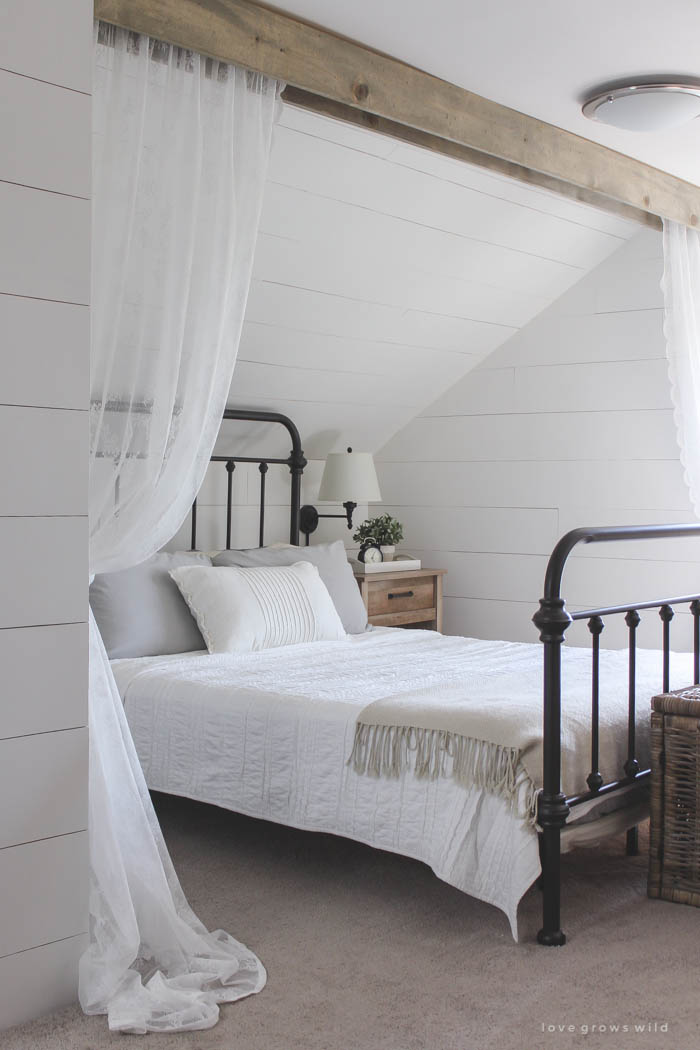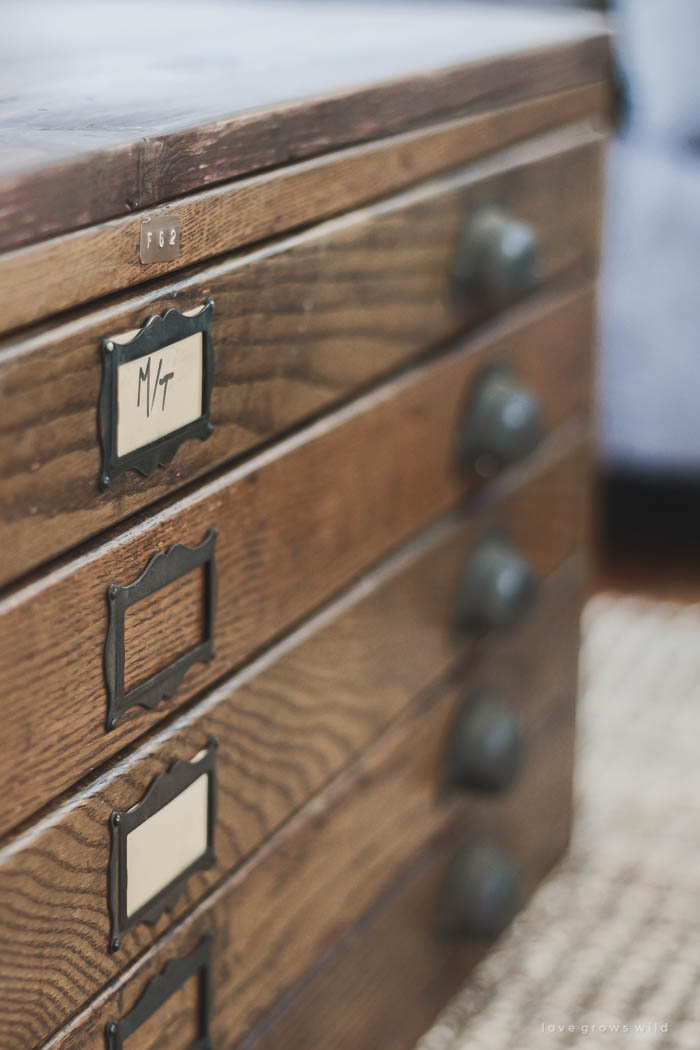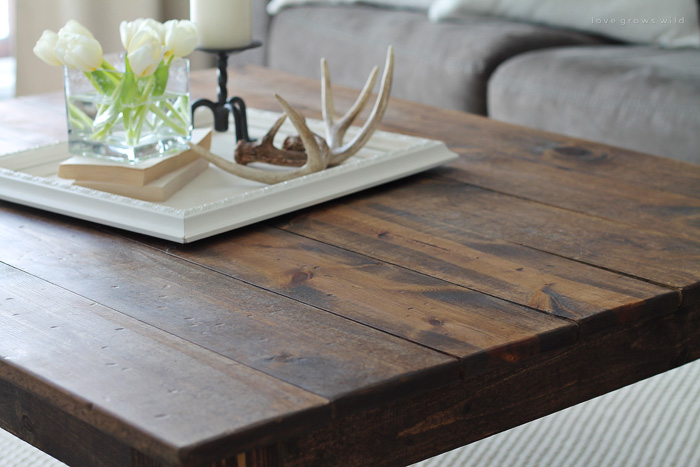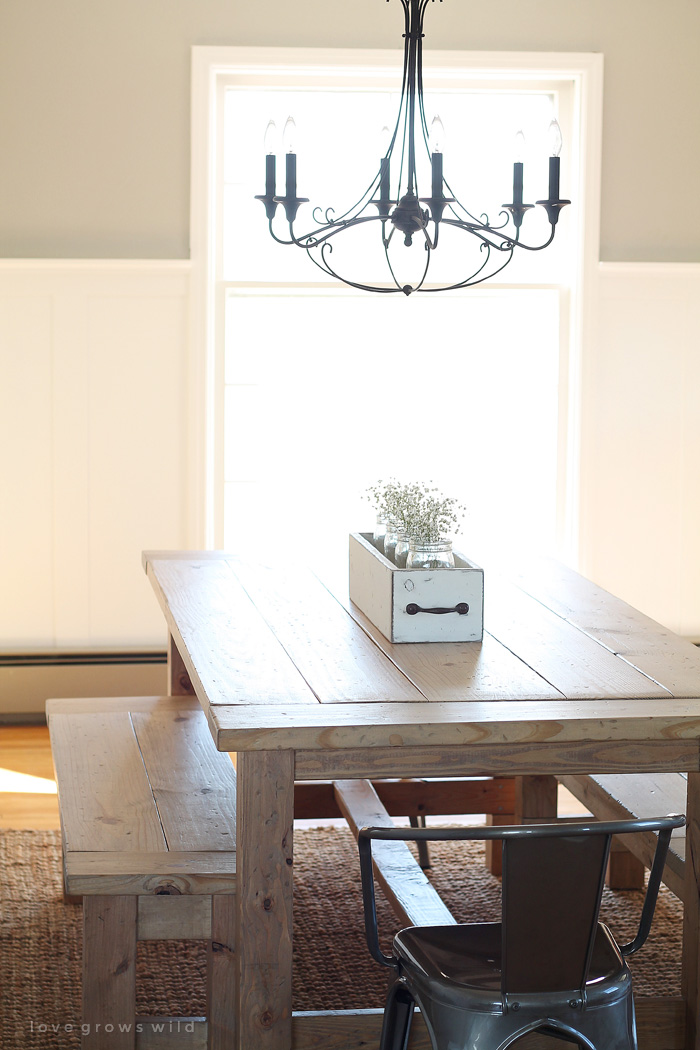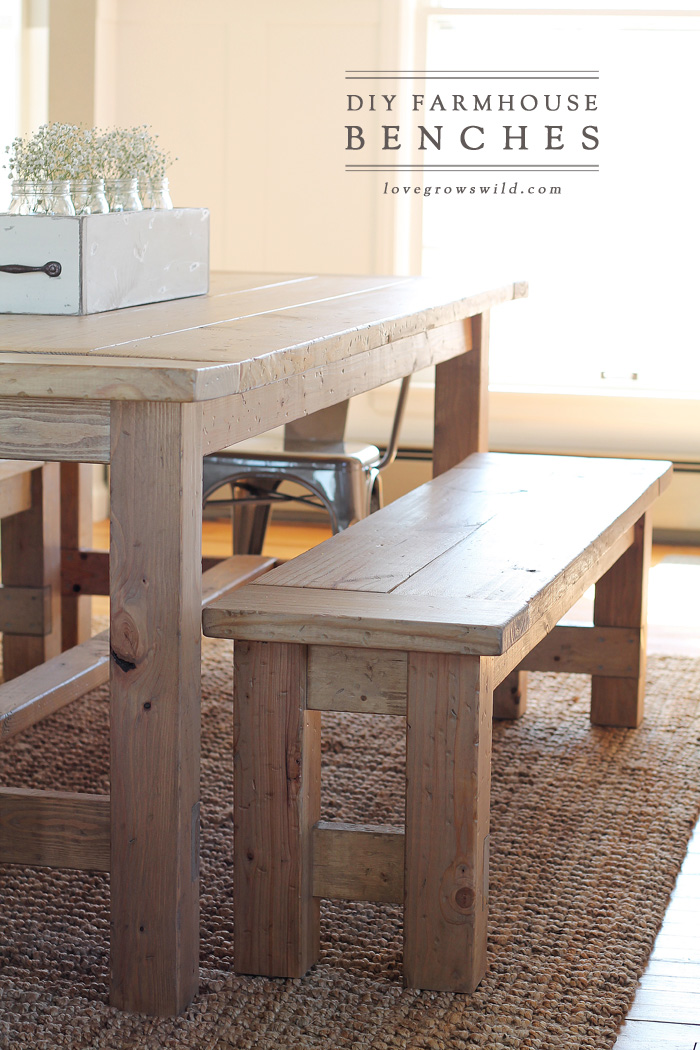 ---
LET'S KEEP IN TOUCH!
---
Subscribe to Blog | Browse my Shop | Follow on Facebook | Follow on Twitter
Follow on Google+ | Follow on Pinterest | Follow on Instagram