Salted Caramel Apple Crisp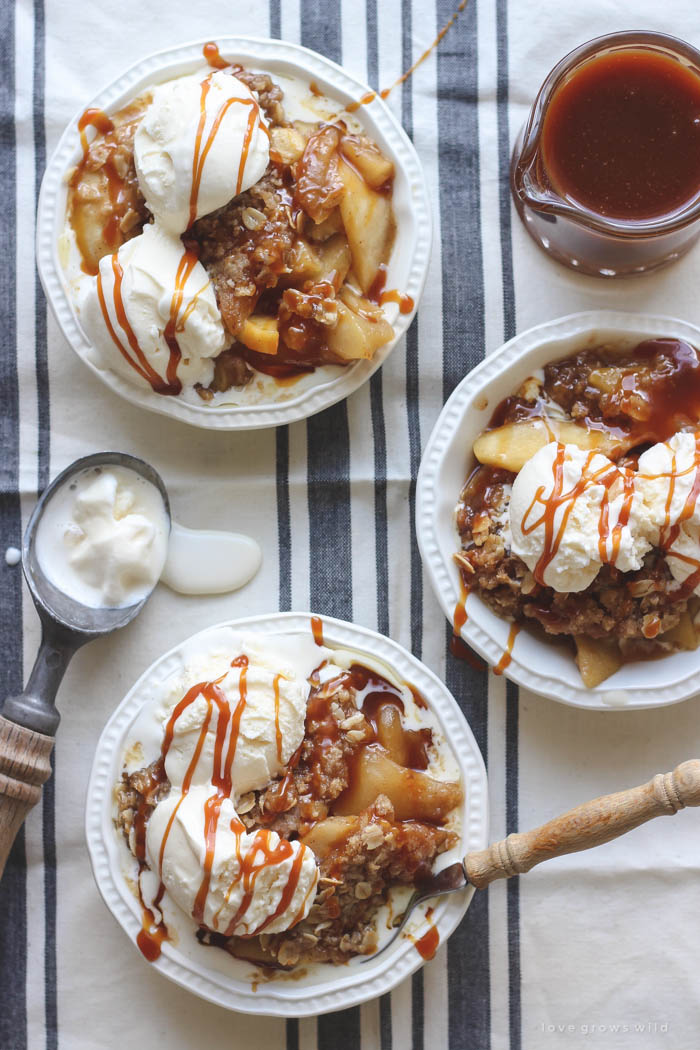 For the salted caramel sauce:
2 cups granulated sugar
12 tablespoons unsalted butter, room temperature, cut into cubes
1 cup heavy cream, room temperature
1 tablespoon sea salt
For the topping:
½ cup all-purpose flour
½ cup brown sugar
½ cup old-fashioned oats
½ teaspoon cinnamon
⅛ teaspoon salt
8 tablespoons cold unsalted butter, cut into cubes
For the filling:
6 large apples, peeled, cored and sliced
¼ cup brown sugar
2 tablespoons all-purpose flour
1 tablespoon unsalted butter
1 tablespoon fresh lemon juice
½ teaspoon cinnamon
⅛ teaspoon nutmeg
⅛ teaspoon salt
Optional: vanilla ice cream, for serving
To make the salted caramel sauce: Heat the sugar in the bottom of a large saucepan over medium heat, stirring constantly with a wooden spoon. Once the sugar is melted, stop stirring. Continue cooking the sugar until it reaches a deep amber color. Add the butter and stir until smooth. Remove the pan from heat and pour in the heavy cream. Stir until fully combined and smooth, then stir in the sea salt. Allow the caramel to cool to room temperature.
To make the topping: Add the flour, brown sugar, cinnamon, and salt to a food processor and pulse to combine. Add the butter and pulse until small crumbs of butter are evenly distributed throughout the mixture. Then add the oats and pulse once or twice to combine.
To make the apple filling: Preheat oven to 350ºF. Melt the butter in a large pan over medium heat. Add the apples, brown sugar, flour, lemon juice, cinnamon, nutmeg, and salt. Stir to combine. Cook the apples for 8-10 minutes, stirring occasionally, until apples begin to soften. Remove from heat and stir in ½ cup of the salted caramel sauce. Pour the apple filling into 9" deep-dish pie dish in an even layer. Sprinkle the topping over the apples and bake for 35-40 minutes until filling is hot and bubbling and the topping is golden brown. Cool at least 20 minutes before serving. Top the crisp with scoops of vanilla ice cream and extra salted caramel sauce, if desired.
- I like to use a mix of Granny Smith and Honeycrisp apples in this recipe.

- If you don't have a food processor, you can also use a pastry cutter or fork to mix the butter into the flour mixture.
Recipe by
Love Grows Wild
at https://lovegrowswild.com/2015/09/salted-caramel-apple-crisp/