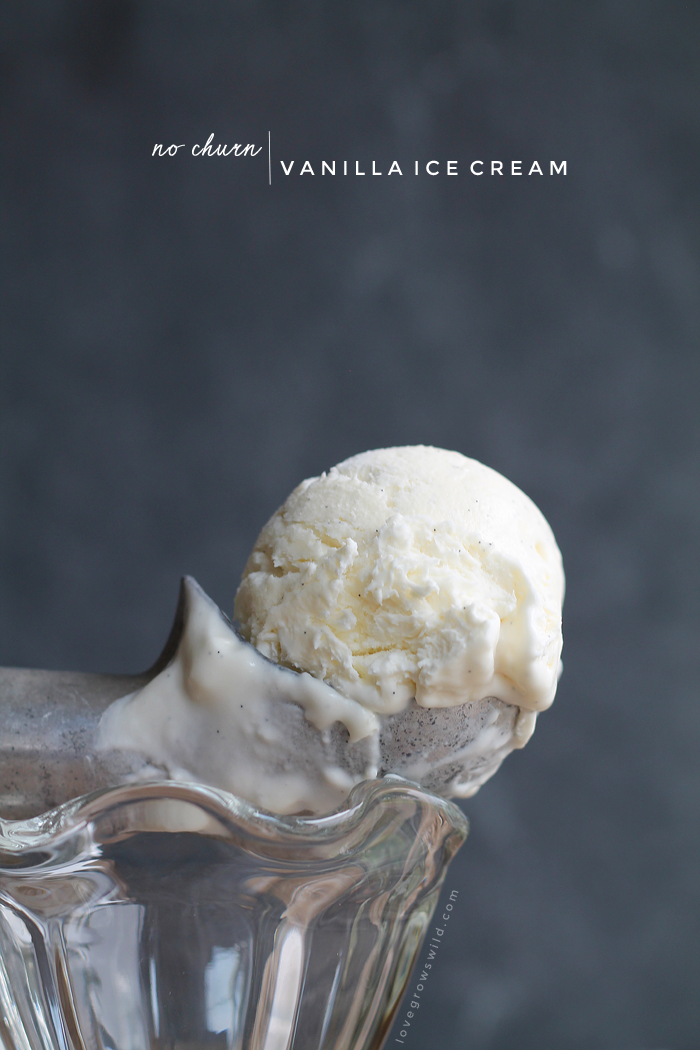 Okay, I know it's nearing the end of summer, and I'm sharing an ice cream recipe. Great timing, right? But the truth is I crave ice cream all year long, whether it's 100 degrees in the middle of July or 3 degrees in the middle of January. There's no wrong time to devour a couple scoops. And when we're talking about a 3-ingredient, no-machine-needed, super creamy and delicious Vanilla Ice Cream recipe… every day is a good day to celebrate with ice cream!
I know I'm not the first person to be hopping on the no-churn ice cream bandwagon, but I decided to finally give it a try this summer, and I was sold… hook, line, and sinker! How can only 3 ingredients produce a delicious ice cream without the use of a fancy ice cream maker? I was super skeptical at first, but one bite of this creamy, rich treat and I knew this recipe would be in my life forever.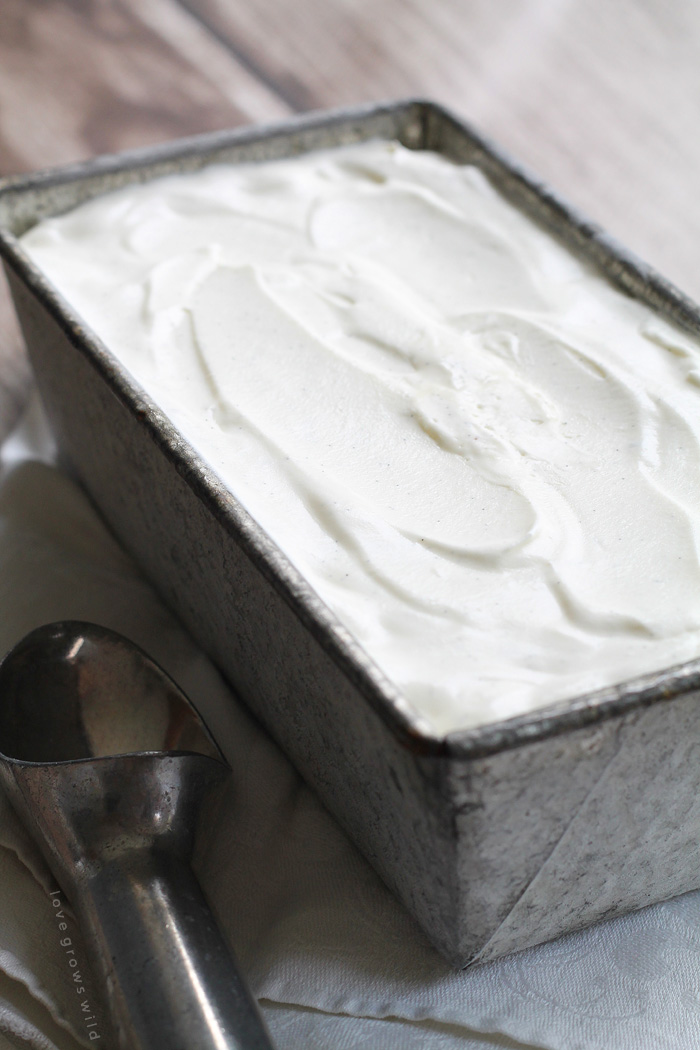 Here's how it works: 1 pint of heavy cream gets whipped until stiff peaks form. I use my KitchenAid Stand Mixer
for this recipe, but you could also use a hand mixer just as easily. Then you mix together a 14 ounce can of sweetened condensed milk and your vanilla of choice. Most people already have vanilla extract on hand, which works perfectly, but I had some vanilla beans hanging out in my pantry, so I used those. I think the vanilla beans give a much more robust vanilla flavor, and I love seeing the tiny little flecks of vanilla running throughout the ice cream. I've also heard great things about vanilla bean paste
and have it on my to-do list to purchase some… have you tried it before?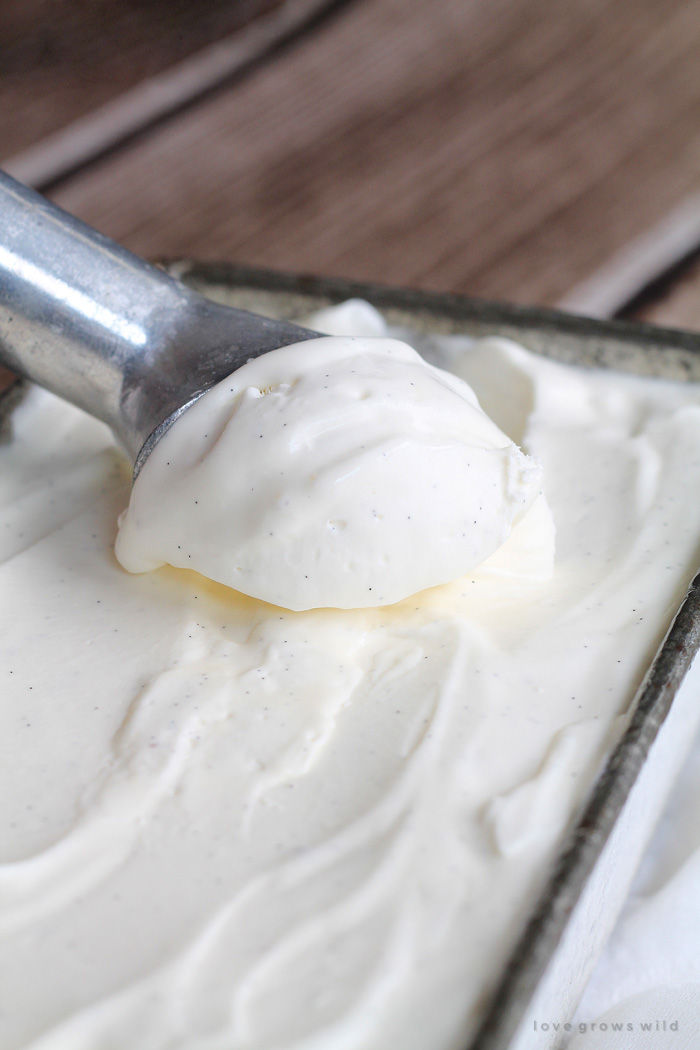 Then with the mixer on low speed, you slowly pour the vanilla/milk mixture into the whipped heavy cream. Once combined, you transfer the mixture into a freezer-safe container and wait at least 6 hours for the ice cream to freeze. It's torture waiting for this ice cream magic to happen, but I promise it's well worth the wait!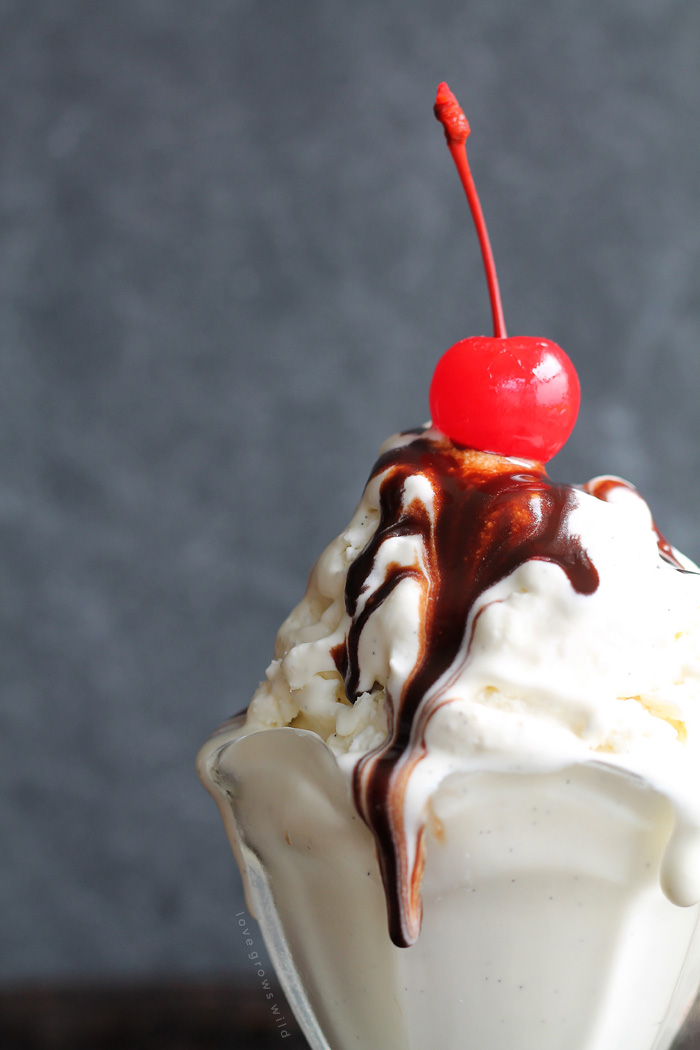 This no-churn ice cream turns out super creamy and decadent with a delicious vanilla flavor. I'll admit that sometimes I buy the super cheap generic ice cream from the grocery store for the boys (I save the good stuff for me!), and they said they loved this rich, creamy version so much more! I guess I'll be making my no-churn ice cream quite a bit now that I can't fool them with the cheap stuff anymore! And you better believe there will be all kinds of yummy new ice cream flavors coming to the blog soon! What flavors would you like me to make?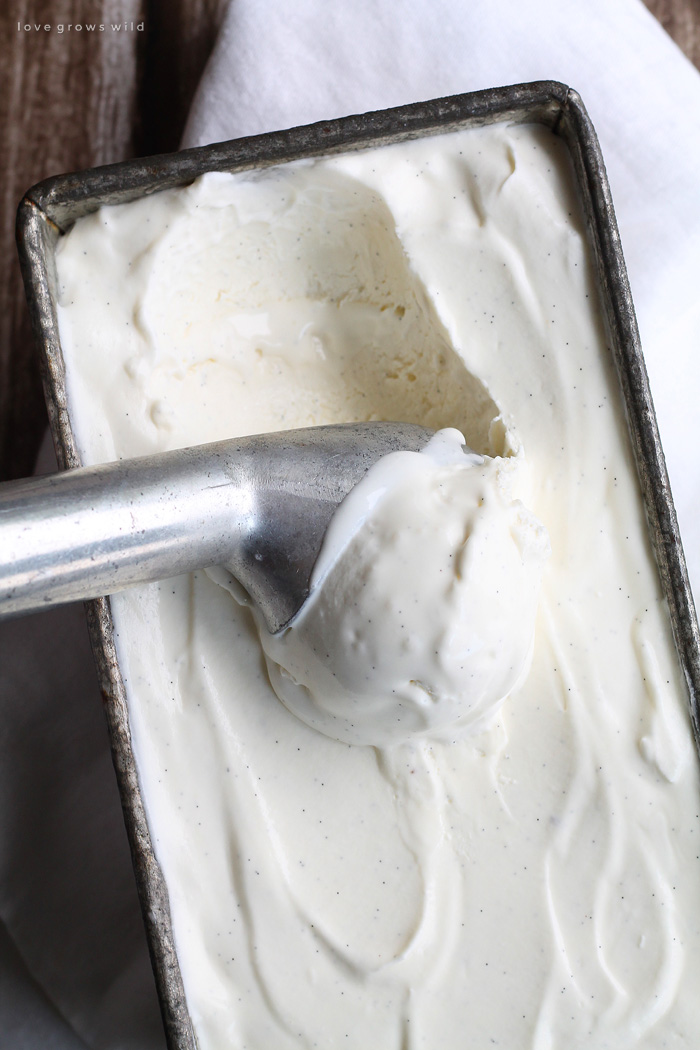 You can serve this ice cream in so many ways… build you own sundaes with chocolate sauce and sprinkles, make a homemade strawberry topping for your ice cream, or serve a couple scoops with a number of delicious desserts like apple pie bars, homemade peach pie, or fudgy pecan brownies. Or you can be like me and stand next to the freezer eating your vanilla ice cream straight out of the container while cooking dinner….
"I don't know where dessert went, kids. It seems to have disappeared."
Shh… it's our little secret!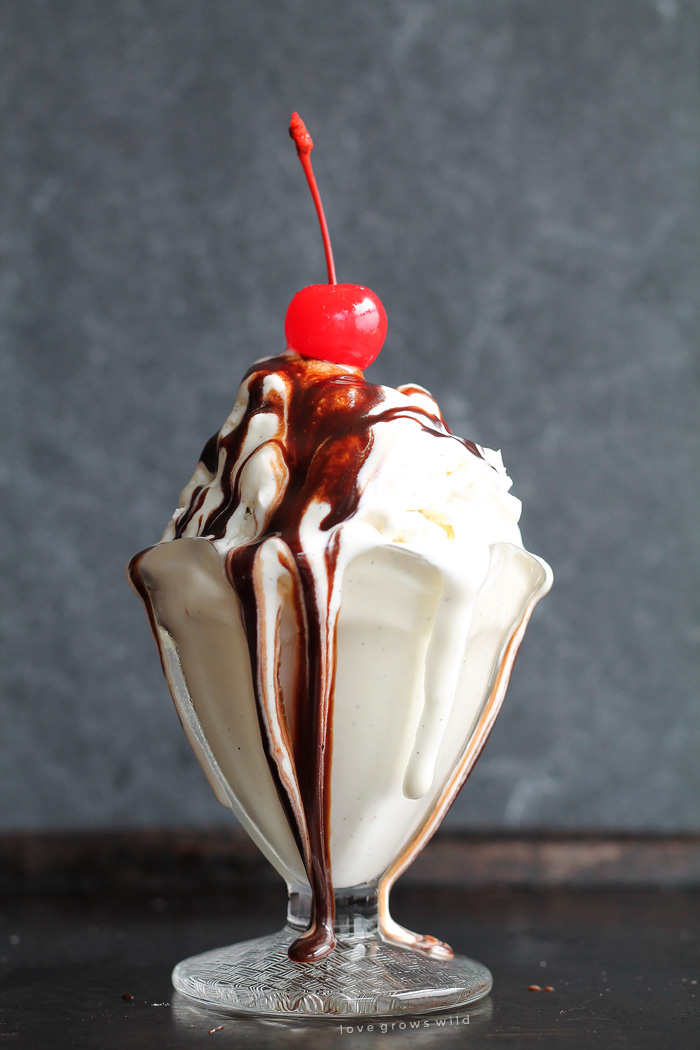 Like what you see? Subscribe to Love Grows Wild so you'll never miss a post!
Follow along on Pinterest, Google+, Instagram, and Facebook for more fun!
No-Churn Vanilla Ice Cream
This perfectly creamy Vanilla Ice Cream is made without a machine and only needs 3 ingredients!
INGREDIENTS
1 pint (2 cups) heavy cream
14 ounce can sweetened condensed milk
1 tablespoon vanilla extract or 1 vanilla bean
INSTRUCTIONS
If using a vanilla bean, slice the pod in half lengthwise with a paring knife and scrape the seeds out using the dull edge of the knife. Add the vanilla bean seeds or vanilla extract and the sweetened condensed milk in a small bowl and stir to combine.
Add heavy cream to a mixing bowl and whip on high for several minutes until stiff peaks form. Turn the mixer on low and slowly add the vanilla mixture to the heavy cream. Once combined, pour into a freezer-safe container and freeze at least 6 hours to overnight.
– adapted from Martha Stewart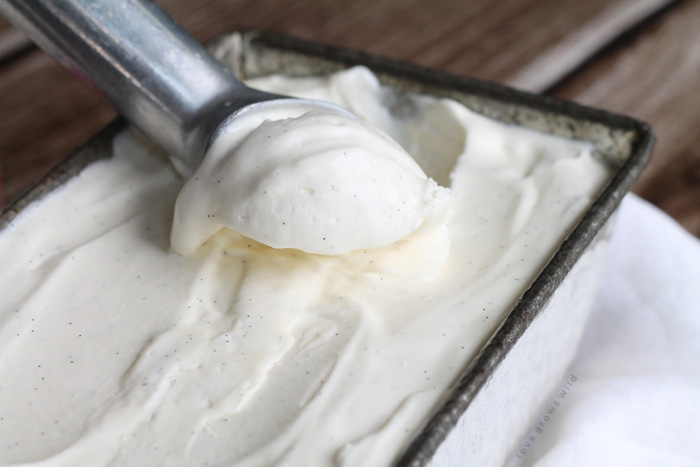 ---
More Delicious Desserts to Try: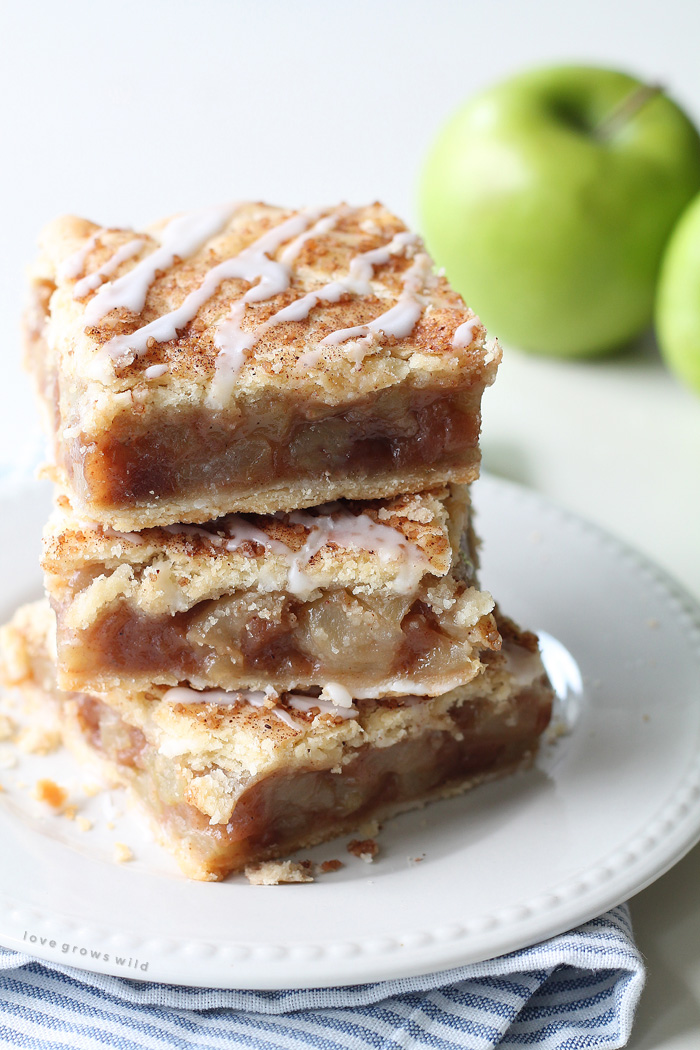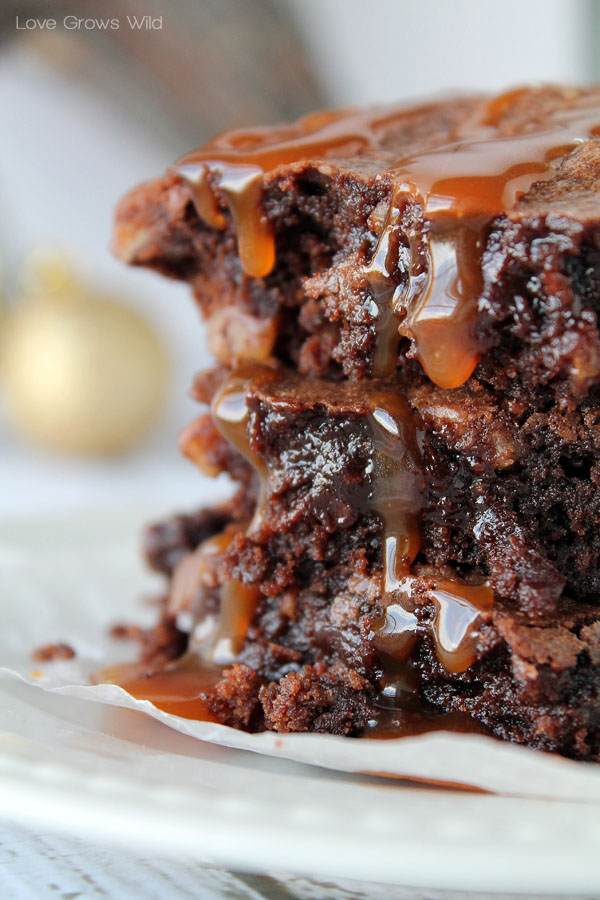 Fudgy Pecan Brownies with Salted Caramel Sauce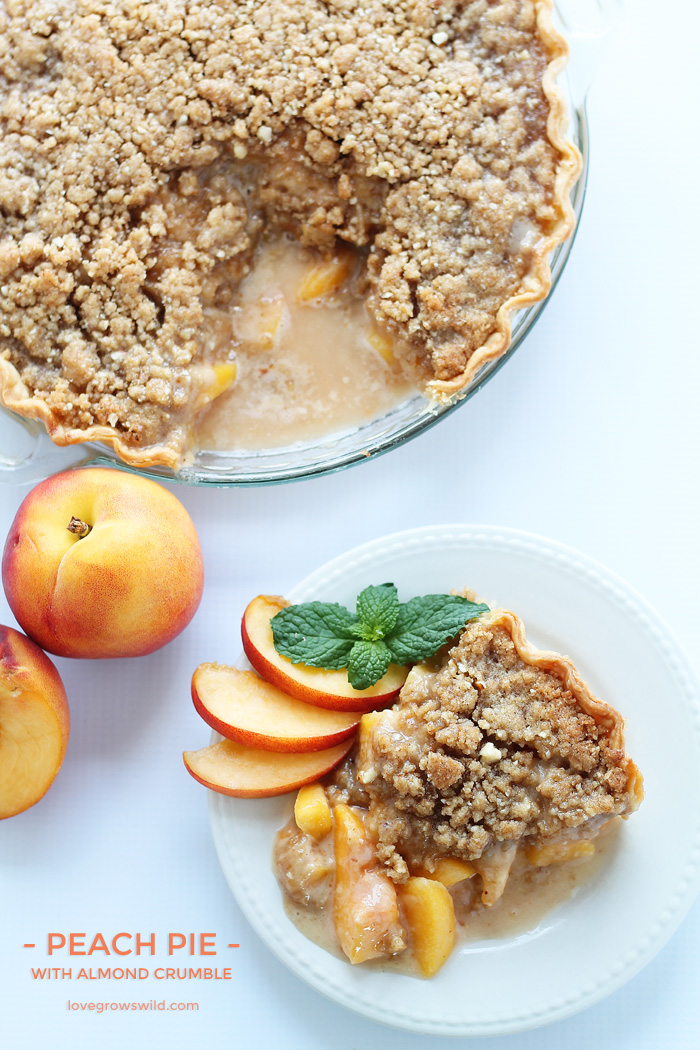 ---
LET'S KEEP IN TOUCH!
Subscribe to Blog | Browse my Shop | Follow on Facebook | Follow on Twitter
Follow on Google+ | Follow on Pinterest | Follow on Instagram