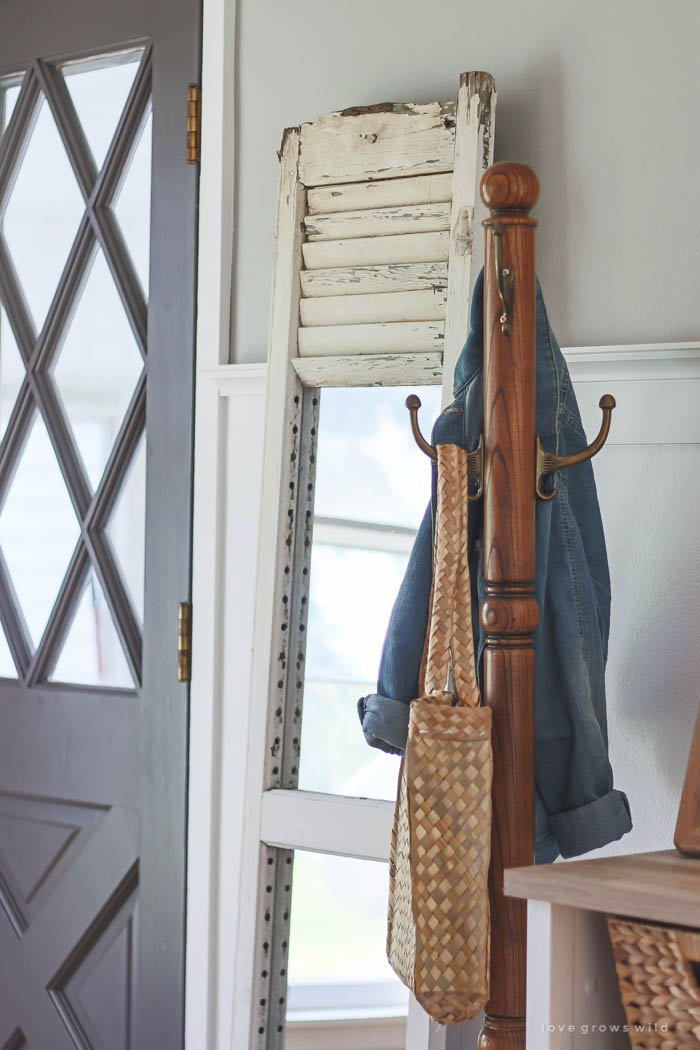 Learn how to take an old shutter and turn it into a beautiful mirror with tons of farmhouse charm!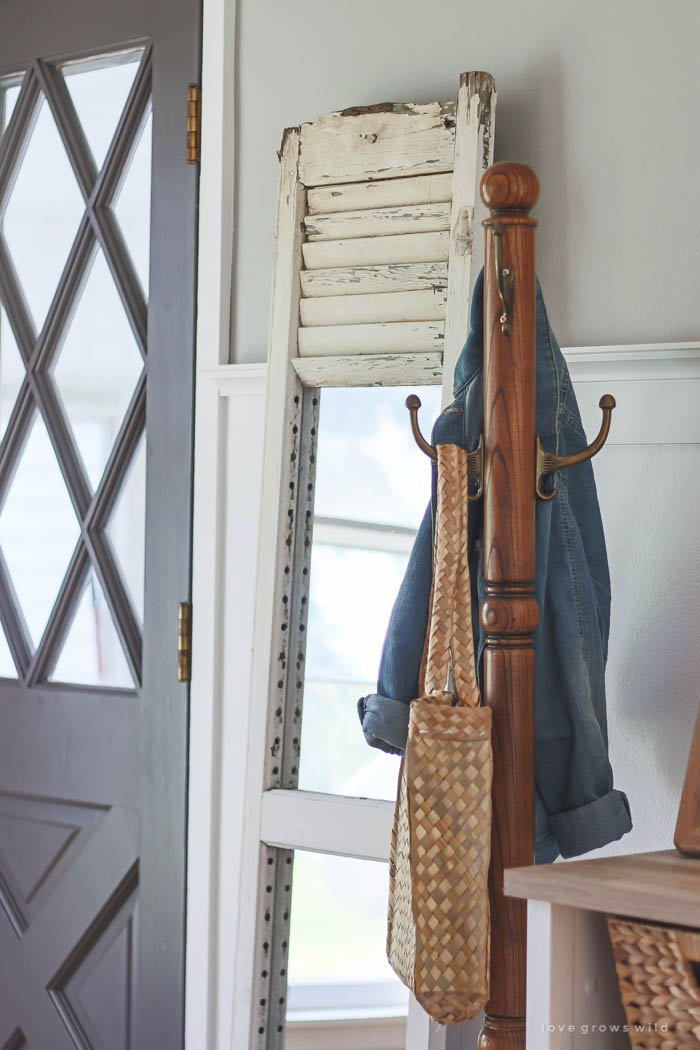 Hi friends! I am so excited to show you this cute and easy up-cycle project today, but first I have a few things I need to get off my mind. Let's pour a cup of coffee, and have a little girl talk for a minute!
Over the last couple years, we have slowly renovated our little farmhouse, and you guys have gotten a front row seat along the way. We worked on our dining room and living room earlier this year, just finished up our office, and I've been teasing you with plans of a master bedroom makeover in the works. I cannot wait to show you our plans for FINALLY getting a real, grown-up master bedroom, but life, as it often does, has thrown us a couple curveballs lately. Now these aren't bad curveballs… they are actually big, exciting, beautiful blessings (and no, don't worry… I'm not pregnant!), but I can't share what they are just yet.
The reason I'm sharing this whole curveball story is because I try to always be completely honest with you guys and share all the details of our renovation journey. So here's the truth of what's going on behind-the-scenes:
– We ARE starting our master bedroom makeover… woo-hoo!
– You'll see some updates to our dining room in preparation for a Style Challenge project coming up with Home Depot. (here is last year's challenge)
– The master bedroom makeover will most likely be interrupted by a major renovation project on our (drum roll, please)…BATHROOM! eek!
And by the time all of this is said and done, the holidays will be just around the corner, and I get to start decorating our beautiful farmhouse for Christmas. Phew… I'm exhausted (and excited!) just thinking about it! Be sure to follow along on Instagram for more behind-the-scenes news! So in a nutshell, I just wanted to quickly map out the next few months for you guys so you're not wondering why I'm posting about beds and nightstands one minute and bathtubs and tile the next. Curveballs… you gotta love 'em!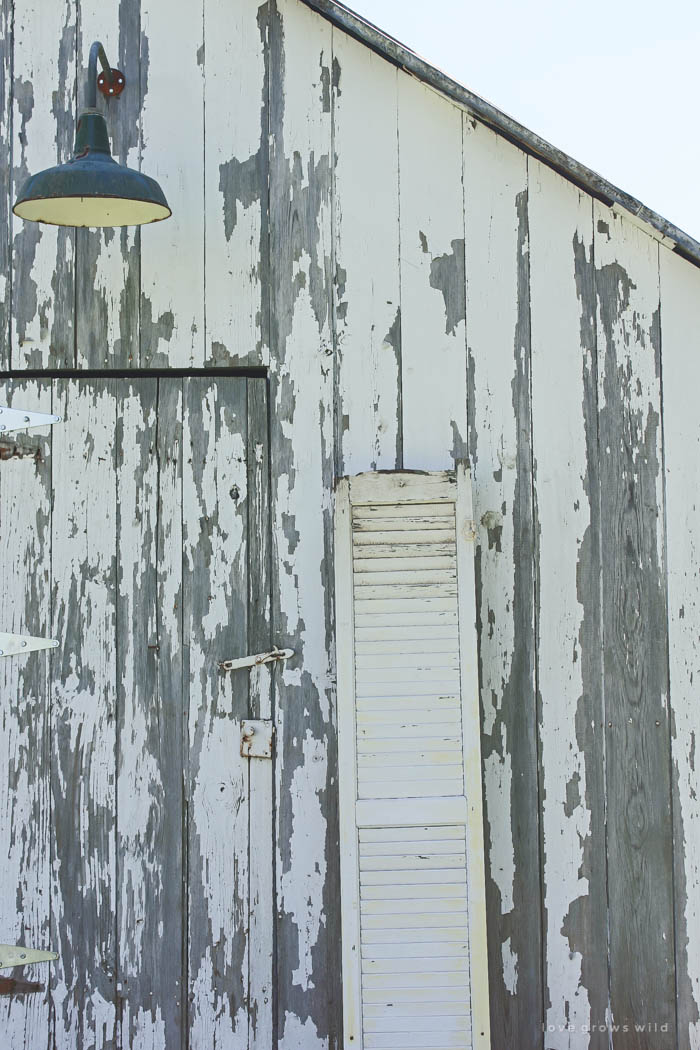 Okay, NOW let's get to this awesome shutter mirror! As most of you know, our dining room also serves as the entryway to our home, so I've tried to create a small, organized space where we can kick off our shoes and hang our coats without making the dining room look like a complete hot mess. I have a little piece of wall space next to our coat rack that happened to be the perfect size for a floor-length mirror, but rather than buying a framed mirror from the store, I decided to add a fun farmhouse vibe by using an old shutter as the mirror frame!
I picked up this white, chippy beauty from my favorite antique warehouse: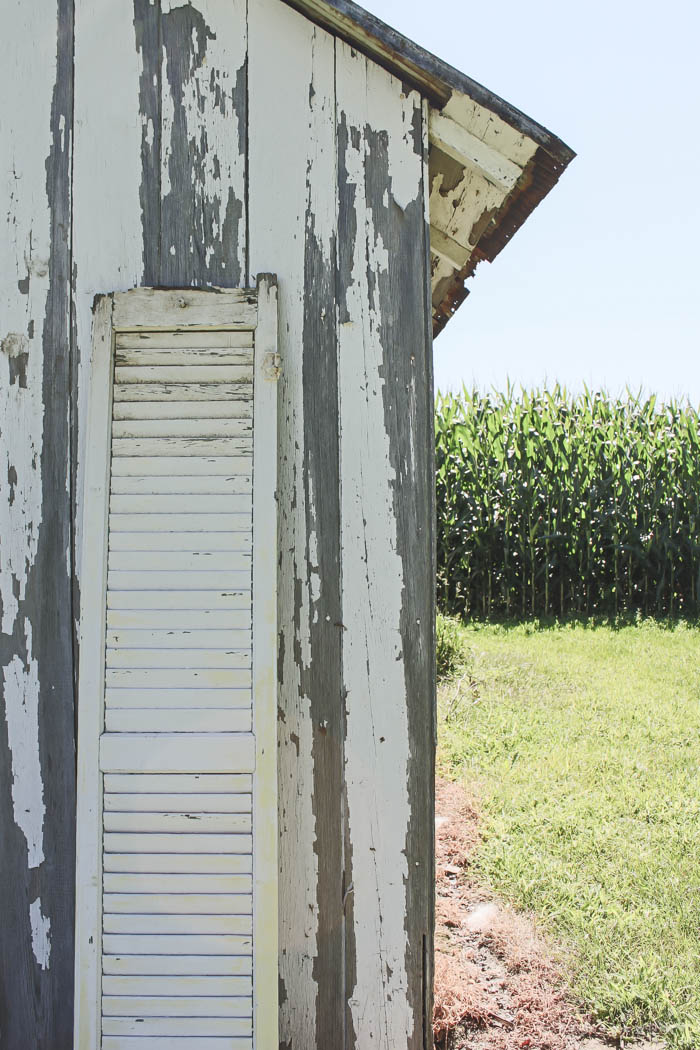 Supplies:
shutter (mine measured about 70″ by 14 1/2″)
door mirror (like this one)
utility knife
sawzall or hand saw
plastic mirror clips
small screws
drill
Step One:
If your mirror came with a frame, start by removing the paper on the back of the mirror.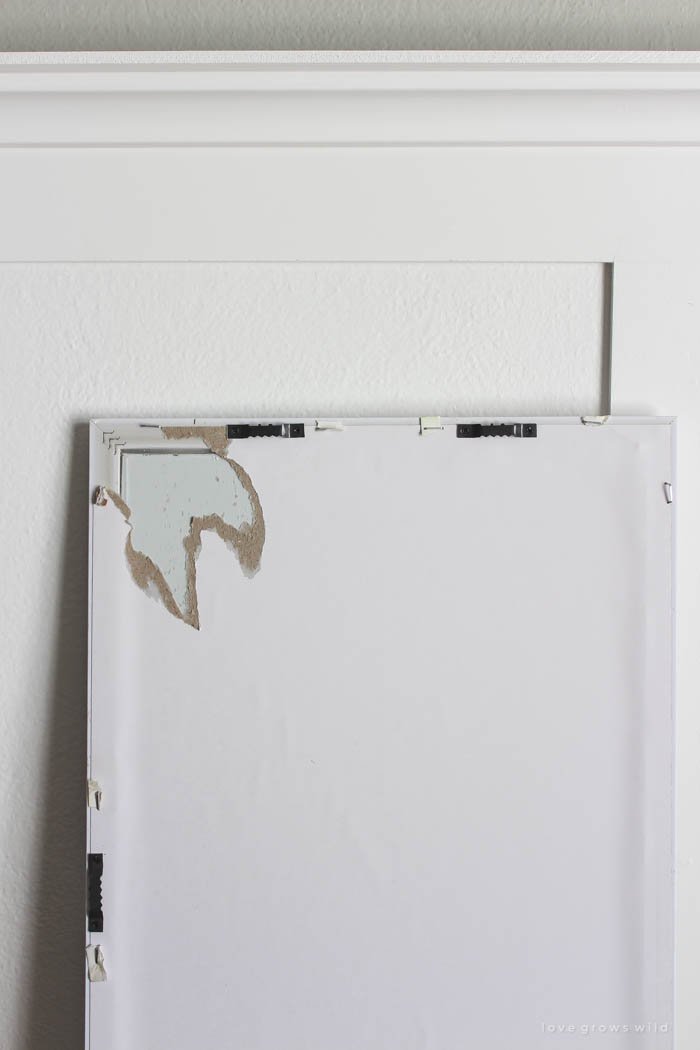 Step two:
Once the paper is removed, you'll see a line of glue that holds the frame onto the mirror. Use a utility knife to carefully cut the glue, separating the frame and mirror.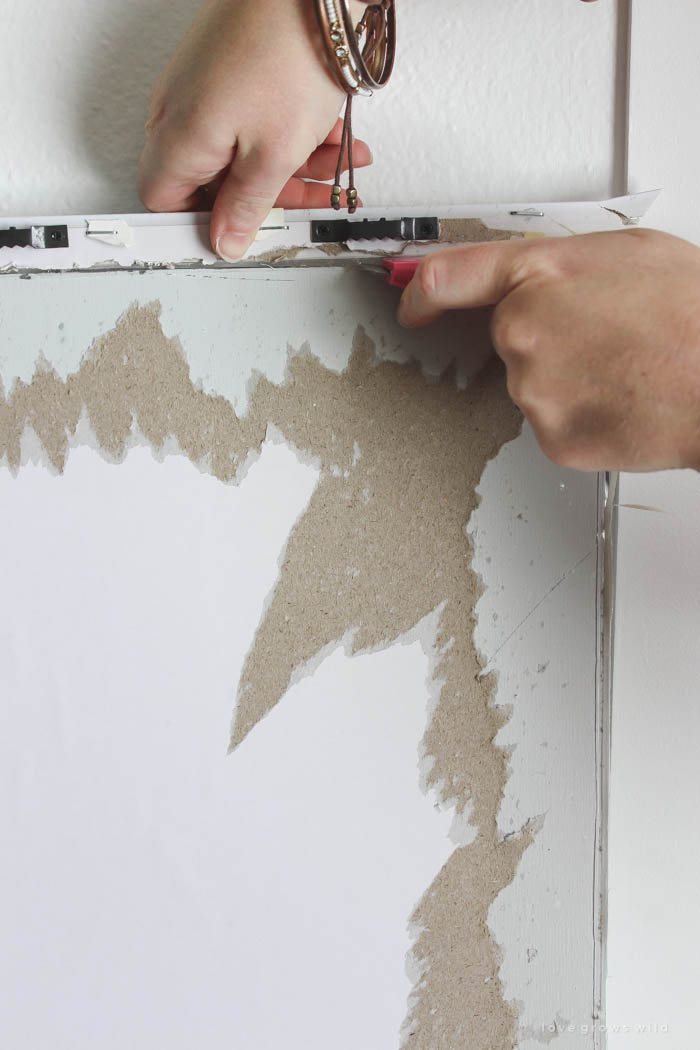 Step three:
Pull the frame away from the mirror. Do not try to pull the frame forward or backward to loosen it, as this can cause the mirror to break. Just pull it straight and use your knife to cut the glue more if it doesn't want to come loose right away.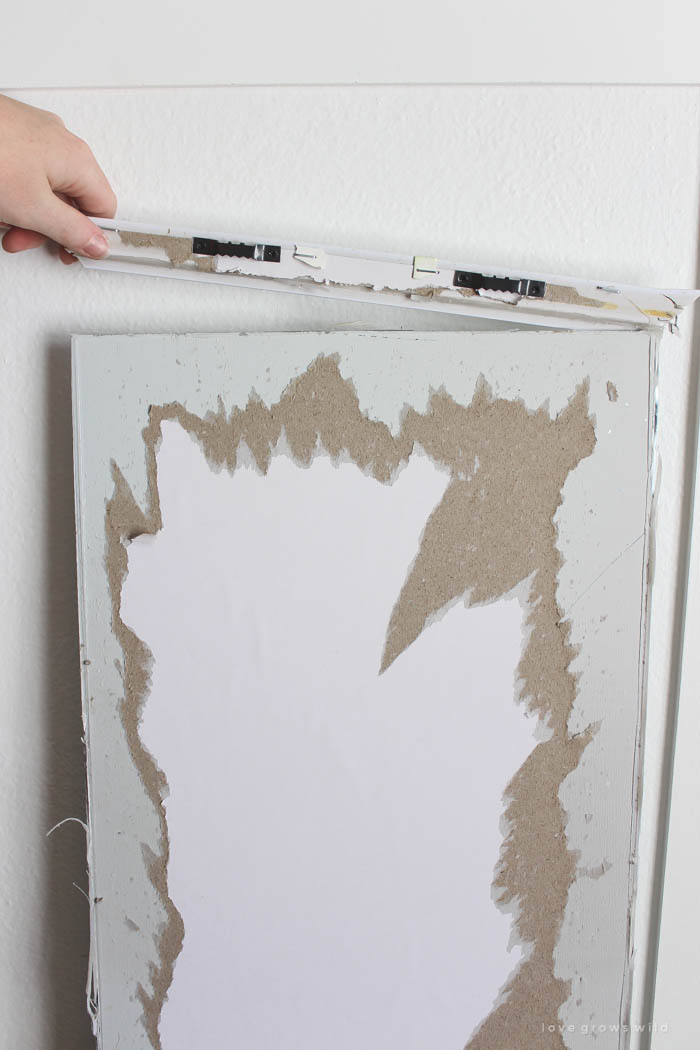 Step four:
Remove parts of the shutter to make room for the mirror. My shutter was taller than the mirror, so I left a few pieces on the top and bottom and removed the middle pieces using a sawzall. A hand saw would work for this also!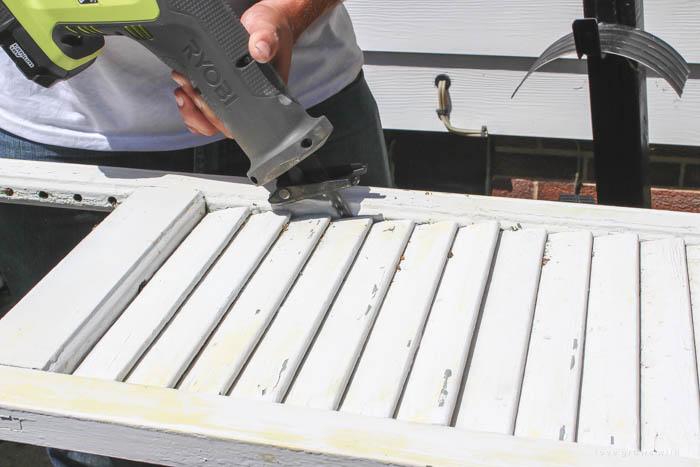 Step five:
Flip the shutter upside down and set the mirror on top facing down. Attach plastic clips along the sides of the mirror to hold it in place using a drill and short screws (mine were 3/4″ long). Make sure not to over-tighten the screws so the plastic clips do not crack.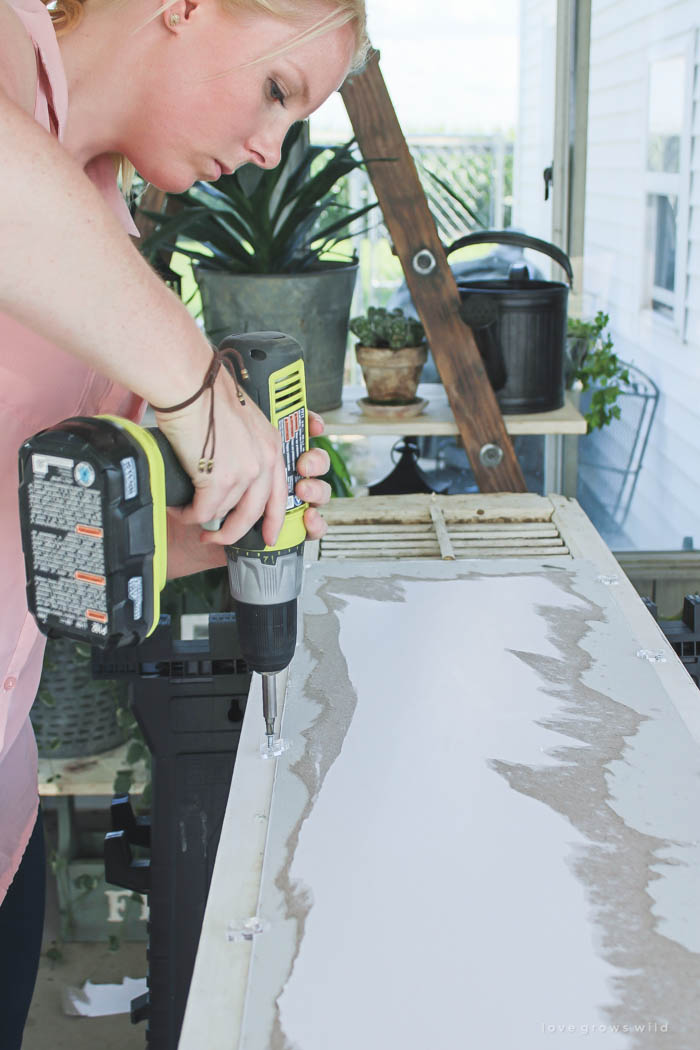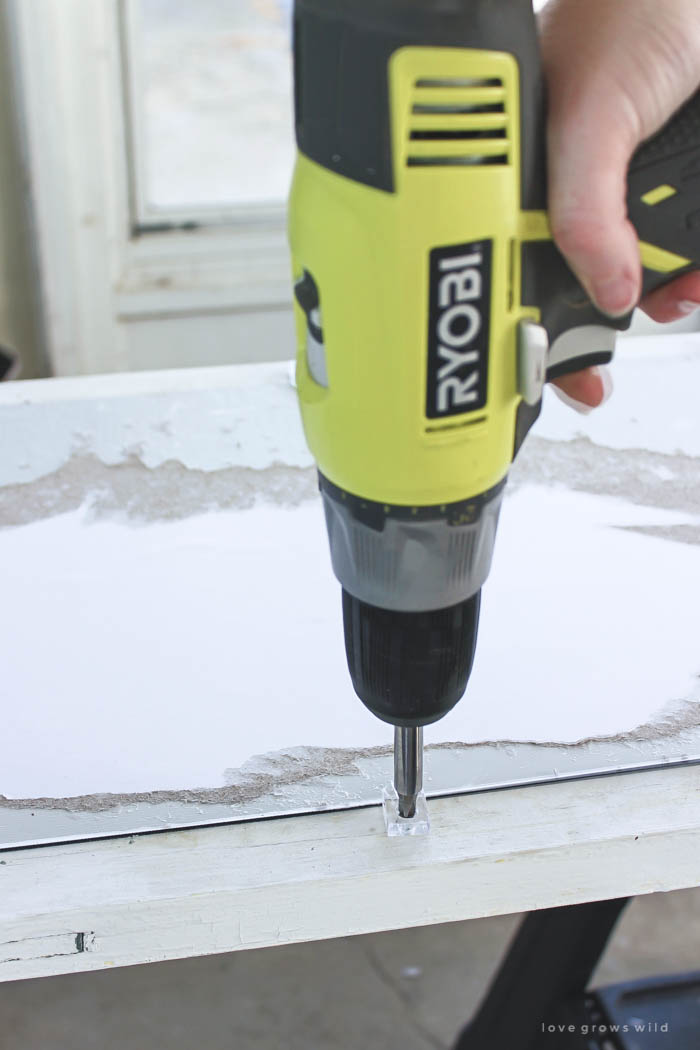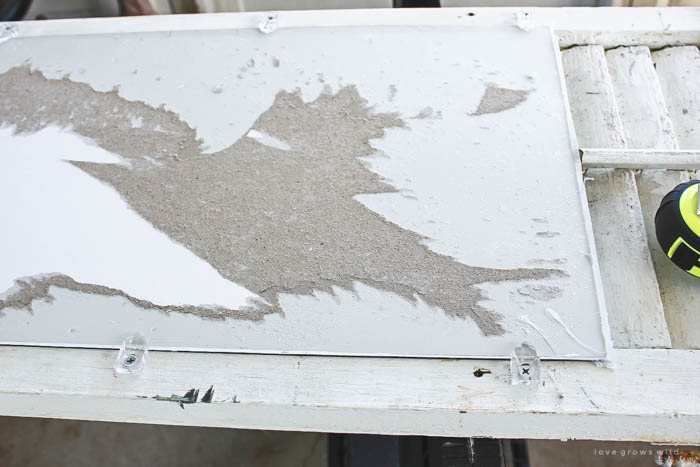 And here is the finished mirror in our dining room!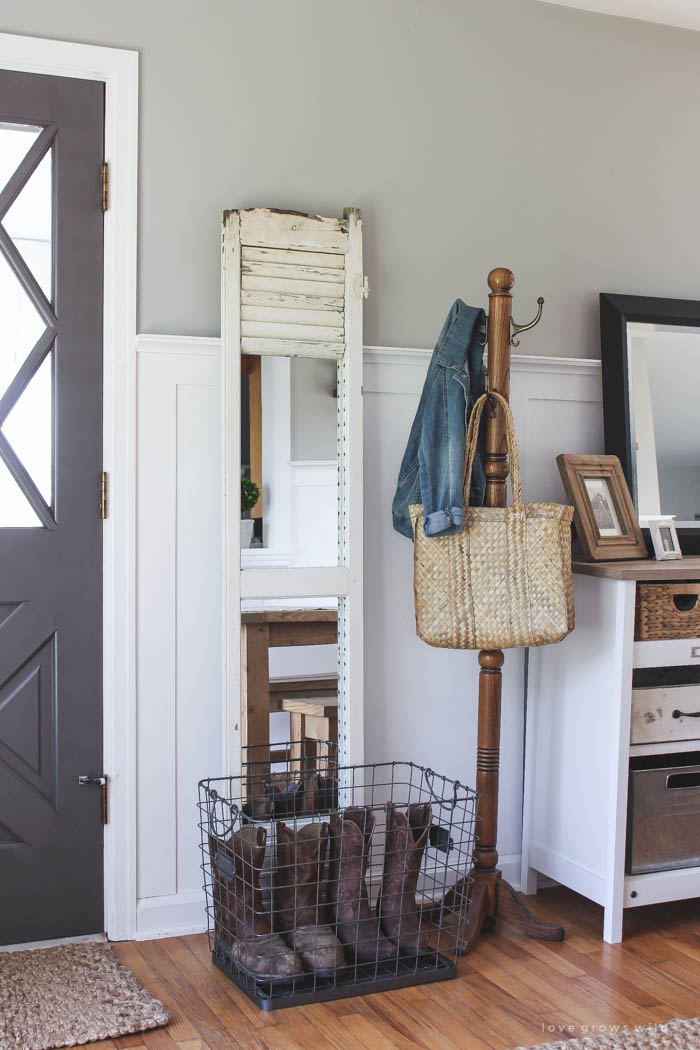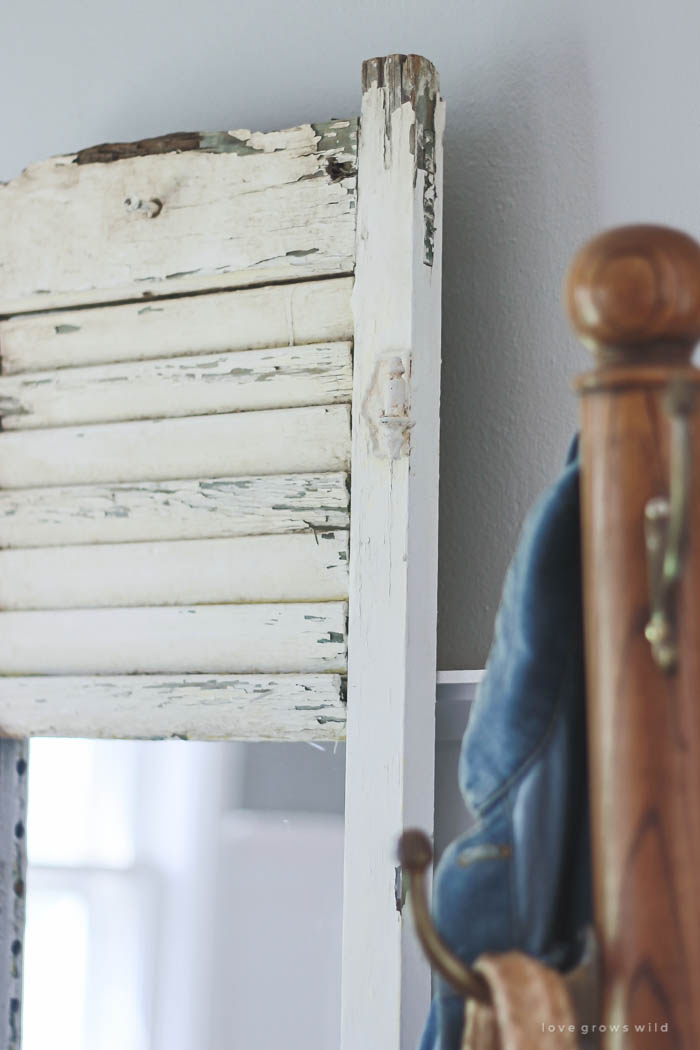 Isn't she gorgeous? I easily could have put a basic framed mirror here, but it would not have an ounce of the charm and character this one has. Farmhouse perfection, in my opinion! I did gently dry brush some white chalk paint over parts of the shutter that had yellowed over time. I love the spots where the white paint has chipped away to expose the wood underneath, but the yellowing paint towards the bottom was not so pretty. It was a really easy fix though!
You may have noticed our door is finally painted too! I used Rust-Oleum Door Paint in the color rustic pewter (kind of a charcoal gray color). It has a very different consistency than regular paint, which makes it much more durable for a heavily-used front door. I give it two thumbs up so far!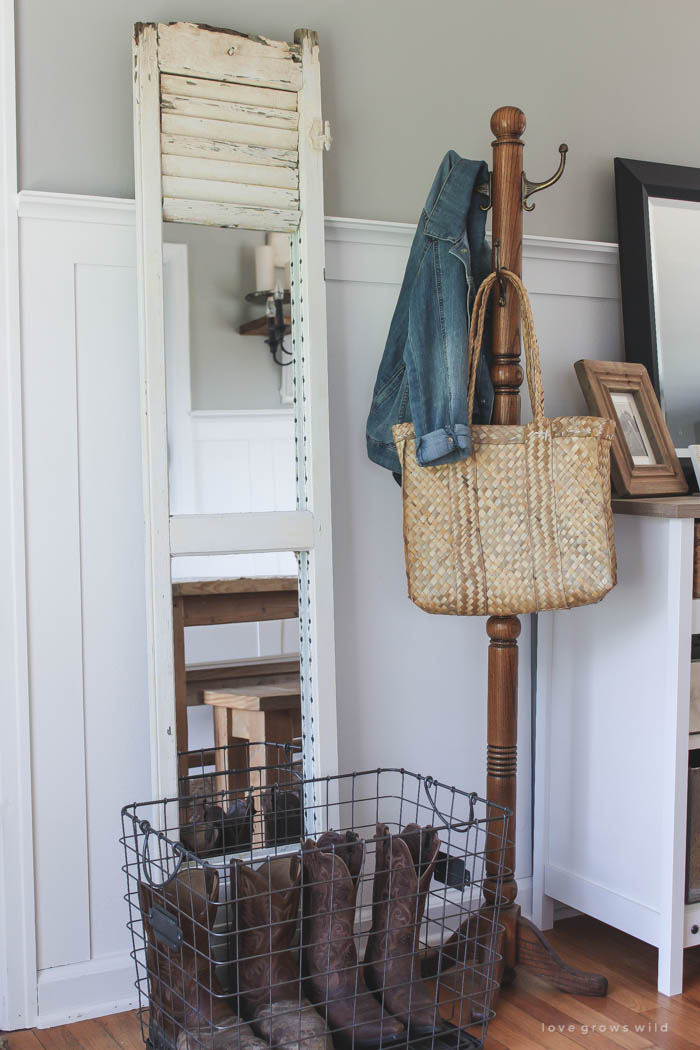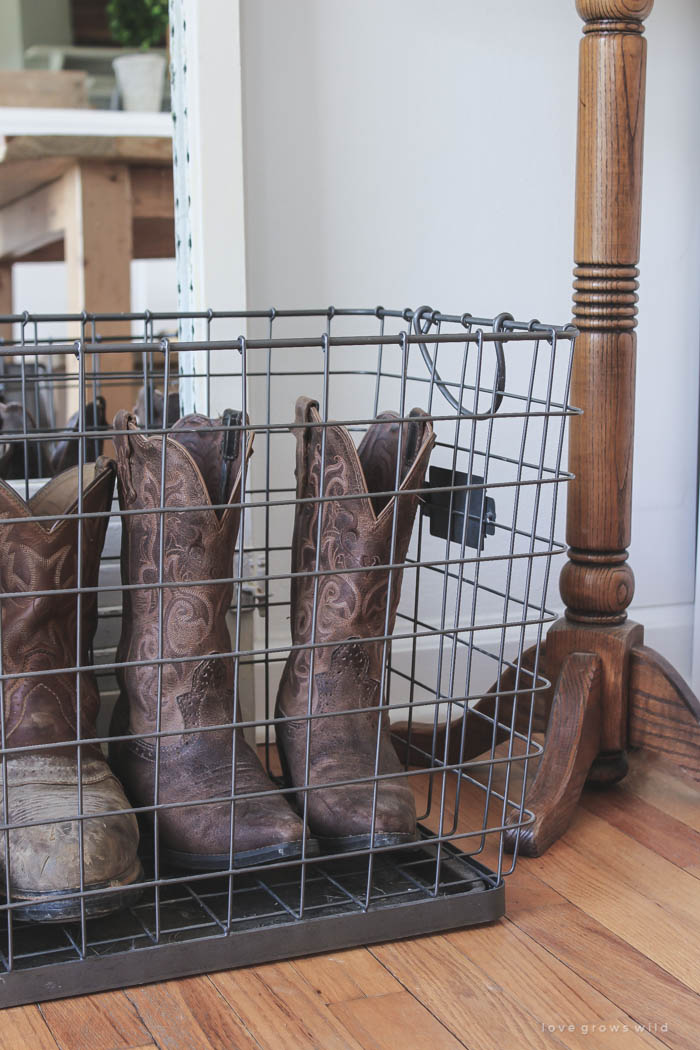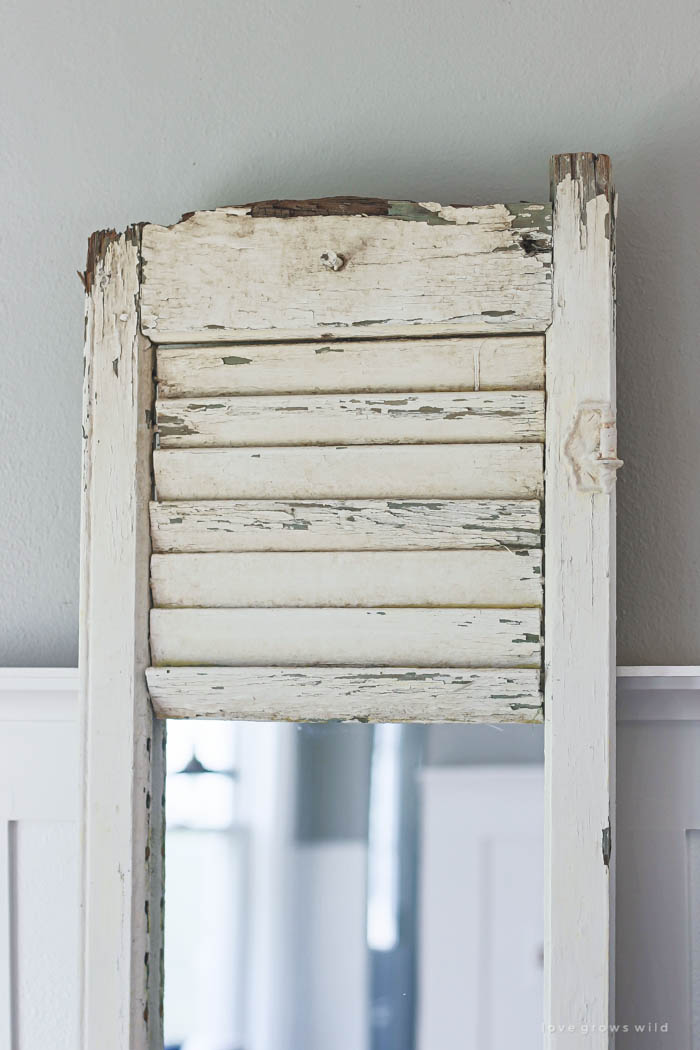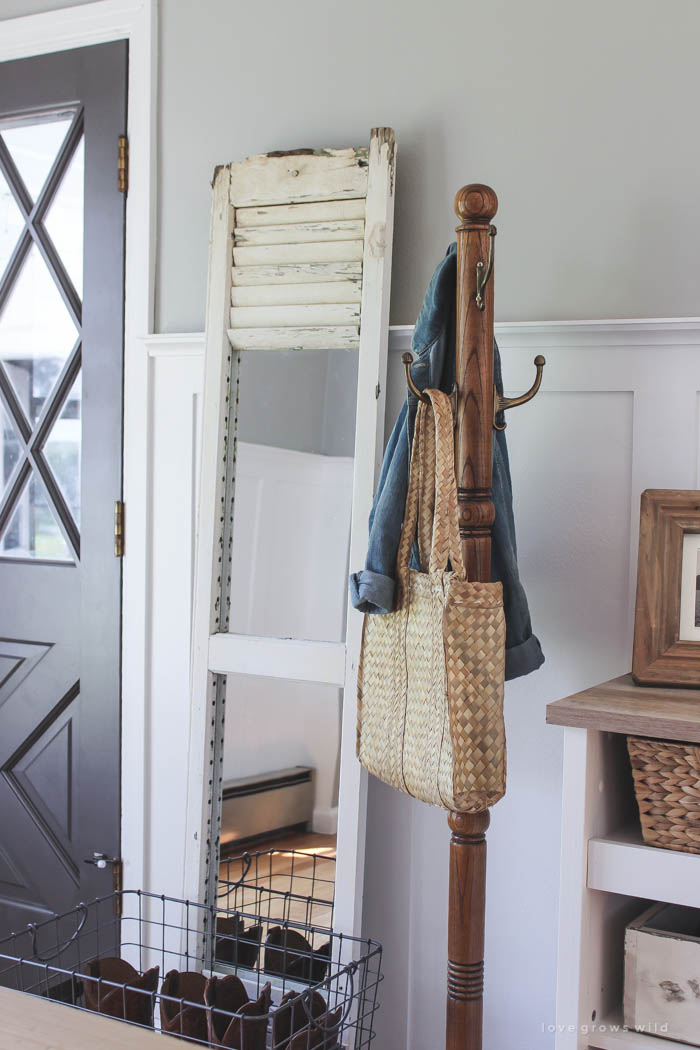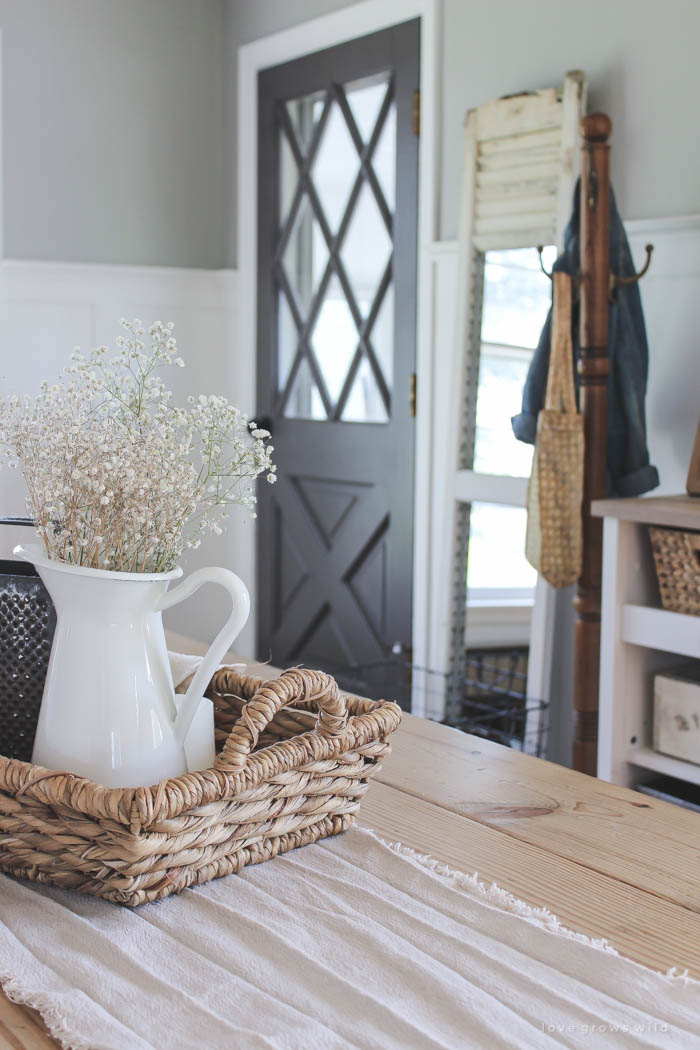 Okay, guys… I better get to work on all these projects that are brewing over here at the farm! What do YOU think of our new shutter mirror? Do you have any fun shutter decor in your house? I'd love to hear from you… leave me a comment below!
---
More projects from the farmhouse:
---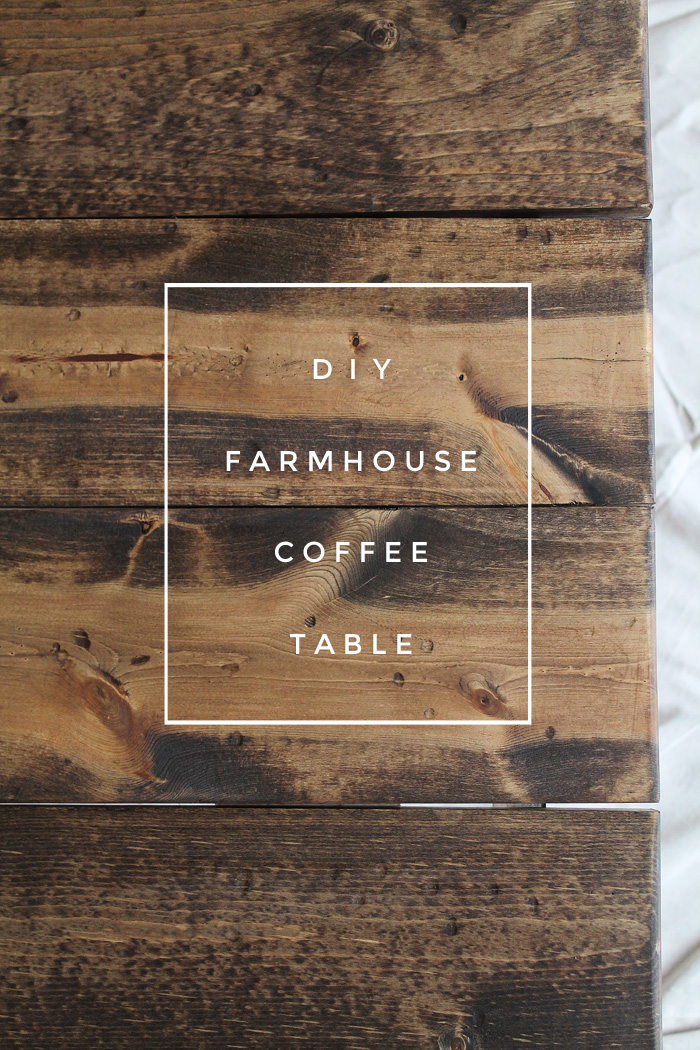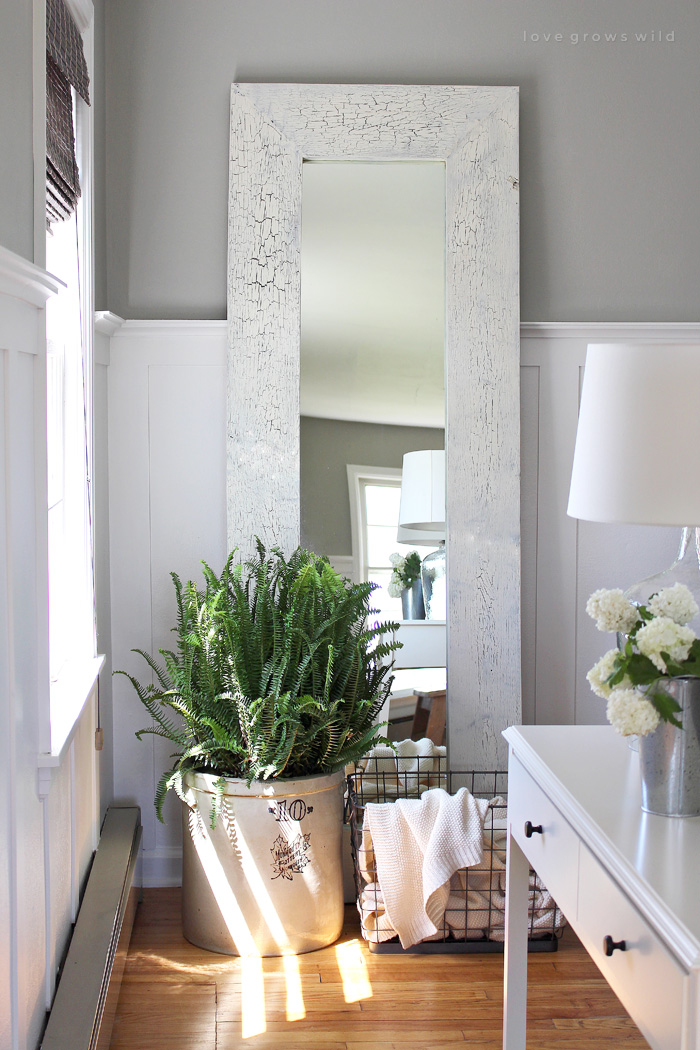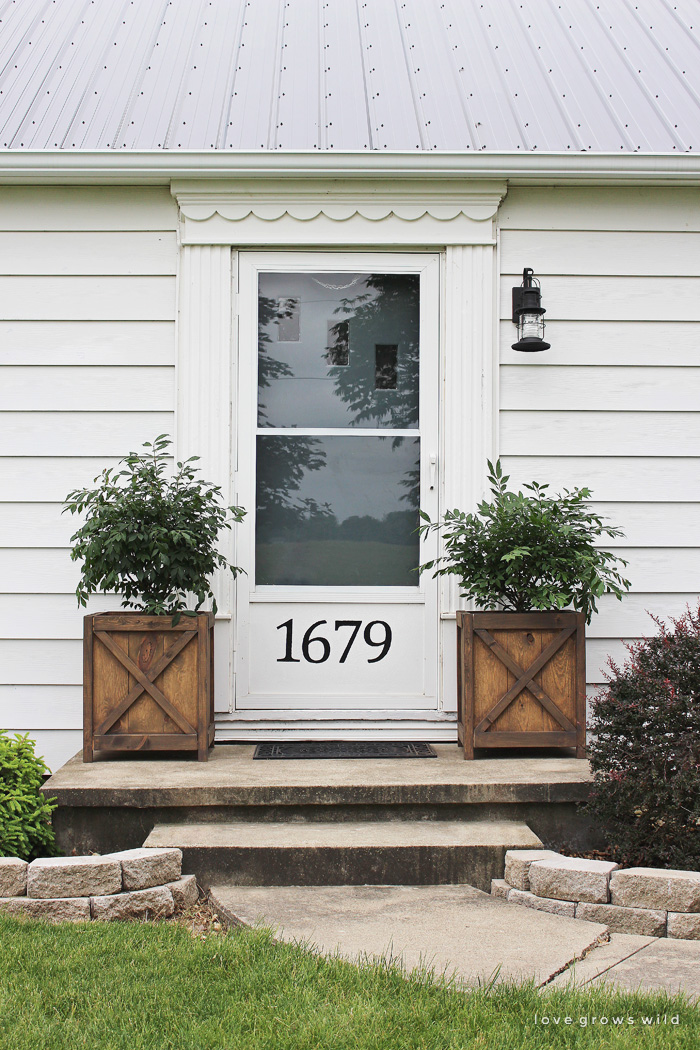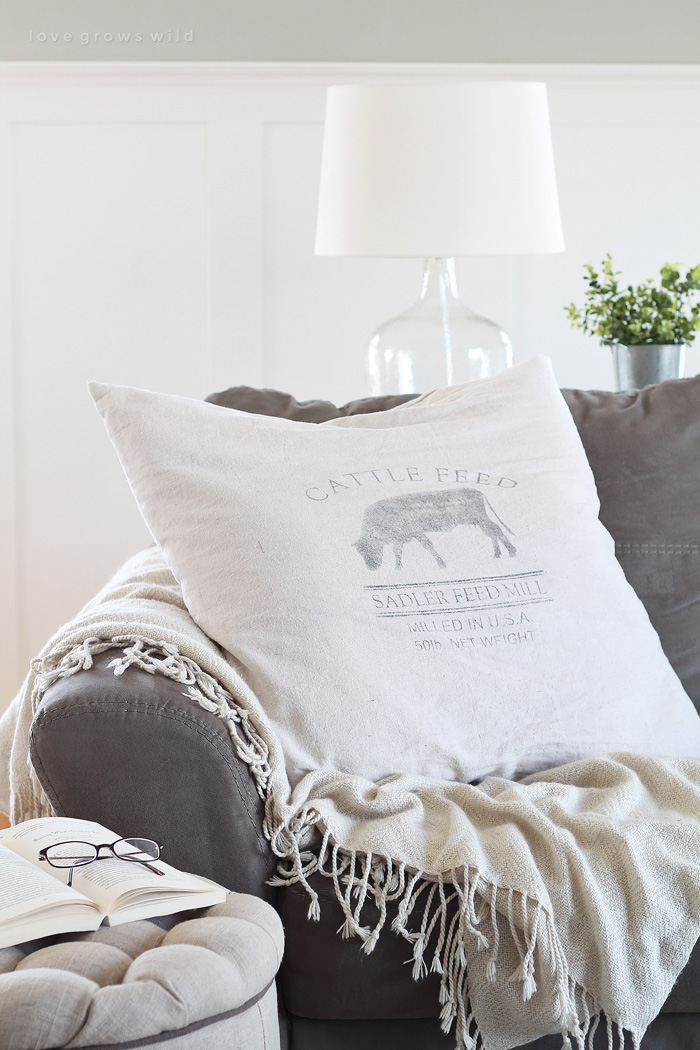 Envelope Pillow Cover Tutorial
---
LET'S KEEP IN TOUCH!
---
Subscribe to Blog | Browse my Shop | Follow on Facebook | Follow on Twitter
Follow on Google+ | Follow on Pinterest | Follow on Instagram