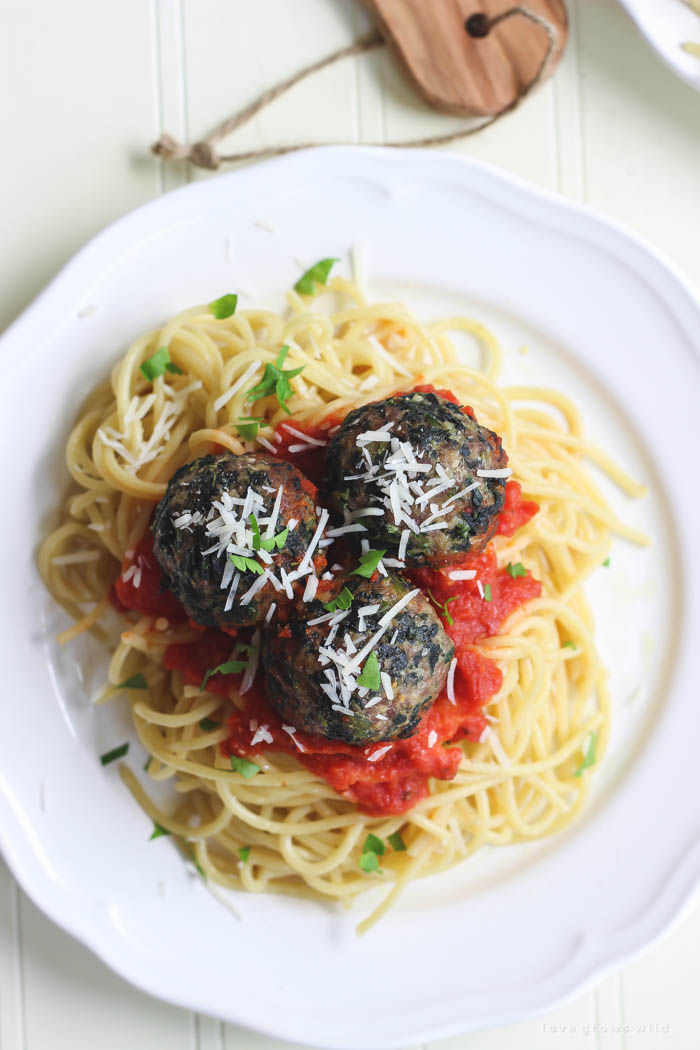 This recipe takes spaghetti and meatballs up a notch! Delicious Florentine Meatballs made with spinach and parmesan cheese are roasted in the oven then finished in a tasty marinara sauce.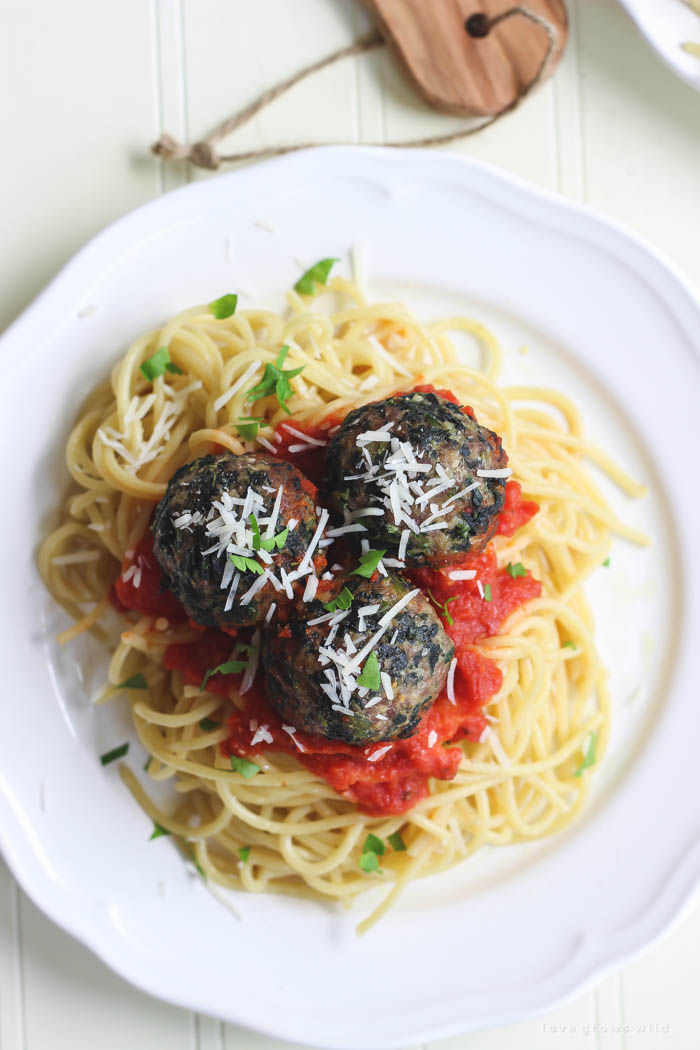 Today is a special day to celebrate, my dear friends. School is back in session as of 9 a.m. this morning! My oldest, Alec, started 4th grade this year, and my baby… my sweet baby boy, Wyatt, started kindergarten.
Excuse me while I sob into my meatballs for a minute… (insert ugly cry here)
I'm sure that in a few short days, I'll jump for joy the second those crazy boys board the school bus. But I'm giving myself one day to be a complete hot mess and sob uncontrollably as I'm wrapped in one of Wyatt's blankies looking at baby pictures of his adorable, enormous head and those baby blues that stole my heart almost 6 years ago. There may also be wine involved. Oh yes, wine is a must today.
But aside from all that drama, back to school also means back to homework, back to schedules, back to early bedtime, and back to eating dinner at a decent hour. Anyone else seem to eat dinner super late in the summer? I guess it might be because the sun stays out so late this time of year, but I'm actually looking forward to getting back to a somewhat normal schedule again. Speaking of dinner… how does spaghetti and meatballs sound?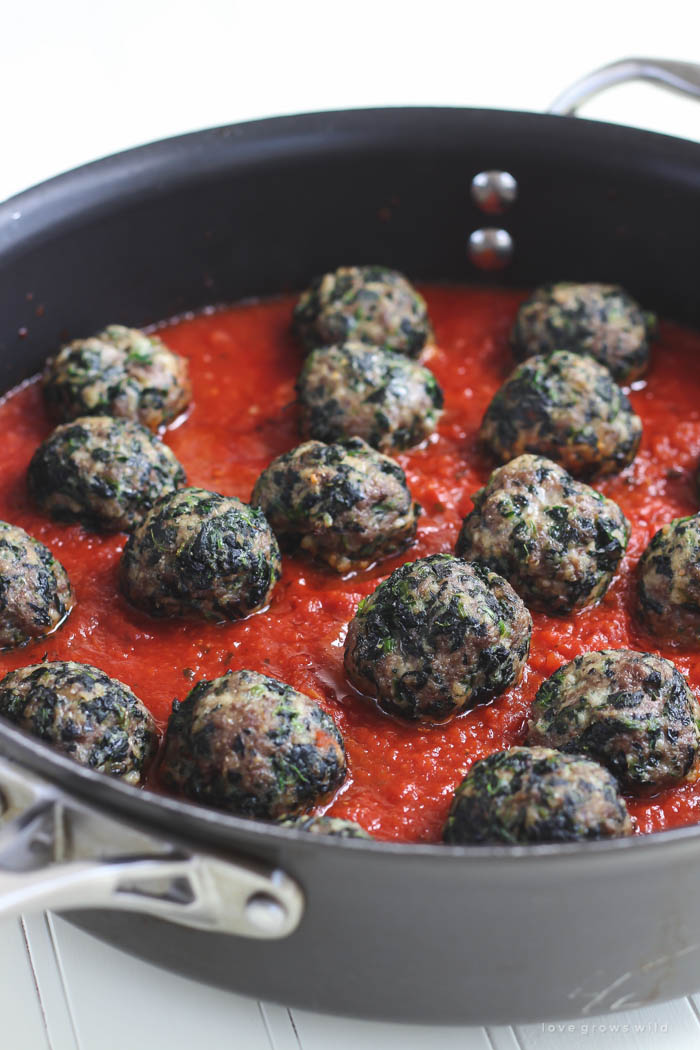 This particular meatball recipe is great for picky kiddos who aren't a big fan of veggies. Also great for adults too, for that matter! I've packed a ton of spinach into these meaty balls of goodness along with garlic, parmesan cheese, milk, and breadcrumbs. Super flavorful, easy to make, and even the fussiest eaters won't be able to taste all the healthy veggies hidden inside!
Dinnertime is just a few steps away, guys… mix all the ingredients together, shape into balls, roast in the oven for 20 minutes, then finish them on the stove swimming in a delicious marinara sauce. So tender, so juicy, and so good! My family likes these meatballs served over a bed of pasta, but you could certainly eat them without the pasta too. And side note… leftovers are delicious!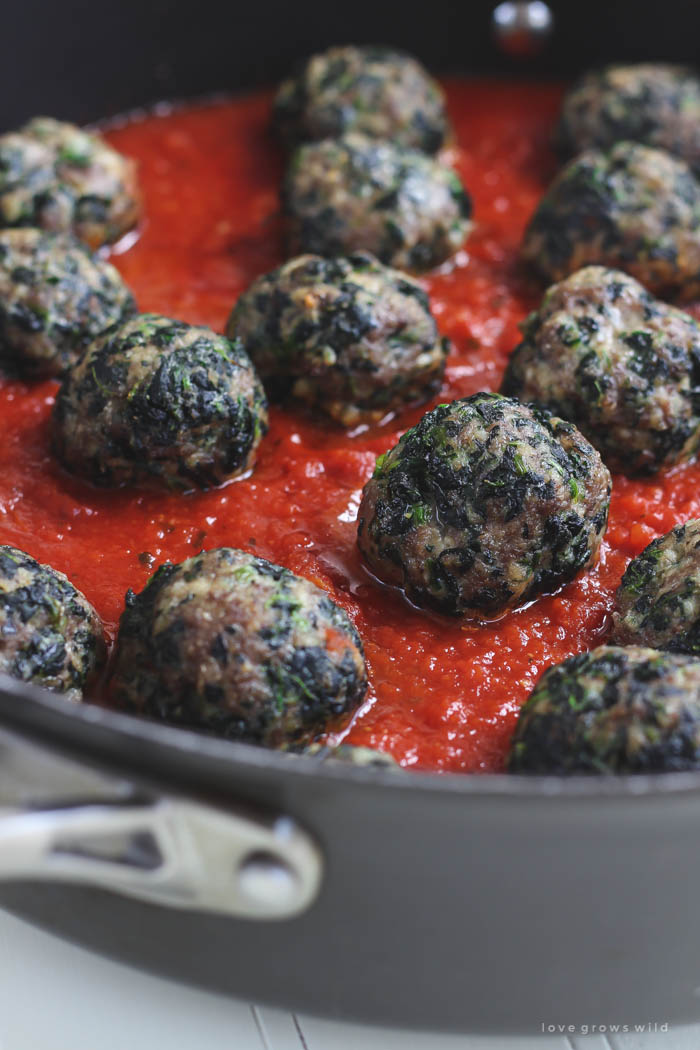 Now that the kids are back in school, I try to focus more on healthy meals that are going to fuel their little bodies throughout the day. Did you know that when kids eat breakfast on a regular basis, their test scores are higher, their attendance improves and their participation in class goes up? It's so important! Last year when I traveled to Ohio with the American Dairy Association Mideast, we had a chance to tour some dairy farms and learn about where our milk comes from, but we also visited some schools to see what their breakfast programs were like. Many of the kids didn't have an opportunity to eat breakfast at home, and without a breakfast program in the school, those kids wouldn't get the nutrition they need to grow up healthy. (you can read the full story here)
Then a few months ago, I had the opportunity to visit with Laurie Spahr, a dairy farmer's wife and mom of two, and we spent the day touring their farm and talking about life as a dairy farmer. We chatted about everything from how they care for the cows and what goes into running a dairy farm, to what it's like raising kids on the farm and the health and safety of giving milk to our children. We had a really great candid conversation, and she answered all the tough questions I had for her. As consumers and especially as moms, we care a lot about the food we are eating and giving our children, and Laurie taught me so much that day about those gallons of milk we buy every week. ADA Mideast was at the farm with us and captured many of our conversations on video for you guys to see! Um… talk about nerve racking… my first time ever having a microphone taped to me, brand new boots that I was trying not to trip over, one watery eye that WOULD NOT quit leaking and I'm pretty sure had no makeup left by the end of the day, and the fear of saying something incredibly stupid with 20 eyeballs on you and a camera right in your face… but hey, I did it! I'll have more videos of my and Laurie's conversation coming in the next few weeks, but here's the first video that talks a little bit about life on the farm:
In honor of my recent farm trip and school starting this month, I'm proud to partner with ADA Mideast today for a Dairy Fuel for Back-to-School recipe exchange! Myself and nine other food bloggers from around the country are sharing delicious, easy recipes that will help families prepare for the school year and encourage kids to drink more milk! Did you know that milk is the #1 nutritious product requested by food bank clients, but it is rarely donated? Milk is also the #1 food source of calcium, vitamin D and potassium in children's diets, but 46 million Americans served by Feeding America only get on average 1 gallon of milk ALL year. The Great American Milk Drive is working to put milk in the fridges of all families this back-to-school season.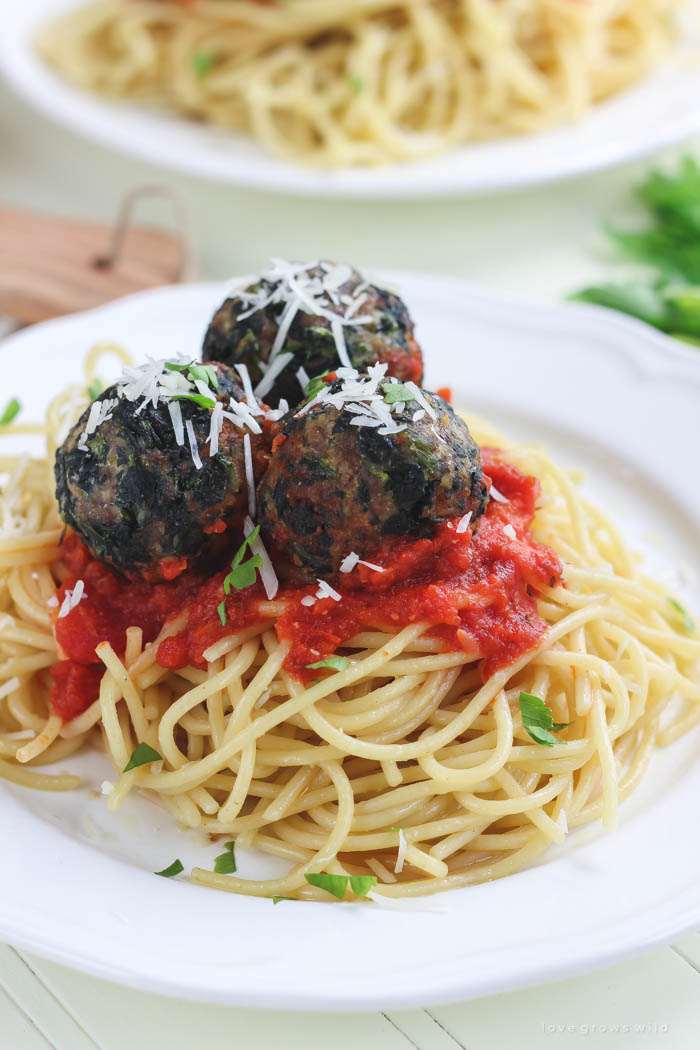 So how can YOU help? The American Dairy Association Mideast will donate $1 to the Great American Milk Drive for every "like", comment, or share each of the bloggers' 10 recipes receive on its Facebook page between August 10th and 26th, which will be used to give gallons of milk to children and families across the country.
Also, do you tweet? On Aug. 26 from 9 to 10 p.m. EST, I'll be hosting a #DairyFuel Twitter Party along with ADA Mideast and my food blogger friends! For everyone who attends and uses the hashtag #DairyFuel, an additional $1 will be donated to the Great American Milk Drive. Come share your favorite dairy-fueled recipes, healthy eating tips, and ideas for staying active during the school year. We'll also be giving away a Zoku Quick Pop Maker, Keurig 130 Brewing System, Hamilton Beach Smoothie Maker, and more! Follow @ADAMideast and @OHDairyFarmers on Twitter to join in the fun!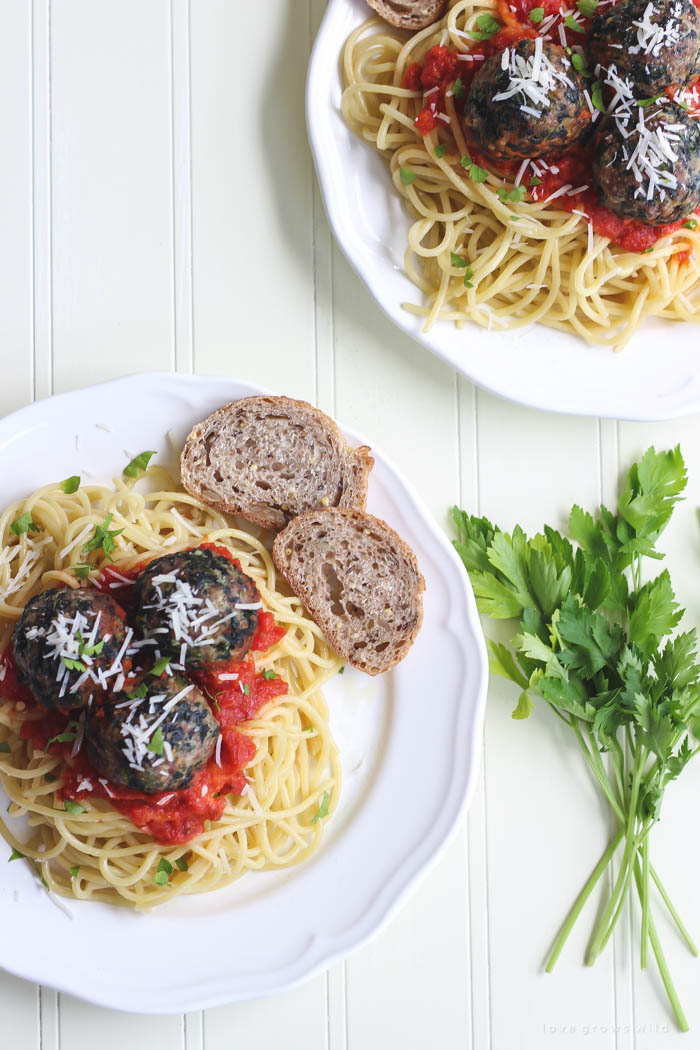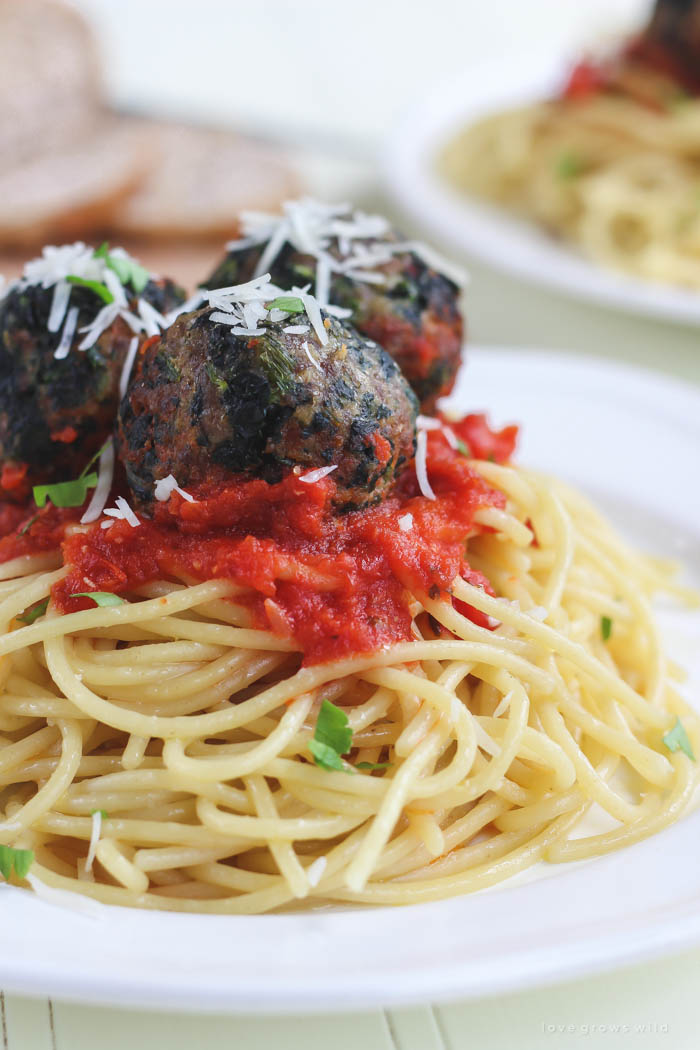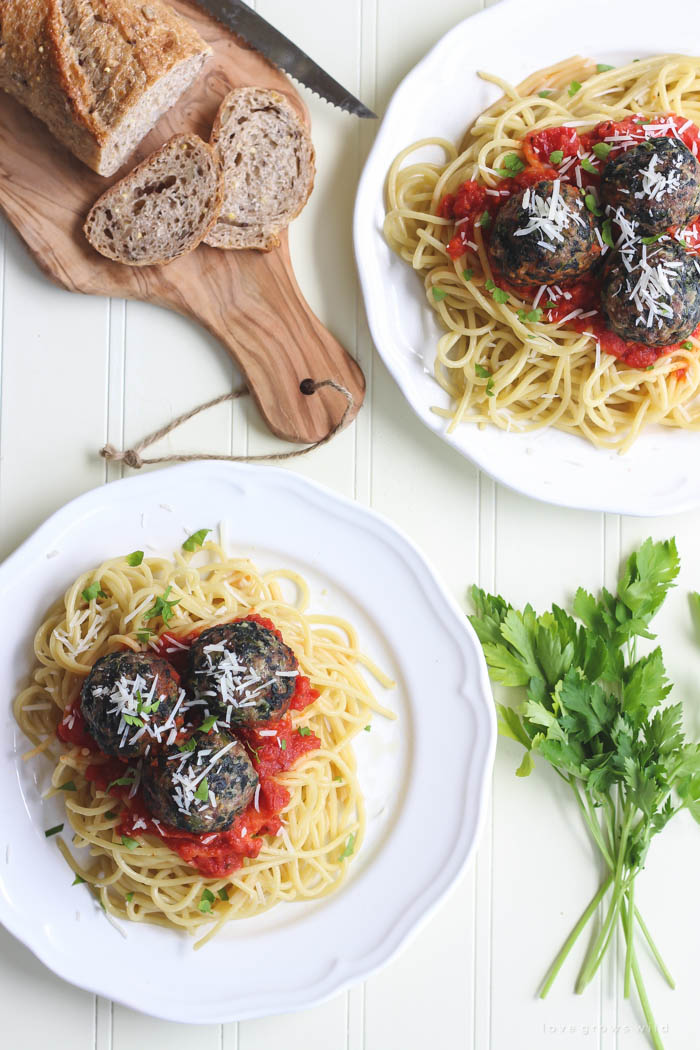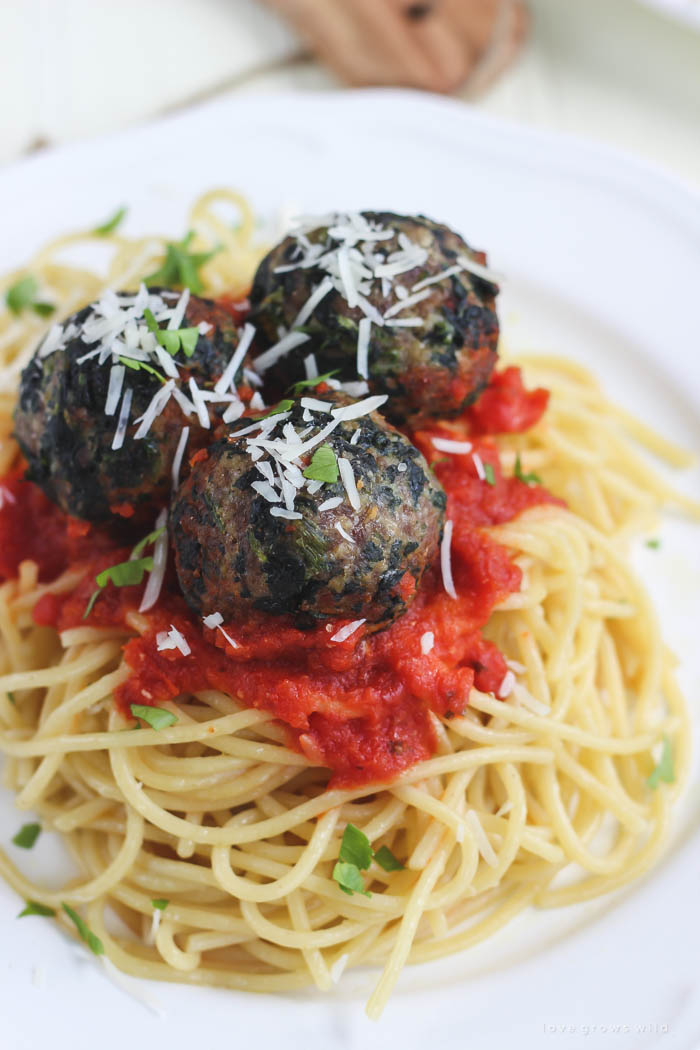 Florentine Meatballs
INGREDIENTS
1 pound ground beef
1 large egg
⅓ cup grated parmesan cheese
2 garlic cloves, minced
1¼ teaspoon salt
1 teaspoon black pepper
⅓ cup dry breadcrumbs
⅓ cup milk
10 ounce package frozen chopped spinach, thawed and squeezed dry
26 ounce jar marinara sauce

Optional:
spaghetti noodles
additional marinara sauce
INSTRUCTIONS
Preheat oven to 400ºF. In a large bowl, combine the egg, parmesan, garlic, salt and pepper. In a small bowl, combine the breadcrumbs and milk and let stand until milk is absorbed, about 3 minutes. Add the breadcrumb mixture, ground beef, and spinach to the large bowl and mix gently until combined. Shape into 20 meatballs and place on a baking sheet. Cook meatballs in the oven for 20 minutes.
Meanwhile, add the marinara sauce to a large skillet over medium-low heat. When the meatballs come out of the oven, place them in the marinara sauce to finish cooking, about 5-7 minutes. Serve meatballs over cooked spaghetti with additional marinara, if desired.
– adapted from
Real Simple
Be sure to check out the rest of the recipe exchange!
In Katrina's Kitchen – Chocolate Almond Butter Smoothie Bowls
Climbing Grier Mountain – Greek Yogurt Chicken Alfredo Grilled Cheese
Shugary Sweets – Brown Sugar Latte
Inside BruCrew Life – Turkey Club Pinwheels
Food Faith Fitness – Banana Pancakes Taco Style
Lemons of Lulu – Baked Spaghetti Lasagna
Eat2Gather – Cheesy Sweet Potato and Kale Strata
Well-Plated – Breakfast Quesadilla
Country Cleaver – Easy Summer Veggie Flatbread
Thank you to ADA Mideast for sponsoring this post! I was compensated for my time, but all opinions are 100% my own. I appreciate you all for supporting the brands that make this blog possible!
---
LET'S KEEP IN TOUCH!
---
Subscribe to Blog | Browse my Shop | Follow on Facebook | Follow on Twitter
Follow on Google+ | Follow on Pinterest | Follow on Instagram