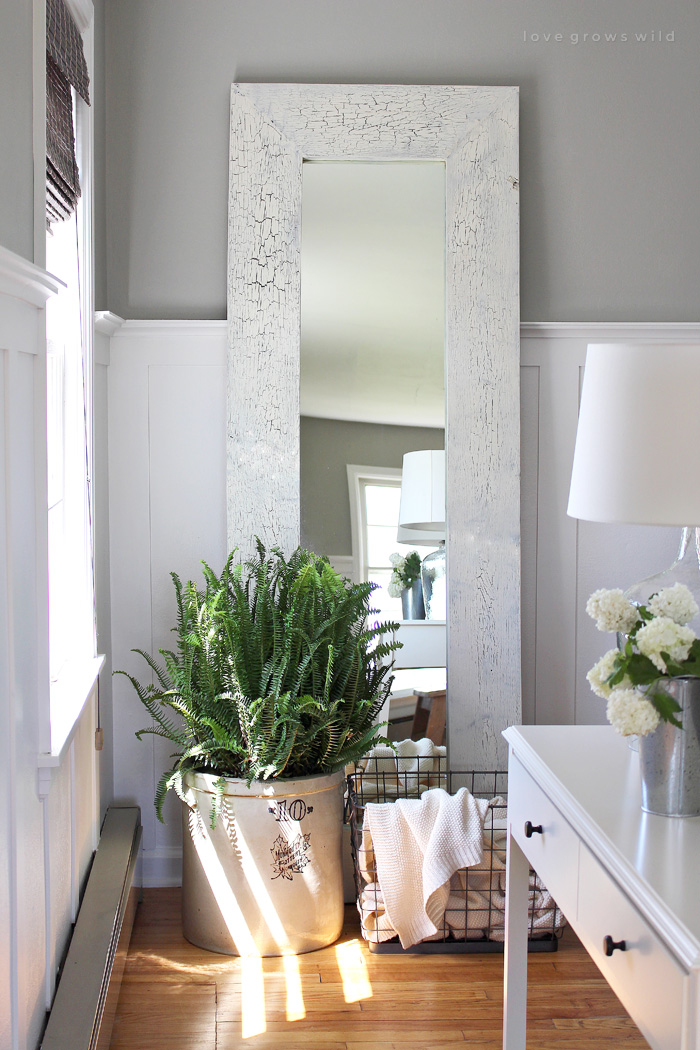 Learn how to add a gorgeous wood frame to any mirror! Mirrors make a beautiful focal point and bounce light throughout the room… make yours really stand out with this step-by-step tutorial!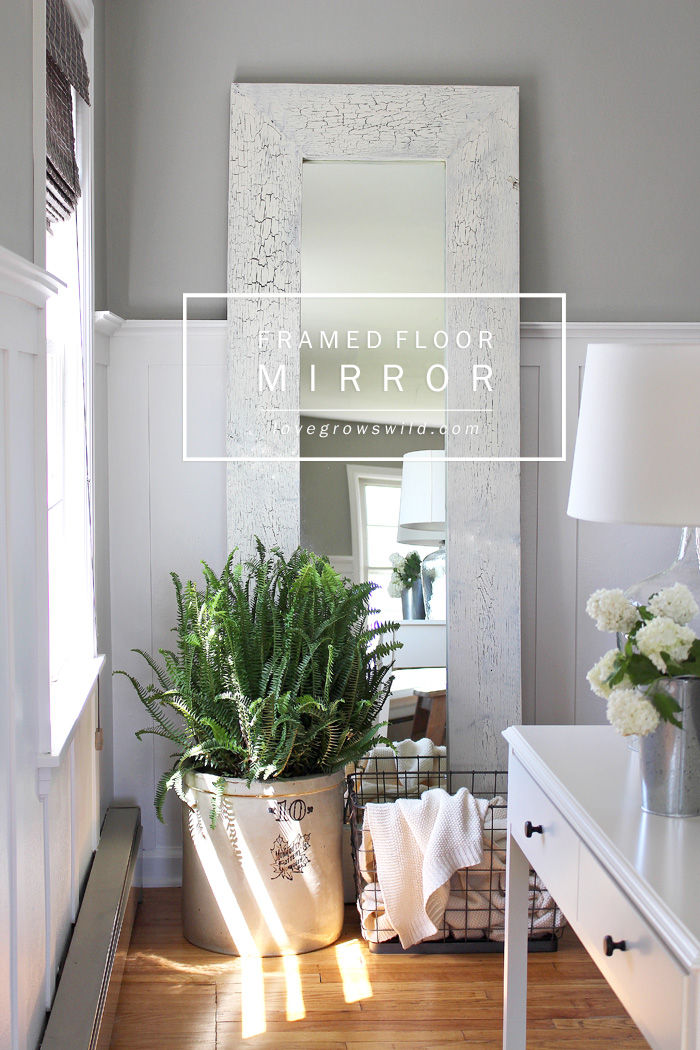 Once upon a time there was a sad, lonely mirror in a sad, undecorated master bedroom in a little farmhouse in Indiana. The end.
Just kidding. 🙂
I can't remember where this mirror originally came from, but I think it was my husband's before I even met him. It traveled with us to the new house and has sat in our untouched master bedroom ever since. I know I've never shown our bedroom here on the blog, and I promise you I have BIG plans for it soon, but in the meantime, we might as well utilize this mirror in another space and give it the attention it deserves. And I happened to have the PERFECT spot for it in our newly decorated living room!
I'm going to show you the basic steps for framing a mirror, which can be done on any size mirror you have. Before you start, here's how to determine what size frame you need to build:
I used 2 x 8 boards to make the mirror look big and beefy. Remember, 2 x 8 boards are actually 1 1/2″ x 7 1/4″ in size, so keep that in mind. You'll want your frame to be about 1″ smaller on each side than the actual size of your mirror so you'll have room to attach the mirror to the back of the frame with clips.
Here's the shortened explanation: Take the length of your mirror and add 14.5″ inches (the width of two 2 x 8's). Now subtract 2″ (for the space to attach the mirror on top and bottom). That is the length of your frame. Now repeat those steps to find the width. My mirror measured 68″ x 16″, so the outside measurement of my frame was 80.5″ x 28.5″.
This method for creating a wood frame is the same process I used to make my Framed Dry Erase Board, just using larger boards. If you want to see more detailed photos, check out that tutorial too!
There are affiliate links located within this post… thank you for helping support our blog!
Supplies:
2 x 8 boards cut into 4 pieces (see above for measurement details)
mirror clips (metal or plastic) – check your mirror thickness before purchasing, mine was 1/4″ thick
miter saw
Kreg Jig
drill
tape measure
2 1/2″ Kreg screws
paint and/or stain of choice
Step one:
Cut your 2 x 8 boards and miter the corners at a 45º angle. Then add 1 1/2″ pocket holes using the Kreg Jig. I made three holes on both ends of the shorter boards. Fit the mitered edges of the boards together to create a frame, then add 2 1/2″ Kreg screws to the pocket holes to secure the frame.
Step two:
Paint or stain the frame in your choice of color. The mirror will reflect a little bit of the back of the frame, so be sure to paint at least a small area around the inner edge of the frame. I chose a cracked white paint with dark wood stain underneath, and although I won't go into details on HOW I got that awesome chipped paint look today, I promise to have a full tutorial for you soon!
Step three:
Once the paint is dry, lay the frame upside down and attach the mirror to the back of the frame using mirror clips. I could only find plastic clips in my local hardware stores, but be careful with them when adding the screws… they will break if you tighten them too much! The metal ones I found online might be a better option. (see supply list above)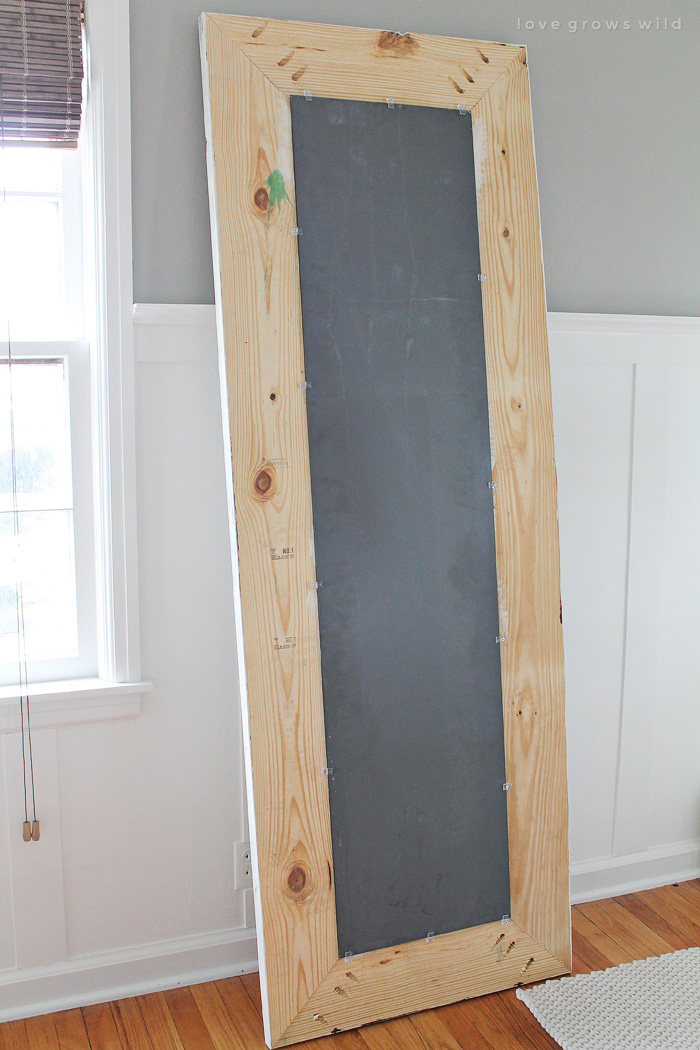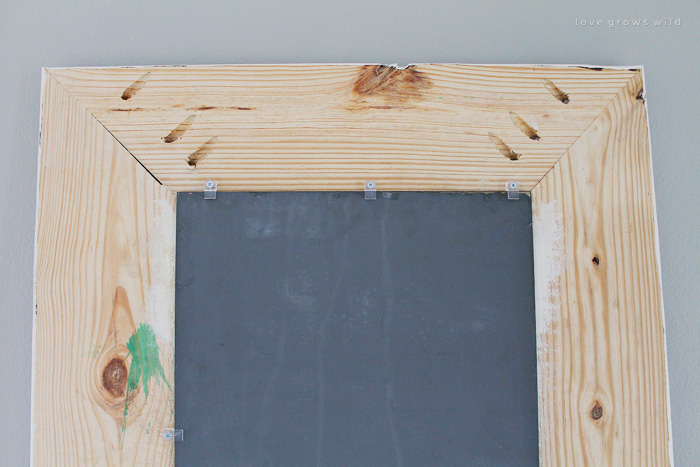 I set the mirror in this corner of the living room, and it's perfect for filling the space without adding a ton of clutter. I just love the way it bounces light into the room from those windows!
Funny story… After I put the whole frame together, painted it, and added the mirror, I stood the frame up and realized I picked the MOST CROOKED boards in the whole lumber department! How did I not catch that before?? My husband laughed at me… I almost cried… then I grabbed a small book and set it underneath the mirror to prop the low side up. Problem solved! This just goes to show you that not everything… actually, MOST things I make don't always turn out perfect. But that's what makes them special! So next time you have a project fail, just think of me and my crooked mirror. It will be our little secret. 🙂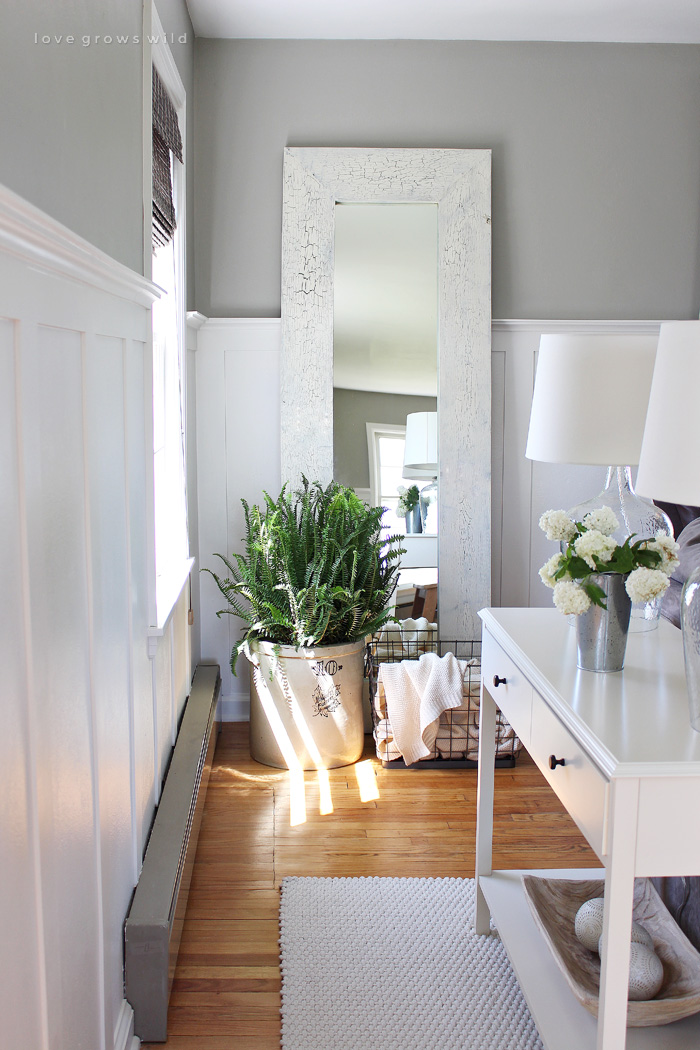 knit blanket / sofa table / glass lamps / rug / board and batten wall treatment
The mirror was looking a little lonely all by itself, so I added a wire basket with blankets and an antique crock with a fern. Ferns and crocks are becoming a new obsession in my house!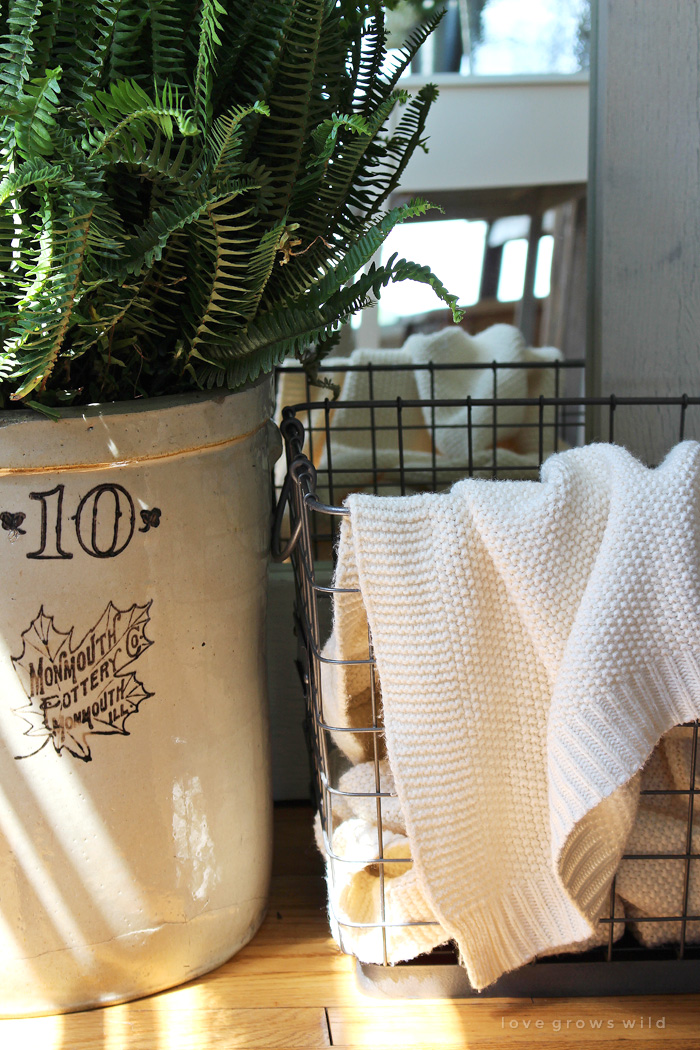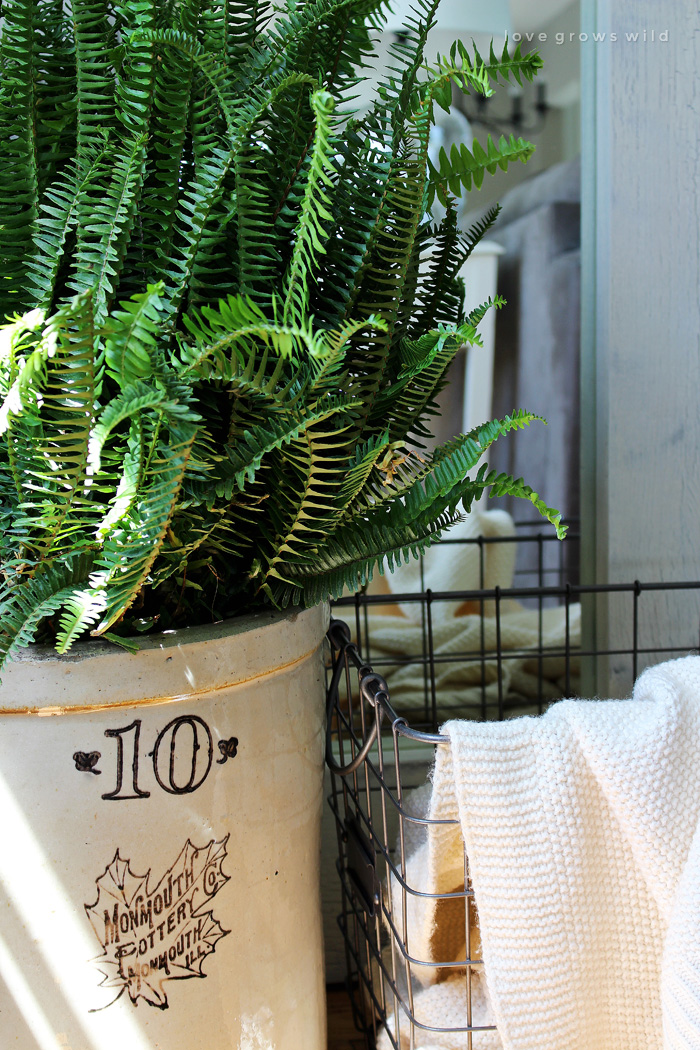 These flowers from my snowball bush have already come and gone… I so wish they would last longer! Do you awesome gardeners out there have any tips for me?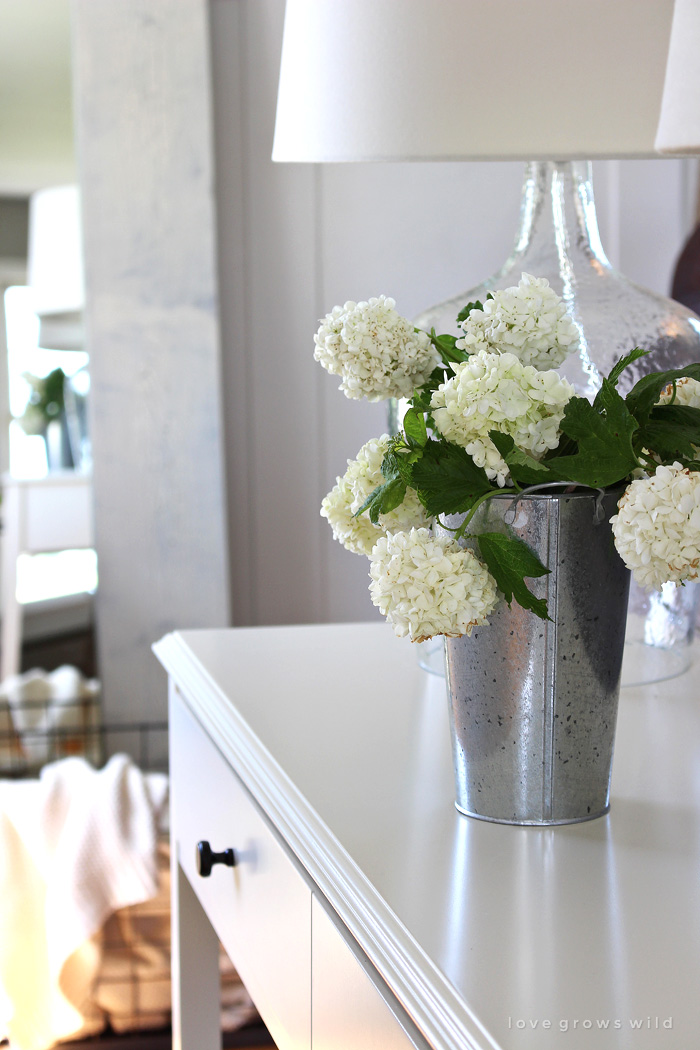 Psst… this "vintage wooden bowl" sitting on my sofa table isn't so vintage at all… it came from Target in the outdoor section! Can you believe it?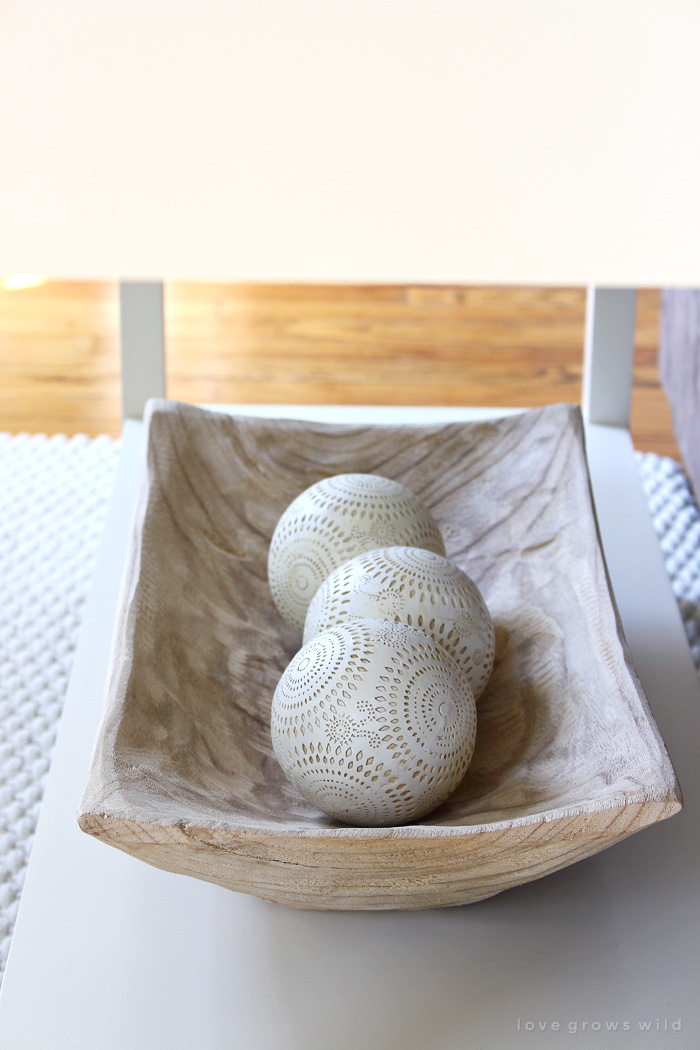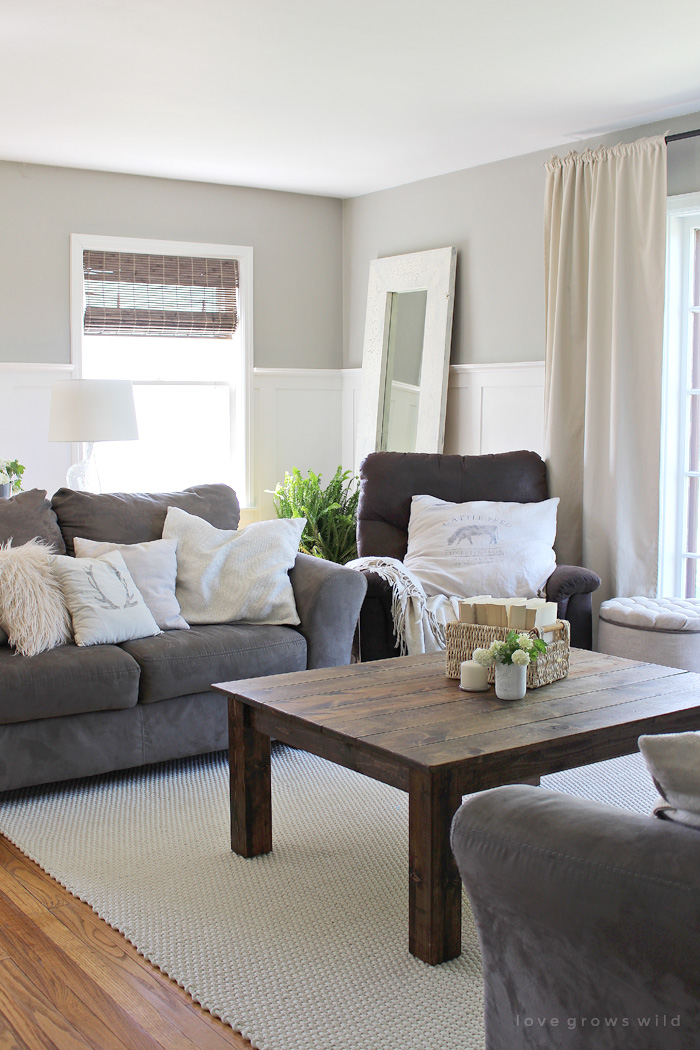 roman shade / curtains / coffee table / feed sack pillow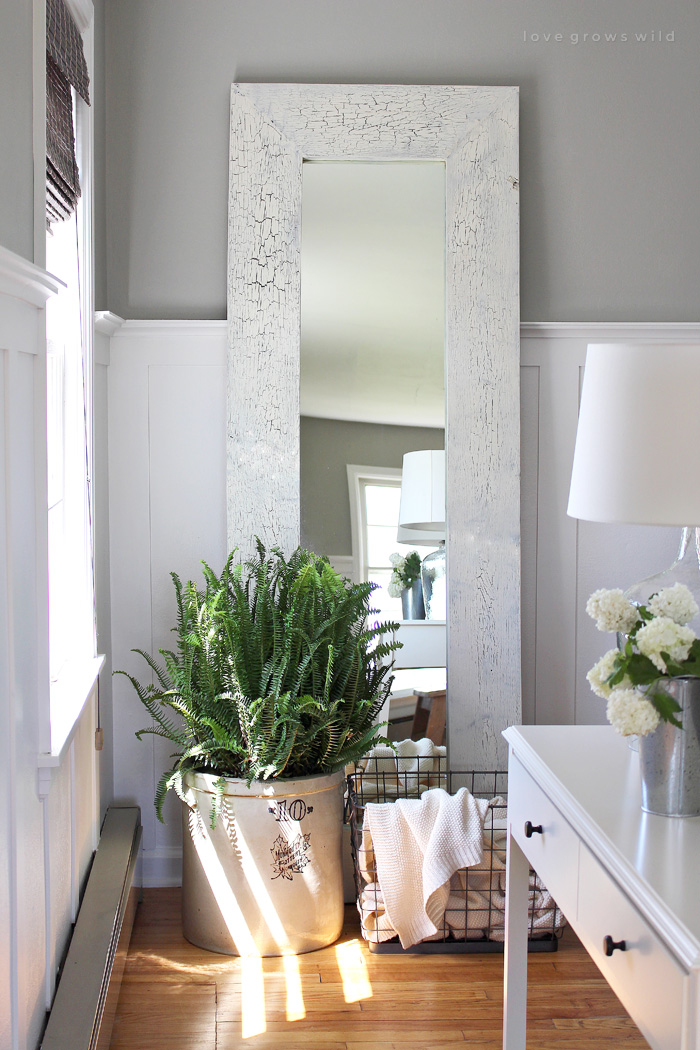 Like what you see? Subscribe to Love Grows Wild so you'll never miss a post!
Follow along on Pinterest, Google+, Instagram, and Facebook for more fun!
---
See more projects from our home:
---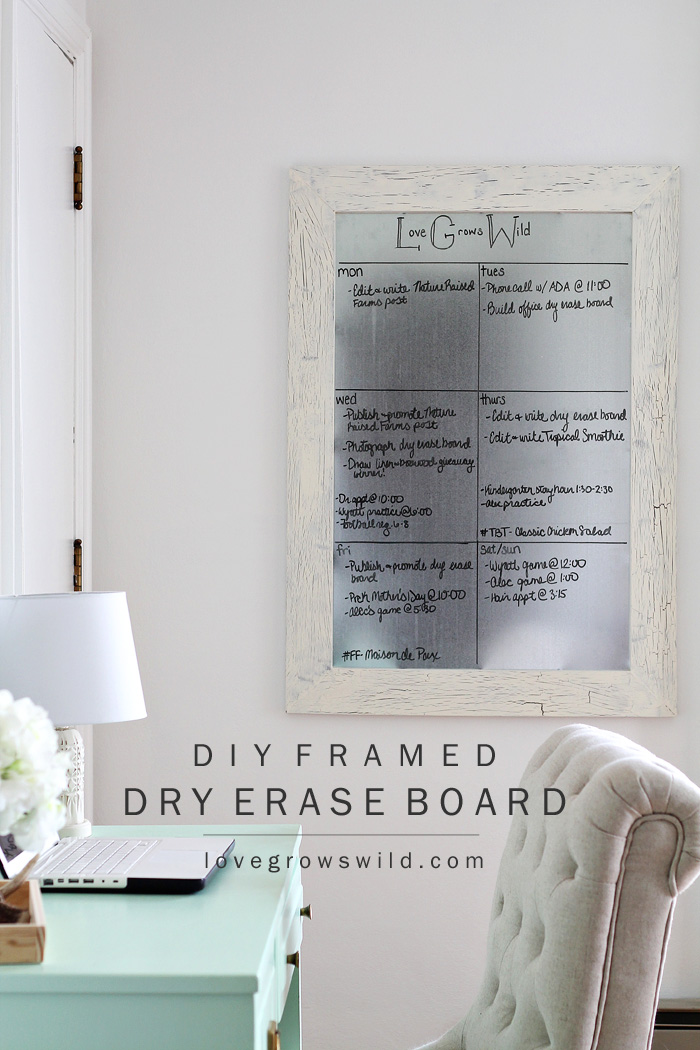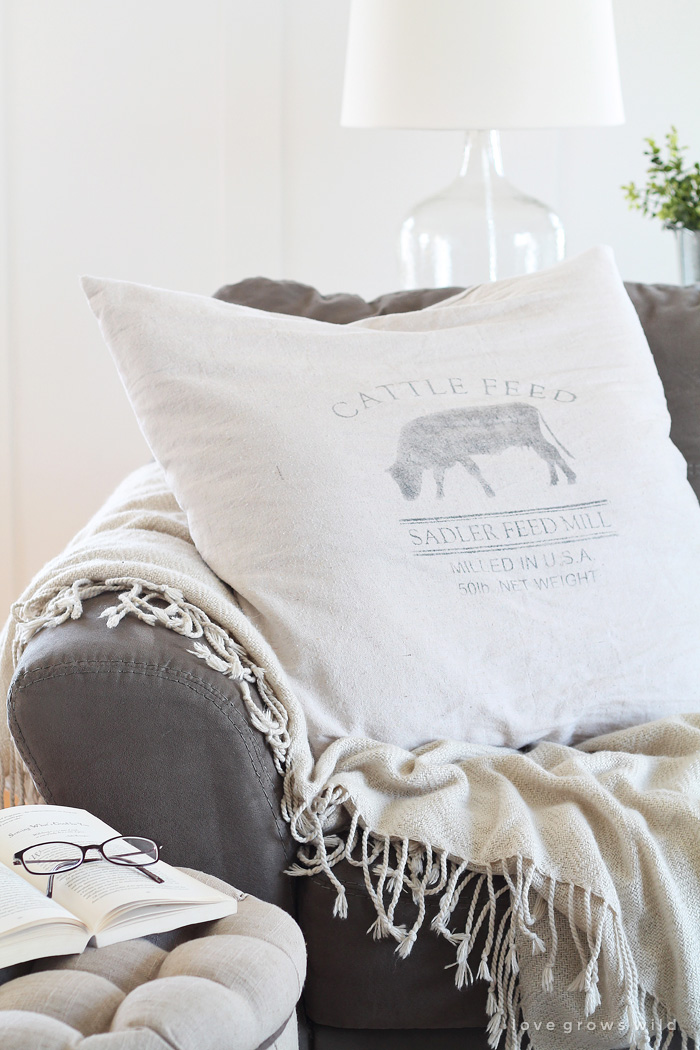 Feed Sack Envelope Pillow Cover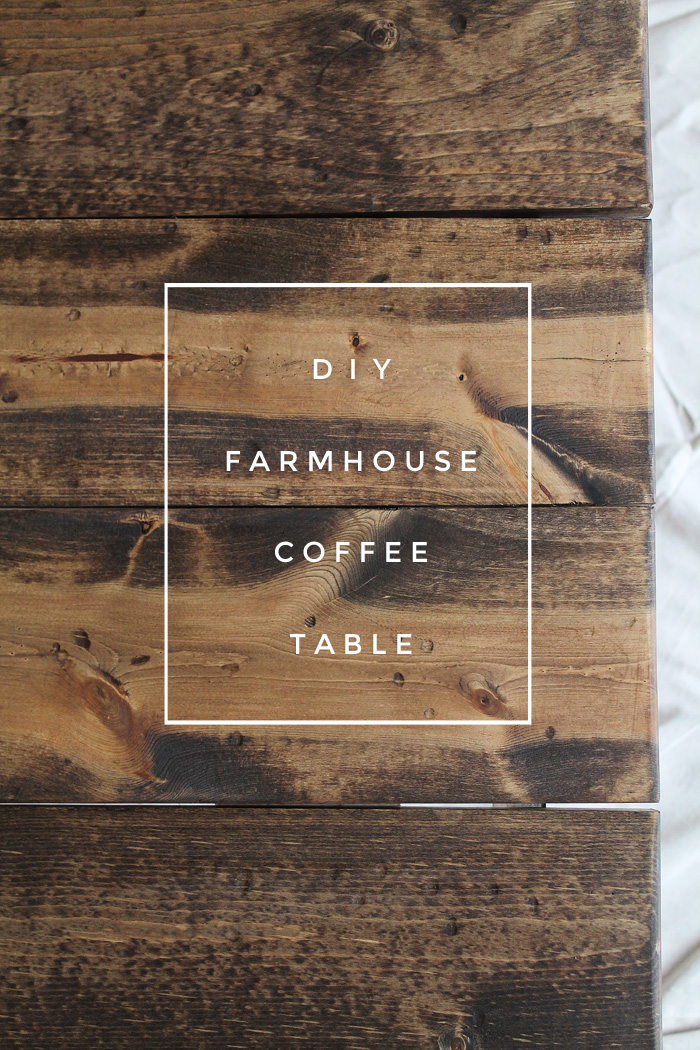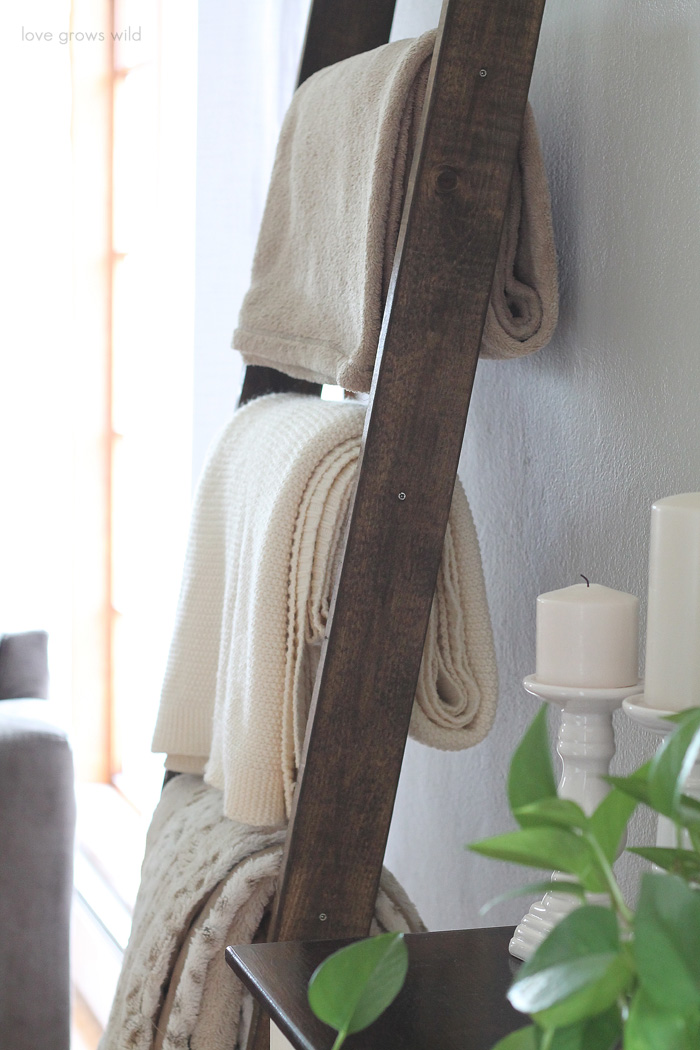 ---
LET'S KEEP IN TOUCH!
---
Subscribe to Blog | Browse my Shop | Follow on Facebook | Follow on Twitter
Follow on Google+ | Follow on Pinterest | Follow on Instagram