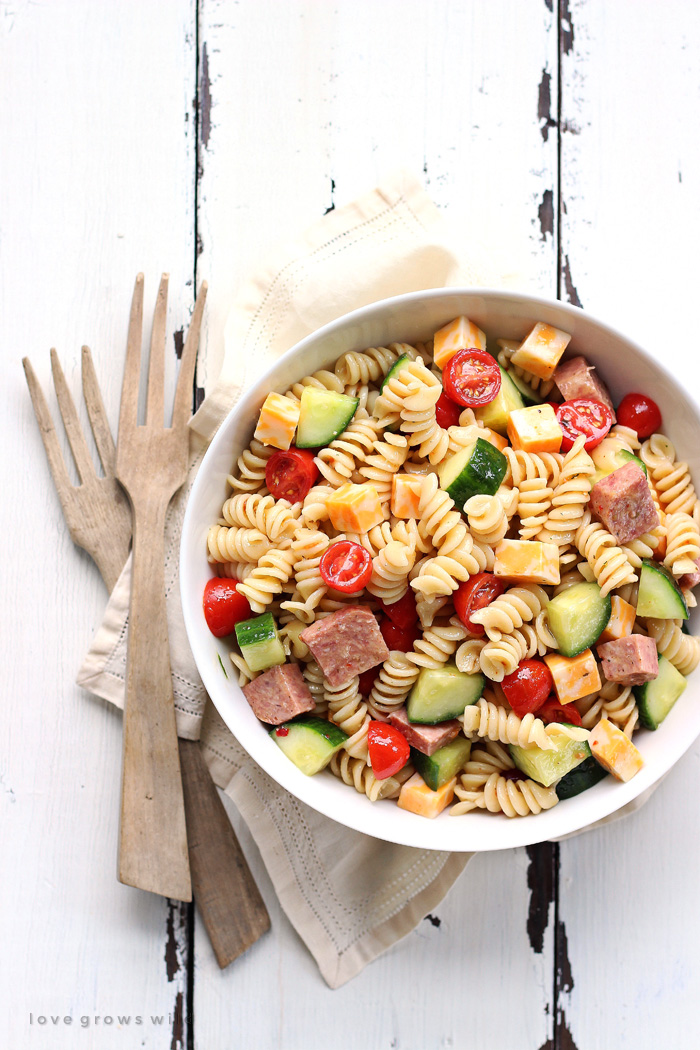 The perfect pasta salad recipe! Tender noodles tossed in a zesty Italian dressing with vegetables, meat, and cheese… great for a potluck or a light meal!



Okay, guys… let's bring on the summer recipes! I'm so ready for steak kabobs on the grill, glorious slices of apple pie, my famous orange-lemon shake-ups, and this perfect pasta salad. Summertime is AWESOME when it comes to good food. It seems like anytime there's a potluck or a backyard barbecue, this is my go-to side dish to bring. It serves a ton of people, needs just a few simple ingredients, and seems to be something that everyone loves.
The foundation of this recipe is spiral noodles and Italian dressing. Super easy, right? I've tried a few different dressing variations over the years, but this is the one I always come back to: 2 cups of Italian dressing (I just grab a bottle from the store) and 1 packet of Italian dressing seasoning mix (found right next to the salad dressings). Adding in the seasoning packet gives an extra kick of zesty flavor that makes this pasta salad really stand out from the others.
Everyone has their own pasta salad preference, but here's what I like in mine: cucumber, cherry tomatoes, colby jack cheese and salami (or summer sausage). If you like black olives, go ahead and throw those in there too, but we usually leave them out. I cut all my pasta salad add-ins into nice, big chunks so it's easy to for picky eaters to eat around anything they don't like… Wyatt always leaves a pile of tomatoes in his bowl, and Jeremy steers clear of the cucumbers. I personally devour every last bite of mine!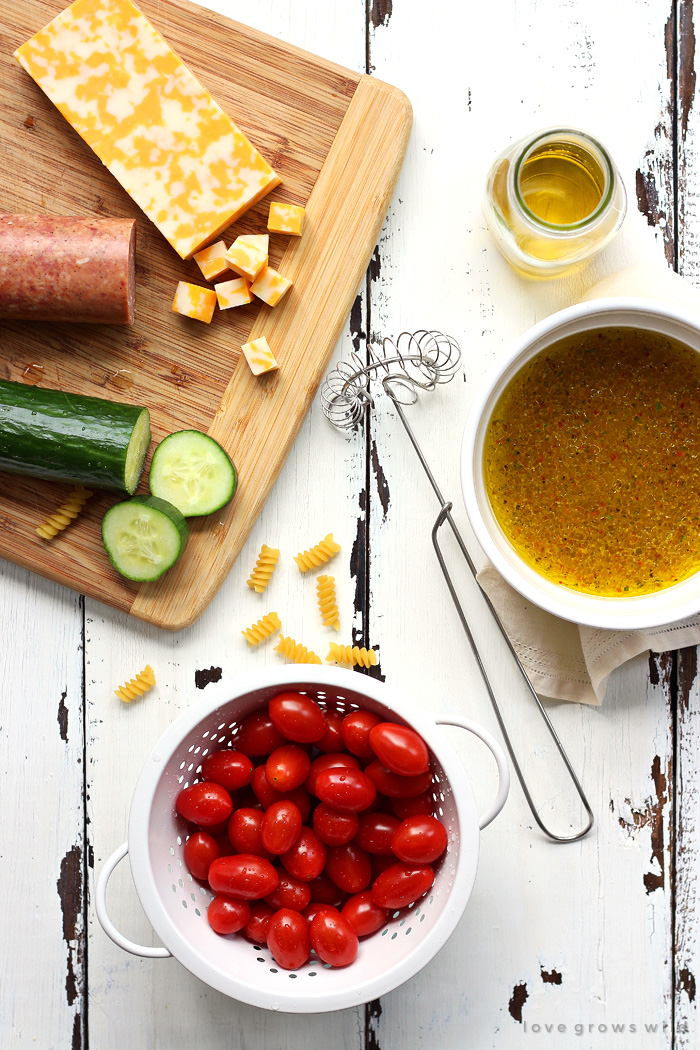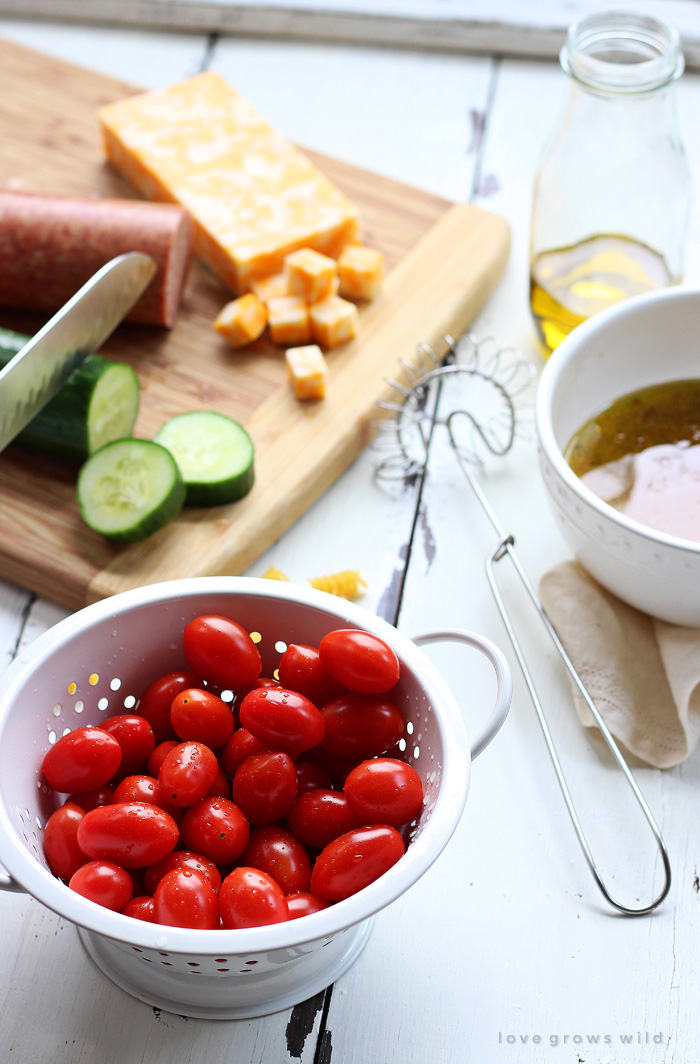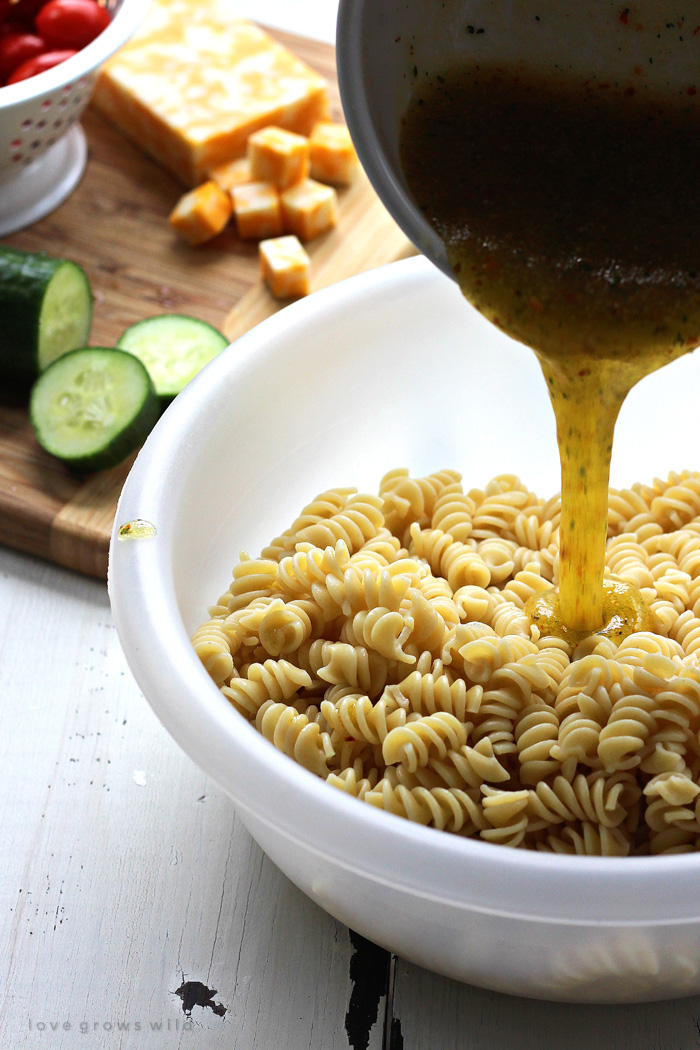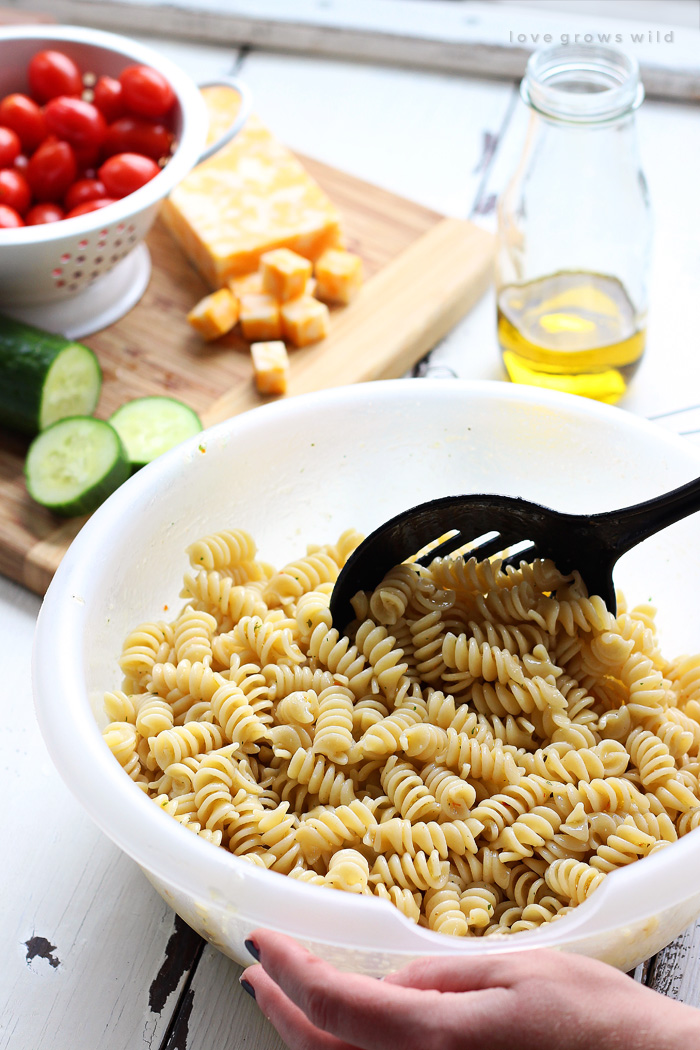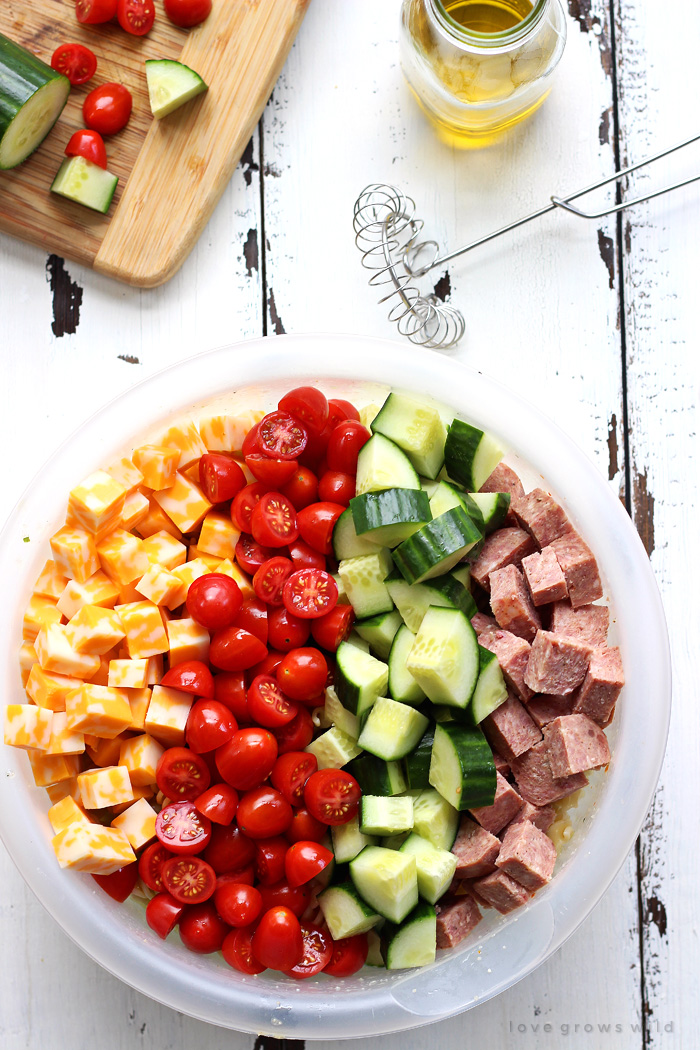 This recipe is super easy and will come together in just a few minutes, but make sure you have at least 4 hours to let the pasta salad chill in the fridge before serving. This gives the dressing a chance to work its way into all the yummy ingredients, and BONUS… makes this a make-ahead recipe! I've even been known to put it together the night before and let it chill all night… it just keeps getting better the longer it sits. Just make sure not to over-cook the noodles, so they stay in nice, pretty spirals and don't turn into little, broken bits when you stir everything together.
What do YOU like in your pasta salad? I hope you enjoy the recipe!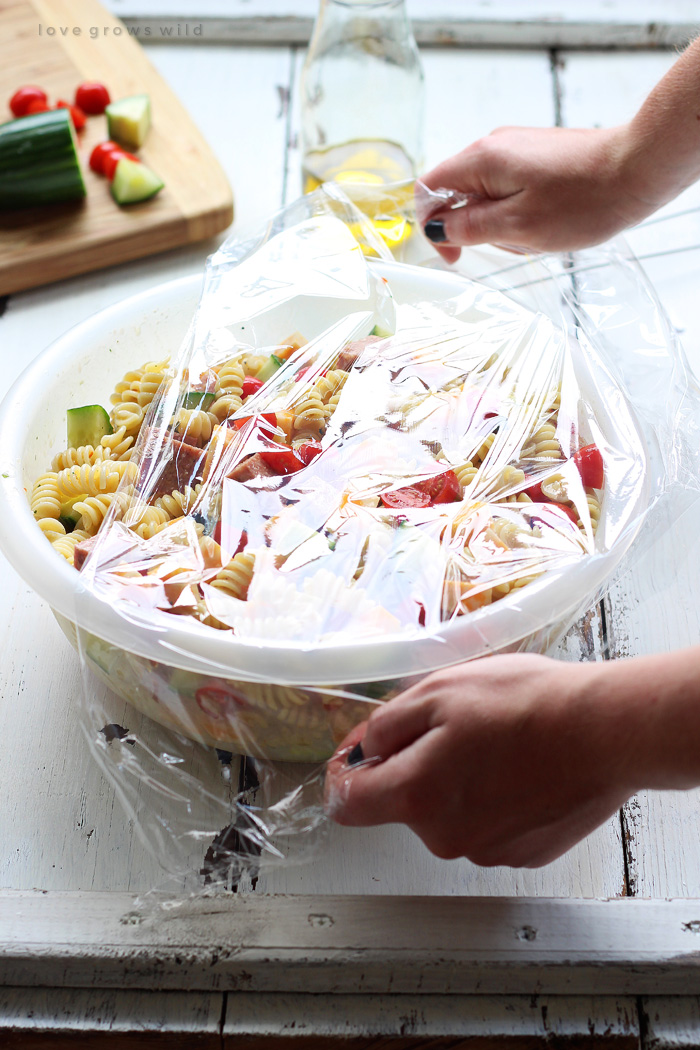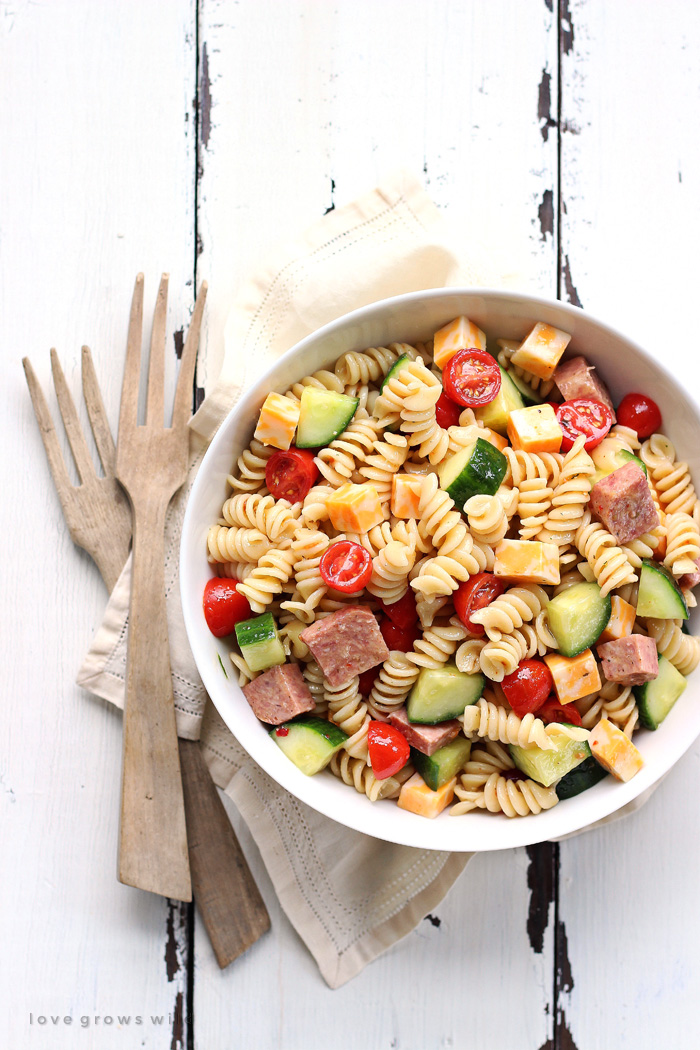 Like what you see? Subscribe to Love Grows Wild so you'll never miss a post!
Follow along on Pinterest, Google+, Instagram, and Facebook for more fun!
Perfect Pasta Salad
The perfect pasta salad recipe! Tender noodles tossed in a zesty Italian dressing with vegetables, meat, and cheese... great for a potluck or a light meal!
INGREDIENTS
16 ounce package spiral pasta
2 cups Italian dressing
0.6 ounce packet Italian dressing seasoning mix
8 ounces hard salami or summer sausage, cubed
8 ounces colby jack cheese, cubed
2 cups cherry tomatoes
2 cups cucumber, chopped
INSTRUCTIONS
Boil pasta in salted water according to package directions. Drain and rinse pasta in cold water to stop the cooking process.
In a bowl, add the Italian dressing and the packet of Italian dressing seasoning mix. Stir to combine. In a large bowl, combine the cooked pasta, salami, cheese, tomatoes, and cucumber. Pour the dressing over top and toss to fully coat the pasta salad. Cover and refrigerate at least 4 hours before serving.
---
More recipes to try:
---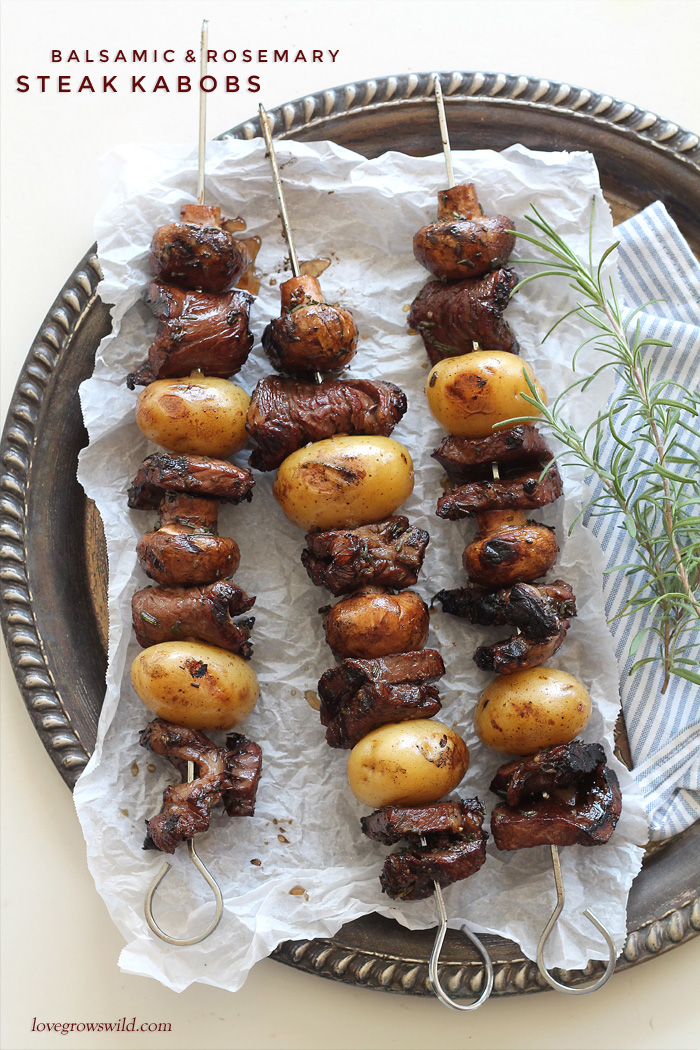 Balsamic and Rosemary Steak Kabobs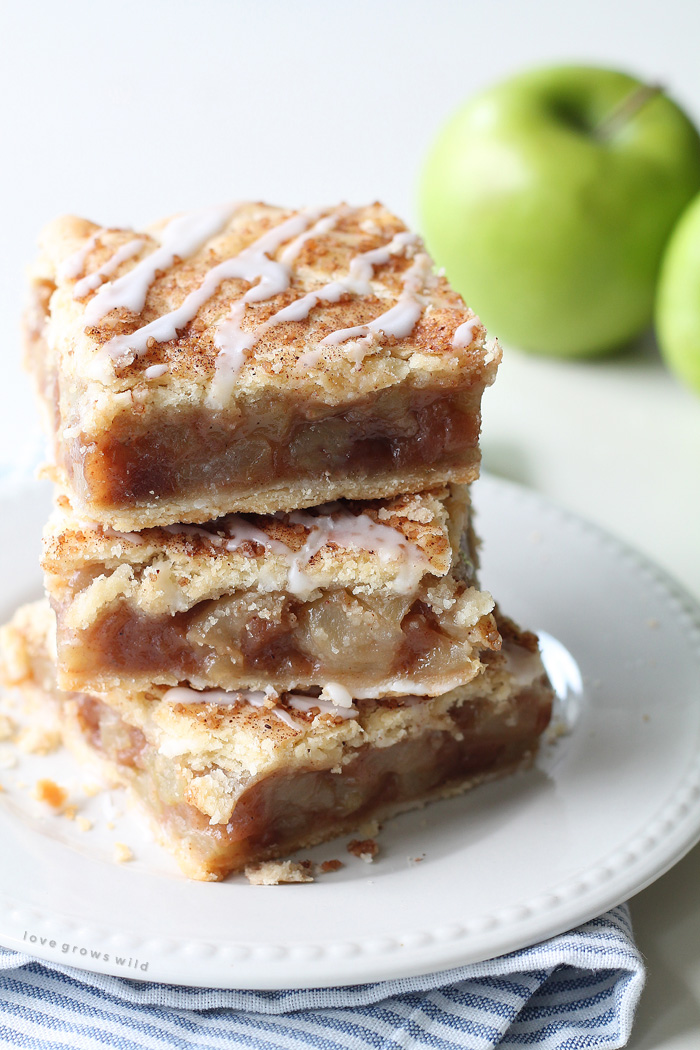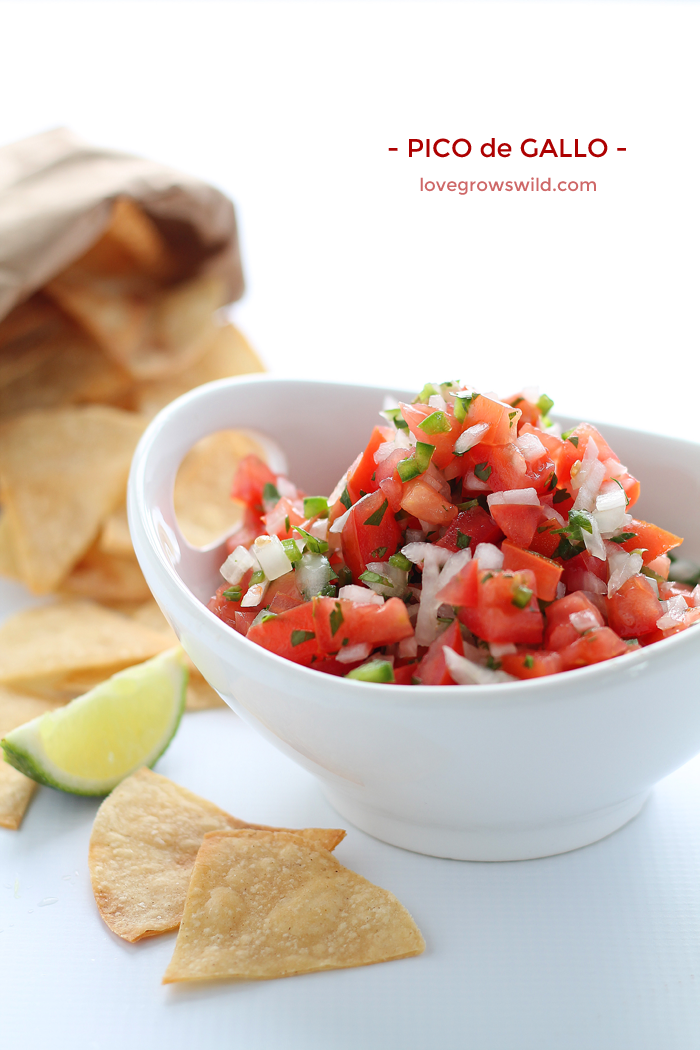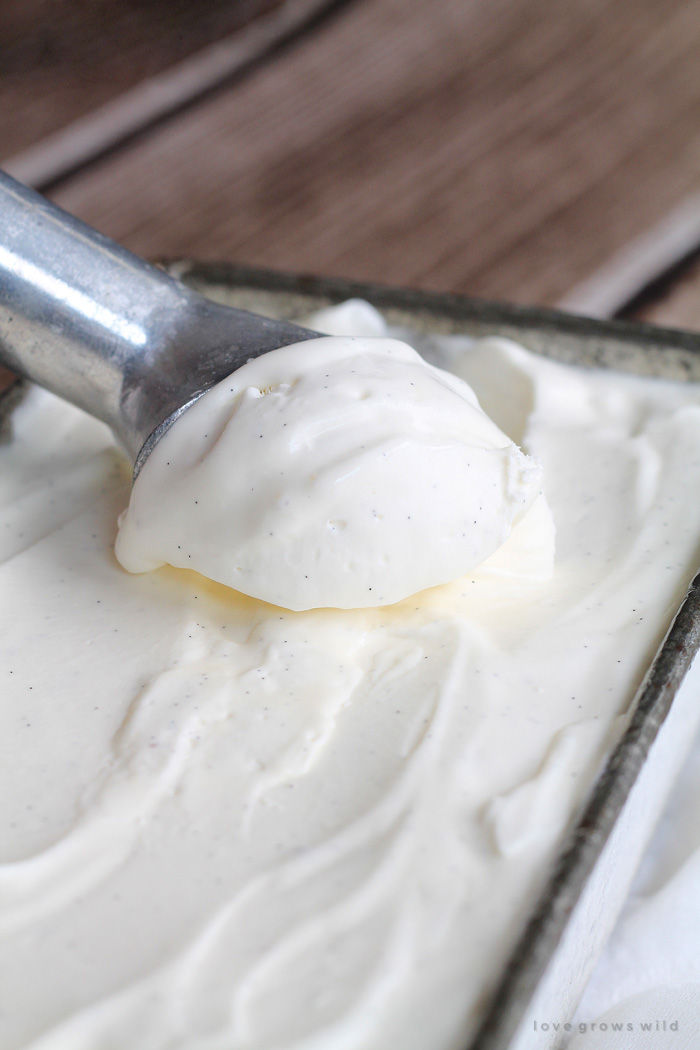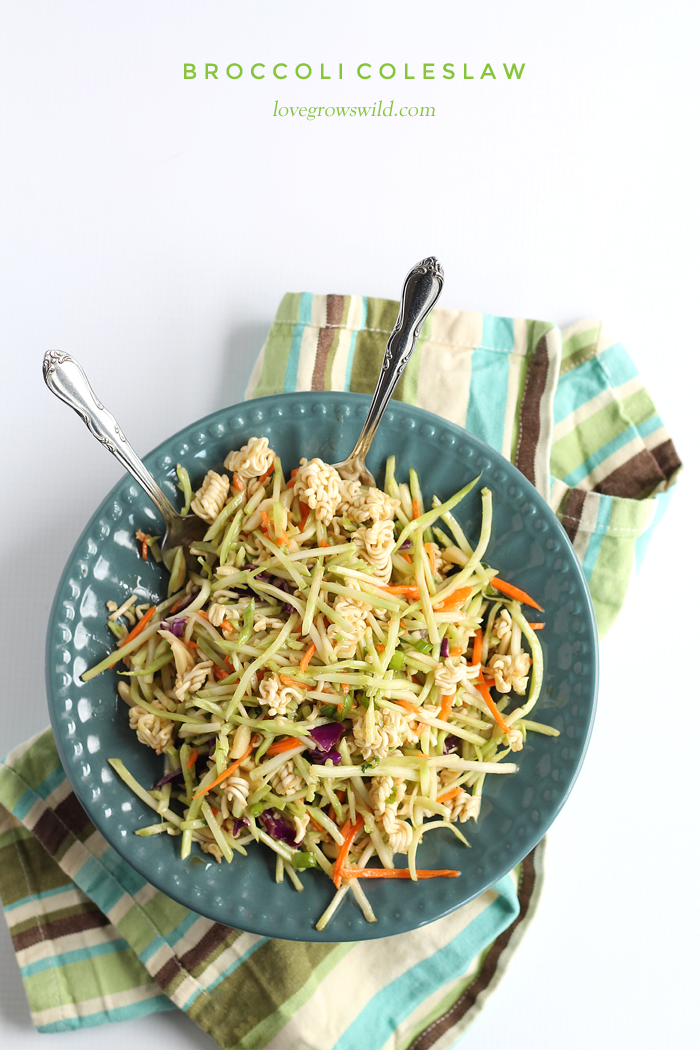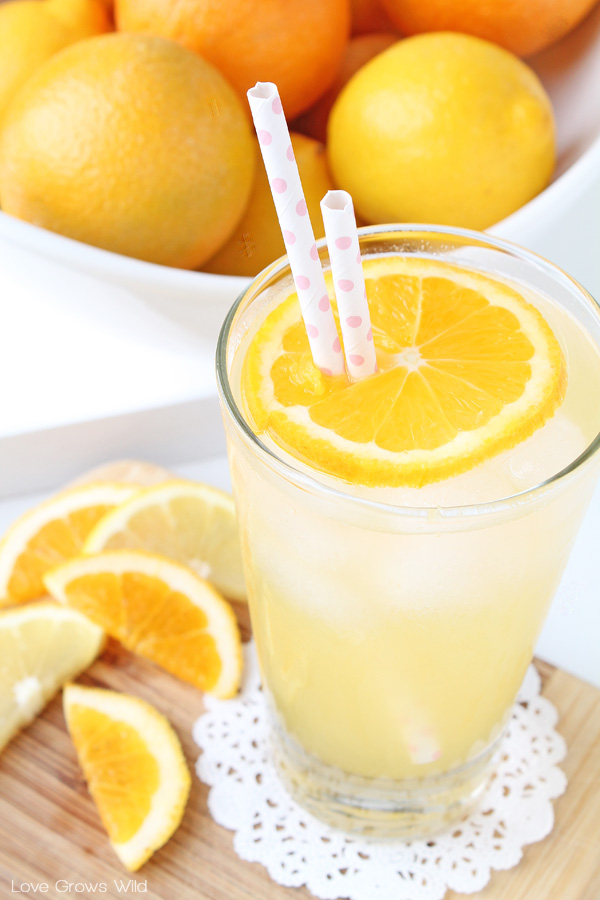 ---
LET'S KEEP IN TOUCH!
---
Subscribe to Blog | Browse my Shop | Follow on Facebook | Follow on Twitter
Follow on Google+ | Follow on Pinterest | Follow on Instagram