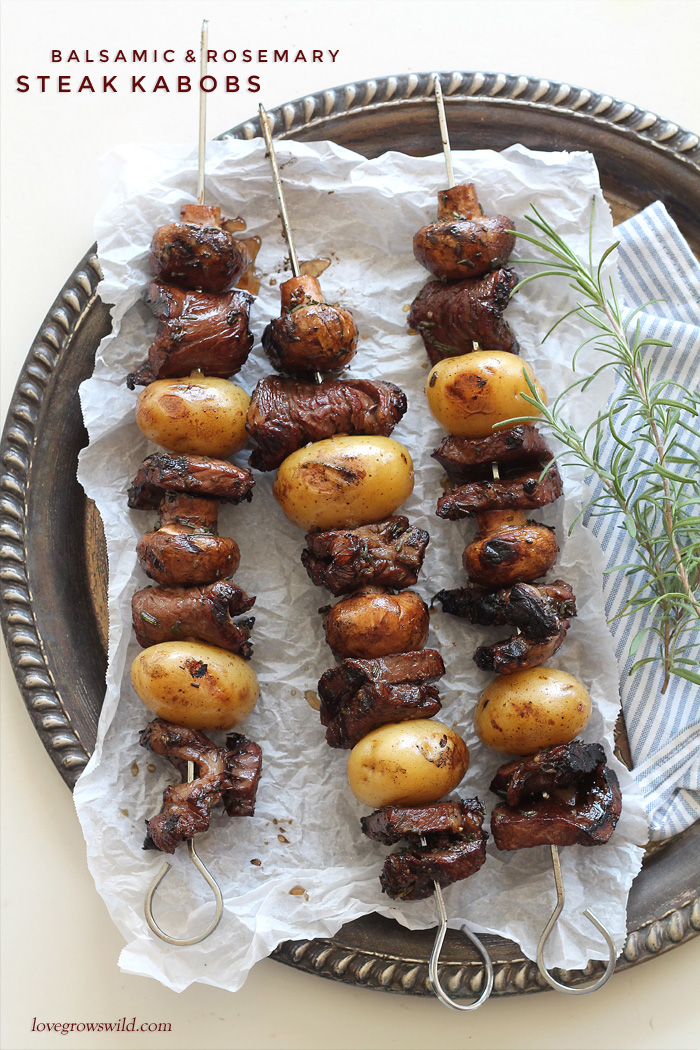 Thank you to Walmart and Kingsford charcoal for sponsoring this post // For the past few months, our weekends have been taken over by sports. Our youngest plays soccer, the oldest plays football, and my husband helps coach. Once you add in cheering for the Bears and Colts each week, we are watching A LOT of football these days. Back before I had all these boys in the house, I couldn't care less about watching a football game. In fact, I'm sure that in high school, I was probably more concerned with which cute football player's jersey I was going to wear to the game than actually paying attention to who won. (Pretend you didn't read that, husband.)
But my love for football has come a long way since then, and now I'm right there with my boys, yelling and cheering for our favorite teams. Aside from the excitement of the game itself, the best thing about football is inarguably… the food. Last weekend we decided to fire up the grill for some tailgating food, and these Balsamic Rosemary Steak Kabobs turned out utterly delicious. Trust me when I say that steak and potatoes have never tasted this good!
Up until this weekend, I had forgotten how much I love kabobs. You can put all sorts of yummy ingredients together and have almost no dishes to wash. You could technically eat a kabob straight off the stick without any plates or silverware (totally tailgate-friendly), but I usually allow them because I have three messy boys to clean up after.
We are a steak and potatoes kind of family, so those went into my shopping cart first. These beautiful thin-cut rib eye steaks that I found at Walmart are perfect for grilling. Since you want all your kabob ingredients to be relatively the same size (for cooking purposes), I grabbed some baby Yukon Gold potatoes as well. My kids would disagree with me, but if there's a steak on my plate, there better be some mushrooms nearby!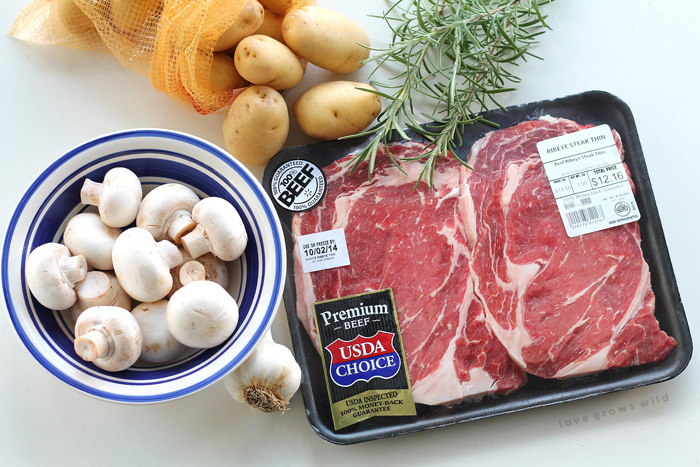 I cut the steak up into 16 equal pieces, but if you're using a thick-cut steak, you'll probably want to do 8 pieces instead. I coated the steak and mushrooms in a marinade of olive oil, balsamic vinegar, garlic, and rosemary, and let that chill in the fridge for awhile. You'll want to let it marinate for at least 30 minutes up to 2 hours. The longer, the better!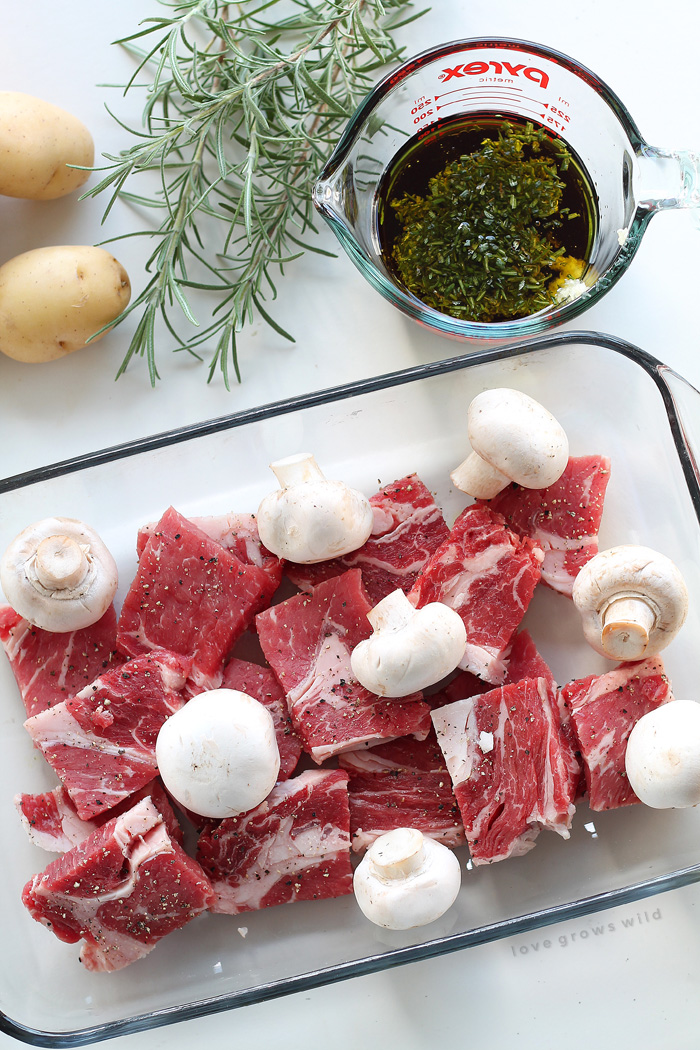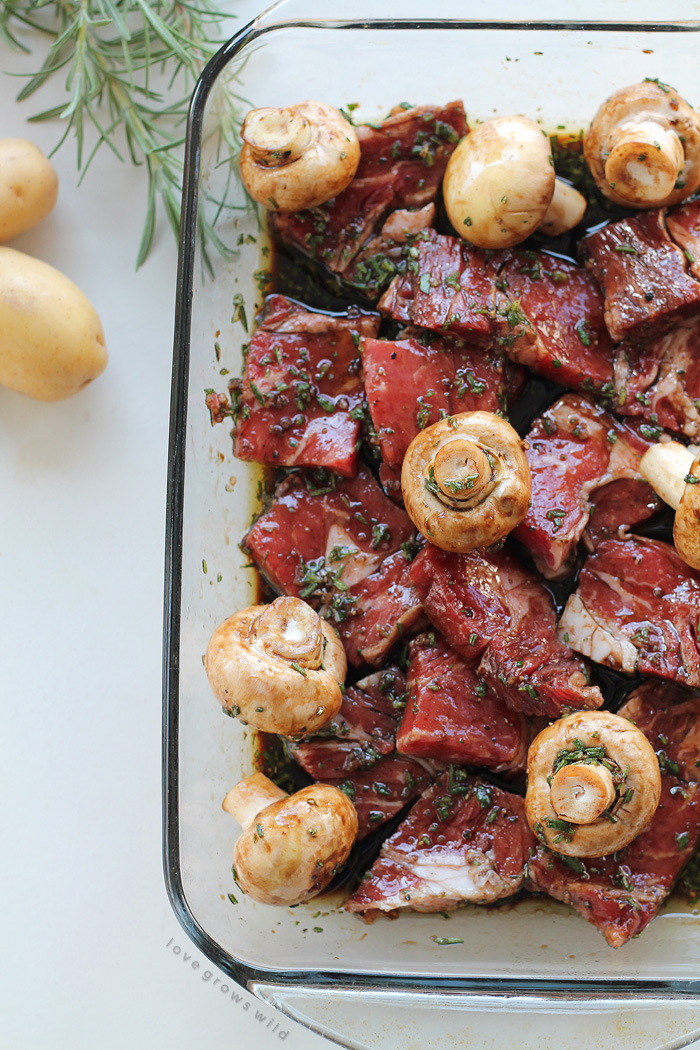 While the steak and mushrooms were getting infused with flavor in the fridge, I boiled the potatoes until they were just barely fork-tender. You want to be able to stick a fork into them but still be nice and firm. If you don't boil them at all before grilling, you'll still have a rock-hard potato when the meat's finished cooking, but if you boil them too much, they'll fall right off the skewer. About 5-7 minutes was all I did.
Now comes the fun part! You can use metal or wood skewers, just be sure to soak the wood skewers in warm water for about 30 minutes before using. I'm 100% confident you could figure this out all on your own, but for simplicity's sake, I'll do the thinking for you:
Skewer order (for thin-cut steak): Steak, potato, steak, mushroom, steak, potato, steak, mushroom
Skewer order (for thick-cut steak): Steak, potato, mushroom, steak, potato, mushroom
You're welcome. 🙂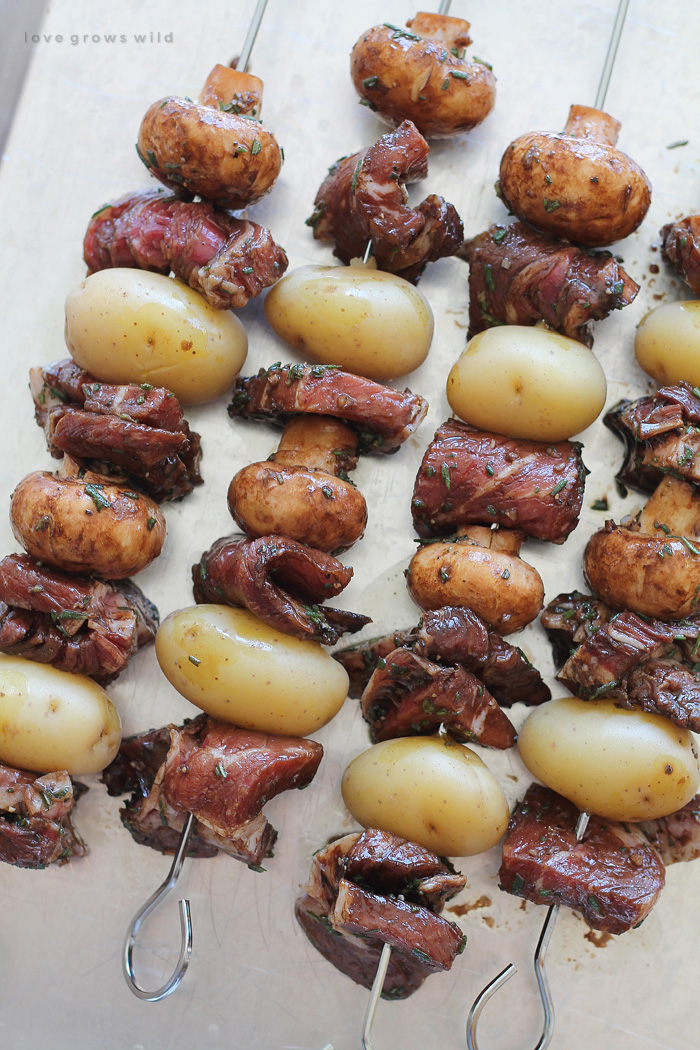 Once our kabobs were ready to go, we (and by we… I mean my husband) fired up the grill using our favorite Kingsford Charcoal. We always have at least a bag or two on hand during grilling season!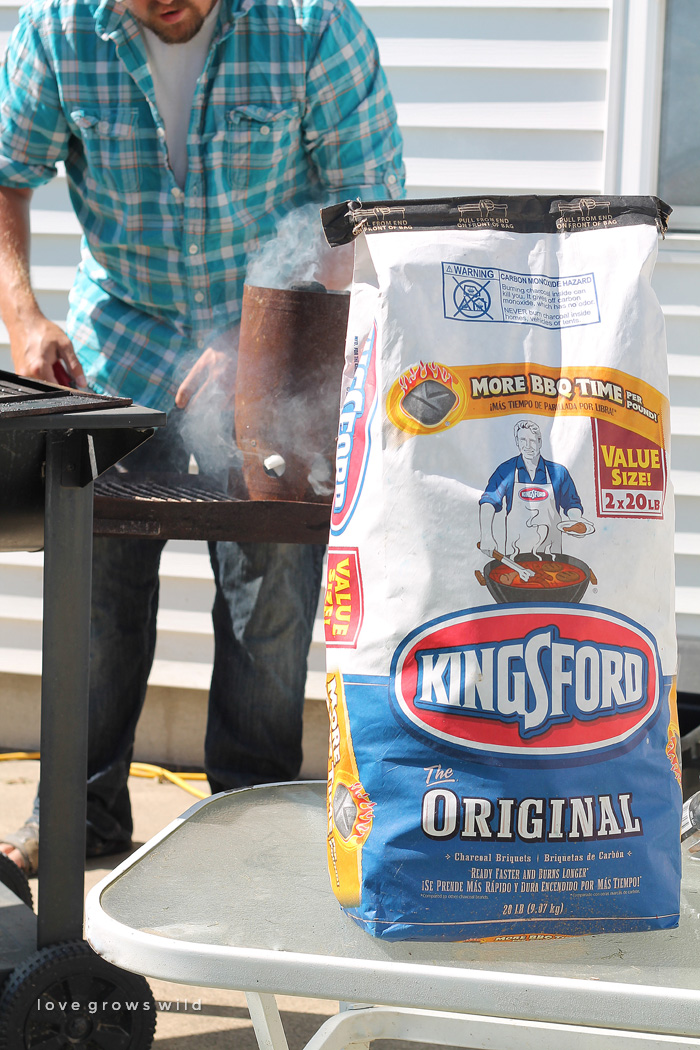 These cook pretty quickly, so you'll have plenty of time to get back inside before the game starts. These cooked in about 5-6 on each side, and we flipped them every 3 minutes. Just wait till you smell these marinated kabobs hitting the grill!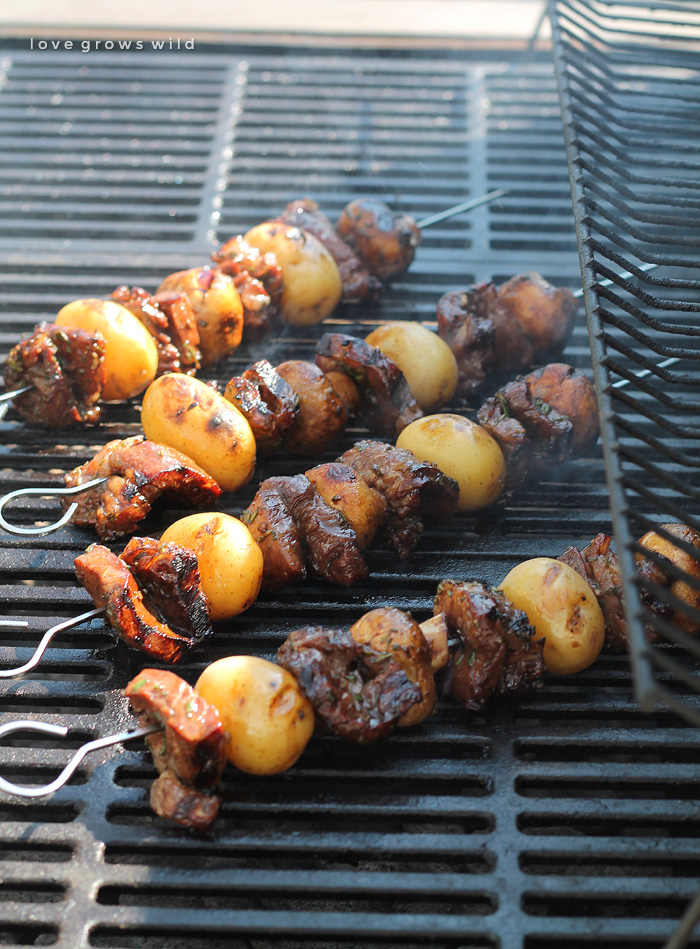 As soon as the kabobs came off the grill, I sprinkled them with a little bit of salt and served them to my crowd of hungry football fans. One skewer was plenty to fill up the boys and I, but my husband could have probably eaten two. That's another great thing about this recipe… it is SO easy to double or triple for a crowd!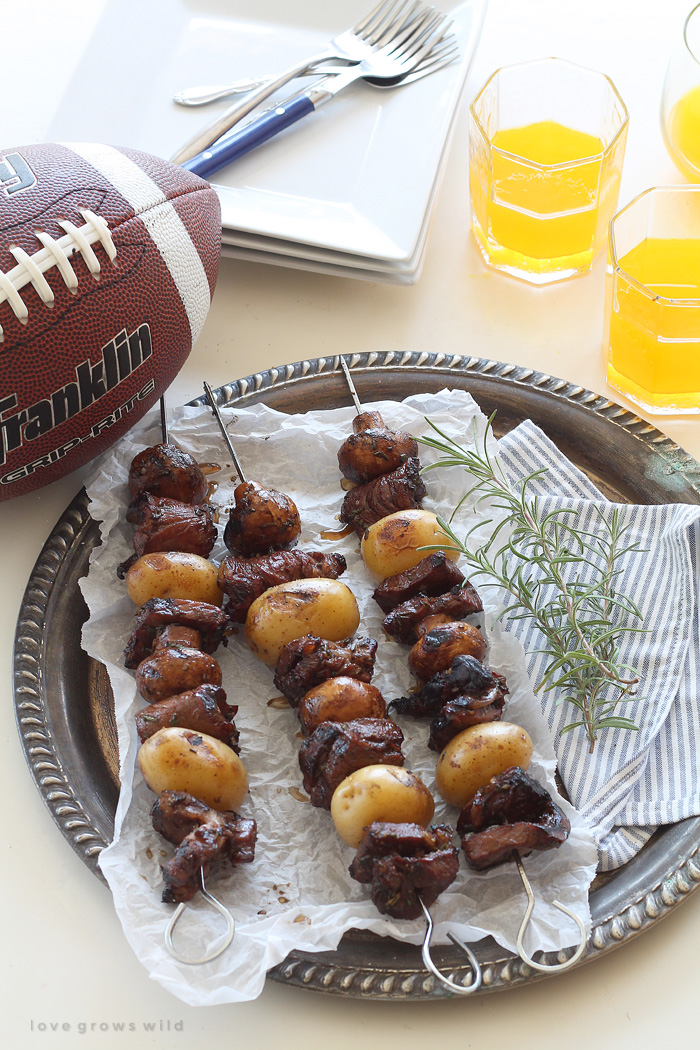 The steak was juicy and tender and had a deep, delicious herb flavor from the balsamic and rosemary. The potatoes and mushrooms had that perfect fresh-off-the-grill flavor. I would say this recipe was definitely a winner! Unlike my Bears against Green Bay last week… ahem…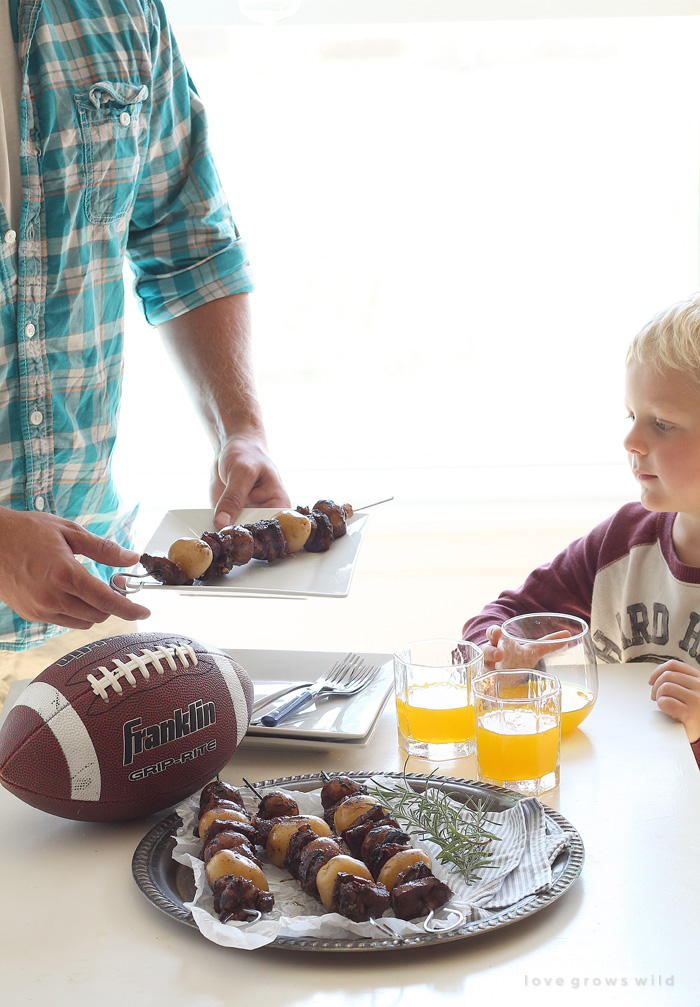 Like what you see? Subscribe to Love Grows Wild so you'll never miss a post!
Follow along on Pinterest, Google+, Instagram, and Facebook for more fun!
Balsamic Rosemary Steak Kabobs
Steak, potato, and mushroom kabobs are soaked in a flavorful balsamic rosemary marinade and grilled to perfection! This takes steak and potatoes to a whole new level!
INGREDIENTS
8 new potatoes (I used baby Yukon Gold)
14-16 ounce rib eye steak
8 button mushrooms
⅓ cup extra virgin olive oil
⅓ cup balsamic vinegar
2 tablespoons fresh rosemary, chopped
3 garlic cloves, minced
1½ teaspoons salt
½ teaspoon fresh ground black pepper
4 metal or wood skewers
INSTRUCTIONS
Cut the steak into 16 equal pieces if using a thin cut and 8 equal pieces if using a thick cut. Season with ½ teaspoon salt and ½ teaspoon pepper. Place the steak and mushrooms in a large bowl. Add the olive oil, vinegar, rosemary, and garlic, and stir until the steak and mushrooms are well coated. Cover with plastic wrap and refrigerate at least 30 minutes to 2 hours.
Place the potatoes in a large saucepan and add enough water to cover by 1 inch. Bring the water to a boil and cook potatoes until just barely fork-tender, about 5-7 minutes. Drain and set aside.
Add a piece of steak, a potato, another piece of steak, and a mushroom to a skewer. Then add another piece of steak, a potato, another piece of steak, and a mushroom again. Repeat with remaining 3 skewers and ingredients.
Heat a grill to medium-high and lightly oil the grate. Add the kabobs and grill about 5-6 minutes on both sides, flipping every 3 minutes. Sprinkle kabobs with remaining 1 teaspoon of salt and serve immediately.
NOTES
- If using wood skewers, soak them in warm water for at least 30 minutes before using so they don't burn on the grill.
- Clean the mushrooms before they go in the marinade by wiping any dirt away with a damp paper towel.
– adapted from Food.com
Are you making this recipe? I'd LOVE to see it! Post a photo on Instagram and use the hashtag #MyLGWRecipe. It may just get featured!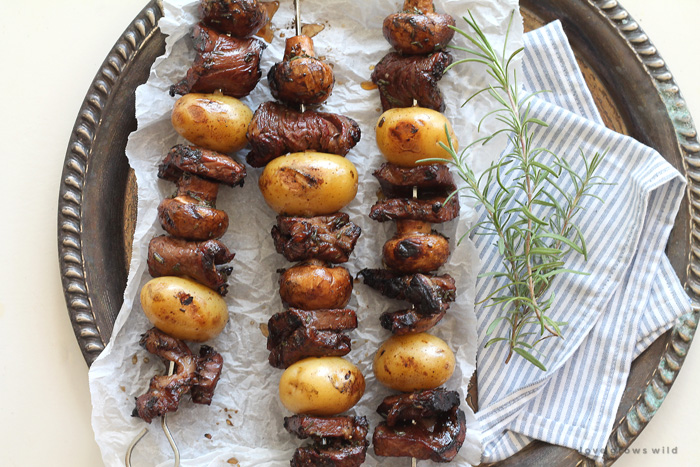 I have been compensated by Walmart and Kingsford charcoal for this post, but all thoughts and opinions are 100% my own. Thank you for supporting the brands that make this blog possible!
---
LET'S KEEP IN TOUCH!
Subscribe to Blog | Browse my Shop | Follow on Facebook | Follow on Twitter
Follow on Google+ | Follow on Pinterest | Follow on Instagram