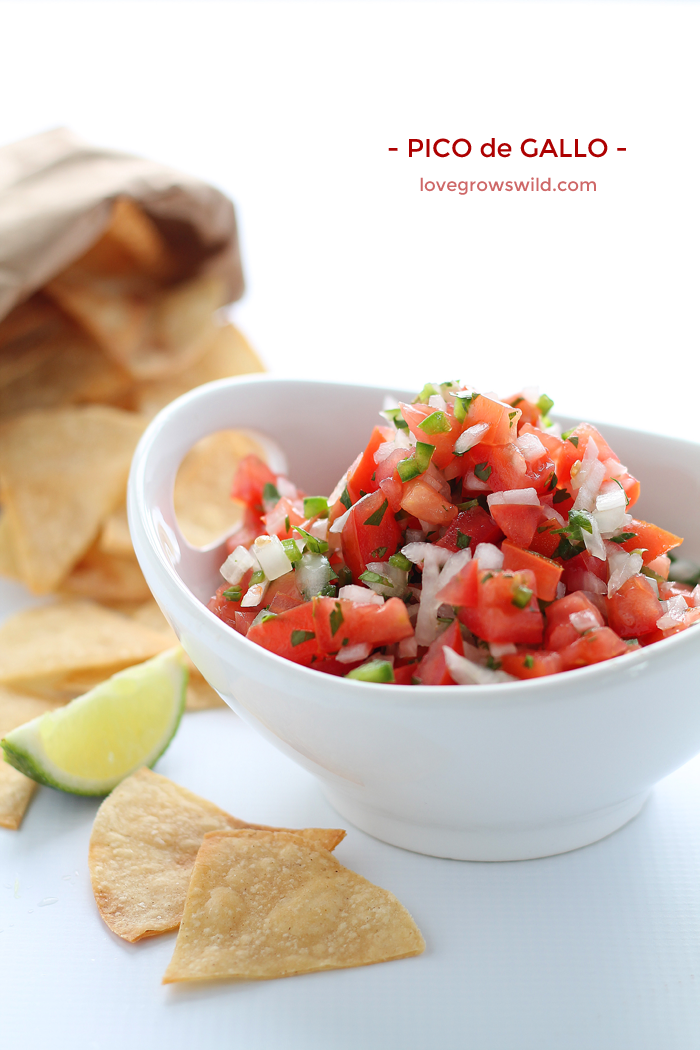 What's your favorite food holiday? Do you love the Thanksgiving turkey or the sugar cookie cut-outs at Christmas time? If you ask me, my favorite food holiday by far is Cinco de Mayo! What could be better than a day full of tacos, guacamole, and margaritas? The answer, my friends, is nothing!
I love all kinds of delicious Mexican recipes, and I'm surprised I haven't shared more here on the blog before. I guess there's no better time than Cinco de Mayo, right? I went back and forth on what special dish I wanted to show you today, and in the end I decided to do a recipe that I use with almost ANY Mexican dish I make… Pico de Gallo! This delicious mixture of fresh vegetables is perfect for snacking with tortilla chips and also makes a great topping for your favorite Mexican meals like tacos, enchiladas, and more!
Have you ever made Pico de Gallo before? I love mixing up a big batch especially in the summertime when I have lots of fresh produce to use from my garden. Tomatoes, onion, jalapenos, fresh cilantro, limes, and salt is all you need!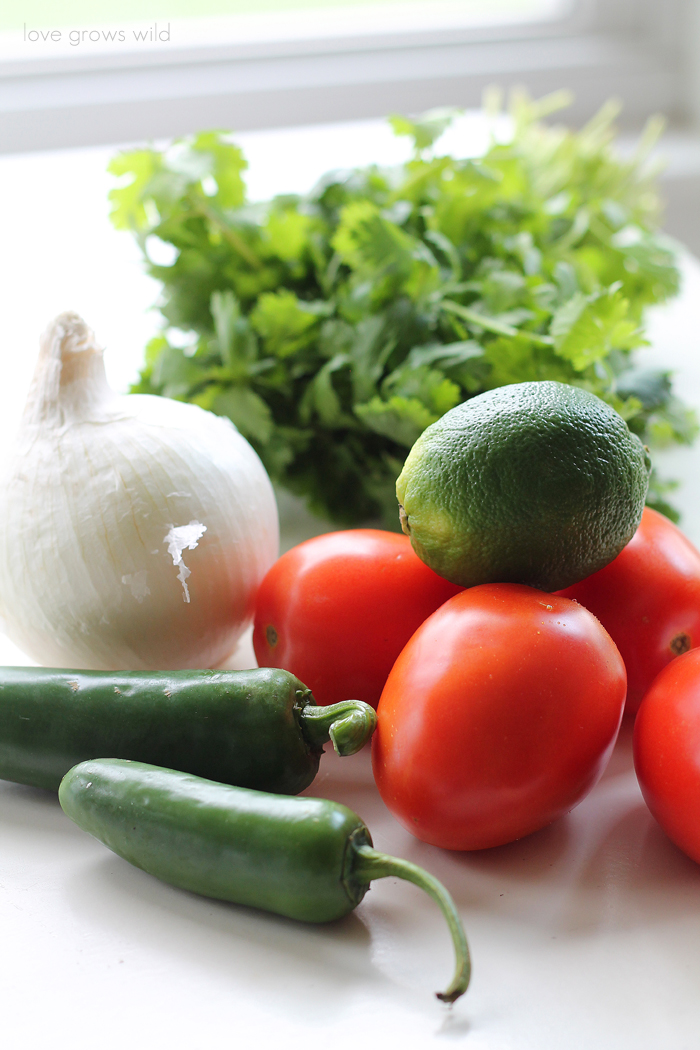 I find that everyone likes their Pico de Gallo a little different…
Some people like lots of onion, some people hate the onion.
Some want it super spicy, while others prefer a more mild heat.
Do you love cilantro or despise it?
That's what is great about this recipe. Once you learn the basics, it's easy to customize all the ingredients to your liking for the BEST Pico de Gallo according to your own taste buds!
I'm definitely a wimp when it comes to super spicy foods, so I prefer my Pico de Gallo to be more on the mild side. I use a whole jalapeno pepper in this recipe, but I remove all the seeds and membranes from inside the pepper which reduces the heat quite a bit.
Here's how you do it:
Cut the top off the pepper and slice it down the middle lengthwise. Scrape out all the seeds and membranes and discard them. TIP: Wash your hands VERY well after dealing with hot peppers! You do NOT want to rub your eyes after touching these babies. And yes, I speak from experience on this one. Give those fingers a good scrub and be sure to get underneath your fingernails too!
You can dice your vegetables as large or small as you like, but here's how I like mine…
A small dice on the tomatoes. (Think about what you'd be able to scoop up on a tortilla chip.) The onions about half that size. (Because no one wants to eat giant chunks of raw onion.) And the jalapeno as SMALL as you can get them. I like my heat in small doses!
– TIP: When I'm chopping my tomatoes, I'll throw them into a strainer with a bowl underneath to catch all the juices. That way you won't have all that extra liquid in your Pico de Gallo!
Throw your chopped veggies into a bowl…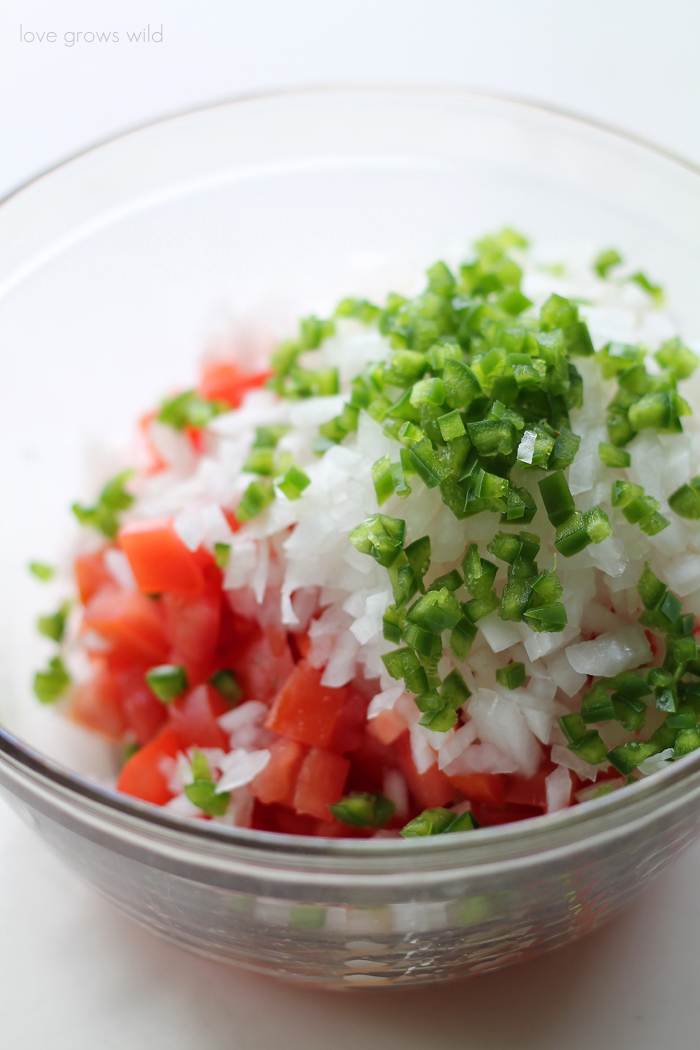 … and add some chopped cilantro, a squeeze of lime juice (from 1 whole lime), and a sprinkle of salt.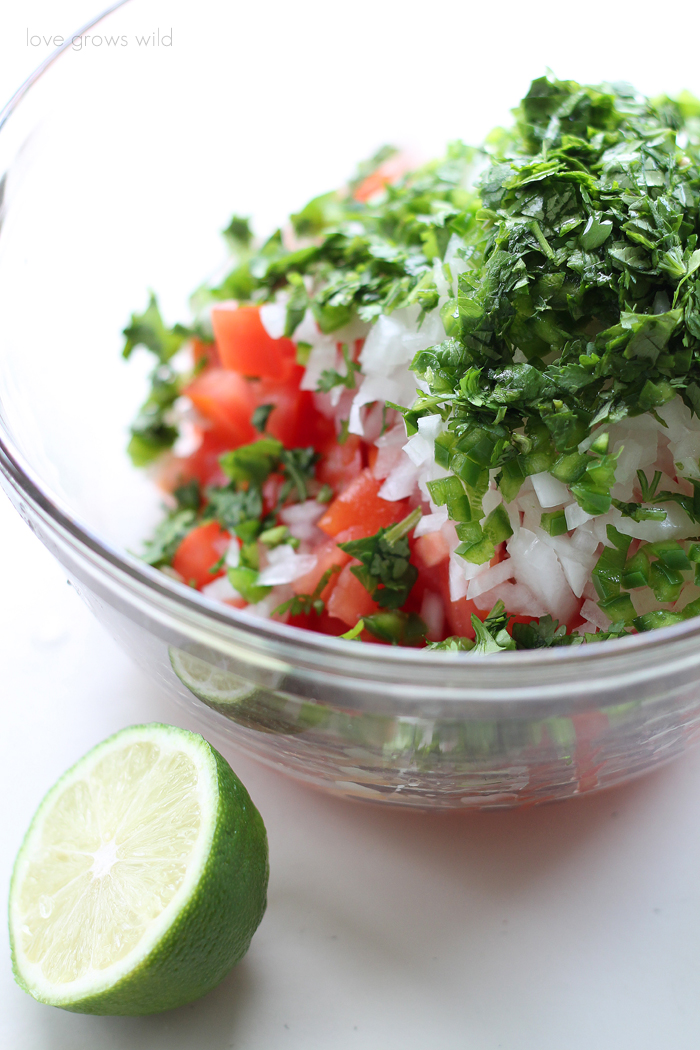 Stir it all together and give it a taste!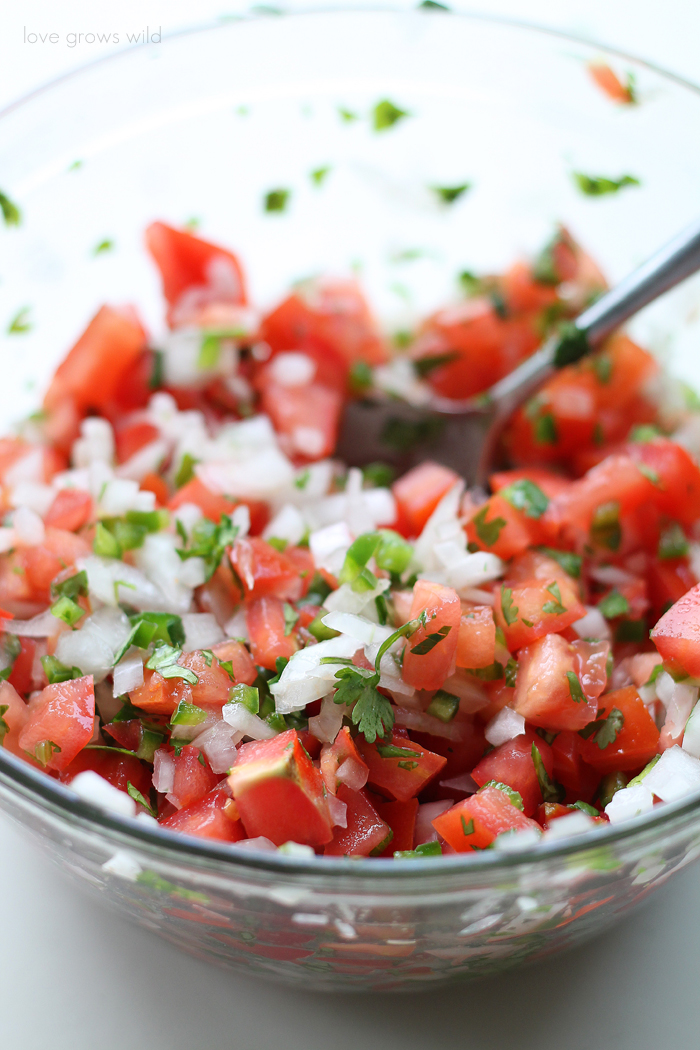 Here's where your expert taste testing skills come into play…
Does it just taste like a bowl of vegetables? Add a bit more lime juice and salt. Way too spicy? Add some more tomatoes. Play with the ratio of ingredients until it's just the way you like it! If I'm serving my Pico de Gallo with tortilla chips, I'll taste them both together before adding any extra salt. The chips will add some saltiness too!
Seriously, could these colors get any more gorgeous?
I'll eat Pico de Gallo all year long, but I especially love it in summer when produce is nice and fresh and it's WAY too hot to turn on an oven. I'll let the hubby grill up some marinated chicken breasts and top them with this fresh Pico de Gallo! You get tons of flavor without adding a bunch of extra calories!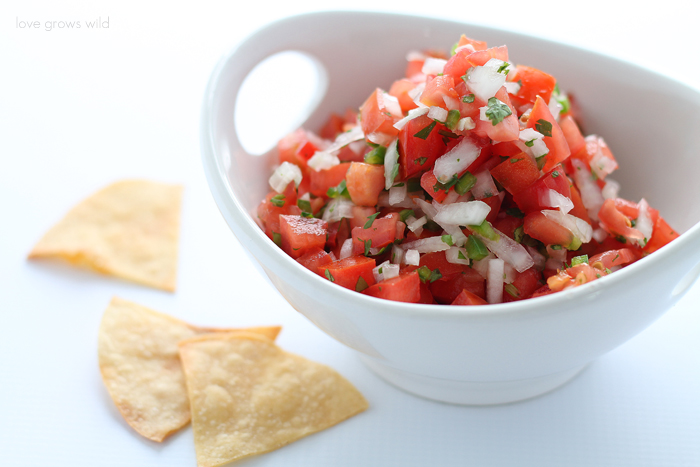 So how long will Pico de Gallo stay fresh for? I usually keep it only about one day. Okay, let me re-phrase that… it doesn't even last one entire day in our house! My husband and I keep snacking until we're fighting over the very last tomato. This stuff is that good. However, if you have more self discipline than we do, you could prep it a few hours ahead of time and keep it stored in the refrigerator. After about 24 hours, I find that the tomatoes start to become mushy and the cilantro wilts. Fresh is definitely better when it comes to Pico de Gallo!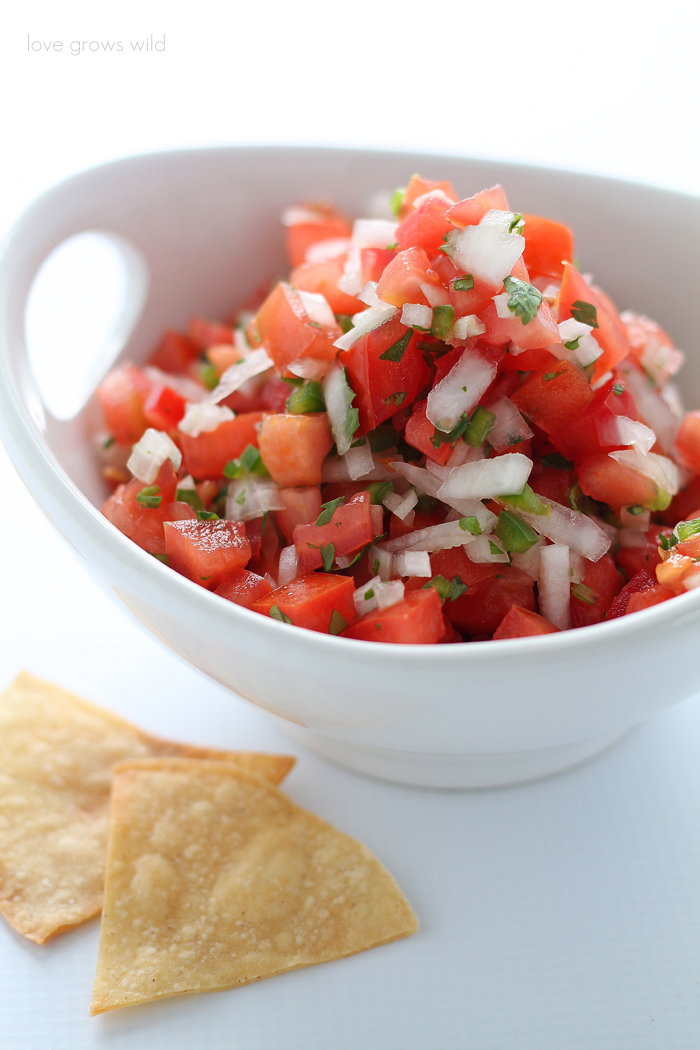 Use this recipe as a healthy snack, a great party appetizer, or a fresh side to any Mexican dish. You'll definitely be making it again and again! Stay tuned for the homemade baked tortilla chip recipe as seen in these photos coming soon!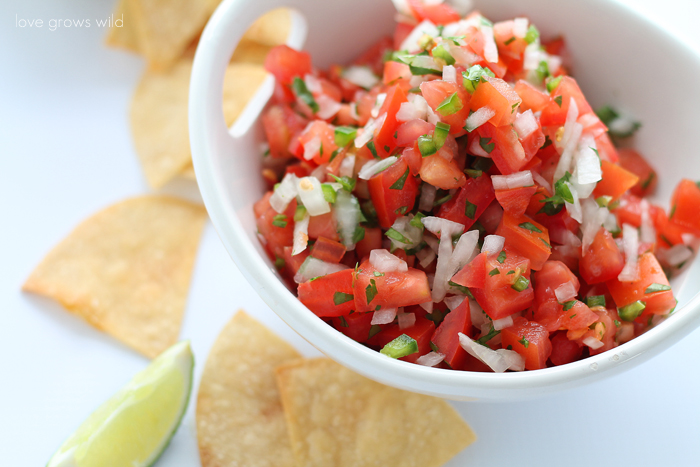 Like what you see? Subscribe to Love Grows Wild so you'll never miss a post!
Follow along on Pinterest, Google+, Instagram, and Facebook for more fun!
Pico de Gallo
Fresh, easy, and healthy too! This Pico de Gallo recipe is perfect for snacking or as a side with your favorite Mexican dishes!
Recipe type:
Side, Snack, Topping
INGREDIENTS
2 cups Roma tomatoes, diced (3-4 tomatoes)
1 cup white onion, finely diced (1/2 large onion)
¼ cup jalapeno, seeds removed and minced (1 jalapeno)
¼ cup fresh cilantro, finely chopped
1 teaspoon Kosher salt (or more to taste)
juice of 1 lime (or more to taste)
INSTRUCTIONS
In a medium bowl, add the tomatoes, onion, jalapeno, and cilantro. Squeeze the juice from 1 lime into the bowl and sprinkle with salt. Stir to combine ingredients and taste. Add more lime juice and salt as necessary. Serve immediately.
NOTES
- If you like your Pico de Gallo nice and spicy, cut up the jalapeno whole. If you want a more mild heat (which is how I prefer it), cut the jalapeno in half lengthwise and scrape out all the seeds and membranes from inside the pepper.

- If you're serving the Pico de Gallo with tortilla chips, taste them together first before adjusting the salt level. The chips will add to the saltiness. Then add more lime juice and salt to your liking!
Today's post comes with a fun surprise… Not only am I celebrating Cinco de Mayo with some delicious Pico de Gallo (that was super fun to say!), but I'm also celebrating two very good friends of mine who are about to have babies! I've met some amazing people since I started this blog, and Alyssa from The Recipe Critic and Nikki from Chef in Training are two people that inspire me daily. They have incredible food blogs (seriously, go check them out!) and are both due with their third babies in less than a month!
Funny story… I recently flew out to Utah for a conference, and Alyssa was sweet enough to pick me up from the airport. LOVE this girl. We were able to squeeze in a quick lunch but wanted more time to hang out together, so she let me crash her OB appointment that was scheduled for that afternoon! Nothing like hearing a sweet little baby's heartbeat and discussing c-sections with your blog friend who you've really only met once before in real life. Bloggers just have strange friendships like that! Her sweet husband probably thinks we're bonkers. I wouldn't have it any other way though. I got to see Nikki too for a little while, and that girl is just cute as a button. I think they're both ready for these babies to be born finally!
So in honor of these sweet girls, a group of us bloggers are sharing a whole bunch of delicious Cinco de Mayo recipes today as a sort of "virtual baby shower" for them. They happen to LOVE Mexican food, so I thought this was perfect! Be sure to check out all the other recipes listed in the links below and go tell Nikki and Alyssa congratulations! I can't wait to see these sweet little babies!!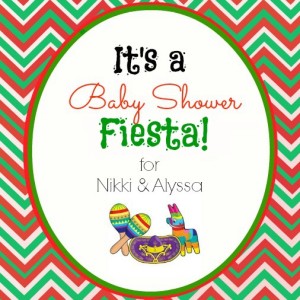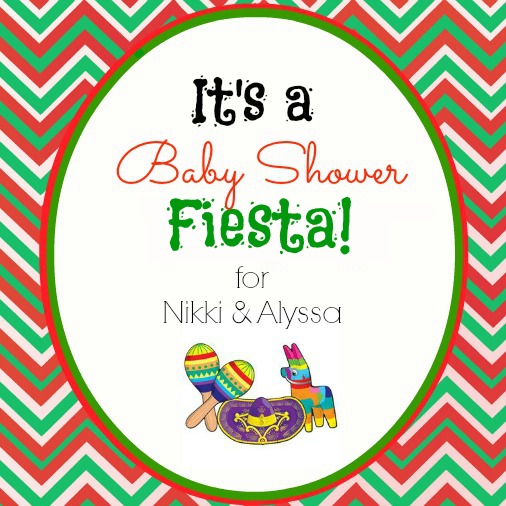 LET'S KEEP IN TOUCH!
Subscribe to Blog | Browse my Shop | Follow on Facebook | Follow on Twitter
Follow on Google+ | Follow on Pinterest | Follow on Instagram