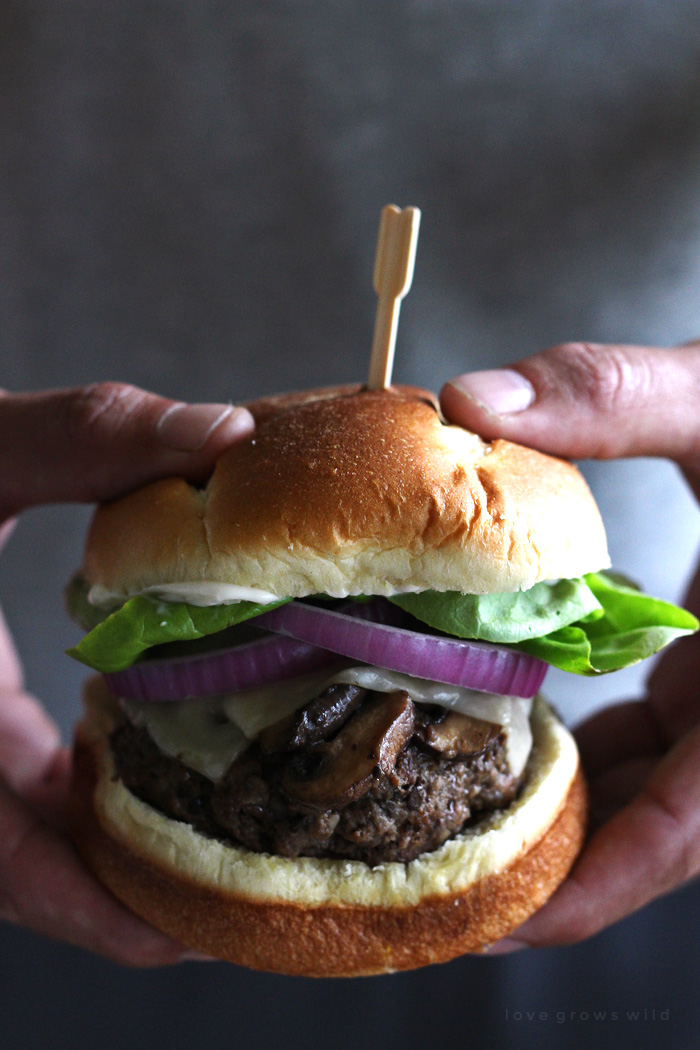 Meaty mushroom burgers topped with swiss cheese and sautéed mushrooms… juicy, flavorful, and great for stretching a dollar!



So today is all about burgers, which I think is the perfect way to kick off summer! Summertime in our house tends to get a little crazy with the boys out of school and Jeremy and I both working from home, but then…
… I decided it was time to dive into our master bedroom renovation! We have big plans for this long-awaited makeover, and this week has been full of sawdust, paint cans, and power tools. Our house is a hot mess, the laundry is once again piled up, and we're stuck sleeping on couches until it's all done, so I sincerely apologize for it being a little quiet on the blog this week! I have lots of fun posts coming up for the next few weeks though, so hopefully I'll be able to get all this behind-the-scenes work done and keep new content on the blog for you guys! P.S. I'm sharing sneak peek photos on Instagram, so be sure to follow along!
Okay, so now that I've filled you in on life here at the Fourez Farm, let's talk burgers!
This burger recipe came about for two main reasons: #1 I looooove mushrooms and #2 I'm trying to drop a few pesky pounds. See, not only does this recipe have buttery sautéed mushrooms on TOP of the burger, but I snuck a whole bunch of them INSIDE the burger too!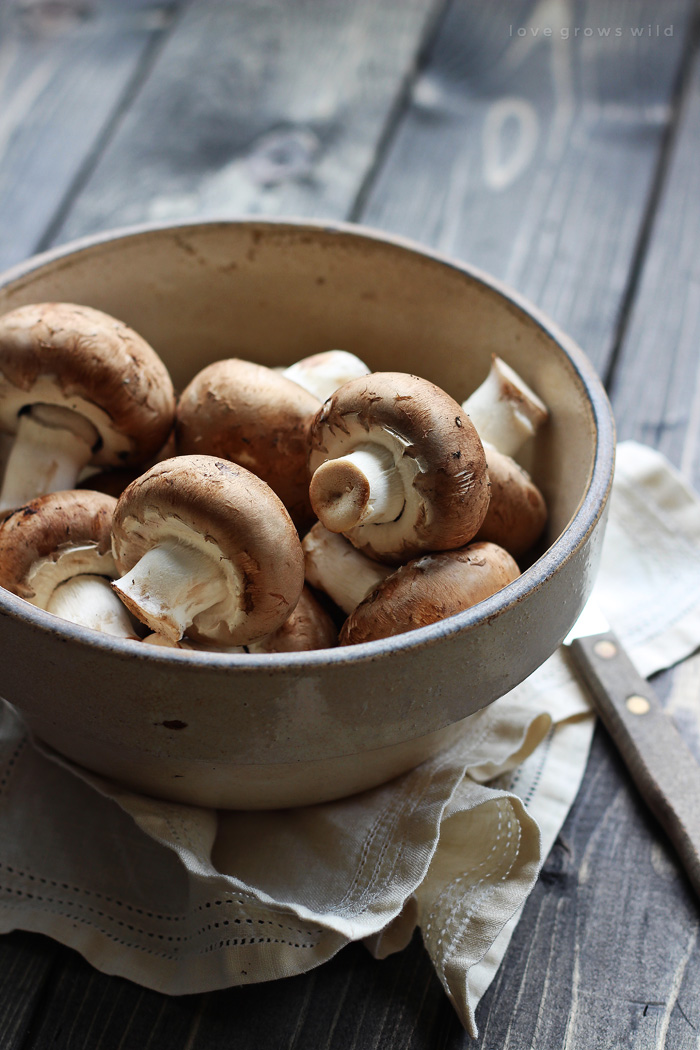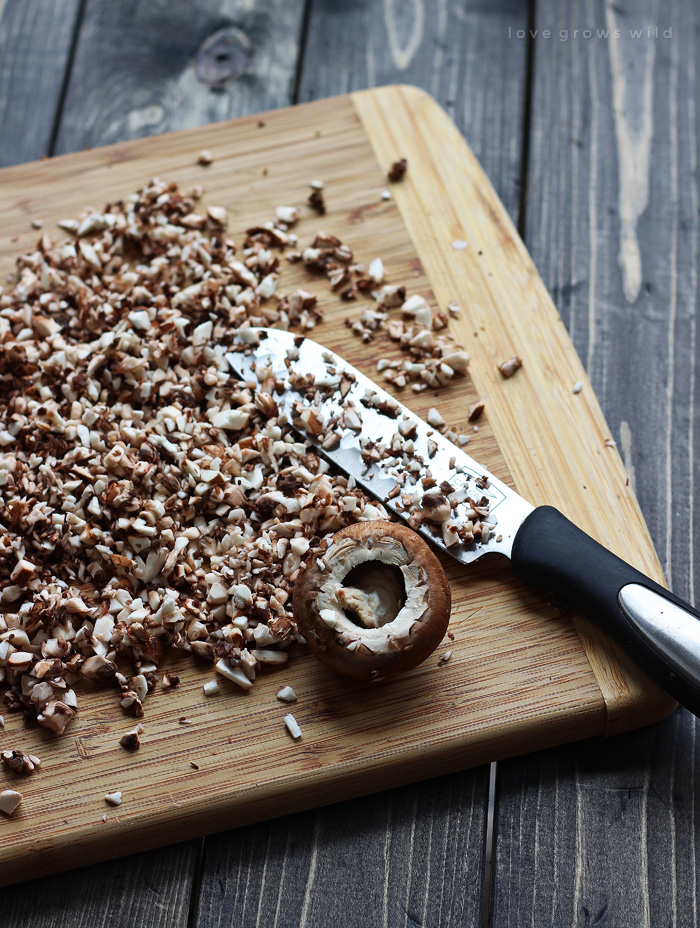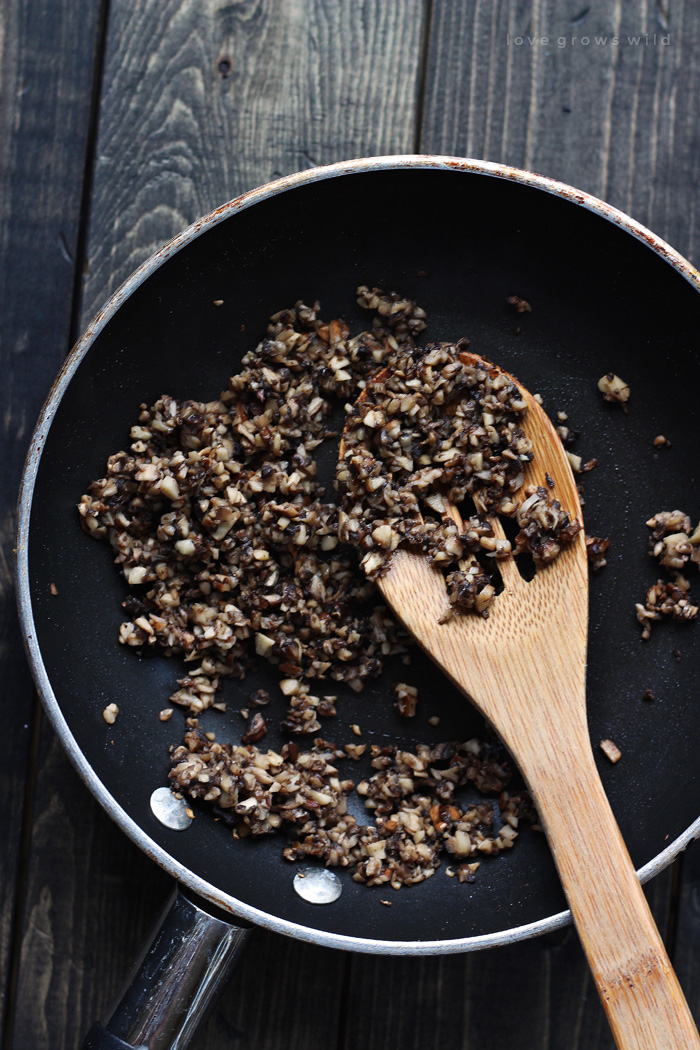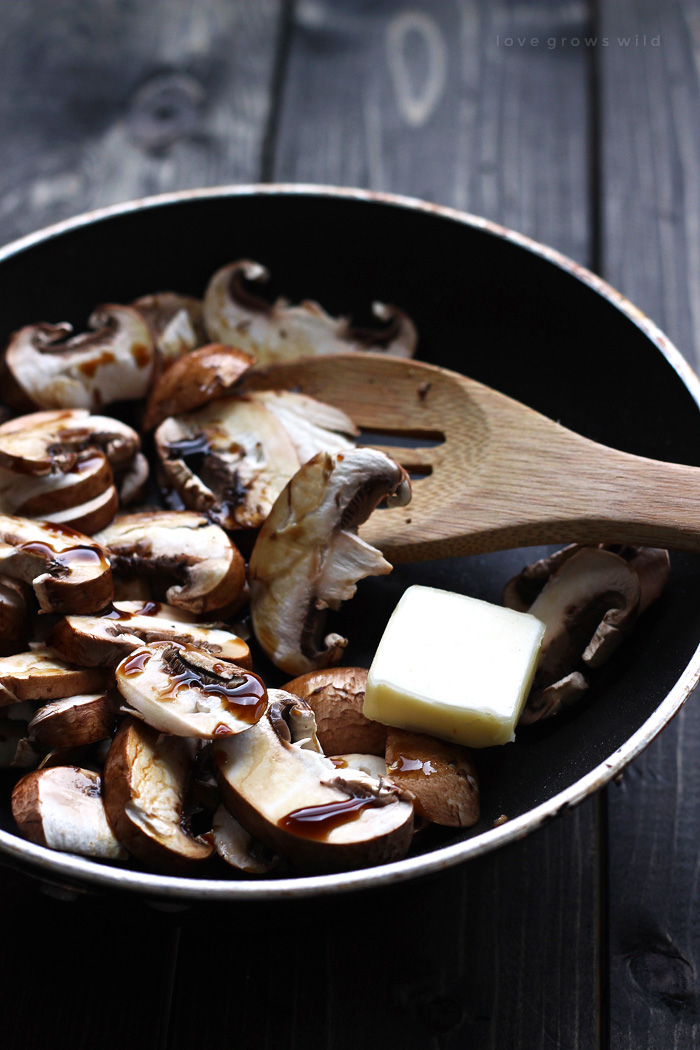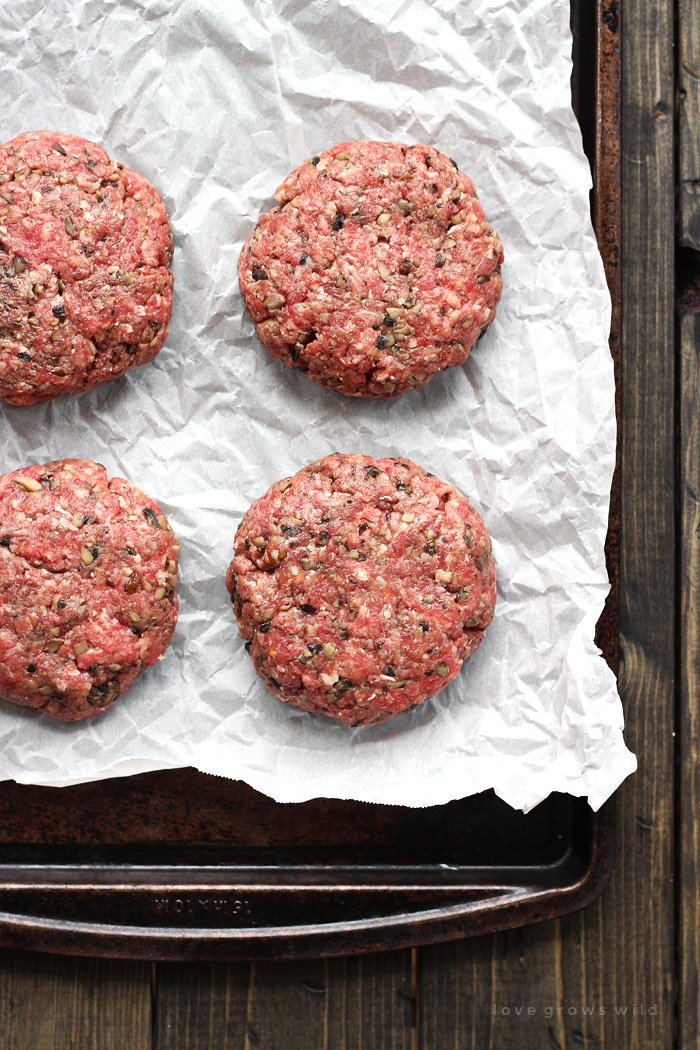 By chopping up the mushrooms super fine, you can add a good amount of them to the beef, which not only helps stretch your dollar (have you seen how expensive ground beef is lately?), but it also keeps the meat SUPER juicy while it cooks and adds more veggies into your meal. The mushrooms are so small that you're still able to form a nice hamburger patty that holds its shape AND your kids won't even know they're in there! Okay… maybe they'll be able to tell there's a little somethin' somethin' different about the burger, but I bet they'll still gobble it up… I know mine did!
Everyone has their own burger preference, but here's how I like to dress this one up: a heaping pile of buttery, Worcestershire-soaked mushrooms, a melty slice of swiss cheese, pickles, lettuce, and a slather of mayo on the bun. How would YOU top this burger?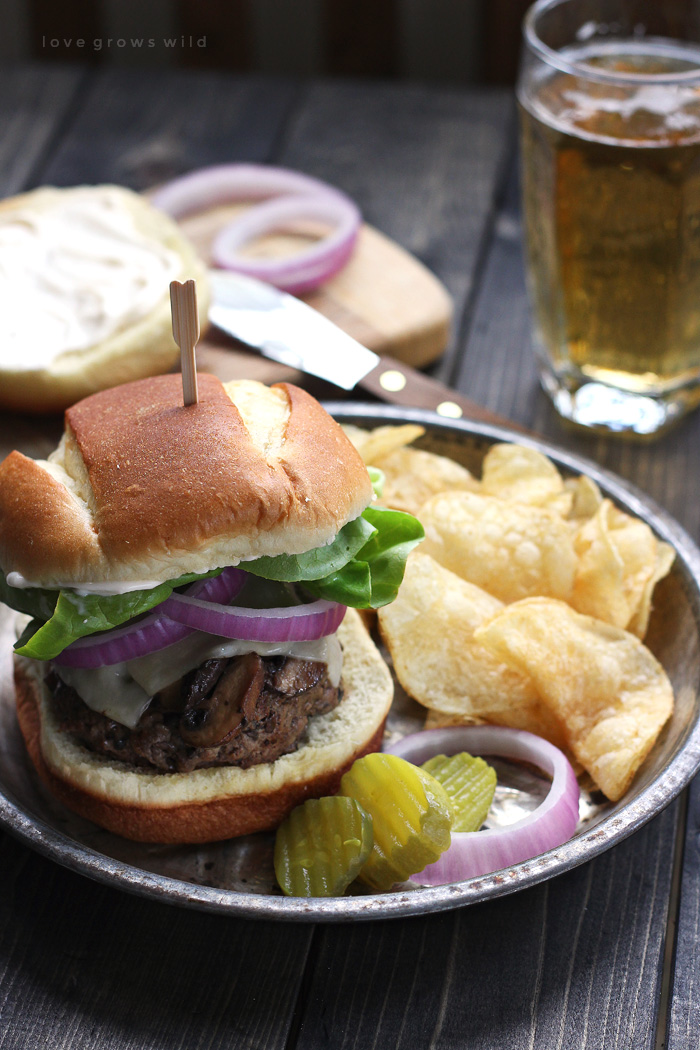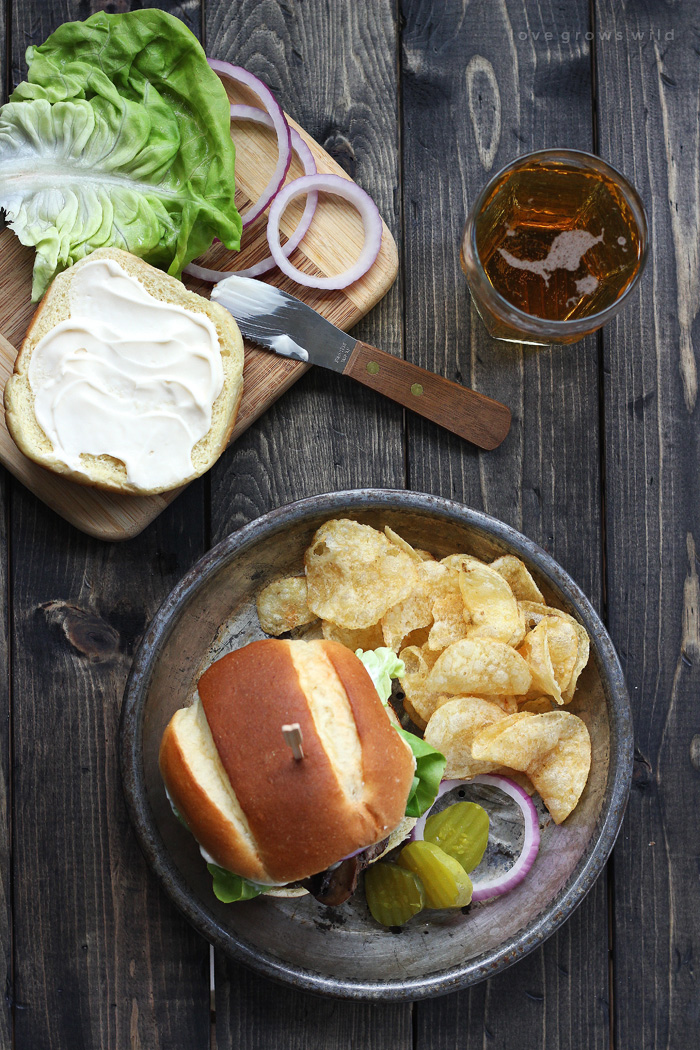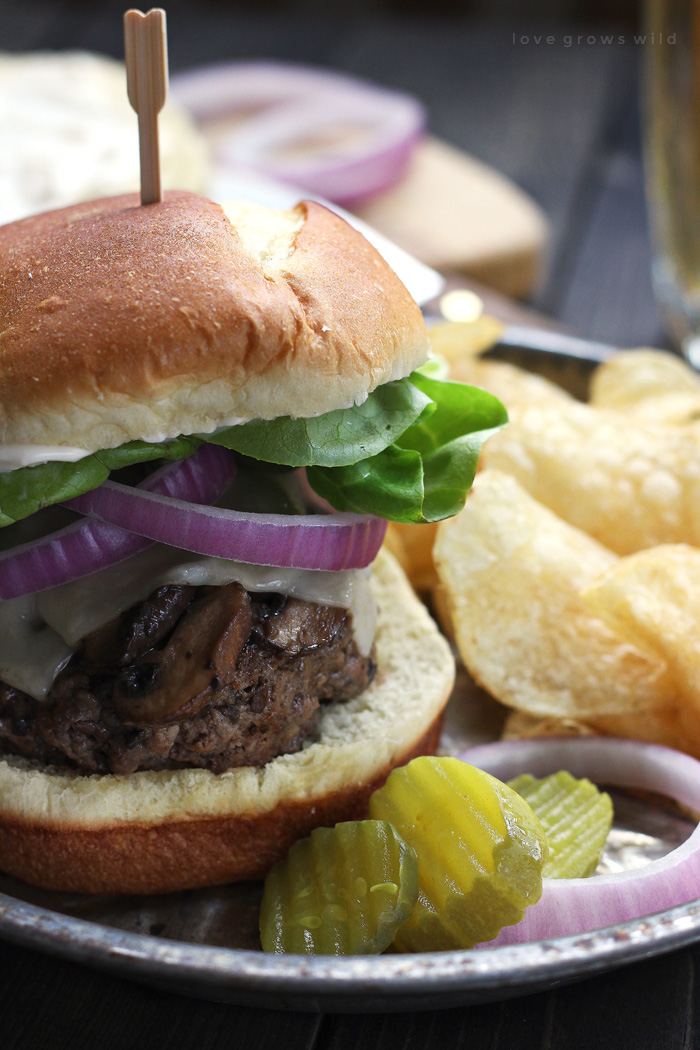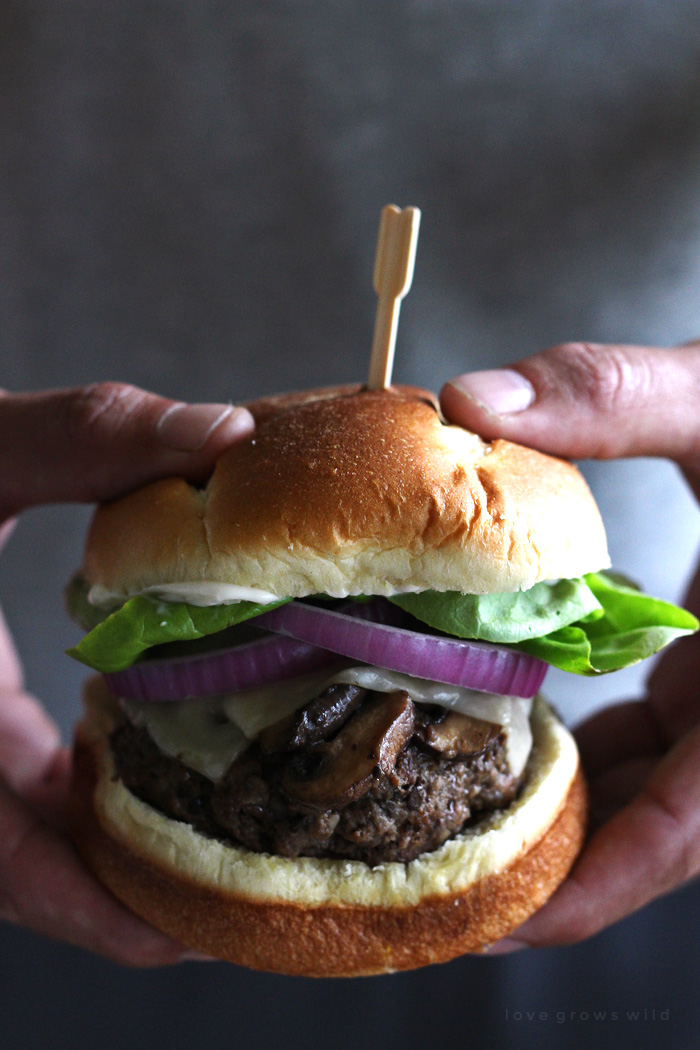 Like what you see? Subscribe to Love Grows Wild so you'll never miss a post!
Follow along on Pinterest, Google+, Instagram, and Facebook for more fun!
Mushroom Swiss Burger
INGREDIENTS
1 pound lean ground beef
8 ounce package baby portobello mushrooms
1 tablespoon olive oil
1 tablespoon butter
2 tablespoons Worcestershire sauce
1 teaspoon dijon mustard
1 teaspoon salt
½ teaspoon pepper
½ teaspoon garlic powder
4 slices swiss cheese
4 hamburger buns
Optional toppings: mayo, lettuce, onion, pickles, tomato, ketchup, mustard
INSTRUCTIONS
Heat ½ tablespoon olive oil in a skillet over medium heat. Finely chop half the mushrooms and add them to the skillet. Cook, stirring, for 4-5 minutes until tender. Season with salt and pepper and remove from the skillet to cool.
Melt butter in the same skillet and place over medium heat. Slice the remaining half of the mushrooms and add them to the skillet. Pour 1 tablespoon Worcestershire over the mushrooms and sauté for 4-5 minutes until the mushrooms are tender. Set aside.
In a large bowl, add the ground beef, finely chopped mushrooms from Step 1, 1 tablespoon Worcestershire sauce, dijon mustard, salt, pepper, and garlic. Gently mix the ingredients together and form the meat into 4 patties. Heat a grill or large skillet with ½ tablespoon olive oil on medium high heat and cook the patties 4-5 minutes per side, or until done to your liking. Top each burger with a spoonful of the sliced mushrooms and a slice of swiss cheese and cook another 1 minute until cheese starts to melt. Serve the burgers on a bun with desired toppings.
– adapted from Food Network
---
More recipes to try:
---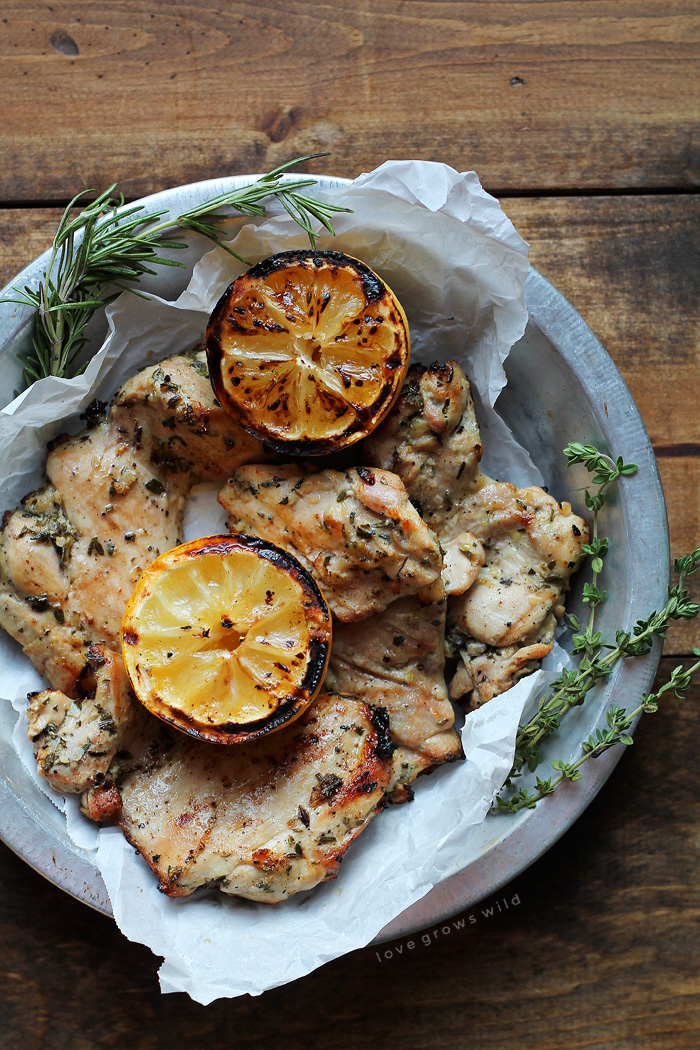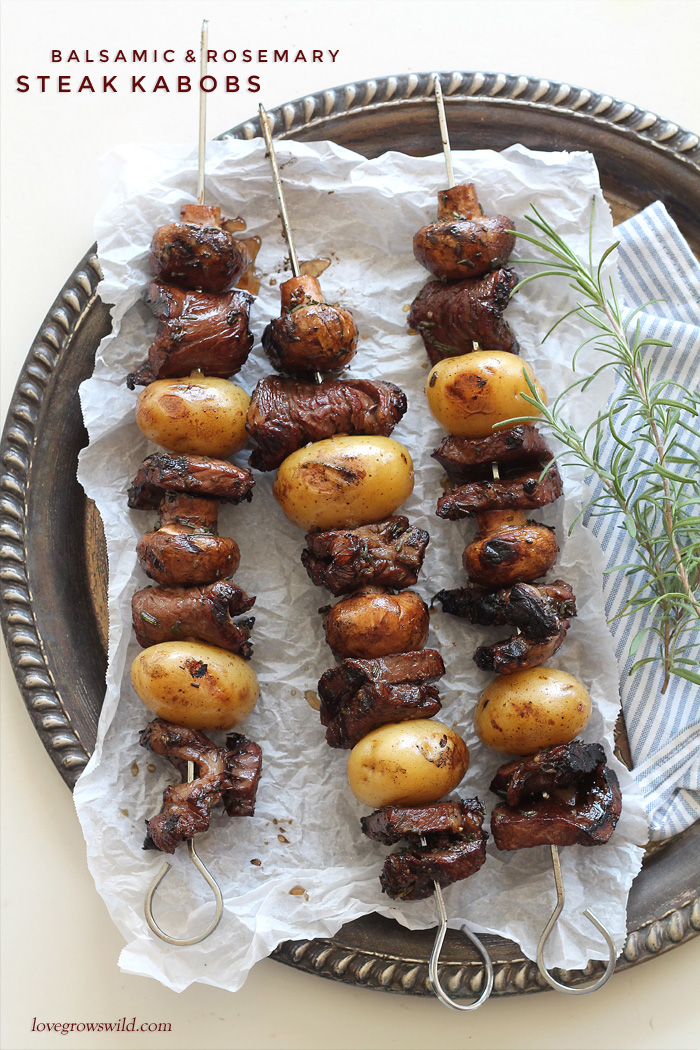 Balsamic Rosemary Steak Kabobs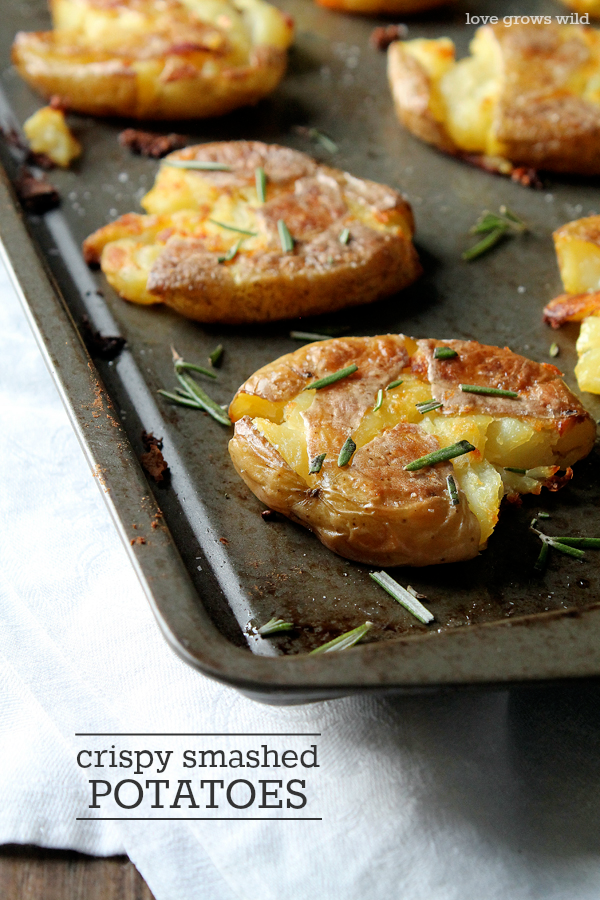 ---
LET'S KEEP IN TOUCH!
---
Subscribe to Blog | Browse my Shop | Follow on Facebook | Follow on Twitter
Follow on Google+ | Follow on Pinterest | Follow on Instagram