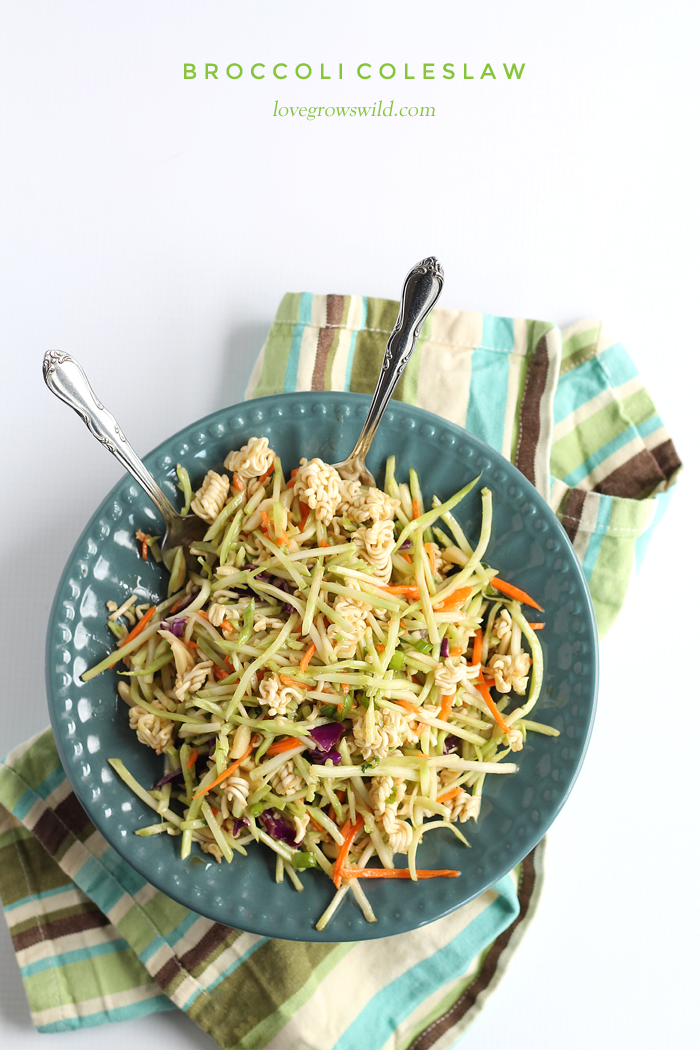 I have a good one for you today, guys! Broccoli Coleslaw is one of those recipes I can't believe I've never shared here on the blog before. My mom has made this amazing coleslaw for years and years, and it has become one of my favorites to make now as well. It's perfect for parties and potlucks, but can be easily halved for nights when you just need a little side dish to go with dinner. With tons of flavor and lots of texture going on in this unique and colorful coleslaw, it is sure to become one of your favorites too!
So you're probably wondering… what the heck is this broccoli coleslaw? Well, it's basically the best side dish I've ever made or eaten. Enough said, right? 😉
But besides that, it's a "coleslaw" made with a vinegar and oil dressing versus the typical creamy dressing you'll find with most coleslaw recipes. It starts with packages of broccoli slaw, which you can pick up at the grocery store in the refrigerated produce section by the other coleslaw varieties. Super delicious. To beef up the coleslaw with a little more flavor and texture, I add some slivered almonds, sunflower seeds, green onions, and the secret ingredient….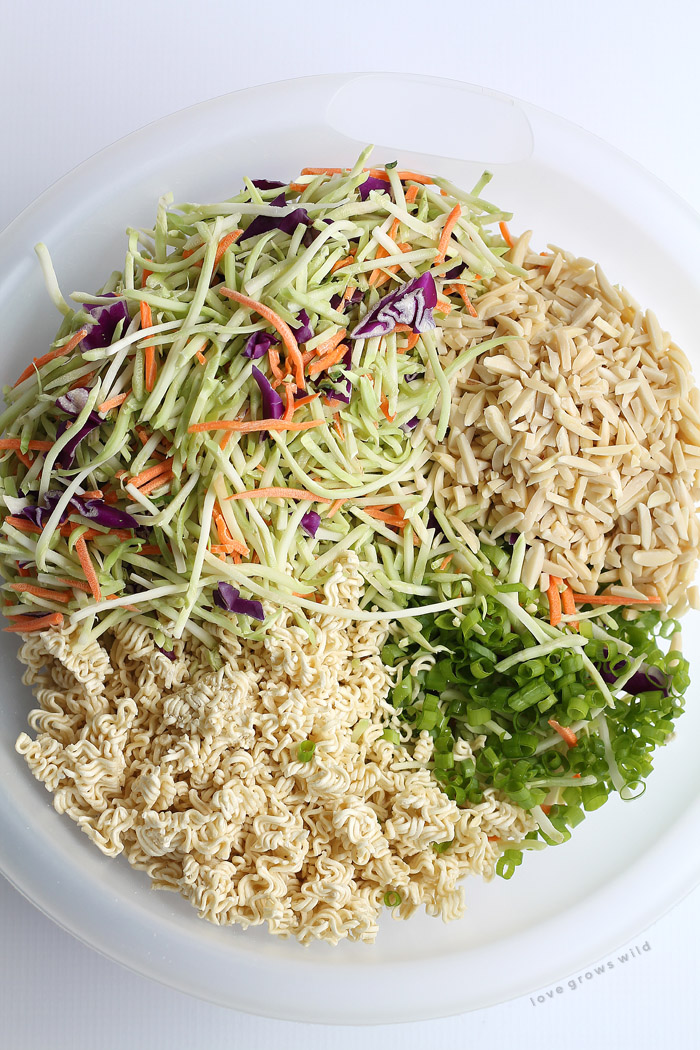 … Ramen noodles. In particular, the Oriental-flavored ones. Sounds totally weird, right? Trust me on this one, guys. You won't regret it! Crush up 2 bags of the Ramen noodles into small pieces and save the Oriental seasoning packet for the deliciousness that's coming up next.
The dressing for this Asian-inspired coleslaw is super easy and in my opinion, even better than normal coleslaw. It's just canola oil, red wine vinegar, sugar, and the 2 seasoning packets you saved from your Ramen noodles. Pure, utter deliciousness.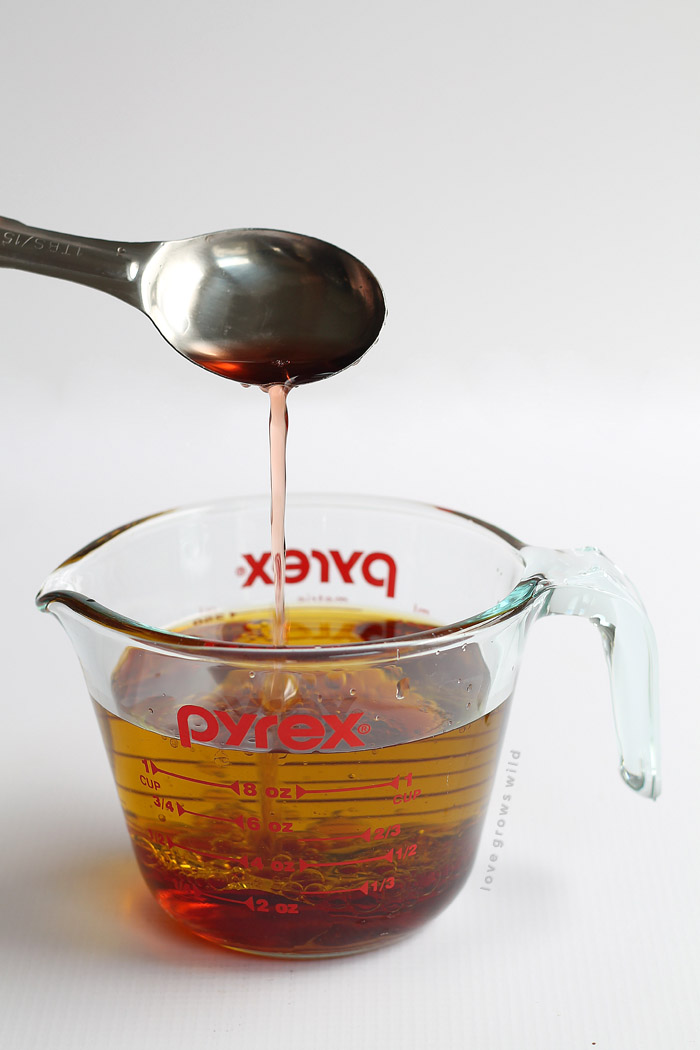 Mix it all up and stick it in the refrigerator for about 1-2 hours before you're ready to eat. This chill time gives the flavors a chance to combine and the noodles soften up a bit, soaking in all that yummy dressing. They're still nice and crunchy, but don't taste like you're eating a raw package of noodles. They might be my favorite part of this whole thing!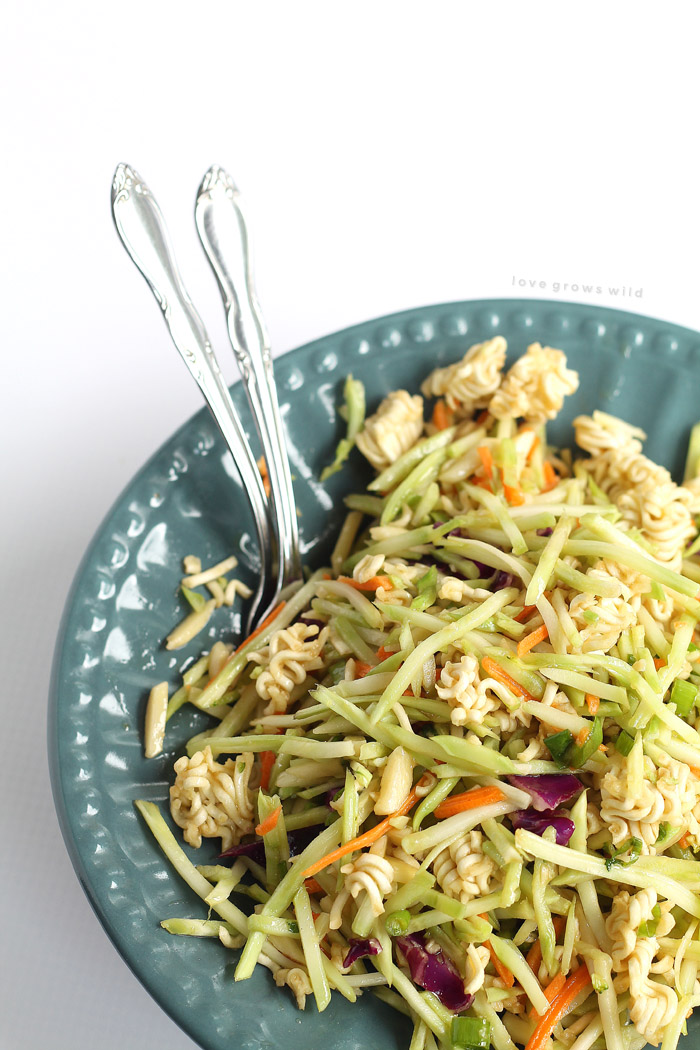 Just as a head's up: this recipe makes a HUGE bowl of broccoli coleslaw. It's the perfect size for bringing to potlucks and parties, but it's really easy to cut this recipe in half when you just need a little side for family dinners. I love cold salads like this in the summertime (and bonus – no mayo in this coleslaw means it can sit out for longer!), but I remember people requesting this recipe from my mom at just about every holiday, event, and party throughout the year. And once you try this recipe for yourself, you'll understand why!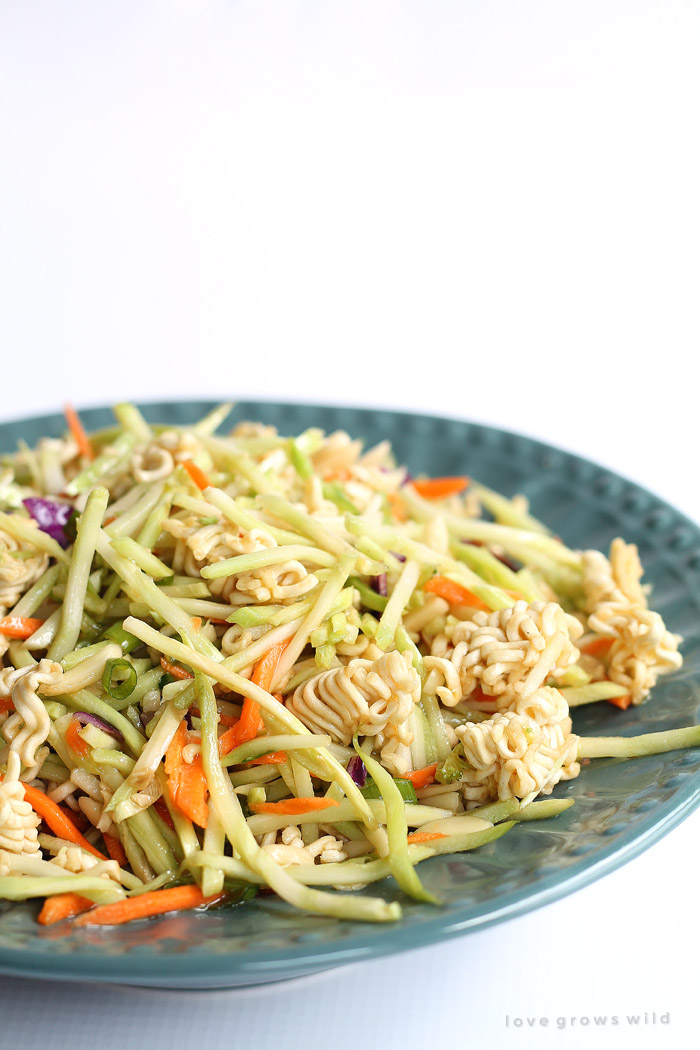 Like what you see? Subscribe to Love Grows Wild so you'll never miss a post!
Follow along on Pinterest, Google+, Instagram, and Facebook for more fun!
Broccoli Coleslaw
INGREDIENTS
2 - 12 ounce packages broccoli slaw mix
2 packages Oriental-flavored Ramen noodles, crushed into small pieces
1 cup slivered almonds
1 cup sunflower seeds
3 green onions, chopped

Dressing:
1 cup canola oil
6 tablespoons red wine vinegar
4 tablespoons granulated sugar
2 packages Oriental seasoning mix (from the Ramen noodles)
INSTRUCTIONS
Mix the broccoli slaw, crushed noodles, almonds, sunflower seeds, and green onions together in a large bowl.
In another small bowl, add the canola oil, red wine vinegar, sugar, and Oriental seasoning packets from the Ramen noodles. Whisk together until the sugar is completely dissolved, then pour over the slaw mixture. Toss until evenly coated and cover the bowl with plastic wrap. Refrigerate for 1-2 hours before serving to allow the flavors to combine and the noodles to soften slightly. Stir the coleslaw occasionally to evenly distribute the dressing.
NOTES
- This recipe makes a very large batch of broccoli coleslaw which is perfect for serving at potlucks or parties. If you're making this for meals at home, I'd recommend cutting the recipe in half, which will serve about 6-8.
Still hungry? Try these tasty recipes: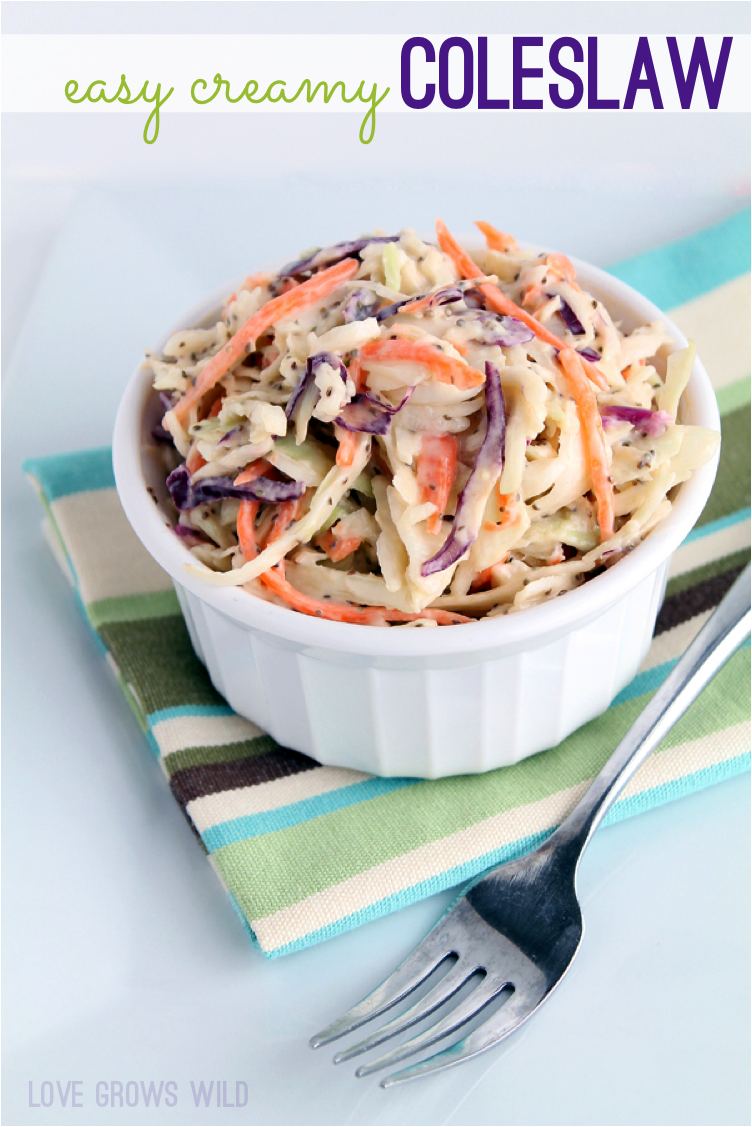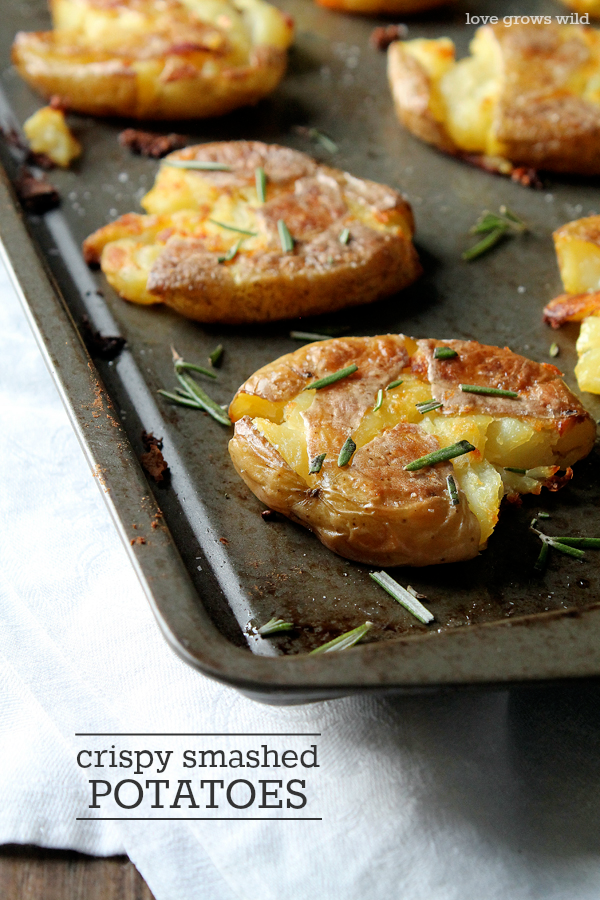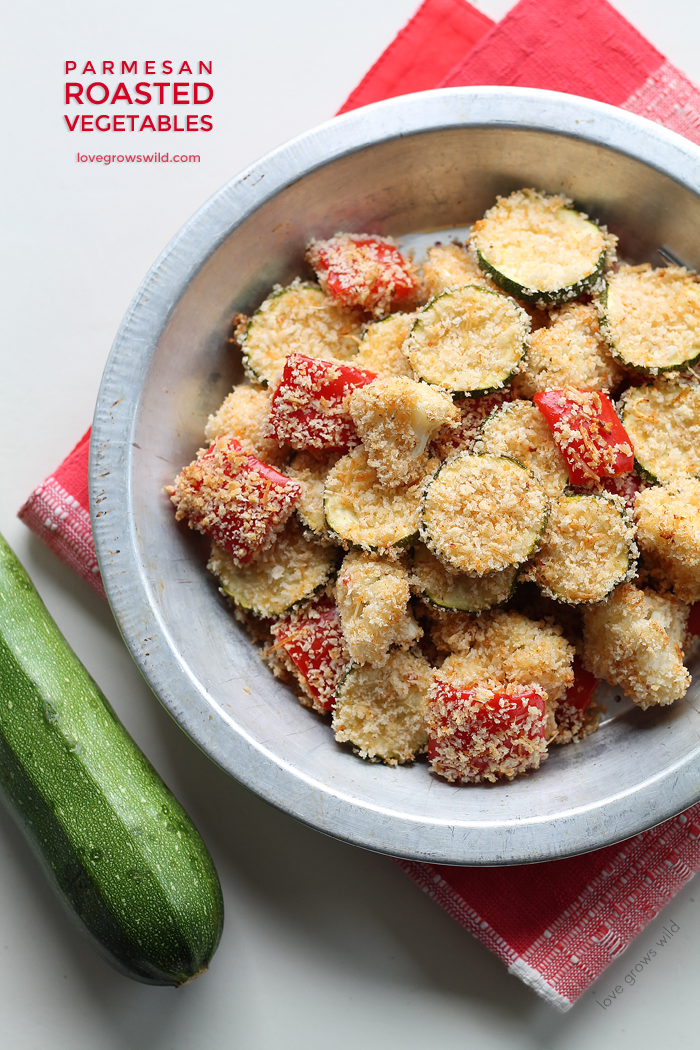 ---
LET'S KEEP IN TOUCH!
Subscribe to Blog | Browse my Shop | Follow on Facebook | Follow on Twitter
Follow on Google+ | Follow on Pinterest | Follow on Instagram