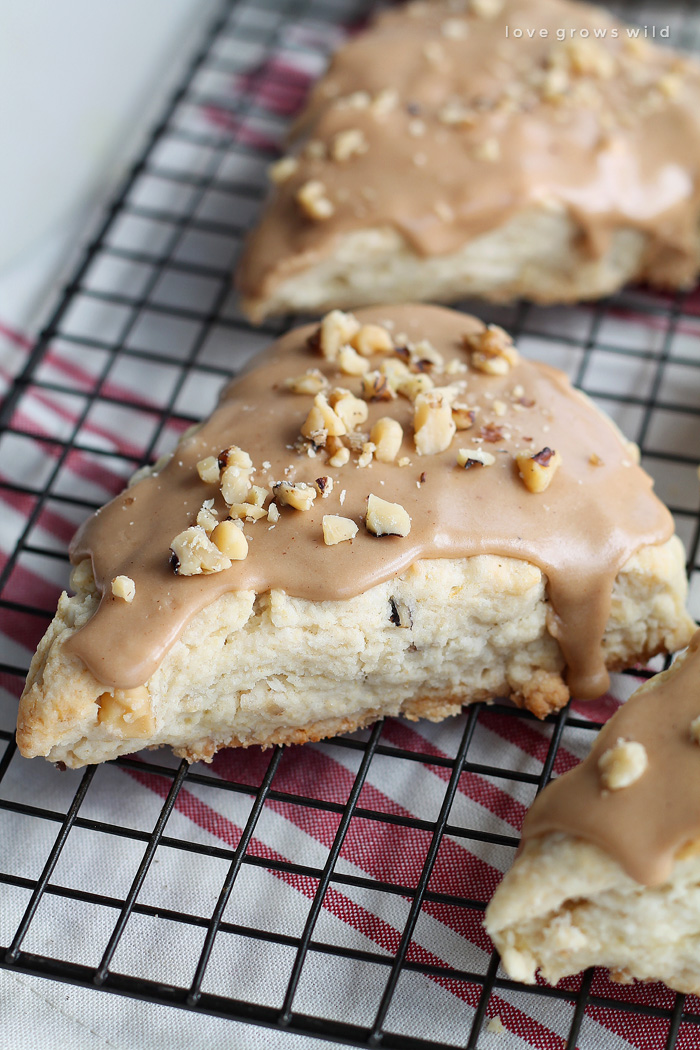 Sponsored by World Market // If you follow me on Instagram, it's probably no big secret that I've been busy decking the halls around here for the past few weeks, and now that today is officially the beginning of December, I think it's time to start sharing all my holiday decorations with you! Today I'm starting in the heart of our home… the kitchen.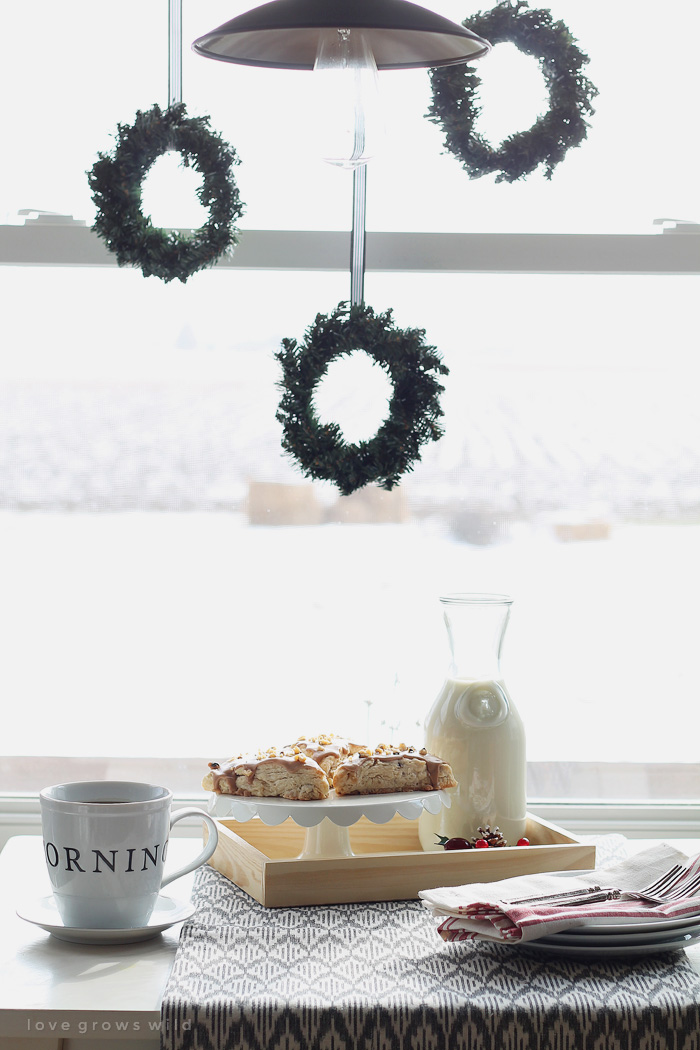 sources: table runner, napkins, plates, forks, coffee mug, cake plate
If there's one thing we all have in common in my family, it's definitely our love of food. We tend to plan our visits around the meals we eat and can't get through breakfast without deciding on our lunch and dinner options for the day, so naturally, a lot of time is spent cooking together in the kitchen.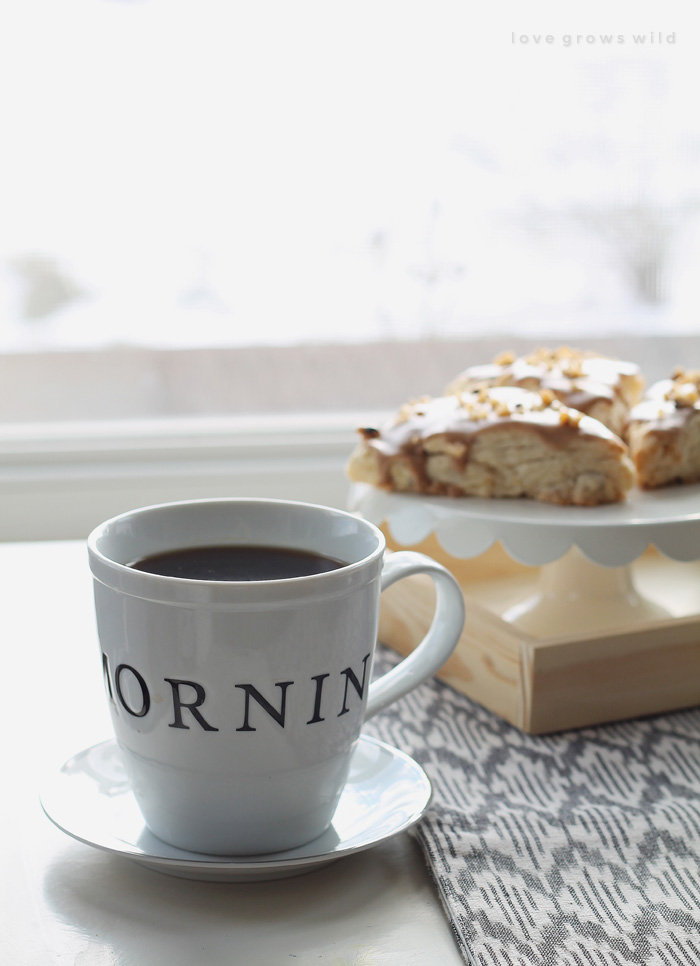 Every Christmas for the past 6 years, my mom and sister have come to stay with us, and I love getting the house all decorated for their visit. I'm usually super short on time, so the decorations have become very simplified over the years, but I've learned that even the smallest touches can make your home feel warm, cozy, and festive for the holidays.
I have a small table and two chairs next to the bay windows in my kitchen, which is the perfect spot to enjoy our morning coffee together along with my famous Maple Glazed Walnut Scones. (No, I wouldn't leave you hanging… I'm sharing my scone recipe at the bottom of this post!)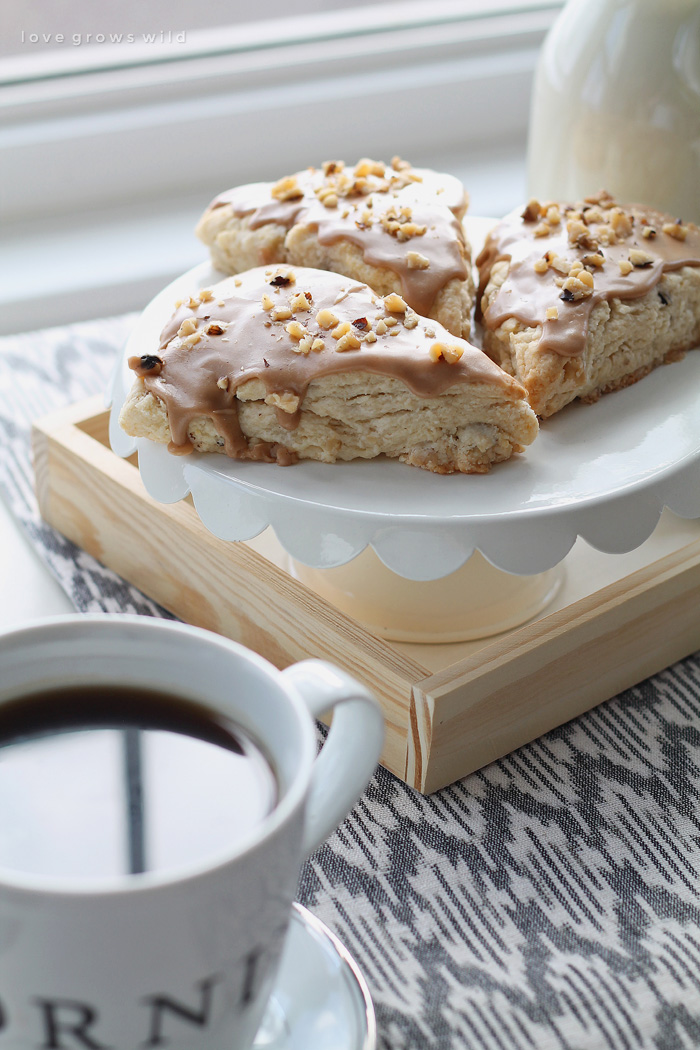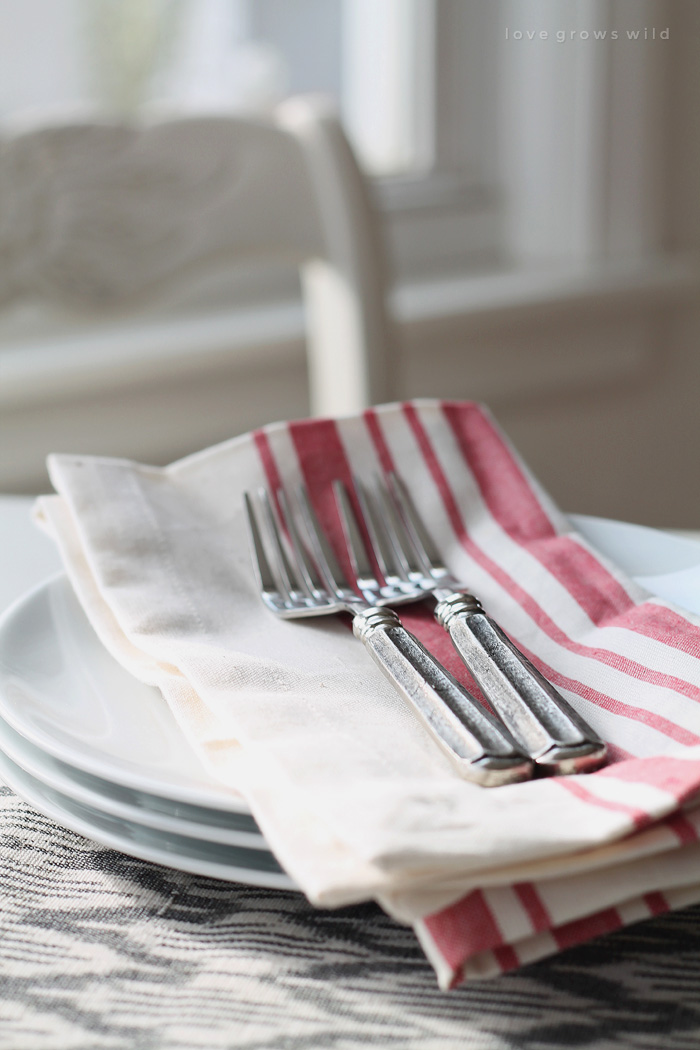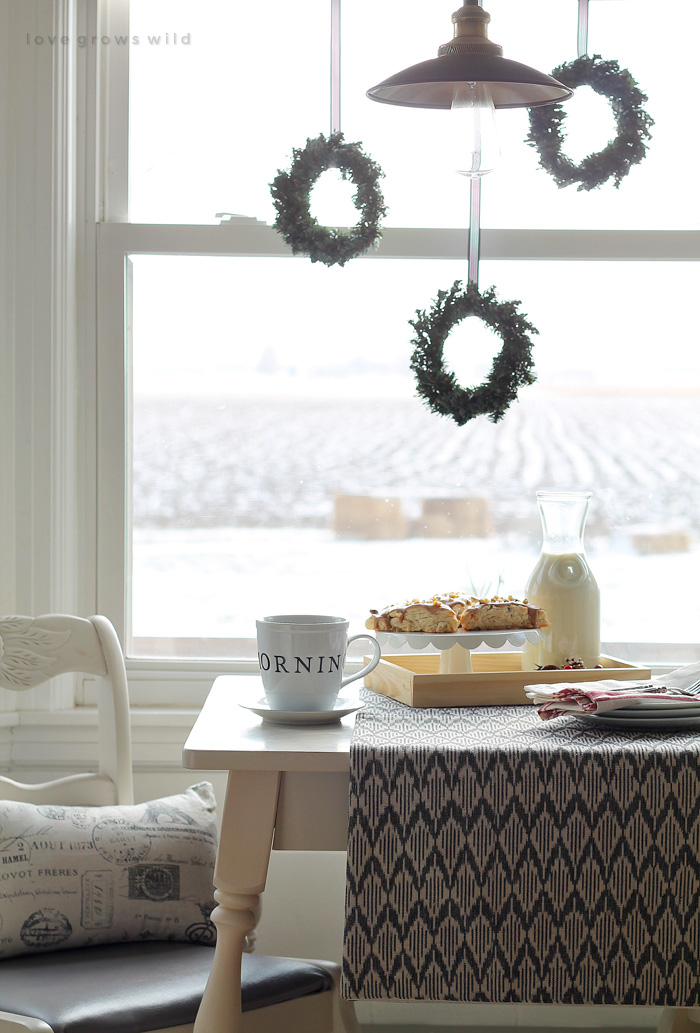 I've decorated this little shelf in my kitchen many ways over the past few years, but I love this simple look: a mini wood pallet, some holiday-print fabric, evergreen clippings from our backyard, and a few kitchen accessories that double as decor: an antique grater, an olivewood cutting board, and a red-striped kitchen towel.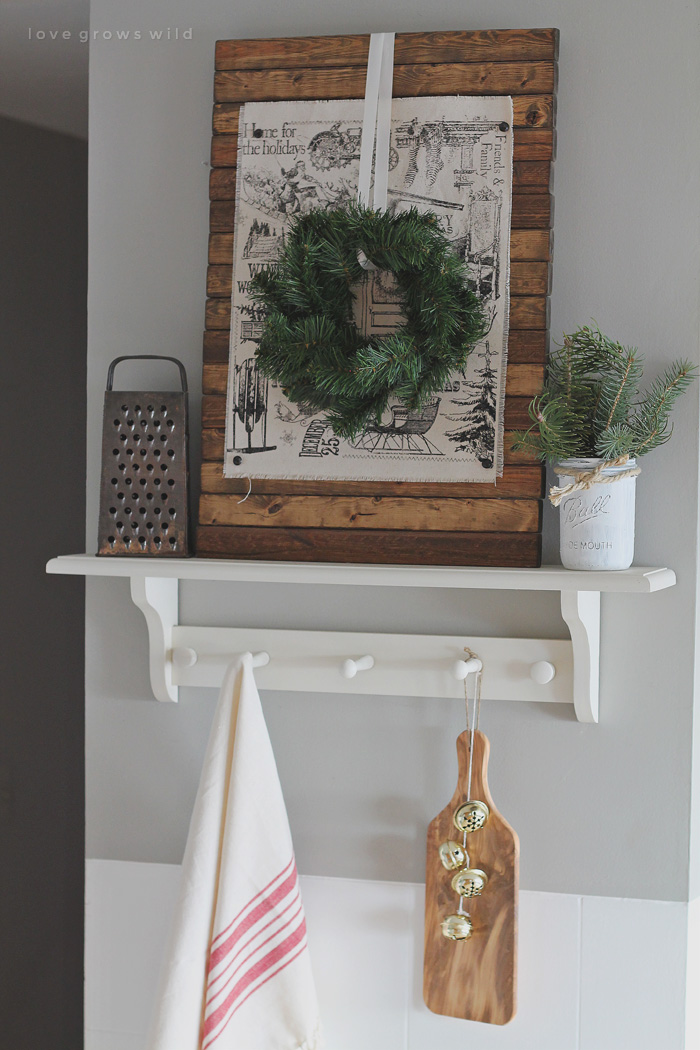 sources: kitchen shelf, mini wood pallet, holiday fabric, cutting board, kitchen towel
I love using cutting boards as everyday decor in the kitchen, but layering on a strand of jingle bells added that simple, yet festive flair I was talking about.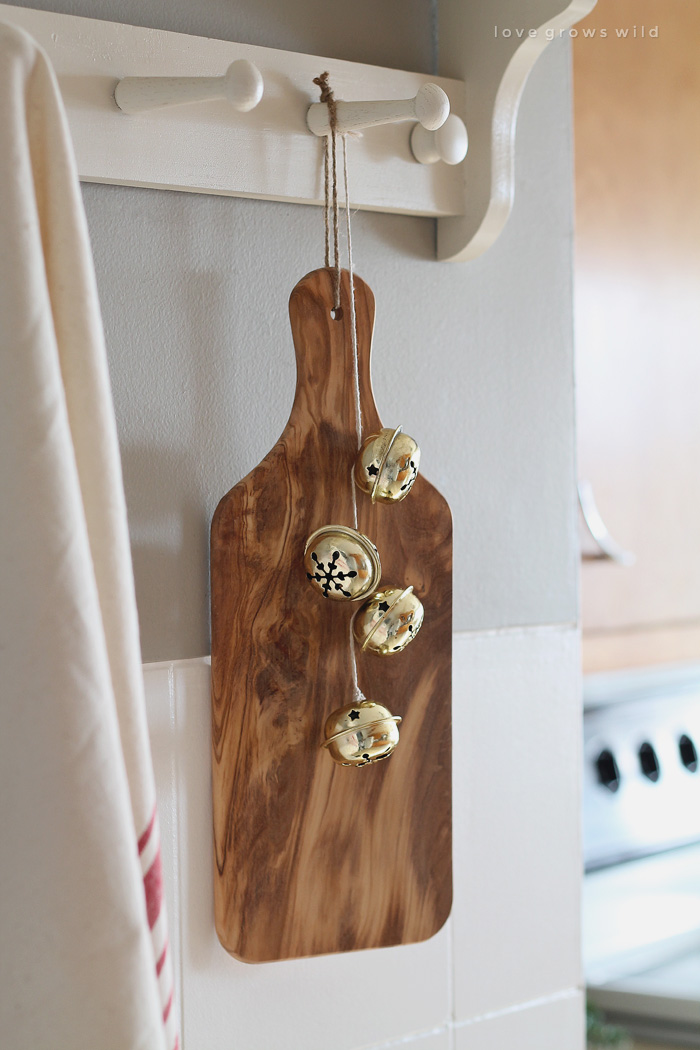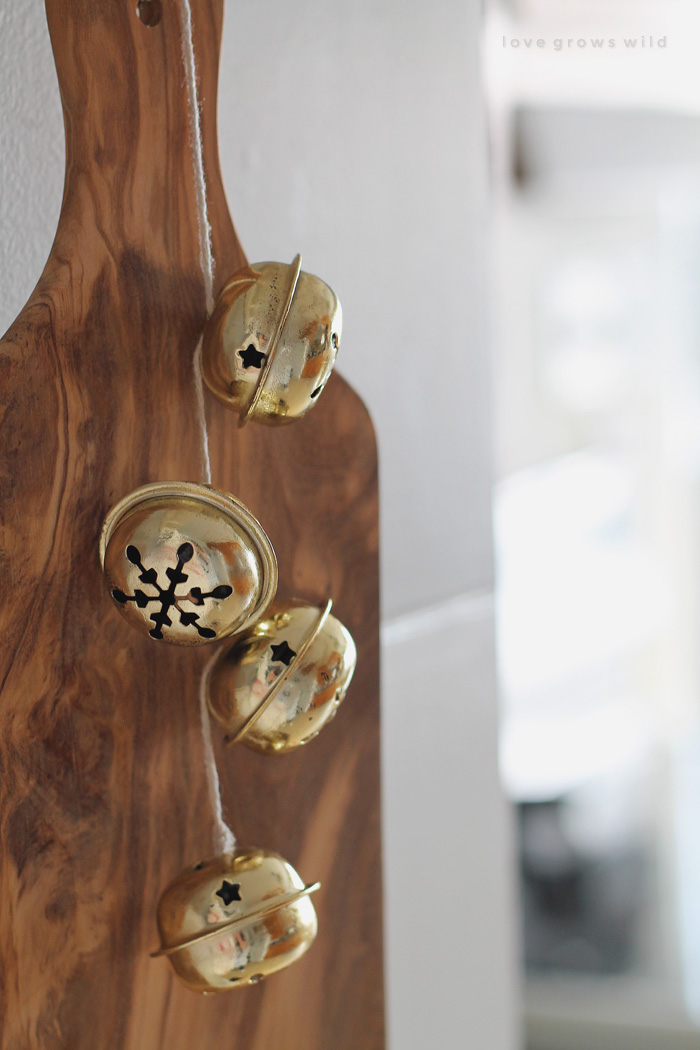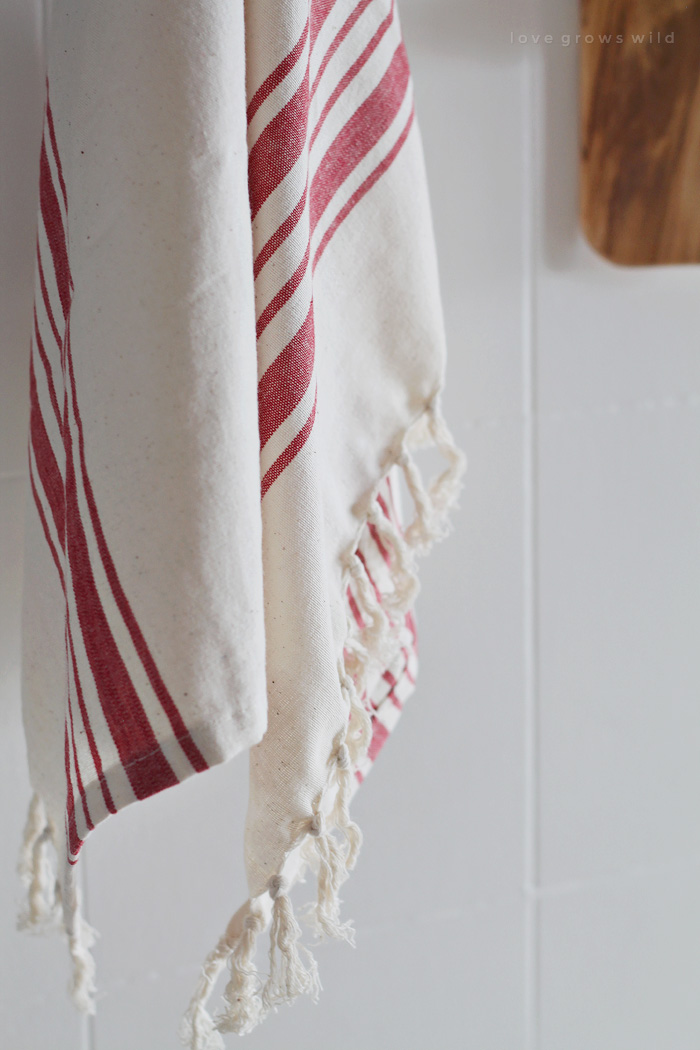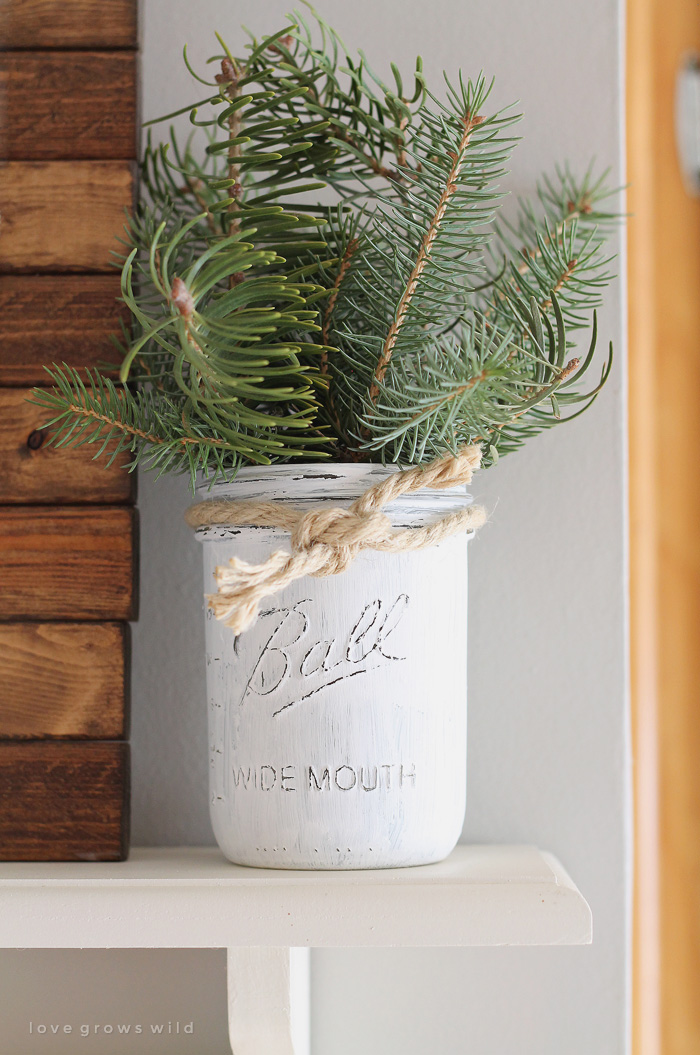 This lovely rustic chalkboard was one of the first big DIY projects I tackled here on the blog, and it's still a major part of my kitchen decor. I switched up the "bon appetit" chalk art design I had all summer for the ingredients to my favorite sugar cookie recipe. These cookies just might be one of my favorite parts of Christmas, so I thought the recipe deserved to be showcased on my chalkboard.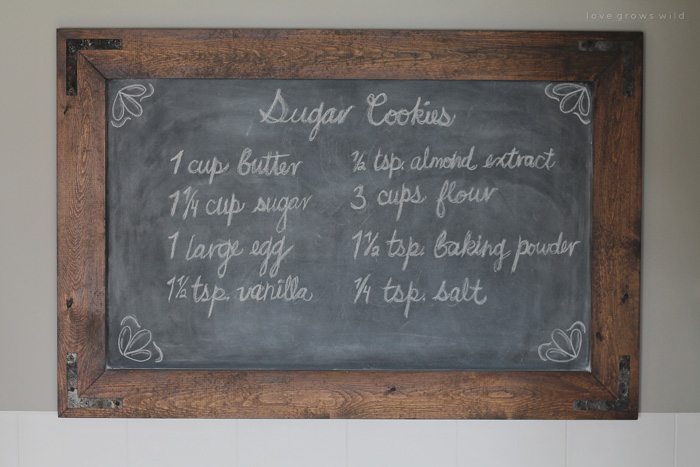 My stand mixer, another striped kitchen towel, and a jar full of sugar cookies (yes, I'm obsessed with these things) sit in a little corner on the counter. There is lots of holiday baking to be done in the next few weeks!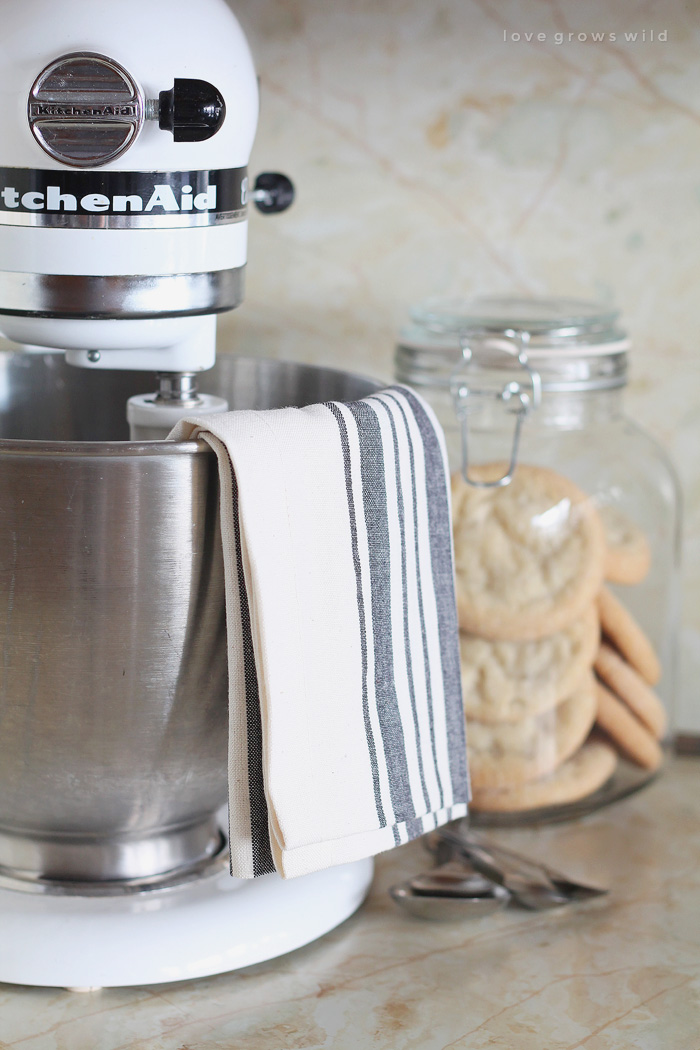 sources: kitchen towel, cookie jar
And last, but not least, I set up a little coffee station next to my Keurig for my java-loving family. Some coffee cups, a bowl of sugar, and plenty of creamer (we go through Hazelnut creamer like NOBODY'S business when they're here) all tucked neatly into a wicker basket with yet another striped kitchen towel. Apparently I'm as obsessed with pretty towels as I am sugar cookies. 🙂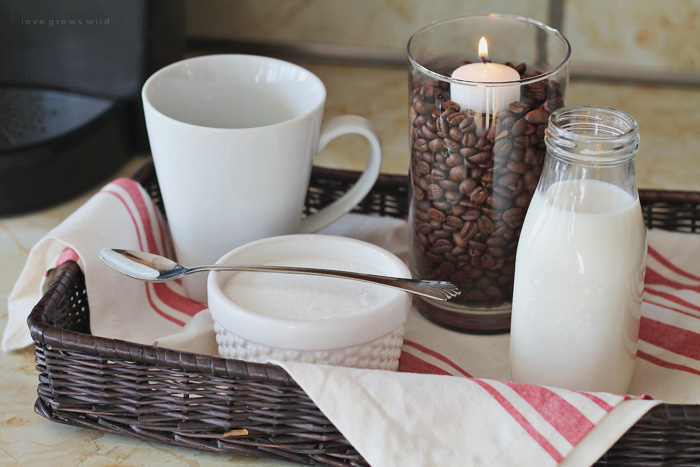 One of my favorite tricks for having your house feel warm and inviting is setting up a vase filled with coffee beans and a vanilla candle on top. It fills the whole kitchen with delicious coffee smells!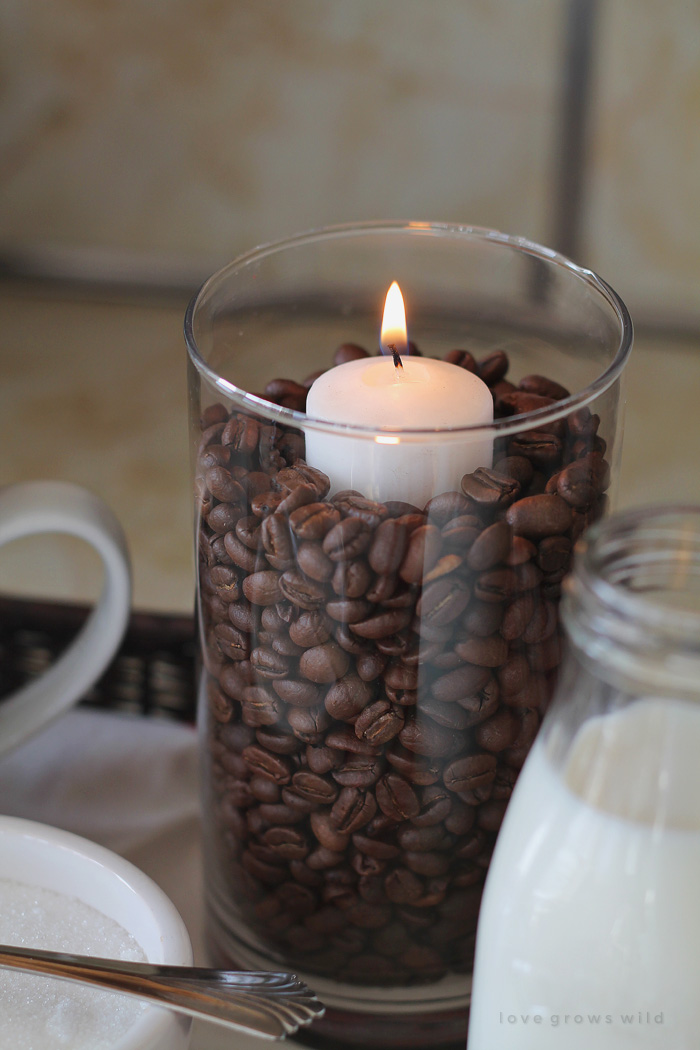 Now that I've given you a little tour around my kitchen, I have those to-die-for maple scones to share with you. They are AMAZING. Super tender and buttery, filled with chopped walnut pieces, and topped with the most delicious maple glaze you've ever tasted… want to know my secret? I add a splash of coffee, some butter, and a sprinkle of cinnamon to the glaze, which makes it extra rich and flavorful. The smell of this maple/coffee combination will knock your socks off, people.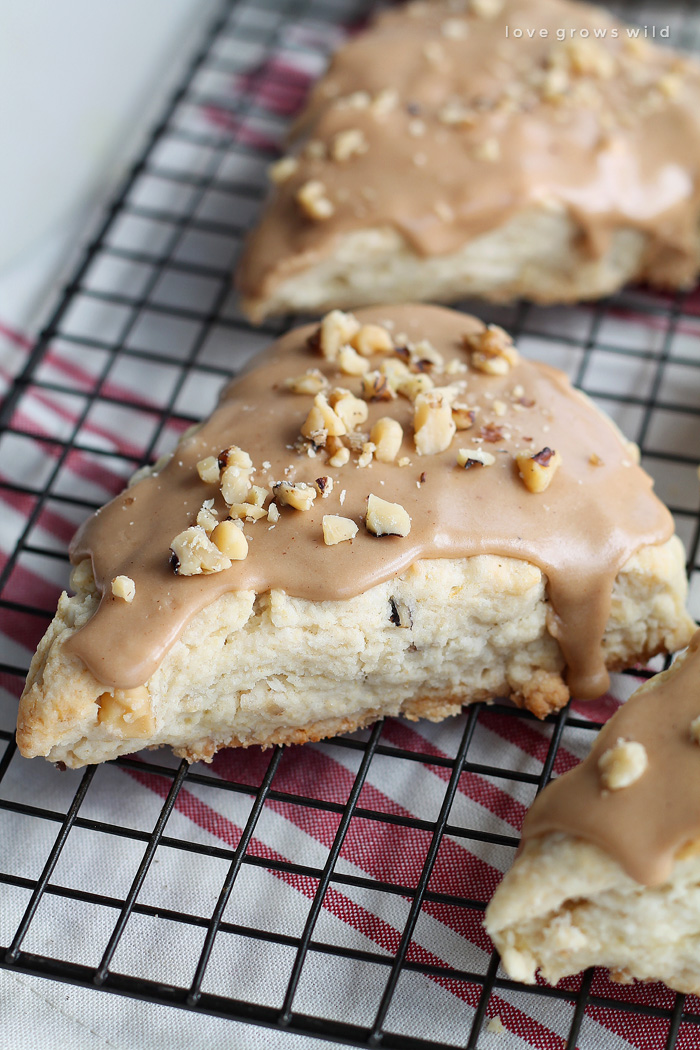 If you've never made a scone before, they are super easy to whip up and make the perfect companion to your morning coffee. Or your salad at lunch. Or your meatloaf at dinner. I won't judge how many times a day you snack on these maple scones because frankly, I will be just as guilty as you are. We can be partners in our gluttony. 🙂 I hope you enjoy them with your family over the holidays!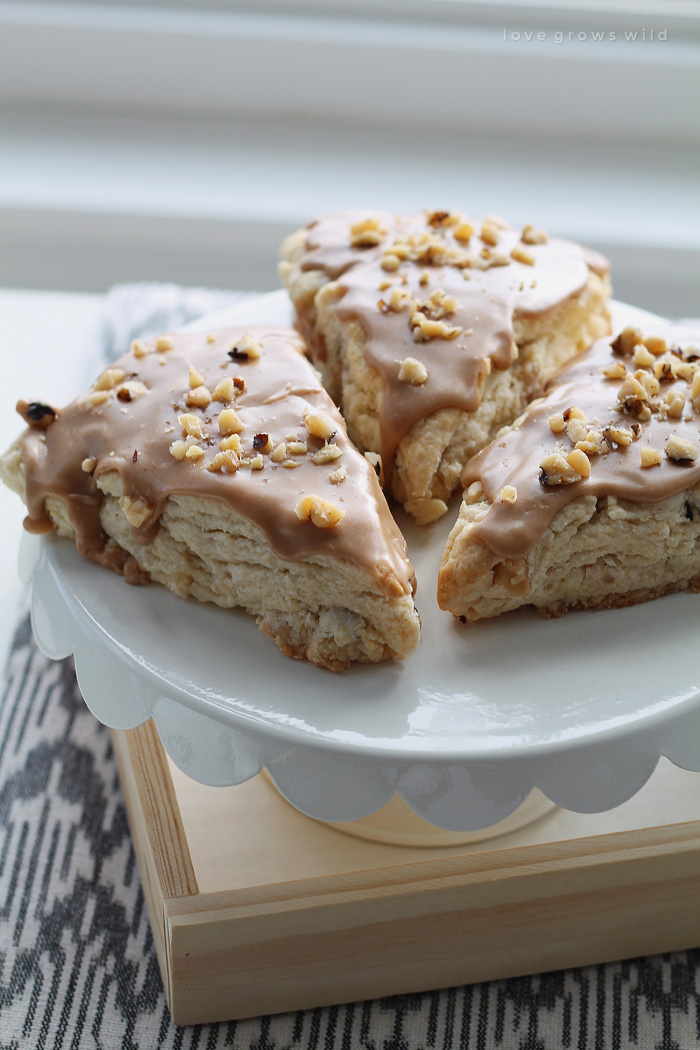 Like what you see? Subscribe to Love Grows Wild so you'll never miss a post!
Follow along on Pinterest, Google+, Instagram, and Facebook for more fun!
Maple Glazed Walnut Scones
Tender, buttery scones with chopped walnuts and a decadent maple glaze - the perfect treat with your morning coffee!
INGREDIENTS
Scones:
3 cups all-purpose flour
⅓ cup granulated sugar
5 teaspoons baking powder
1 teaspoon salt
½ pound (2 sticks) unsalted butter, chilled and cut into small cubes
½ cup walnuts, finely chopped
1 large egg
1 cup heavy cream
optional: extra chopped walnuts for garnish

Icing:
1 pound powdered sugar
¼ cup 2% milk
4 tablespoons unsalted butter, melted
2 teaspoons strong brewed coffee
2 teaspoons maple extract
½ teaspoon ground cinnamon
⅛ teaspoon salt
INSTRUCTIONS
To make the scones: Preheat oven to 350ºF. In a large bowl, add the flour, sugar, baking powder, and salt and whisk to combine. Cut the cold butter pieces into the flour mixture using a pasty cutter or fork until the mixture resembles coarse crumbs. Stir in the chopped walnuts.
In a small bowl, mix together the egg and heavy cream and pour into the flour mixture. Stir until just combined. Pour the mixture out onto a cutting board. The dough will still look crumbly at this point. Push the dough into a large ball with your hands and gently roll out to about ¾" thickness. Use a sharp knife to cut the dough into 8 wedges and transfer to a baking sheet lined with parchment paper. Bake scones for 23-26 minutes until they are just beginning to brown. Allow scones to cool before adding the glaze.
To make the glaze: Add the powdered sugar to a medium bowl. In another small bowl, mix together the milk, melted butter, coffee, maple extract, salt, and cinnamon. Pour into the bowl of powdered sugar and mix until smooth. The glaze should be thick, but you can add another splash of milk if it gets too thick. Spoon the glaze over the top of the cooled scones and garnish with extra chopped walnuts, if desired.
– adapted from The Pioneer Woman
Are you making this recipe? I'd LOVE to see it! Post a photo of your creation on Instagram and use the hashtag #MyLGWRecipe. It may just get featured!
---
But wait! We're not finished just yet… 13 other talented bloggers are sharing their holiday-inspired kitchens along with new recipes and free printables!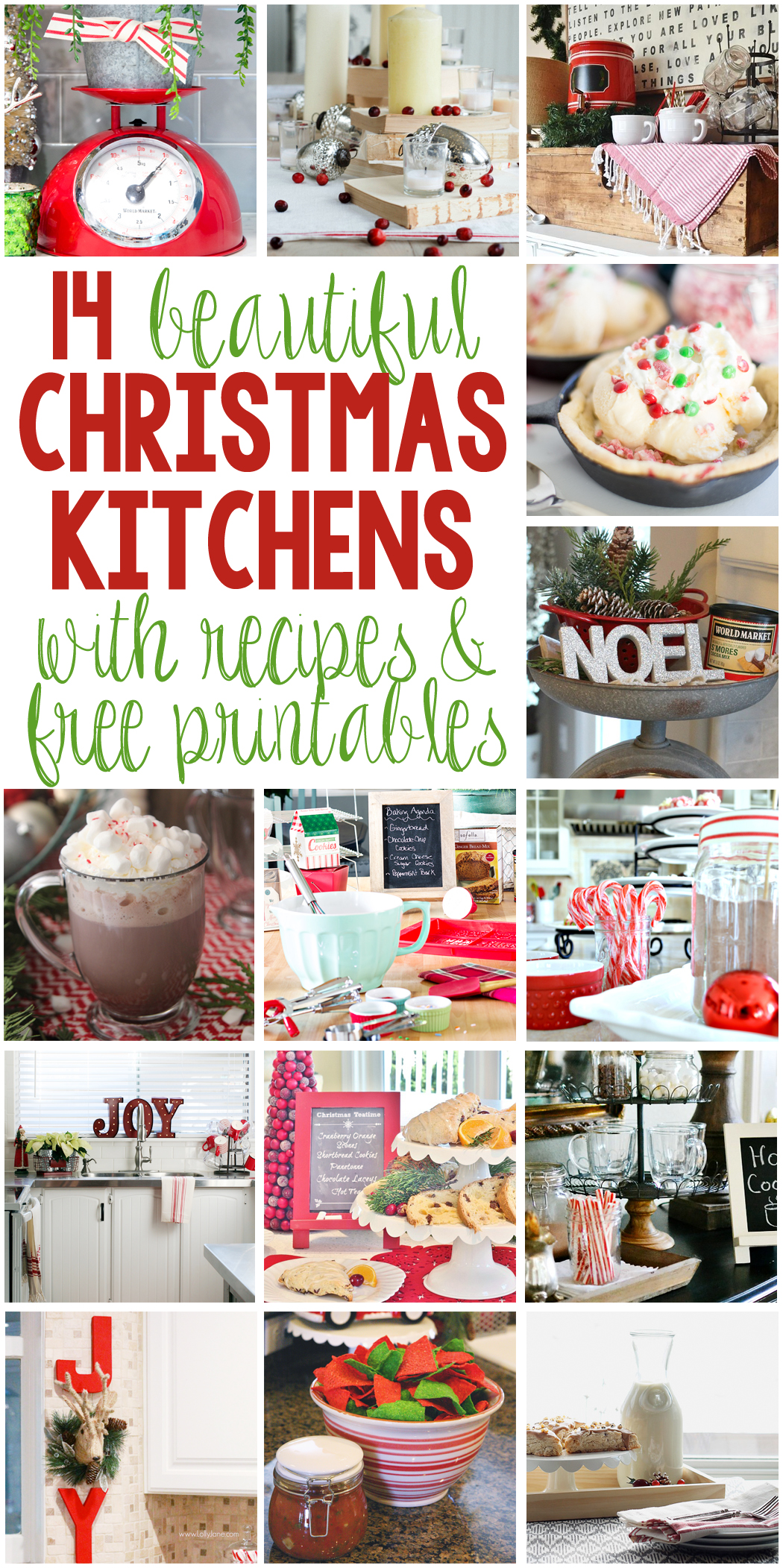 Take a peek inside these bloggers' kitchens:
Yellow Bliss Road
Ella Claire
Liz Marie Blog
Just Destiny
Clean & Scentsible
Making Home Base
Domestically Speaking
My Uncommon Slice of Suburbia
AKA Design
Sand & Sisal
At the Picket Fence
Lolly Jane
Eighteen25
Love Grows Wild (that's me!)
---
Discover more holiday ideas: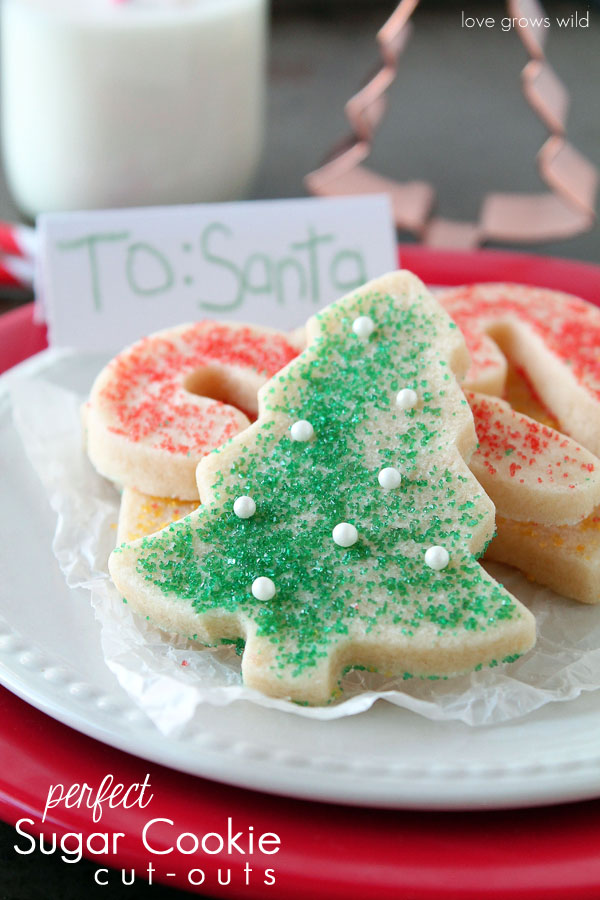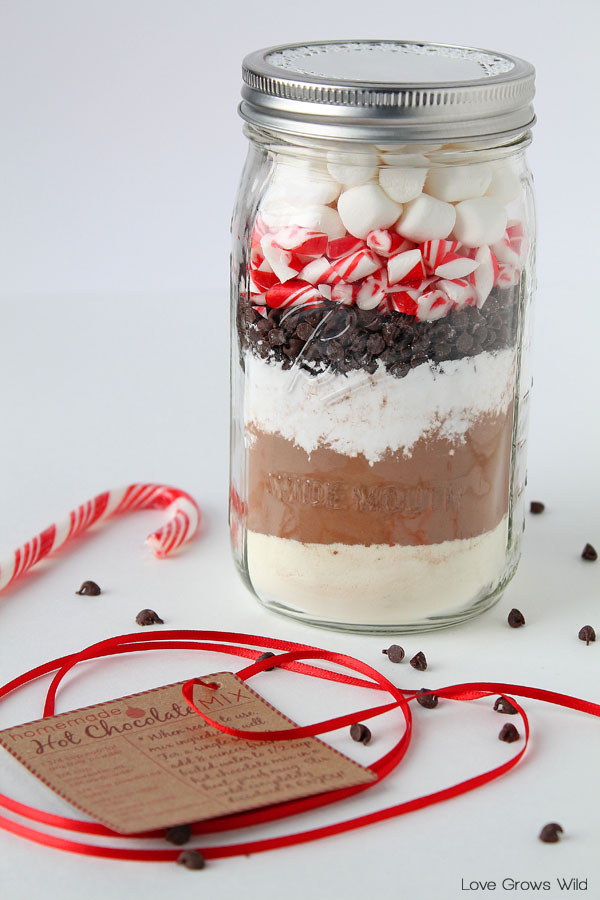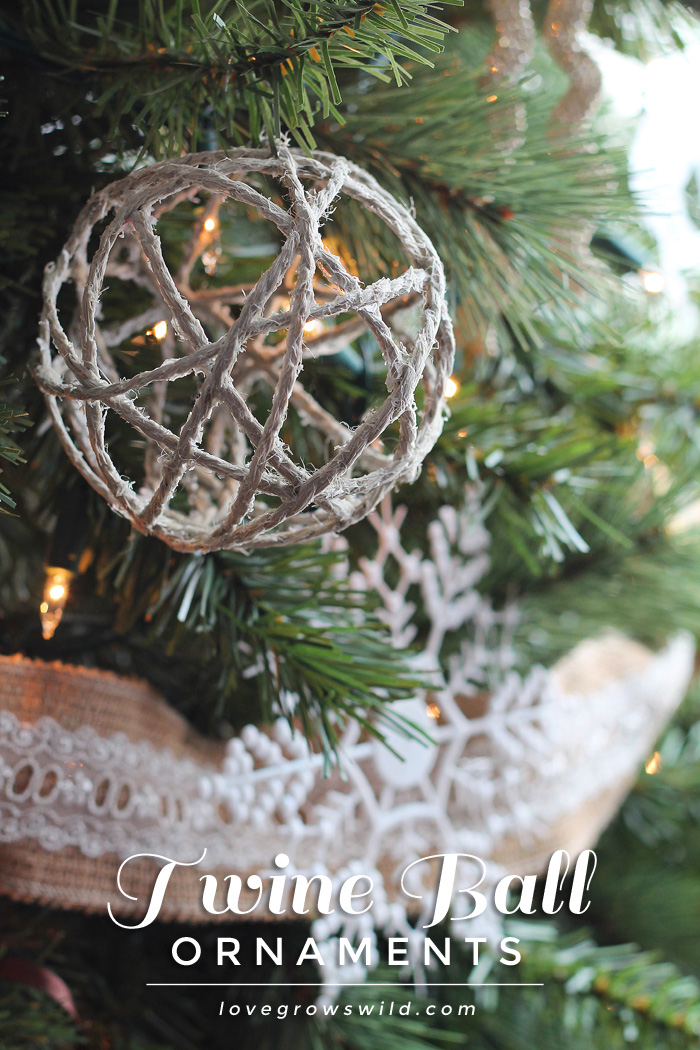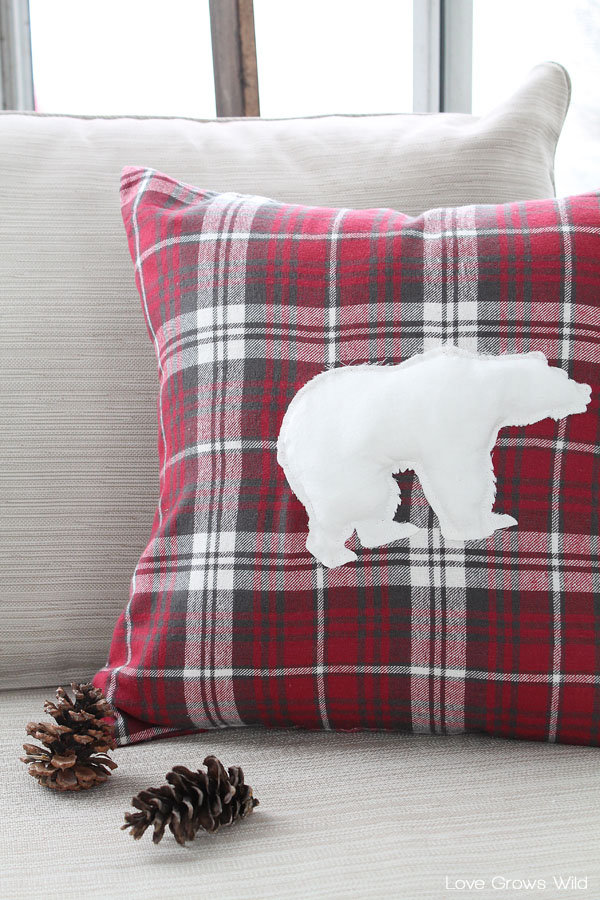 ---
LET'S KEEP IN TOUCH!
Subscribe to Blog | Browse my Shop | Follow on Facebook | Follow on Twitter
Follow on Google+ | Follow on Pinterest | Follow on Instagram
Thank you to World Market for sponsoring this post! I was given a gift card to their store, but all thoughts and opinions are 100% my own. Thank you for supporting the brands that make this blog possible!