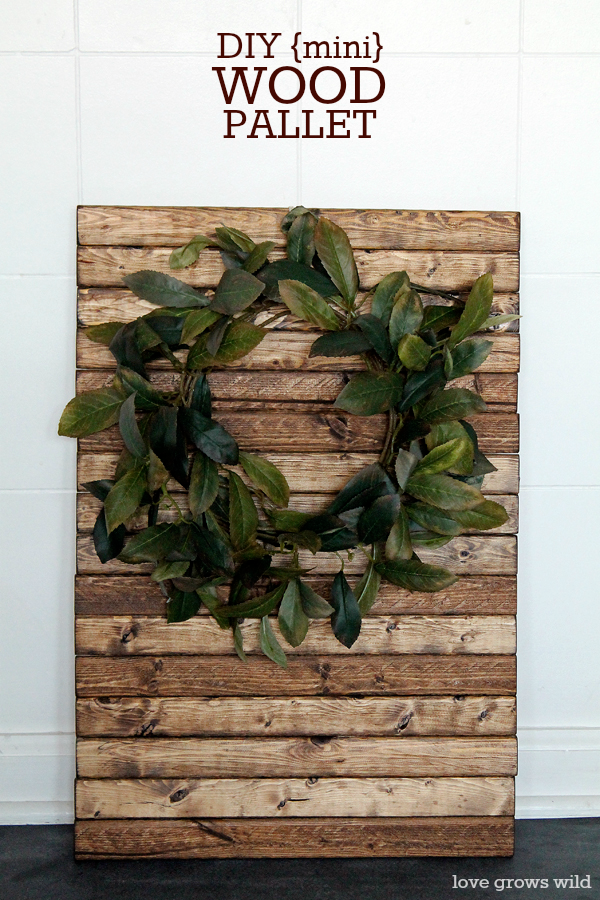 I have a confession to make. Ever since the pallet craze hit the DIY world I've been kicking myself for not realizing the gold mine I had at my fingertips… My husband owned a livestock feed mill when I met him, and at any given time we probably had 50-100 pallets just sitting in our warehouse collecting dust. Apparently childbearing had taken over my brain during that time period, because the very last thing I thought to do was drag a pile of pallets home to pull apart and create something awesome with the wood! It just wasn't in my thought process at the time between all the diapers, bottles, and lack of sleep. We ended up leaving the feed mill to move to our new home in Indiana, so my days of unlimited pallet wood are gone, and I now have to do what probably the majority of sane people would do… drive to the hardware store and buy the wood!
I wanted my pallet sign to be 16″ wide by 24″ tall, so I picked up 4 – 8 foot 1×2 furring strips from Lowe's for only $3. You just can't beat that! I used my miter saw to cut them into 16 – 16″ pieces for the front and 2 – 23″ pieces for the back. If you have any rough edges, just give them a quick sanding to smooth everything out.
I lined up my 16″ furring strips on a flat surface with the better-looking sides facing down. Then I ran some wood glue along the 23″ furring strips and placed them on the sides of my shorter strips, about 2-3 inches in from the edge. I let the glue dry about 15-20 minutes and hammered nails along the 23″ furring strips into each short strip. If you have a nail gun, this would be a great time to use it! It really didn't take more than a few minutes to hammer the whole pallet together, but it would have been really handy for this project!
P.S. Make sure you pay attention to your nail size… You want the nails long enough to go through both furring strips, but not long enough to poke through the front!
You can use a simple pallet like this in SO many different ways: create a focal point on your mantel, hang a wreath on it, paint some artwork on it, etc. The stained wood is a great piece of rustic decor and will bring a ton of warmth and texture to your space!
So there you go! My secret weapon for creating these awesome wood pallets is furring strips! I wonder what else I can do with them… : )
Let's Keep In Touch!