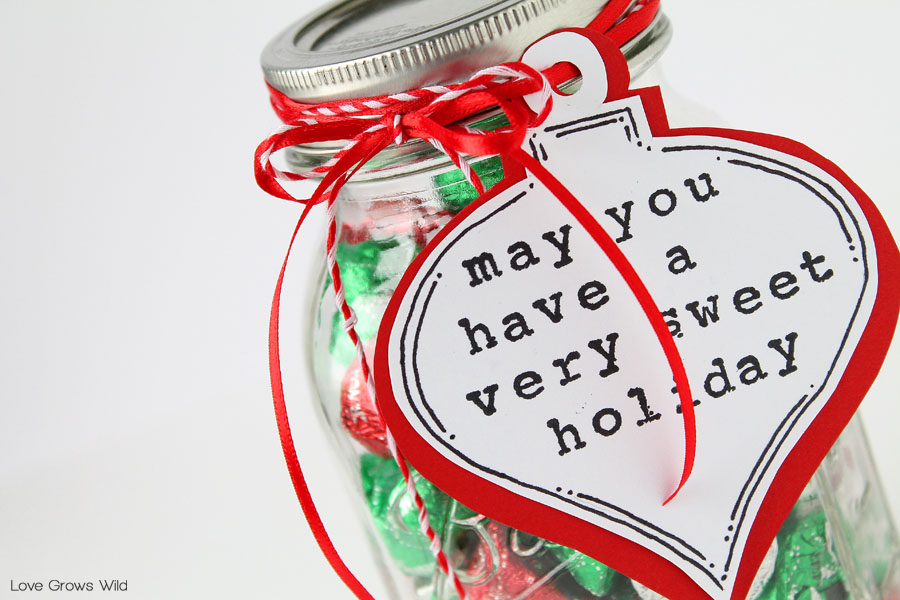 Ready or not, the holiday season is here! Can you believe it is already almost December? Craziness!
So I've been trying to come up with a few fun, unique gift ideas to have on hand this Christmas for teachers, neighbors, hostess gifts, and that sort of thing. You can only hand out so many candles and gift cards before it starts to get boring! So I put together 5 special Gift in a Jar ideas that I think you're going to love! I'm pretty much a mason jar hoarder, so I have ALL kinds of jars on hand. These 5 ideas just take a few minutes, a few dollars, and a bit of creativity, and you will have some beautiful handmade gifts to give to your friends and family!
Sweet Treats for a Sweet Holiday Gift in a Jar
This is a gift EVERYONE will love! Who wouldn't be happy with a big jar of chocolates to enjoy?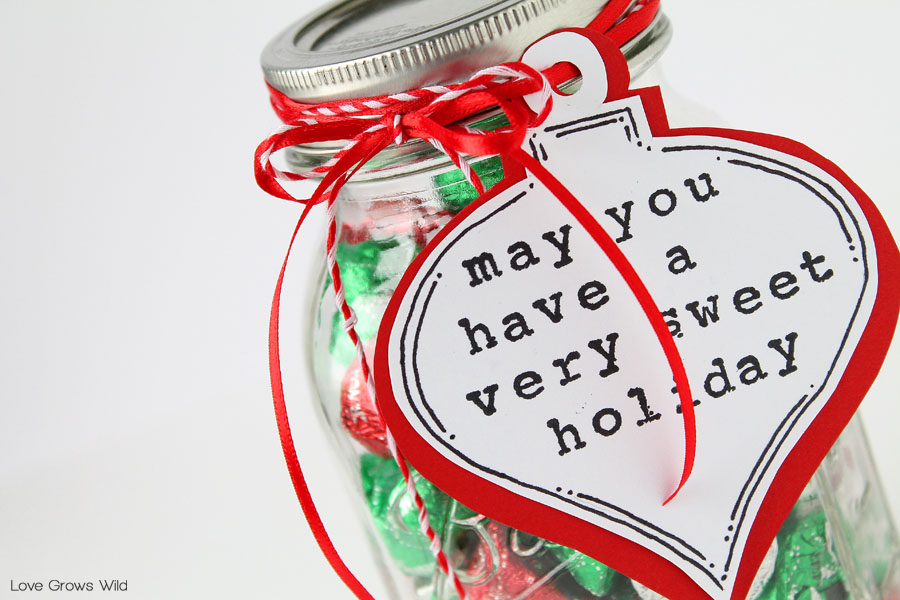 Pick up your favorite bag of candy, make a festive tag, and tie it around the mason jar lid with some pretty ribbon. Simple as that!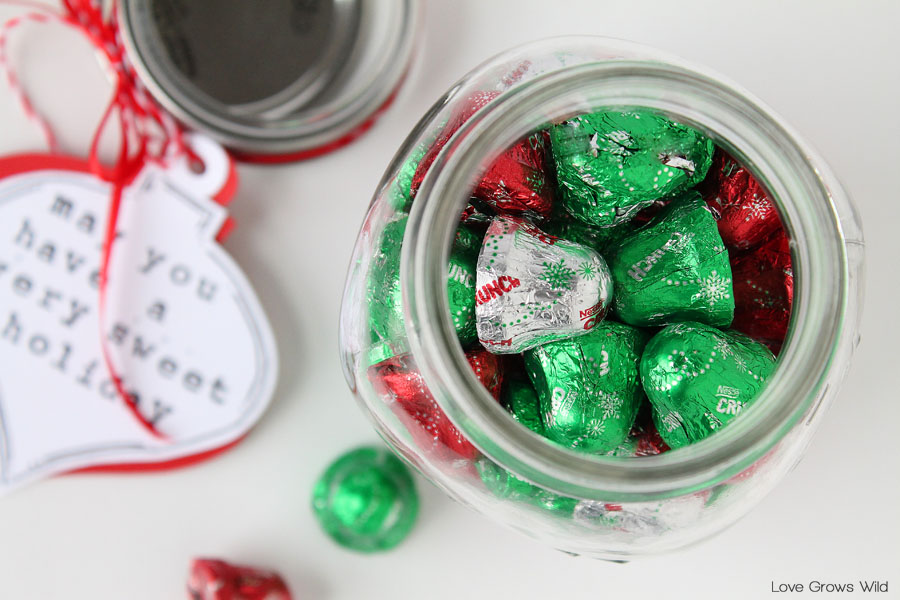 DIY Mint Sugar Scrub Gift in a Jar
I shared this pampering recipe for mint sugar scrub here the other day, and I just had to include it in this list! It's really easy to whip up a batch, and it makes your skin feel super soft and smooth. And the minty smell is just intoxicating!
To dress up the jar for gift giving, I added a paper doily on top of the lid and a stamped tag wrapped around the top with candy cane striped twine. So cute! What a perfect gift for any women on your list!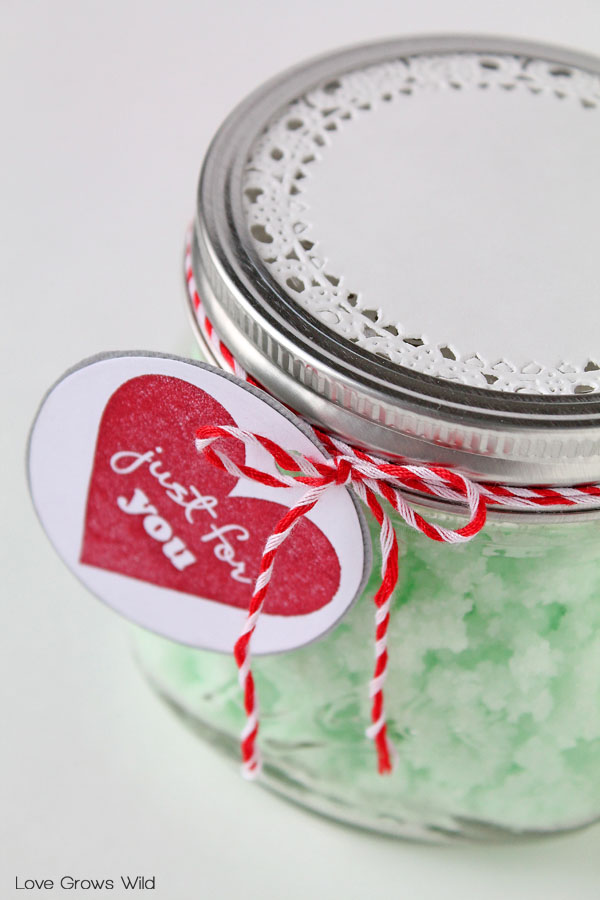 Hot Chocolate Mix Gift in a Jar
This idea just might be my favorite! I love the layered cookie mixes in a jar, and I thought a homemade hot chocolate mix would be absolutely perfect for these cold winter months!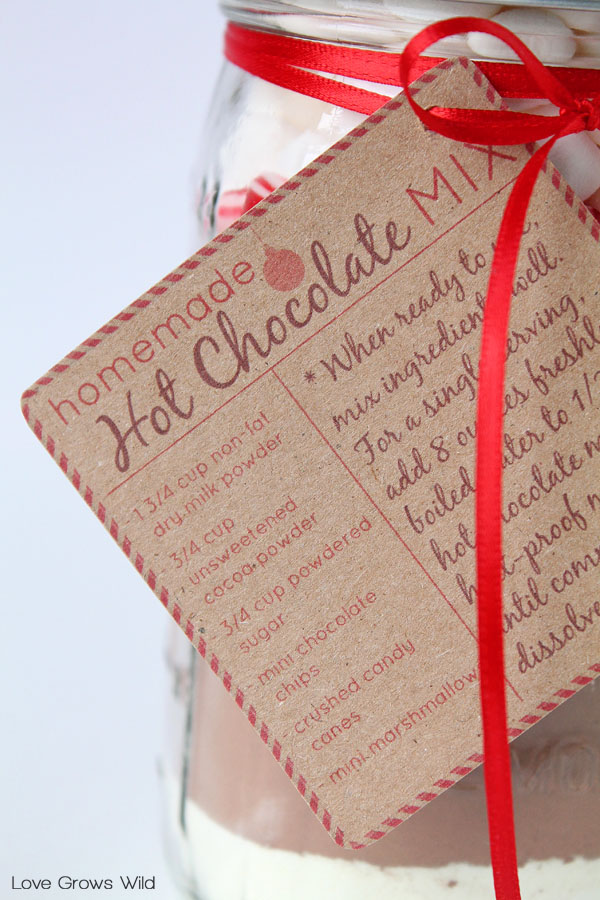 This recipe is really simple, and the ingredients look just beautiful all layered in a big, tall mason jar. All you need is some dry milk powder, cocoa powder, and powdered sugar to create the perfect mug of steamy hot chocolate. It makes such a creamy, rich, chocolate flavor that is just amazing! And of course, no holiday hot chocolate would be complete without the addition of marshmallows, crushed candy canes, and mini chocolate chips too! Those help fill the space in the rest of the jar and keep all the layers of ingredients in place. It makes the jar look so pretty too!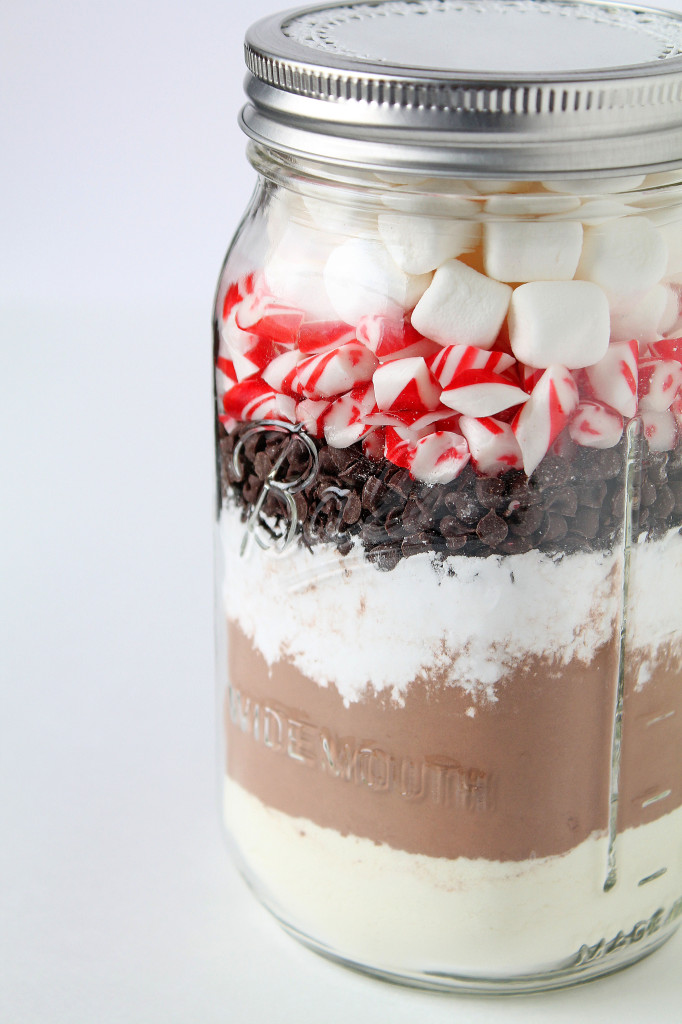 I printed a cute recipe card tag to tie around the jar, and added white doily on top of the lid. Your friends and family will definitely want to make this recipe at home again for themselves! Click here to print the recipe card tag.
* EDITED (11/12/15): By popular request, I have updated this homemade hot chocolate with a NEW recipe and TWO NEW recipe tags! Click here to find the updated recipe!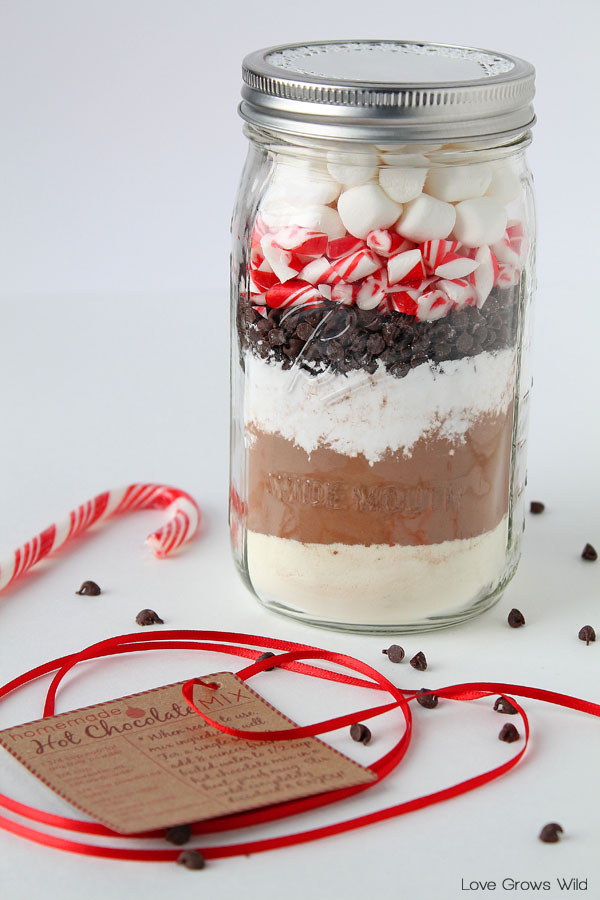 Mason Jar Gift Card Holder
As much as I try to think of unique gifts for everyone on my list, sometimes gift cards are still the best option. But what fun is it to just hand someone a tiny little envelope? Why not put the card in a gorgeous decorated mason jar for them to open?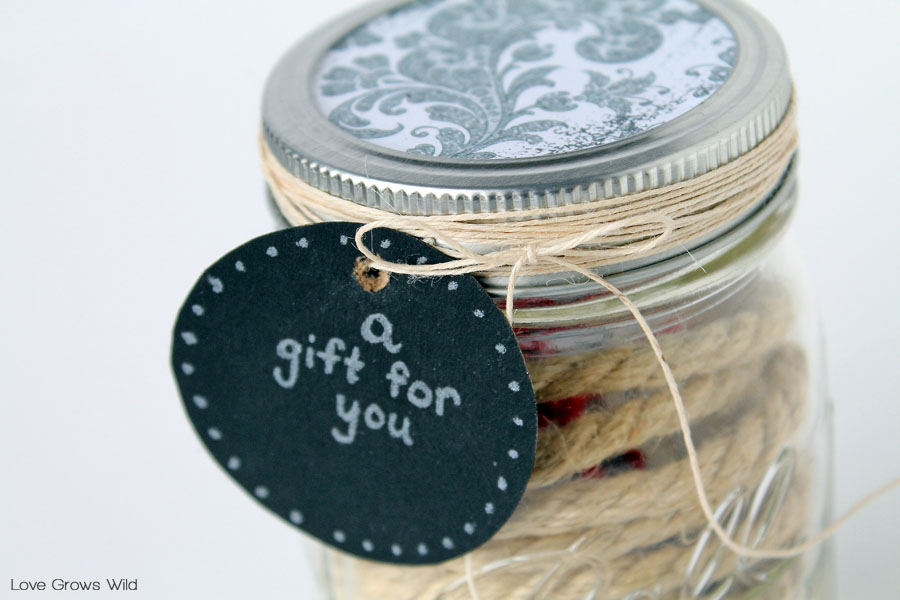 I love that you can personalize this idea for whoever you're buying for! This one reflects my personal style, with a chalkboard gift tag and rope wrapped around inside the jar to conceal the gift card. Seriously, can I just keep this one for me?? You could use anything inside the jar… fabric scraps, candy, beads, or whatever you have on hand! Get as creative as you'd like! And I promise the receiver of this gift will be way more impressed than just a plain, boring envelope!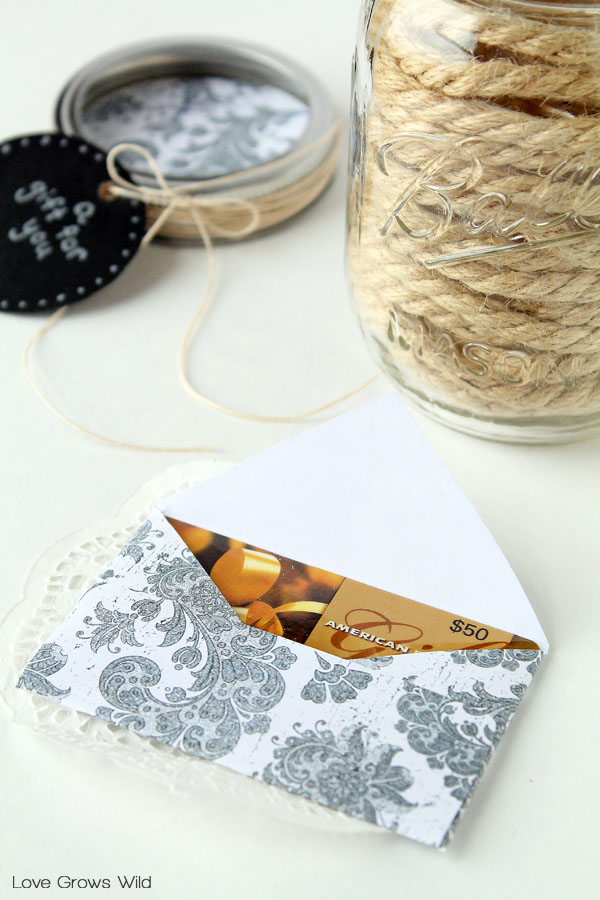 Snow Covered Mason Jar Lantern
This one is double-duty: give it as a creative decor gift or keep it to decorate your home for winter! I can never have enough candles in my home during winter. It just makes everything feel so cozy and warm. I'm always re-purposing mason jars as candle holders, but adding this faux snow to the bottom made them extra special and festive! Want to know what it is?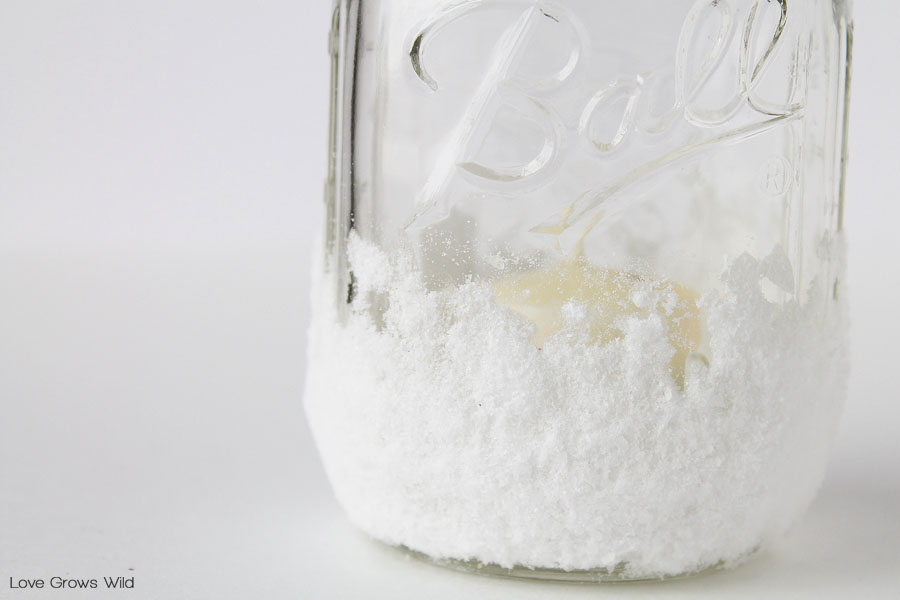 Salt! I dabbed a bit of regular old white school glue onto the bottom of the jar and sporadically up the sides a bit and rolled the jar in kosher salt until all the glue was coated. I let it dry about 24 hours and wrapped some thick wire around the top to create a lantern. A flickering white candle inside makes the mason jar glow beautifully through the "snow"!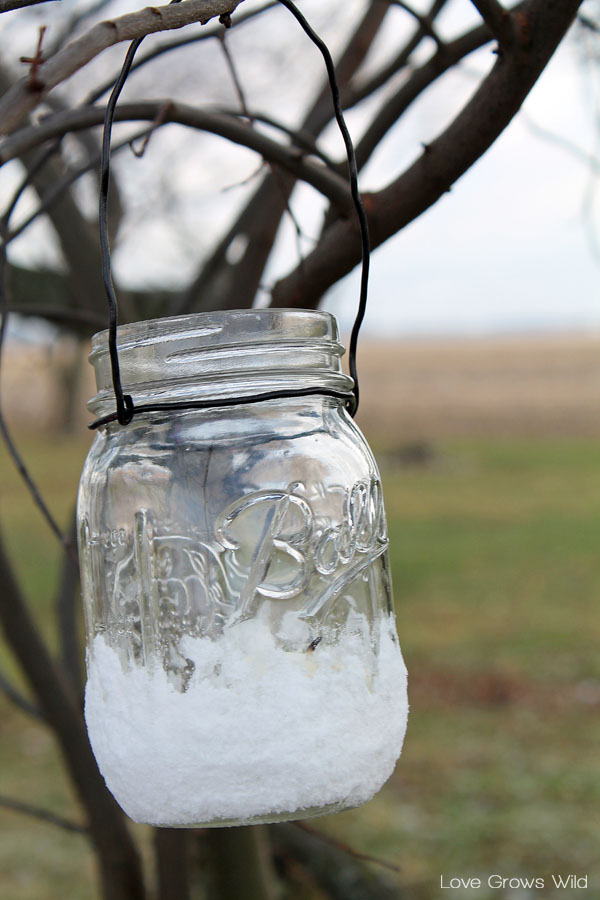 And that's it! For more unique gift in a jar ideas and holiday inspiration, check out the Ball Canning Pinterest page where you can enter to win a different prize everyday for 25 days! The grand prize winner will receive a FreshTECH Automatic Home Canning System!! How fun is that? For more details and official rules, click here.
Which gift in a jar idea was your favorite?
Thank you to Ball Canning for sponsoring this fun post! I received Ball products to use, but of course all ideas and opinions are 100% my own!
Let's Keep in Touch!
Subscribe to Blog | Browse my Shop | Follow on Facebook | Follow on Twitter
Follow on Google+ | Follow on Pinterest | Follow on Instagram | Subscribe to Newsletter