Maple Glazed Walnut Scones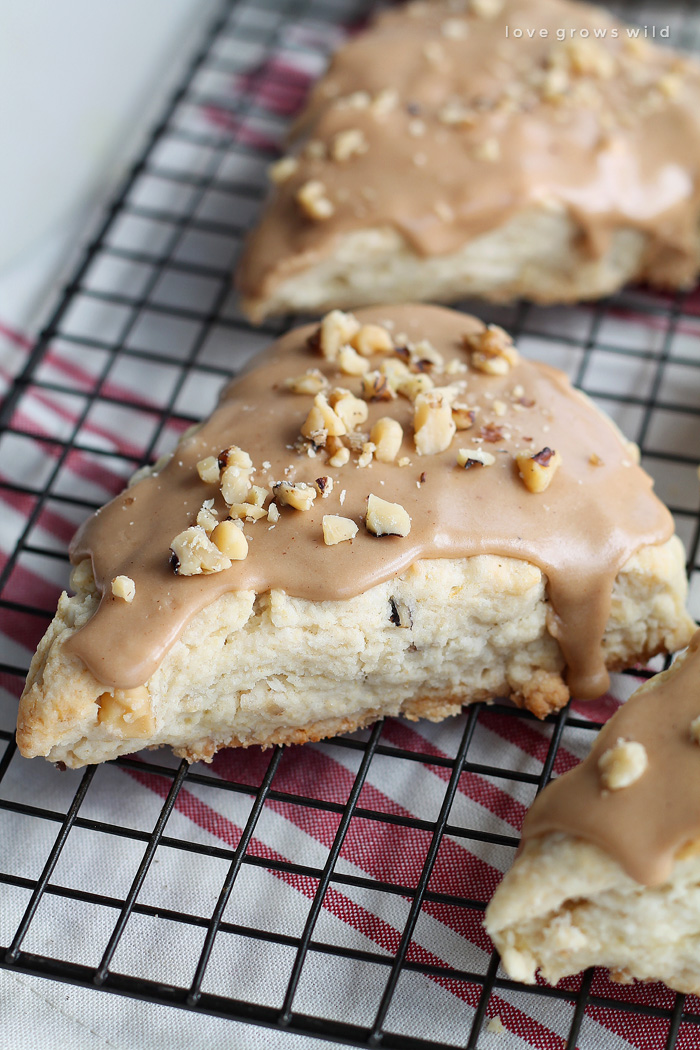 Scones:
3 cups all-purpose flour
⅓ cup granulated sugar
5 teaspoons baking powder
1 teaspoon salt
½ pound (2 sticks) unsalted butter, chilled and cut into small cubes
½ cup walnuts, finely chopped
1 large egg
1 cup heavy cream
optional: extra chopped walnuts for garnish
Icing:
1 pound powdered sugar
¼ cup 2% milk
4 tablespoons unsalted butter, melted
2 teaspoons strong brewed coffee
2 teaspoons maple extract
½ teaspoon ground cinnamon
⅛ teaspoon salt
To make the scones: Preheat oven to 350ºF. In a large bowl, add the flour, sugar, baking powder, and salt and whisk to combine. Cut the cold butter pieces into the flour mixture using a pasty cutter or fork until the mixture resembles coarse crumbs. Stir in the chopped walnuts.
In a small bowl, mix together the egg and heavy cream and pour into the flour mixture. Stir until just combined. Pour the mixture out onto a cutting board. The dough will still look crumbly at this point. Push the dough into a large ball with your hands and gently roll out to about ¾" thickness. Use a sharp knife to cut the dough into 8 wedges and transfer to a baking sheet lined with parchment paper. Bake scones for 23-26 minutes until they are just beginning to brown. Allow scones to cool before adding the glaze.
To make the glaze: Add the powdered sugar to a medium bowl. In another small bowl, mix together the milk, melted butter, coffee, maple extract, salt, and cinnamon. Pour into the bowl of powdered sugar and mix until smooth. The glaze should be thick, but you can add another splash of milk if it gets too thick. Spoon the glaze over the top of the cooled scones and garnish with extra chopped walnuts, if desired.
Recipe by
Love Grows Wild
at https://lovegrowswild.com/2014/12/christmas-kitchen/