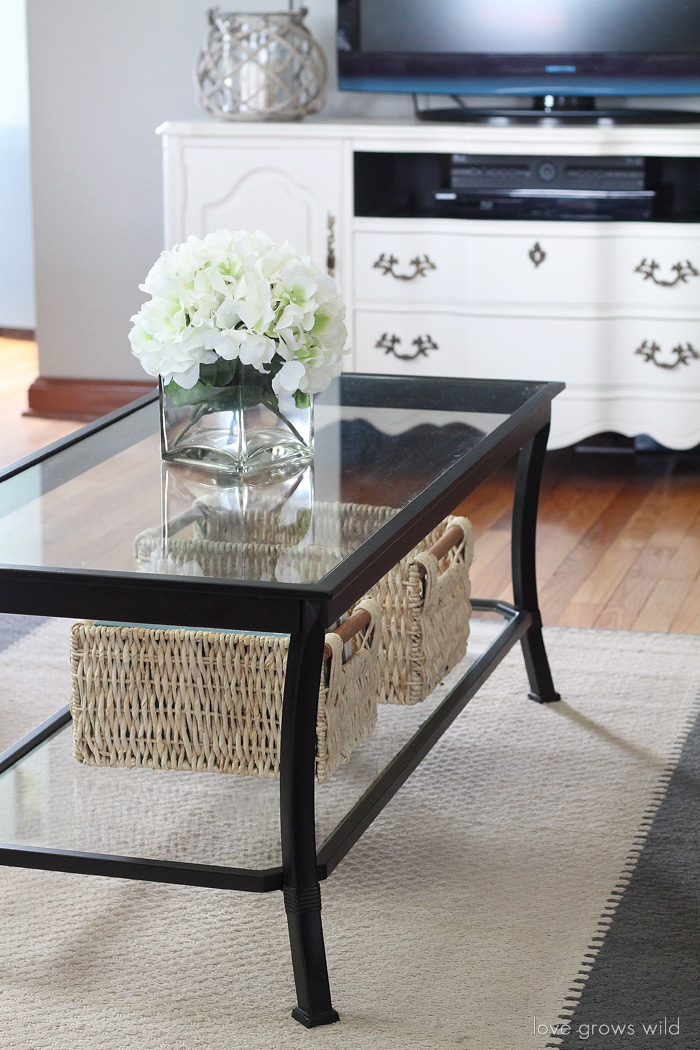 As promised, I'm spilling all the details of my living room makeover today!
If you haven't taken the tour of my newly-decorated, lighter and brighter living room yet, you'll definitely want to check that out. There's tons of pretty photos to browse with lots of DIY projects! And now I'll give you the full scoop on how the room came together… with links to project tutorials, where I purchased certain items, and more!
As I said in the reveal post, this room was definitely a challenge for me. Our home is a rental, and I had old wood floors, dark wood trim, falling-apart windows, baseboard heaters, and a myriad of mis-matched, outdated furniture to work with. Not exactly the cake walk I was hoping for. Since this is a rental, we didn't want to pour a ton of money into decorating or renovating, so I did what I could on our tight budget and am pretty pleased with the results. To see the living room's "before" photos, click here!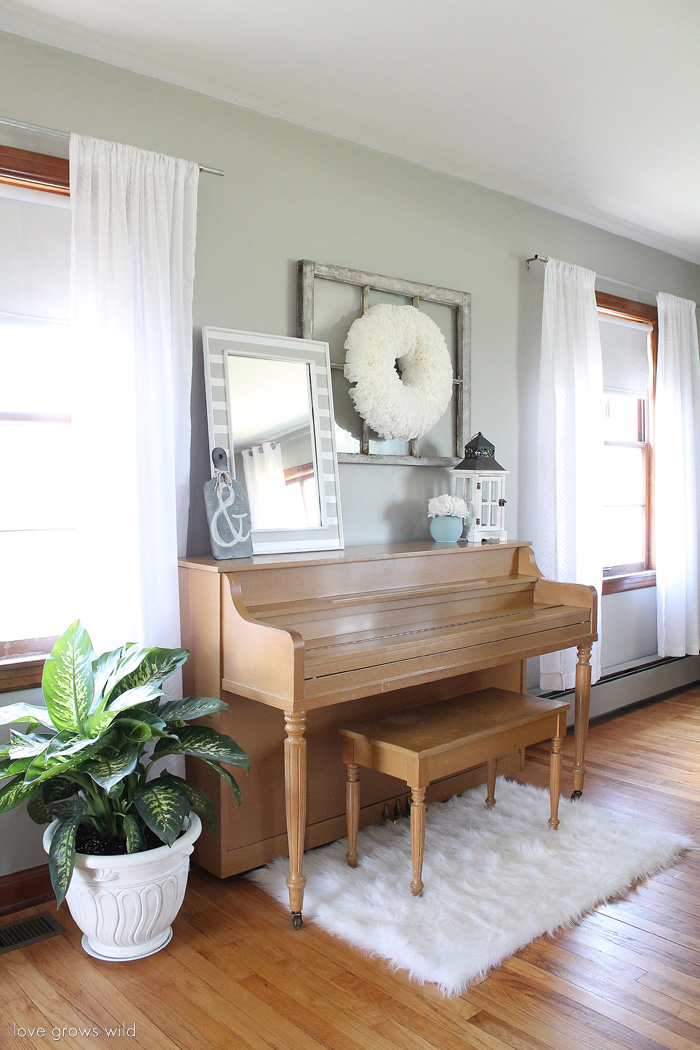 My decorating style seems to be ever-changing and currently lands somewhere between modern industrial chic, cozy vintage rustic, and beachy coastal cottage. Sounds strange, right? But what I'm learning as I go along is that style and design doesn't have to be put into one, little box. Finding your personal style means combining all the things that you love into something unique and all your own. So that's what this room is. Things that I love, things from the past, things that I made, and much more. It represents me and my family, and is far from perfect. The pillows are usually on the floor, and my son usually has fingerprint smudges all over the glass coffee table. You can almost always find dirty socks hidden under the couch and a stack of my husband's farming magazines on the table next to the recliner. It's not always magazine-worthy, but it's cozy, comfortable, and lived in. For me, that's exactly what good design should be.
My coffee table is actually a Walmart find (see bottom of post for the link), and the glass gives an open, airy feel to the space. Would you believe my DIY gallery wall over the couch was done for less than $20? It really was! I shopped thrift stores for most of the frames and made a lot of the artwork myself.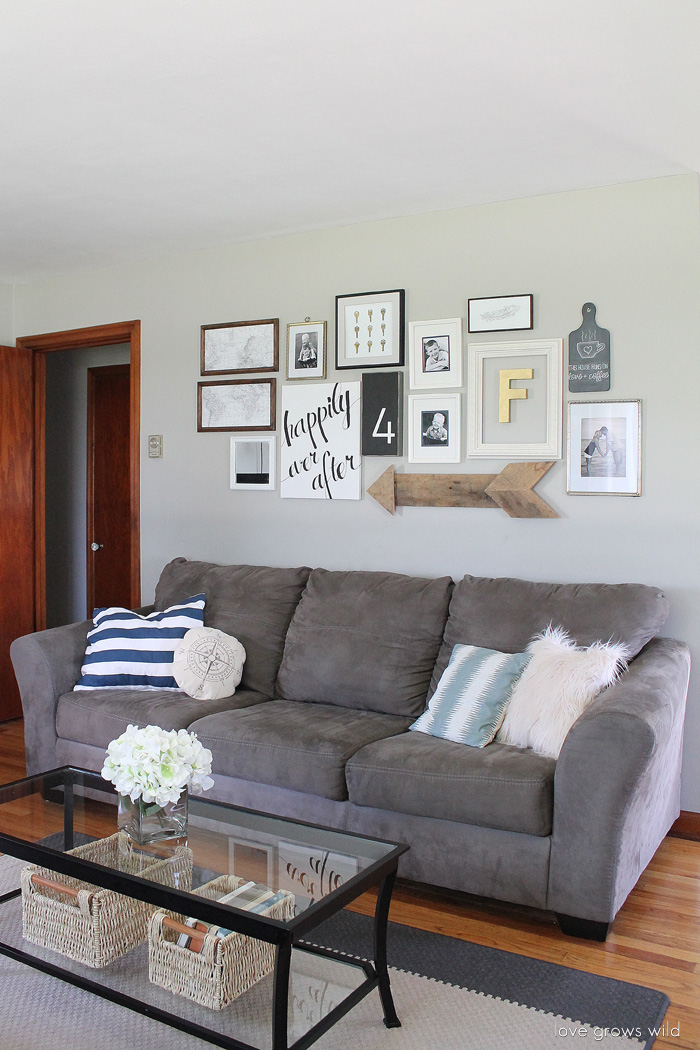 Painting my old buffet-turned-TV stand white made a huge impact in the room, and I love the original gold hardware. I debated adding some artwork above and around the TV, but instead opted for some gorgeous industrial pendant lights. I swoon over these beauties on a daily basis!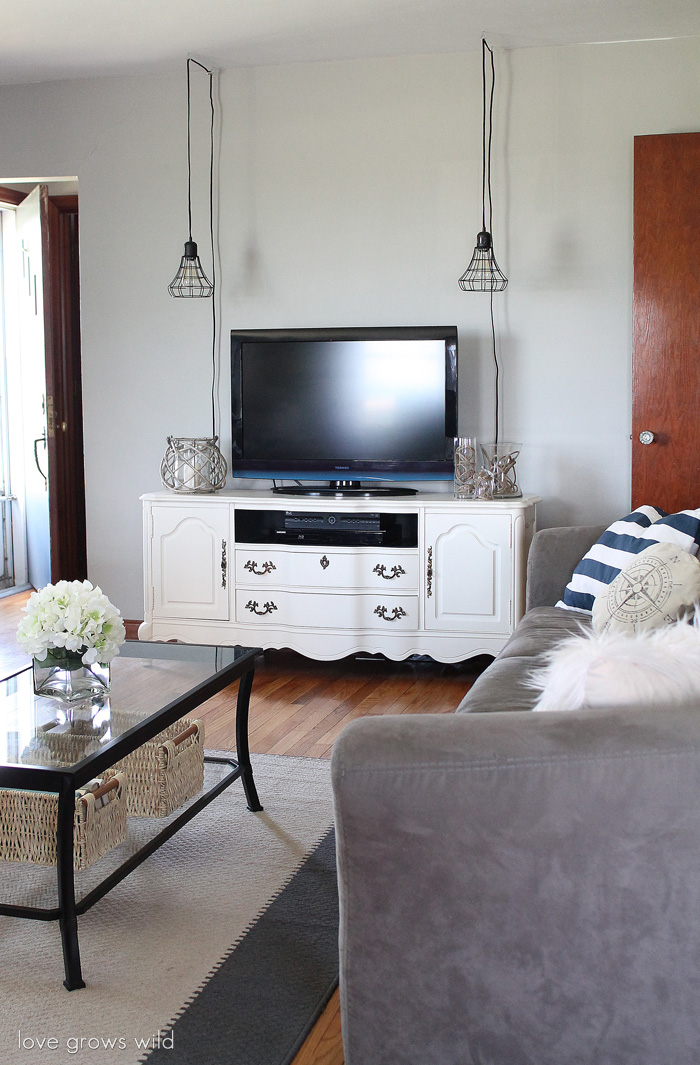 I love our comfy gray couches and new pillows…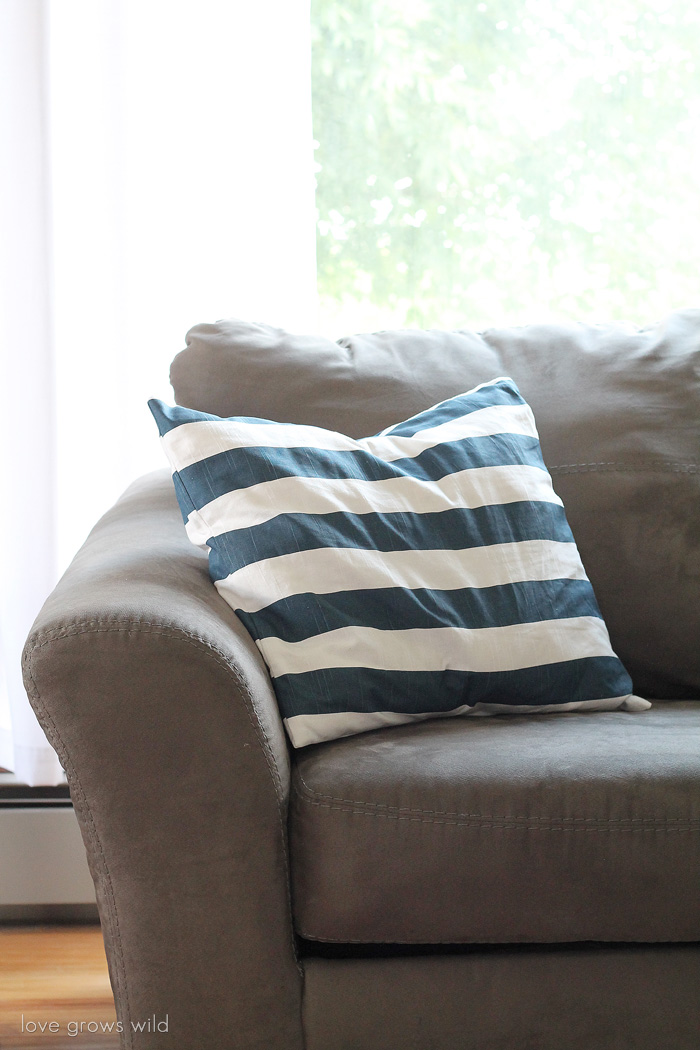 … but do not so much love this brown faux leather recliner. I'd much rather have two tufted wingback chairs upholstered in a gorgeous fabric, but this recliner was a gift to my husband after almost 5 years of nagging about the mauve-colored recliner I sent to the dumpster shortly after we got together. Sometimes in marriage you have to compromise. He got a new recliner… I got to pick it out! The adorable antler pillow makes it a little better.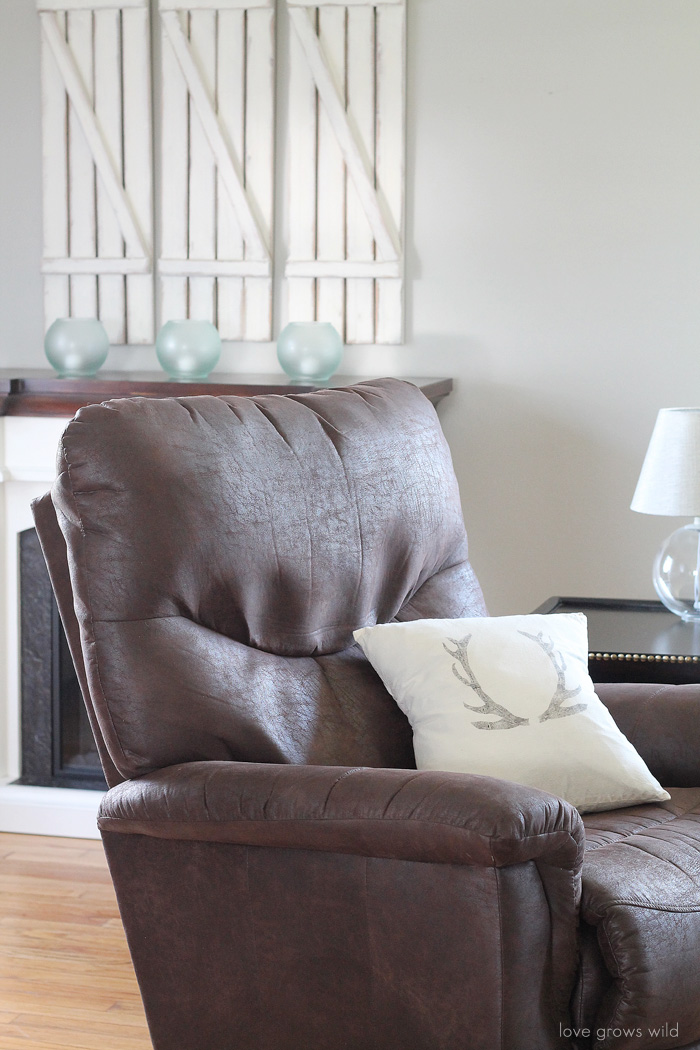 I made a couple dollar store vases look like beautiful sea glass with the help of this tutorial from Craftberry Bush. I added little votive candles inside that produce a beautiful glow in the evenings.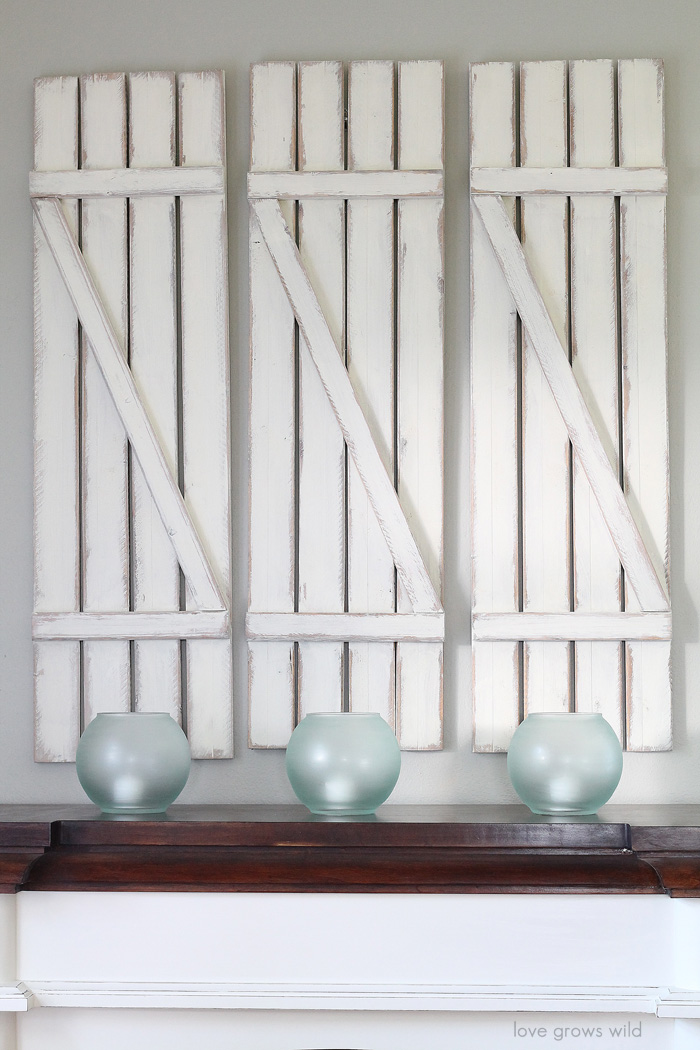 When your room is feeling a bit drab, adding a plant or two is the easiest way to liven up the space. This big house plant seems to love it's new sunny spot next to the window, and I'm praying I can keep it alive for awhile. I'm not exactly known for my green thumb, but it's getting better year by year!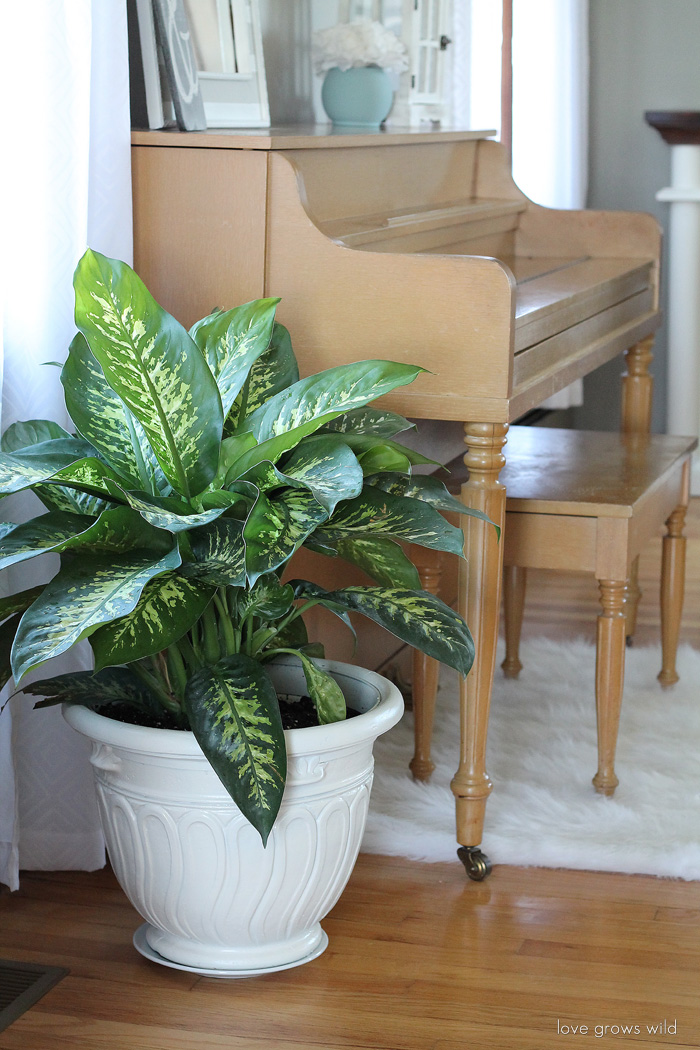 Our living room opens up to the dining room, which I'm hoping to work on before the end of the year. But first, I'm getting my office in order! I'm SO excited to start showing you projects from the office makeover I have planned!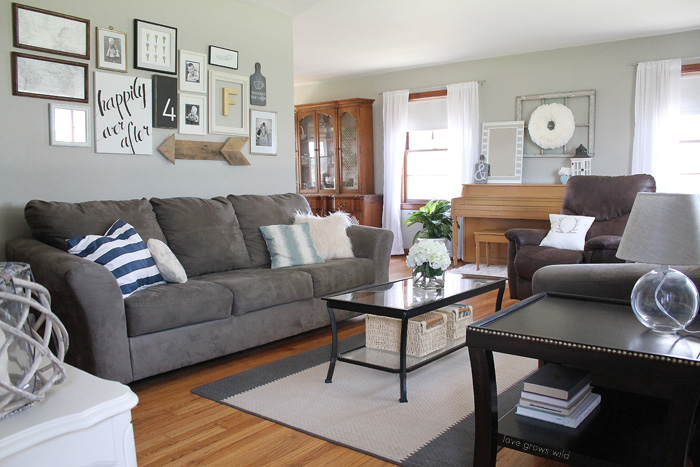 I'm finally happy with the progress I've made in my living room, and I'd love to hear what YOU think of the space! What is YOUR favorite part of the room? I'd be happy to answer any questions you have too! Thanks for all your love and support, and stay tuned for the next room makeover coming up later this month!
Living Room Details
Wall Color: Valspar Woodlawn Colonial Gray
Gray Couches: Ashley Furniture
Brown Faux Leather Recliner: La-Z-Boy
Glass Coffee Table: Walmart
Nailhead Trim End Tables: Tutorial
Refinished Chalk Paint Media Console: Tutorial
Two-Tone Painted Faux Fireplace: Tutorial
Barn Wood Shutters: Tutorial
– Updated from wood to white: Tutorial
Gallery Wall: Tutorial
– Framed Key Specimen Art: Tutorial
– Wood Pallet Arrow: Tutorial
– Fabric Covered Frame Mats: Tutorial
– Canvas Script Art: Tutorial
Blanket Ladder: Tutorial
Faux Fur Pillow: Walmart
Round Compass Pillow: Tutorial
Antler Pillow Cover: Parris Chic Boutique
Pillow Fabrics: Online Fabric Store (light blue & navy blue)
Coffee Filter Wreath: Tutorial
Industrial Pendant Lights: Target
White Faux Fur Rug: Walmart
Round Glass Lamp Base: Target
Natural Lamp Shades – Walmart
---
LET'S KEEP IN TOUCH!
Subscribe to Blog | Browse my Shop | Follow on Facebook | Follow on Twitter
Follow on Google+ | Follow on Pinterest | Follow on Instagram