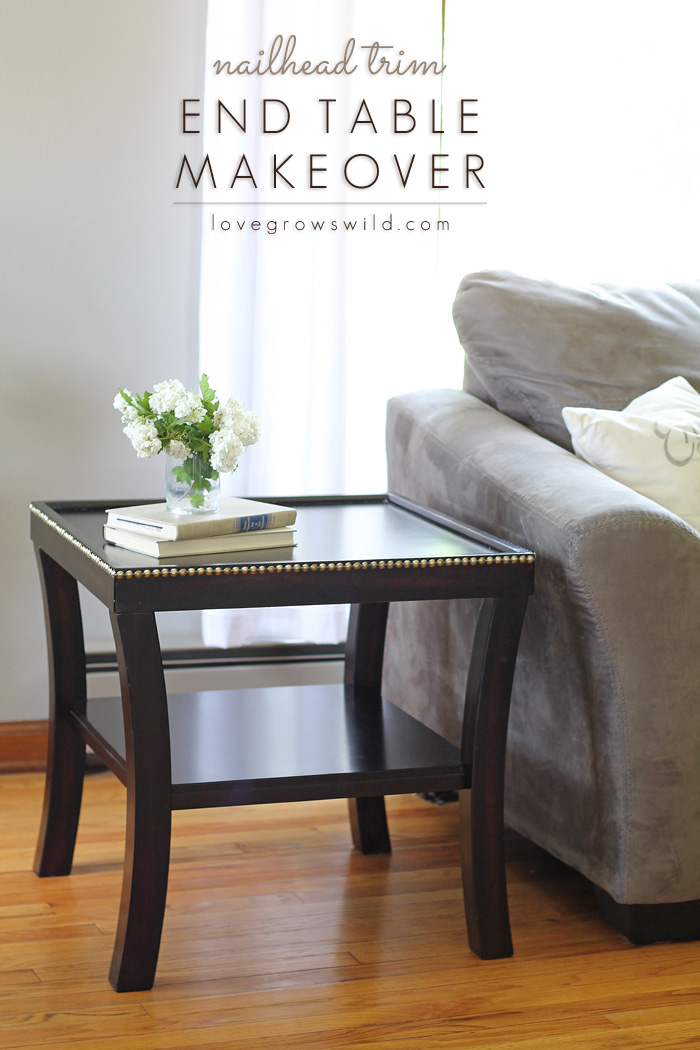 I've been tackling projects in my living room one-by-one, and I finally feel like we're starting to get somewhere! Before the room lacked personality and had too many dark colors and mis-matched wood tones going on. It wasn't terrible, just needed a little updating. And after a newly-painted media console, a big, beautiful gallery wall, and a fireplace makeover, it's getting there!
Next project: Give my big, boxy end tables a chic, high-end makeover! Want to see how I did it? Come check out my Nailhead Trim End Table Makeover!
When I went shopping for my living room furniture a few years ago, I fell madly in love with a set of gray couches paired with these dark, modern end tables and matching coffee table.
Here's what the end tables looked like: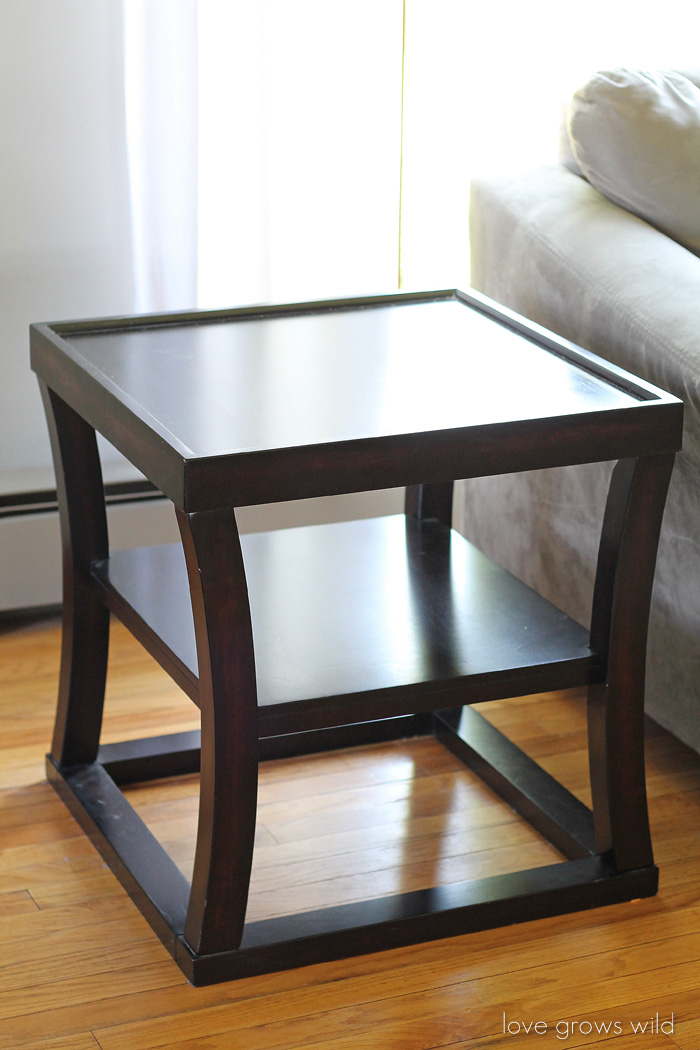 I still love the design, but with a smaller living room, the end tables were starting to feel really big and boxy. It's bugged me for months now. Finally, the other day I was staring at the tables while my husband sat in the recliner stuffing his face with last night's pizza, when I said, "What if I chop off the bottom part of the end tables? Oh my word, that's it!! I can just chop that square piece right off!"
I thought it was brilliant. I rushed out to the garage for a reciprocating saw, and just before I started hacking into the tables my husband said, "You do realize that bottom piece is just attached by screws, right?" That smug face barely even looked away from his pepperoni pizza.
I had half a mind to tell him I was totally kidding about the saw, but instead I reached for the allen wrench and continued on my mission to make my end tables pretty.
Men… they think they know everything! 😉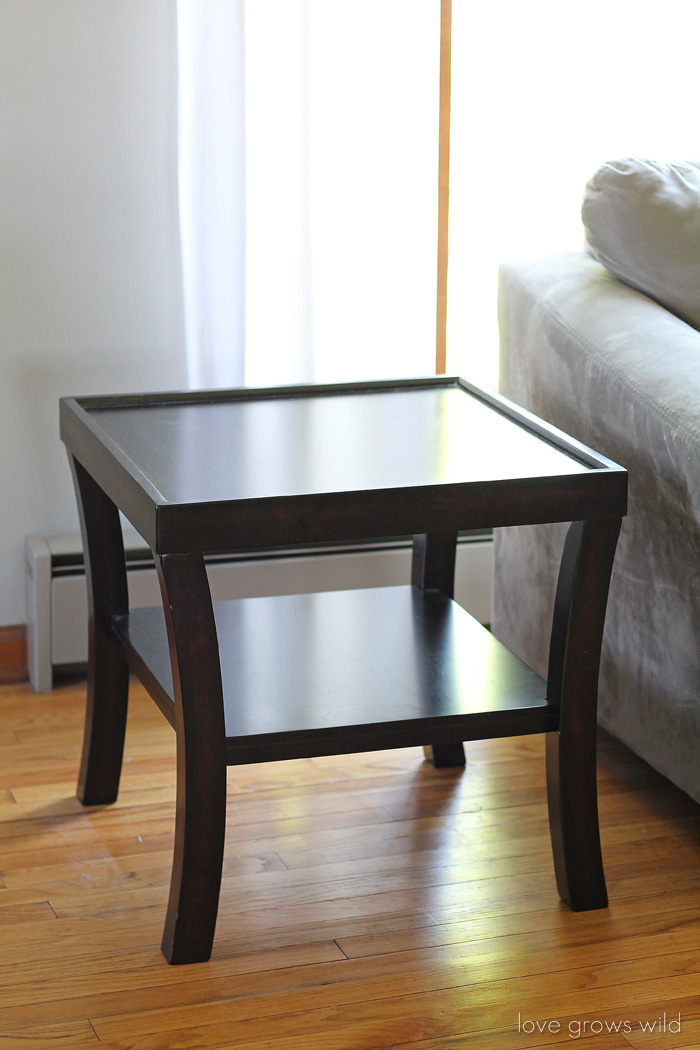 So eliminating that bottom piece already made a world of difference. The bottom was now open, which made cleaning the floors a heck of a lot easier and helped make the tables not feel so boxy. Step one, done!
For step two, I had the idea to add nailhead trim along the top edge of the table. It has a nice, thick face that was just begging for a little attention, and I love the classic, timeless look nailhead trim gives to furniture. Was I going to sit and hammer in a thousand individual nails? Not a chance! I grabbed a package of nailhead trim on a roll and had it finished in no time!
You can find the nailhead trim I used here: Dritz Upholstery Nailhead Trim, Antique Gold, 5-Yard
(Amazon affiliate link)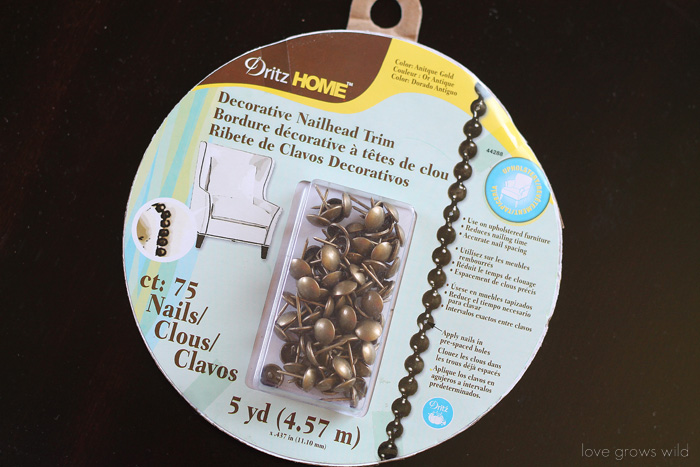 The kind I used came in a 5 yard roll, with an open nailhead every 5 spaces. All I had to do was line the trim up where I wanted it and hammer in one of the nail heads to hold it in place.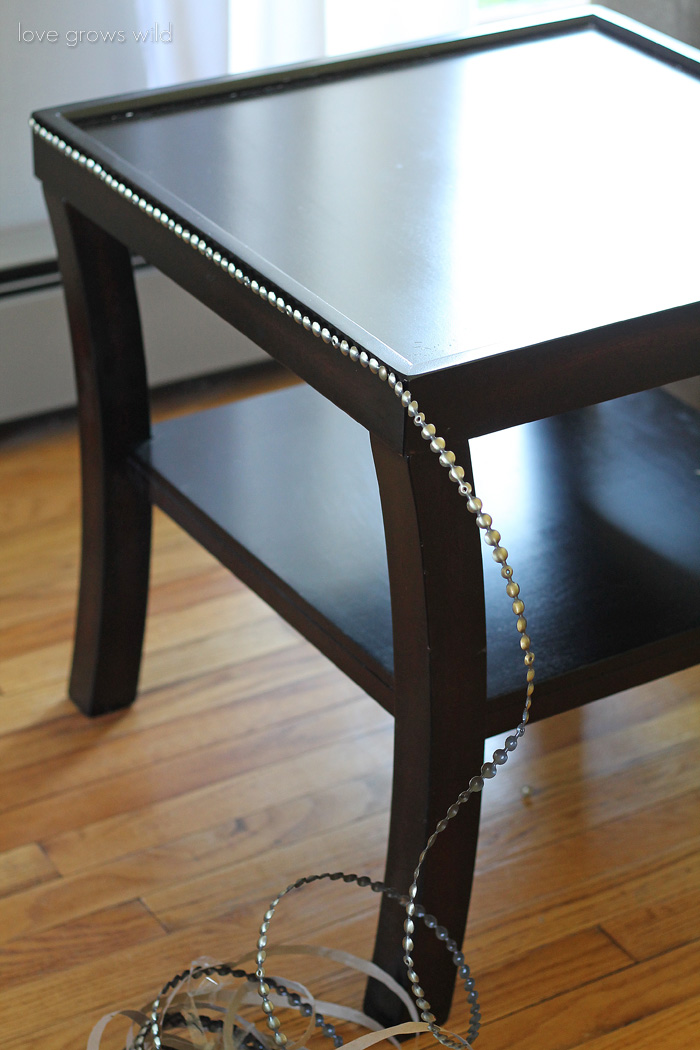 I didn't have to worry about spacing them out evenly, and I only had to hammer in about 80 nail heads (for both tables) instead of 800. I wouldn't have any fingers left by #800!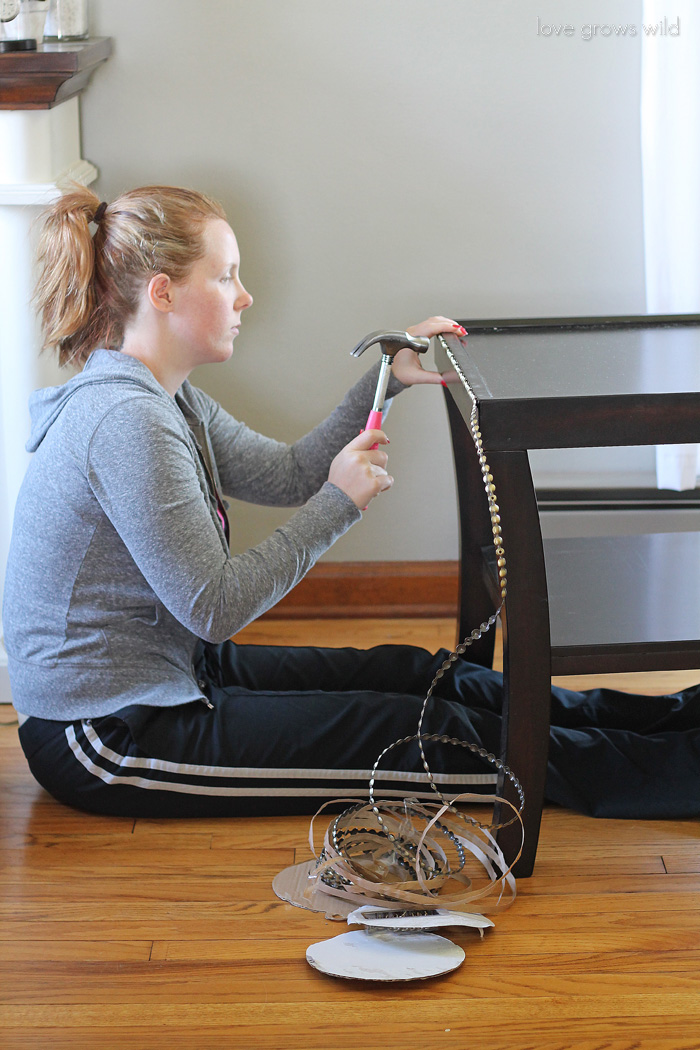 Side note: I promise I get out of pajamas and put on makeup every once in awhile!
Since these end tables were a few years old, and I have little boys who like to drive their race cars on them, they definitely had their fair share of dings and dents. I found these awesome wood re-touch markers that filled in the marks perfectly! The markers covered up any scratches and the crayons even filled in the dents I found. I will definitely be keeping this set handy for future touch-ups!
You can find the re-touch set I used here: Dritz Dark Wood Re-Touch Marker Set, Assorted
(Amazon affiliate link)
And in case you're wondering, no I'm not getting paid by Dritz. I just found these awesome products and had to share them with you! 🙂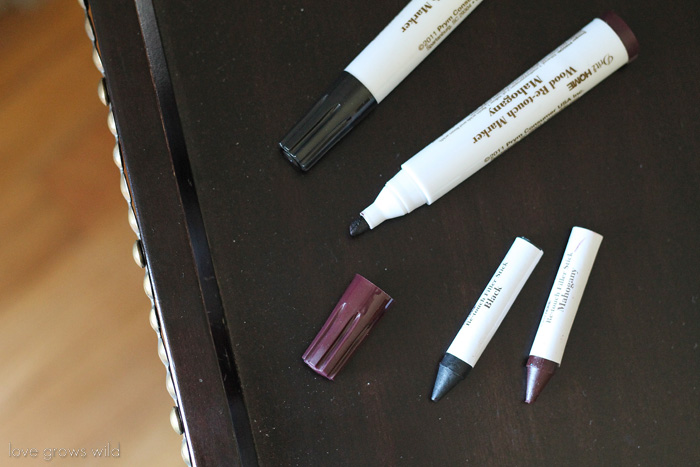 So from boring and boxy to high-end and chic, I absolutely love the new look of my end tables! They finally make a statement in the room, instead of just taking up space. And all of that came from just a little nailhead trim… and, I guess, a know-it-all husband who actually looks at something before he takes a saw to it. Thanks, honey!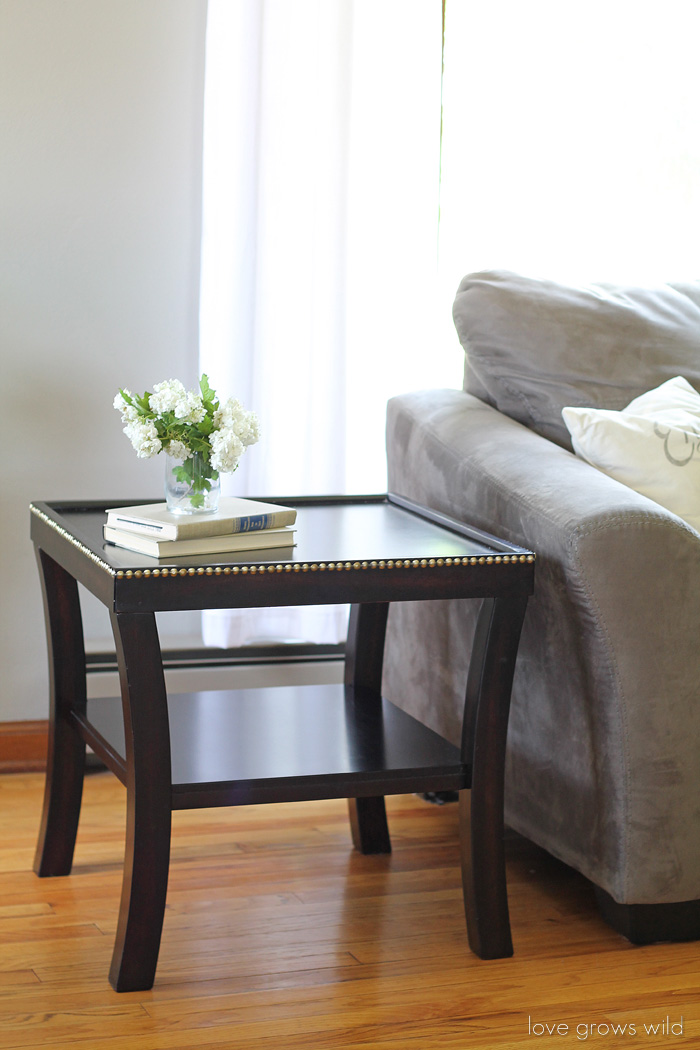 These blooms from my backyard… I can't get enough of them! I wish all these pretty spring flowers would last forever!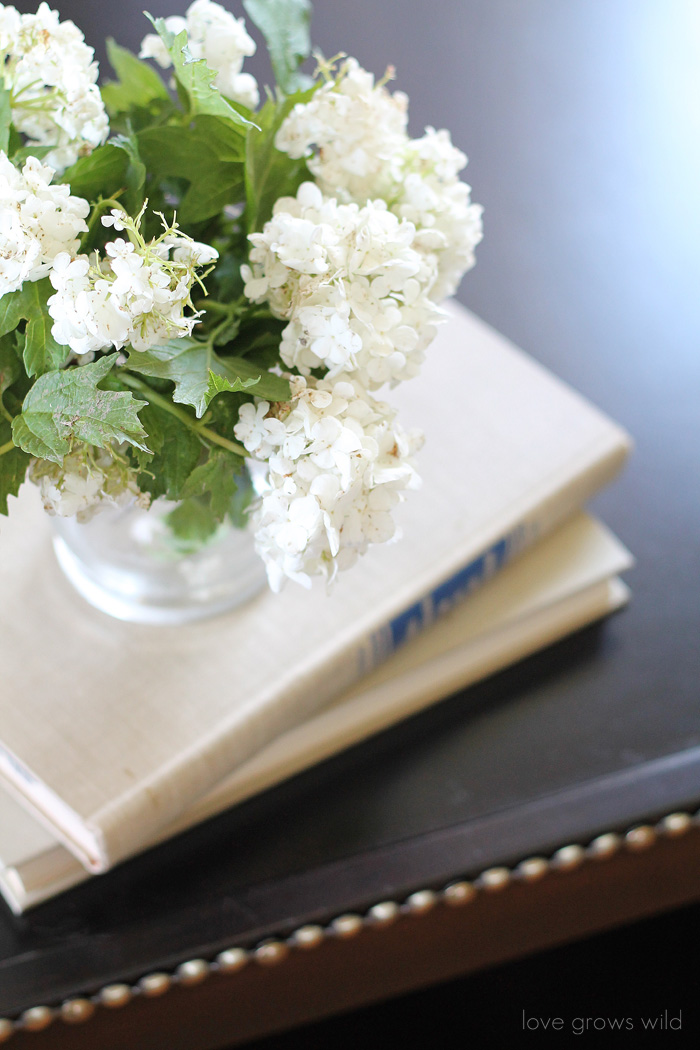 Thanks for checking out my furniture update today! What rooms would you love to update in your house?
Like what you see? Subscribe to Love Grows Wild so you'll never miss a post!
Follow along on Pinterest, Google+, Instagram, and Facebook for more fun!
---
More projects from our living room: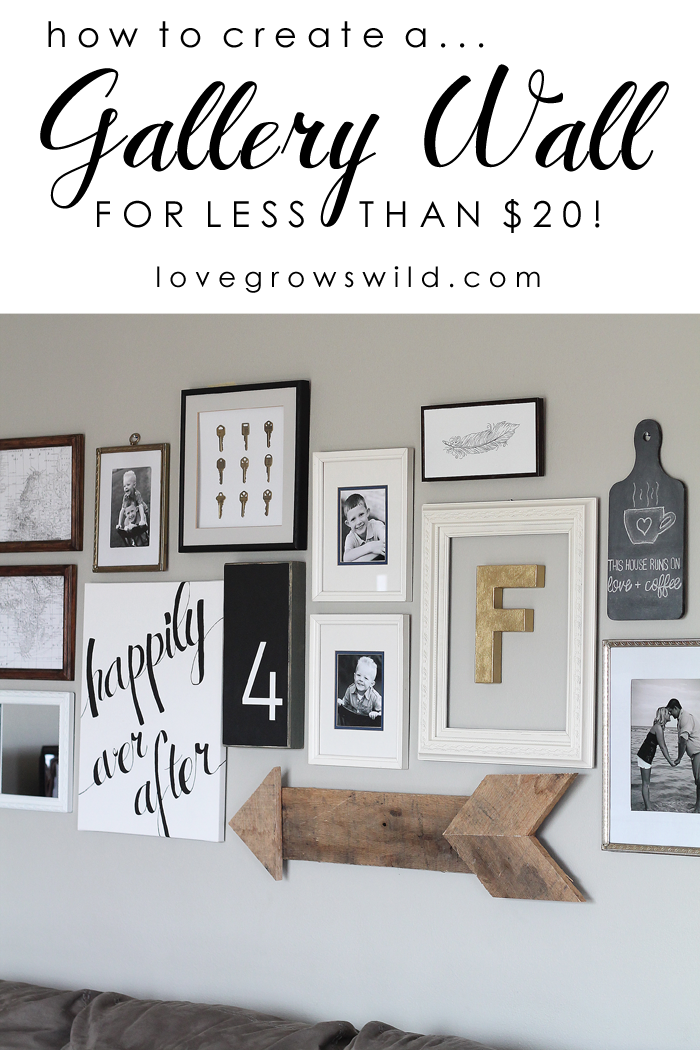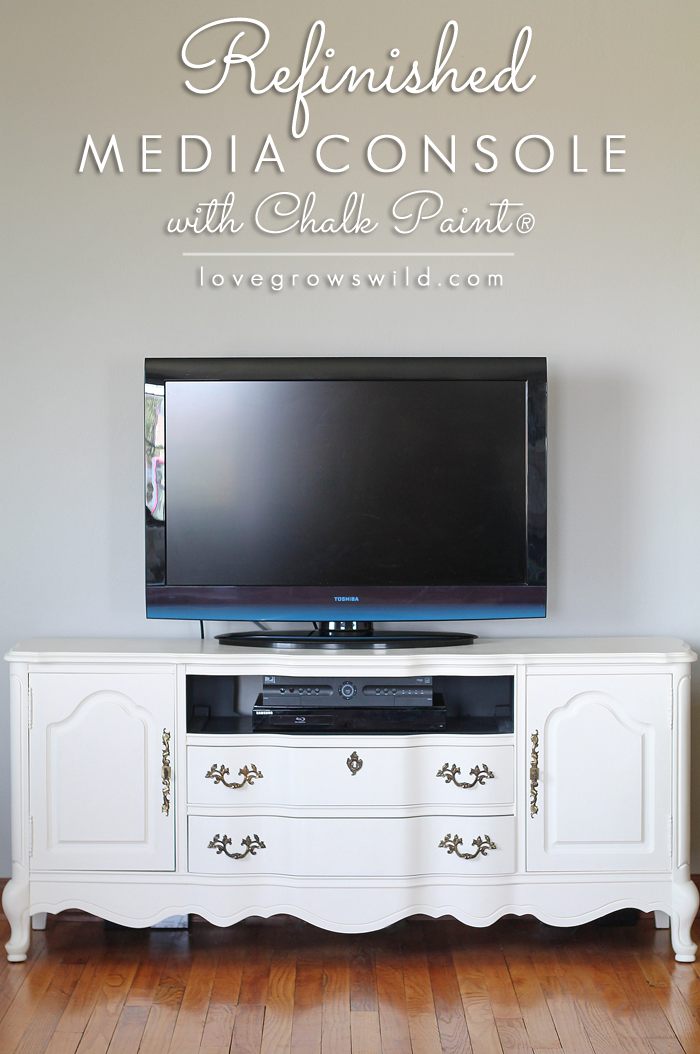 Refinished Media Console with Chalk Paint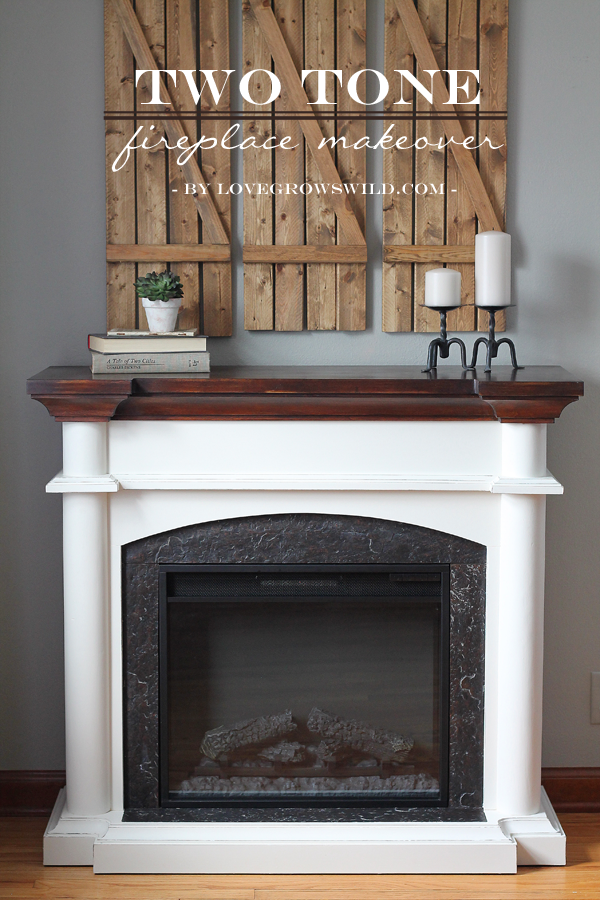 LET'S KEEP IN TOUCH!
Subscribe to Blog | Browse my Shop | Follow on Facebook | Follow on Twitter
Follow on Google+ | Follow on Pinterest | Follow on Instagram