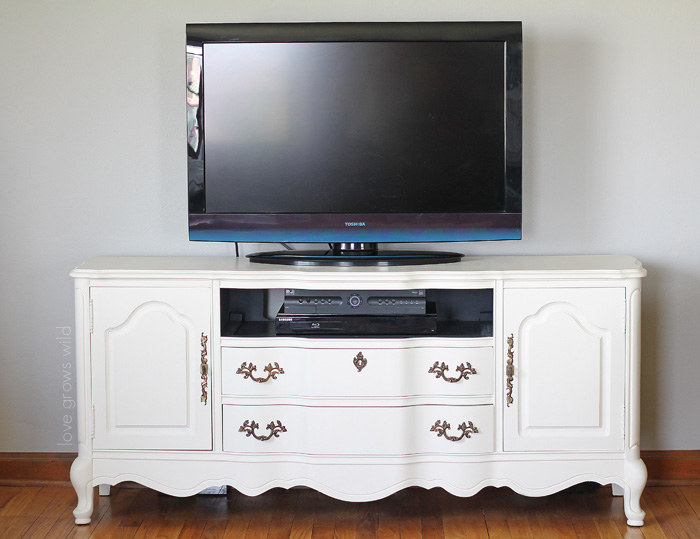 Thanks to Annie Sloan Unfolded for the supplies to complete my furniture makeover!
New updates in my living room today! I'm discovering lately that I have a pretty intense love for furniture makeovers. Aside from the giant mess it creates (or maybe, I create), with paint cans everywhere and rooms re-arranged to provide a make-shift painting studio, it's something I really enjoy doing.
The whole process is just exciting to me… studying the piece of furniture and carefully selecting the perfect color… cranking up some tunes on the stereo and spending a sunny afternoon just me and a paint brush… and the best part of all… seeing the completed transformation! And BOY, did this piece of furniture I'm showing you today need a major transformation! Your jaw is going to drop at this before and after!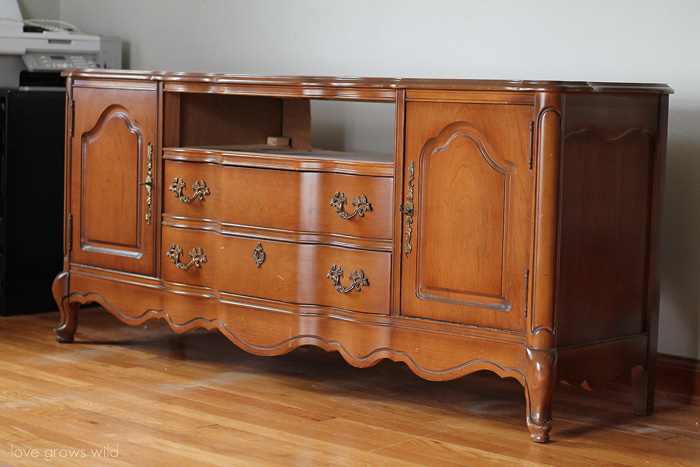 It's a gorgeous piece, but TOTALLY not my style. Maybe my grandma's, but not mine. I think when you first get married and have your own place, everyone feels the need to unload their old or extra furniture onto you. Did that happen to you too? Don't get me wrong… I am BEYOND grateful for free furniture. Have you seen prices in stores lately? It's a good thing I'm handy with a paint brush! Don't worry… stick with me, and I'll teach you how to be a paint brush professional too! 😉
So this piece was originally part of a dining room set from my husband's uncle's widow's parents. You totally needed to know all that detail, right? It was meant to be used as a buffet, but our tiny dining room doesn't have a lot of space, and we happen to be in desperate need of a TV stand/media console. Do you see where this is going? We pulled out the top drawer to make a space for our satellite box and DVD player and cut a hole in the back for the cords. Then it was time to get the paint brush out!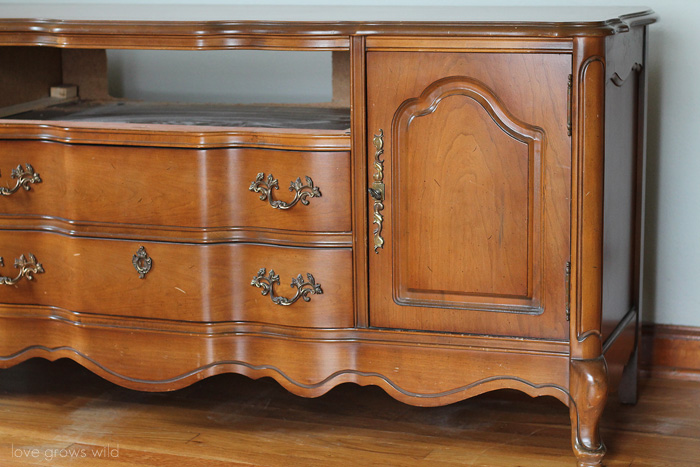 Step 1: Remove doors, drawers, and hardware
It's much easier to paint without the hardware on, so I removed each piece and kept them all in a bucket. I always like to keep the screws with each piece of hardware it belongs to so I'm not trying to solve a puzzle later when putting them back on.
Step 2: Paint!
I've always wanted to try Chalk Paint® decorative paint by Annie Sloan, and this console was the perfect piece to test it on. With Chalk Paint®, you are not required to sand the previous finish off, which means you can get started painting right away. No sanding necessary… I'm sold already! This piece of furniture has a lot of curves and grooves, which would be nearly impossible to sand. The only thing I did to prepare the console for paint was wipe down all the dust and… ahem, cobwebs that had accumulated since I last dusted. It may have been awhile.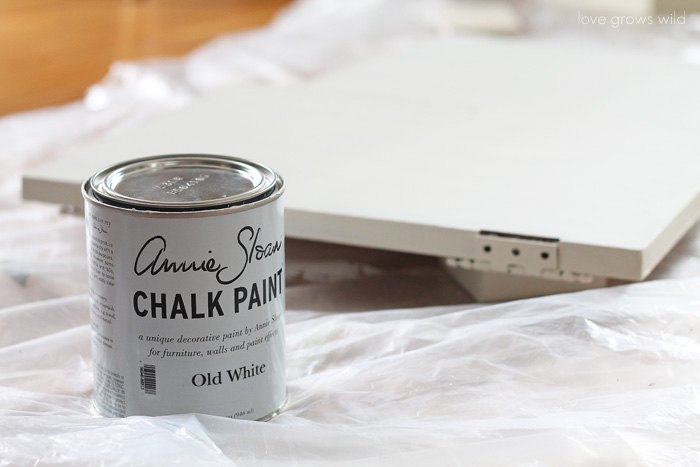 With all the wood tones going on in my house, I needed to lighten up the space, so I chose to use the color Old White. It's the perfect balance between bright white and soft ivory, which I just love! There's no fancy technique used here, just a good quality paint brush and nice, even brush strokes. Here's how the cabinet door looked after one coat of Old White… it definitely needed two.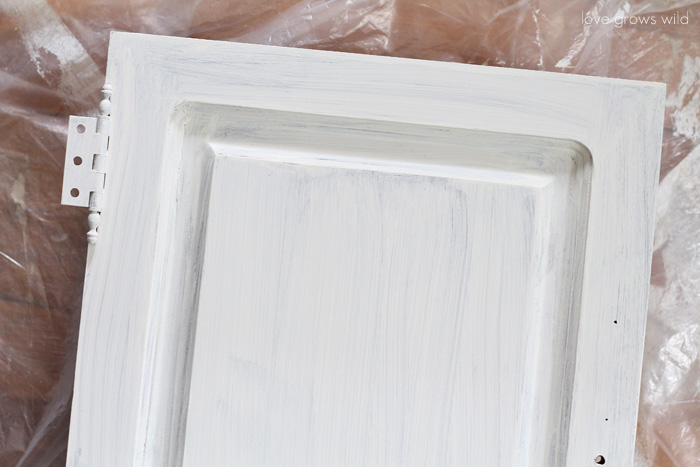 You'll notice I painted the front and sides of the drawers in white, but left inside blank. The inner pieces of the console got a special treatment that I'll show you in a minute!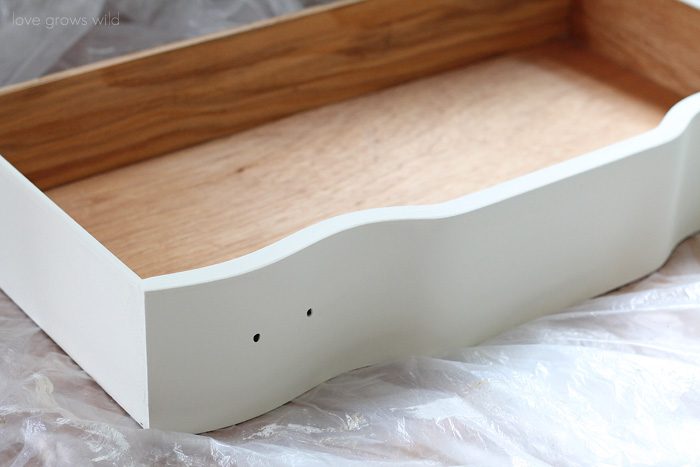 Step 3: Wax
The Chalk Paint® dries pretty quickly, so you can knock this project out easily in just a day or two. Once I was finished painting, I sealed the console with the Annie Sloan Clear Soft Wax. The wax can be easily applied with a brush and gives the furniture some durability and protection against little boys driving their race cars up and down it. No surface is safe in my house full of boys!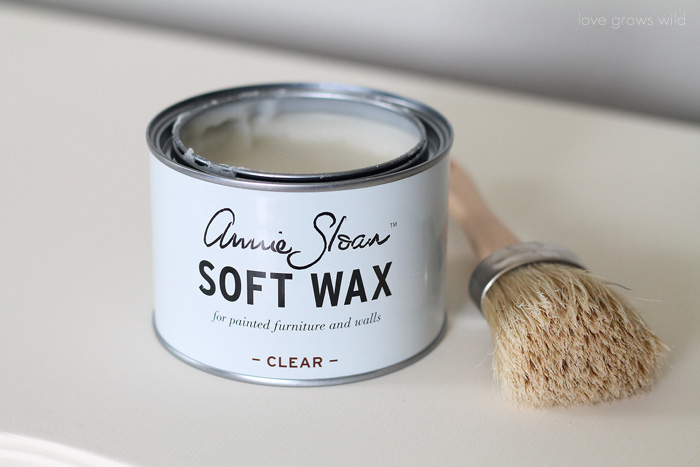 The wax deepens the color of the paint just slightly and gives it a beautiful luster. To apply the wax, I just scoop a little bit onto a paper plate or even the lid of the can and dab my brush in it. Then I swipe the brush over the furniture, spreading the wax evenly over the painted areas. A little goes a long way in this process! Once I've applied the wax, I go back over the piece with a clean, lint-free rag to buff and remove any excess wax.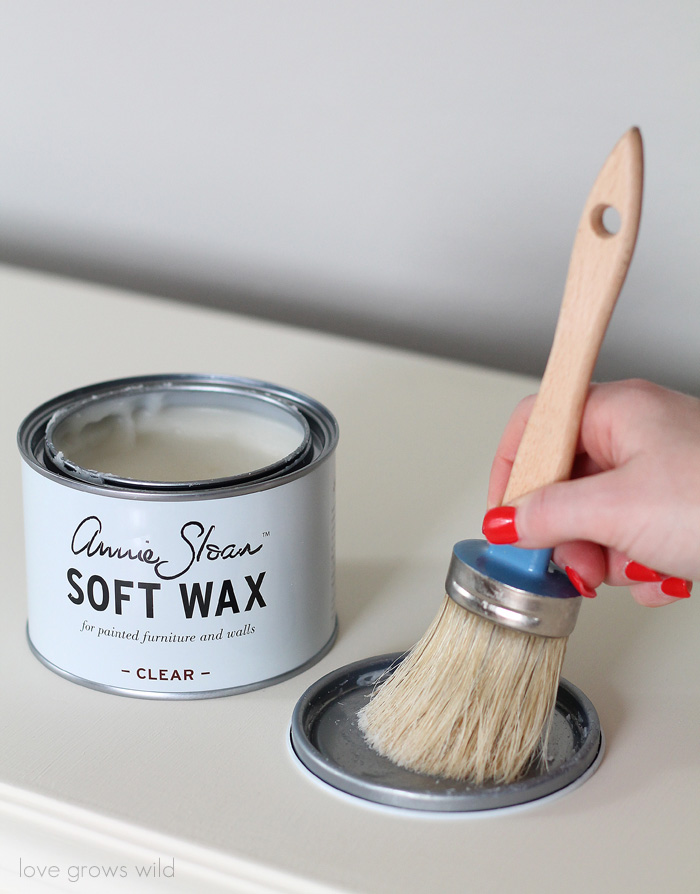 Step 4: Re-attach the doors, drawers, and hardware
And we're done! My old, dark buffet is now a light, bright, and beautiful media console for our living room! What do you think??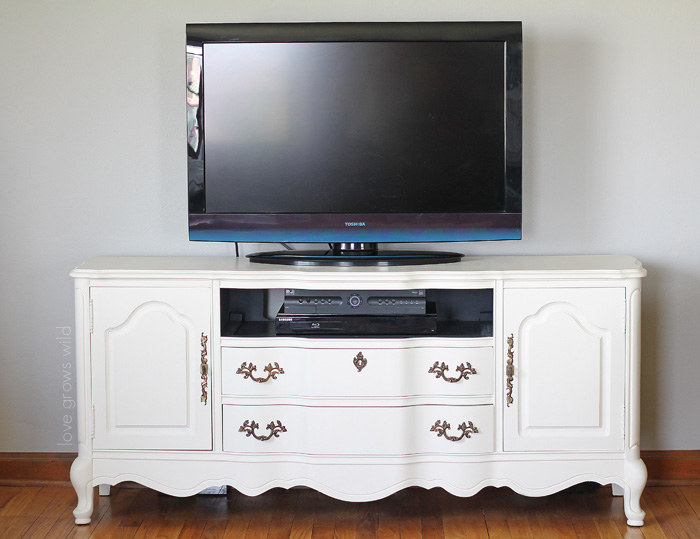 So remember when I said that the inside of the console got a special treatment? Instead of painting the insides of the drawers and cabinets white, I painted them in a smoky, charcoal gray. LOVE this feature! Here's why I did it:
#1 Because we're using the top drawer space to hold our TV boxes, we wanted to minimize that area as much as possible rather than draw your eye to it. The charcoal gray paint blends in with the black equipment, making it much less noticeable. I have to admit… my husband actually came up with that genius idea!
#2 Painting the inside of a drawer eliminates that stinky, antique smell that lingers long after you bring it home. And because I knew these areas would have a lot of hands grabbing things in and out of them, I figured gray would show much less wear, tear, and dirty fingerprints than white would. I love my children dearly, but I do not love all the fingerprints they leave everywhere!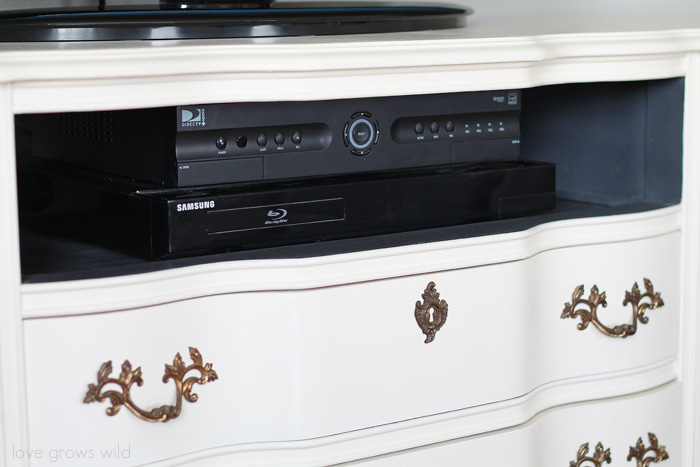 Can we just talk about this hardware for a minute? I'm totally swooning just looking at these photos again! I decided early on to leave the gorgeous gold antique finish they already have, which is a beautiful contrast against the cool white and gray furniture. Seriously… look at these details…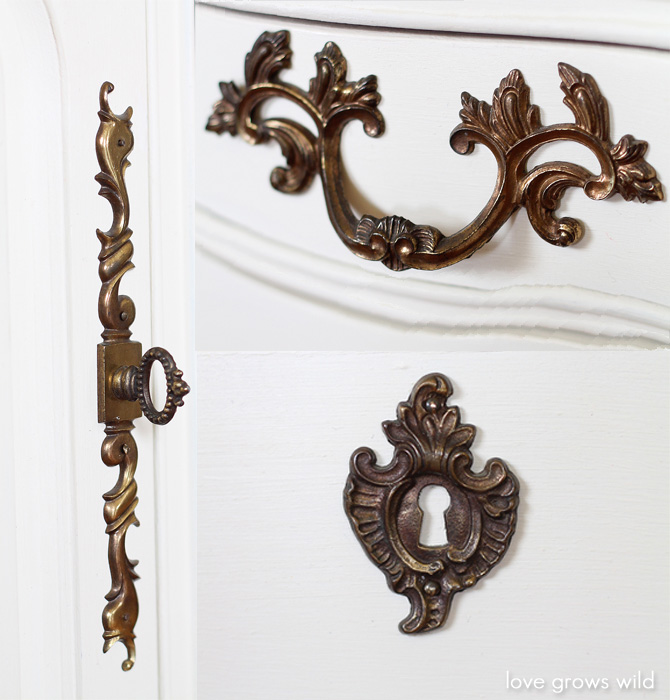 You'll have a hard time finding intricate hardware like this in stores today! See, hand-me-down furniture is the way to go!
Here's the inside of the cabinets that I painted gray: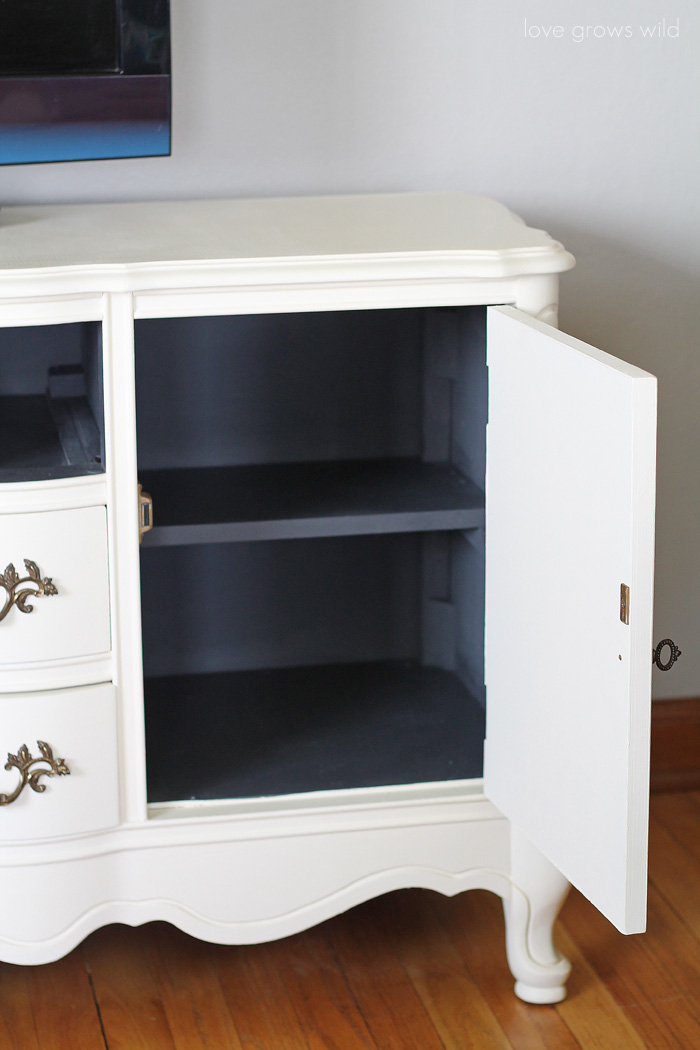 And the inside of the drawers too: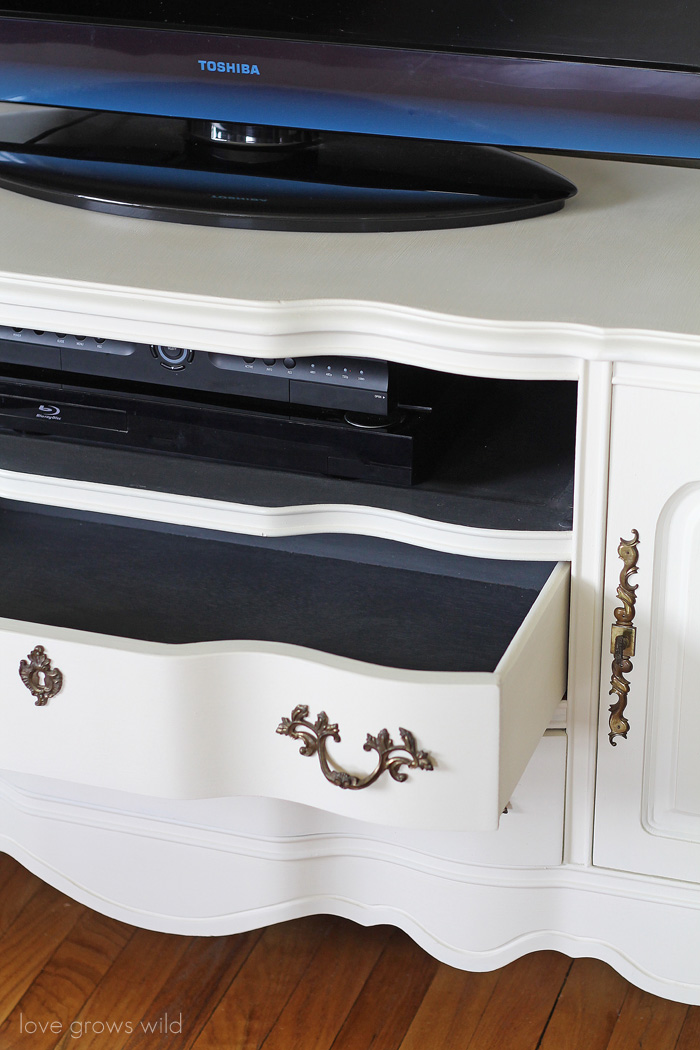 I think two-tone furniture like this is such a fun surprise when you open them up!
Check out the side profile of this curvy girl: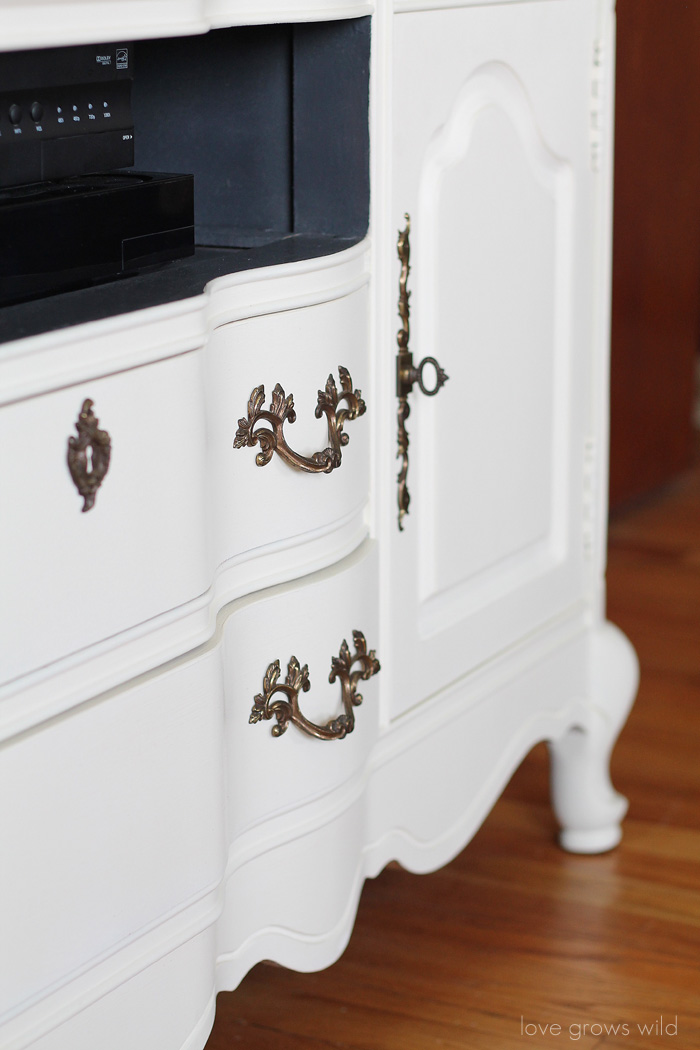 A simple, metal-frame glass coffee table sits next to the newly-painted media console, with a fabulous succulent planter on top. The planter is a recent addition to the house, and I just love it!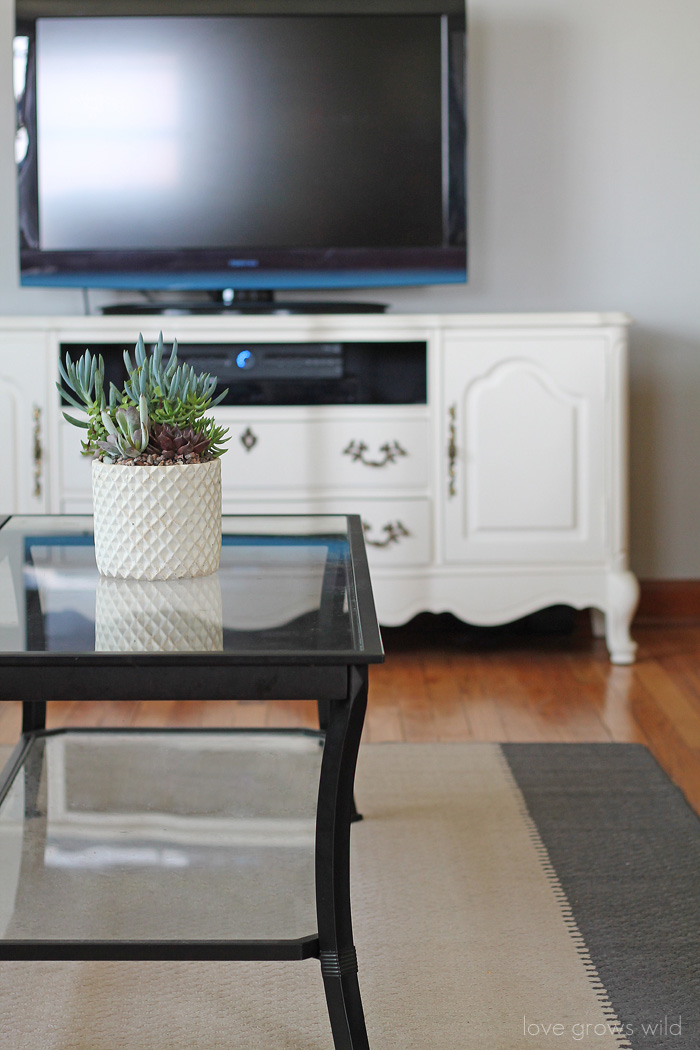 Now I can kick back and catch up on my TV shows without thinking… "Gosh, that TV console needs painted desperately!" I'll give a ten cookies to whoever can recognize my absolute favorite show on television right now!!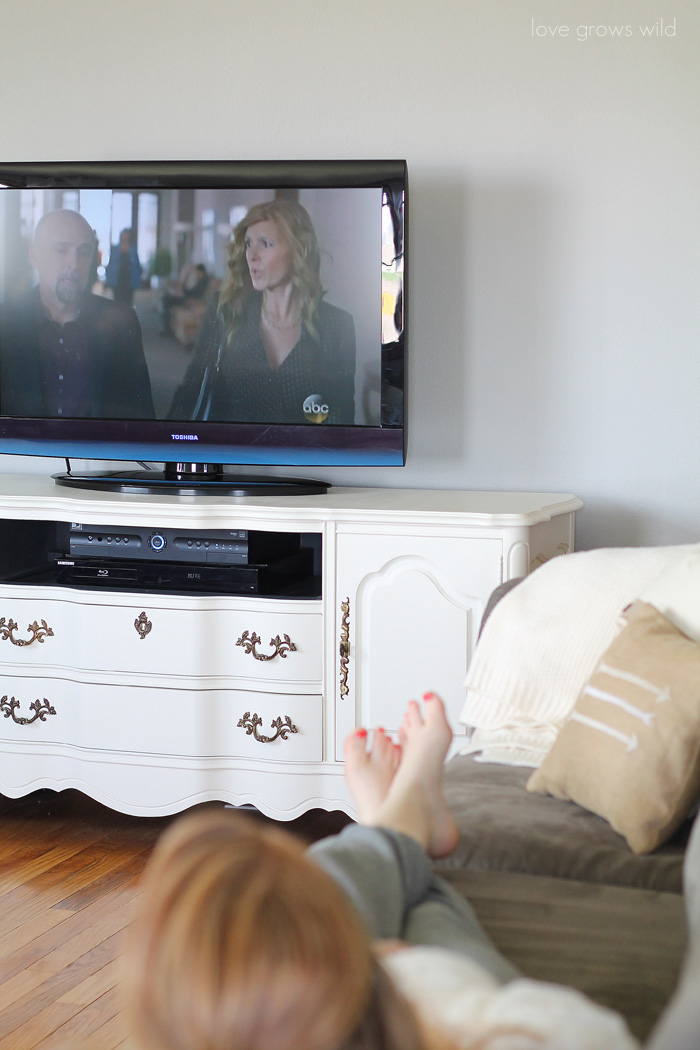 Like what you see? Subscribe to Love Grows Wild so you'll never miss a post!
Follow along on Pinterest, Google+, Instagram, and Facebook for more fun!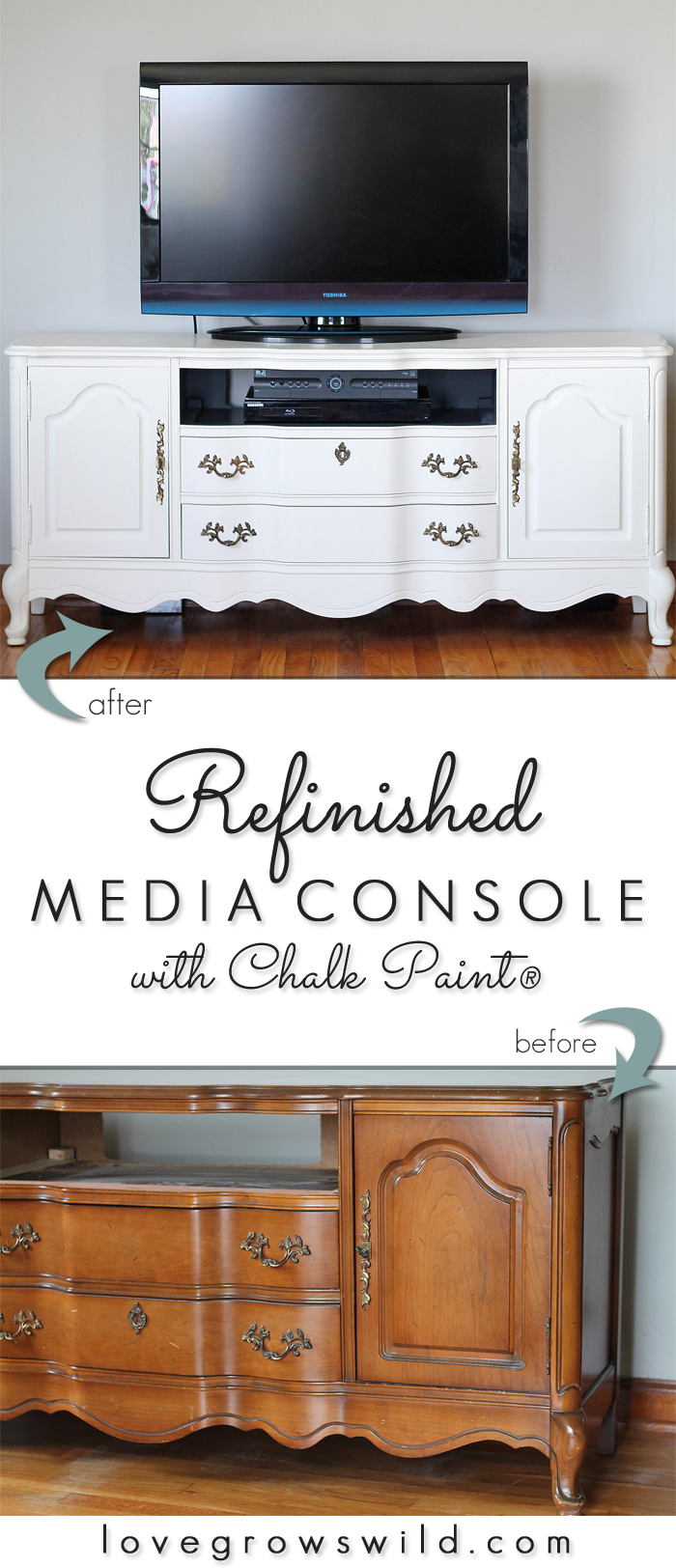 The Annie Sloan products I used in this post came from Annie Sloan Unfolded. You can locate a local retailer and follow them on Facebook, Twitter, or Pinterest to discover more project inspiration!
Thanks to Annie Sloan Unfolded for the supplies to complete my furniture makeover!
---
More projects from our home: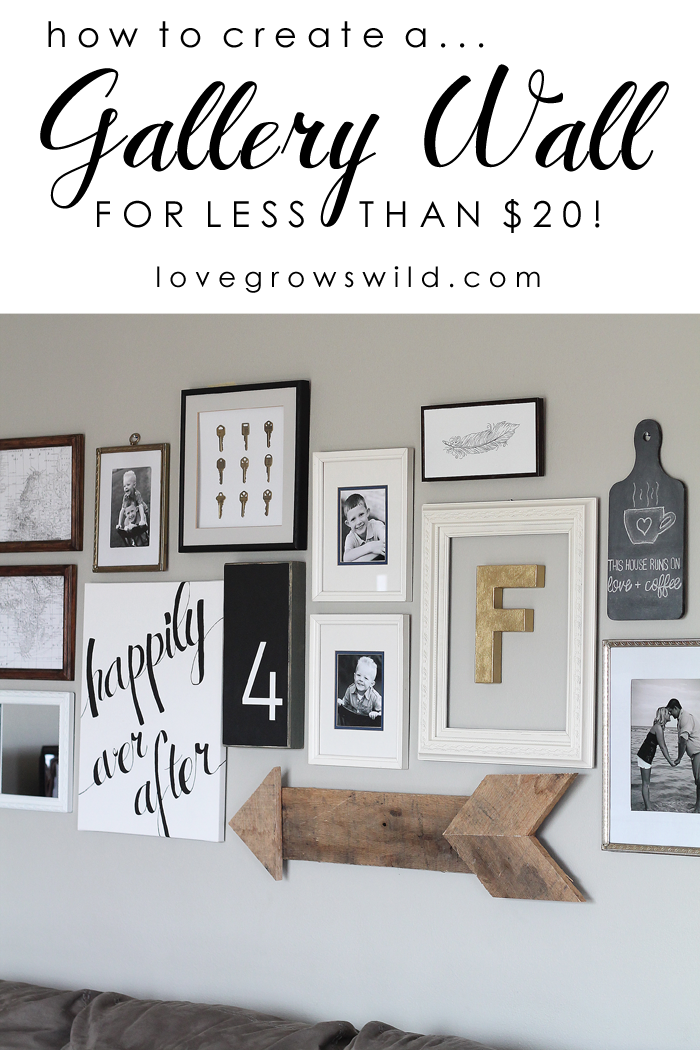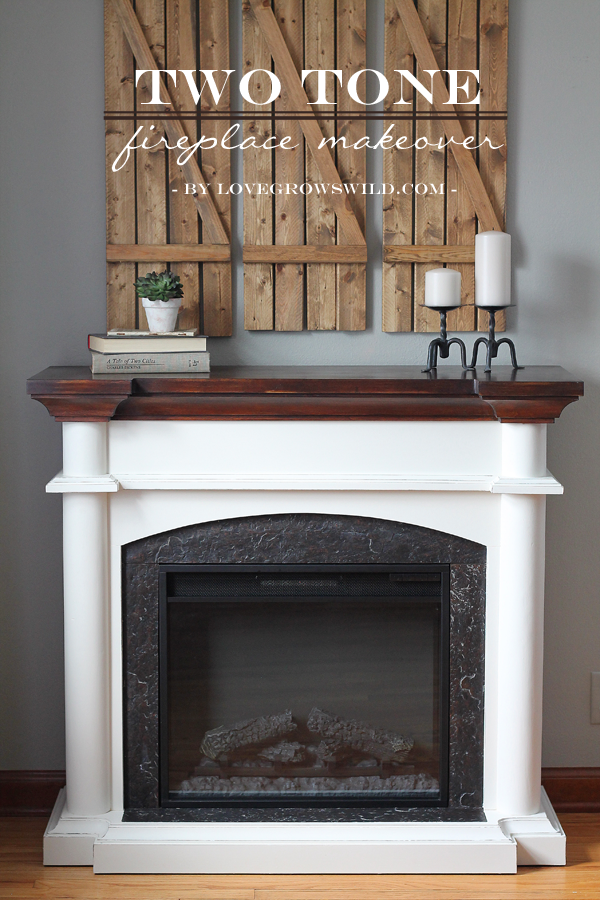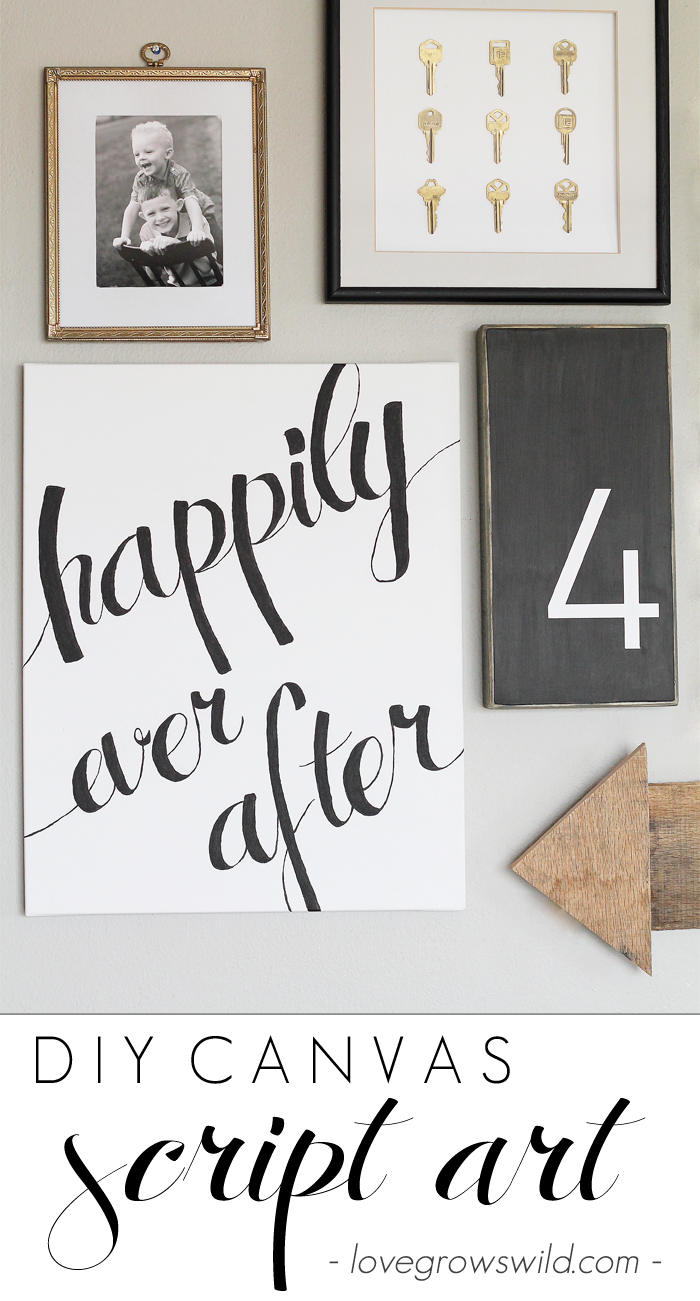 LET'S KEEP IN TOUCH!
Subscribe to Blog | Browse my Shop | Follow on Facebook | Follow on Twitter
Follow on Google+ | Follow on Pinterest | Follow on Instagram