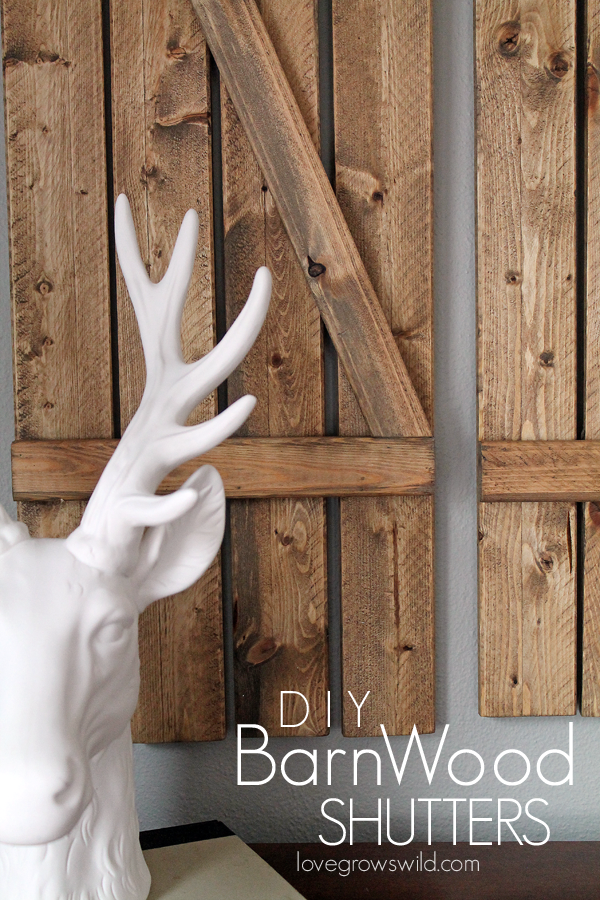 Are you ready for the first project of the new year?? I sure hope so, because this is a good one! I'm kicking off 2014 with a little makeover in my living room, and I'm so excited to share this first project with you! Yesterday I put together some lovely, rustic DIY Barn Wood Shutters to fill the blank wall space above my fireplace, and I'm sharing all the details today of how I made them! Grab a little snack and watch as I transform a pile of wood boards into gorgeous wall art for under $12!
Okay… so my living room. We moved into this house about a year and a half ago, and the living room hasn't changed much since then. We had new gray couches, a glass coffee table, some dark, oversized end tables, and a whole lot of random hand-me-down furniture. Don't get me wrong, I LOVE free furniture, but I was starting to feel overwhelmed by the amount of pieces that needed to be re-done, which made me give up on even trying to decorate my poor living room at all. Gray walls and gray couches with just about every wood tone imaginable scattered throughout. Ack!
But with my kitchen makeover finally finished and a brand new year ahead, I'm finally ready to tackle my bland, boring living room and give it the love it deserves! Starting with… our fireplace. Well, faux fireplace. It's an electric heater that we got on a great discount a few years back, but I've never really loved the finish on it. The rich wood tone clashes with all the other wood tones in the room, and I've been thinking about painting it ever since it came home. Soooo while I'm getting ready to give the fireplace a little facelift, I'll show you these awesome DIY Barn Wood Shutters that I just adore!
Here's what you'll need for 3 shutters:
6 – 1×3 wood furring strips
2 – 1×2 wood furring strips
miter saw OR miter box and hand saw
tape measure
1″ nails
wood glue
stain or paint
I started with this tutorial from Blooming Homestead as my inspiration and adjusted the measurements as needed to fit my space. I used furring strips from my hardware store just like the DIY mini pallet I created for my kitchen because #1 they're a nice, small size to use and #2 they're cheap! I picked up 6 – 1×3 boards and 2 – 1×2 boards for less than $12, which makes this project totally doable on my rather tiny budget!
You can cut the boards yourself using a miter saw OR have the sweet employees at your local hardware store do it for you. They'll do the straight cuts, but you'll need a hand saw and miter box to make the angled piece that goes in the middle of each shutter.
Here are the pieces you'll need cut:
12 – 36″ pieces from the 1×3 boards
6 – 10 1/4″ pieces from the 1×2 boards
3 – 23 3/4″ pieces from the 1×2 boards, cut on a 22.5 degree angle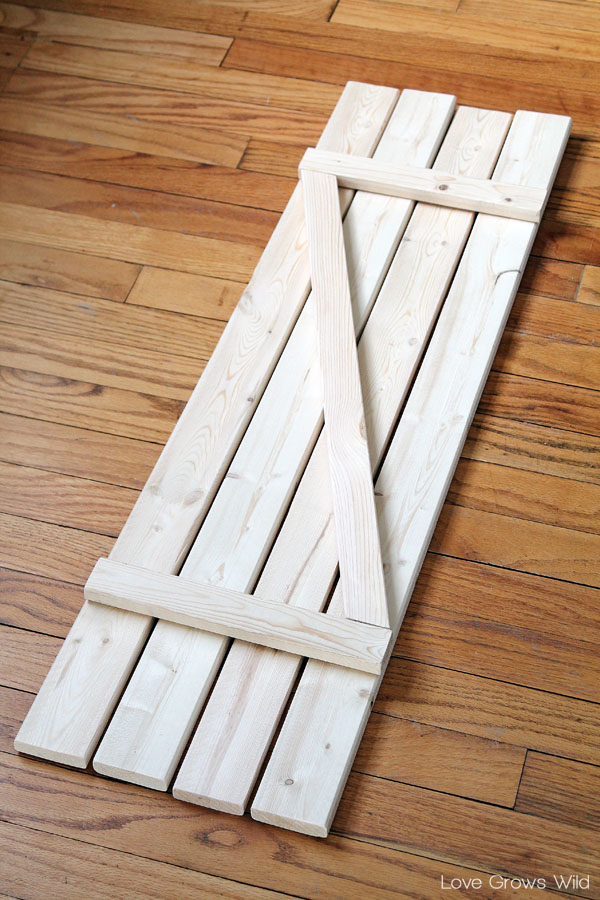 Once I had all the pieces cut (which I did in my FREEZING cold garage, by the way!), I laid them out on the floor to get an idea of spacing. The little gaps I added between the 1×3's gives it a more old, rustic feel, which I love! Once I was happy with how they looked, I used some wood glue to attach the three smaller pieces on top of the 1×3's. Important tip: anywhere the glue touches will NOT hold any stain, so be careful how much glue you use!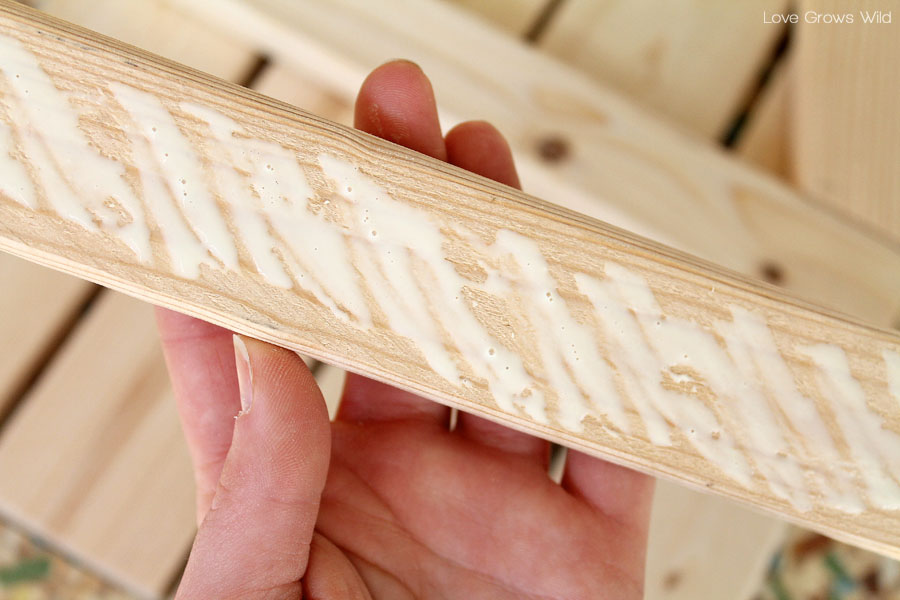 I clamped down the glued pieces until they were totally dry, then carefully flipped the shutters over to nail the boards together. I hammered a 1″ nail through each spot where the 1×2's and 1×3's connected.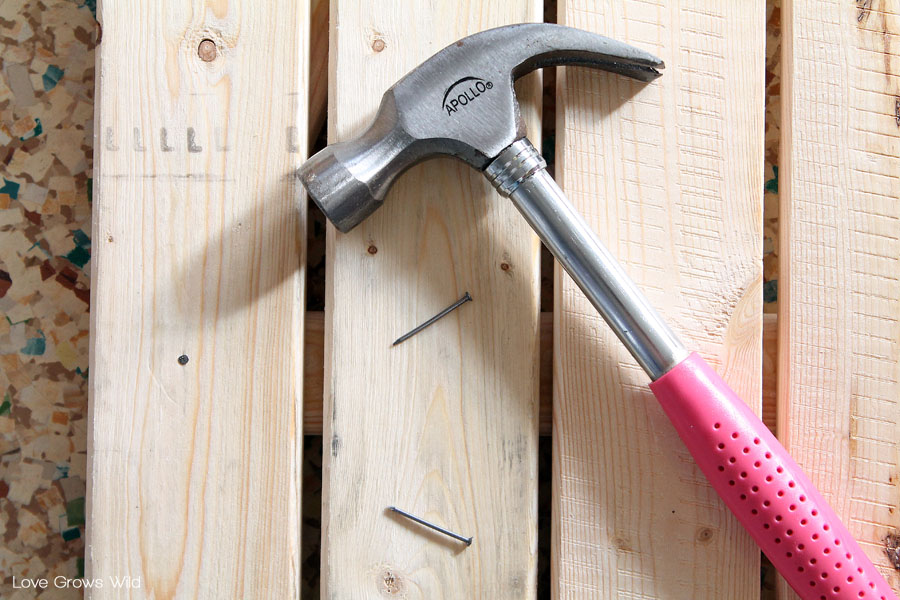 After all the shutters were assembled, I lightly sanded each board and stained them with a 3:1 mixture of Minwax Classic Gray and Dark Walnut. The Classic Gray stain doesn't do much on the light pine boards, but add just a touch of Dark Walnut, and you get a GORGEOUS color that looks perfectly aged in just one step. The gray stain keeps the boards nice and light, but that dark walnut seeps into all the little cracks and crevices creating the perfect rustic look I was going for. I applied the stain with a foam brush, which makes is super easy to get in between the boards, and I just throw them away when I'm done. P.S. I loathe washing paint brushes! I also left the stain on for about 5-7 minutes before wiping away any stain that hadn't soaked in. Oh, and don't worry about finding boards that are absolutely perfect, because all those little imperfections just add character. This is why I LOVE this style of decorating so much… perfection NOT required! 🙂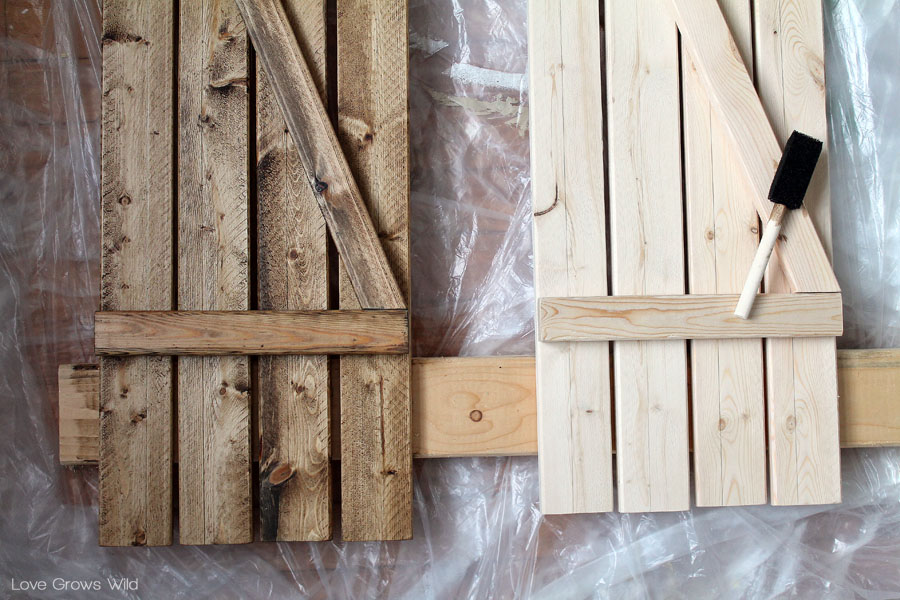 After letting the stain dry overnight, I hung the shutters on the wall over my fireplace using some eye hooks and wire from a hanging kit….
And Ta-Da!!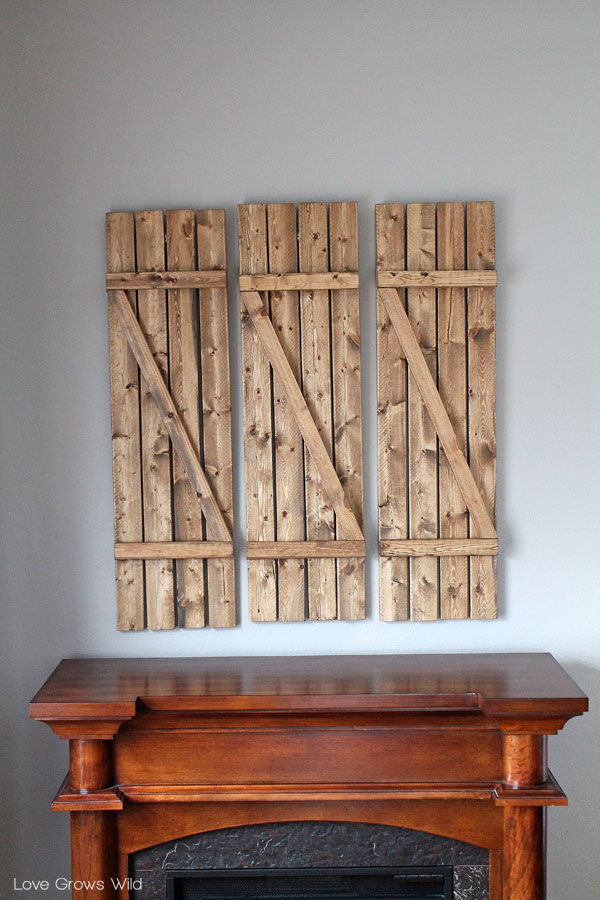 So yeah, the fireplace DEFINITELY needs to be painted, but just check out the gorgeous wood grain on these babies!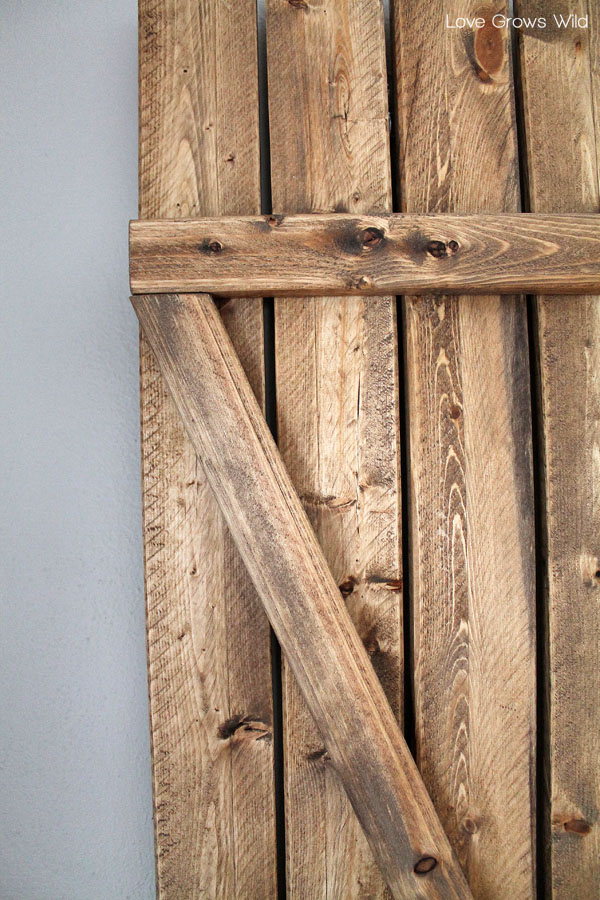 I'm not too worried about decorating the mantel until the fireplace gets painted, but I added a few accessories to dress it up, including the awesome deer head my boys got me for Christmas! Those little boogers know me so well. 😉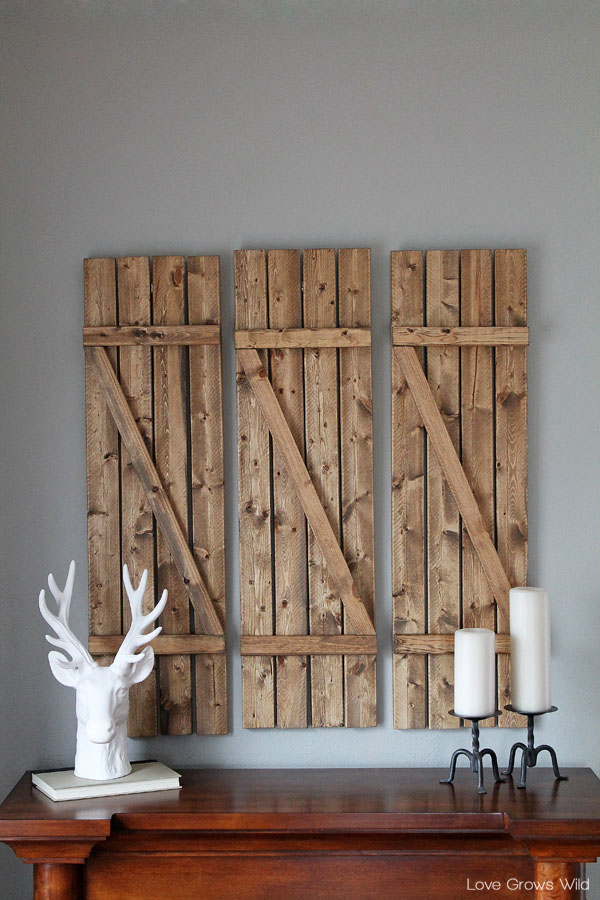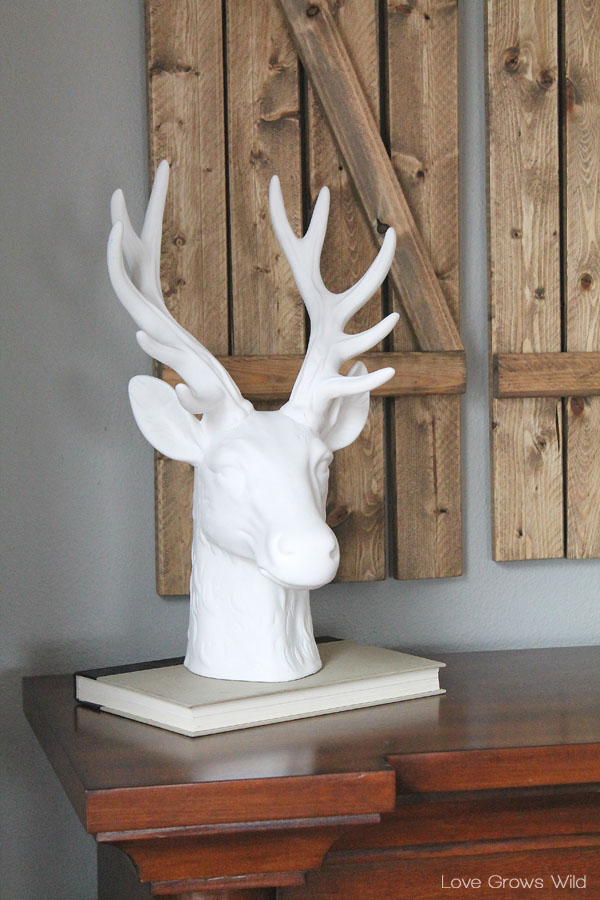 Once the fireplace is painted, I want to make a big, pretty wreath to hang on the middle shutter. What do you think… should I do a coffee filter wreath? Something with fabric? With flowers? Help me decide!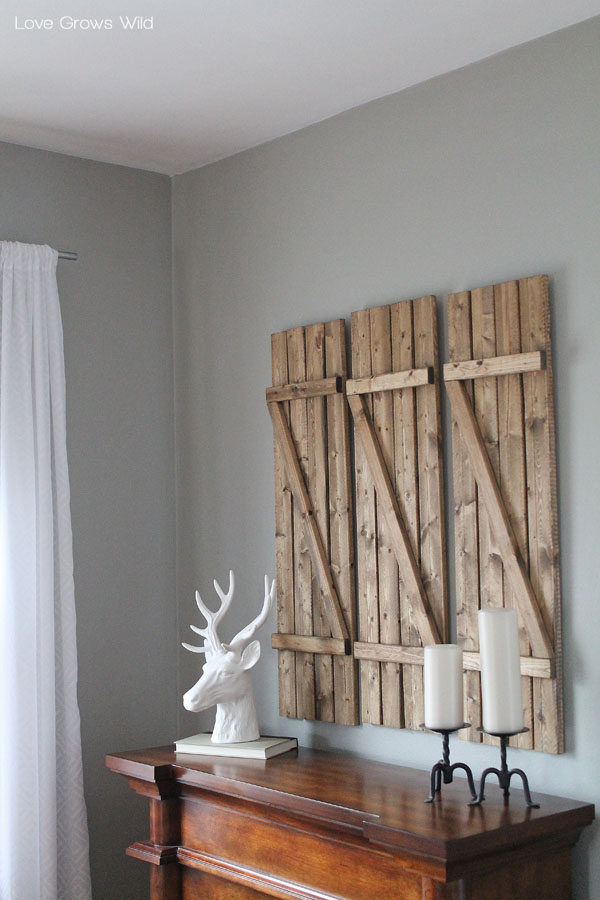 Since I already had the stain, nails, and wood glue, all I needed to buy for this project was the wood, so this giant piece of wall art only cost me $12! The hubby is so proud of my resourcefulness! And not bad for a few hour's work!
TELL ME: How would you paint or stain these shutters for YOUR home? Would you do rustic wood tones? Bright white? A fun pop of color? I'd love to hear what you think!
Get inspired by these other lovely home decor projects: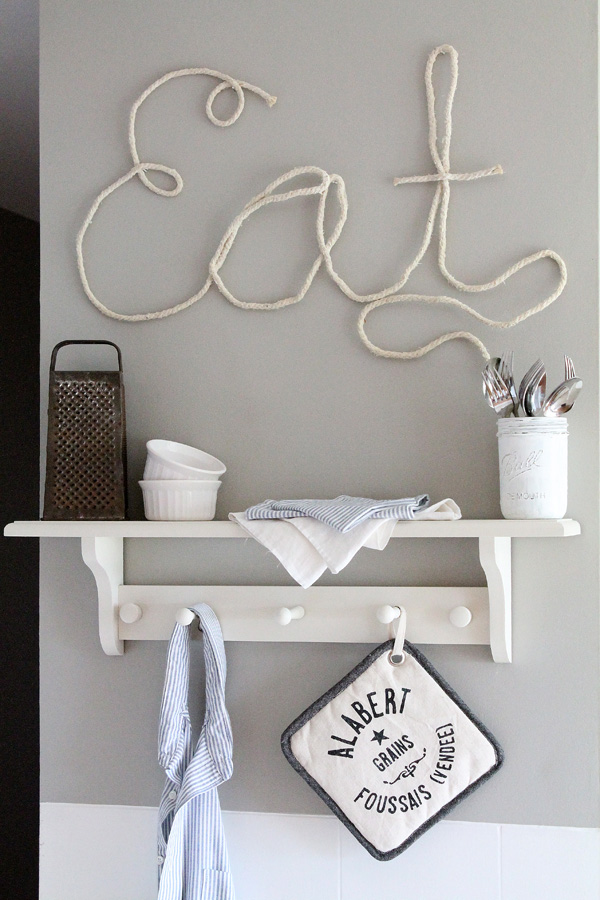 How to Make Letters and Words with Rope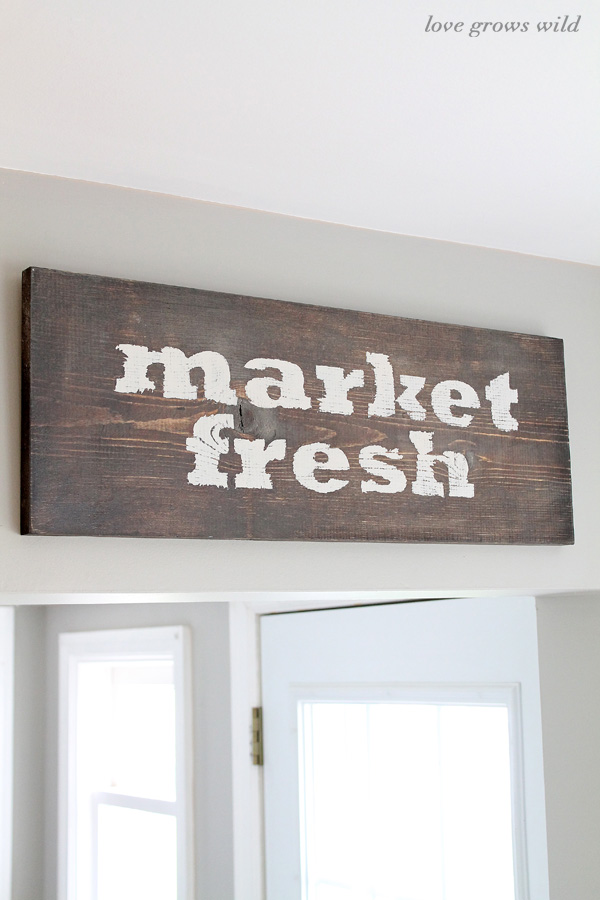 Rustic Wood Kitchen Sign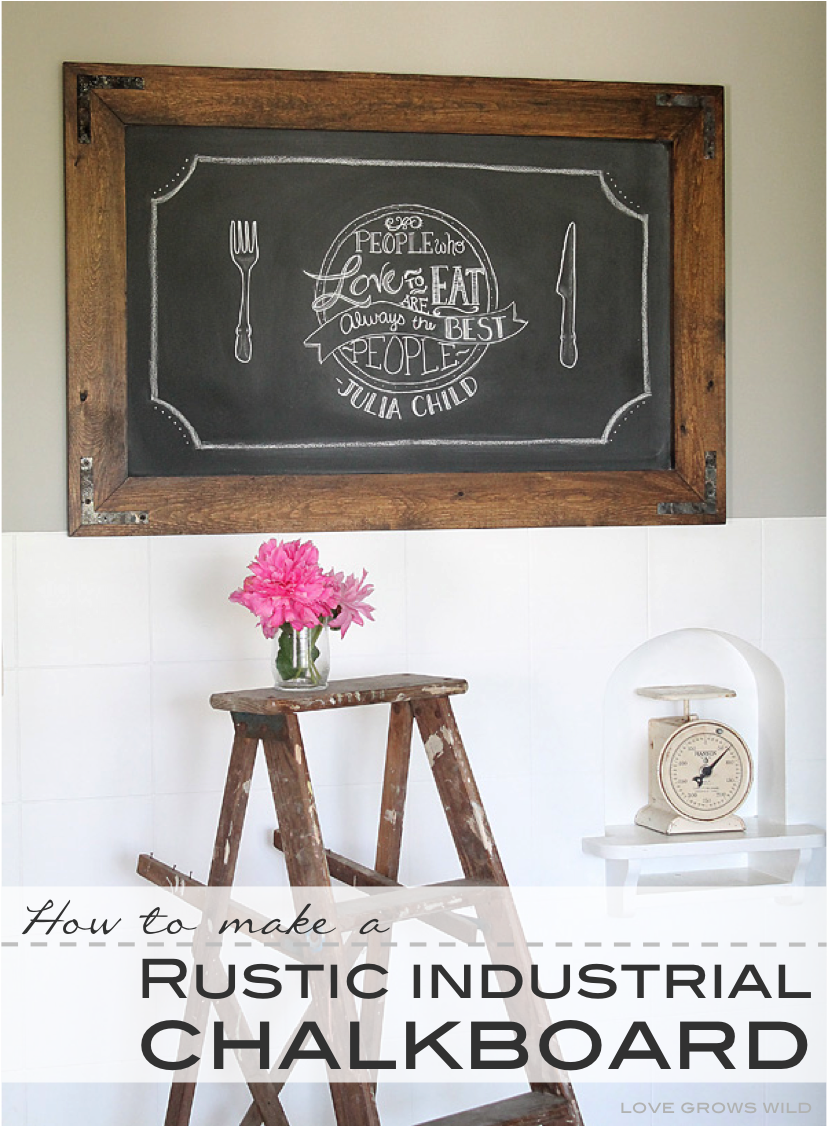 DIY Rustic Industrial Chalkboard
Let's Keep In Touch!