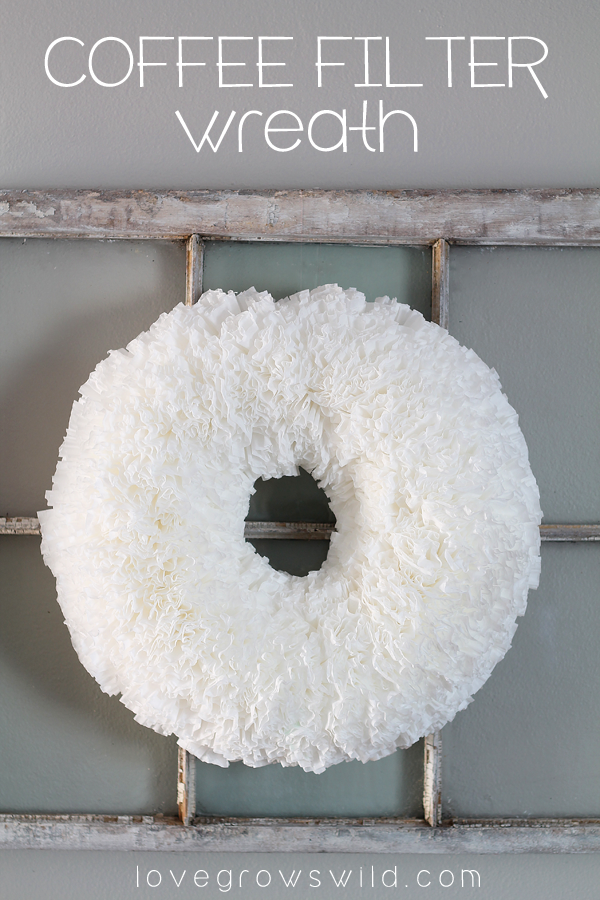 Ruffles… texture… coffee… cheap, beautiful, easy DIY home decor…
If you like any or all of the above things, you are going to love today's post! If you remember a week or two ago, I shared an awesome-sauce dry brushing paint technique that I used on an old, antique window. If not, you should definitely go check it out! It's okay, I'll wait here. 🙂
I only gave a little tease of the window all finished, because I wanted to reveal it fully decorated in all it's gorgeous, vintage glory, and I'm so excited to share it with you today! From the second I picked up that window from the antique store, I knew I wanted to make a big, ruffled coffee filter wreath to hang over it, and if you have never made one before, I know you're going to absolutely love this tutorial!
So let's dive right in and start with the supplies. It really doesn't get much cheaper than this, folks…
Supplies:
coffee filters (I used 2 packages)
foam wreath form (Mine was 12″)
hot glue gun and glue sticks
pen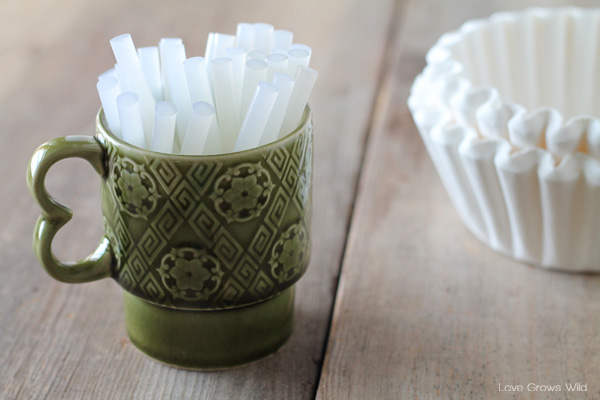 So this is probably the simplest thing I've made all year, which is probably why I love it so much! Heat up the ol' glue gun and have plenty of glue sticks on hand… you're going to need them!
Here's how easy this project is:
Wrap a coffee filter around the tip of a pen and add a dab of hot glue to the tip.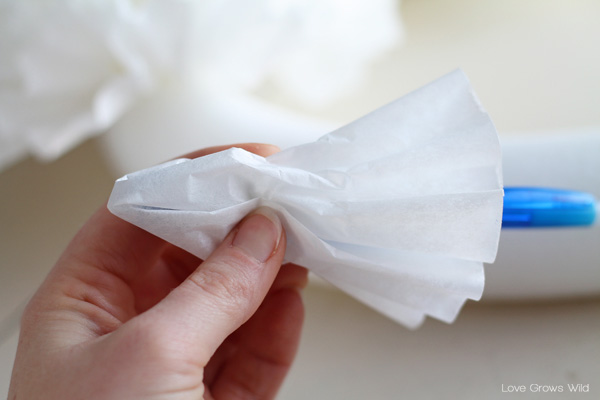 Then stick the tip of your pen into the foam wreath and pull out, leaving the coffee filter glued inside the wreath. That's it!
I started in the center and worked my way around, keeping the coffee filters pretty close together. I used almost 2 packages of filters for my 12″ wreath, which made it really full and beautiful.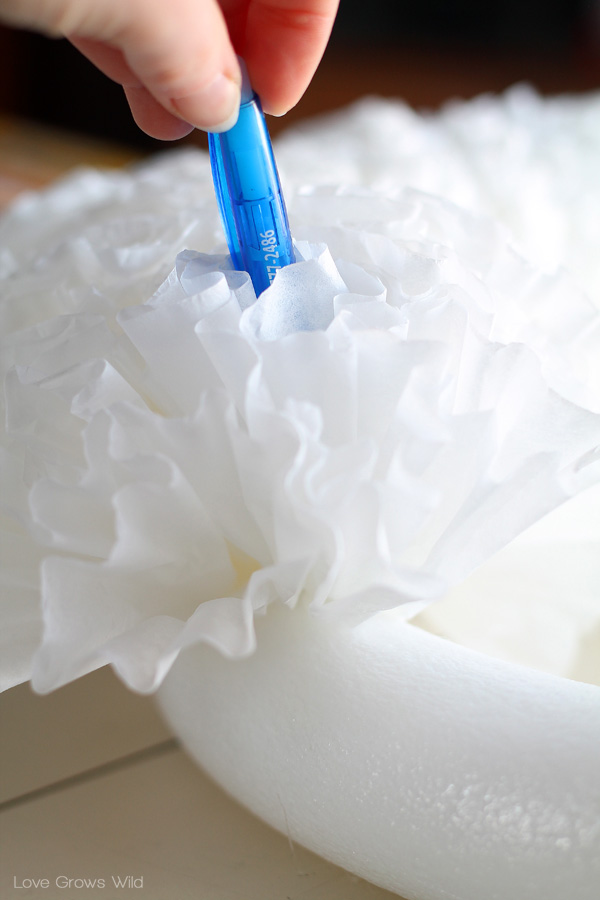 Once I had the entire front of the wreath covered in filters (the back will lay against the wall), I trimmed any uneven edges with scissors and hung it over the window with fishing wire. My poor husband wonders why his spool of fishing wire is always missing from the tackle box, but it is just so darn handy for hanging things like this "invisibly". You can't even see it!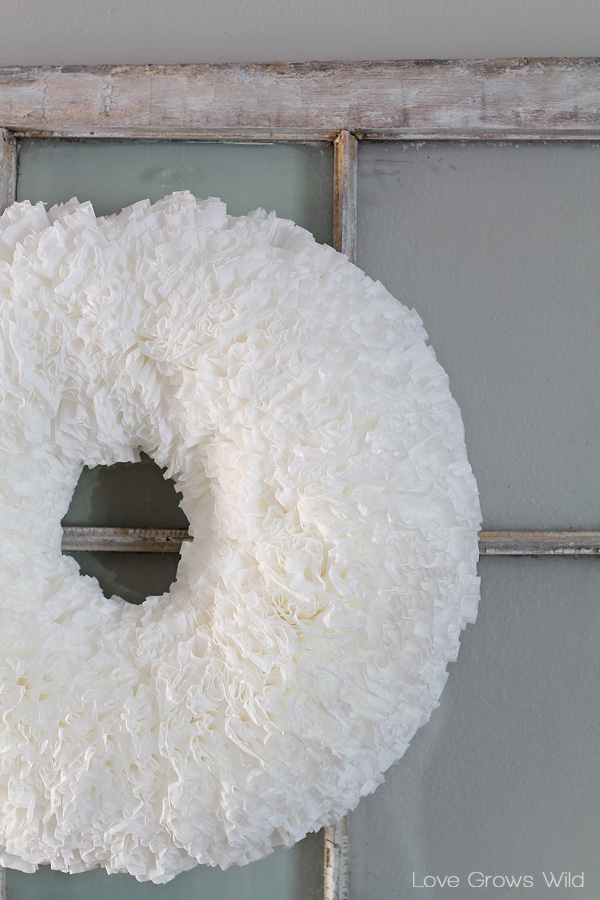 The texture and softness this wreath adds to our living room is incredible, and I absolutely love it against the rustic, chipped paint window frame. When my husband walked in the door and saw the wreath for the first time, his response was, "A little girly, ain't it?"
Why yes… yes it is. I'm entitled to have a tiny bit of girly-ness in this house full of boys! Am I right?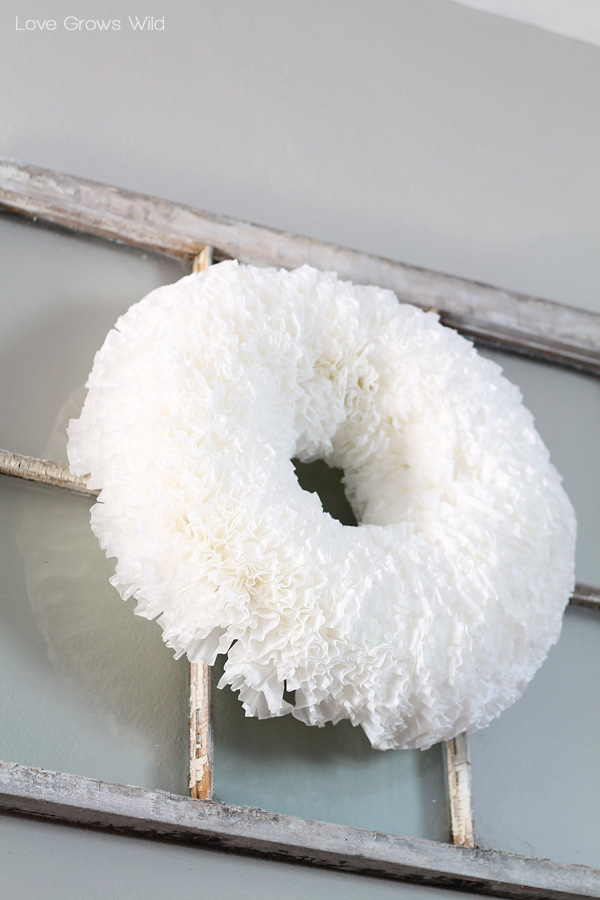 Ruffles for days…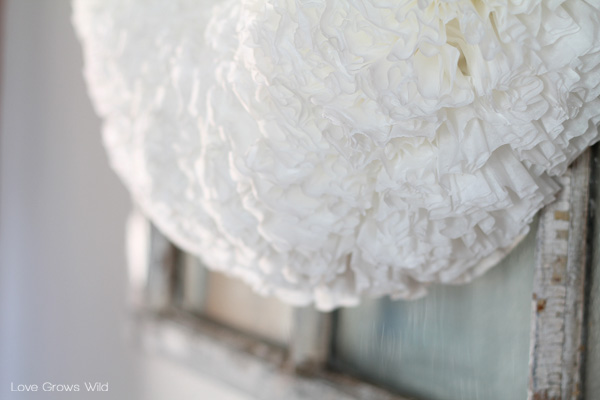 We hung the window frame and wreath on a wall in our living room between two big windows. We're so lucky to have lots of big, beautiful windows in this house, and I love all the sunlight we get! Remember my fabric-covered roller shades complete with a handmade tassel from awhile back… they're still there, and I still love 'em!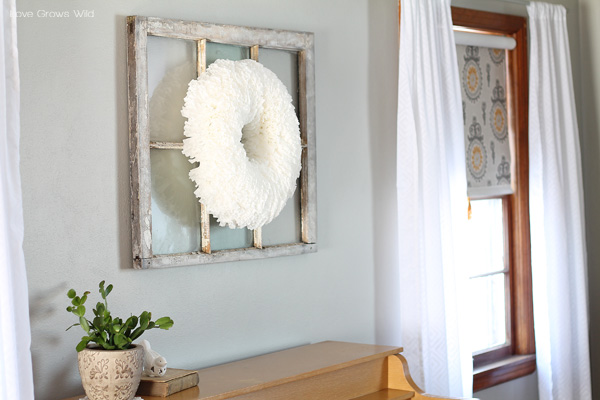 Want to know one of my least favorite parts of this old farm house? Baseboard heaters. I loathe them. They always get in the way. As you can see from the photo below, our piano isn't able to sit centered between the two windows because of the heater on the right, but we decided to go ahead and center the window frame anyway. I have a few decorating ideas in mind to make it all balanced and cohesive… stay tuned for more on that!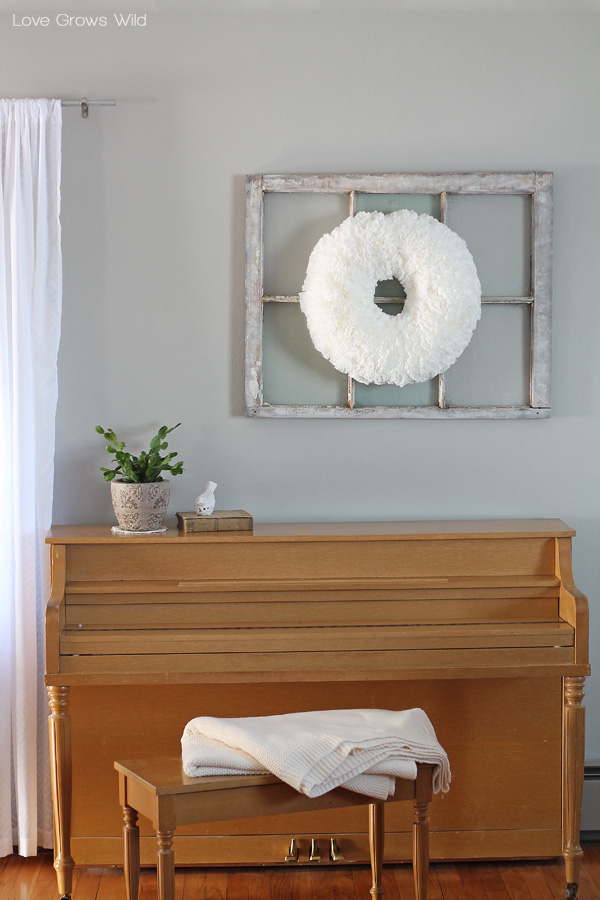 But for now, this pretty spring cactus my Mom gave me last Easter sits on the piano, along with a few vintage books. It's a freaking miracle I haven't killed this thing yet, so I thought it deserved a bit of face time on the old blog.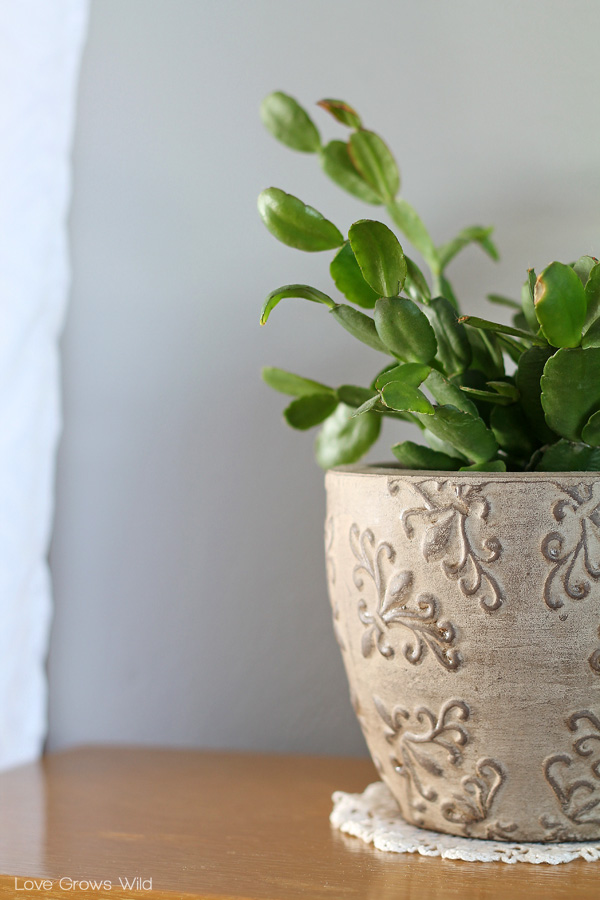 Now I know I'm not the first person to do a coffee filter wreath tutorial, and I'm sure I won't be the last, but this gorgeous, ruffled wreath has become one of my absolute favorite things in my home, and I just had to document it and share with you! I'm willing to bet it will be one of the easiest, most inexpensive projects you've ever done, and I have a feeling you're going to love it as much as I do!
Like what you see? Subscribe to Love Grows Wild so you'll never miss a post!
Follow along on Pinterest, Google+, Instagram, and Facebook for more fun!
More DIY home decor projects: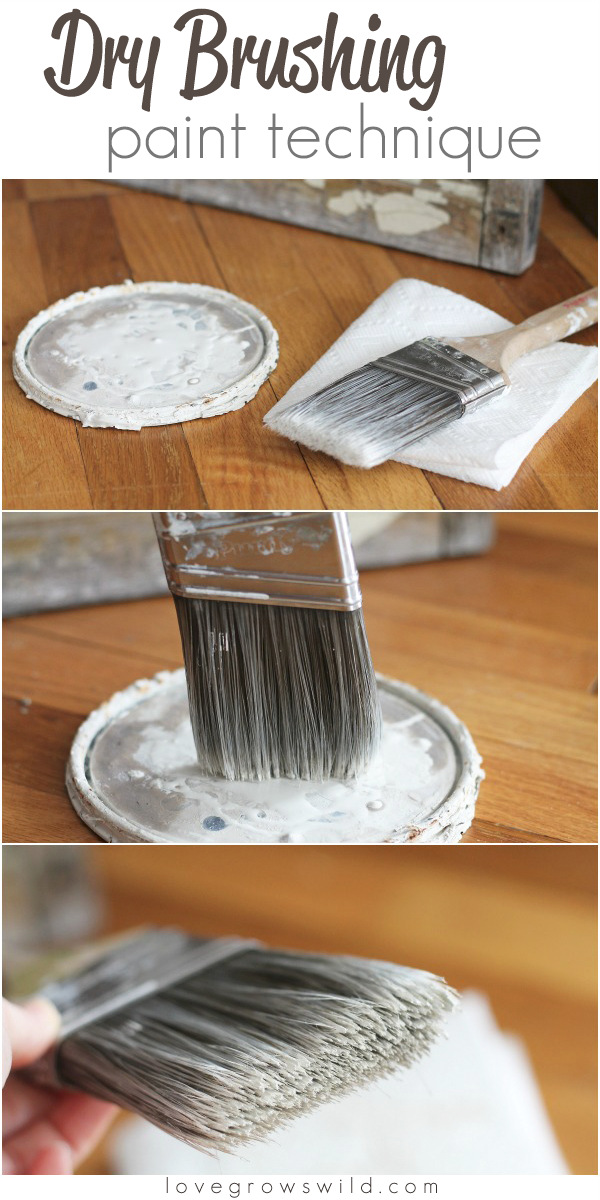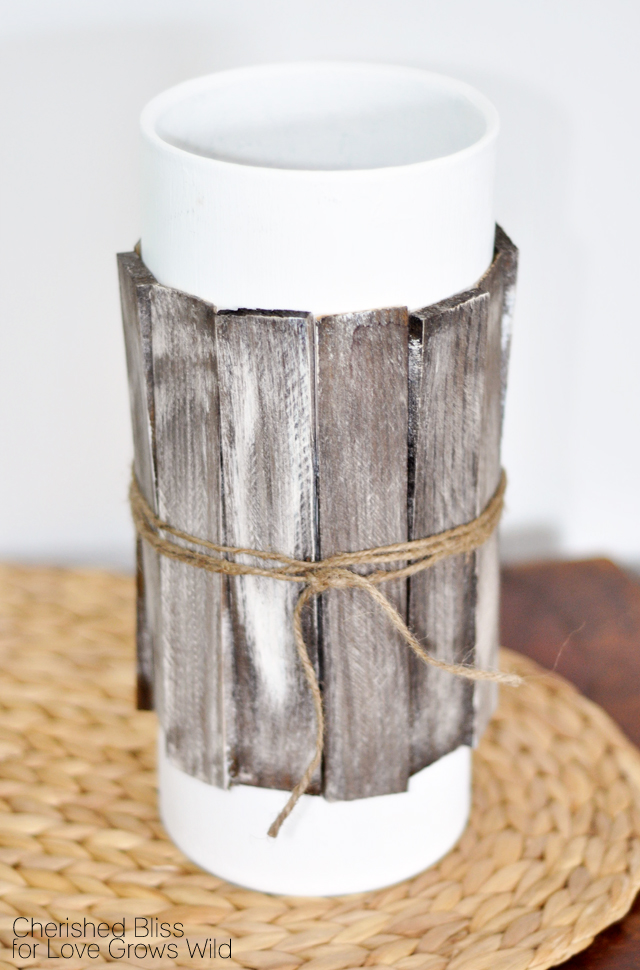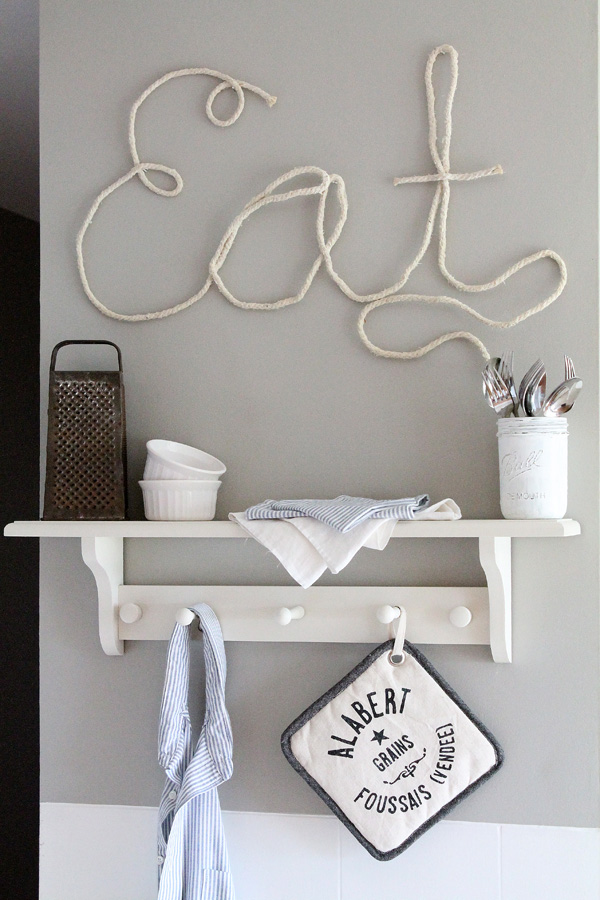 Let's Keep in Touch!
Subscribe to Blog | Browse my Shop | Follow on Facebook | Follow on Twitter
Follow on Google+ | Follow on Pinterest | Follow on Instagram