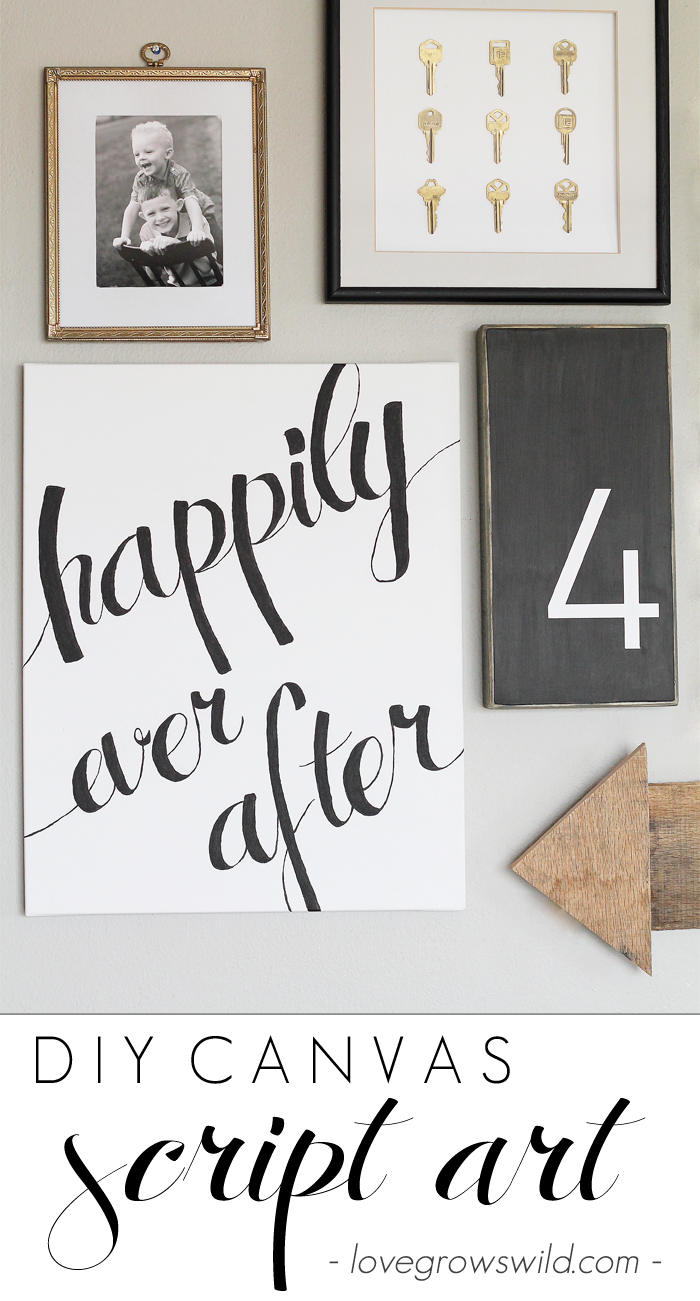 This is it, guys! The last project tutorial from my living room gallery wall!
If I had to choose a favorite piece from this display, even though I LOVE my pallet wood arrow, I'd have to say this DIY Canvas Script Art takes the cake. It's bold and girly and totally draws your eye, which is exactly what I wanted for the gallery wall. I just adore fancy black and white script art, and I found a way to easily re-create that look on canvas for a fraction of the price you see in stores!
P.S. If you haven't seen the full gallery wall yet, be sure to head over there after you're done here! Lots of home decor inspiration to check out!
Let's get started on the tutorial…
Supplies:
– canvas
– paint and brush
– pencil
– projector
I wanted this canvas art to be a big focal point on my gallery wall, so I used a large 20″ x 16″ canvas. The easiest way to transfer something onto a large surface is by using a projector.
For years, I've wanted to own one (so many cool DIY things you can do with them!), and this large script art was the final reason to go buy one. I was afraid to look how much a projector would cost me, but I was pleasantly surprised to find this EZ Tracer Art Projector*
for only $29.99 at Hobby Lobby. With a 40% off coupon, the projector was less than $18. I know I'll use it for more than just this project, so I went ahead and picked one up!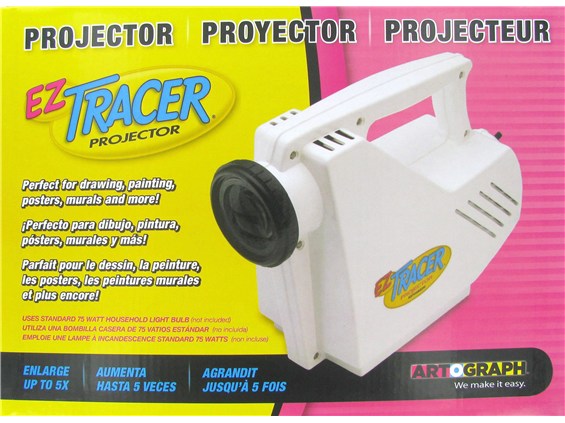 Tutorial:
1) Create the script art text on your computer and save it as a .jpg file.
Edited: or download mine by clicking here.
– I used the Antrokas font for mine. So pretty!
2) Resize your text to fit underneath the projector and print it from your computer.
3) Lean the canvas against a wall, set up your projector, and turn off the lights. It helps to be in a dark room! Once you get your text projected on the canvas where you like, trace around the letters with a pencil to get a basic outline.
– I printed my text small from the computer, so the projected image was fairly blurry. I was able to trace a basic outline of the letters and go back to fill in any blank areas later. Using the projector made this such a simple process!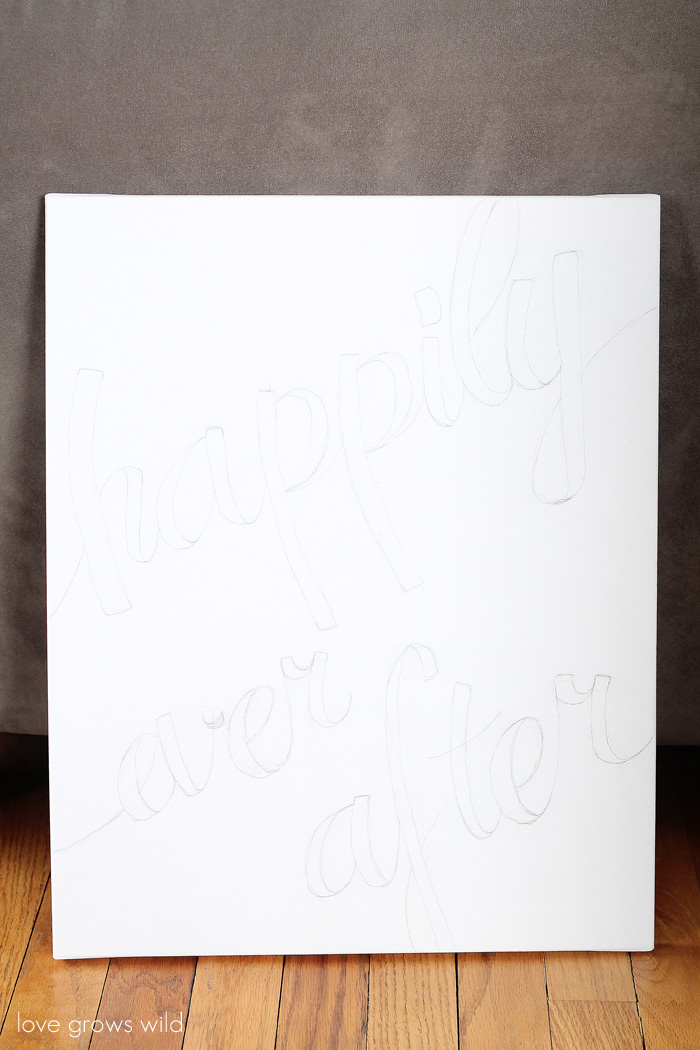 5) Use a small, fine-tipped paint brush to paint along the outline of the letters first. If you're worried about painting by hand, don't be! Just go slow and try to use even pressure.
6) Using a slightly larger paint brush, fill in the outlined areas with paint.
– You'll notice I ran the tops and bottoms of some letters off the canvas for a little added interest.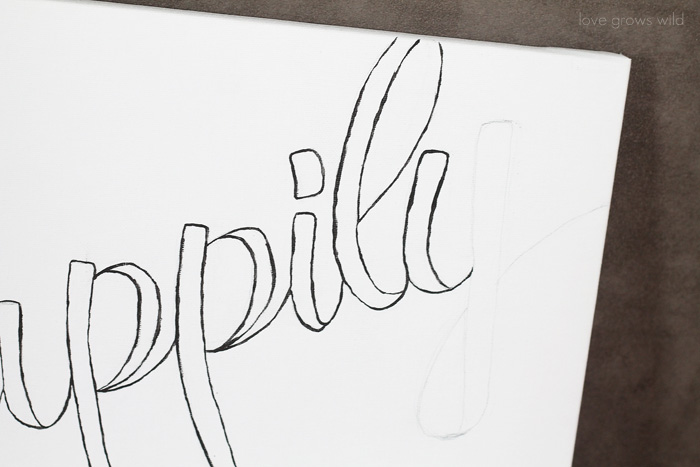 And that's it! Once the paint is dry, you can hang your new canvas script art up!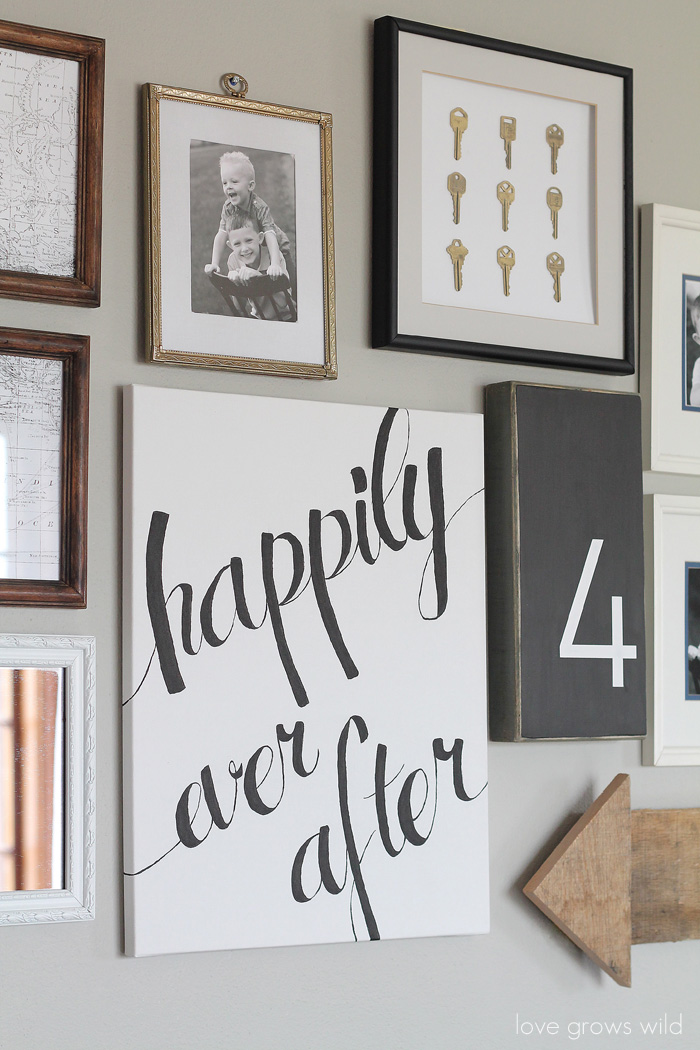 I'm complete smitten with the black and white contrast. And that font… amazing! See how I continued the letters around the sides of the canvas?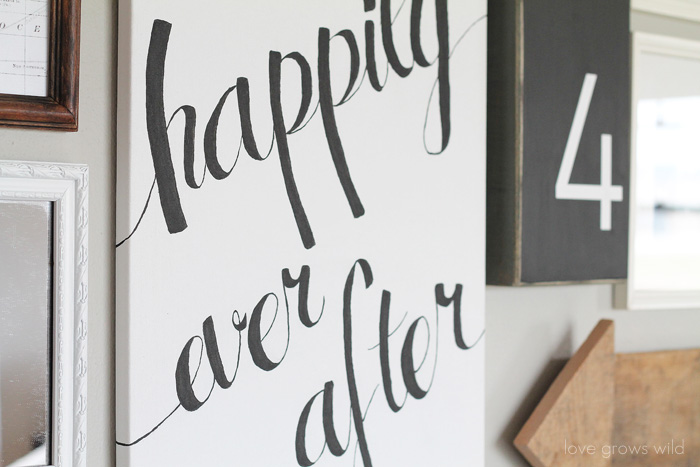 And here's how it looks with the rest of the gallery wall… complete with old maps, specimen art, a golden "F", and pictures of my little munchkins! What's your favorite part of the gallery wall?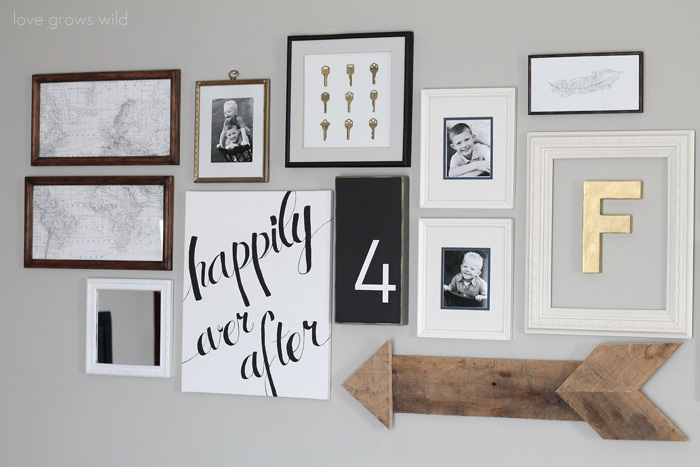 Though it was not at all planned, I love how the wood arrow points from a picture of my husband and I to the "happily ever after" sign. So cute, right? I wish I could take credit for thinking that far ahead, but it just happened to fall that way. 🙂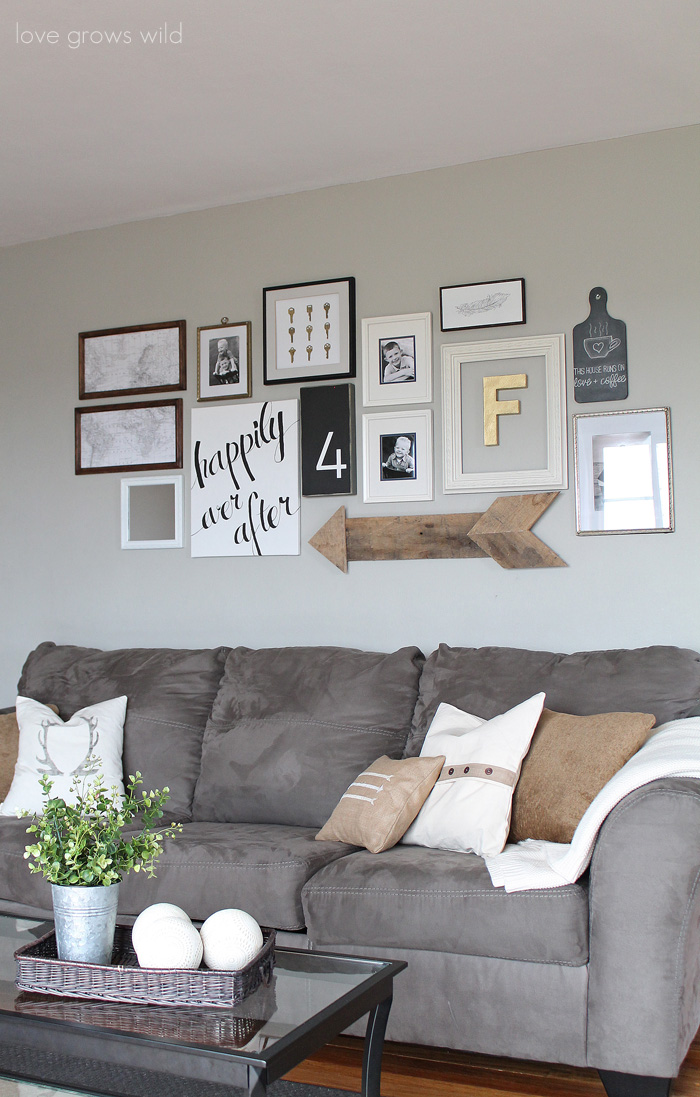 Tell me what you think! Do you love the black and white or are you more of a color person? To see all the project tutorials from our living room gallery wall, click the links below!
Living Room Gallery Wall
DIY Wood Pallet Arrow
Fabric Covered Frame Mats
Key Specimen Art
Like what you see? Subscribe to Love Grows Wild so you'll never miss a post!
Follow along on Pinterest, Google+, Instagram, and Facebook for more fun!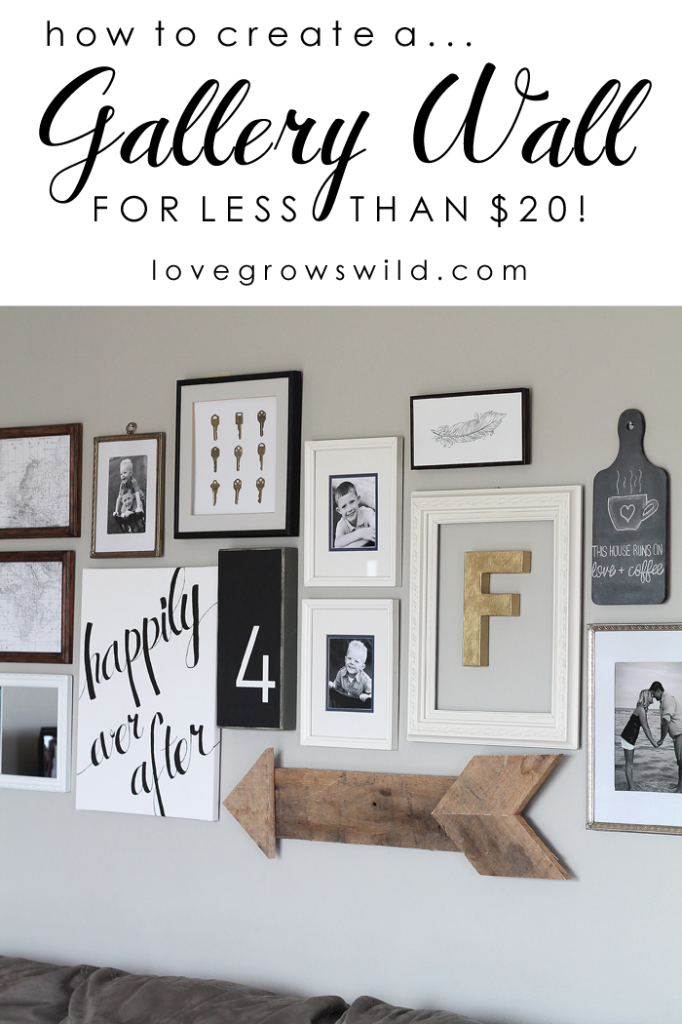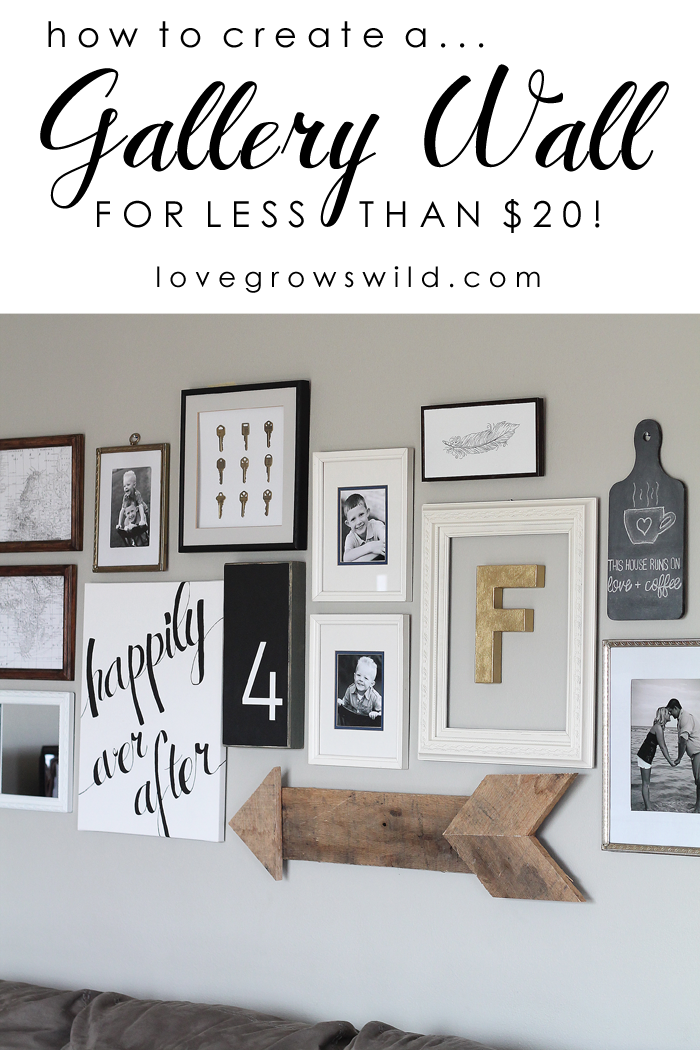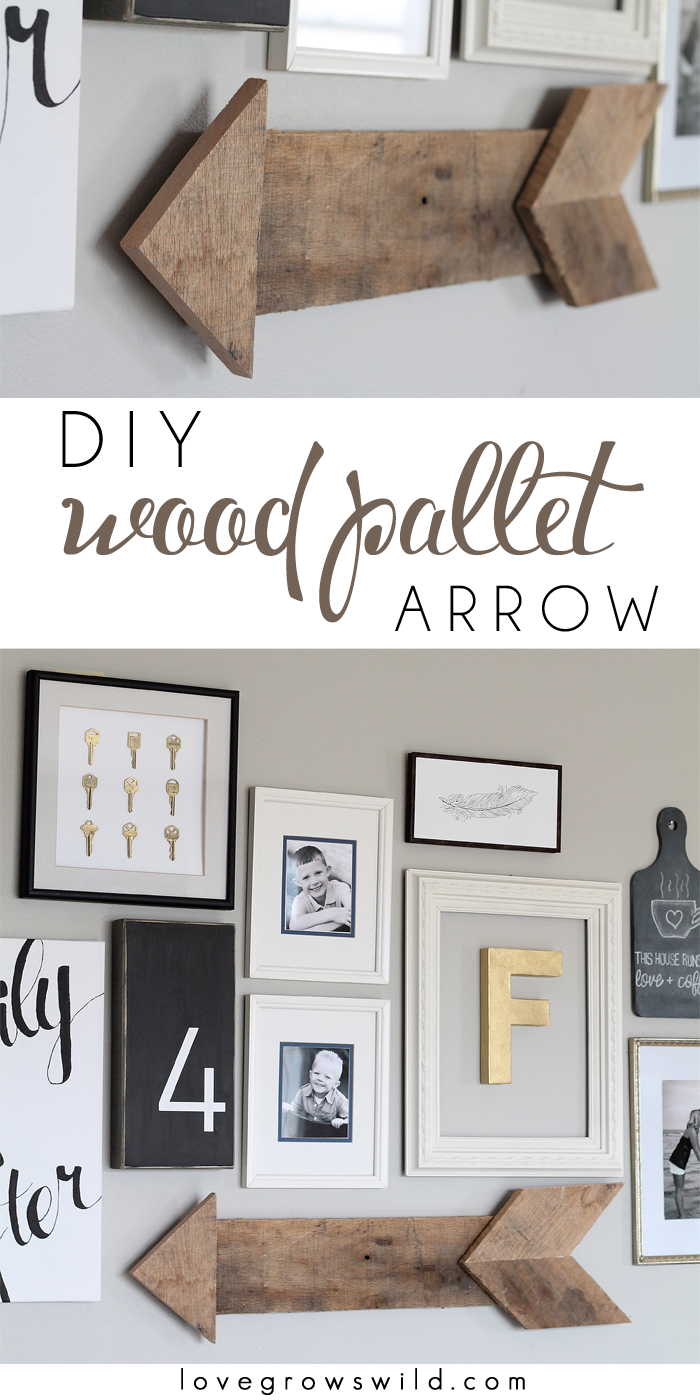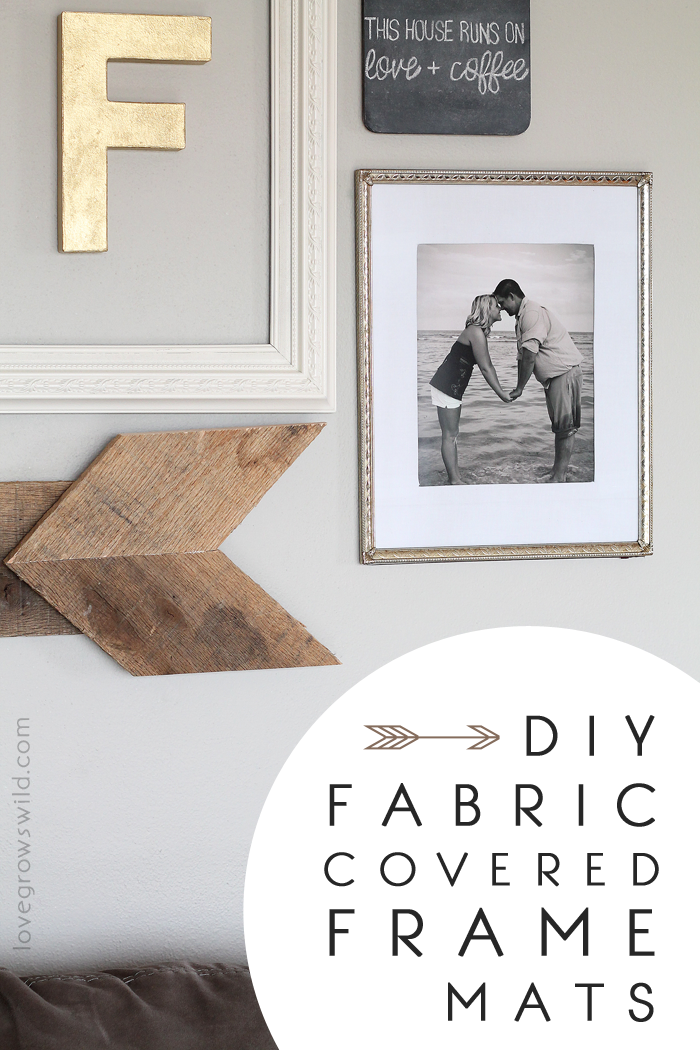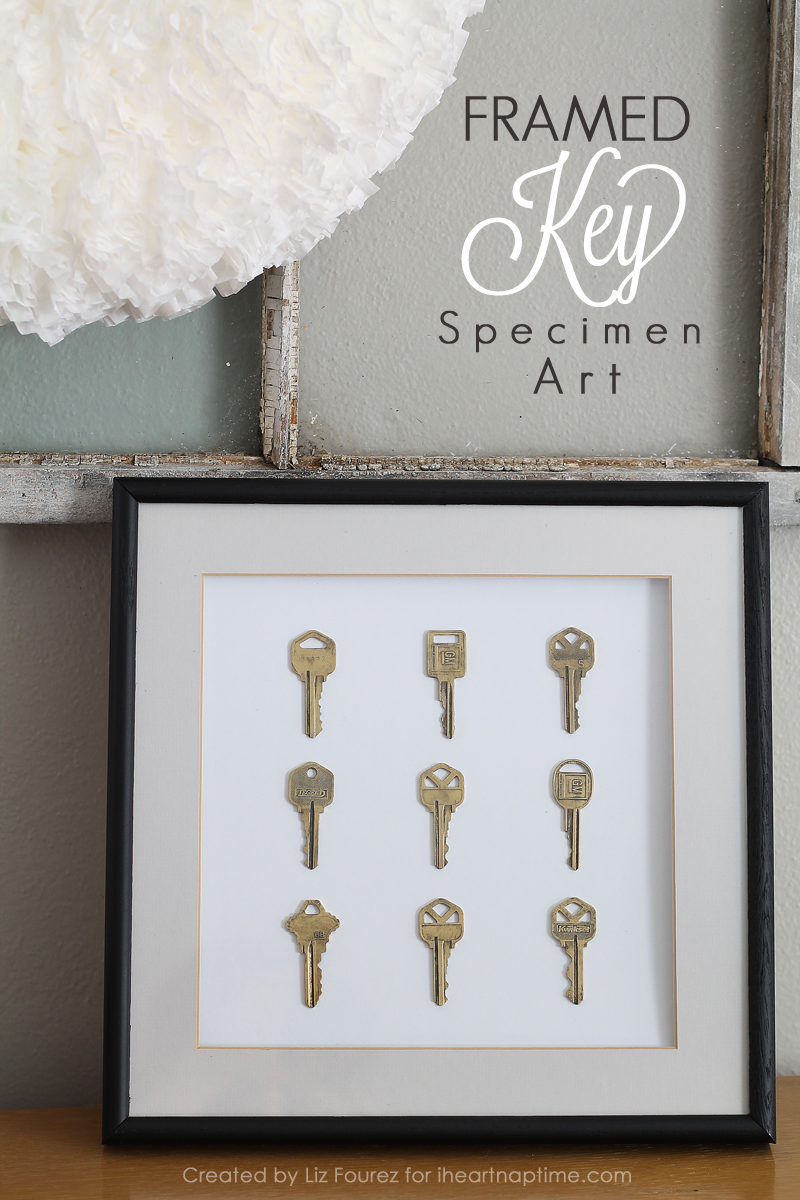 * There are Amazon affiliate links in this post.
LET'S KEEP IN TOUCH!
Subscribe to Blog | Browse my Shop | Follow on Facebook | Follow on Twitter
Follow on Google+ | Follow on Pinterest | Follow on Instagram