Apple Cinnamon Baked Oatmeal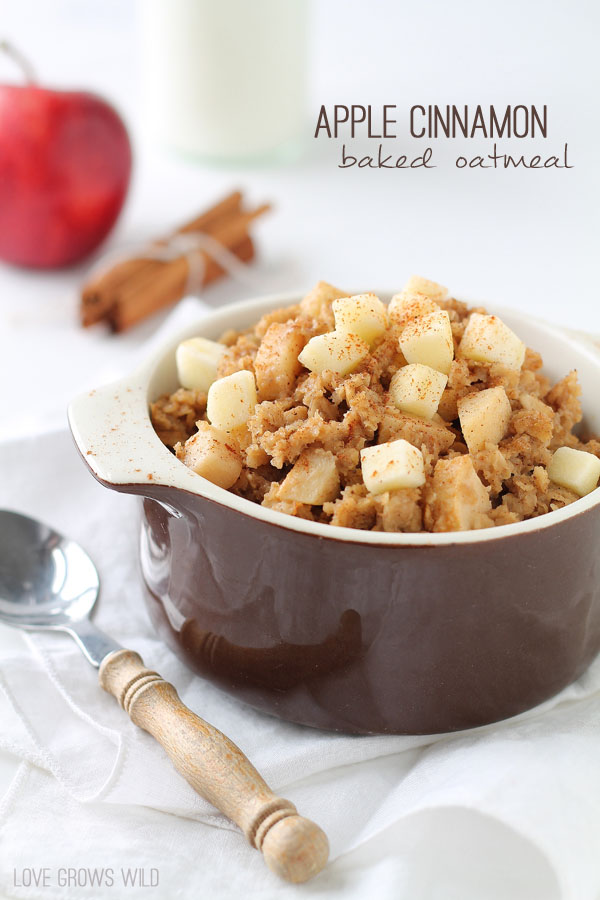 2 cups old-fashioned oats
⅓ cup light brown sugar
1 teaspoon baking powder
1 teaspoon ground cinnamon
½ teaspoon salt
2 cups almond milk (I used Silk Almondmilk Protein + Fiber)
1 large egg
3 tablespoons unsalted butter, melted
1½ teaspoons vanilla extract
1½ cups chopped apples (I used Gala)
Preheat oven to 350°F and grease an 8 x 8 inch baking dish.
In a large bowl, stir together the oats, brown sugar, baking powder, cinnamon, and salt.
In a separate bowl, whisk together the almond milk, egg, and vanilla. Slowly add melted butter, whisking constantly.
Pour milk mixture over the oat mixture and add apples. Stir until combined.
Pour oats into the prepared baking dish and bake uncovered for 35-40 minutes, until top is golden brown and oats have set. Remove from the oven and cool 5 minutes. Serve warm.
Recipe by
Love Grows Wild
at https://lovegrowswild.com/2014/03/apple-cinnamon-baked-oatmeal/