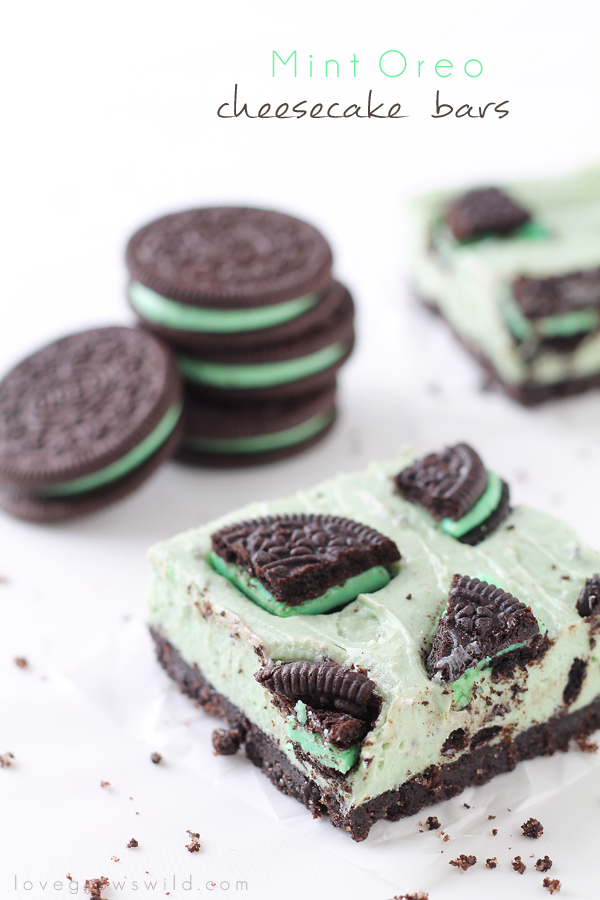 I don't know about you, but I've had some serious mint dessert cravings lately! With St. Patrick's Day just around the corner, I've been seeing all kinds of amazing mintlicious desserts floating around the blogosphere, and today I'm sharing my contribution to the mint craze: Mint Oreo Cheesecake Bars!
When I'm grocery shopping, I strategically plan to avoid the snack aisle at ALL costs. It's a dangerous place to go, my friends. It is already hard enough trying to resist adding bags of Cool Ranch Doritos to the cart, and then I get to the end of the aisle and a glorious display of Oreos sits before me, begging to jump into my cart too. Have you seen how many varieties of Oreos they have now? It's crazy! I definitely don't remember having all those fun flavors as a kid. I spend the next 10 minutes staring at the bags of Oreos, trying to convince myself that I don't NEED them, but gosh… they're just so yummy. It's better that I avoid that aisle all together so I don't end up with a pantry stocked full of Oreos and nothing else!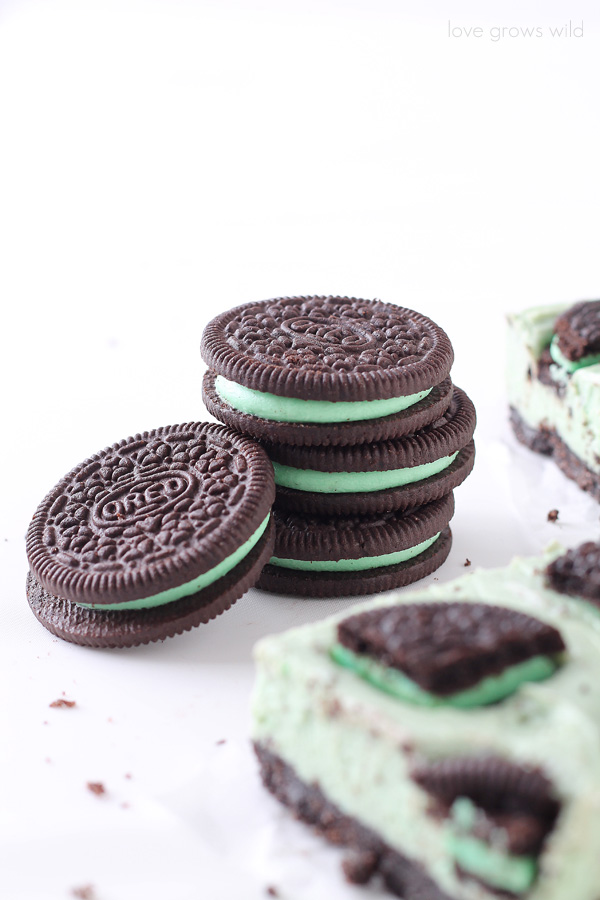 BUT, in honor of St. Patrick's Day, mint-chocolate desserts, and Oreo lovers everywhere, I broke down and bought a bag of beautiful, minty-green Oreos just so I could make these delicious cheesecake bars for you. I know… I totally earned a gold star today for this one! 😉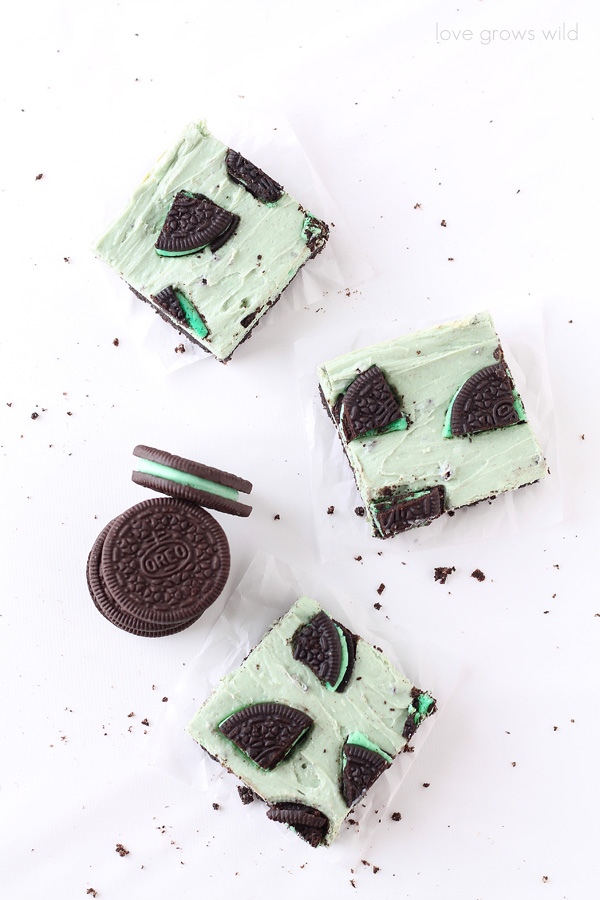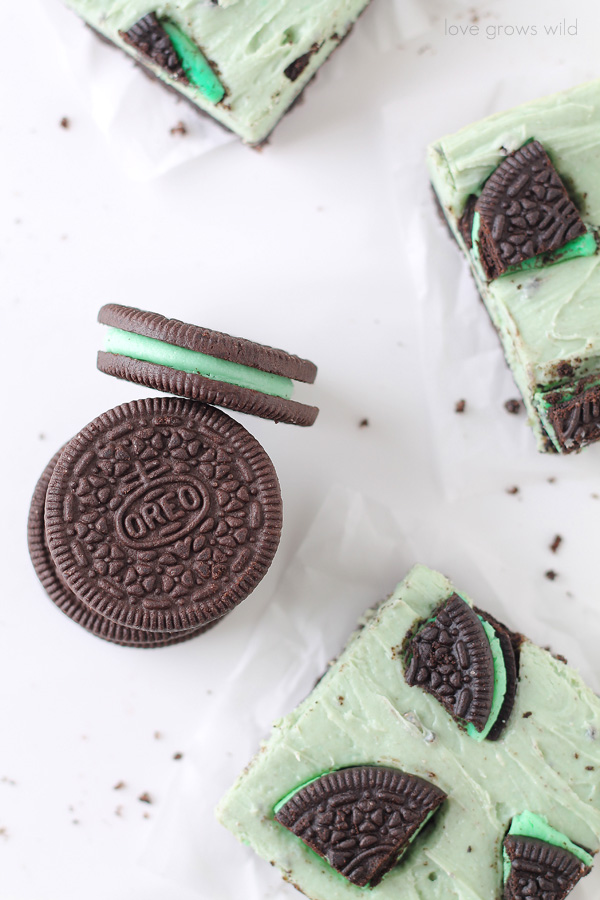 The recipe starts by separating the Oreo cookies and the mint filling into two bowls. The cookies get mixed with some butter and sugar to form an amazing Oreo crust, and the mint filling gets added to the cheesecake mixture that goes on top of the crust. A couple more Oreo pieces on top and about 15 minutes in the oven, and you have the perfect minty cheesecake to enjoy!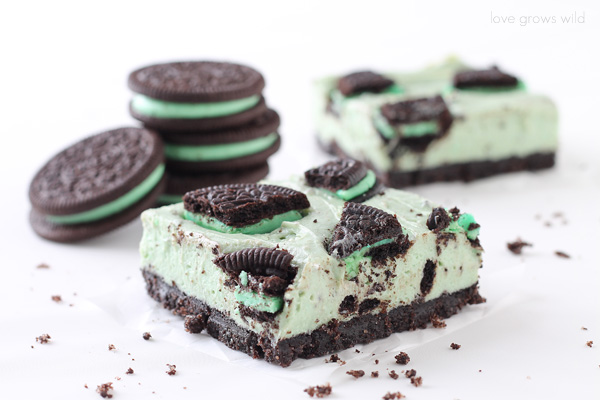 The cheesecake is sweet and creamy, and the Oreo-studded topping makes for a beautiful presentation. And that crust… OH, that crust! Let's just say that I'm very happy that bag of Oreos ended up in my shopping cart. Mint Oreos for the win!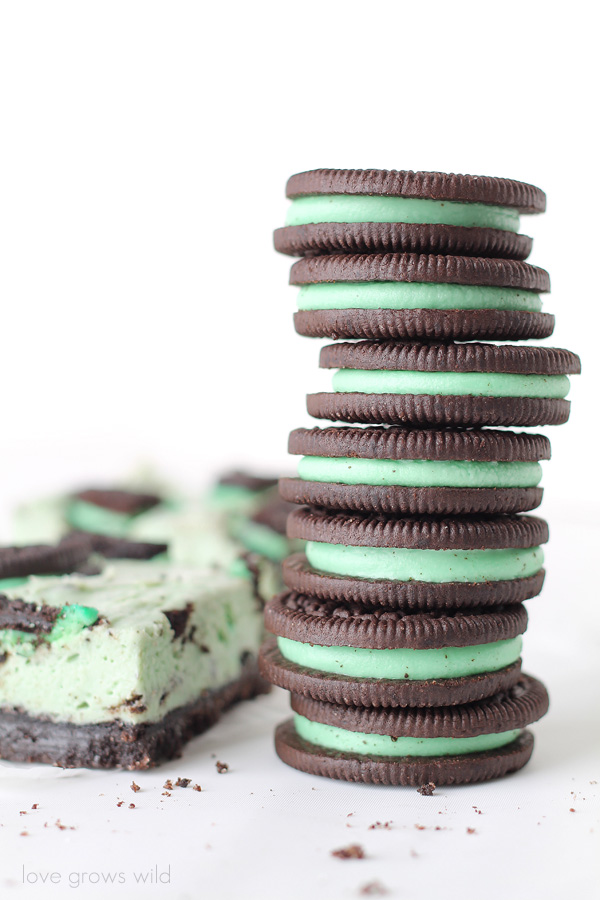 Like what you see? Subscribe to Love Grows Wild so you'll never miss a new recipe!
Follow along on Pinterest, Google+, Instagram, and Facebook for more fun!
Mint Oreo Cheesecake Bars
INGREDIENTS
crust layer:
16 Mint Oreo cookies
6 tablespoons butter, melted
⅓ cup sugar
cheesecake layer:
1 large egg
12 ounces cream cheese, softened
filling from 16 Mint Oreos
⅓ cup sugar
1 teaspoon vanilla
4.2 ounce box Jell-O Oreo Cookies 'N Cream Instant Pudding
8 Mint Oreos, cut into quarters
INSTRUCTIONS
Preheat oven to 350º F. Line an 8 × 8 inch pan with foil.
To make the crust layer: Pull apart 16 Mint Oreos and scrape the mint filling into a bowl and set aside. Add the Oreo cookies (without the filling) to a food processor and pulse until fine crumbs form. Add the sugar and pulse again to combine. Pour in melted butter and continue to pulse until mixture is fully combined. Press Oreo crust mixture evenly into the bottom of the prepared pan. Bake 12 minutes and set on a rack to cool.
To make the cheesecake layer: In a large bowl, whisk the egg until it is light and foamy. Add the softened cream cheese, reserved Mint Oreo filling, sugar, vanilla, and dry pudding mix. Blend with a hand mixer (or in a stand mixer) until smooth. Spread cheesecake layer over the Oreo crust and gently press the quartered Mint Oreo pieces into the top of the cheesecake. Bake 15-20 minutes until the cheesecake layer is set. Allow to cool completely before cutting into bars. Store in refrigerator.
NOTES
- You can also use regular vanilla pudding if you can't find the Oreo Cookies N' Creme flavor.
– Adapted from Creme de la Crumb
More desserts from Love Grows Wild: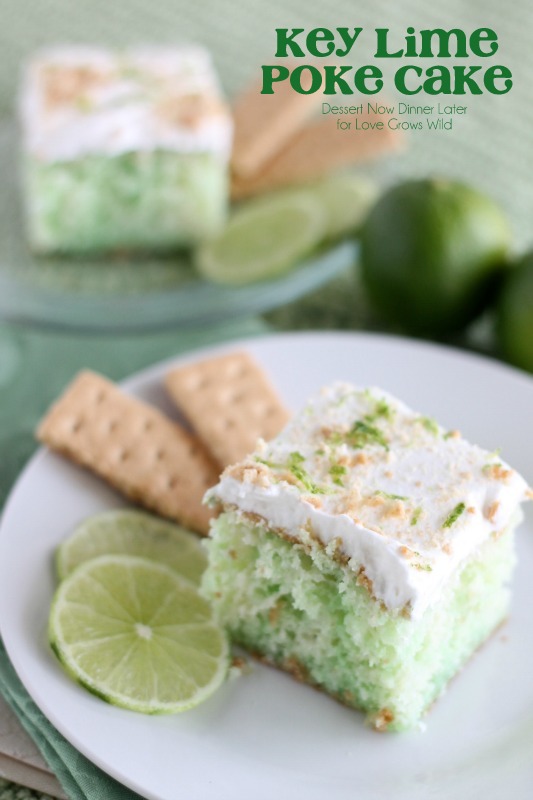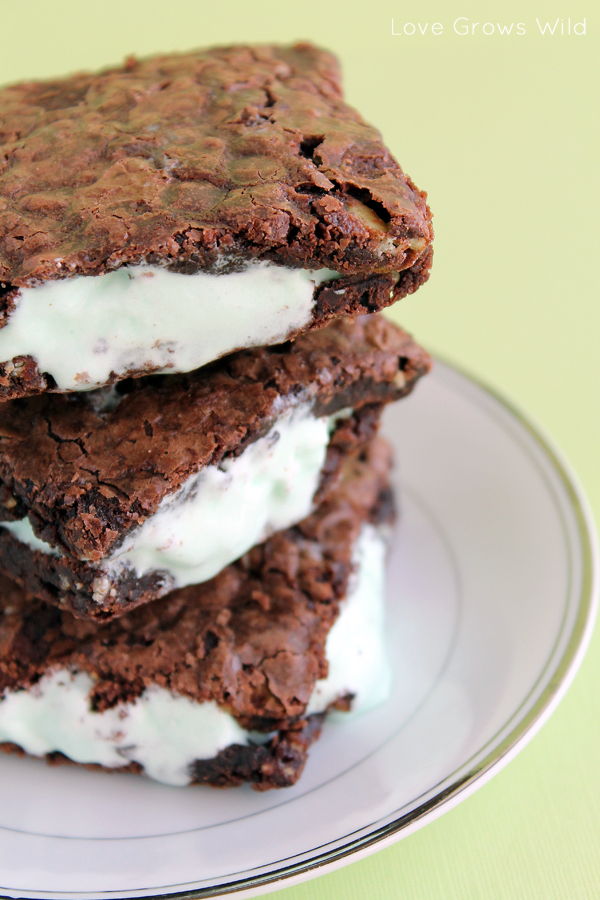 Brownie Double Mint Ice Cream Sandwiches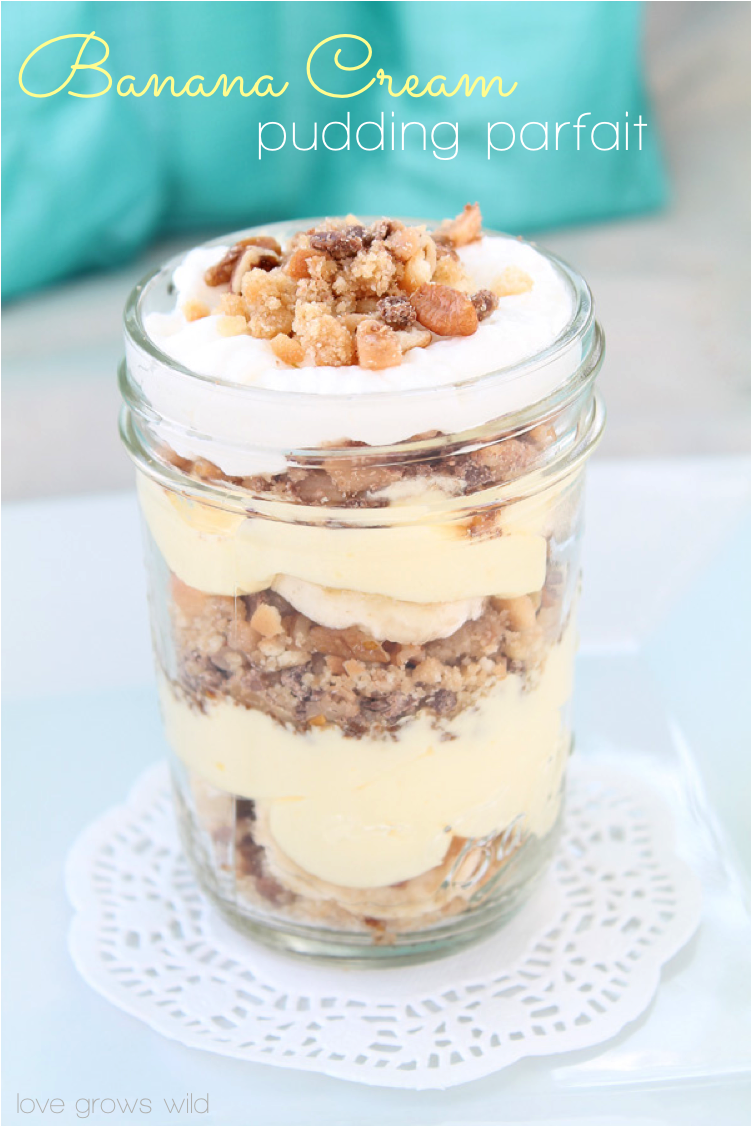 LET'S KEEP IN TOUCH!
Subscribe to Blog | Browse my Shop | Follow on Facebook | Follow on Twitter
Follow on Google+ | Follow on Pinterest | Follow on Instagram