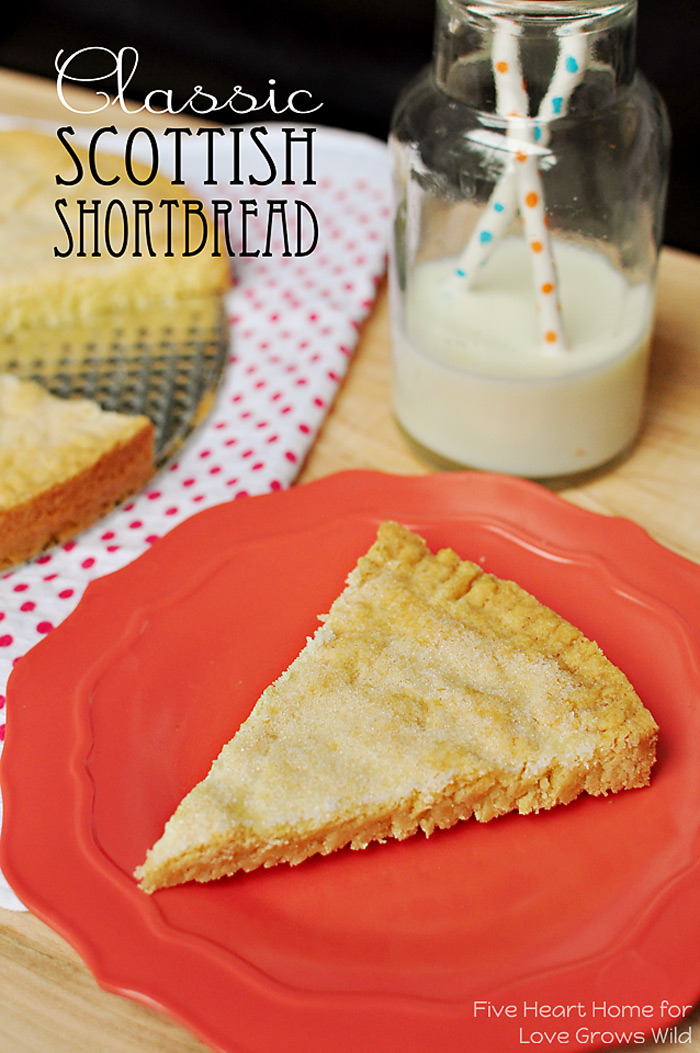 Simple ingredients yield rich, buttery cookies in this effortless recipe that's oven-ready in less than five minutes!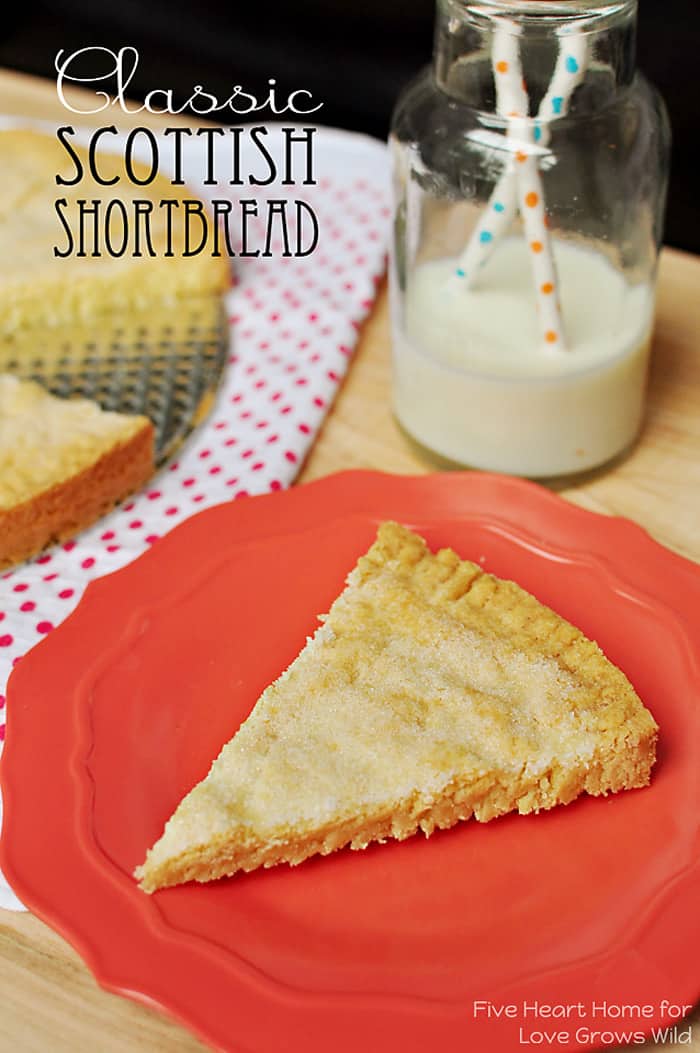 Hello again, friends…and happy March! It's Samantha from Five Heart Home and I'm excited (as always!) to be back today with a yummy, classic treat that is unbelievably quick and easy to whip up. So who likes shortbread?
Seriously, can a recipe get any simpler than butter, flour, sugar, and salt? I am always amazed at how delicious the results can be from combining such basic ingredients. Now…I am a chocoholic through and through. But if you were to offer me a gooey, fudgy brownie alongside a piece of rich, buttery, crumbly, sugar-coated shortbread, I would probably choose the latter! And then I would eat the brownie. 😉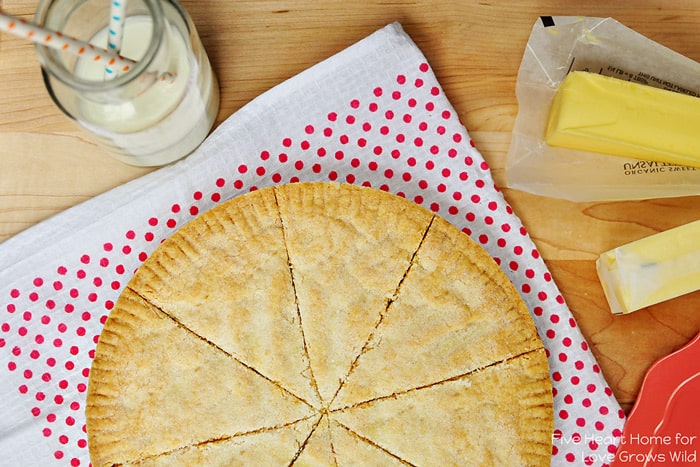 Brownies aside, I really do love me some shortbread. And while there are a few pretty tasty brands to be found at the store, they come in fairly small boxes and they can be rather pricey. But guess what? That need no longer be an obstacle to you eating as much shortbread as your little butter- and sugar-loving heart desires. Because today I'm going to show you how to have a pan of fresh, homemade shortbread popped into the oven in less than five minutes…no lie!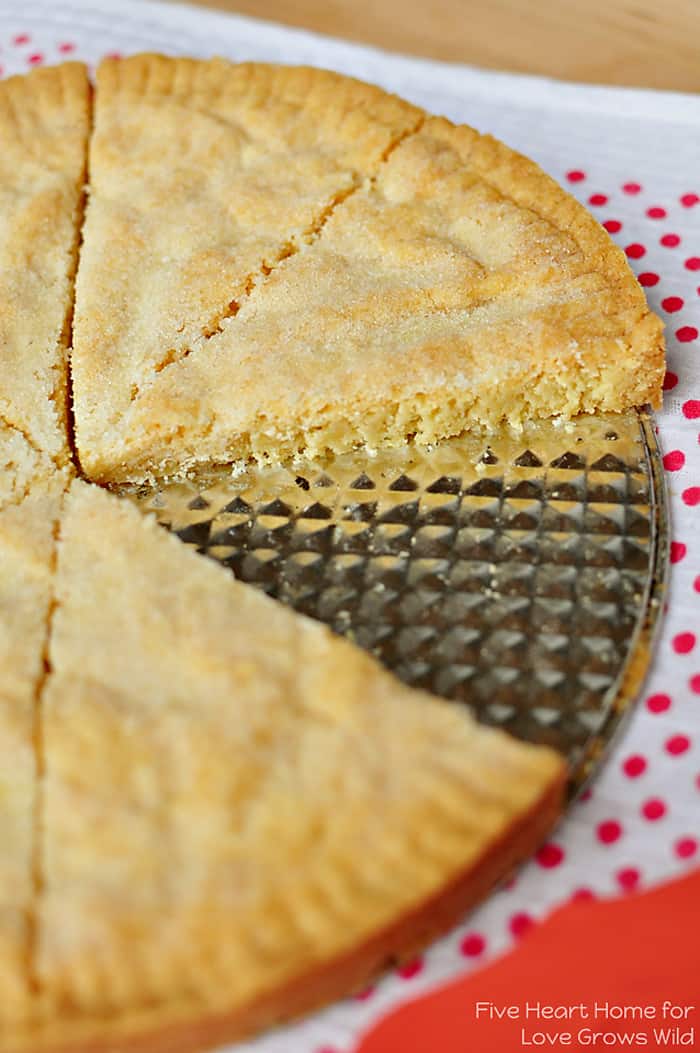 In the past, I have always made my shortbread by cutting my butter into my dry ingredients by hand, either with a fork or pastry blender. But it recently occurred to me that as much as I love using my handy-dandy food processor to make pie crust and other doughs, why wouldn't it also work for shortbread? And sure enough, it was so easy. Plop the ingredients in the food processor, pulse a few times, dump out, form into a ball, press into a pan, and into the oven she goes!
There's only one problem with all of that. As effortless as this shortbread is to make, and as much as I enjoy eating it, having this recipe in my arsenal is downright dangerous. After all…Butter + Sugar = Samantha's Kryptonite
(Incidentally, queso and margaritas are also my kryptonite, but on an entirely different night of the week.) 😉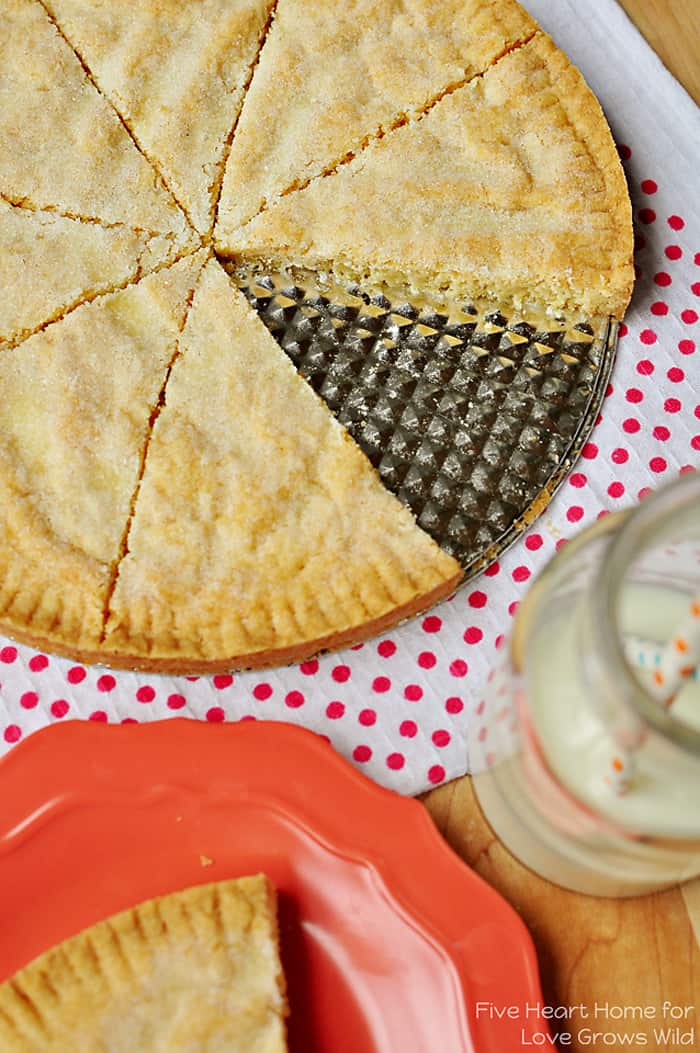 On the plus side, however, since I can't safely keep this shortbread in my house without ingesting all of it myself, it does make for a quick, homemade treat to give away. I mean, who wouldn't love receiving a pan of this goodness?
So whether you have plans to devour the entire pan yourself, share it with your family, or pawn it off on your friends, I think you will love how easy this Classic Scottish Shortbread is to make…not to mention this rich, delicious simplicity of how it tastes. Enjoy!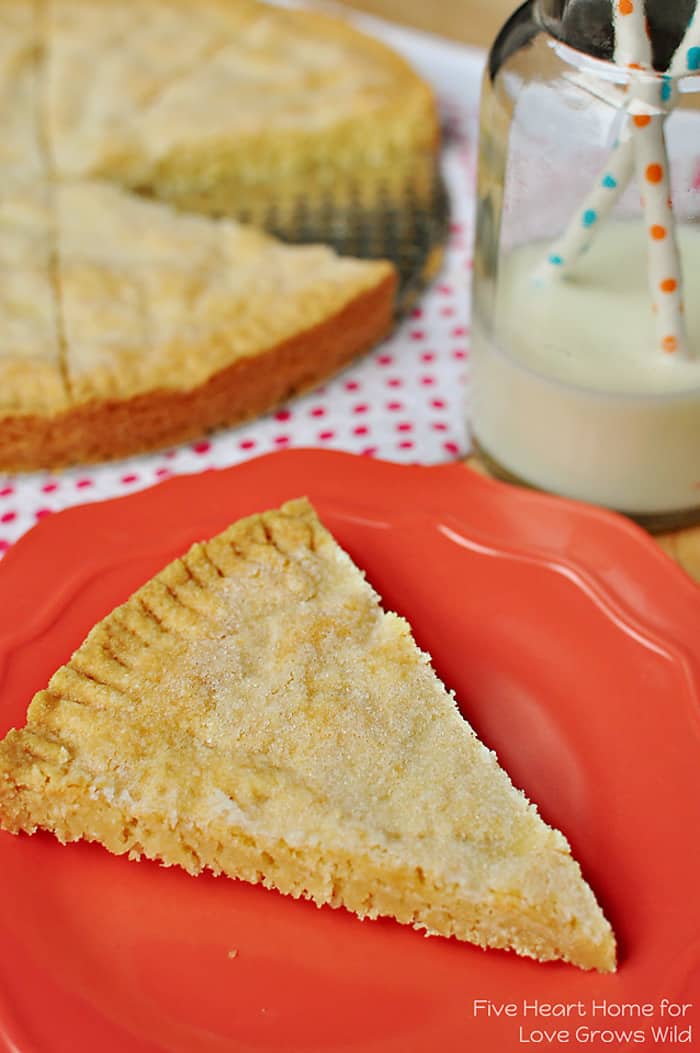 Classic Scottish Shortbread
Simple ingredients yield rich, buttery cookies in this effortless recipe that's oven-ready in less than five minutes!
Author:
Samantha of Five Heart Home
INGREDIENTS
1½ cups all-purpose flour
¼ cup + 1 tablespoon granulated sugar, divided
¼ cup powdered sugar
¼ teaspoon salt
¾ cup (1½ sticks) unsalted butter, sliced and softened
INSTRUCTIONS
Preheat oven to 325°F.
Measure flour, ¼ cup granulated sugar, powdered sugar, and salt into the bowl of a large food processor. Pulse until blended. Add butter and pulse in long pulses until the mixture resembles coarse sand.
Pour the mixture onto a lightly floured board and, with floured hands, gently form it into a ball. Press dough into the bottom of an ungreased 9-inch baking pan with a removable bottom, or a 9-inch springform pan. Use the tines of a fork to make impressions around the border of the dough, and then evenly prick the surface. Sprinkle with the remaining 1 tablespoon of sugar.
Bake for 35 to 40 minutes or until pale golden brown with a firm center. Remove from the oven and cut into 8 to 12 wedges with a sharp knife. Allow to cool completely before removing sides of pan and lifting out cookies. Store in an airtight container.
NOTES
- If you don't have a food processor, you can easily make this recipe by hand by whisking the dry ingredients together in a large bowl and then cutting in the softened butter using a fork or pastry cutter until mixture is very crumbly with no large particles remaining. From there, follow the rest of the above recipe.
I hope you'll pop over to visit me at Five Heart Home! Here are a few things I've been up to lately…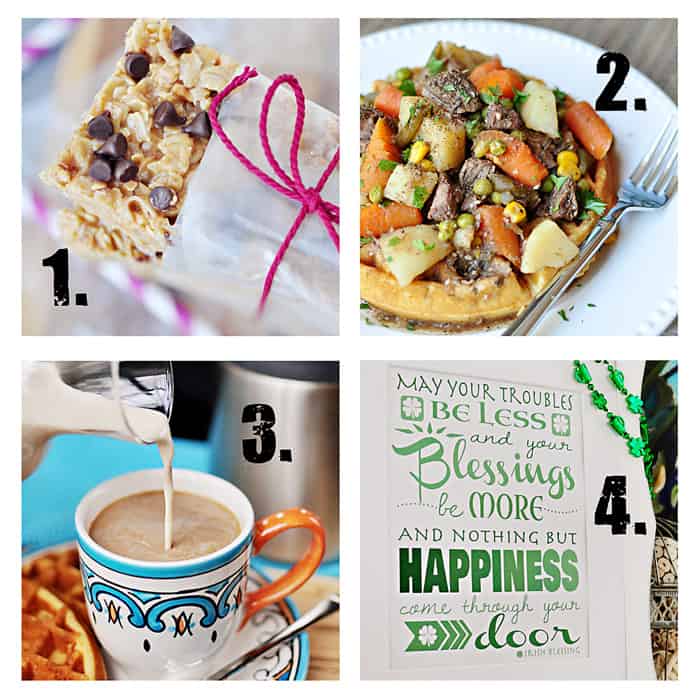 1. Chewy No-Bake Granola Bars with Coconut Oil
2. Slow Cooker Balsamic & Herb Beef Stew with Cornbread Waffles
3. All-Natural & Homemade: Vanilla Coffee Creamer (with 4 real food ingredients)
4. St. Patrick's Day Free Printable ~ Irish Blessing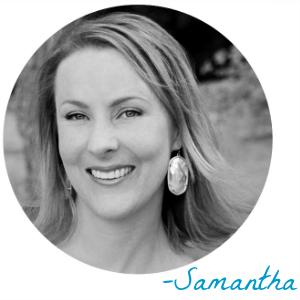 Connect with Samantha:
Let's Keep In Touch!