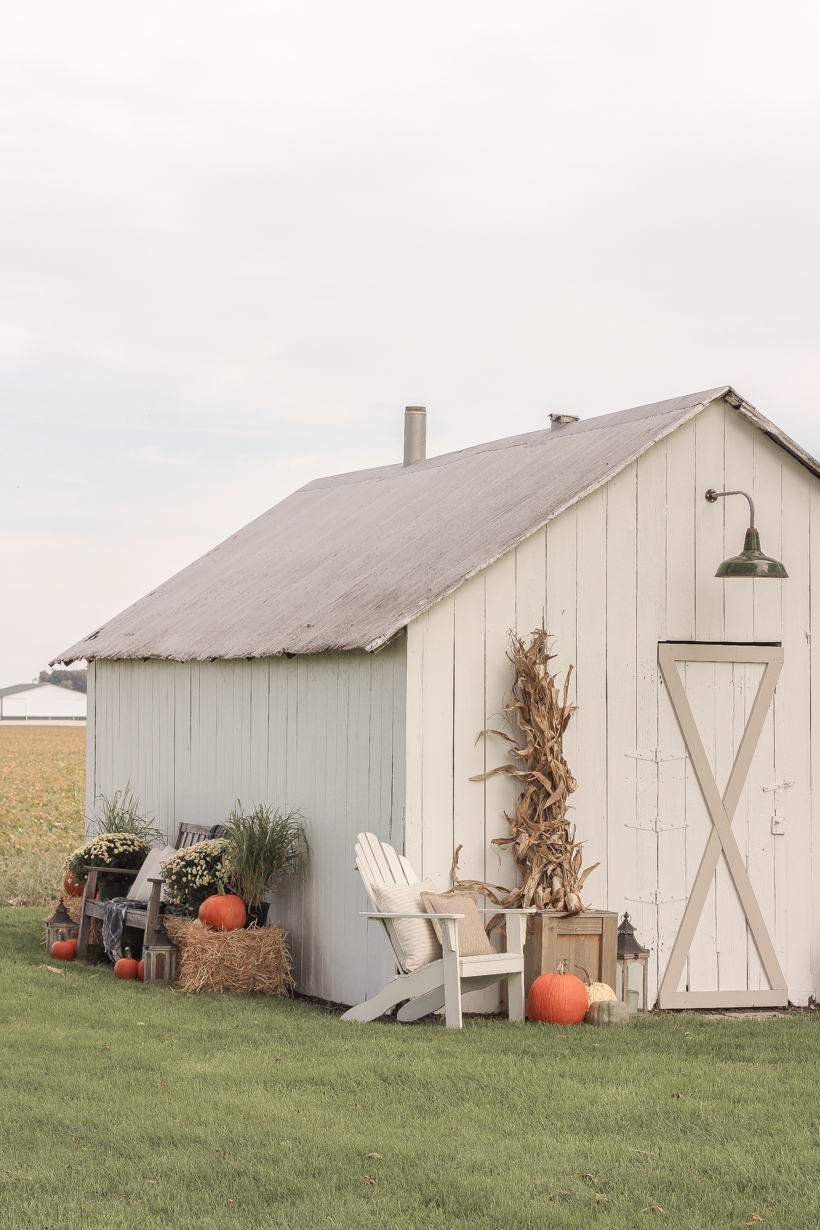 Guys, I had to. I had to! Ever since I gave this little barn/shed in my backyard a makeover last summer, I've wanted to dress it up for a holiday or season. And when I drove by a local farmer's market this week and saw tons of huge mums and pumpkins still waiting to be scooped up and loved, I just couldn't help myself.
I filled my car to the brim with the biggest mums I could find, a dozen pumpkins of all shapes and sizes, corn stalks, and some tall fountain grass. I used a little wagon to haul everything to the backyard and got to work creating the cutest little barn all decorated for fall. This project wasn't done out of necessity, but strictly for pure creative enjoyment, and I'm so glad I took advantage of the beautiful weather we've had well into October to play around and refill my creative cup.
Welcome to my backyard, friends…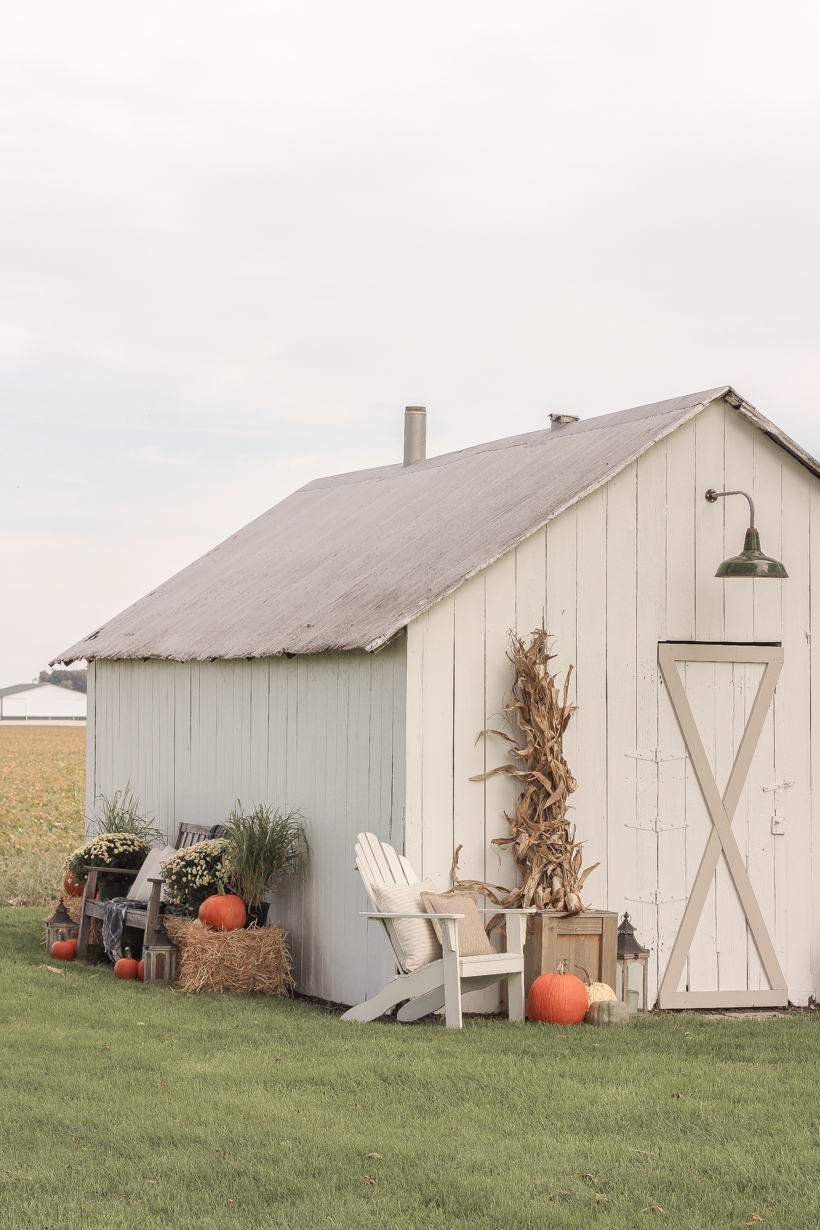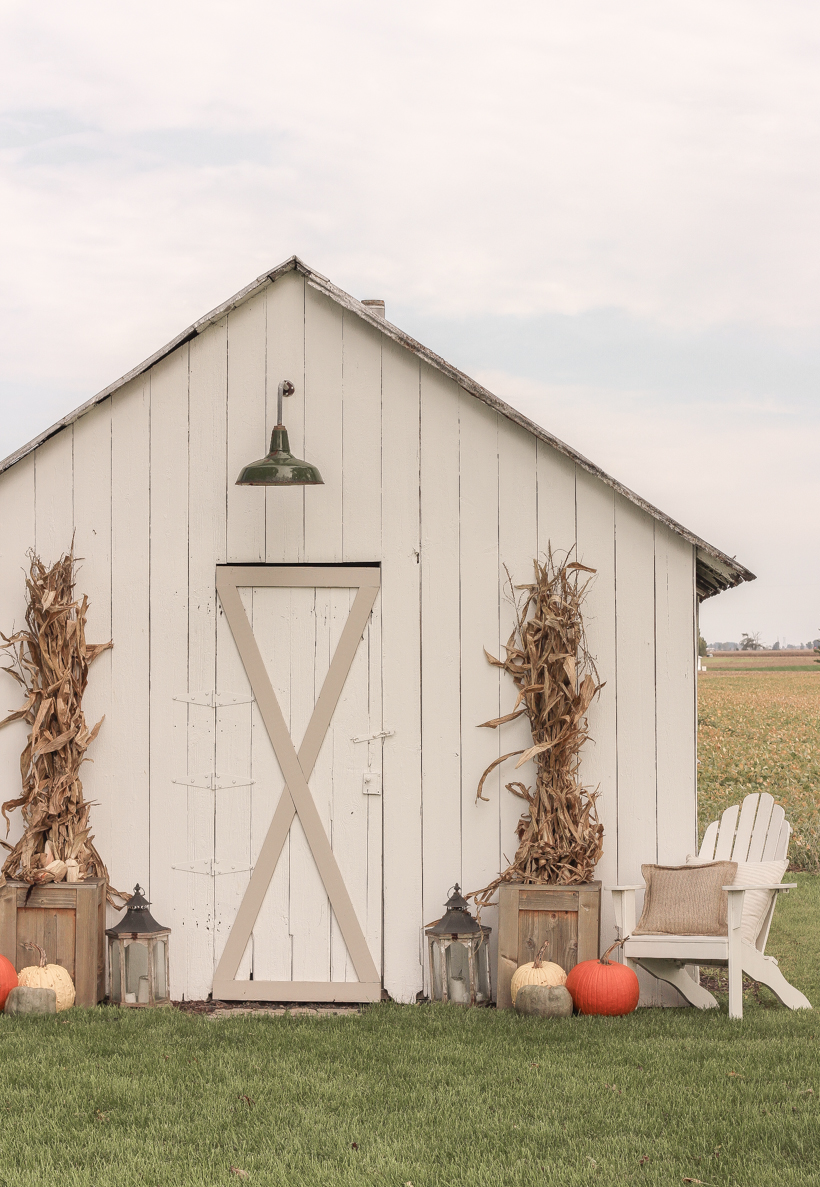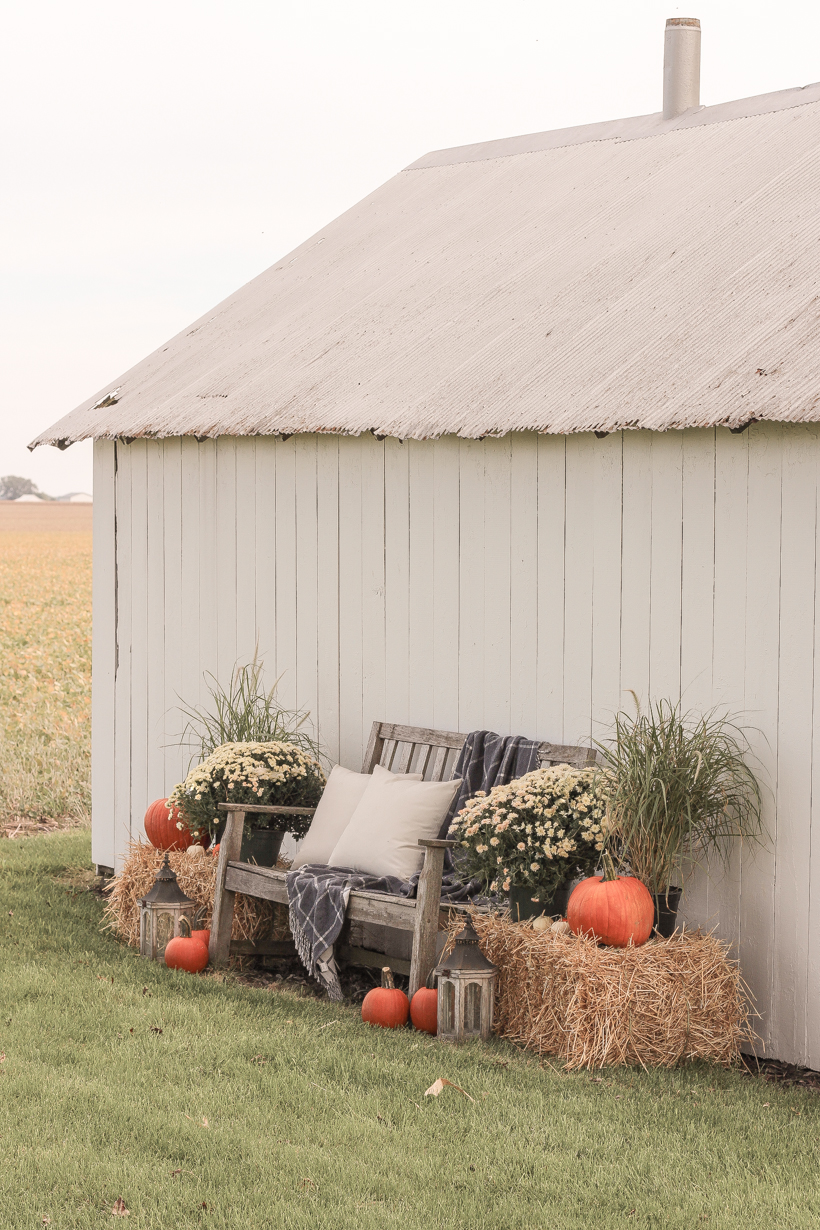 Normally I really try not to splurge on an excessive amount of mums and pumpkins that are eventually going to just die and decompose. As much as I love decorating for the season, it feels a little wasteful. Do you ever feel that way? Maybe one day I'll stretch myself and try to grow some pumpkins that I can use to decorate with each year, but until then I like to find small local farmers, produce stands, or markets to buy them from.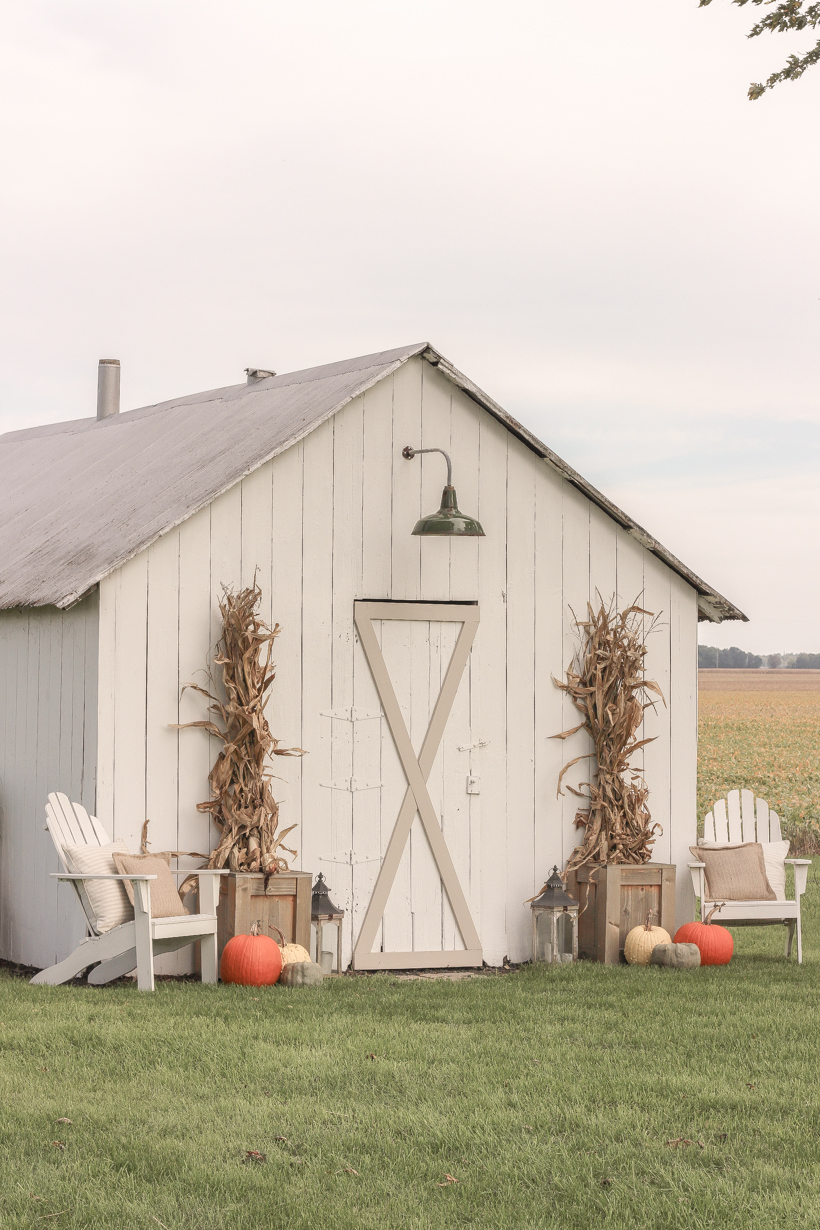 The inspiration for this whole barn setup actually came from my oldest son, Alec, who spent his summer and hard earned money this year to start a straw baling business with one of his buddies. I was so stinking proud of their entrepreneurship and hard work and wanted to buy a couple bales from them to decorate with this fall. My front porch that I shared here is way too small for any straw bales, but this little barn in my backyard was just calling for them.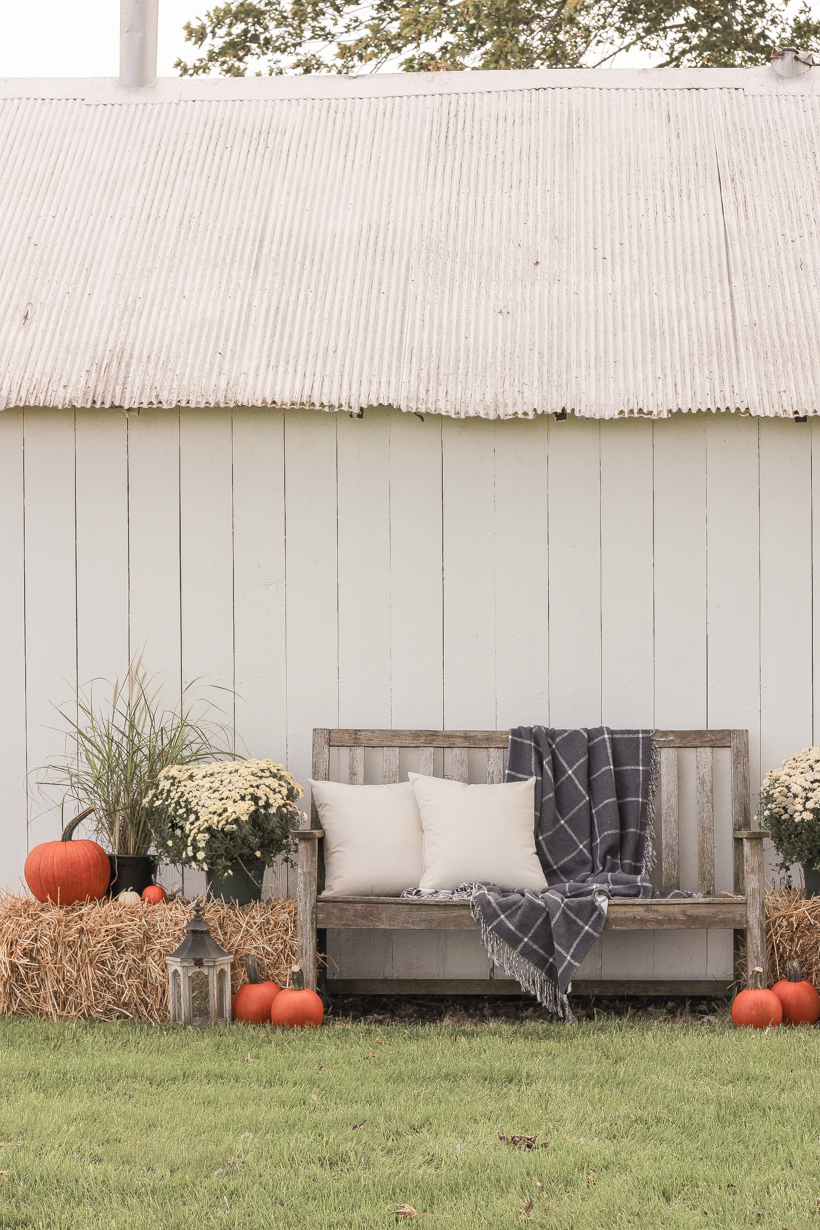 This fall display was really simple to put together, and I have a few tips to make your outdoor fall decorating a little easier this year:
Look for pumpkins in various shapes, colors, and sizes to add interest. I like finding ones with interesting curvy stems myself.
As soon as you bring your pumpkins home, scrub them with a bleach cleaning solution to help keep them last longer before beginning to deteriorate.
Frequently remove any dead blooms from your mums and keep them well watered throughout the season.
Try to use varying heights in your displays. Set some mums and pumpkins up on straw bales, a bench or stool, etc. to get some of them up off the ground. Add extra height with corn stalks or tall fall grasses.
Add a little softness and pattern with a rug, blanket, or throw pillows if you can.
Lanterns and candles instantly set a fall mood!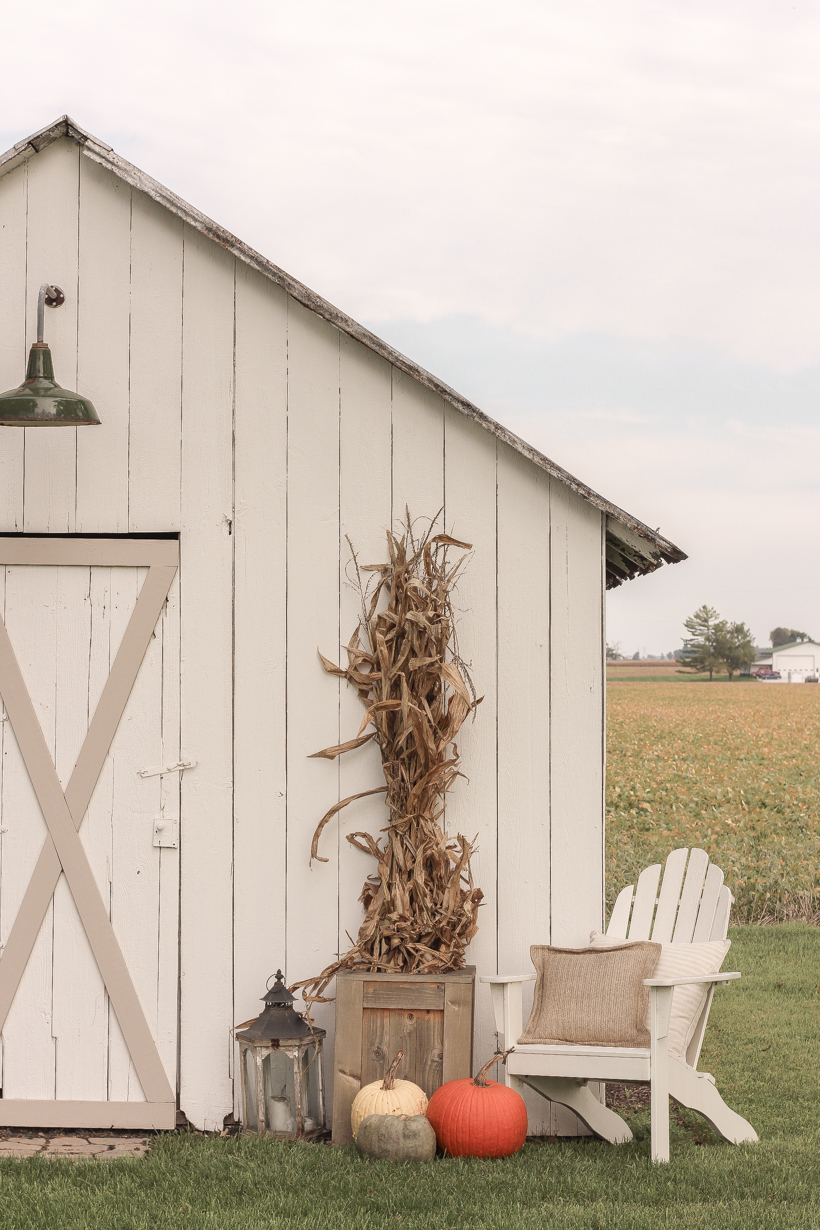 I don't have many product sources to share with you for this look, because pretty much everything I used is either from nature (pumpkins, corn stalks, straw, mums) or pieces I've already owned for years. I didn't buy a single piece of new decor (unless you count all those dang pumpkins lol), and I love how simple, yet special it feels.
The white adirondack chairs are from World Market.
The tall wooden planters I actually made myself out of cedar, and you can find the tutorial for those here.
The lanterns and bench are old old.
The blanket and pillows are either Target or Wayfair.
And the details of this sweet little barn you can read about here.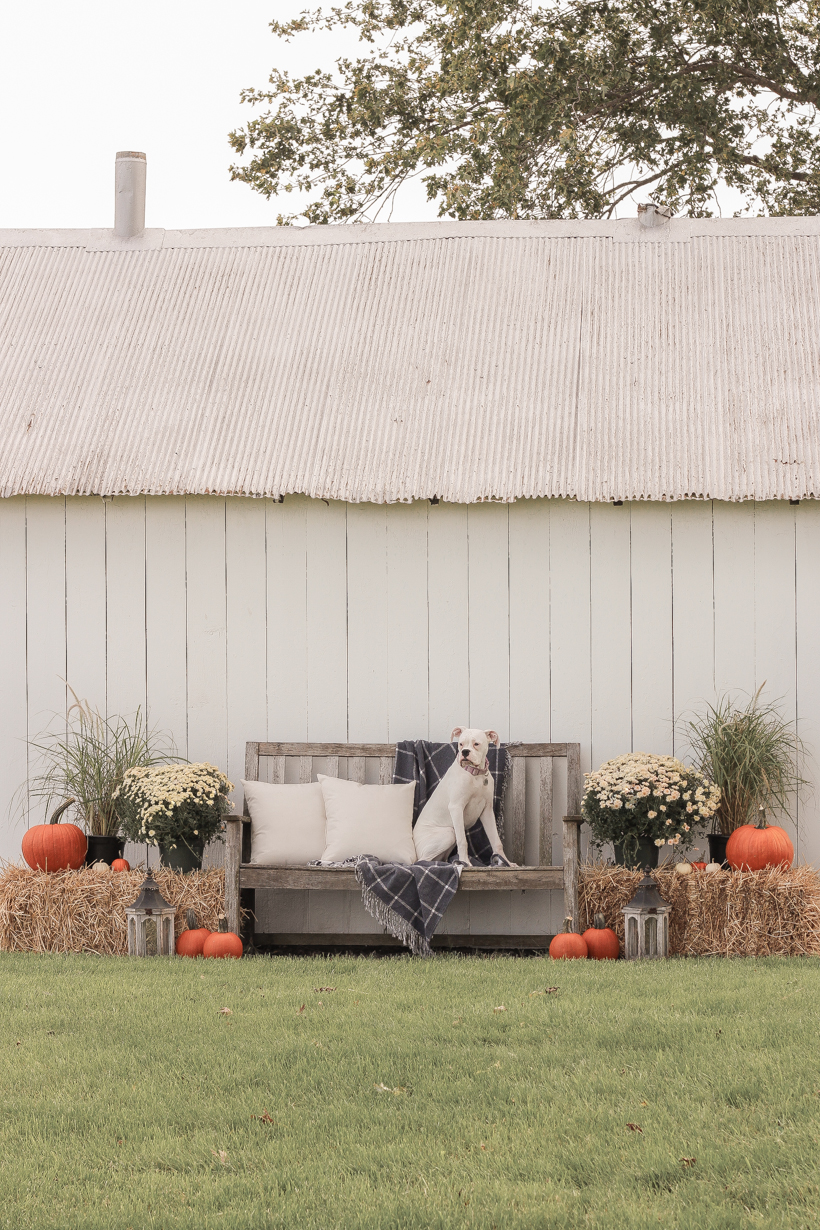 Normally by October 16th, my grass is already completely toasty and dead, but this year I am still mowing a thick, wet, lush lawn halfway through October. I shouldn't complain about the extended yard work though, because we all know how quickly this fall weather can turn from beautiful to brrrrrr. Although I am still patiently waiting for the leaves on the trees to start changing colors! Have they changed yet where you are?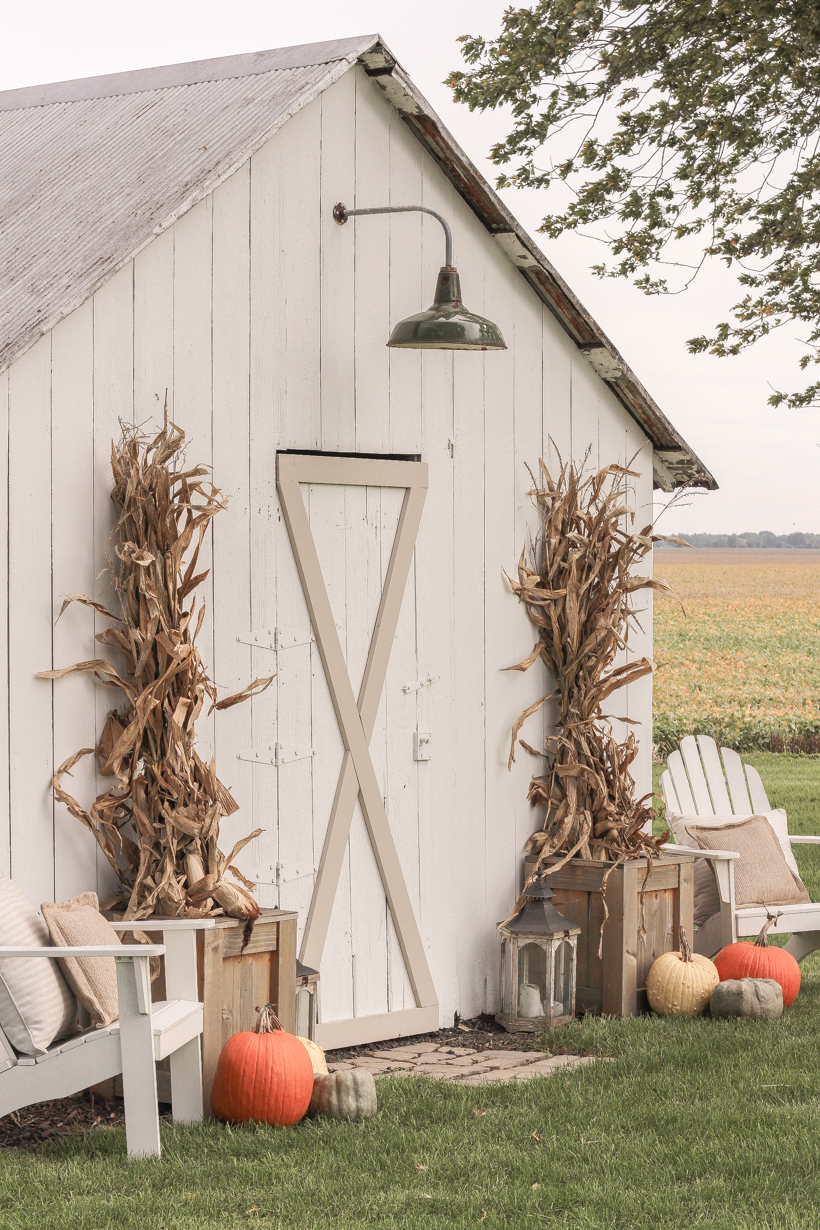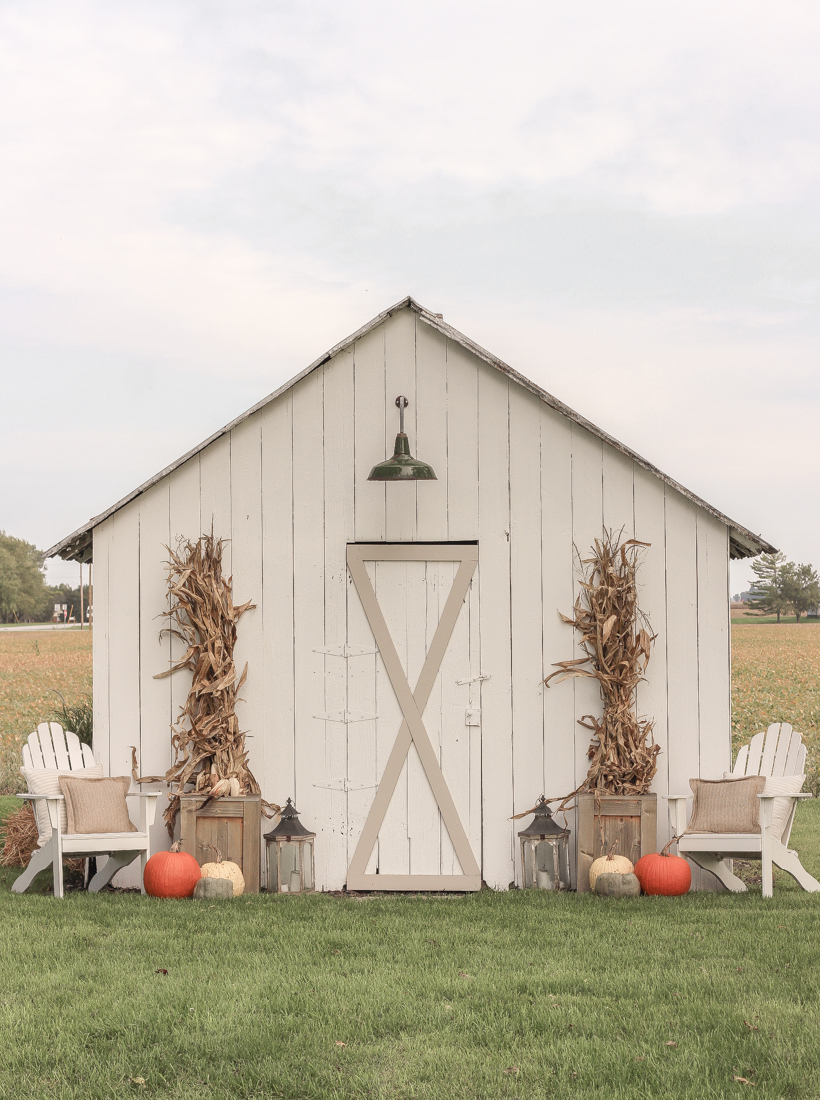 When I shared my front porch decorated for fall this year, I had to laugh because I always get a few comments about my boring white pumpkins and how pumpkins are supposed to be orange. I learned many, many years ago that you can't please everybody, and I try hard to create for myself, not for what anyone else will think or say on the internet. So for all my color-craving friends, this is my ode to traditional, colorful, bright orange pumpkins… next to white mums and a white barn. 🙂
What can I say… I am who I am lol.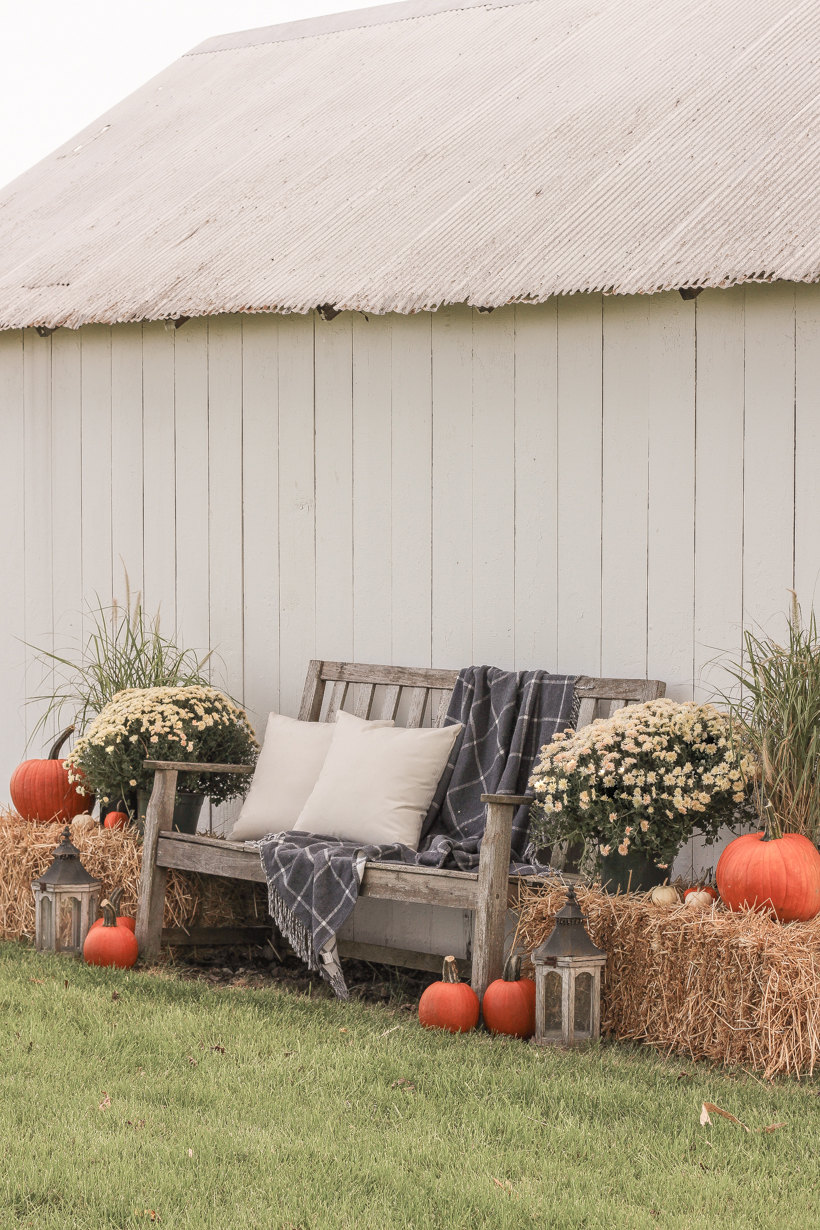 Isn't this the sweetest view from my deck? Those soybean fields in the background are finally starting to turn and about ready to be harvested.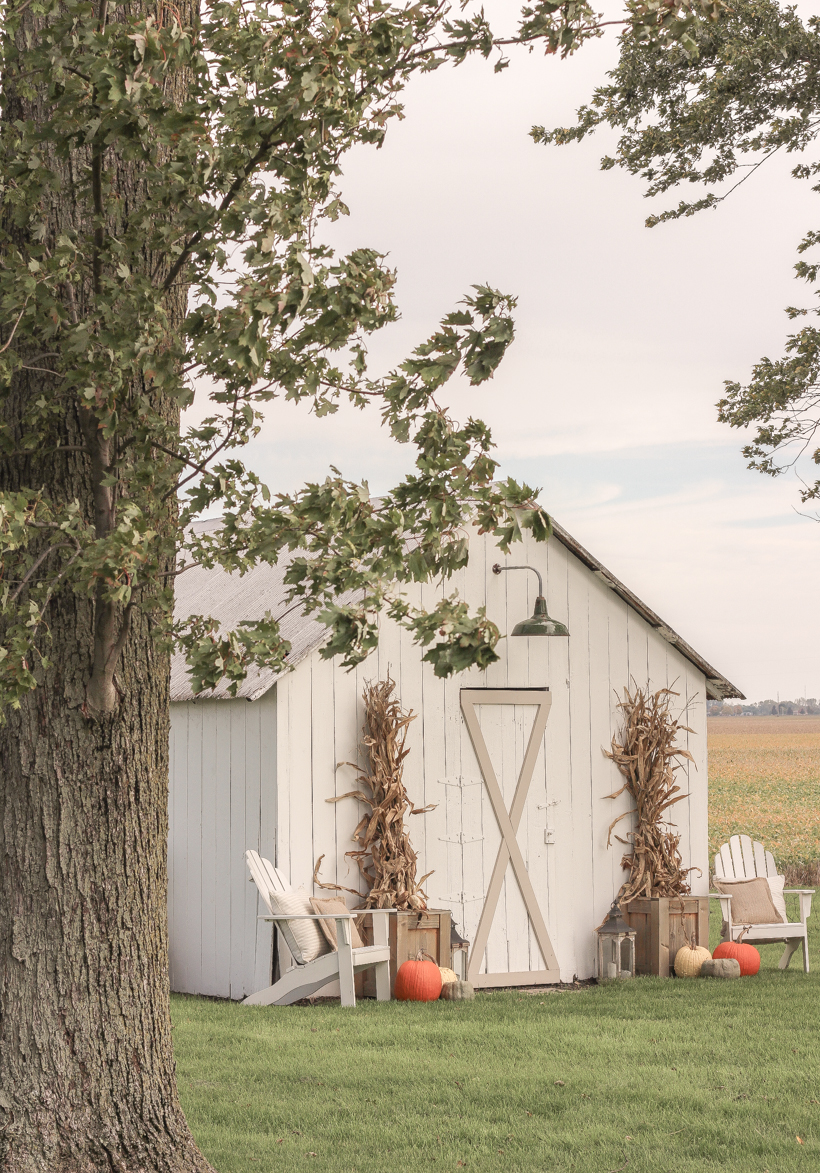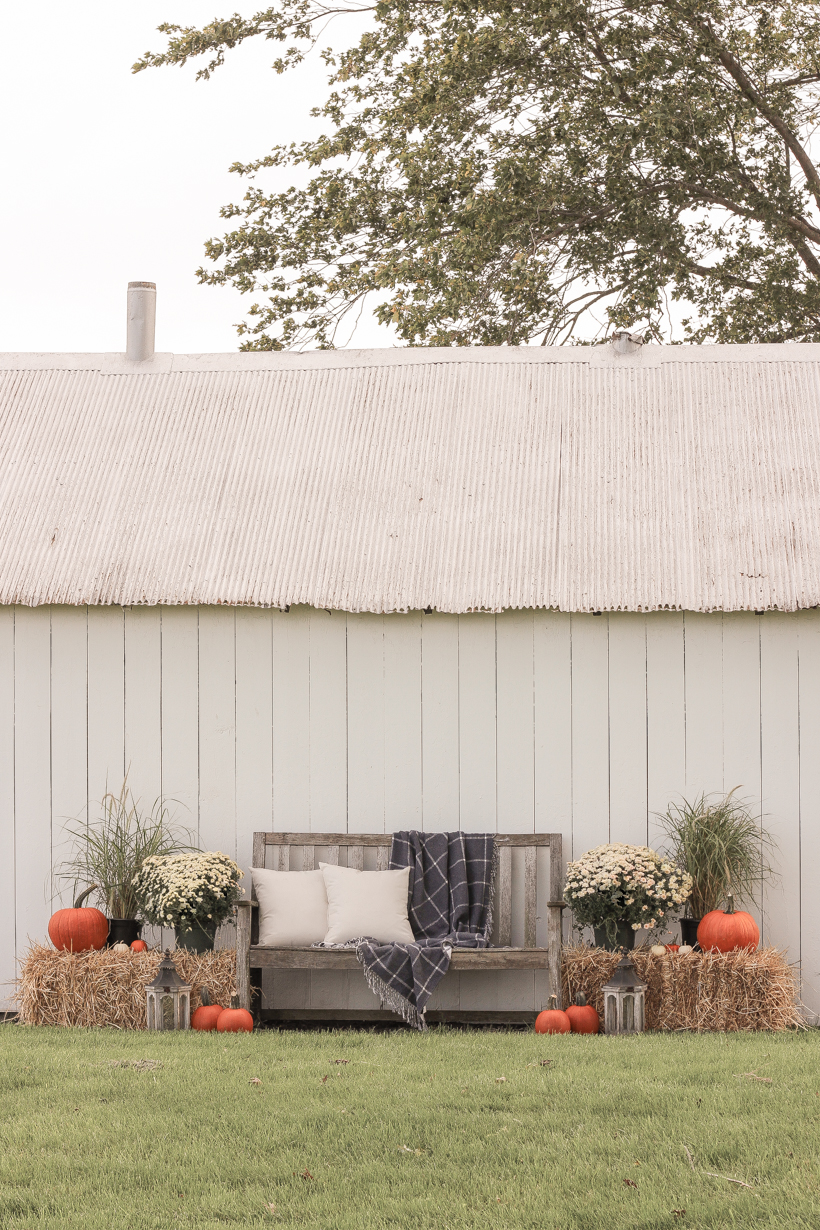 Welcome to my little slice of Indiana. I hope you enjoyed seeing some outdoor fall decorating ideas today, and I'm so glad you stopped by!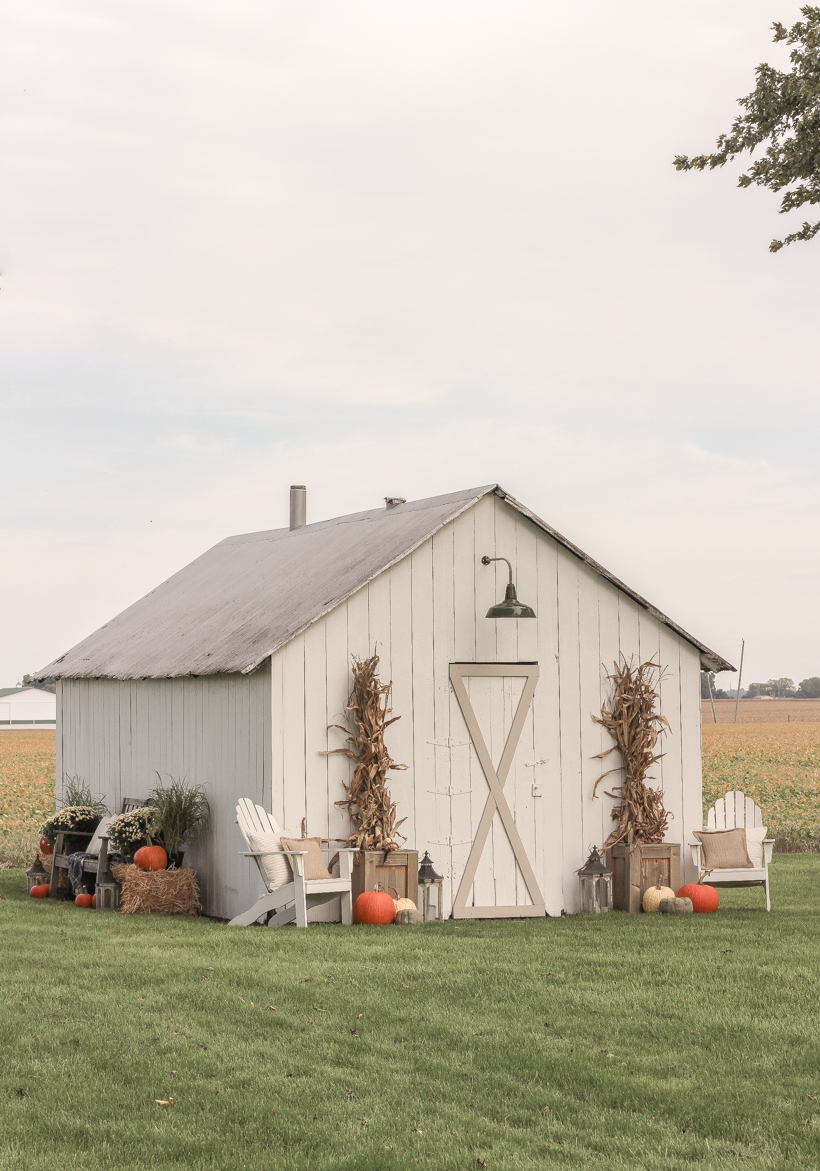 ---
MORE FALL DECORATING:
As always, I sincerely appreciate you shopping through the links I share, which allows me to make a small commission from your purchase while your purchase price stays the same. When you use my affiliate links, I'm better able to create content for this blog as well as support my family, and I thank you from the bottom of my heart for supporting what I do!
---
Subscribe to Blog | Follow on Instagram
Follow on Pinterest | Follow on Facebook