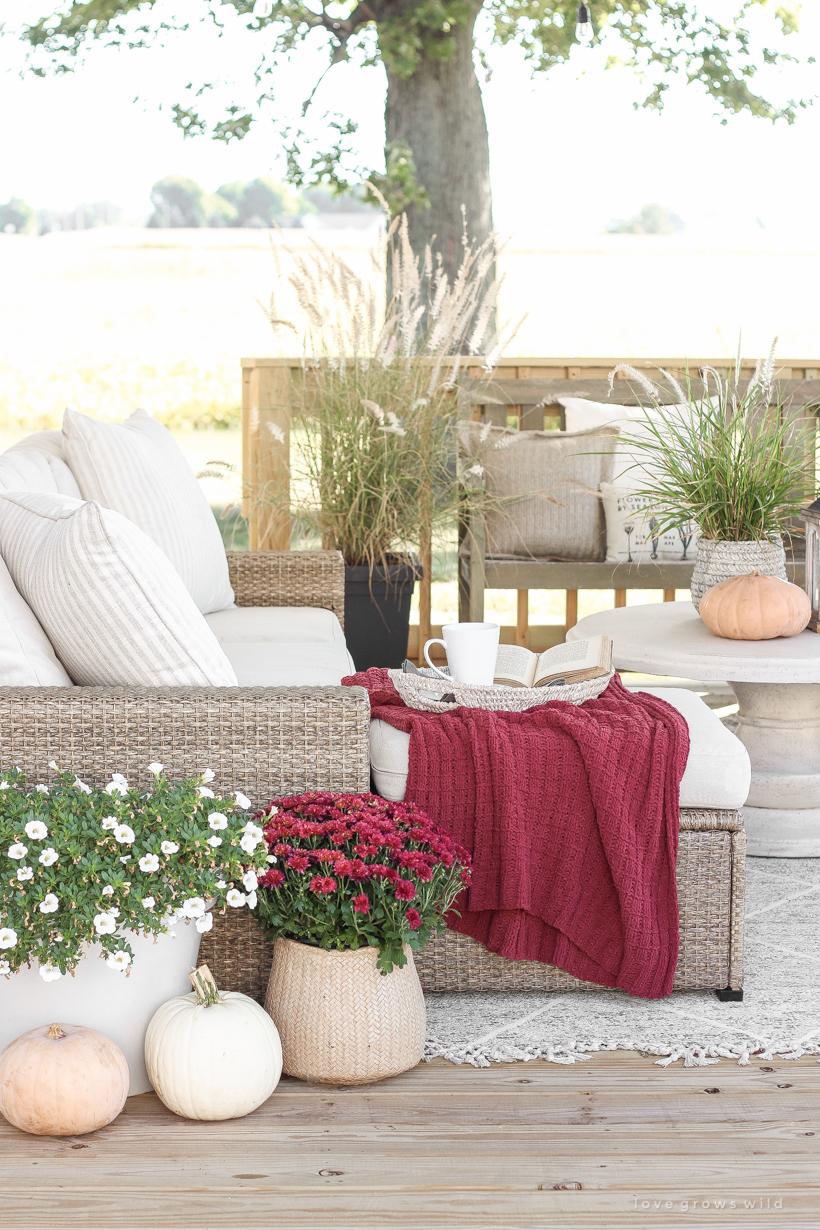 If you've been following along as the deck was being built this summer, I'm sure it's no surprise that this space is one of the first I wanted to decorate for fall. We have spent so much time out here the last few months, and now that the temperatures are starting to cool off I'm excited to cozy up our outdoor living space and enjoy watching the seasons begin to change out here.
My goal was to transition the deck from summer to fall without spending a lot of money and making use of the plants and decor I already had. By some miracle I kept about 90% of my plants alive and thriving all summer, which is probably because we actually used this space so much, and it was easier to remember to keep them watered when I saw them starting to wilt. I rearranged some of the potted plants from this summer, added in less than $30 worth of mums and pumpkins, plus one larger tall grass to bring in more of a fall vibe. Here is what I came up with for the first year decorating our deck for fall!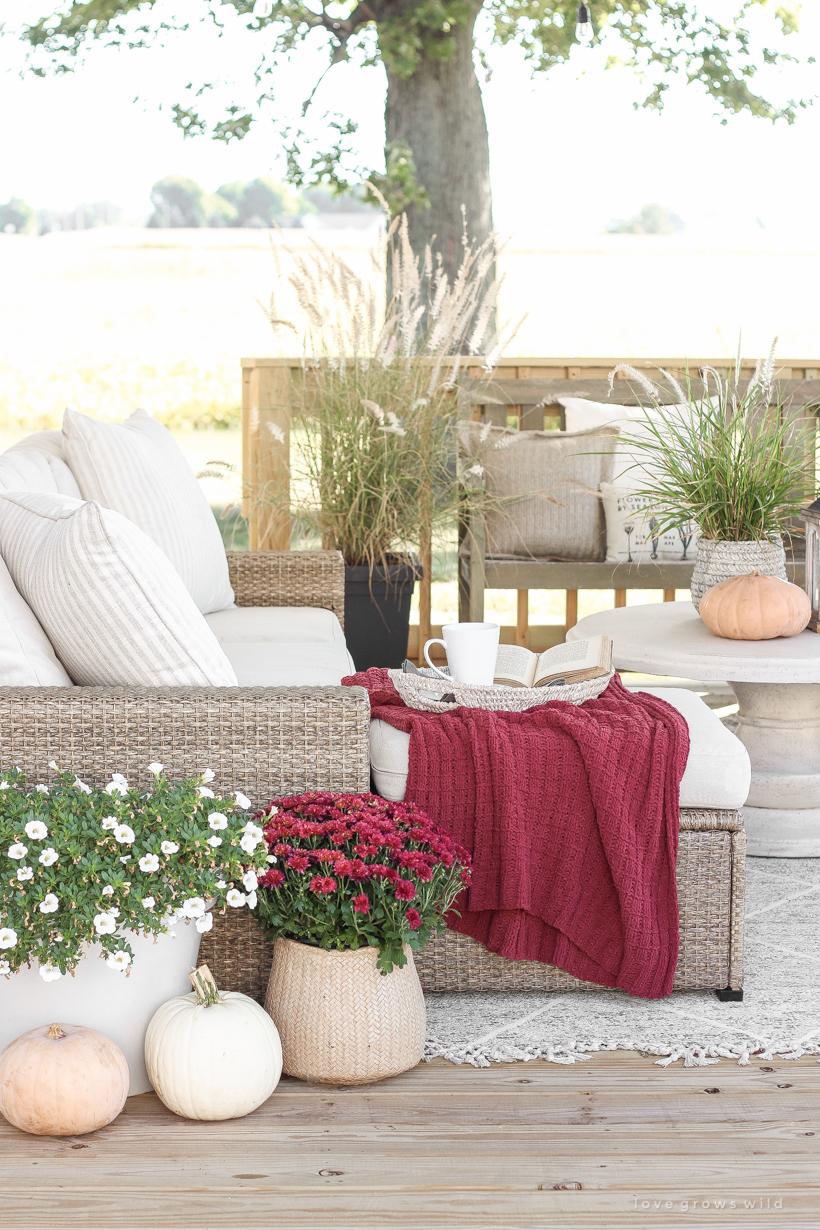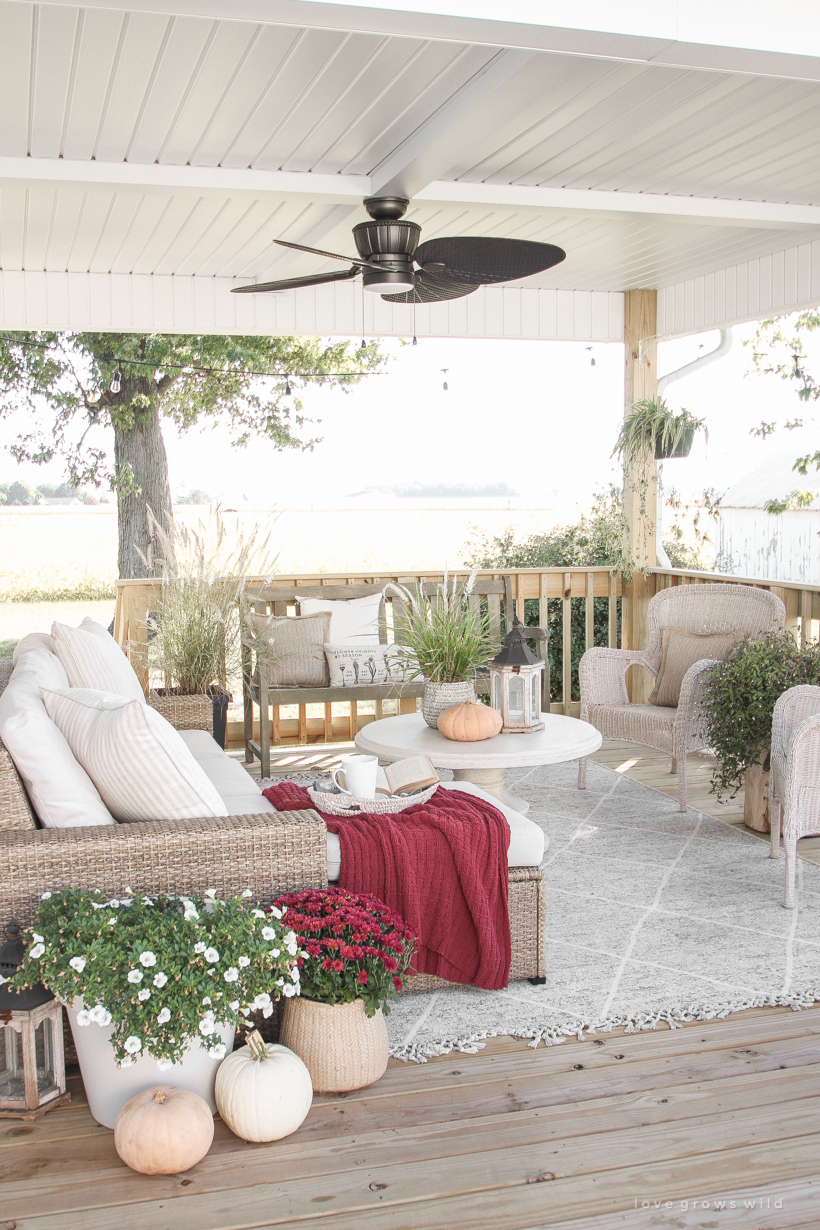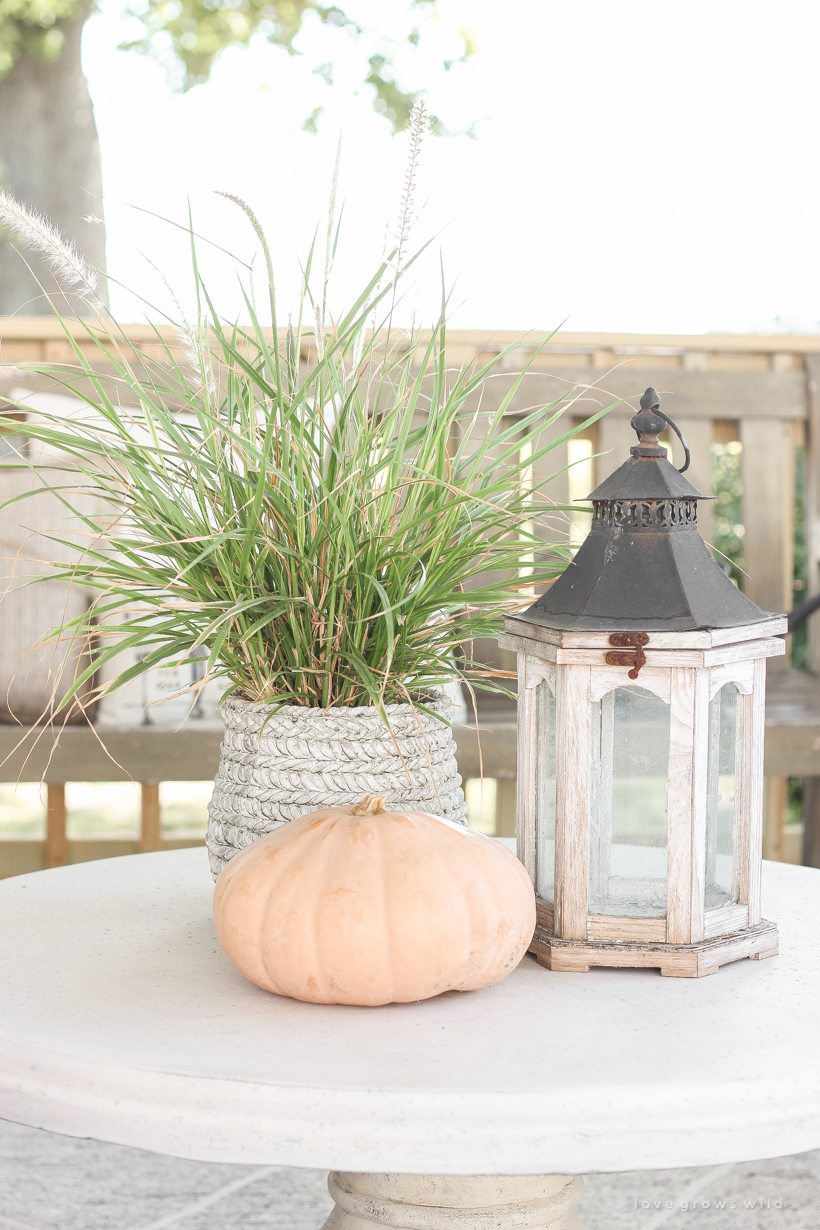 Note: all sources are listed at the bottom of the post
I surprised myself this year when I was drawn to deep red mums instead of the white I usually go with. But I knew that pretty much all of the deck was filled with white and neutral decor and flowers, so I thought having a pop of color would instantly change the feel of the space. I preach this all the time, but one of the things I love most about decorating with neutrals is how easy it is to mix, match, change, transition, and redecorate when using them. The white flowers I already had from this summer were the perfect backdrop and let the bright red mums and pumpkins become the star of the show.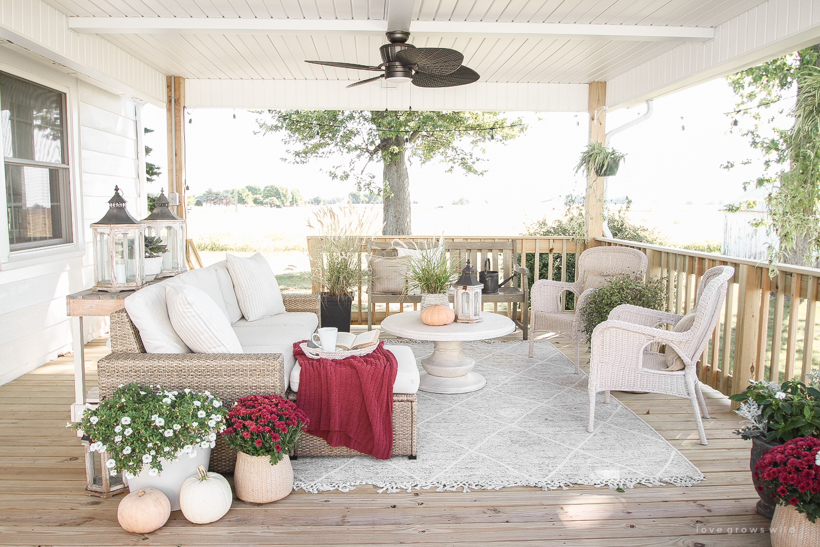 I used the same pots and planters from this summer, but I did pick up two of these beautiful woven cement planters from the Hearth & Hand line at Target for the mums. The texture and color of the planters are perfect for fall and matched perfectly with the soft orange pumpkins I brought home. The cozy red throw blanket also came from Target.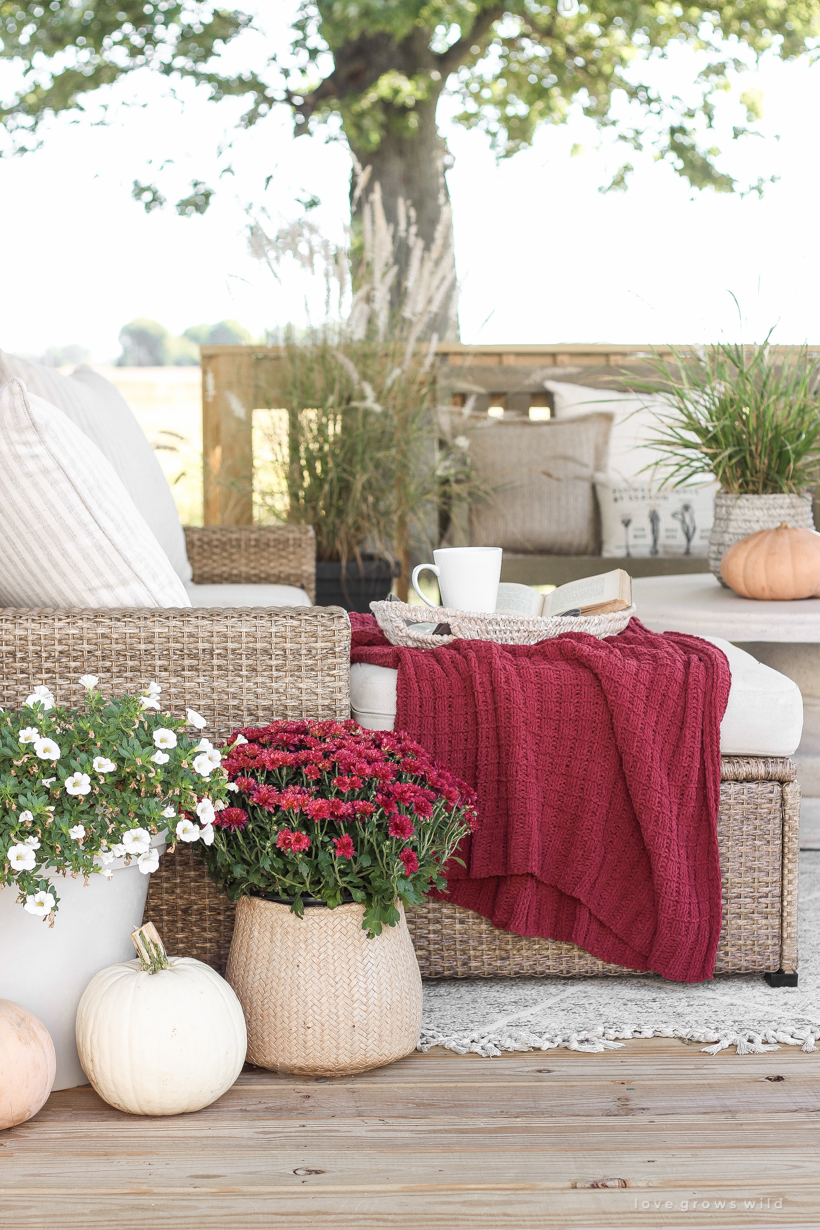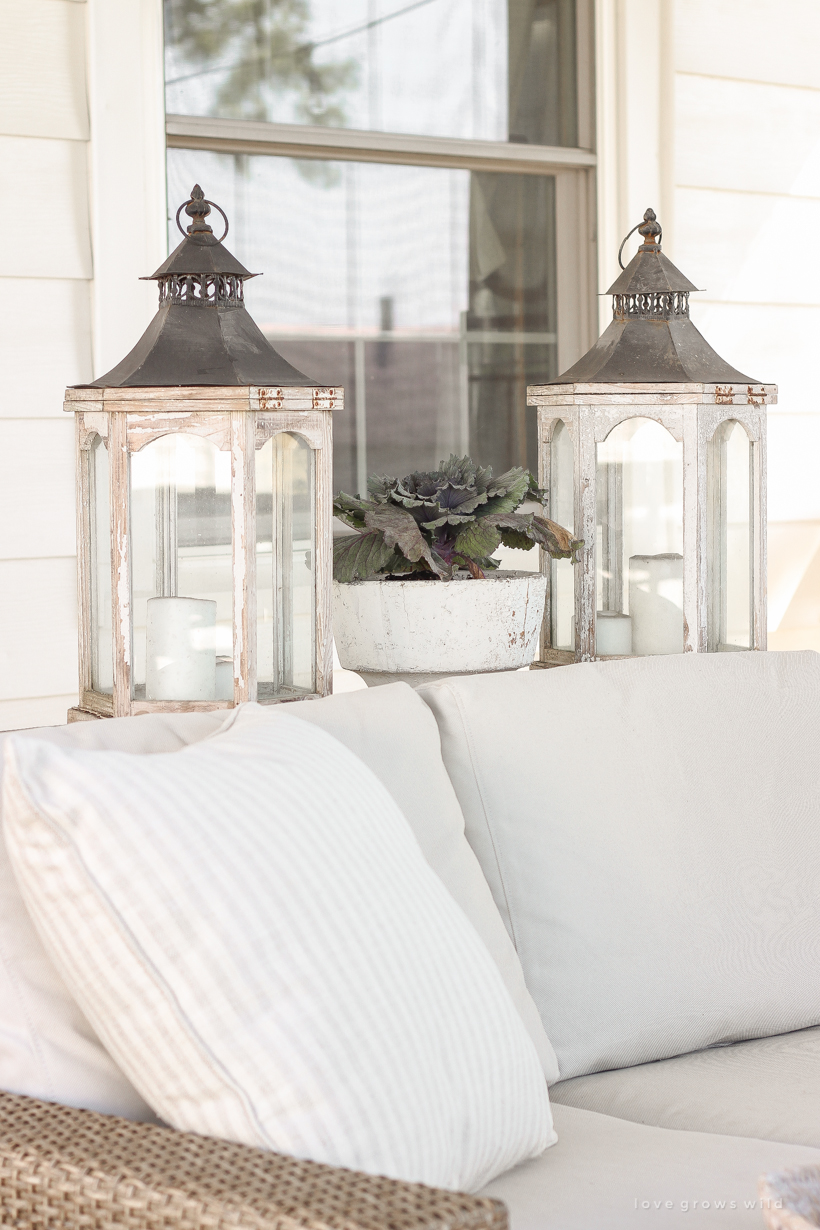 Some candle lanterns, a few fall plants like fountain grass, ornamental kale, and mums, and 3 little pumpkins are all I used to transition our deck from summer to fall. It's not over the top, and it didn't cost me very much at all, which is what I love about this style of simple, minimal decorating.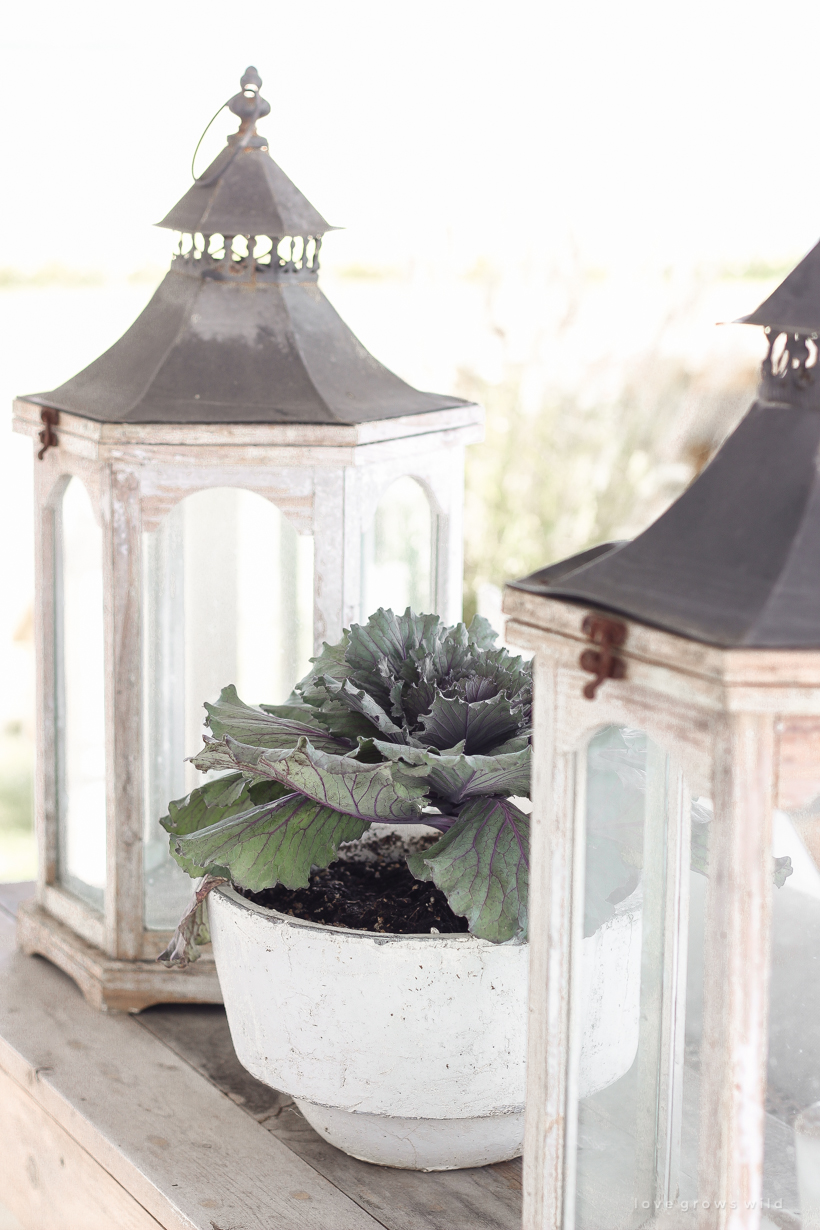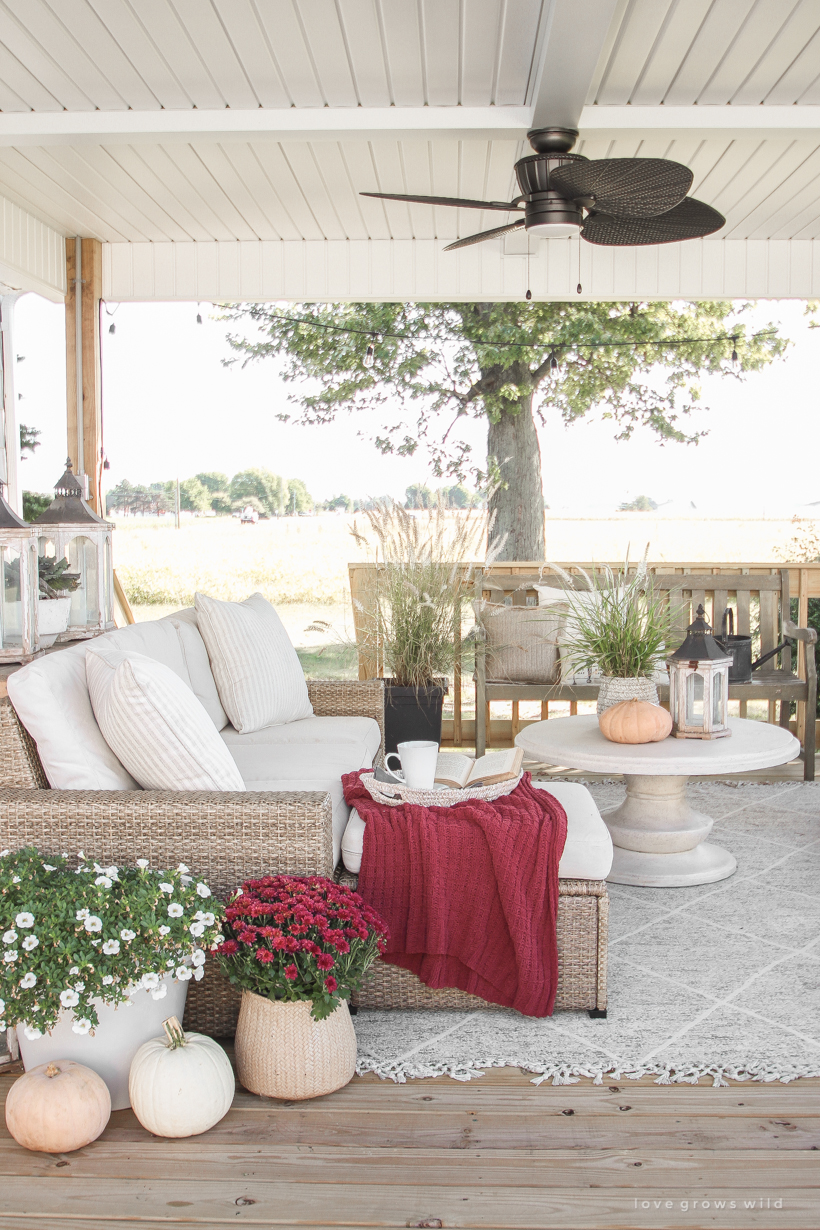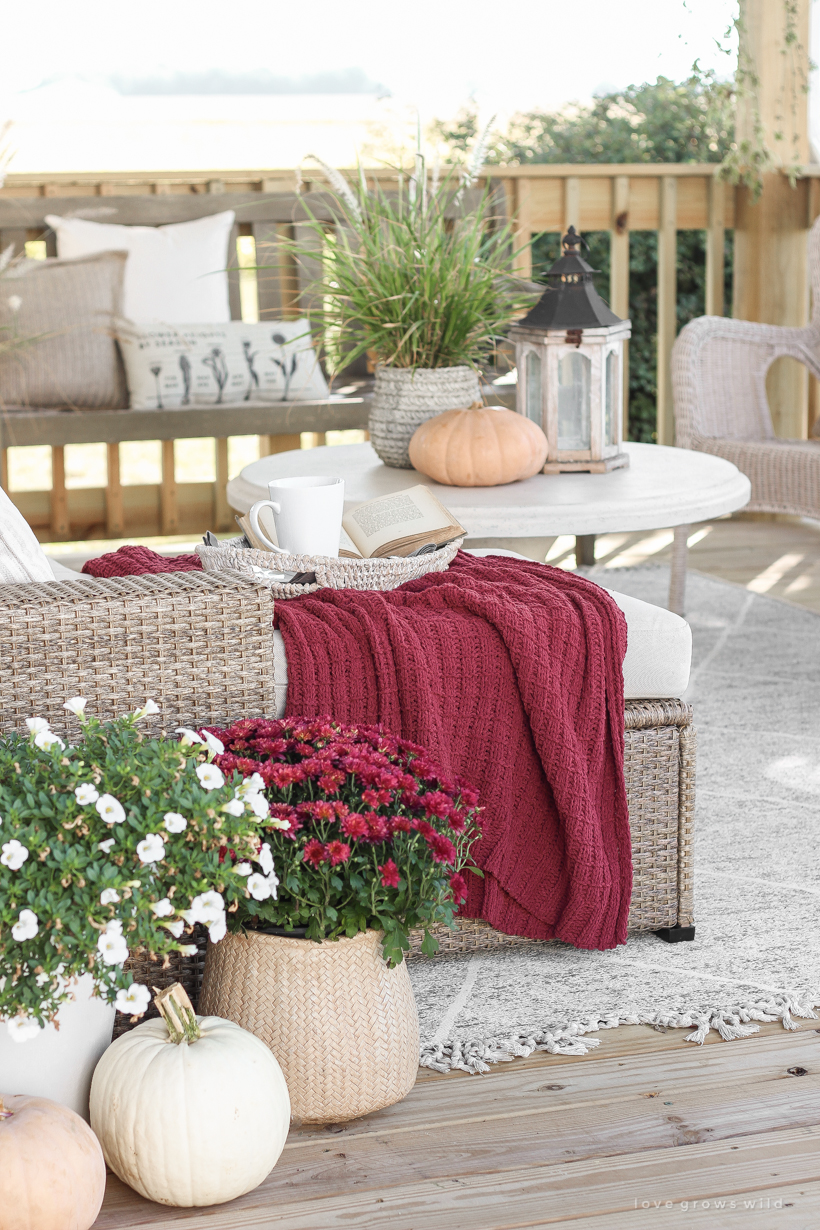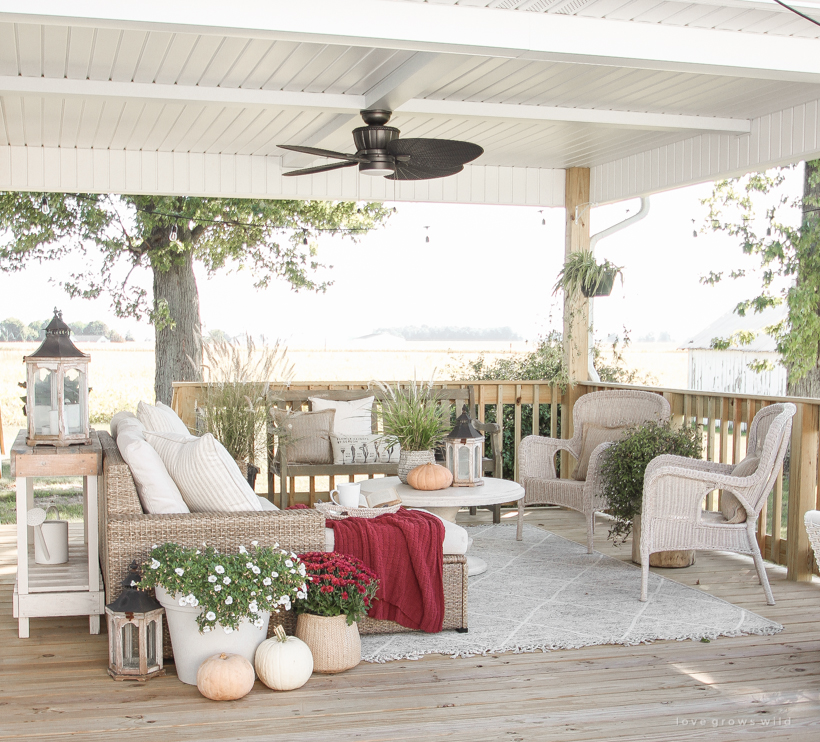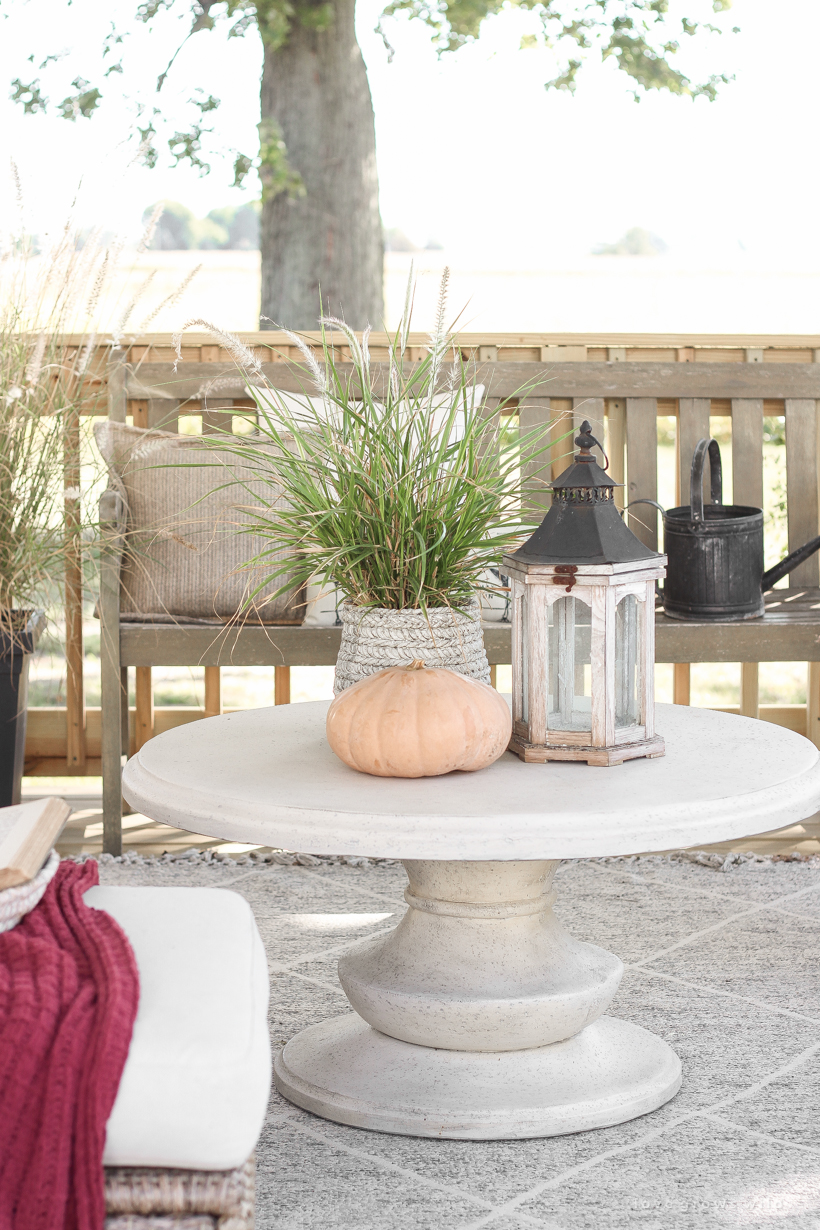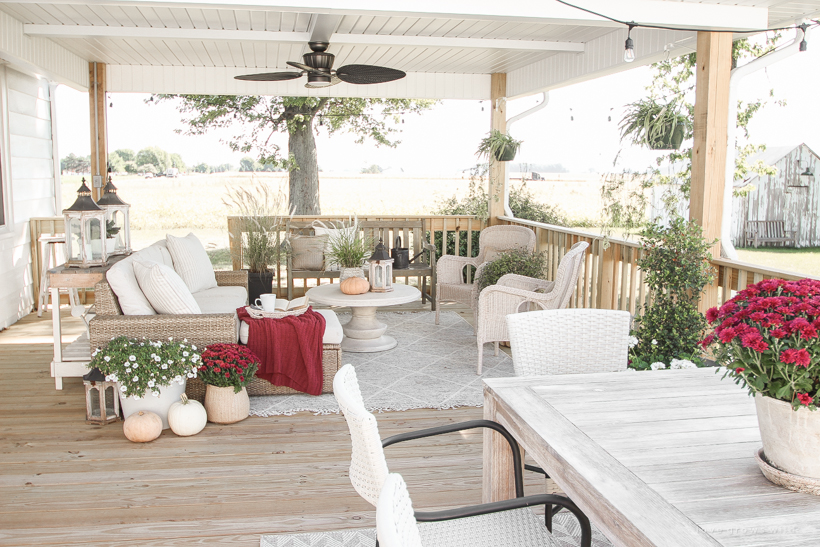 I couldn't not include a photo of all the unwelcome guests we also have hanging out on our deck this fall. It seems like all at once there were a ton of these spiders everywhere, but if you look hard enough you can see the beauty in just about anything, including the intricate webs these little critters create.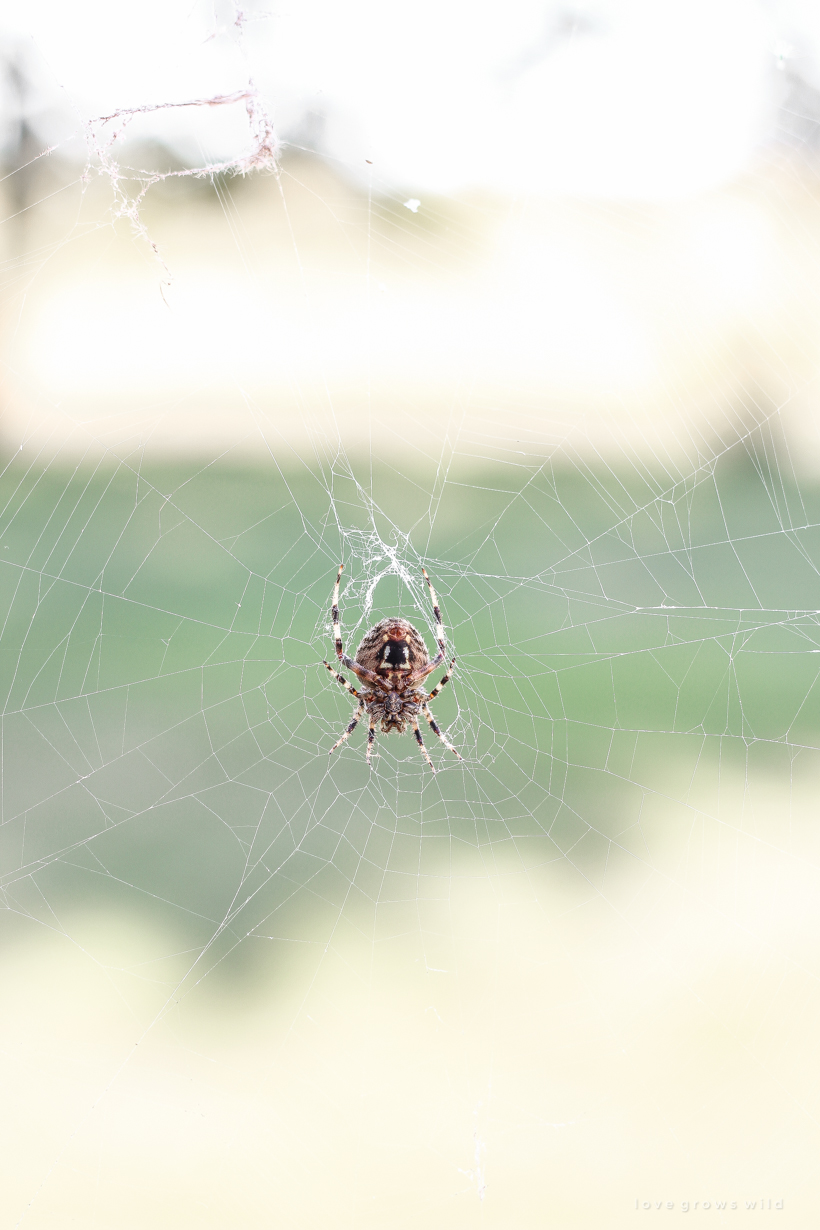 And did you also notice the lights I hung up around the gazebo? This has been on my to-do list all summer long, and I finally got around to it for fall. I did a ton of research on what string lights to buy because I wanted something that would be durable long term for the outdoors, and these are the string lights I ended up going with from Amazon. They have amazing reviews, are commercial grade and weatherproof, and are able to be connected to multiple strands, up to 40 total according to the website. But what I really loved about these lights in particular is that you have the option to buy either soft white (3000K) bulbs or warm white (2700K) bulbs. I went with the soft white because I don't like when lights cast a yellow glow on everything. I prefer a more natural bright white light, and these do just that. This is only ONE single strand wrapped partially around the gazebo, and the entire deck is lit up beautifully. If you are looking to add string lights to your outdoor space, I highly recommend this set!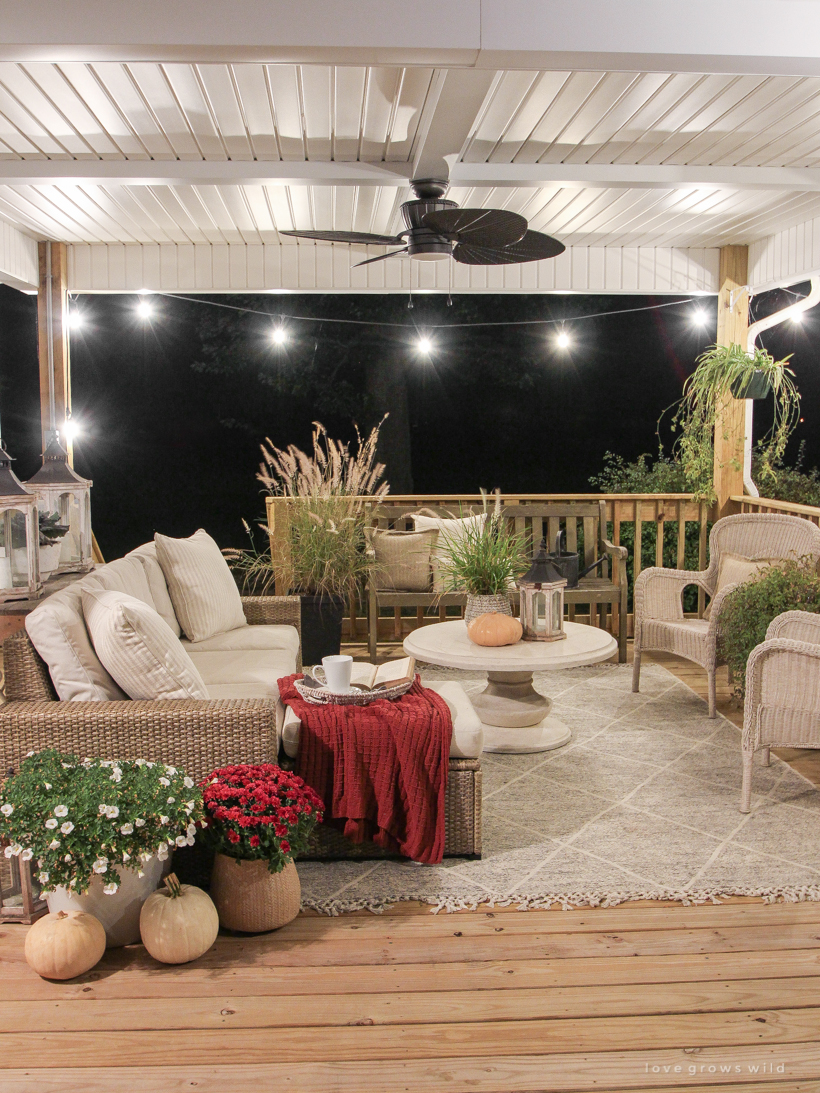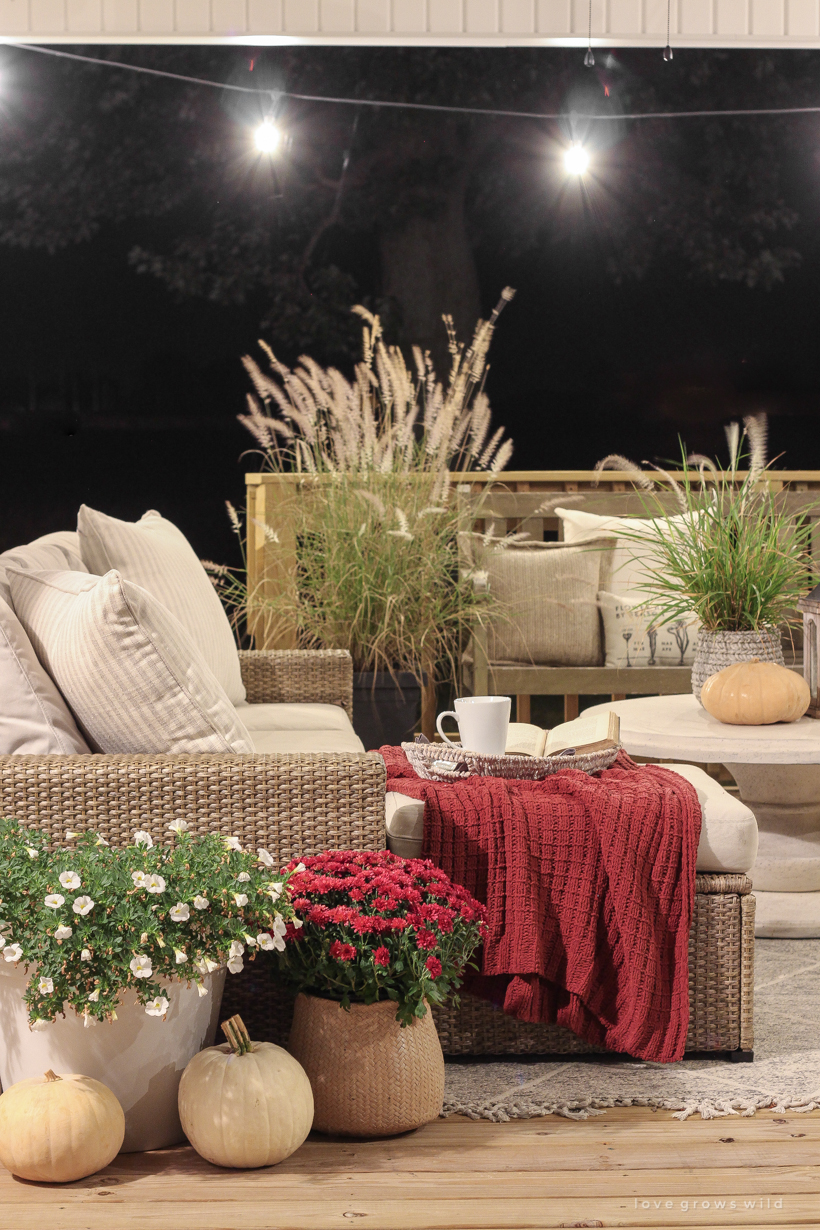 Note: I sincerely appreciate you shopping through the links I share, which allows me to make a small commission from your purchase while your purchase price stays the same. When you use these affiliate links, I'm better able to create content for this blog as well as support my family, and I thank you from the bottom of my heart for your support!
I am so happy you stopped by to see the deck all decorated for fall for the first time, and I hope you feel inspired to transition your outdoor spaces with just a few simple items like I did. Let me know if you have any questions, and I'll be back soon with more fall inspiration! xoxo Liz
---
SHOP THE POST:

– SOURCES –
outdoor sofa – IKEA | throw blanket – Target | outdoor rug – Target | string lights – Amazon
outdoor coffee table – Home Depot | woven cement planter – Target | wood stump side table – Target
lanterns – Wayfair (similar here) | woven tray – Wayfair | striped outdoor pillow – Wayfair
armchairs – Pier 1 | sofa table – tutorial here | ceiling fan – Home Depot
bench – Wayfair | outdoor dining table – World Market | outdoor dining chairs – Pier 1
---
Subscribe to Blog | Follow on Instagram
Follow on Pinterest | Follow on Facebook