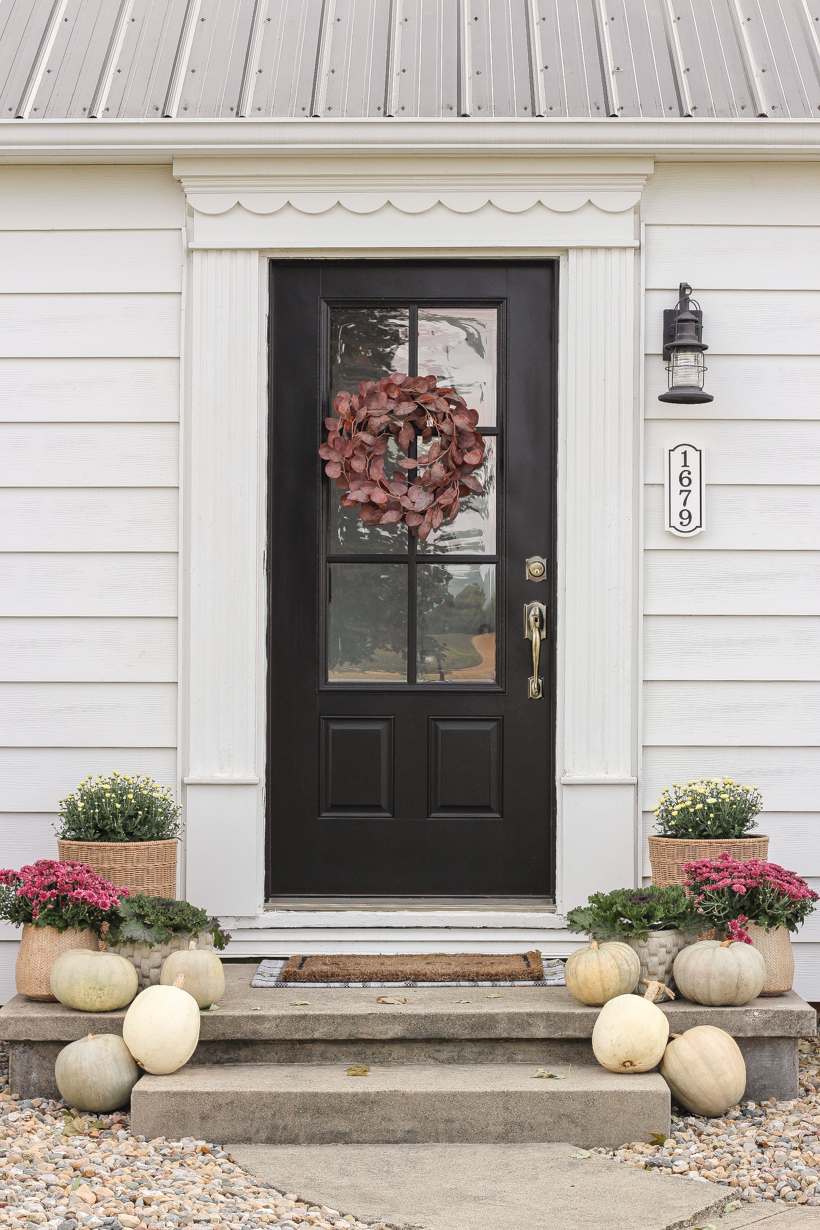 Happy first day of fall, friend. It feels like it was meant to be that I finished decorating my front porch for this new season just in time, and I'm anxious to do more decorating around the house in the coming days and weeks. Today certainly feels like the first day of fall, as Indiana went from sweltering summer weather in the high 80's to barely reaching 55 degrees today, with plenty of rain and clouds in the forecast. Normally I dread dreary days like these, but I welcomed today with open arms, enjoying my big, oversized comfy sweatshirt, leggings and rainboots. I lit my favorite fall candle, put on some quiet music, and got to work in my office editing these photos for you today with a big mug of coffee and naturally, plenty of pumpkin spice creamer. Yes, indeed… fall has arrived.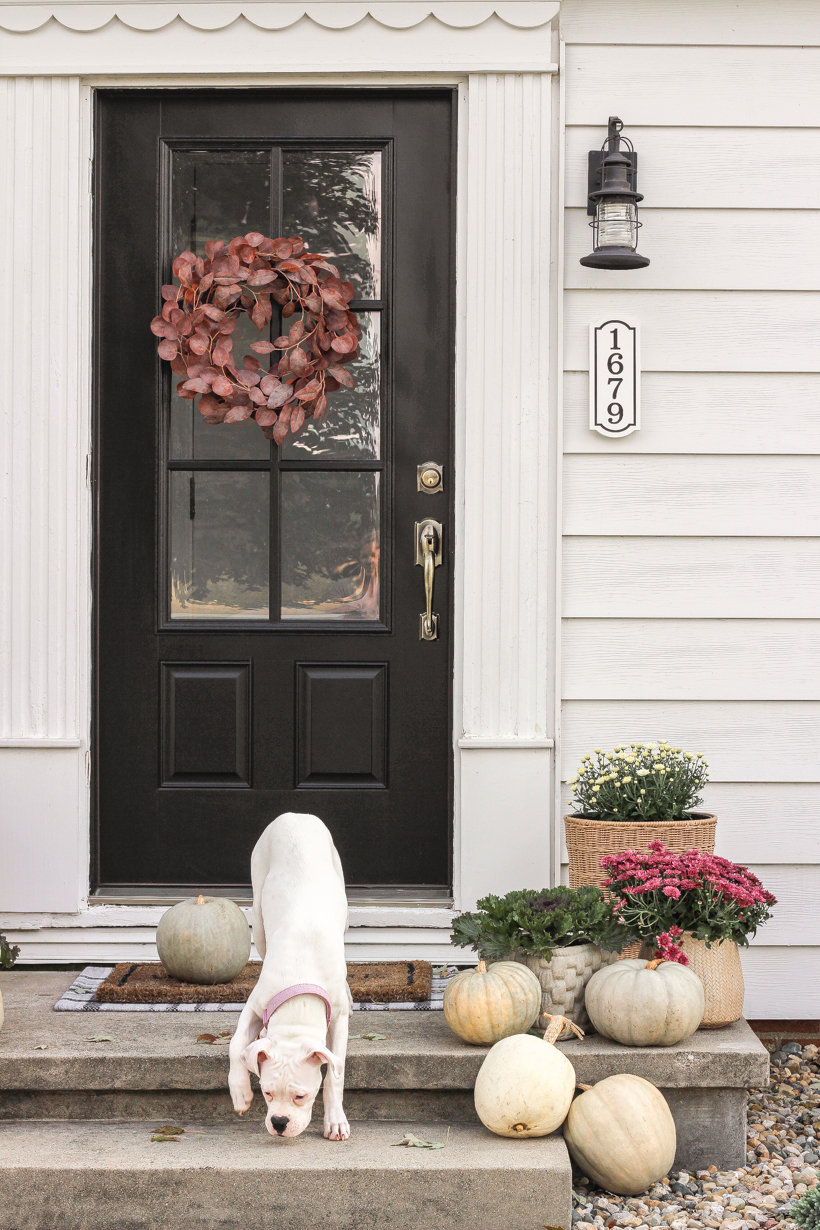 Before we talk about pumpkins, wreaths, and mums, I know you're probably wondering who that sweet pup is running down my front porch steps, and her name is Lady, or Ladybug as we like to call her. I swore I would never have more than one dog at a time, but this sweet girl stole my heart. Do you remember when Oscar and I flipped a house for my mom last summer? Oscar has a deep love for boxers, and although I've never had one myself or had any dog much larger than Remy (my french bulldog), this little girl made her way into our hearts and our home over the last few months. When I first got her, I had people comment on how undesirable white boxers are/were and that in the past many were euthanized. I had no idea, and it made me love this pretty girl even more. Lady is calm and gentle and has such a sweet demeanor. She is the newest unexpected member of our family (about 5 months old now), so naturally she had to get her picture taken on the front porch this year with all the pretty flowers and pumpkins and give Remy a break.
Welcome home, Miss Lady.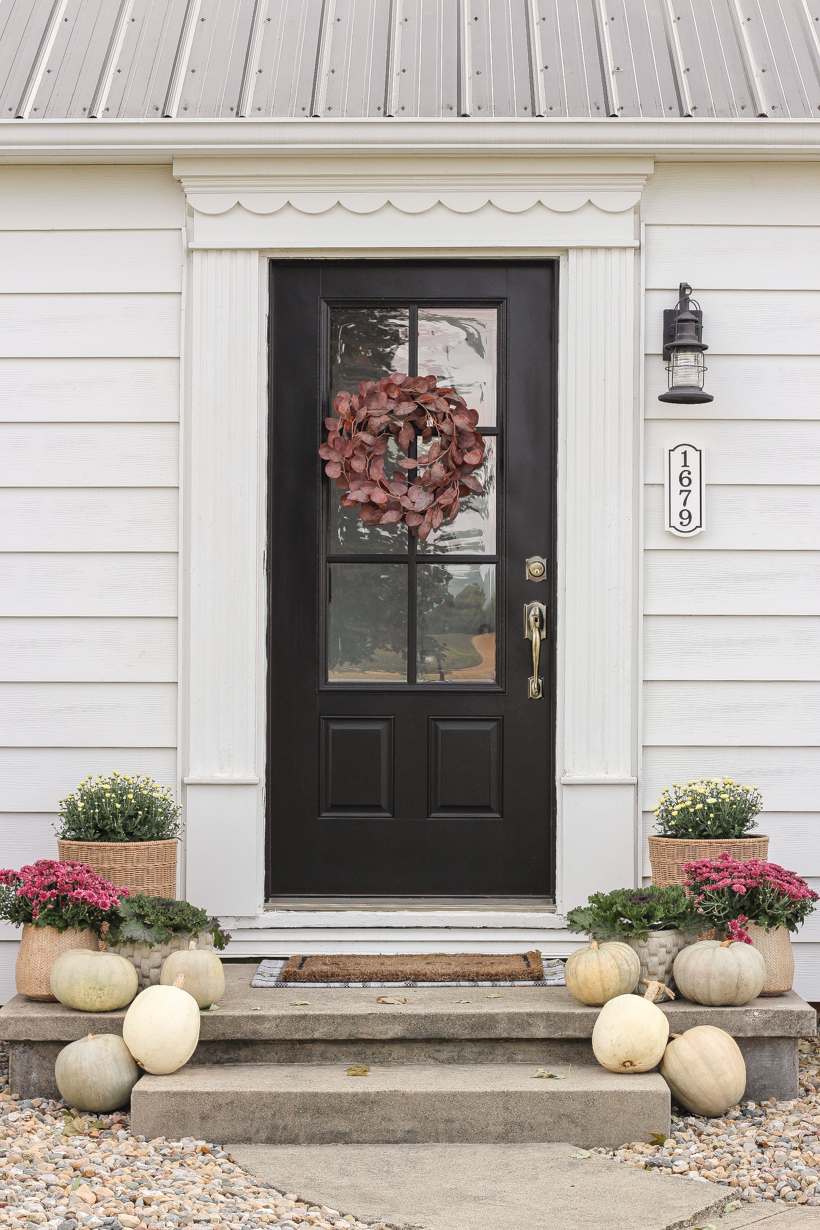 Okay, now let's move on to fall decor. Like most of my seasonal decorating, this front porch is simple and mostly neutral, but I added a few subtle pops of color that I am LOVING this year. It started with a pretty burgundy/rust color wreath for the door, and I carried that color down to the steps with some beautiful burgundy mums potted in woven textured planters (both from Target in previous years). I also added some ornamental cabbage for contrast and love the ruffled edges of their leaves and the deep purple centers.
Mums don't usually thrive up here on my North-facing front porch, but I'm hoping if I keep up on watering them regularly and give them a little bit of time in the sun, they will survive throughout the fall. If not, I always have some piles of pretty pumpkins to keep the porch looking cute. Do you have any great tips for keeping mums healthy and thriving?
– SHARE YOUR MUM GROWING TIPS IN THE COMMENTS –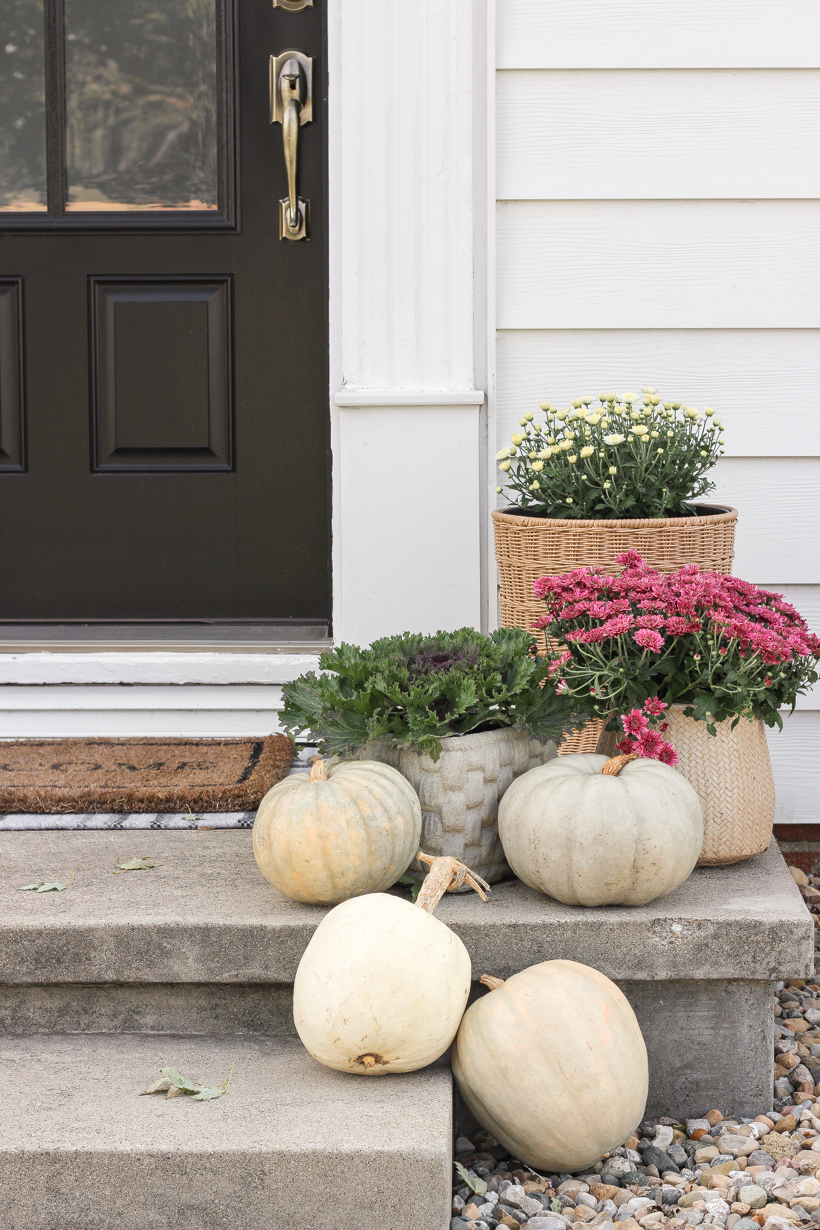 I've had this coir welcome mat for awhile now, but it was definitely time for a new rug to go underneath. I like to layer something a little softer with a pretty pattern underneath the coir mat in a slightly larger size so it better fits the width of the front door. This black and gray plaid rug turned out to be perfect.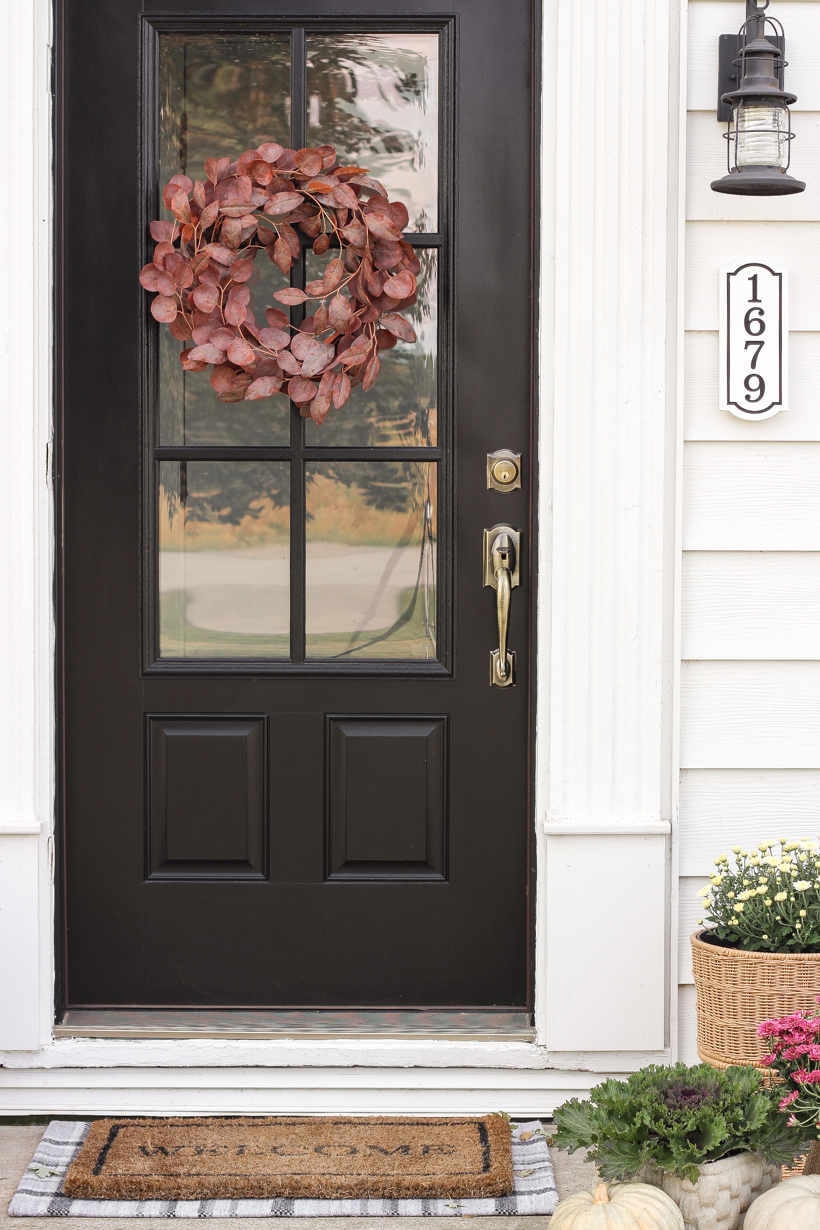 I already had the pots and planters from previous summers and had this darling address plaque made (similar to this one) to hang on the side of the door. The light fixture (similar here) is several years old, and you can find all the details of this front door we installed here.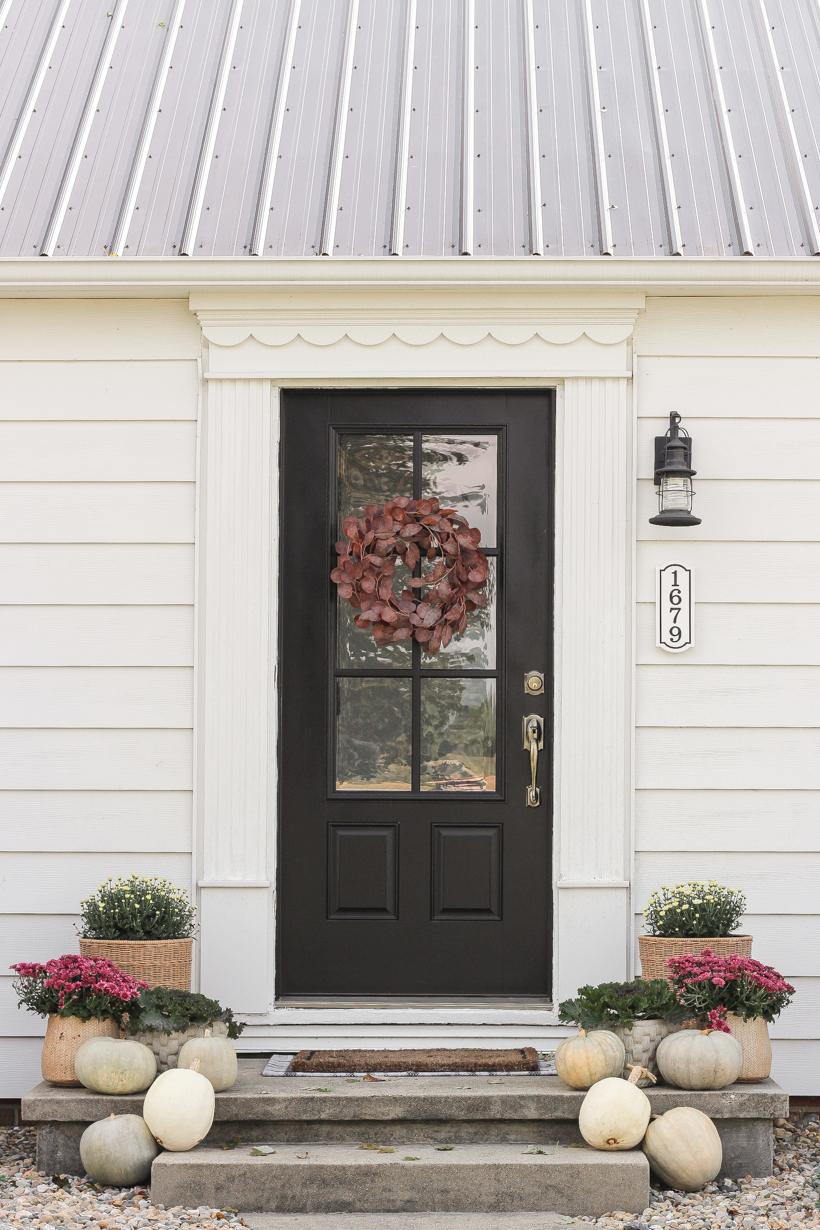 Now that my kids are older and growing out of the "yay, let's go to the pumpkin patch!" phase, I usually try to get our pumpkins from a local farmer or small business that is selling them. I was lucky enough to come across these beautiful fairytale pumpkins for just a few dollars each, and when I stopped by Lowe's to look at their fall flowers, I noticed the same size white pumpkins priced at $9.99. Yes, I am the first person to love browsing the aisles of Target, but anytime I can help support a local small business, I try to.
That message hit home a little more this year when my oldest son gathered his money to purchase some old baling equipment and spent quite a few long, hot days this summer baling straw to sell. I wish I had more room on my front porch so I could buy some and proudly display his hard work this fall with some pumpkins scattered on straw bales, but if you happen to need some and are local to us, send me an email!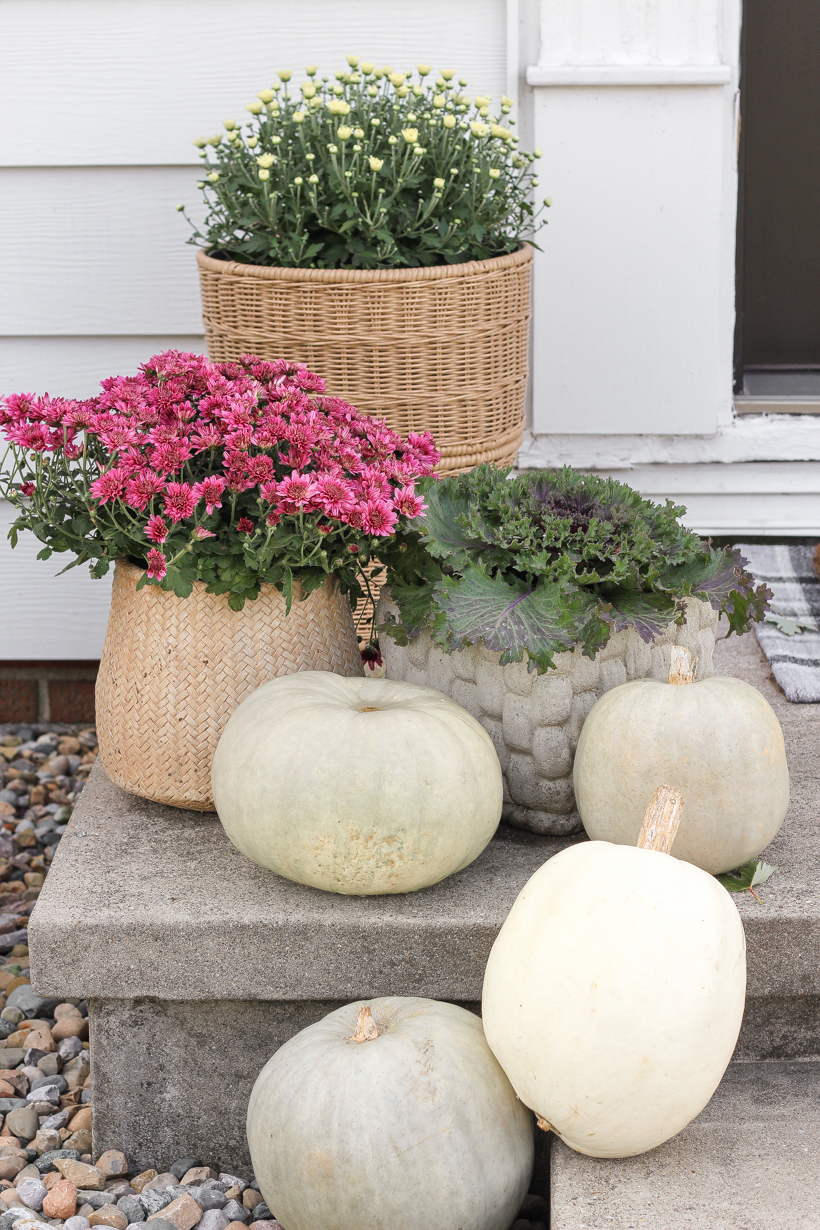 Lady was very curious what I was doing with all these pumpkins.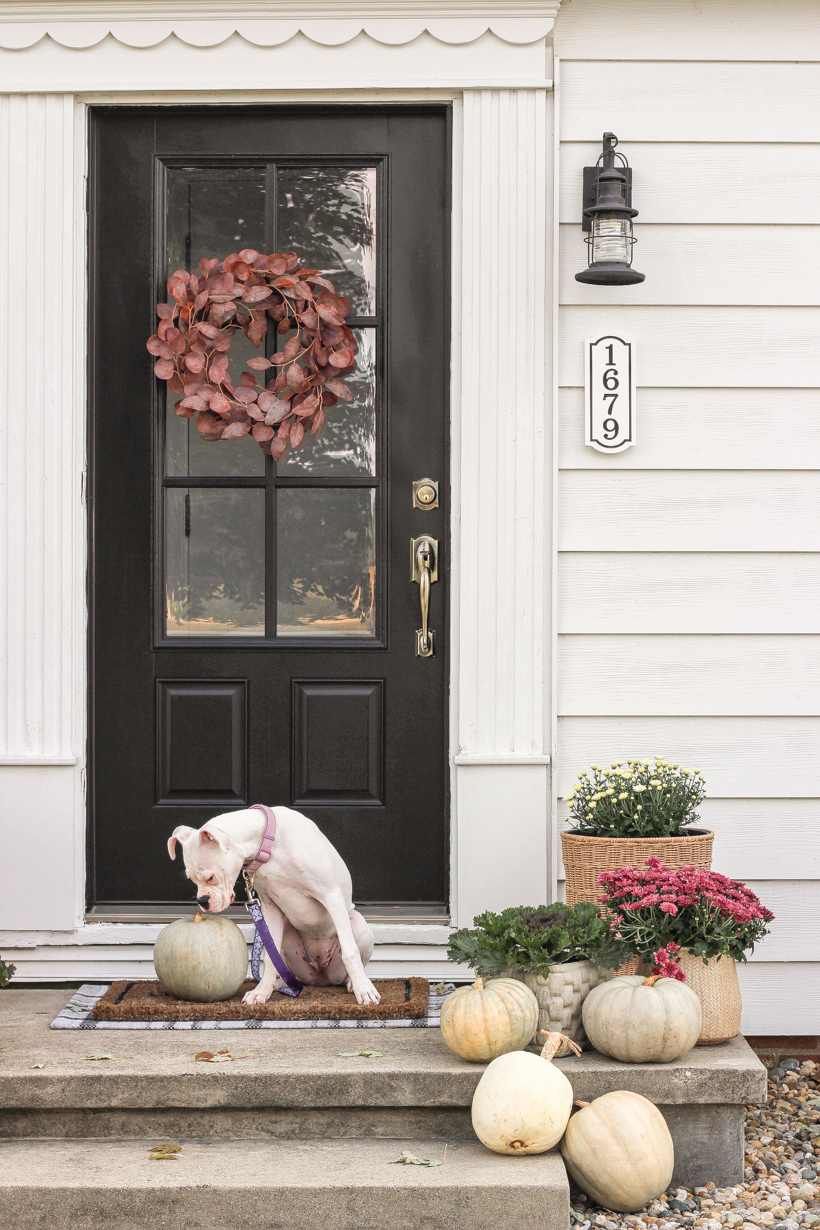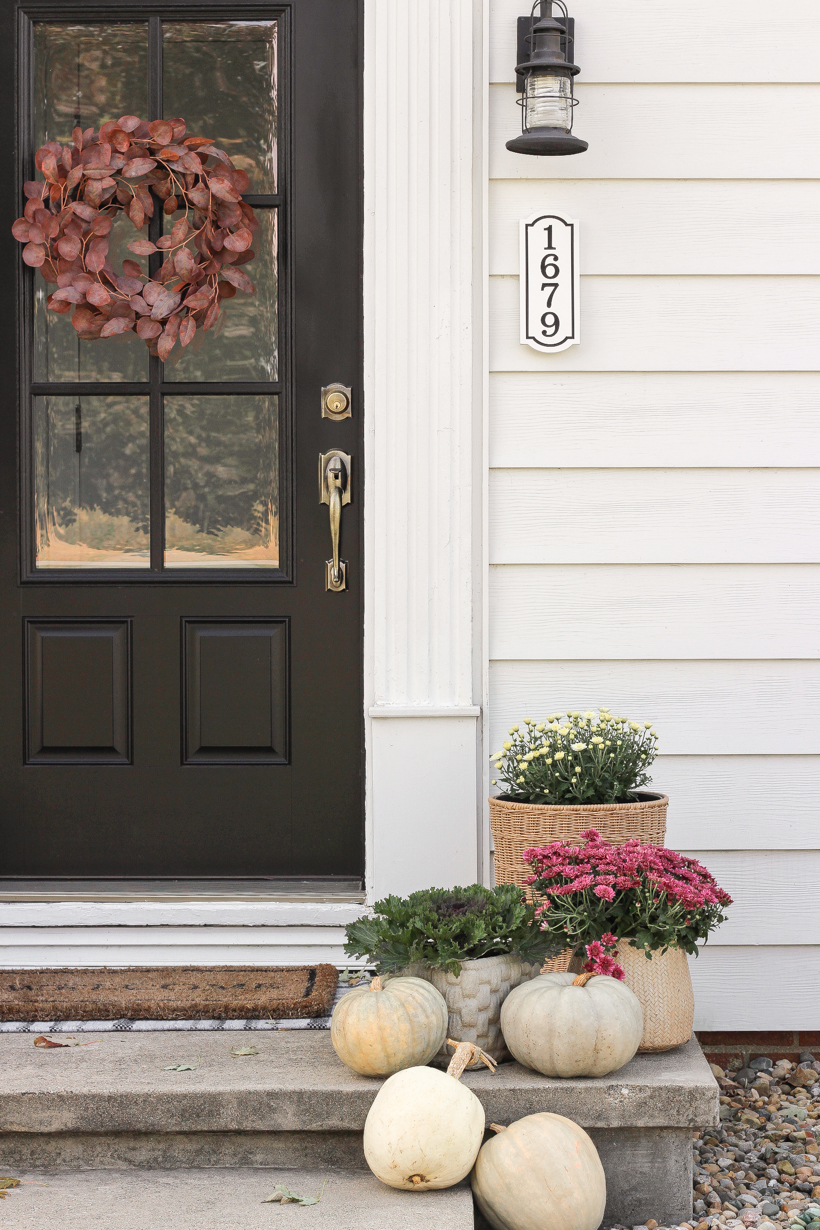 Home Sweet Home.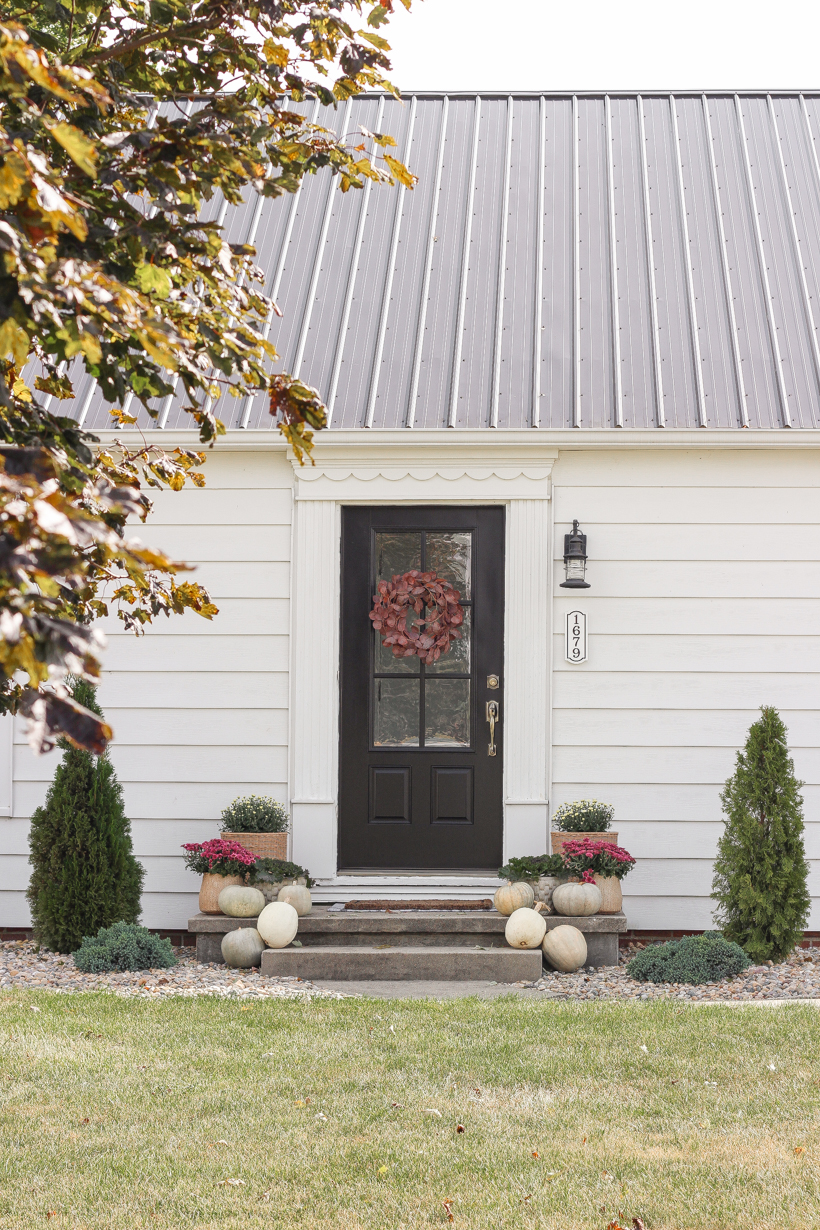 Have you started decorating for fall yet? Do you do any fall decorating outside? What tips do you have for keeping mums alive and thriving? Thank you so much for stopping by today on this beautiful first day of fall! xoxo Liz
– SOURCES –
rust eucalyptus wreath | coir welcome mat | plaid rug
black door | address plaque | outdoor light

As always, I sincerely appreciate you shopping through the links I share, which allows me to make a small commission from your purchase while your purchase price stays the same. When you use my affiliate links, I'm better able to create content for this blog as well as support my family, and I thank you from the bottom of my heart for supporting what I do!
---
Subscribe to Blog | Follow on Instagram
Follow on Pinterest | Follow on Facebook