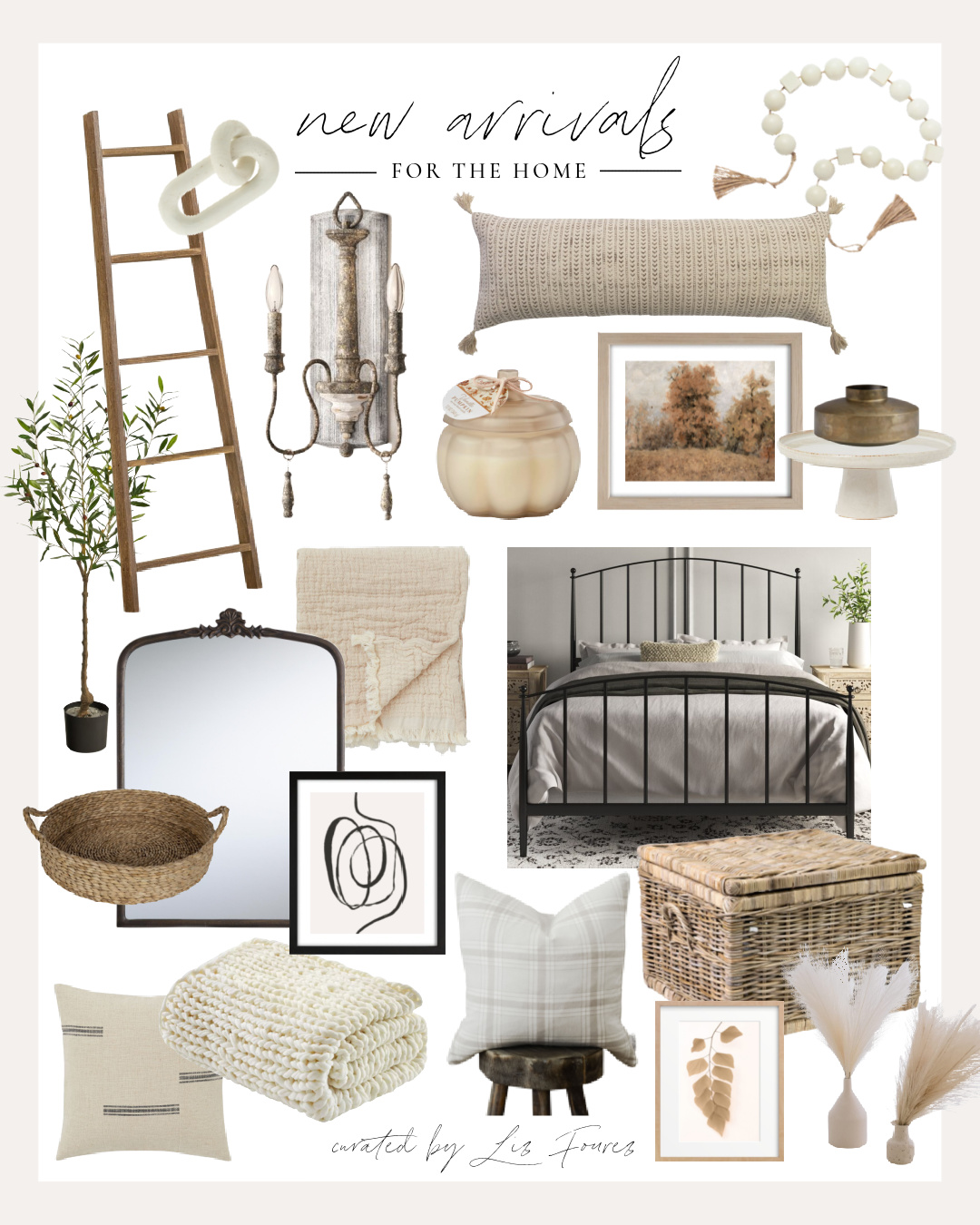 While I'm finishing up a few more fall decorating projects this week, I wanted to share some gorgeous new arrivals from my favorite home decor stores. This edition of new arrivals has a touch of fall with some beautiful landscape artwork and the cutest pumpkin candle, but also plenty of everyday decorating items that are staples in my home such as cozy blankets, pretty mirrors, simple accessories for styling and storage, and more. Check out what I've been shopping for this week!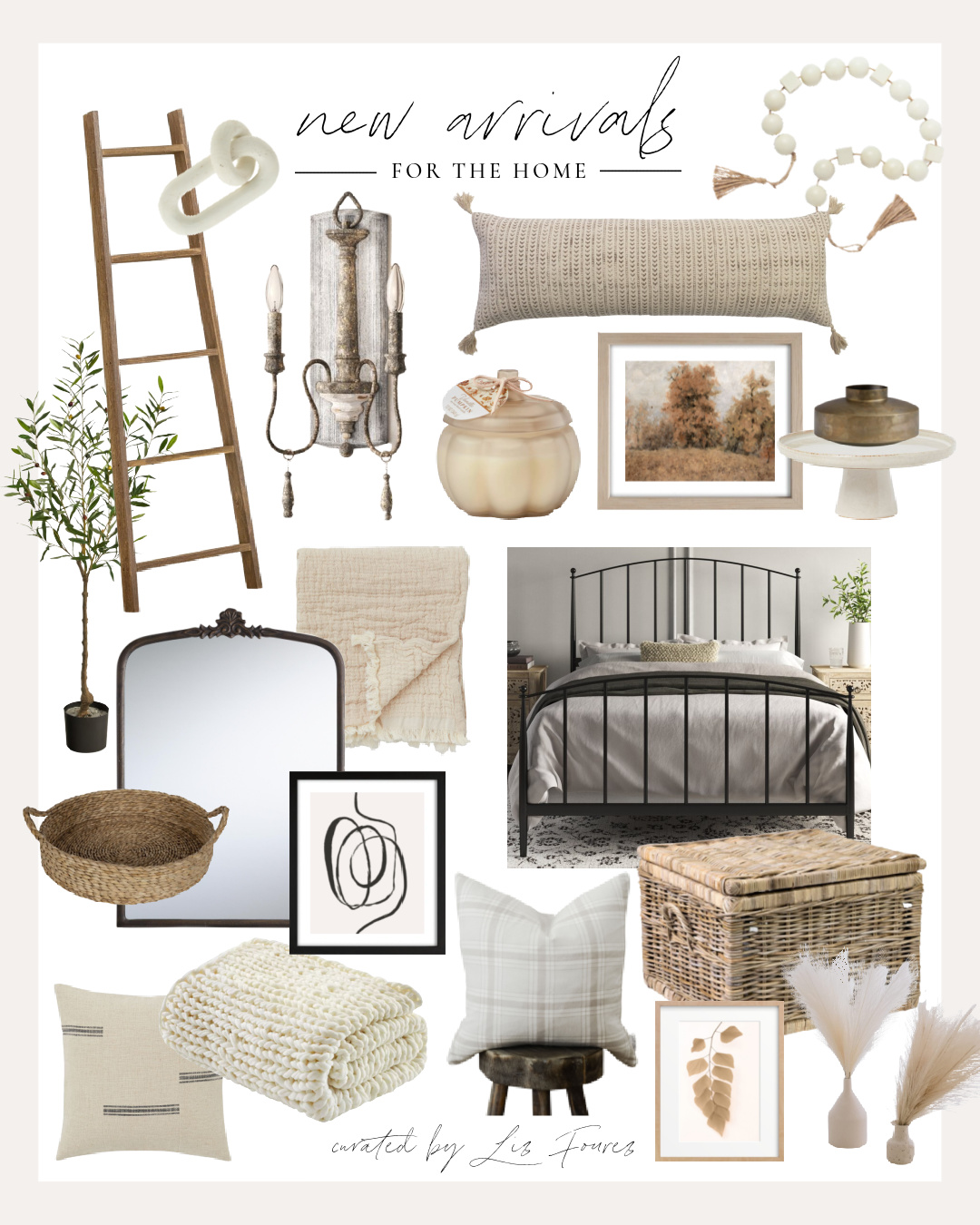 SHOP THESE NEW ARRIVALS

handmade decorative leaning blanket ladder – Adds a rustic touch to any space as well as fantastic storage for all those pretty throw blankets we tend to hoard.
limestone chain decor – These oversized chain links are perfect for styling any kind of table or bookshelf, and I love this affordable limestone version.
ceramic bead garland – Another staple styling piece to add to your collection. Try placing them in a large bowl, draping down a stack of books, or wrapped around the base of a pretty vase.
dimmable french antique candle wall sconce – This unique light fixture is the perfect mix of antique and french country and would look great in a dining room, above nightstands, or flanking a fireplace.
extra long cotton bolster pillow – I often get asked where I got my extra long lumbar pillow that sits on my sofa, and this is very similar! Beautiful pattern and color with tassel corners.
vanilla pumpkin stucco pumpkin – Because who doesn't need this darling pumpkin candle for fall? I want one in every room of my house.
forest in fall artwork – I love the warm, but subtle fall colors in this piece of landscape art. You can completely change the feel of a room with a seasonal piece of art like this.
stoneware cake stand – I use these cake stands more for decorating than I do actual cake. They are perfect for adding a little height to your displays!
wide antique brass vase – Try this unique wide brass vase to add a touch of warmth to any space.
5′ artificial olive tree – Because finding a good quality tall artificial olive tree that is both in stock and affordable can be tricky!
textured cotton throw – A soft, textured, cotton throw to keep close on chilly nights.
black metal bed frame – I love the subtle variations on this classic metal bed frame with a traditional silhouette and modern slats, plus round finials on each side.
metal vintage style vanity mirror – A much more affordable option for this vintage style of mirror.
abstract line drawing – Beautiful artwork with a classic color palette and abstract drawn lines.
round natural woven tray – A staple piece of decor to style and organize any surface.
rattan storage chest – I have an older rattan chest in my bedroom that I always get questions about, and this one is very similar! Perfect for storing toys, pillows, or extra blankets.
neutral plaid pillow cover – A soft plaid pillow to welcome fall into your home in a cozy way.
chunky knit handmade throw blanket – So much softness and texture in this beautiful blanket. I love the look of extra chunky knit.
linen stripe pillow cover – A simple and neutral pillow cover at a great price.
beige leaf artwork – A brighter, more modern option for fall artwork that can be downloaded and printed at home or ordered and shipped in a frame.
beige and taupe pampas grass – Replace the spring and summer stems in your vases with this beautiful pampas grass for a soft, subtle feeling of fall.
---
Which pieces are your favorite? I just wanted to say thank you for stopping by today, and have fun shopping! You can see last month's New Arrivals posts here.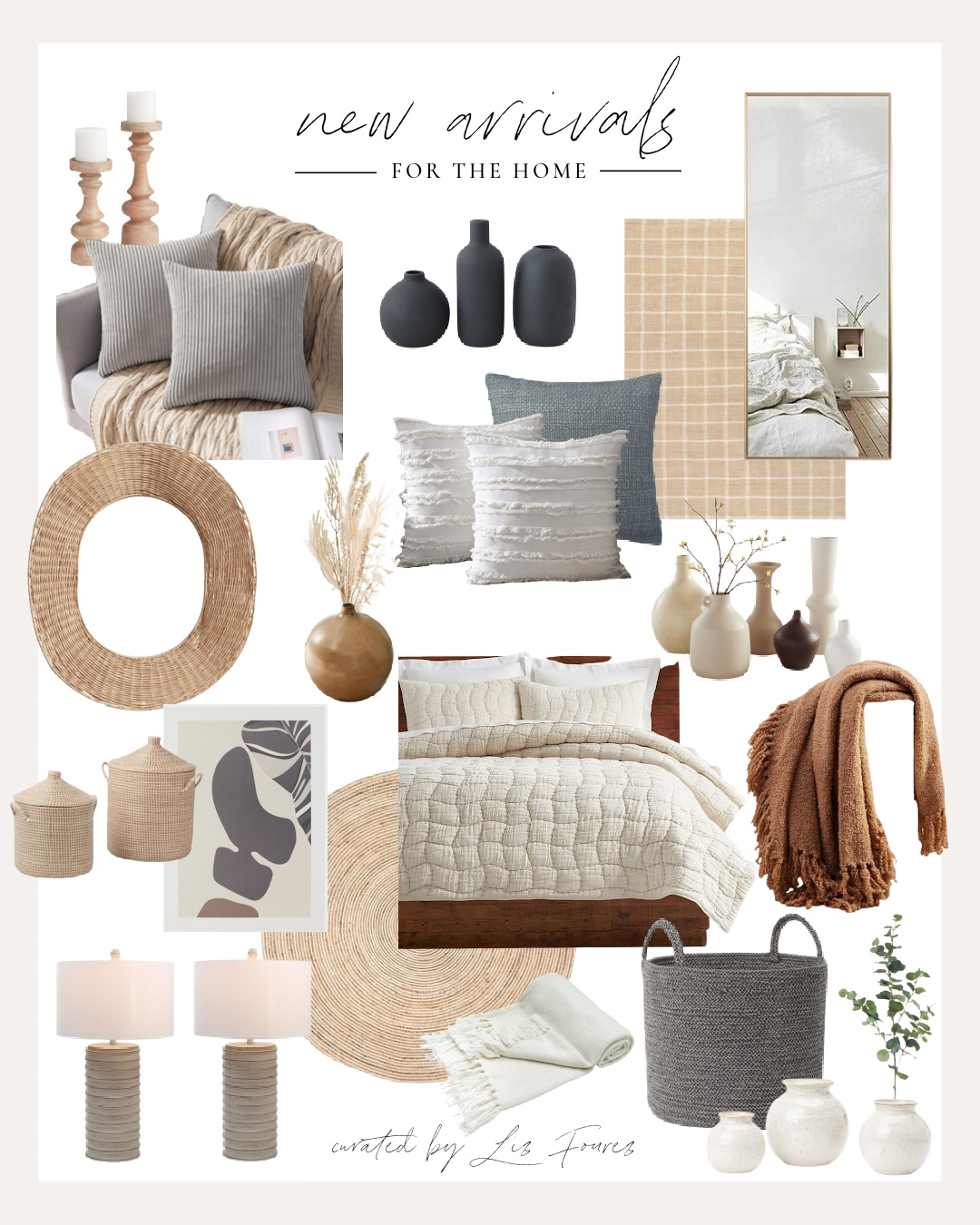 As always, I sincerely appreciate you shopping through the links I share, which allows me to make a small commission from your purchase while your purchase price stays the same. When you use my affiliate links, I'm better able to create content for this blog as well as support my family, and I thank you from the bottom of my heart for supporting what I do!
---
Subscribe to Blog | Follow on Instagram
Follow on Pinterest | Follow on Facebook