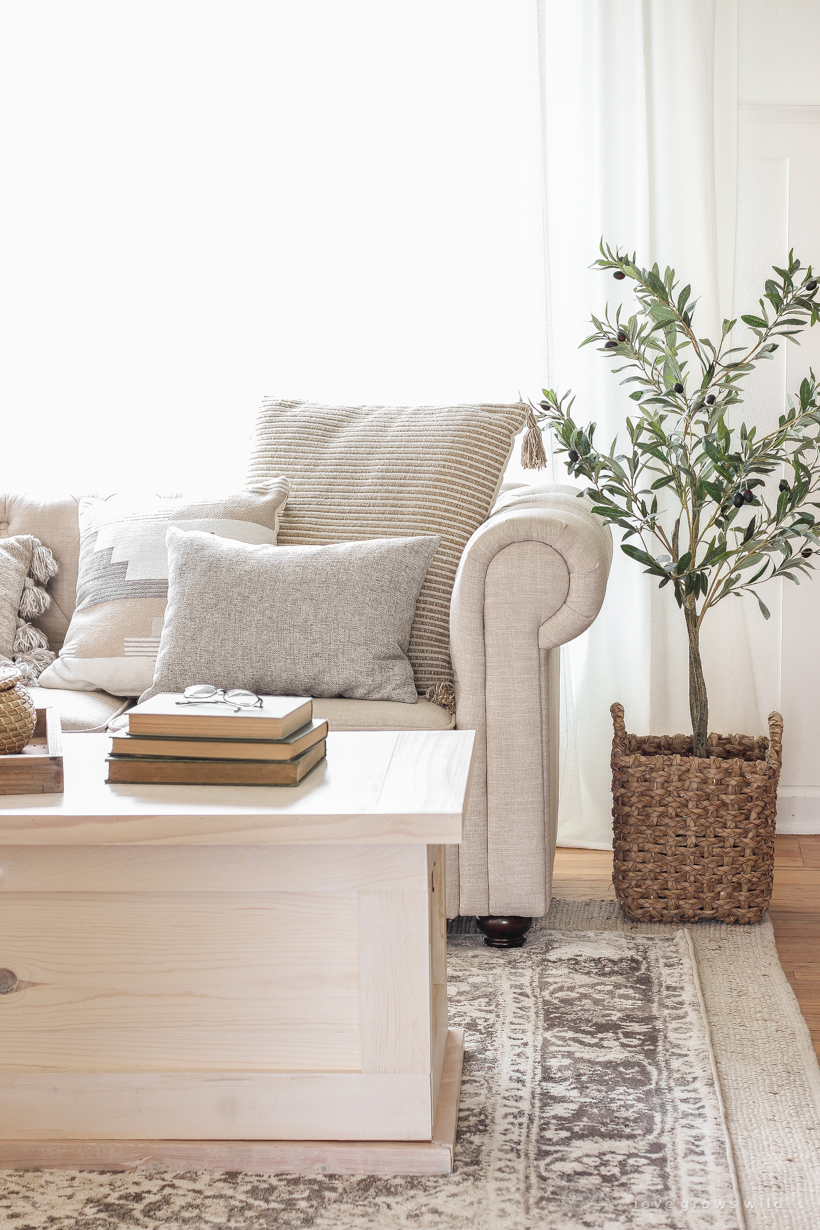 As summer begins to turn to fall, I start craving a little extra warmth and coziness in the house, and this week I've been focusing on our living room. But instead of crawling around my attic and dragging out totes full of pumpkins and my typical fall decor, I wanted to try giving our home the "feeling" of fall this year instead of going the obvious route. You guys know I tend towards a more a more minimalist look when it comes to decorating anyway, and to be completely honest the older I get, the less I feel like completely changing our house from top to bottom each season. Call it laziness, call it being busy, call it motherhood exhaustion, or simply growing into a more grown-up mature style, but I just enjoy simplicity in our home.
And also, I know that it's easy to get caught up in feeling like you need to go out and spend money on new fall decor so you can have a cute decorated house, but I truly want to inspire you to use what you already have OR if you do buy something, have it be something that can be repurposed throughout multiple seasons. So this fall-inspired living room is not covered in pumpkins; in fact it only has one hiding somewhere in the room… I'll see if you can find it. : )
Our living room this season is full of warmth and coziness, but instead of my usual recipe for fall decorating I used a combination of:
texture
layers
pattern
earth tones
natural elements
antique metal finishes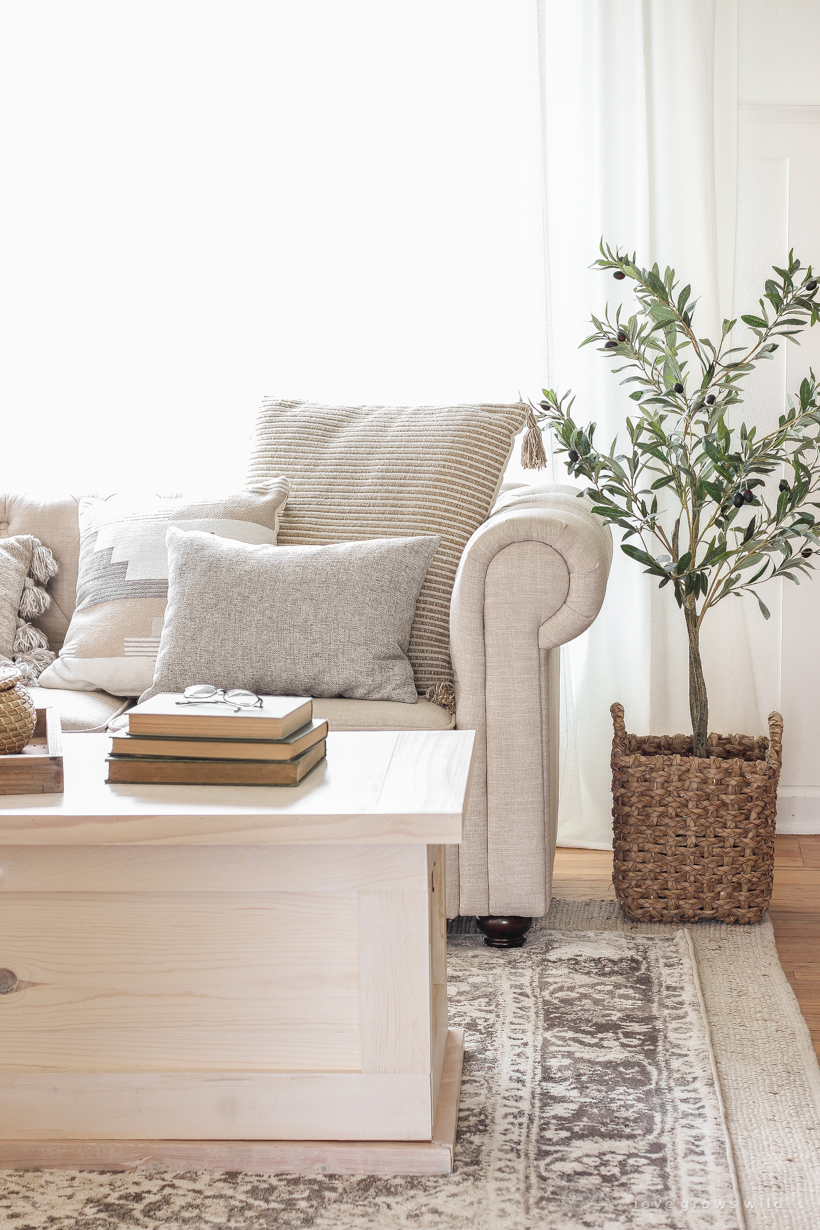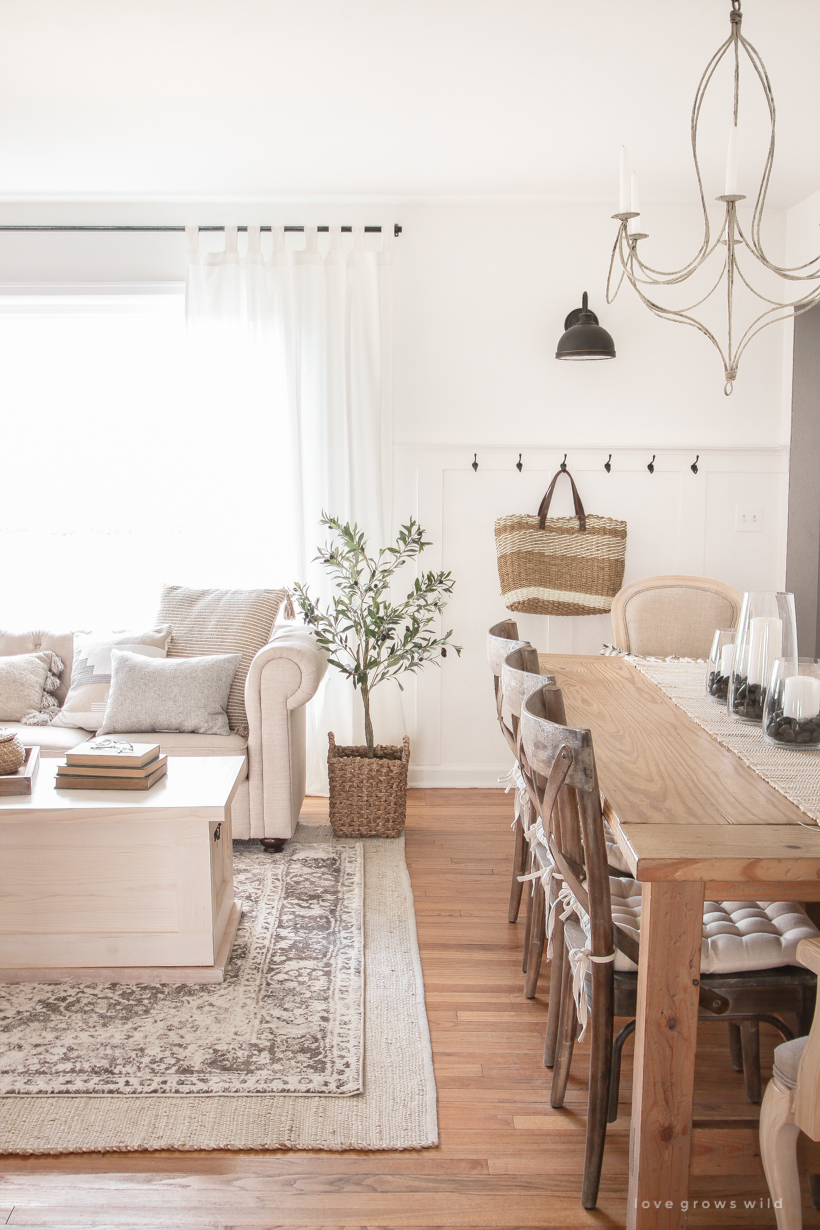 Note: I sincerely appreciate you shopping through the links I share, which allows me to make a small commission from your purchase while your purchase price stays the same. When you use these affiliate links, I'm better able to create content for this blog as well as support my family, and I thank you from the bottom of my heart for your support!
The first thing you'll probably notice in this space is the addition of a new rug and lots of fun throw pillows on the sofa. Just these two simple things made SUCH a big change, and I love how cozy everything feels.
I still adore the larger jute area rug I bought for the living room earlier this year, but I wanted something with a little bit of pattern and some richer, darker colors for fall. I've never tried layering two rugs together before, but the jute rug I already have happens to be the perfect base for layering because it is thin, simple, and a beautiful neutral color. So I found this more traditional medallion rug with a vintage look and really pretty cream, brown, and gray tones and ordered one size smaller than the jute rug. I don't think I could love this combination more, and it feels like such a natural fit in this space. I think having the plain jute rug border along the outside helps to soften the pattern a bit, but the colors play together so beautifully. And the other benefit of having this layered look (besides the super cozy vibe) is the top rug is SO soft on your feet, and the jute rug will last much longer because it is mostly protected now.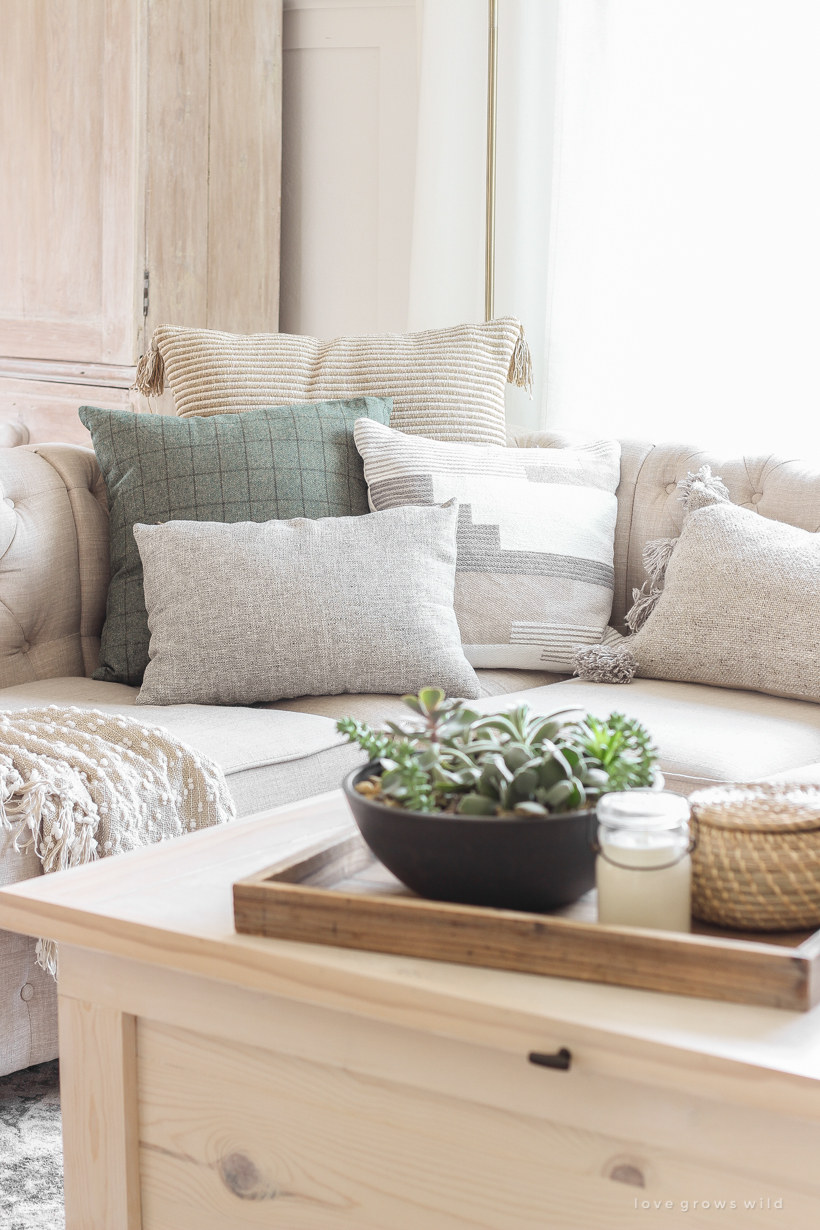 And can we talk about these pillows? To be completely honest, this combination of color and pattern was a bit of a stretch for me at first. Usually I go super neutral, but I fell in love with the muted green wool windowpane pillow, and the color palette grew from there. I brought the big tan stripe tassel pillows home from my shop, Love Grows Wild Market, so I wanted something that would play off the warm tan/beige tones. I found a white, beige, and gray color block pillow that was SO pretty, and grabbed a gray lumbar pillow with really pretty texture to finish off the look. The colors are still mostly neutral, but with a lot of warmth, pattern and texture to bring in that cozy feeling of fall.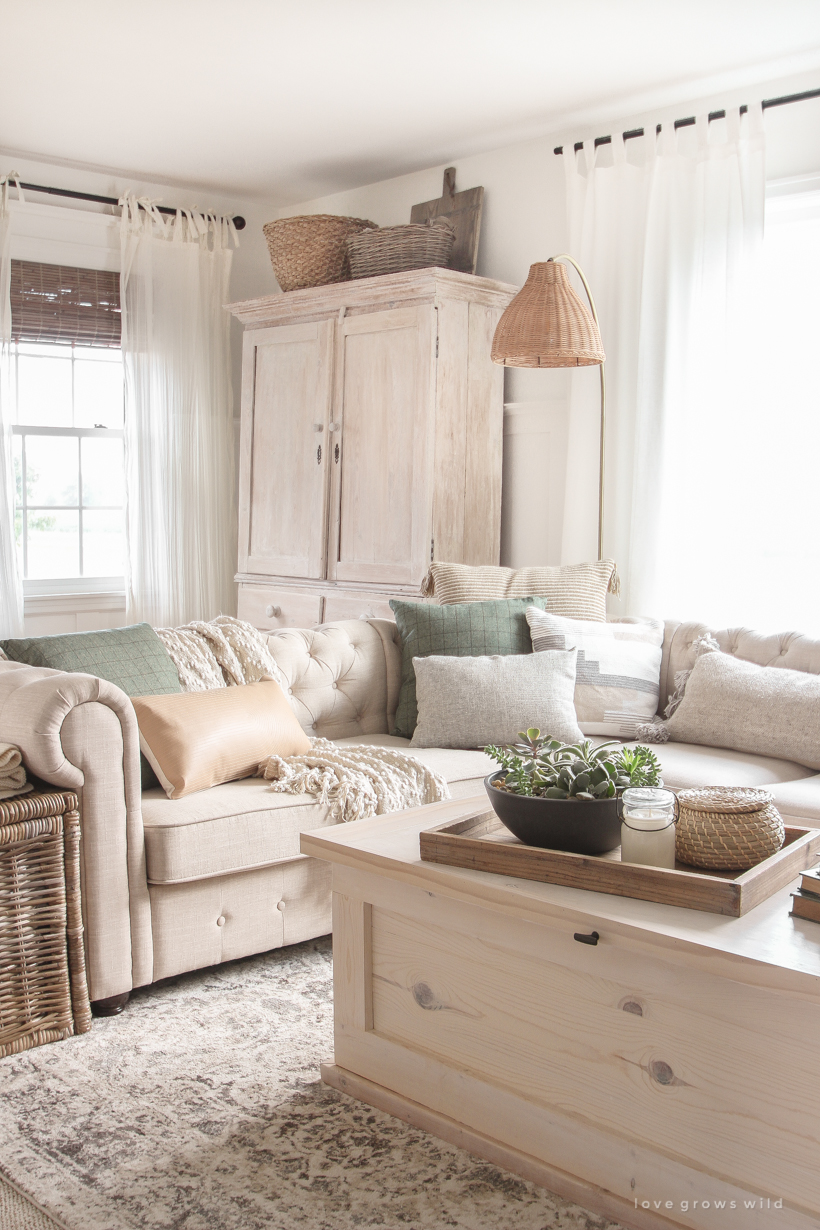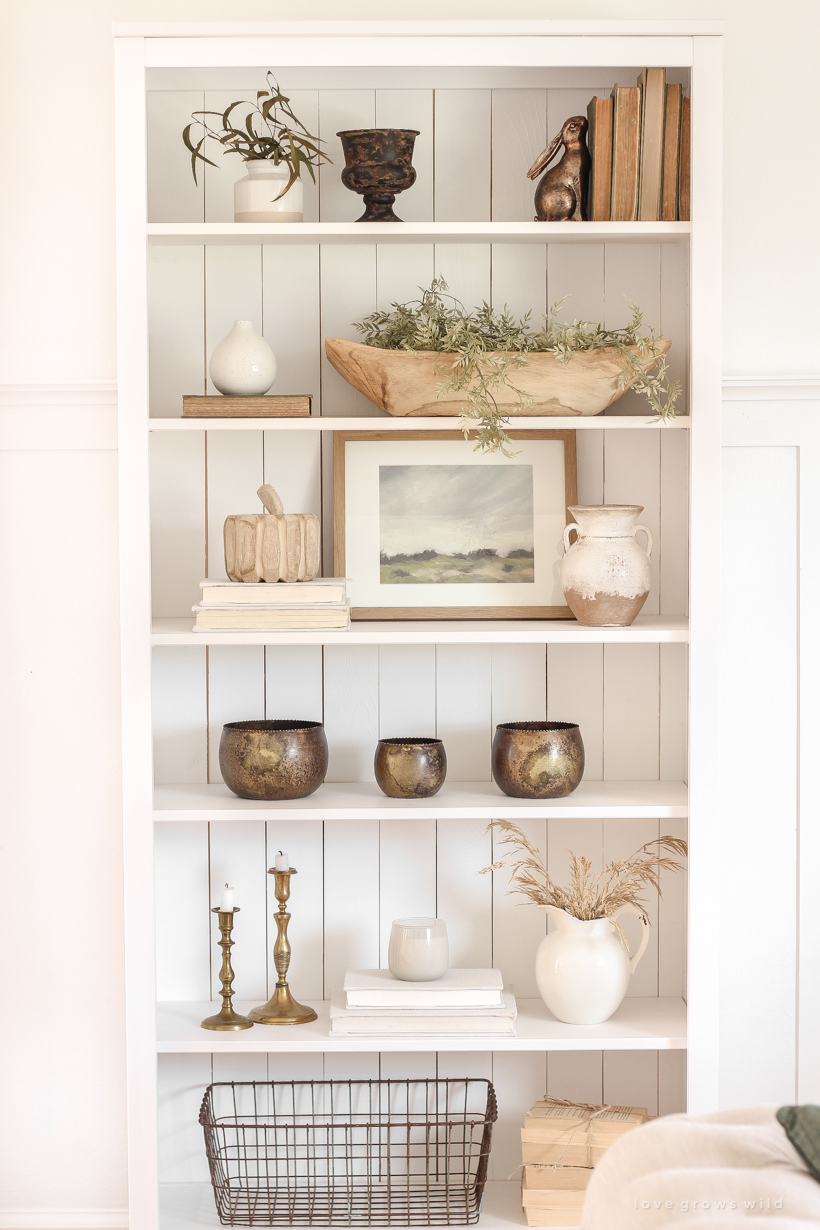 If you saw my recent bookshelf post, you already know how much fun I'm having decorating these shelves and that I had to play around with some fun accessories for fall. I kept a few elements the same such as the painting, antique wire basket, some pottery, and the linen-covered books. But then I added in lots of warmth and character with antique brass candlesticks and bowls, vintage books, some fall foliage (a.k.a. dried weeds from my backyard), a brass bunny bookend, and some wood elements like the big bowl full of hanging greenery and one small pumpkin.
I still tried to keep plenty of open negative space on the shelves so they wouldn't look cluttered, but I love all the warmth and patina and texture I brought in for fall.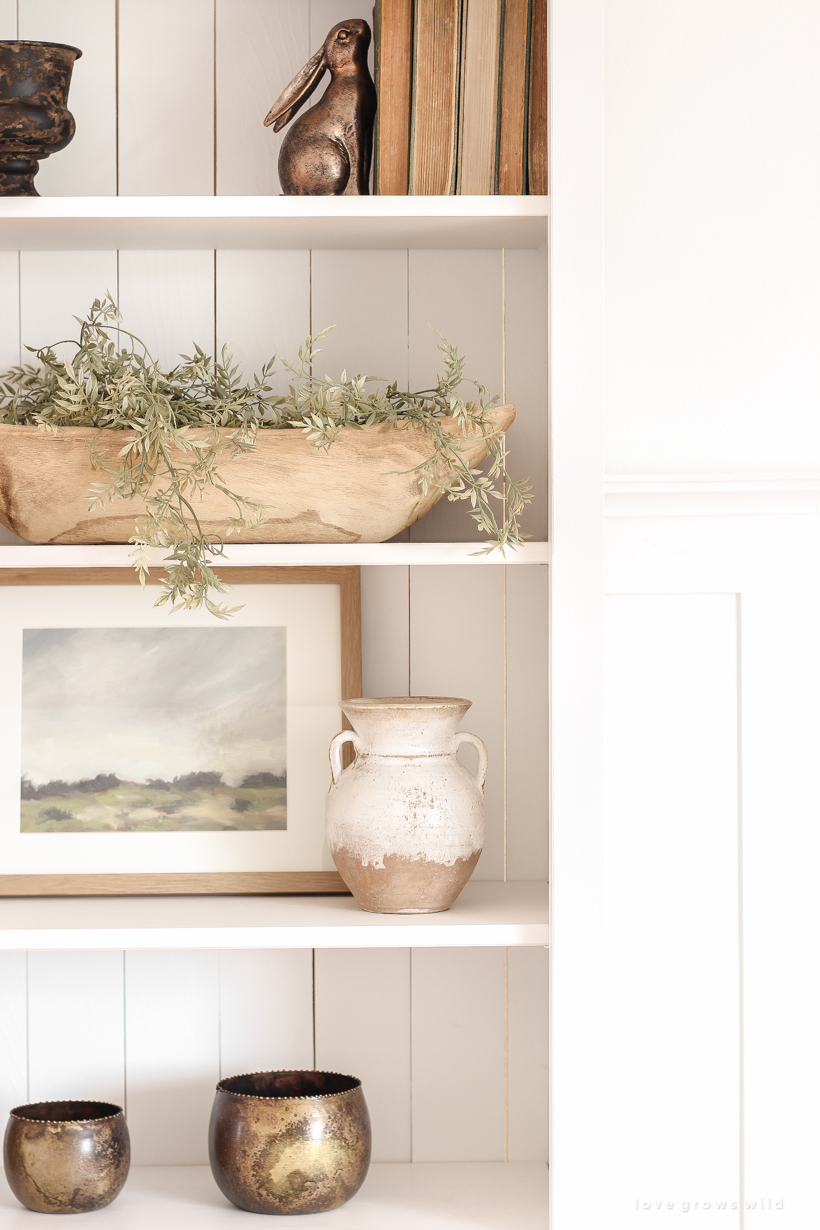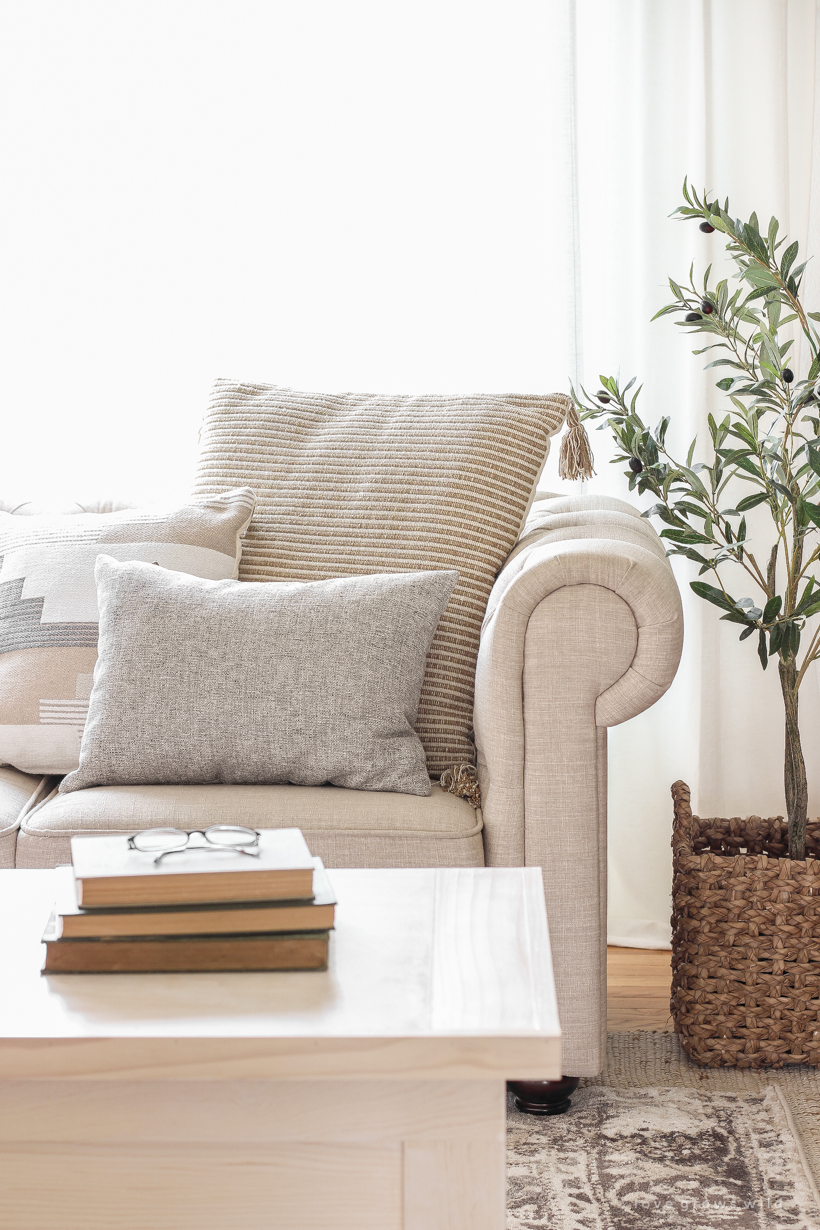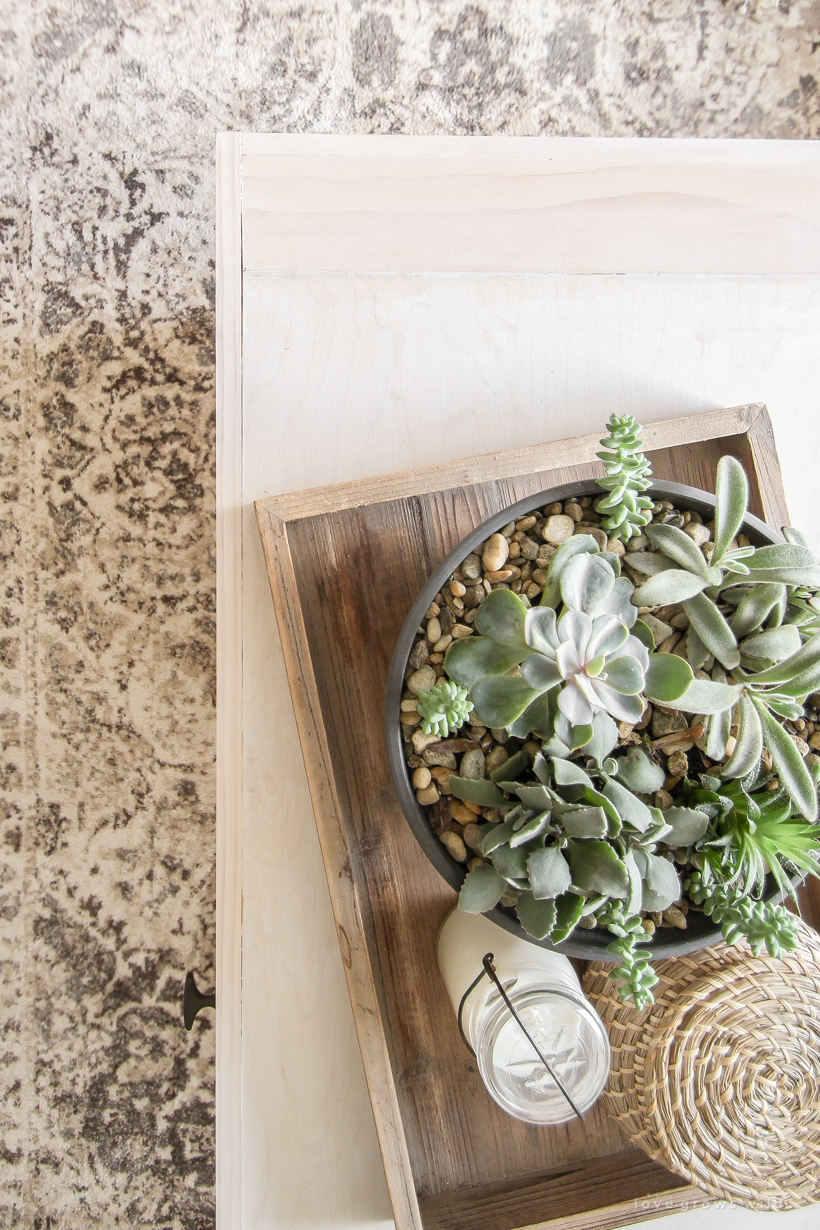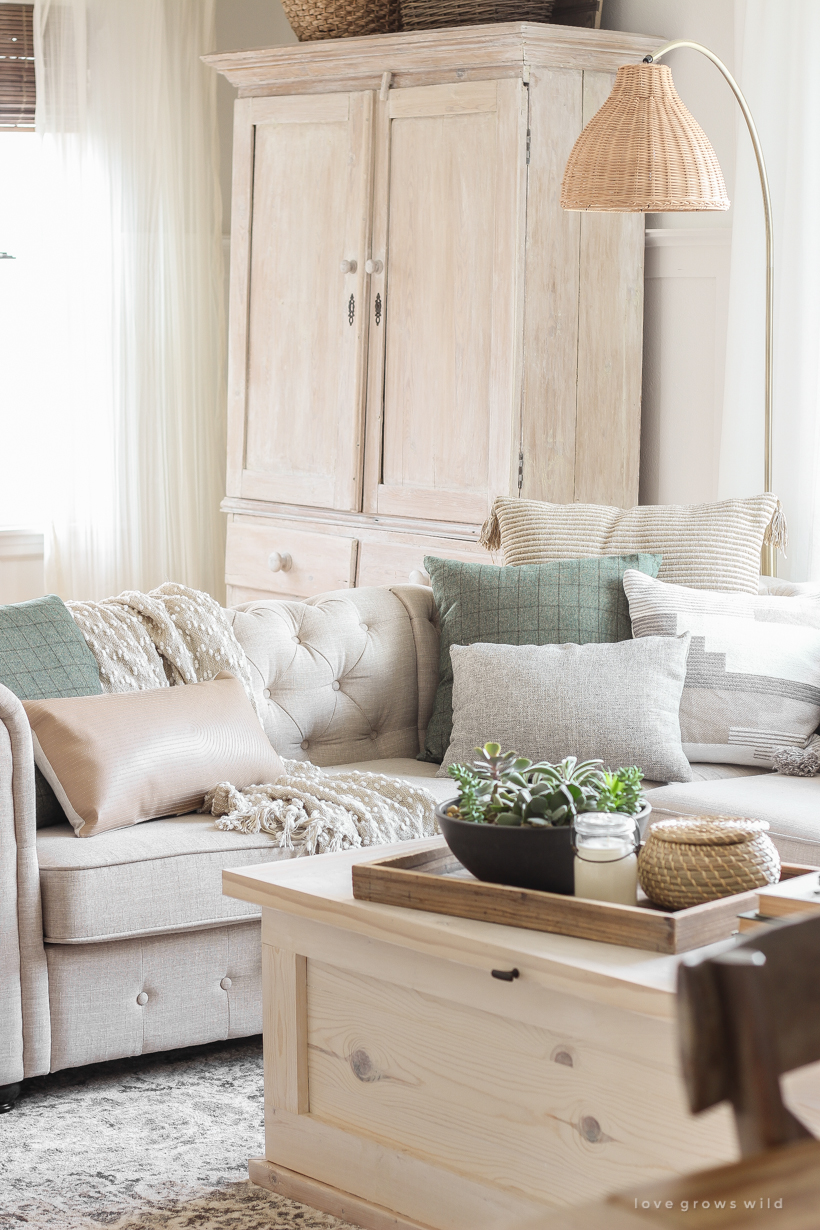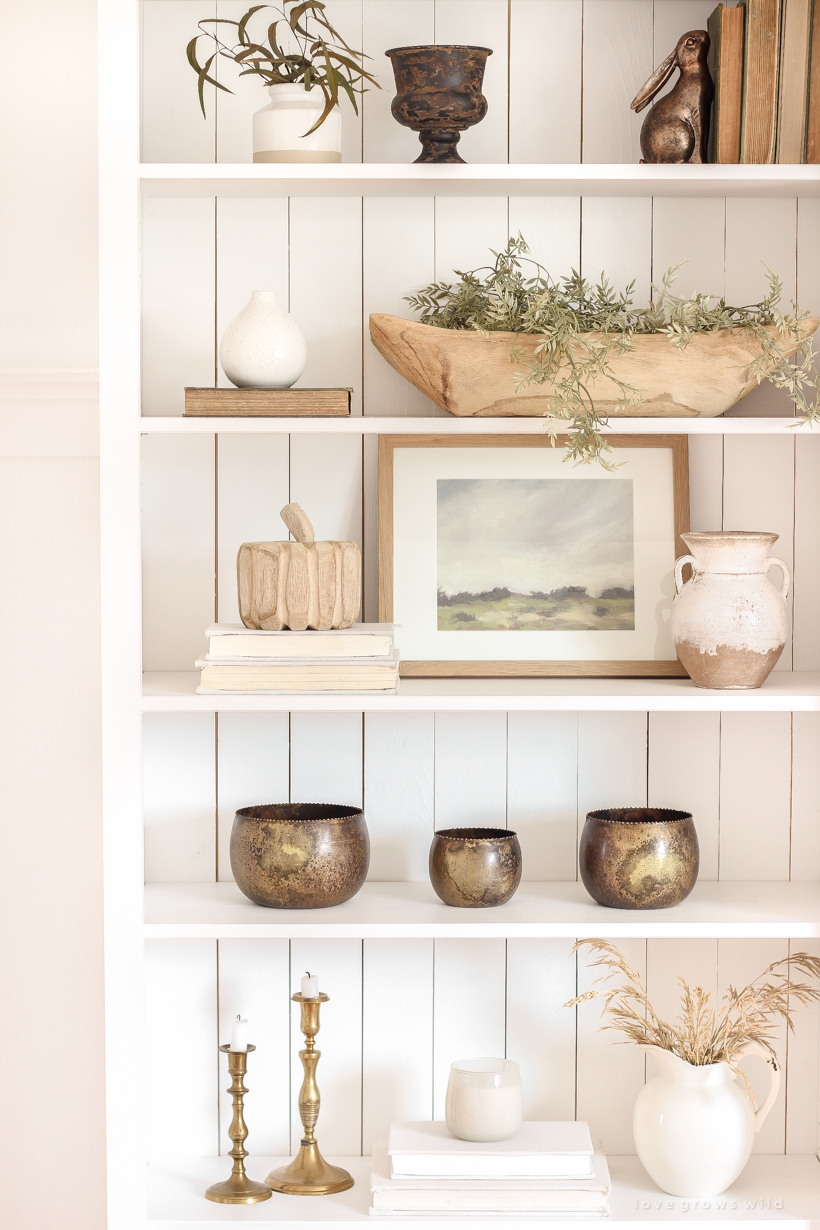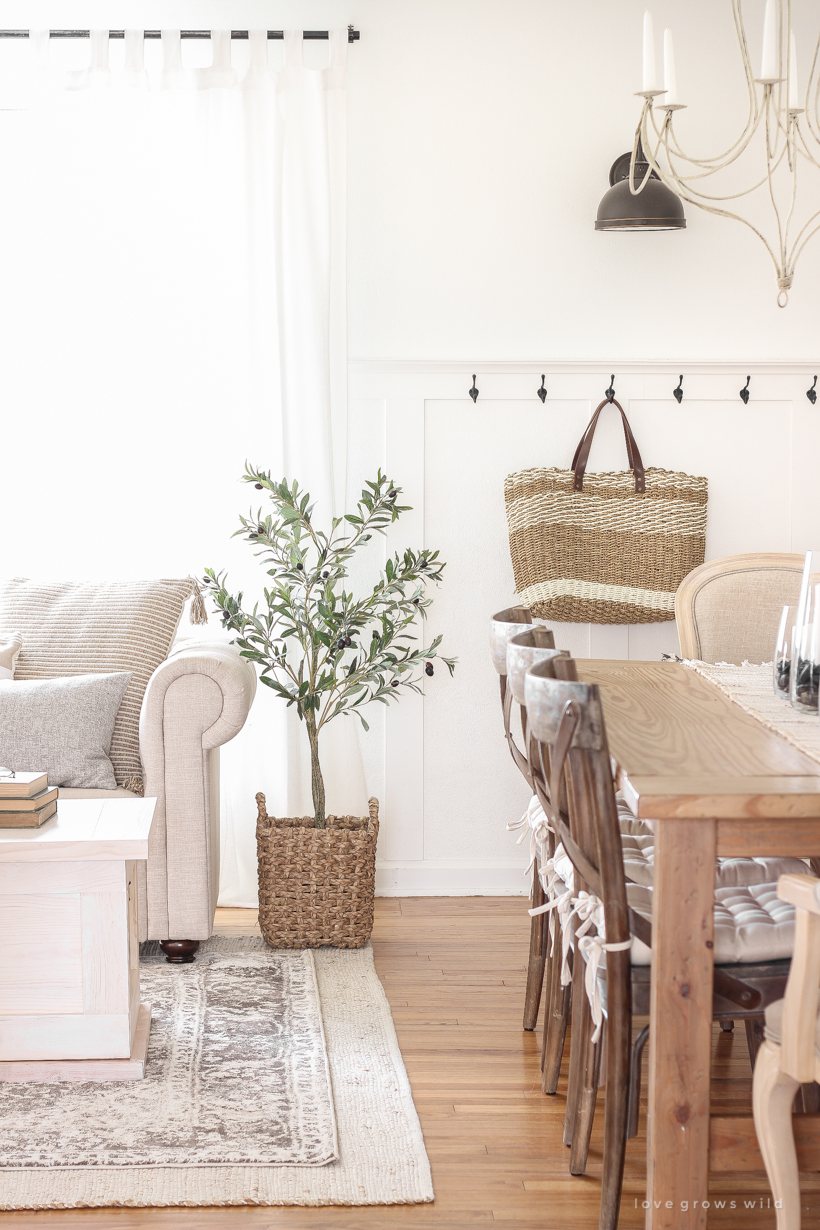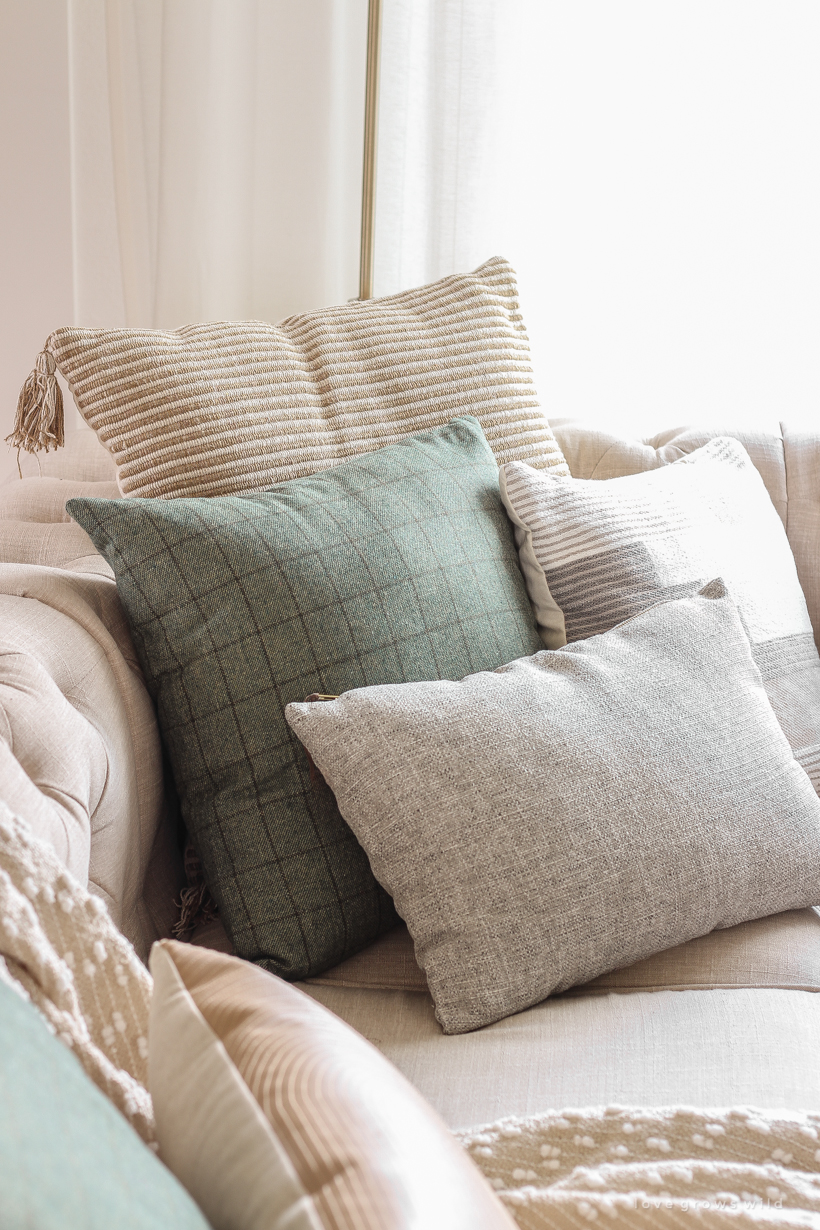 Doesn't this cozy look just make you want to curl up with a blanket and a cup of hot tea?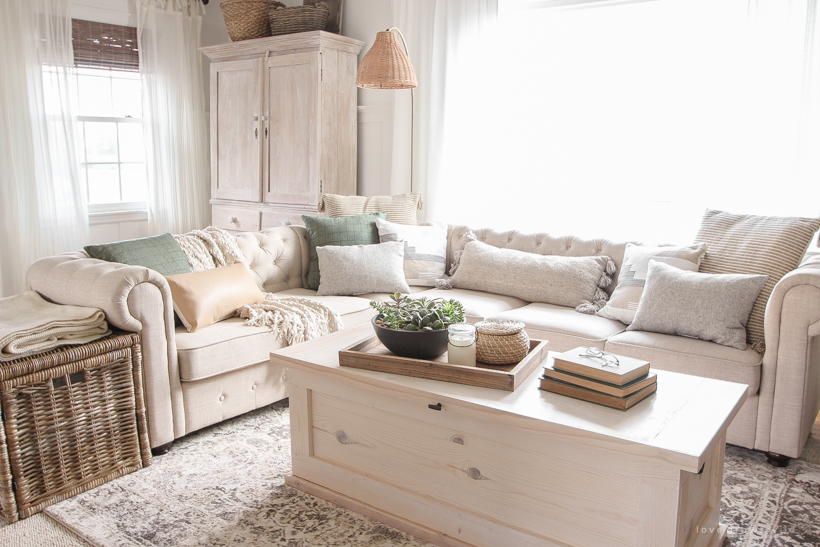 Thank you so much for stopping by to see the start of my fall decor this year. I hope you feel inspired to cozy up your home this season, and here are a few take away tips that I want to leave you with:
Try in your living room…
adding a few extra pillows and/or blankets with lots of soft, warm texture
layering two rugs together, starting with a simple, neutral rug on bottom and adding something with more pattern/color on top
picking one accent color to play with for fall or bringing in lots of rich earth tones for a more neutral look
Stay tuned for more fall looks coming soon! xoxo Liz
---
Shop the post:

– SOURCES –
sectional sofa: Wayfair | coffee table: tutorial here | jute rug: RugsUSA
medallion rug: RugsUSA | faux olive tree: Etsy | basket for tree: HomeGoods
tan stripe tassel pillow: Love Grows Wild Market | green wool pillow: Target | tan + gray color block pillow: Target
gray lumbar pillow: Target | long lumbar tassel pillow: Wayfair | camel leather lumbar pillow: Target
rattan lamp: Walmart | wicker trunk: IKEA | wooden tray: Wayfair
succulent bowl: tutorial here | candle: Antique Candle Co. | dining table: tutorial here
dining chairs: World Market | chair cushion: World Market | table runner: Pier 1
woven bag: Target | candle chandelier: Rustic Garden | wall sconce: Wayfair
tie top sheer curtains: World Market | bamboo shades: Home Depot | landscape painting: Etsy
* many of the items on the bookshelf came from my shop or are vintage
---
Subscribe to Blog | Follow on Instagram
Follow on Pinterest | Follow on Facebook