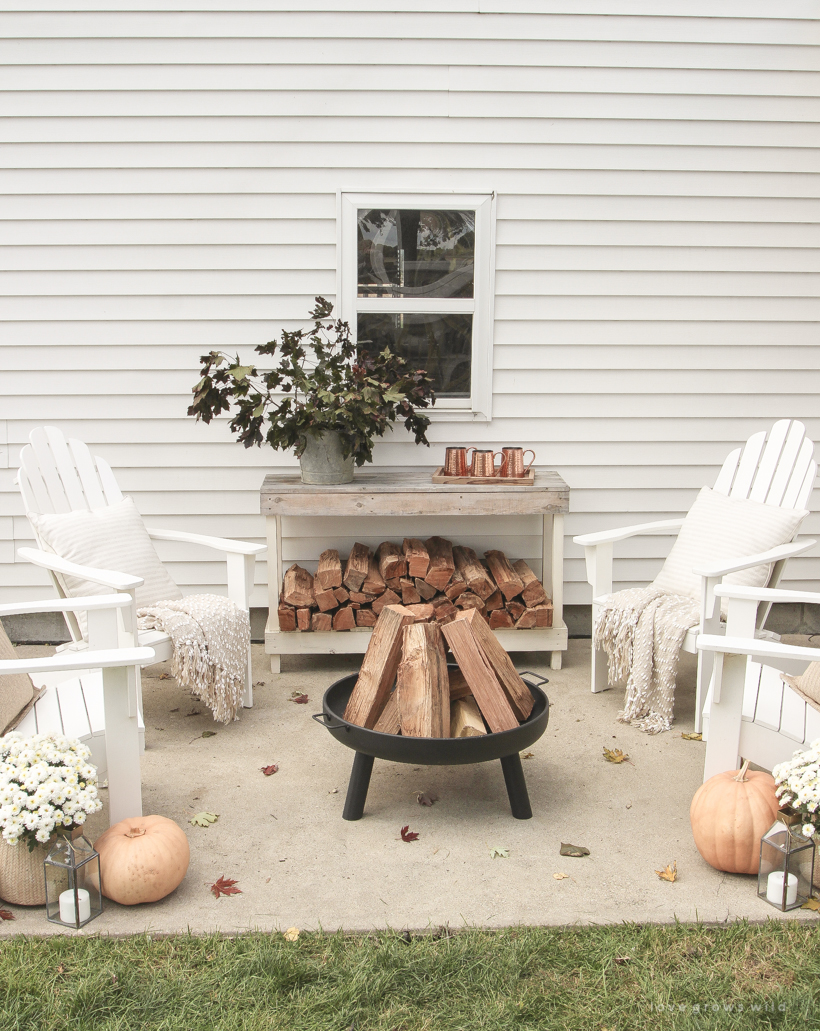 I decided to celebrate the first day of October with a cozy fall-themed space I haven't shown you in quite a while. Do you remember this little patio next to the garage in the backyard? This tiny slab of concrete used to be the only outdoor living space we had before the deck was added in 2019. It wasn't much to work with, but I made the best of what I had at the time. Now that the deck is finished and this little patio no longer serves much of a purpose, I racked my brain this summer to find a new way to utilize the space that would work well with the deck sitting just a few feet away.
And what did I come up with? The cutest, coziest little fire pit area complete with gorgeous adirondack chairs, a small and simple black metal fire pit, and a few touches of fall to decorate the space. Welcome to my new patio!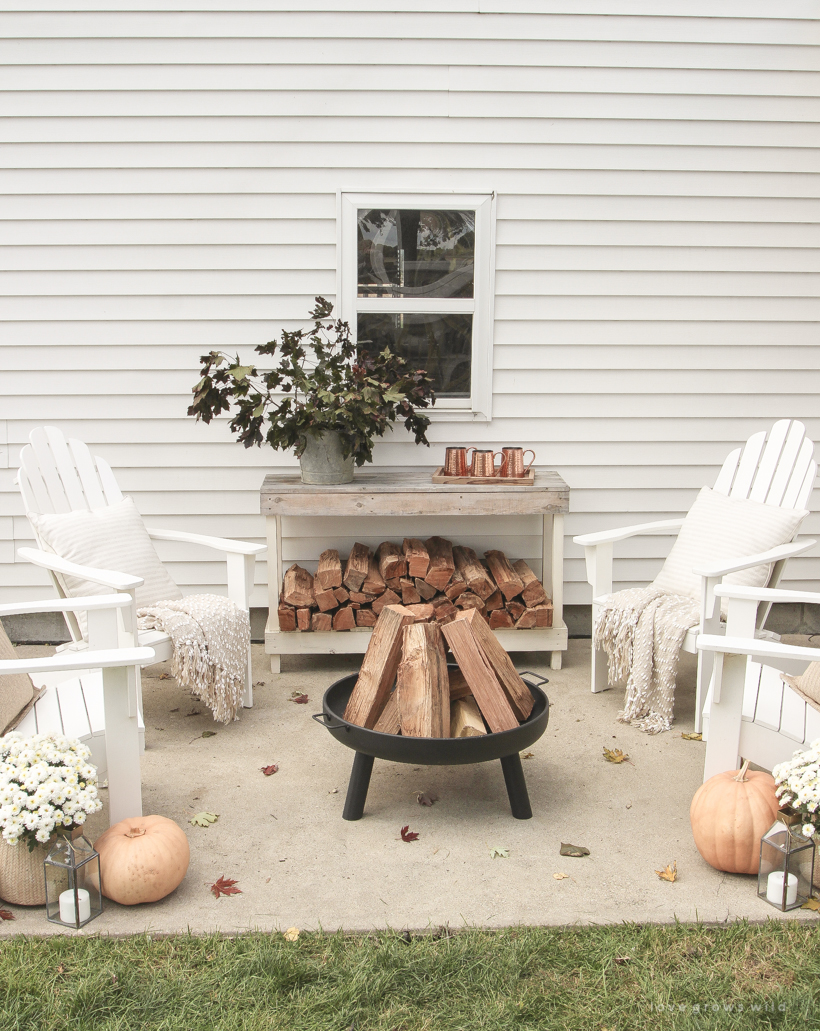 The first thing I did was pick out a simple and affordable metal fire pit and four white adirondack chairs to go around it. I ordered my chairs from World Market, but since those are out of stock, I've found two very similar options for you here and here. You can score some good deals this time of the year on outdoor furniture since it's the end of the season.
I moved my outdoor console table from the deck back down here to hold logs on the bottom shelf and a space for drinks and s'mores supplies on top. You can find a tutorial on how to make this table here.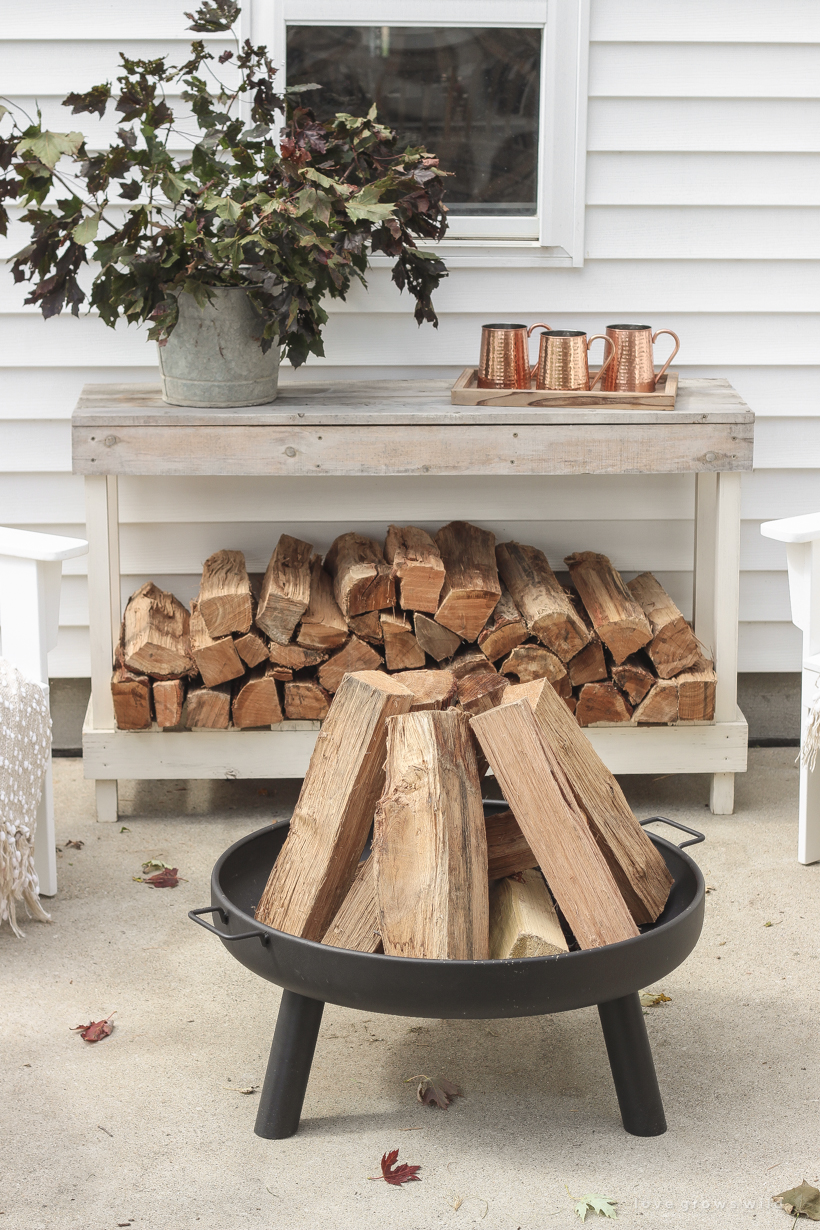 I kept the decor simple and nature-inspired with just a few pumpkins, lanterns, and mums sitting on the ground next to the chairs. The pillows and blankets were all things I already owned and used up on the deck previously. The bigger white stripe pillows came from here (same design, just different colors), and you can find a similar pillow to my natural fiber ones here. Also, this is the closest match to these beige blankets that I've found since I purchased them years ago, and I highly recommend grabbing one!
The pots for my mums I snagged from Target awhile back, but here is an option from Hobby Lobby that is similar. The only new decor I did purchase for this space were these gold lanterns I found on Amazon. They come in two different sizes (I have the medium), and while they've weathered a bit sitting outside, I actually really like that they don't look brand spanking new now.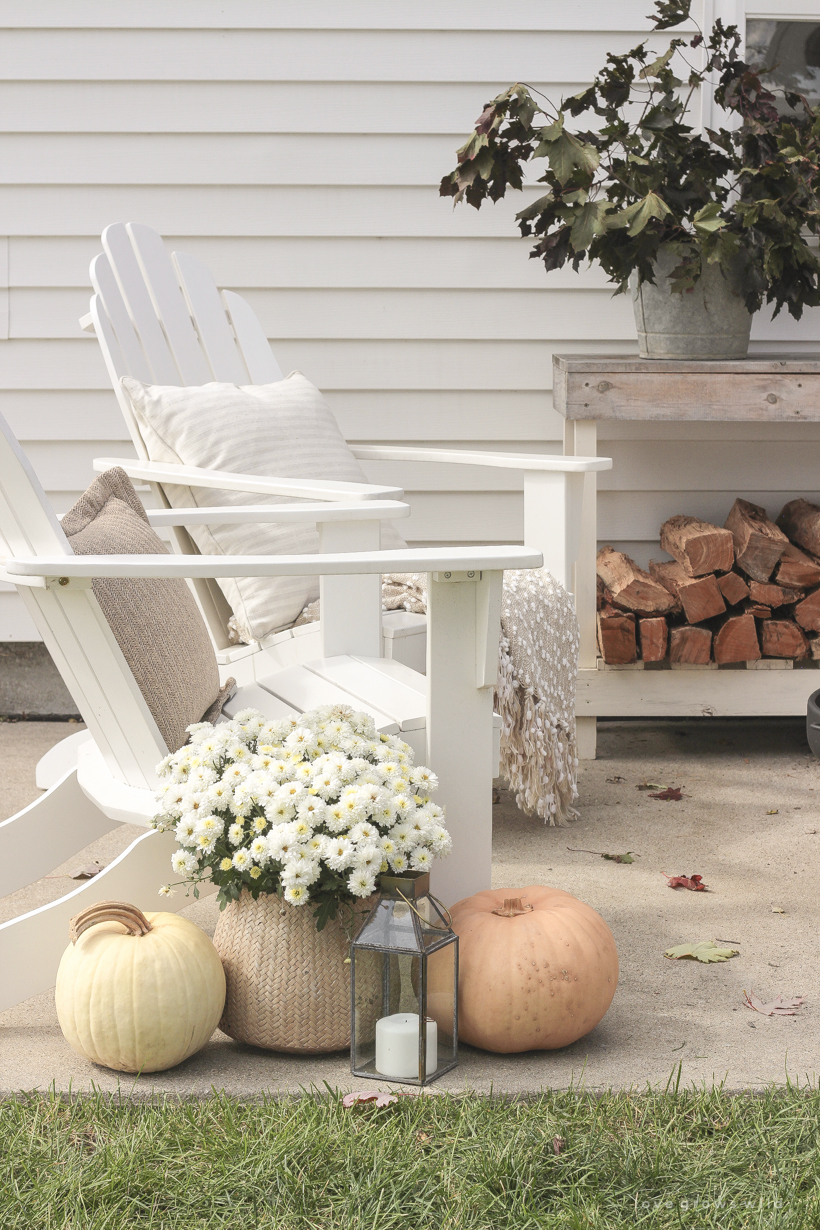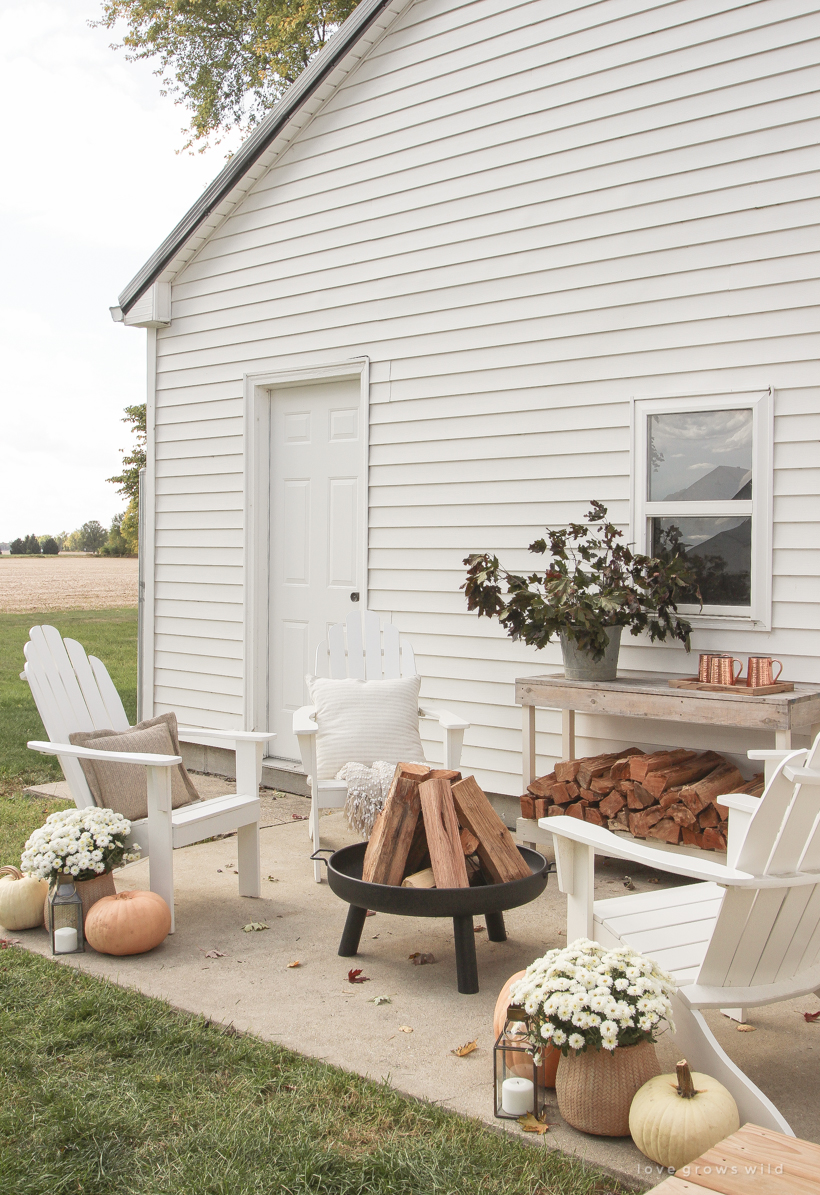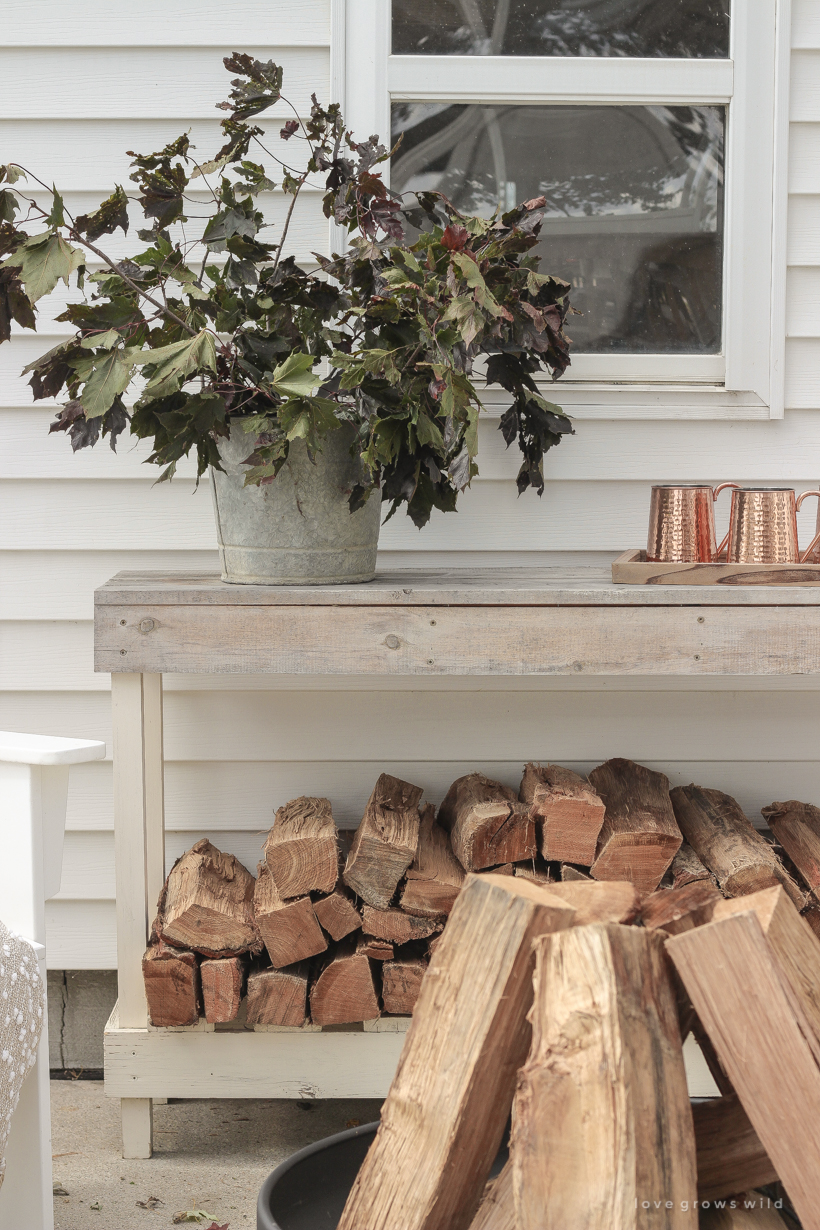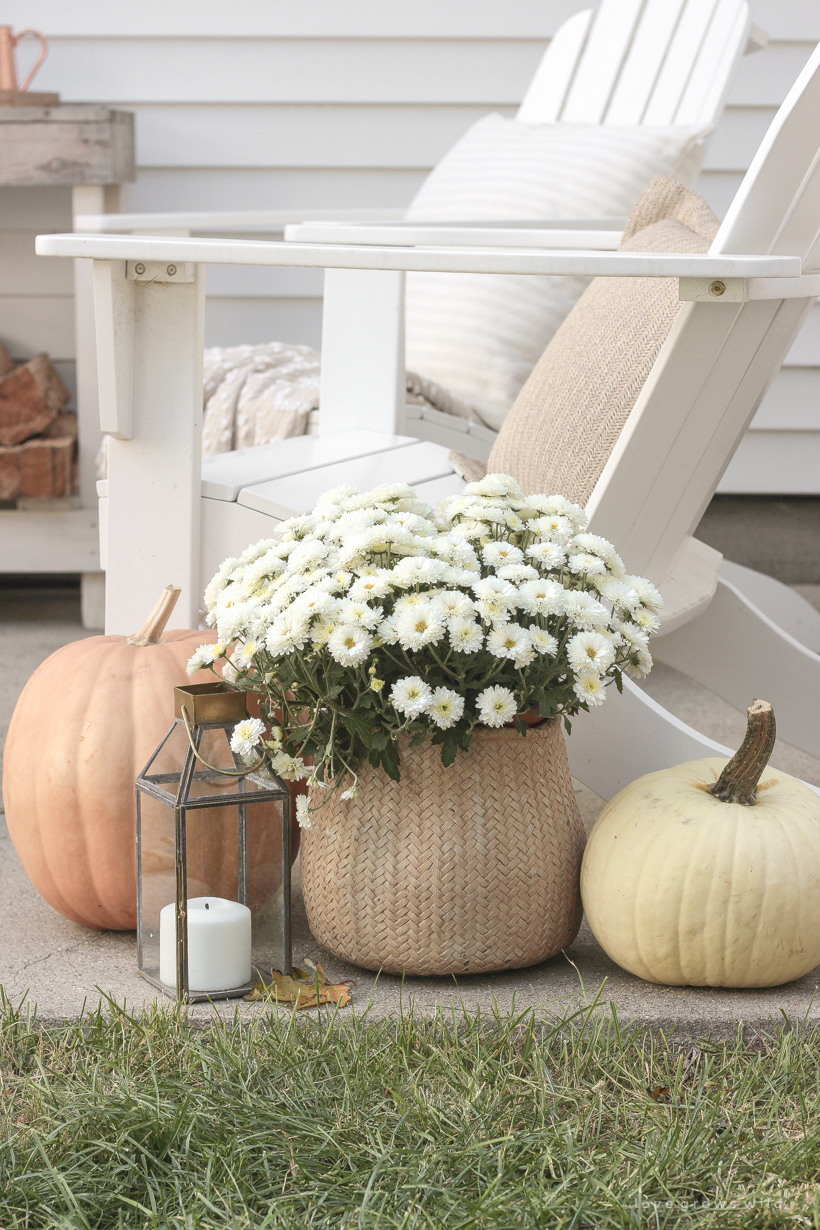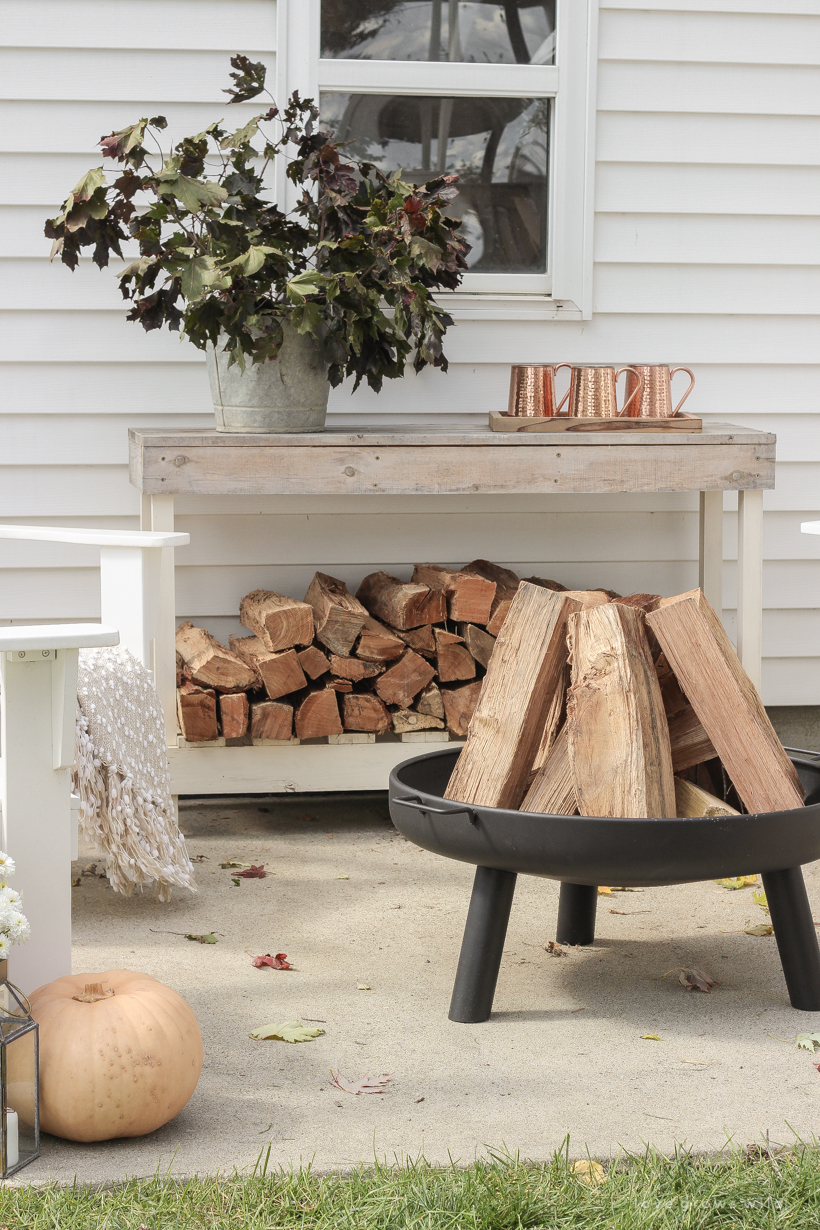 This view from my backyard is everything… I could stay out here for hours just staring off into the pretty blue sky.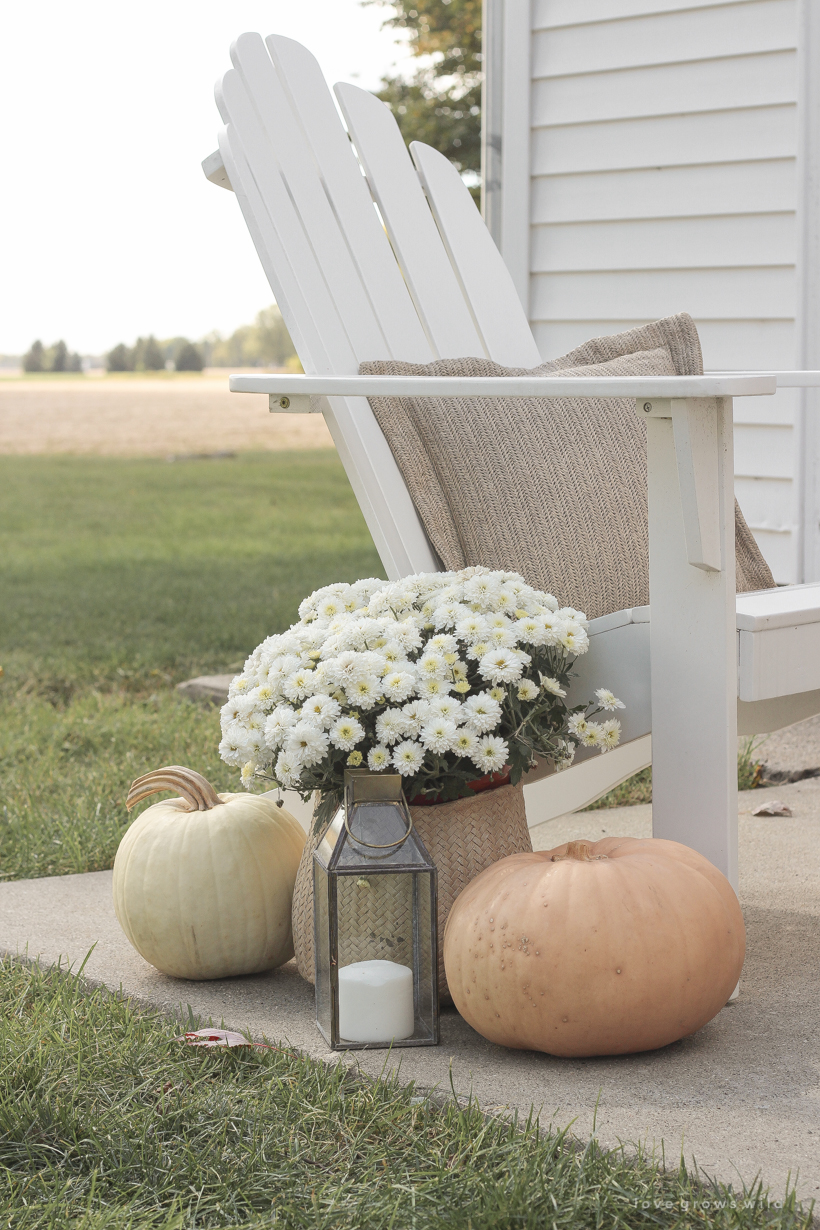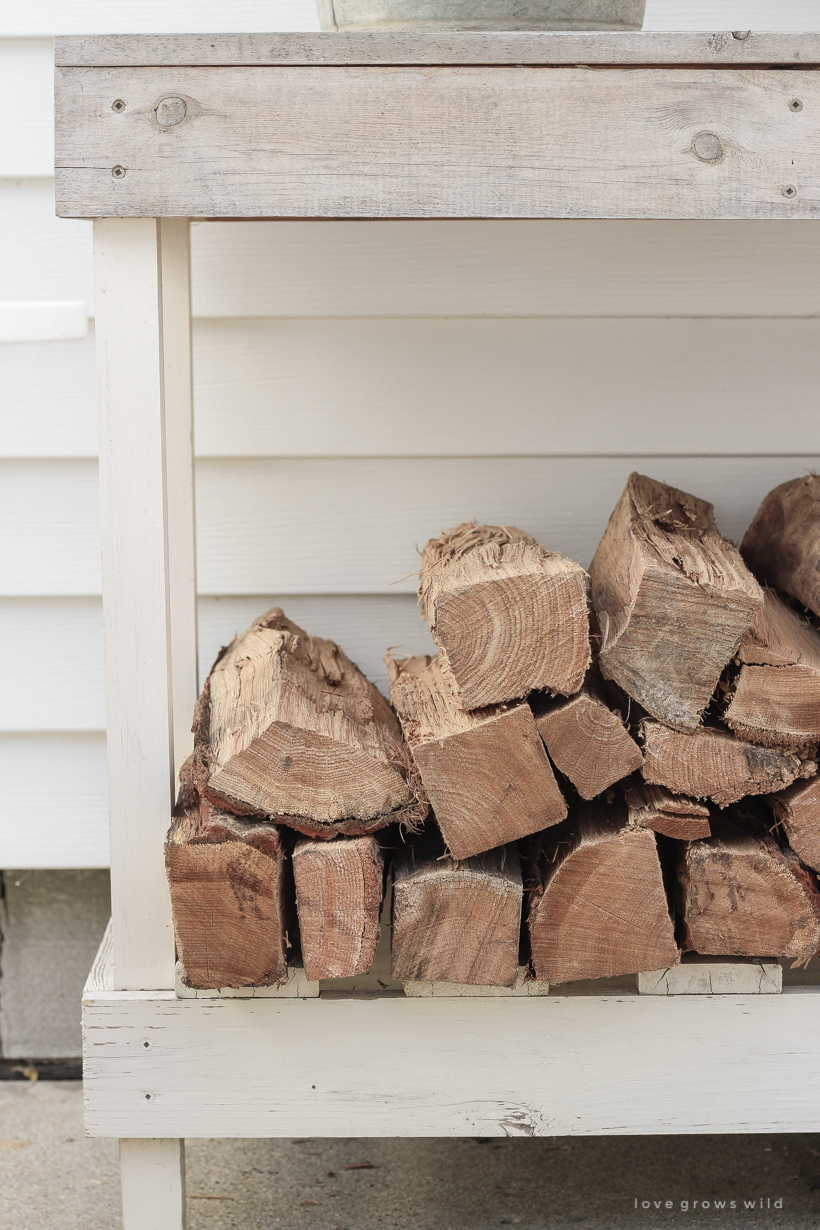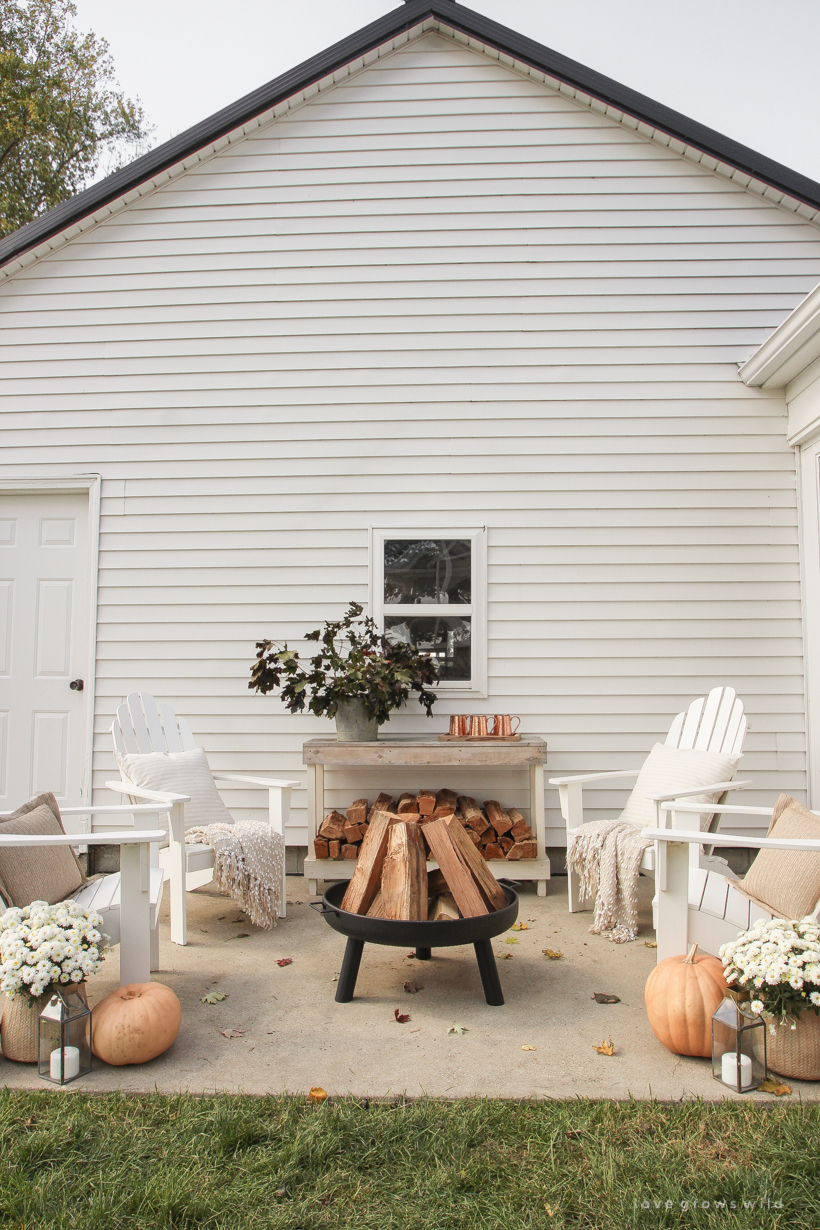 We're all stocked up on firewood now for the season, and the boys and I love cozying up out here to relax and make s'mores. Since this is close to the house, I keep the fires here on the small side and use our bigger burn area out in the yard for larger bonfires. I love that we have this little space now so we can keep enjoying the outdoors later in the year as it starts to cool off at night!
What do YOU think? Have you decorated for fall this year? I'd love to hear what you think! Thanks for being here, sweet friend.
xoxo Liz
SHOP THE POST

black metal fire pit: Wayfair
white adirondack chairs: similar here or here
outdoor console table: tutorial here
white stripe pillows: Wayfair
natural fiber pillows: similar here
beige blankets: similar here
gold lanterns: Amazon
pots: similar here
mugs: Target
Note: As always, I sincerely appreciate you shopping through the links I share, which allows me to make a small commission from your purchase while your purchase price stays the same. When you use my affiliate links, I'm better able to create content for this blog as well as support my family, and I thank you from the bottom of my heart for supporting what I do!
---
Subscribe to Blog | Follow on Instagram
Follow on Pinterest | Follow on Facebook