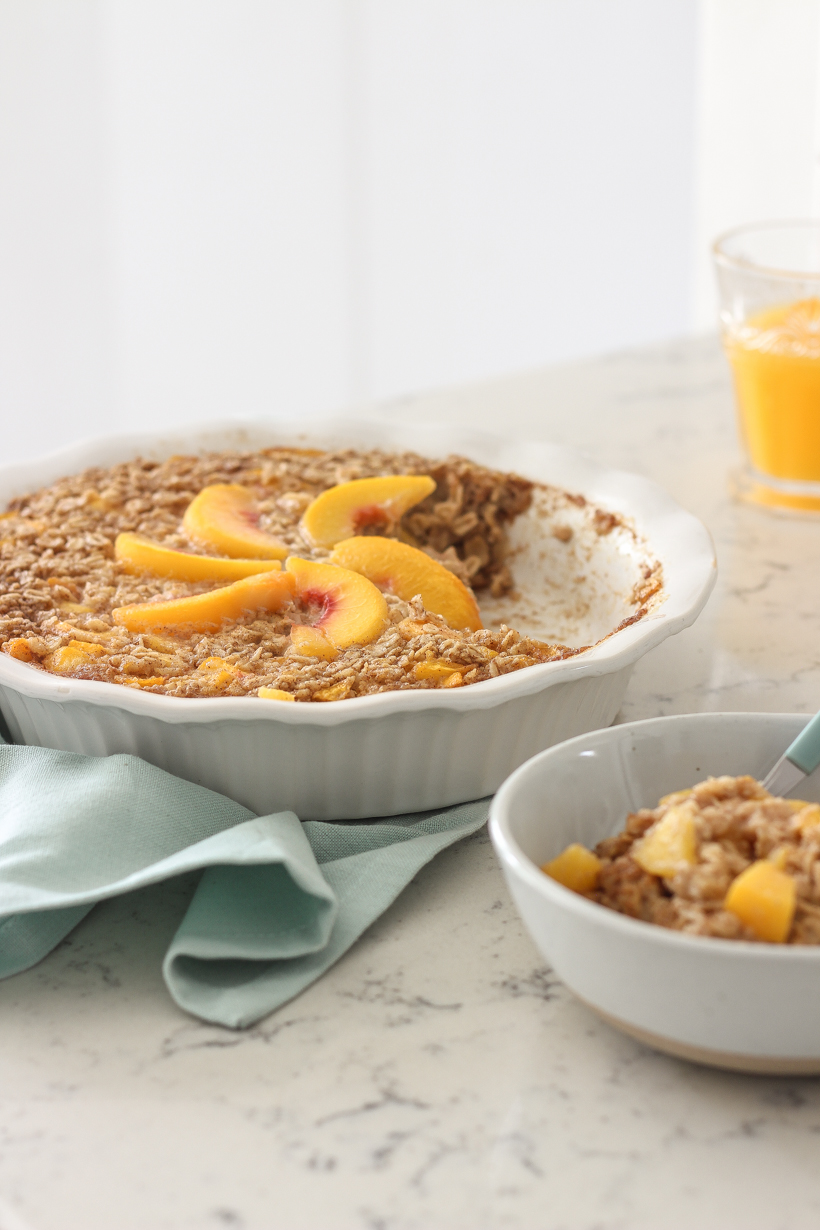 It's always a fun change of pace when I get to share a recipe post with you guys, and today's deliciousness comes in the form of a Peach Baked Oatmeal that is perfect for breakfast or brunch, especially in the summer!
I've shared many different baked oatmeal recipes here over the years, and I love how quick and simple they are to make. It's a great dish to feed a crowd if you're having people over for brunch, but I also like to make a batch at the start of the week for quick, healthy breakfasts we can reheat all week long. Here are a few of my past favorites:
Peanut Butter Banana Baked Oatmeal
Blueberry Lemon Baked Oatmeal
Triple Berry Baked Oatmeal
Banana Bread Baked Oatmeal
Cinnamon Roll Baked Oatmeal
This peach oatmeal has delicious little bites of fruit in every spoonful with perfectly sweetened, creamy oats to start your morning off right. You can use a different sweetener if you prefer such as honey or maple syrup, and feel free to add a handful of chopped nuts if you like a little crunch. I have tested the recipe with fresh, frozen, and canned peaches, and I personally like the texture and availability of frozen the best. But you could use any of the three! Keep leftovers stored in the refrigerator and reheat them throughout the week when you need a quick, filling breakfast!
P.S. want to know my favorite way of eating this peach baked oatmeal? Try heating some up and adding a scoop of vanilla ice cream on top for dessert… you won't be sorry!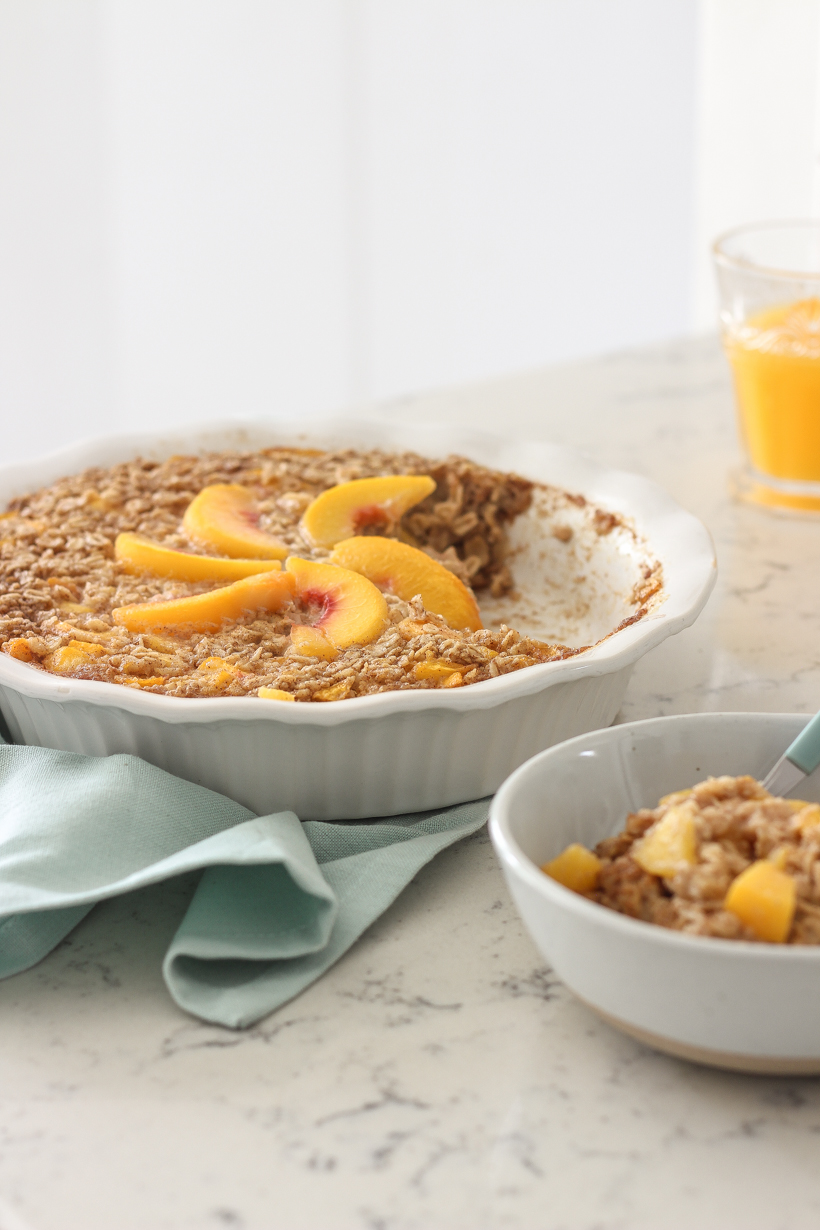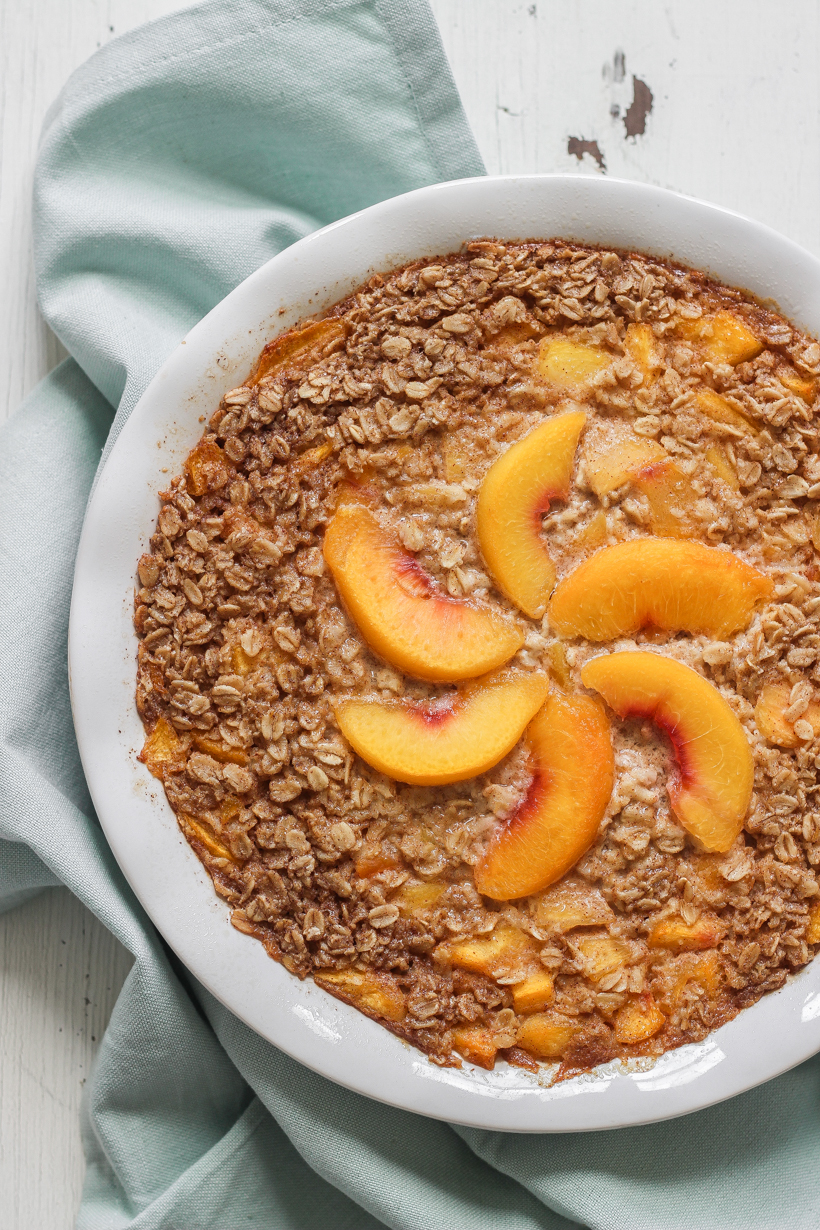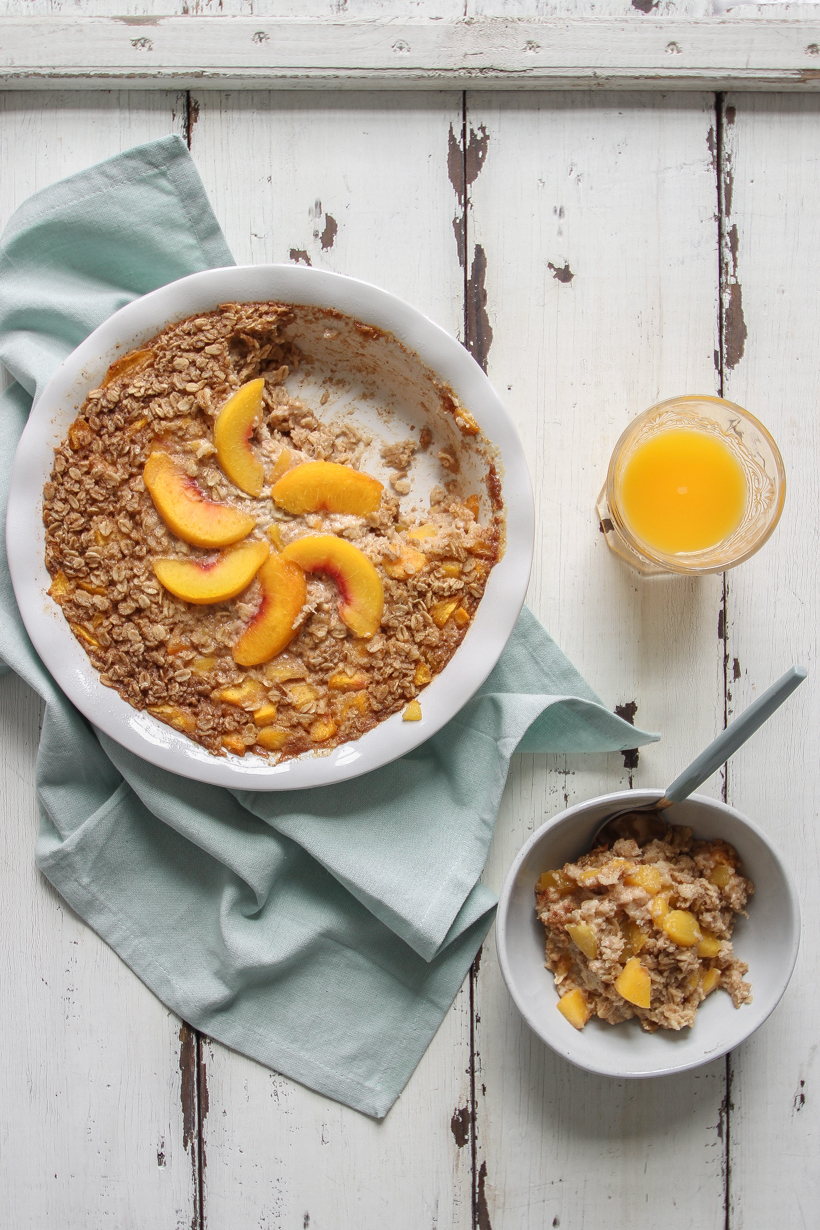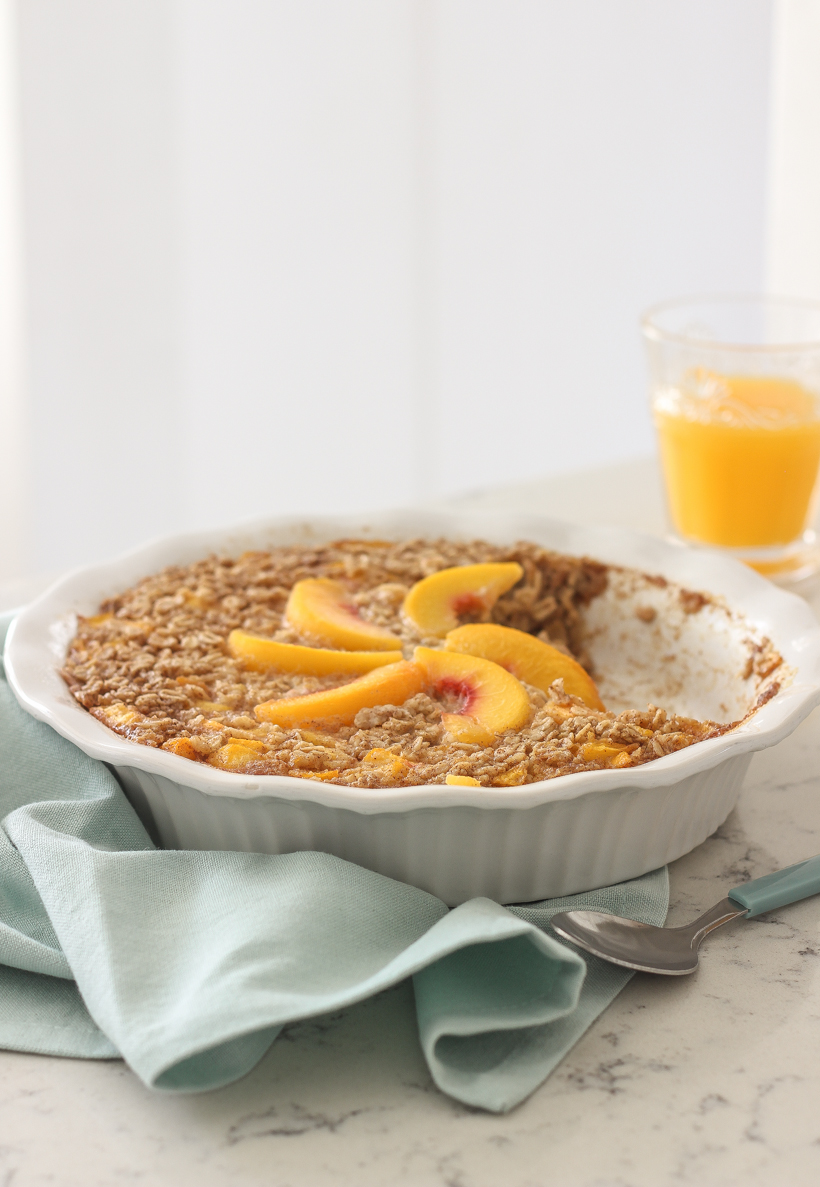 Peach Baked Oatmeal
INGREDIENTS
2 cups old-fashioned oats
½ cup brown sugar
2 teaspoons cinnamon
1 teaspoon baking powder
½ teaspoon salt
2 cups milk
1 large egg
3 tablespoons unsalted butter, melted and slightly cooled
2 teaspoons vanilla
16 ounces (1 lb.) frozen peaches, thawed and chopped
INSTRUCTIONS
Preheat oven to 350ºF and spray an 8″ square baking dish or pie plate with nonstick cooking spray.
Add the oats, brown sugar, cinnamon, baking powder, and salt to a bowl and stir to combine. In another bowl, whisk together the milk, egg, butter, and vanilla.
Add the oat mixture to the wet ingredients and stir to combine. Gently stir in the chopped peaches and transfer the mixture to the greased baking dish. Bake for 40-45 minutes until the center is mostly set. Cool slightly before serving.
NOTES
Fresh or canned peaches will also work in this recipe. I prefer the texture of the frozen/thawed peaches myself.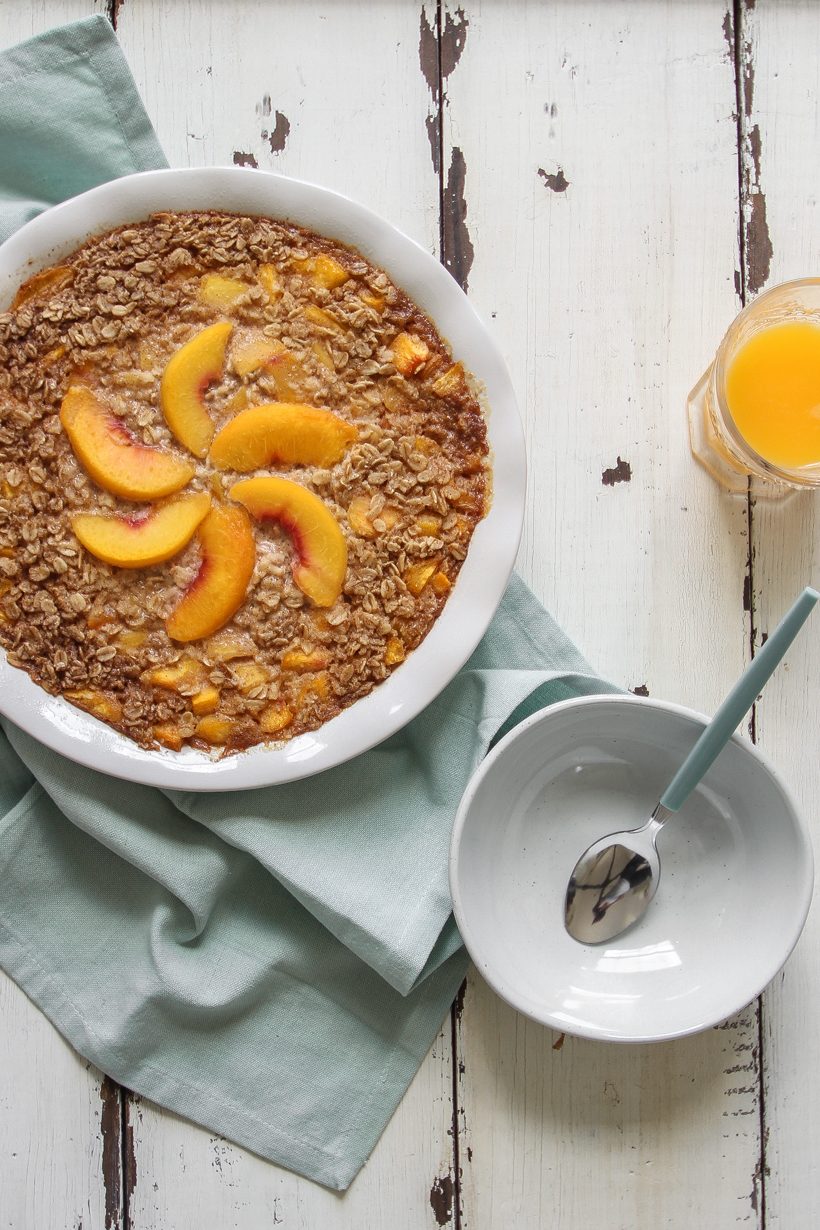 Enjoy! If you try this recipe, I'd love to see how it turns out by tagging me in your photos + stories!
IG: @lizlovegrowswild + #lovegrowswild
---
Subscribe to Blog | Follow on Instagram
Follow on Pinterest | Follow on Facebook