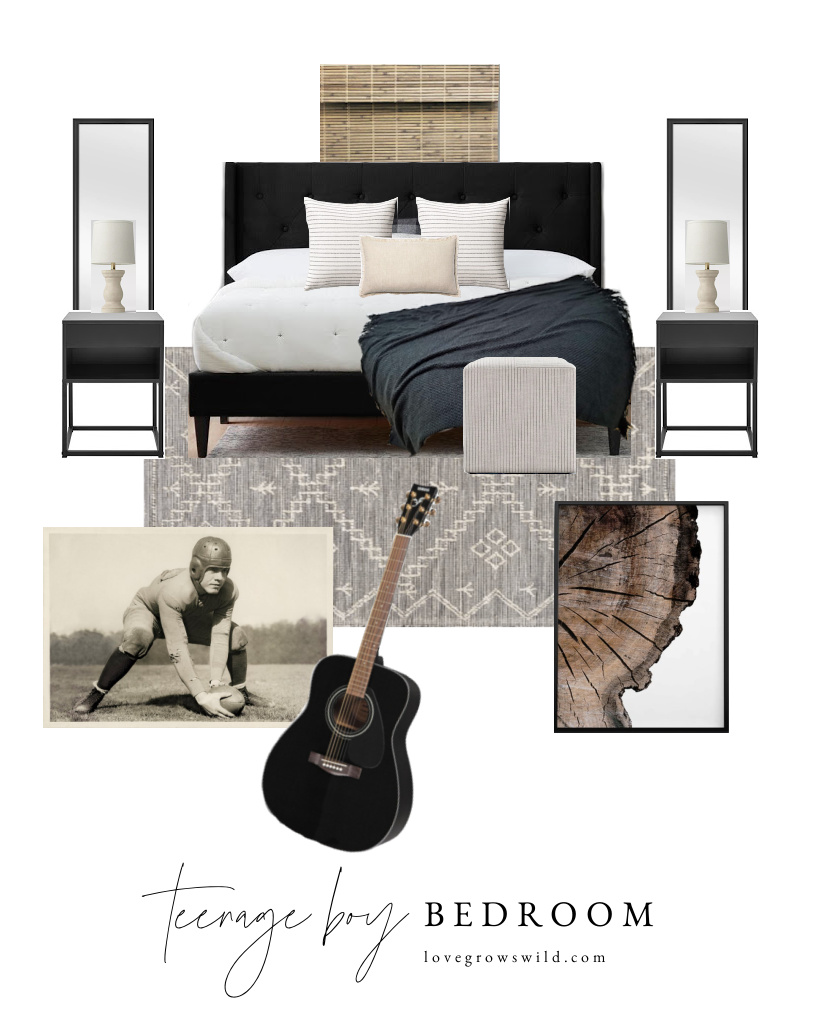 A really fun project is happening in our house right now, and I am so excited to show you what I have planned for my teenage son's bedroom makeover!
Now that he's almost done with his freshman year of high school, Alec really wanted a more grown up space that reflects his style, and I am so excited to be working on this with him. It's definitely more dark, masculine and moody than the rest of the house, and it's been such a fun opportunity for me to try something different and create a space that is perfectly him.
Lots of black.
More of a modern style.
Still very clean and simple.
And all done on a VERY affordable budget!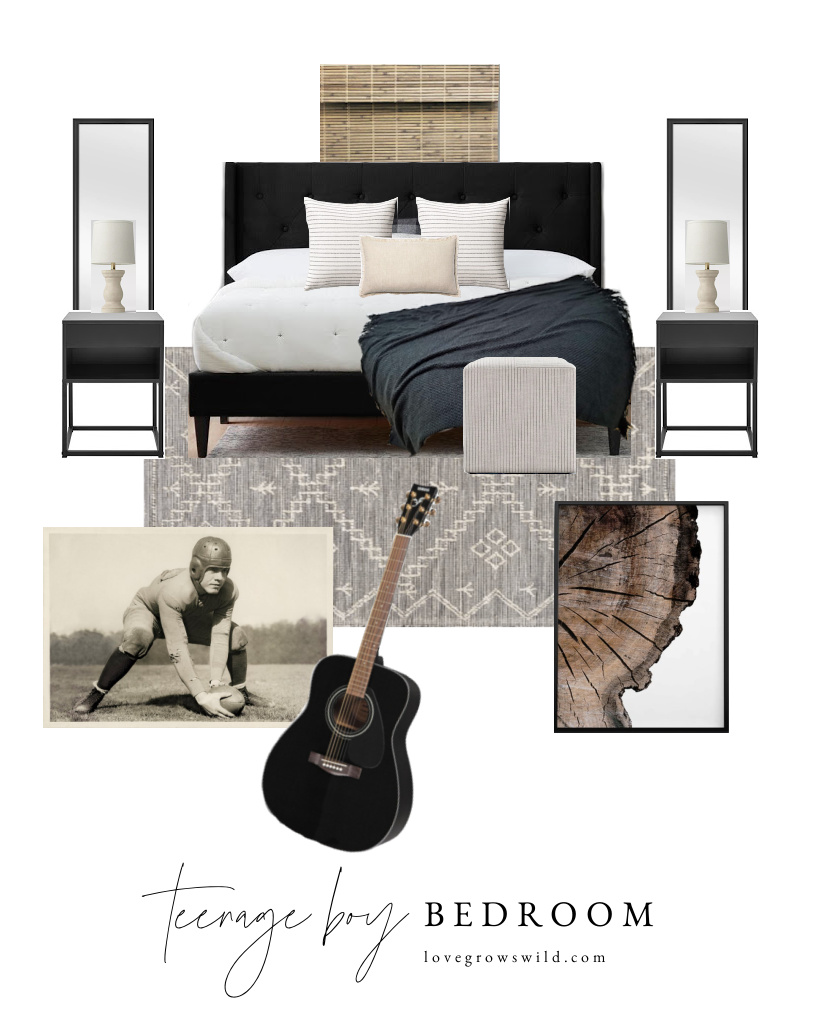 As many of you know, I'm a single mom of two boys who are now 15 and 11. My youngest son Wyatt's room is upstairs across the hall from mine, and my oldest Alec's room is on the main level. I don't show their rooms very often on here because I like to allow them some privacy now that they're older, and if I'm being totally honest, I learned a long time ago that one thing people are rather opinionated on is kid's spaces. So I usually focus on creating content around projects in the main areas of our home, but this makeover in my son's room is pretty drastic and definitely deserved to be documented!
You can see what this room looked like before HERE
This is where we are at currently:
Originally this room was painted Woodlawn Colonial Gray by Valspar, which is a very close match to Sherwin Williams Mindful Gray. Alec really wanted to paint his room all black, but after showing him some examples, we settled on painting the bottom portion of the wall black and the top a clean, crisp white. This would give him that bold, moody look he wanted without making the entire room feel like a dark cave. Luckily his room gets a good amount of light from two windows, so that also helps!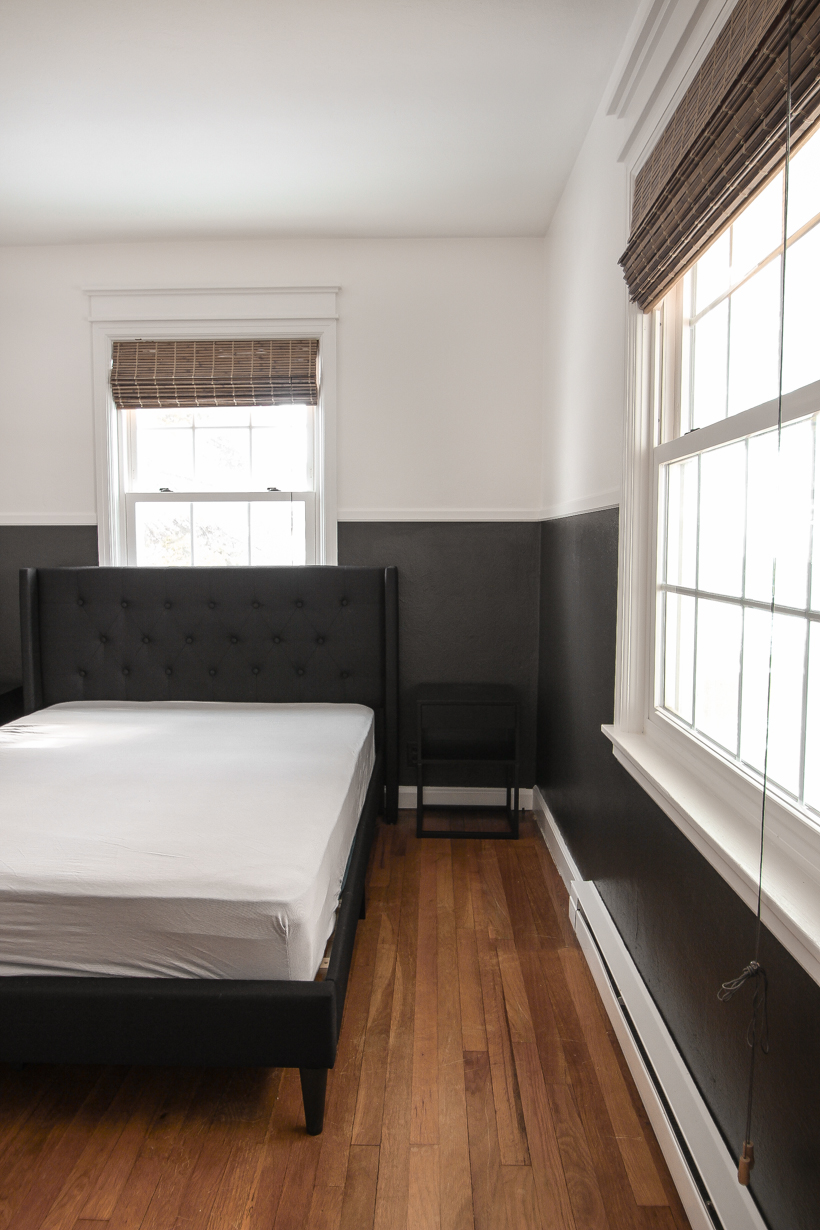 Almost six years ago now when I was writing my book, A Touch of Farmhouse Charm, one of the projects I created for the book was installing coat hooks to help organize the boys' bookbags and coats in this space that used to be the playroom. The decorative trim I added around the coat hooks gave me the perfect spot to separate the wall for a two tone look.
PAINT COLORS:
DuJour by Valspar for the top portion of the wall, trim and doors – clean, crisp, pairs well with anything
Black Beauty by Benjamin Moore for the bottom portion of the wall – a warm, rich, cozy black
The one thing I do wish I did different now that the painting is finished… I wish I would have went an almost flat, matte finish for the black paint. I think it would have been a pretty contrast, and the satin sheen of the black paint really reflects all the sunlight coming in, which creates a glare and highlights the texture of the old plaster walls. But other than that, I am SO happy with how these wall colors turned out, and I can't wait to start decorating!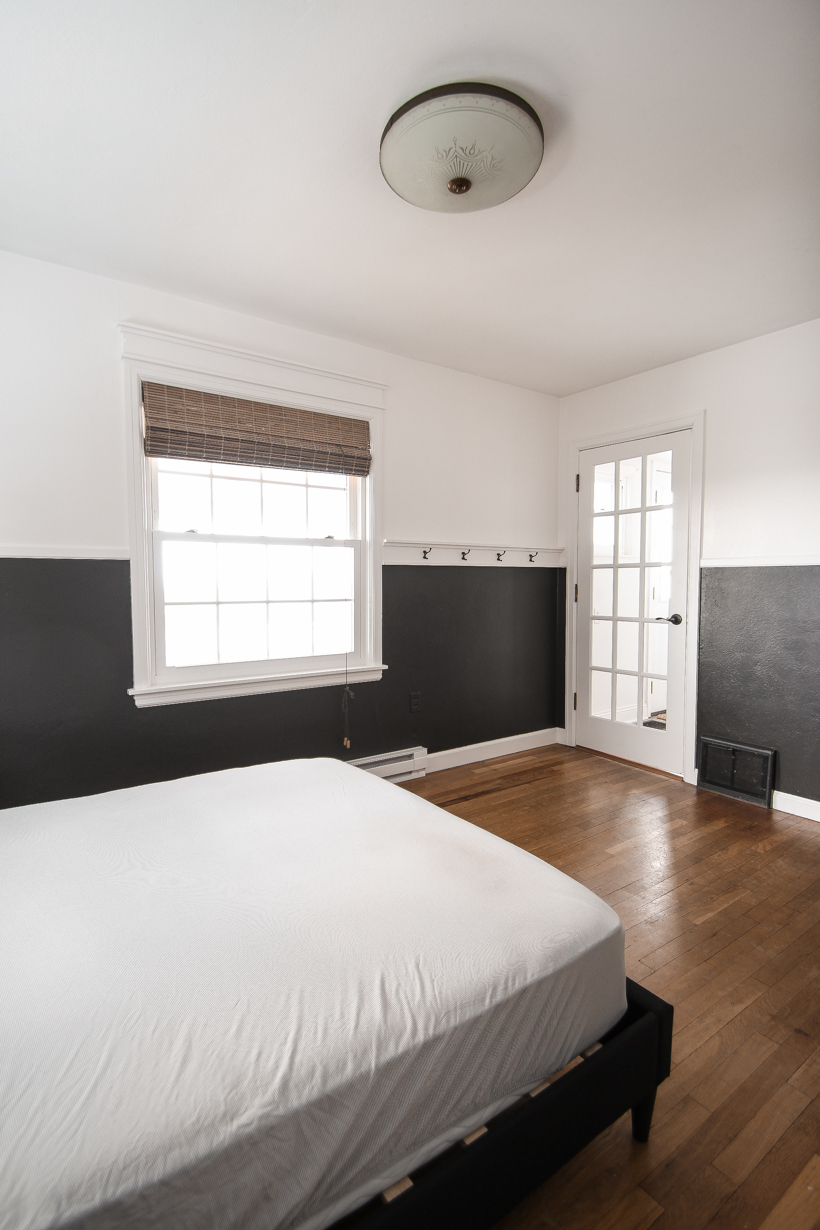 FURNITURE:
This room is actually very small, even though the wide angle camera lens I had to use makes it appear larger in photos. And on top of being small, it has two different door entrances, a closet door, two windows, and a baseboard heater underneath one of the windows, which makes furniture placement very difficult. Luckily since Alec is a little older now, he doesn't have a million toys like he did when he was little, and we keep things like Legos, books, Nerf guns, etc. upstairs in Wyatt's bedroom since he is younger. So all he really needs in this space to be happy is a comfy bed, somewhere for his clothes and belongings, and somewhere to just relax and chill.
The first thing I ordered for the makeover was a new bed for my now man-sized little boy. We used to just have a twin bed in here to not take up as much room, but he has well outgrown that and is much more comfortable in a full bed now! I wanted something low to the ground a) to not visually take up a ton of space in the room and b) because the best placement for the bed is in front of one of the windows. I found this platform bed with a tufted headboard and modern lines in black, and it was so simple to put together. And it was LESS THAN $200.
The bed leaves just enough space on either side to walk around, and I even fit a small nightstand on both sides. I decided to go with a black finish for those too so the entire lower portion of the room matches the black walls.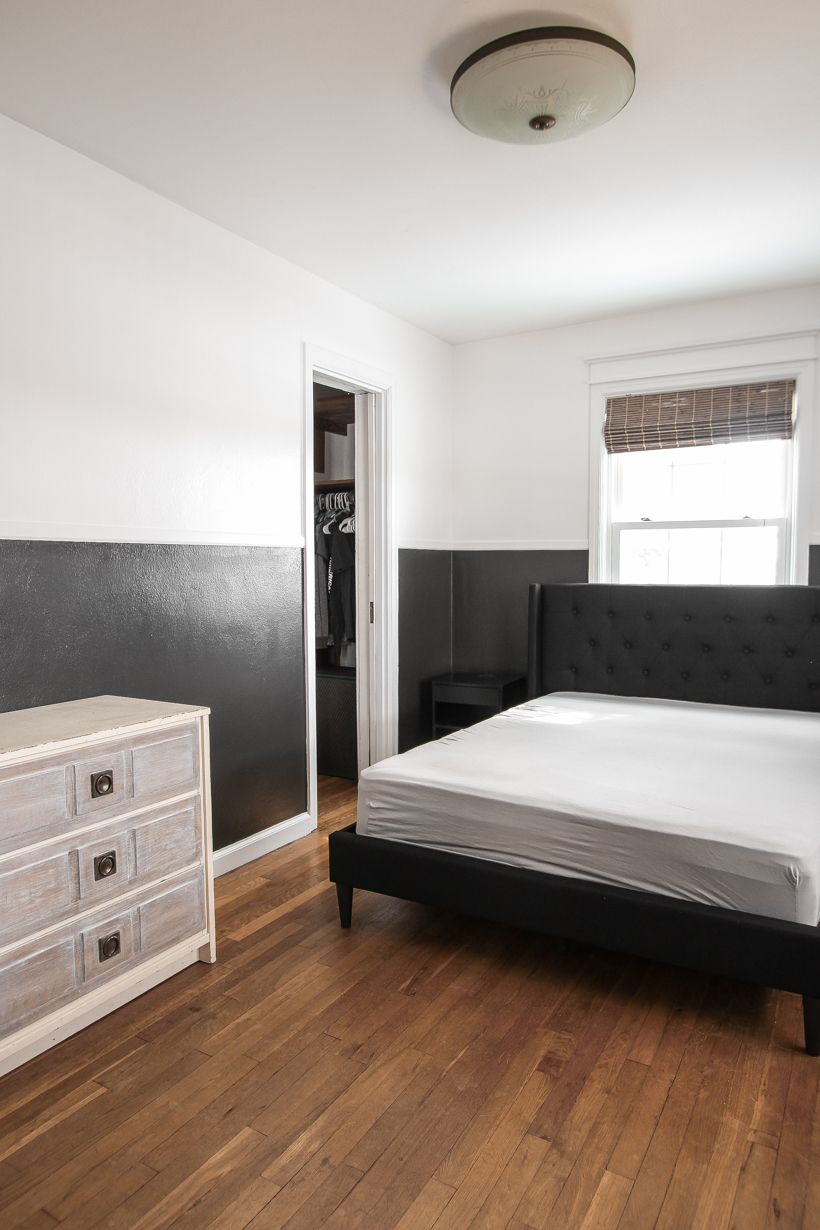 His dresser is actually another project from the book back in 2016 and was handed down to me by my grandmother when I was just a kid. I painted it for the book with a two tone look, but the finish has now seen better days. I'll be giving that a makeover as well and plan to do a deep dive blog post on painting furniture while I'm working on this piece!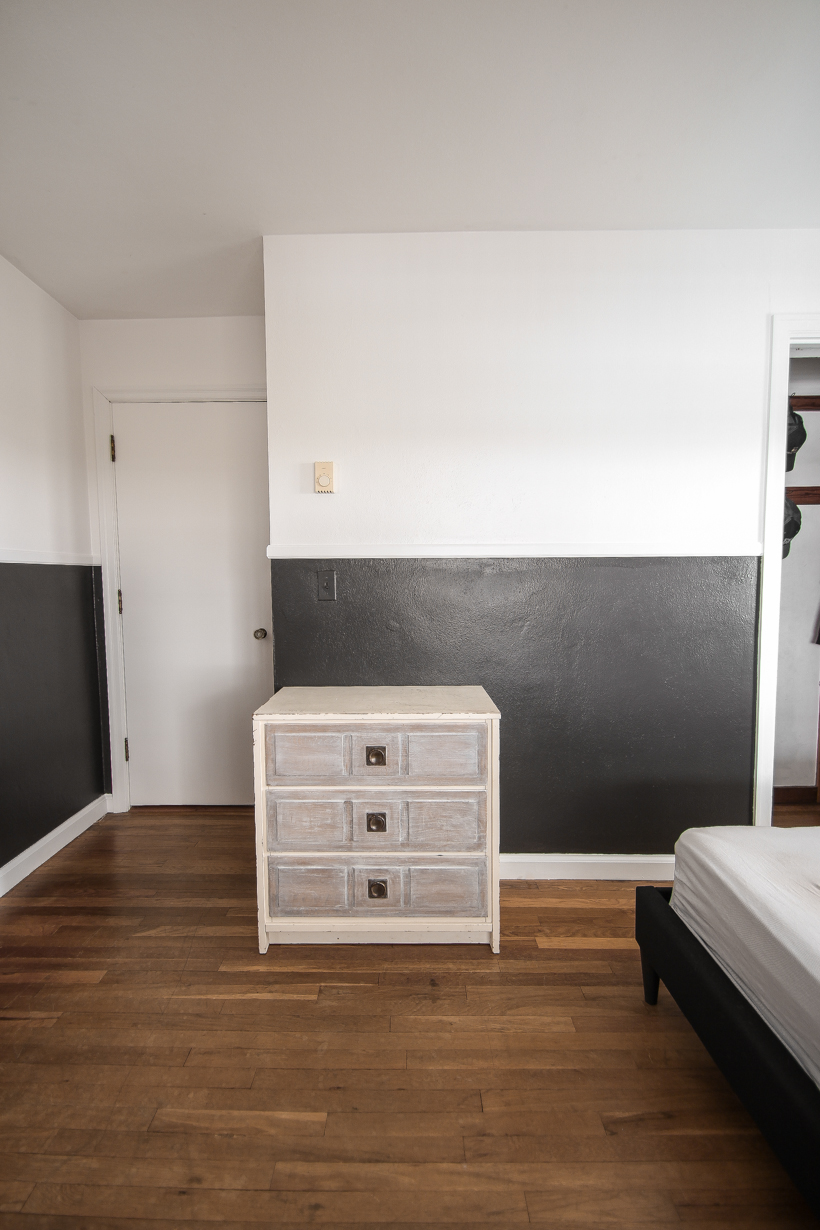 Do you remember these bamboo roman shades from my office and dining room? I took the ones in my office down when I recently gave it a makeover earlier this year (HERE), and luckily the two windows in this room are the exact same size. I love how masculine the combination of wood and black looks already in here, and I can't wait to finish decorating!
My plan for the space includes:
bedding – I'm thinking a simple white duvet with a black blanket and bringing in some softer colors with pillows
lamps for the nightstands
artwork for the walls
full length mirror
some kind of ottoman or bench for the end of the bed
different light fixture
BUDGET:
Besides how drastic this before and after is going to be, the other thing I'm really excited to show you is how much of a change you can make on a small budget. I'm focusing on shopping at stores that offer higher end looks for a fraction of the price and even utilizing Amazon for quite a few things as well. I'll give you a full breakdown once the room is finished, but I'm excited to show you just how far a little paint and some creativity will go!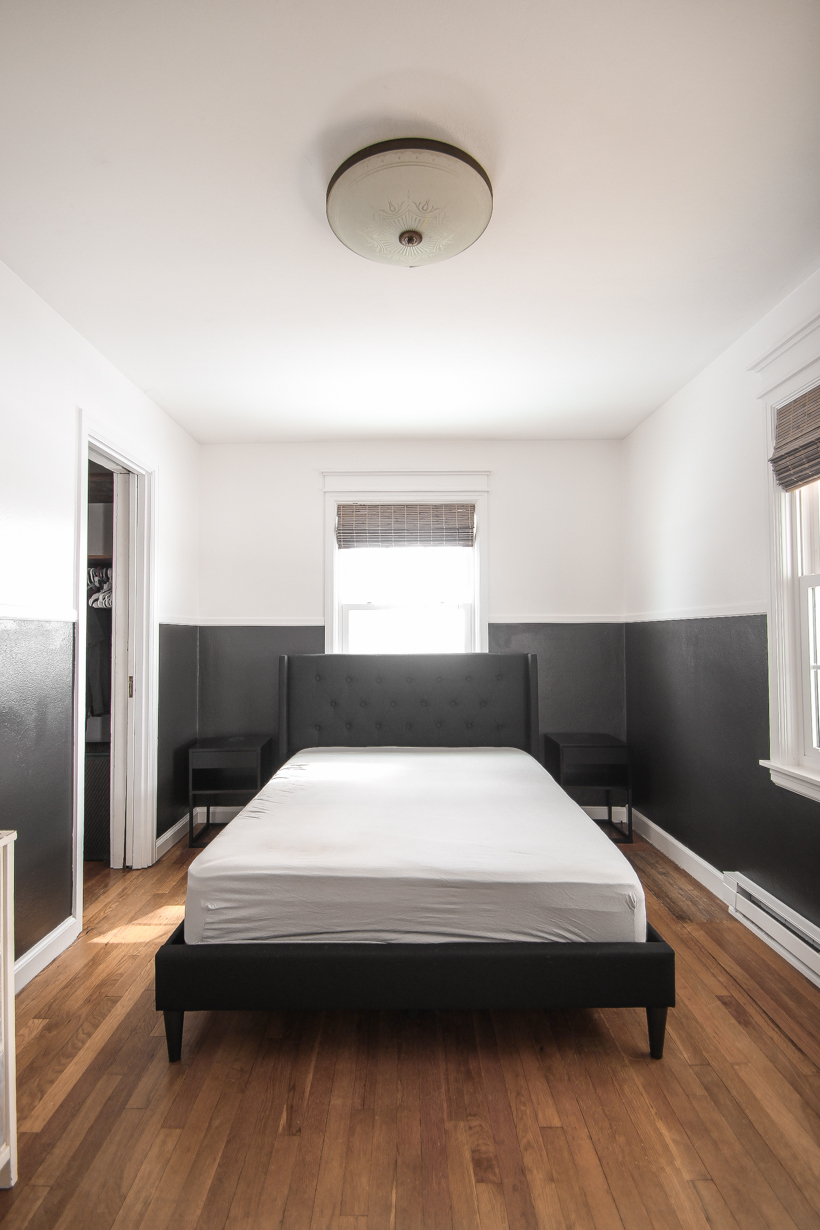 What do you think of this room so far?? Can you believe I painted a whole room (well… half a room) black?! Let me know your thoughts!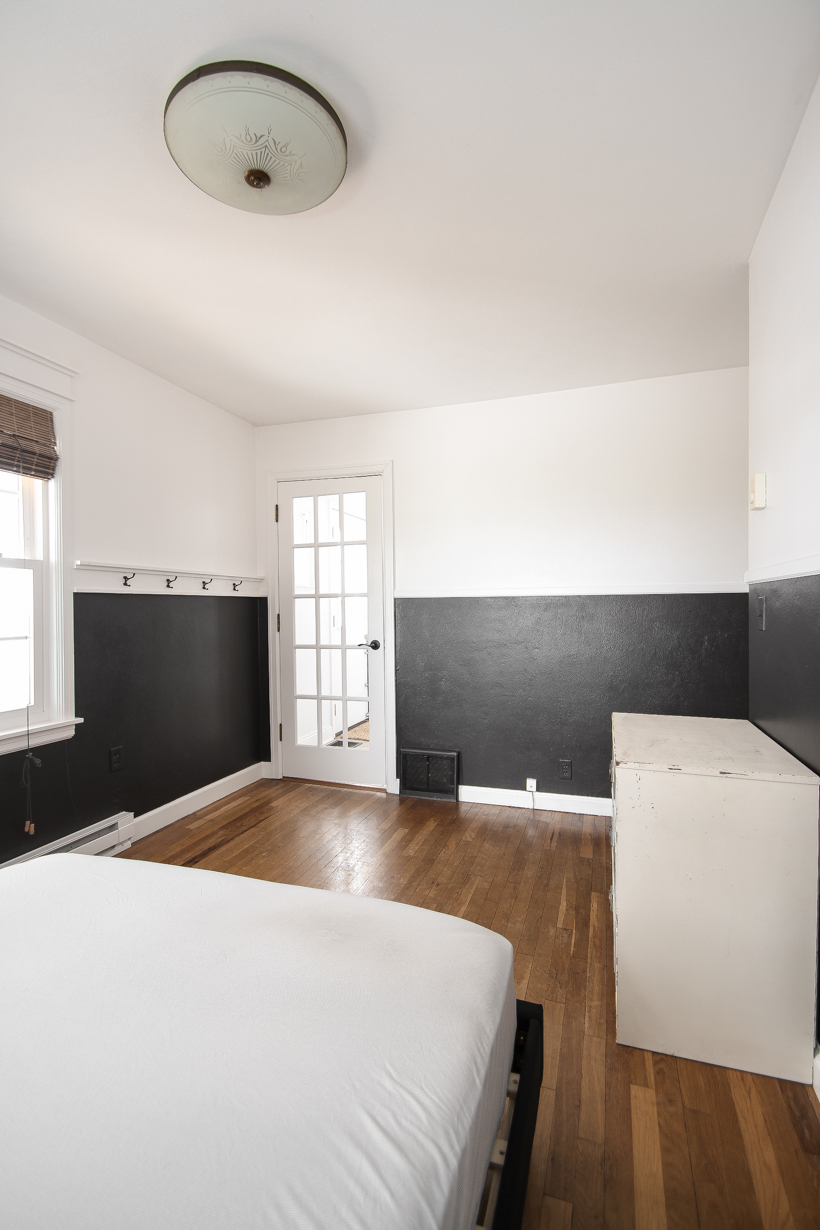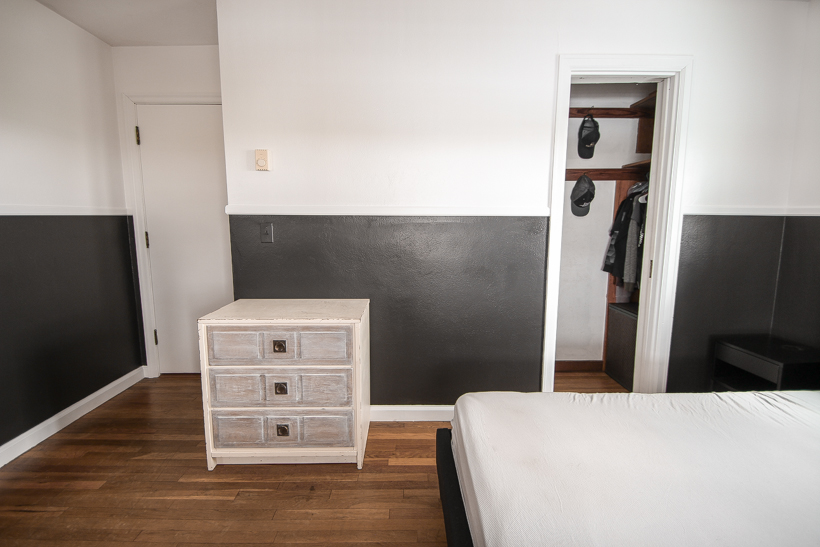 SHOP THE POST

Note: As always, I sincerely appreciate you shopping through the links I share, which allows me to make a small commission from your purchase while your purchase price stays the same. When you use my affiliate links, I'm better able to create content for this blog as well as support my family, and I thank you from the bottom of my heart for supporting what I do!
---
Subscribe to Blog | Follow on Instagram
Follow on Pinterest | Follow on Facebook