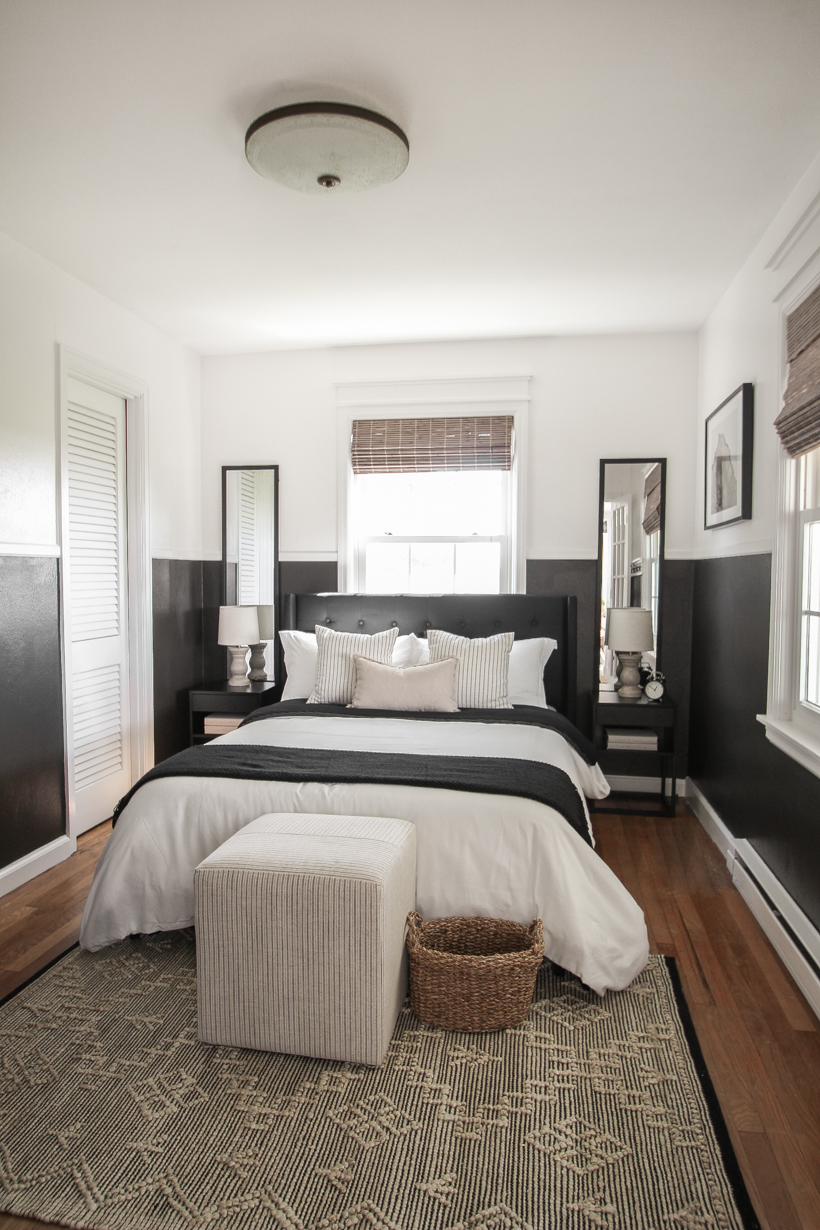 This makeover pushed me in all the best ways. I created a space for my son that is SO him and was able to really stretch myself outside of my design comfort zone. I did the entire project very affordably, utilizing pieces I already had and shopping on a minimal budget for anything new. Figuring out the best layout in a room with multiple windows and doors all crammed into a tiny space was challenging to say the least, but I made it happen. I really wanted to feature the dark, moody style my son likes while still making the room feel cozy and inviting. And it all came together perfectly…
Let me show you around his new moody modern bedroom!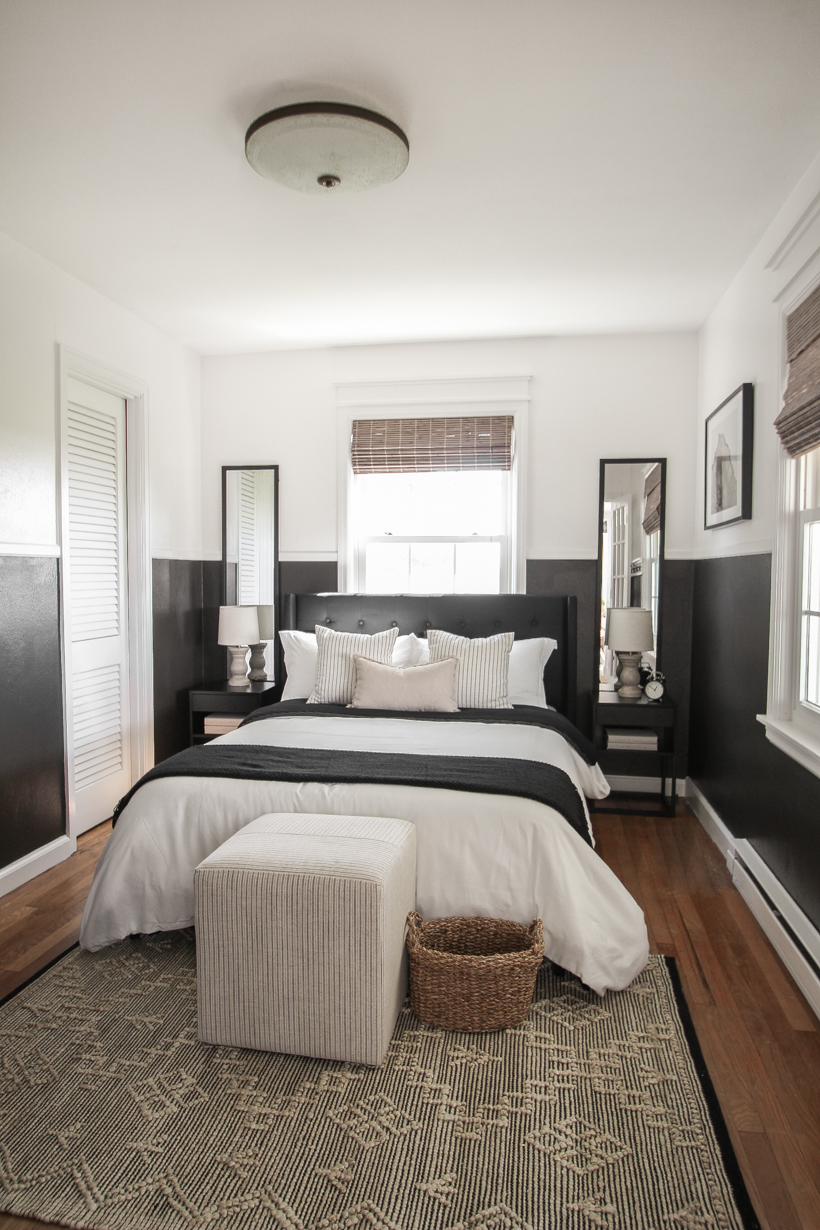 PAINT DETAILS:
As you saw in the makeover plans blog post I shared, the first thing I did was divide the walls into two sections with Du Jour by Valspar on top and Black Beauty by Benjamin Moore on bottom. I wanted to give Alec the dark black walls he wanted, without making the entire room feel like a cave, and this was the perfect solution.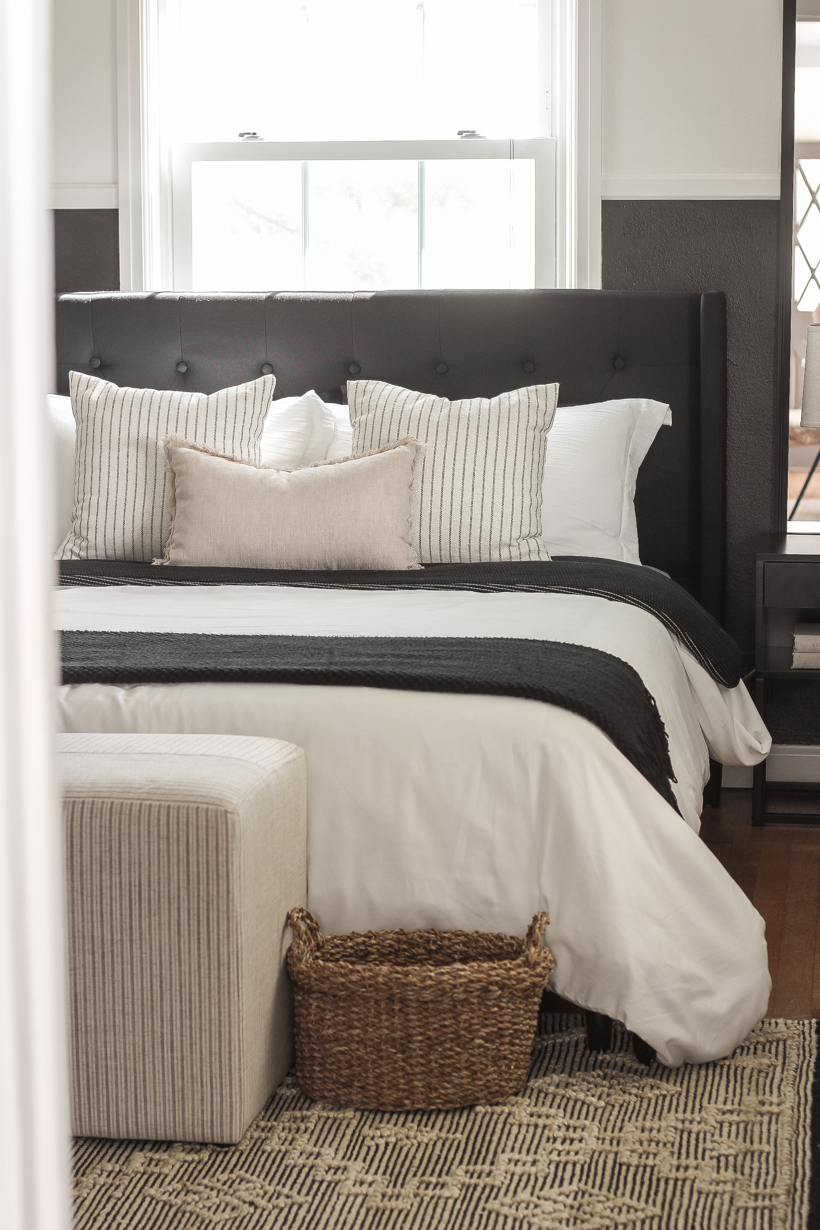 BED DETAILS:
I found a black upholstered low platform bed for a little over $200, and so far I've been happy with the quality. The tufted headboard is beautiful, and I love the clean, simple, modern lines. It was simple to put together and comes in 6 different colors in all bed sizes (I ordered a full size).
Because we upgraded from a twin bed, he needed a new mattress, and I found a surprisingly comfortable full mattress on Amazon for just over $200. I would have never thought to buy a mattress from Amazon, but you can't beat the convenience or the ability to read thousands of reviews before you purchase. This particular mattress has memory foam on top that my son loves and over 4600+ five star reviews. It came rolled up in a box and was very easy to transport and open up inside his bedroom. If you're looking for an inexpensive mattress for a kids or guest bedroom, I highly recommend checking this one out!
I found a simple white duvet to break up some of the black, which also came with two white pillow shams. I again turned to Amazon and unintentionally ended up buying several different bedding items from the same brand that have fantastic reviews and incredible prices. $21 for the duvet cover (and two shams) and $27 for the duvet insert with over 19k+ five star reviews!
TIP: Want to know an easy way to get wrinkles out of your bedding with zero effort? Mist your duvet cover with water and pull the duvet taut, running your hand over any deep wrinkles. When the water dries, the wrinkles will be almost invisible!
To round out the bedding, I added:
set of 2 black pillowcases – wrinkle, stain, fade resistant, comes in 16 colors, 10k+ five star reviews, $9
set of 2 queen pillows – also available in king size, 45k+ five star reviews, $23
black tassel throw blanket – comes in 15 colors, $23
2 striped throw pillows – black/cream, also comes in 2 other colors, $20
linen frayed edge lumbar pillow – comes in 6 colors, $20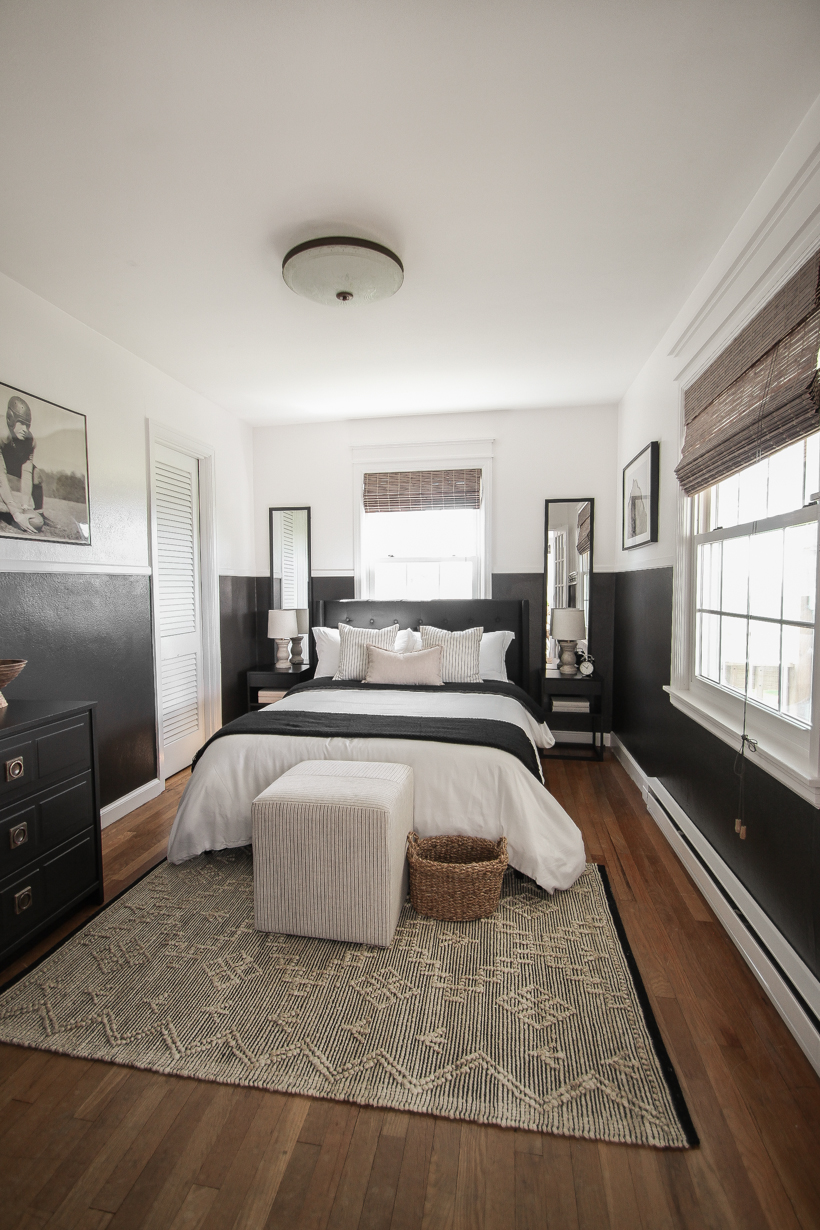 DECOR DETAILS:
I wanted to find a small area rug that would tie the colors of the room together, but also bring in some texture, pattern and warmth. This textured moroccan jute area rug fit the bill perfectly, and at $102 the price was just right. I will say that if you're looking for a rug that's going to feel super soft and plush under your feet, this probably isn't it. You can feel the raised jute pattern, but since this is just sitting underneath a bed it's fine in this space. The rug comes in sizes from 2′ x 3′ all the way up to 12′ x 15′ and in four different colors, plus options for runners, square, or round if that's what you need!
This room is actually much smaller than it looks in photos thanks to a wide angle camera lens, and it doesn't accommodate very many pieces of furniture. I wanted somewhere he could sit besides the bed, but without room for an actual chair, I settled on this darling upholstered cube from Target. At $90, this was one of the more expensive things I bought for the room, but I knew that I could easily repurpose it in other rooms in the future, and it was just the right size. Because he needs space between the foot of his bed and the dresser to get back to the closet, a bench at the end of the bed just wouldn't work. The cube comes in 4 different colors/patterns, although it looks like 2 of them are currently sold out.
All of the artwork in the room were pieces I already had, and I picked out a few that added some warmth and character, while still keeping with the moody, masculine vibe:
vintage football art – I purchased the 36″ x 24″ size and hung it in an inexpensive poster frame from Hobby Lobby.
tree ring art print set – This actually comes as a set of 2 digital prints that you can frame and hang side-by-side. Black frame is from IKEA.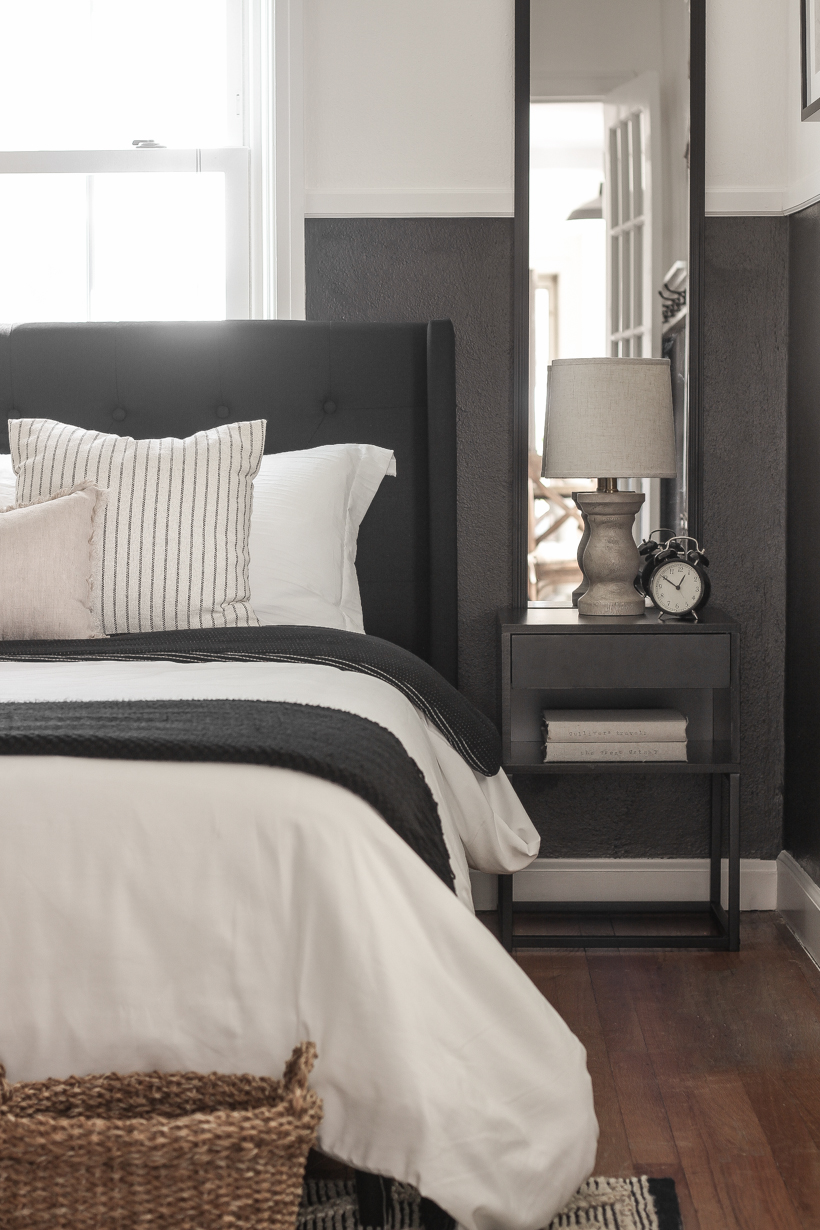 NIGHTSTAND DETAILS:
It wasn't easy to find nightstands narrow enough to fit on either side of this bed, but I managed to score two of these modern black nightstands for $107 each. Easy to assemble, ships quickly, and also comes in white!
TIP: If you need a very specific size piece of furniture, Wayfair has search filter options where you can input an exact dimension range. For example, if you needed a nightstand no wider than 18″ and no taller than 22″, you can set the filter options to show only nightstands that meet those requirements. Super helpful and time saving!
I wanted two small accent lamps for the nightstands and found these white wooden ones for $20 each. They're the perfect size, and I like that the metal has a gold finish instead of the usual silver.
Here's one of my favorite parts of the room where I got a little creative with budget and design. The blank wall space around the bed lacked personality, but with several framed pieces of art on other walls already, I had to come up with something different. I needed to find room for a full length mirror for Alec and came up with the idea to place a very narrow mirror on each side of the bed just above the nightstands. I searched and searched for black framed narrow mirror options, but everything I found was either a) too large or b) way too expensive for this small of a project. I ended up sourcing these $6.44 mirrors from Walmart, and they were the PERFECT size for my idea. I used 3m Command strips to attach the lightweight mirrors to the wall, making sure to hang them perfectly level and symmetrical.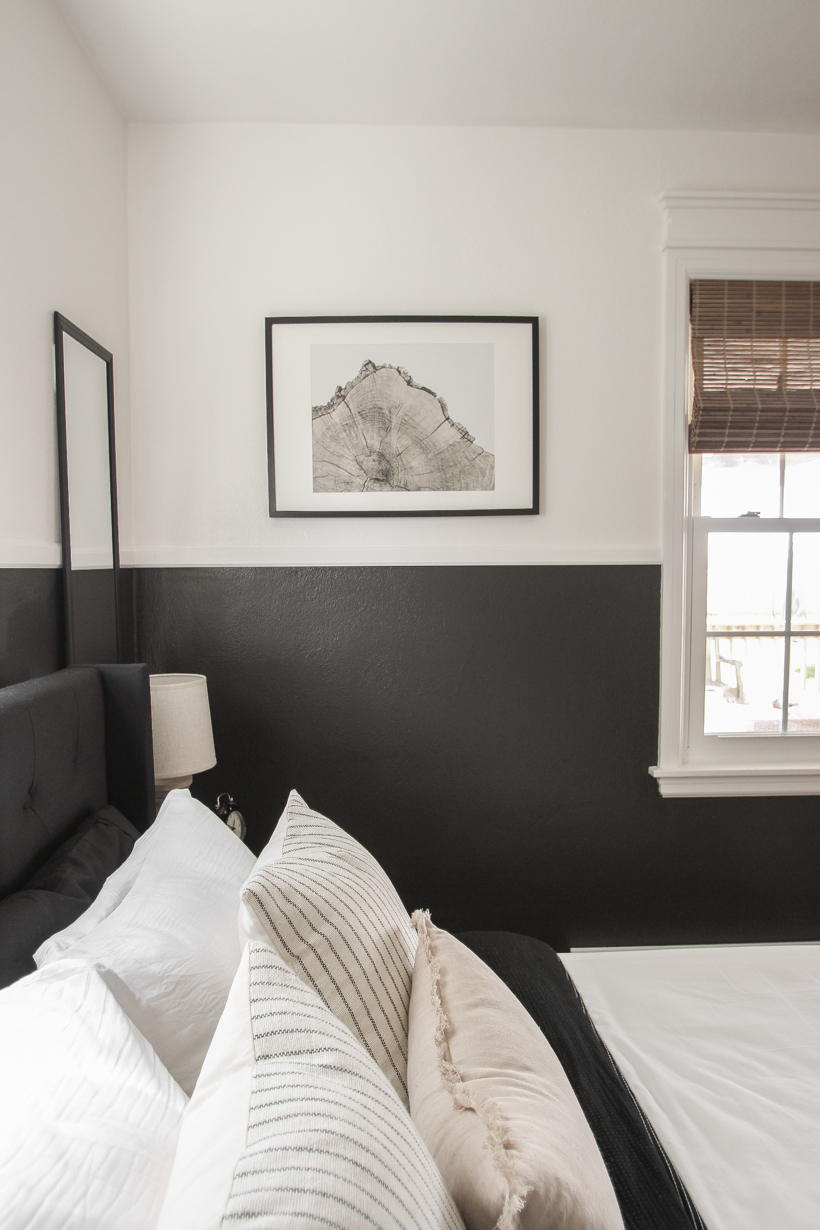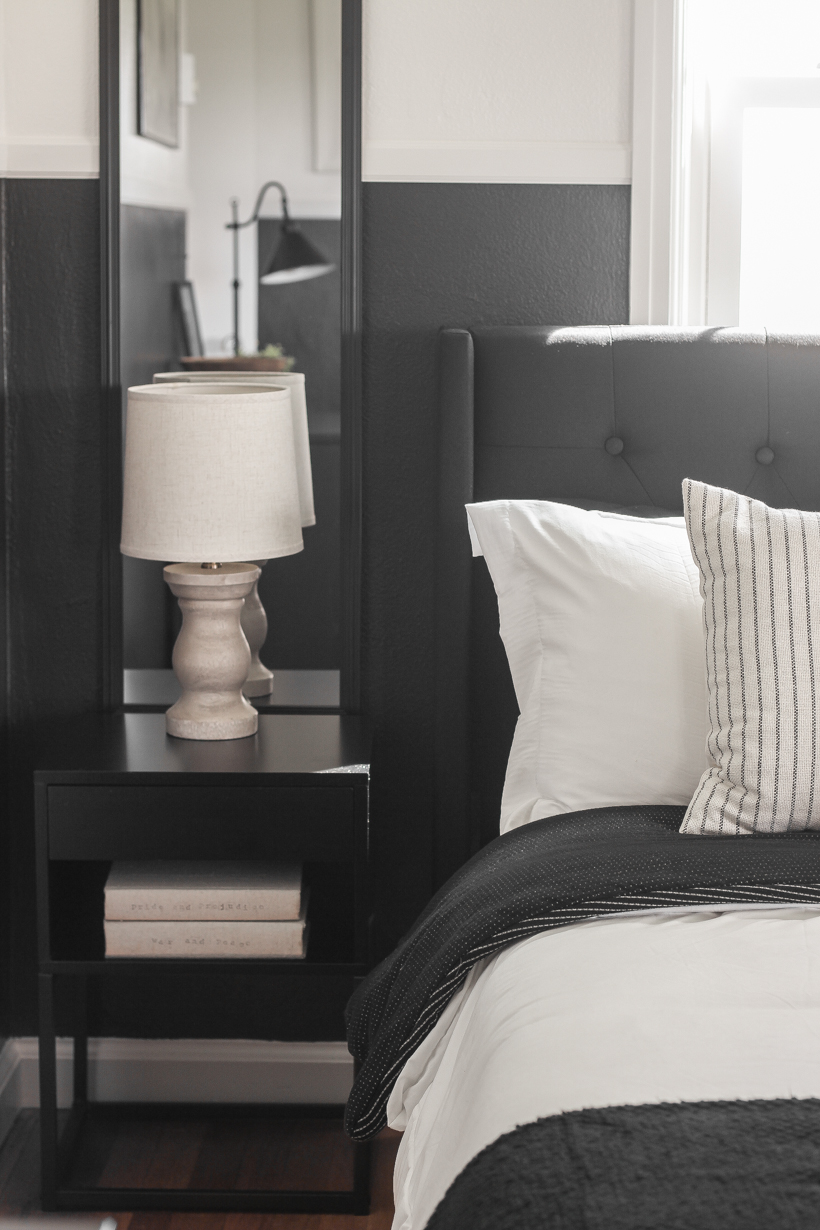 WINDOW TREATMENT DETAILS:
These are the exact same bamboo Roman shades that I have hanging in my dining room and formerly in my office. You can order them in any width you need for your windows and in either 48″ or 72″ length.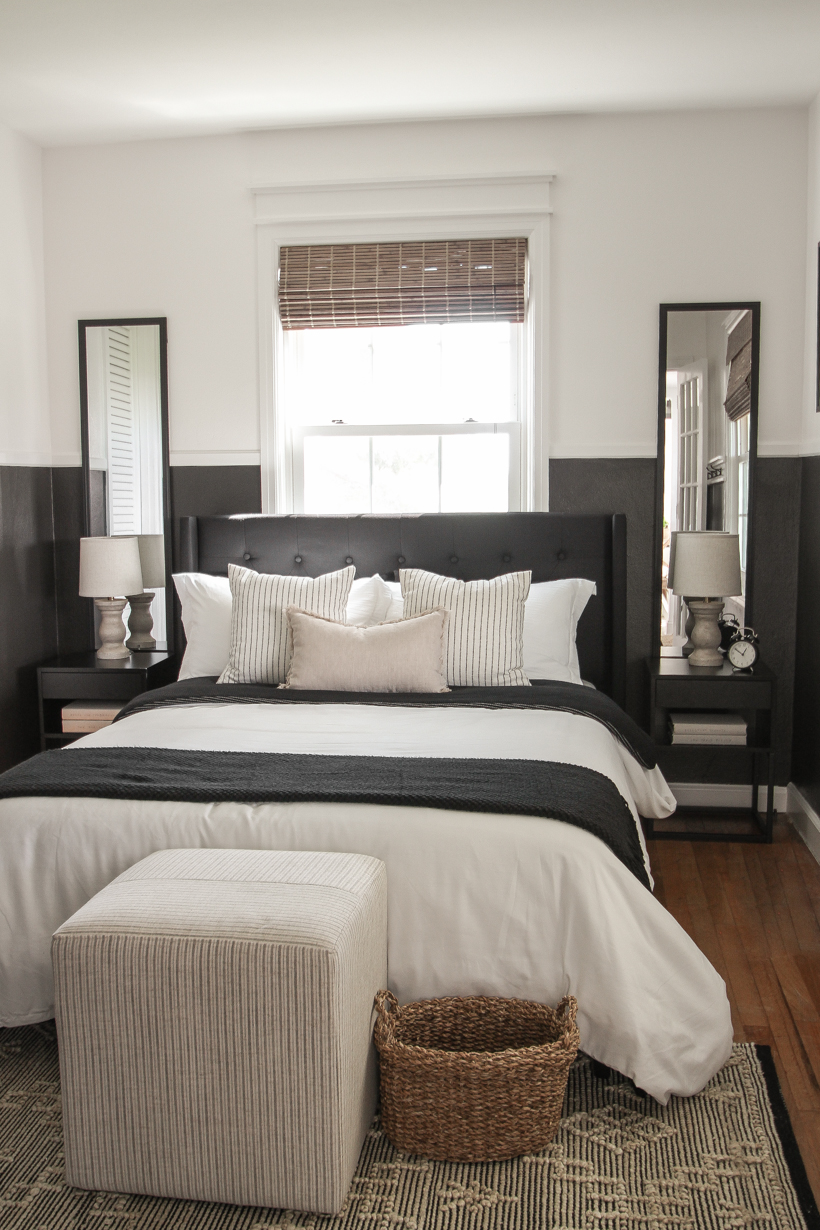 DRESSER DETAILS:
This dresser was handed down to me when I was a child by my grandmother, and I love that Alec still has it today. It was in desperate need of a makeover (you can see the before photos here), and I decided to paint it the same Black Beauty color as the walls. This piece was easy to paint and refinish, but it did give me a run for my money because I wasn't being patient enough in letting it dry and cure completely. Lesson definitely learned, and I will be sharing more about painting furniture in a blog post soon!
I styled the dresser very simply with a desk lamp, framed photo of Alec in his baseball days, a small potted plant, and a wooden bowl. The lamp is old from World Market, but this is a similar adjustable desk lamp. The rest of the decor is either from Hobby Lobby or from my shop, Love Grows Wild Market.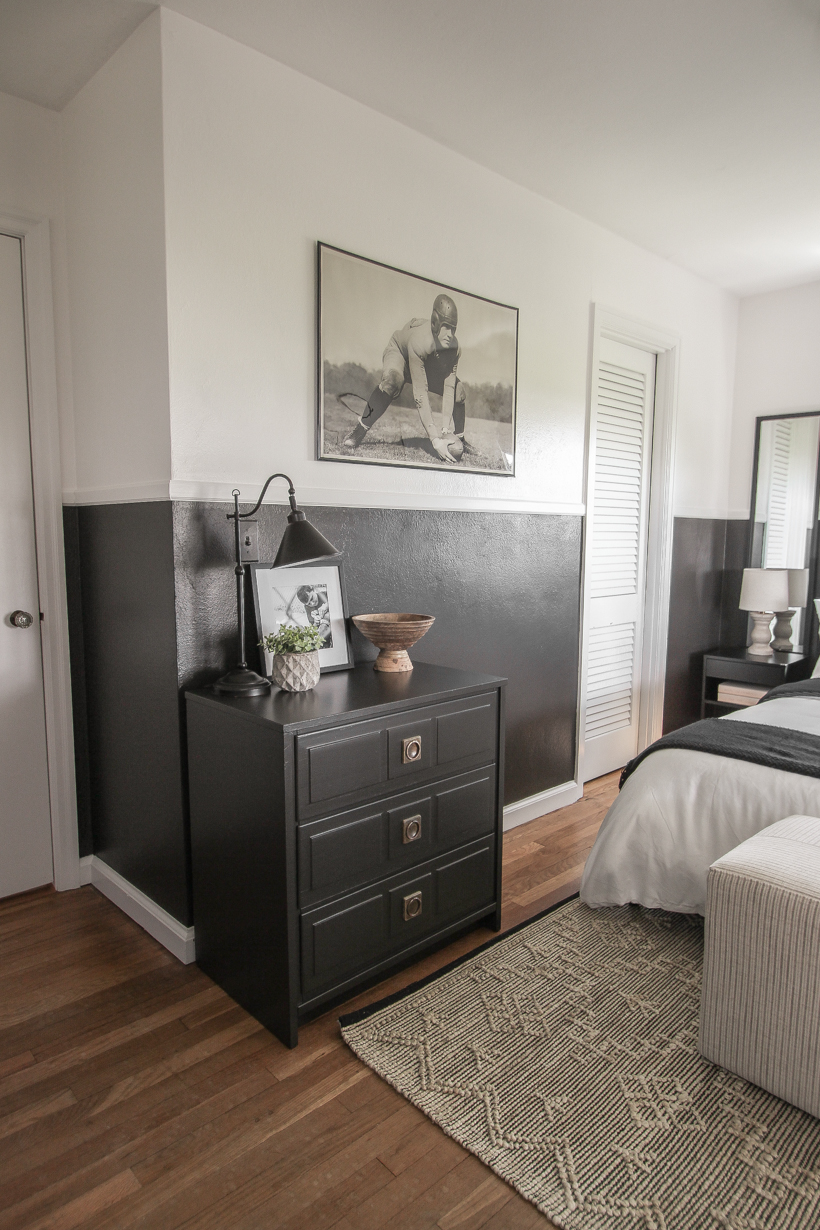 BUDGET:
When I'm working with design clients, they often have a hard time gauging how much money they need to set aside for making over a room. Every home and every room is going to be different, but I wanted to give a full breakdown of everything I bought and spent on this room to give you an idea of what to expect when redecorating. Obviously a living room with a lot of large furniture purchases will require a bigger budget than a small kid's bedroom, but this will give you a realistic idea of where to start. I hope this is helpful! For Alec's room, the majority of the space is new, with the exception of a few repurposed pieces like the dresser, roman shades, artwork, one lamp, and some of the accessories for styling.
Here is what was bought/spent:
paint – $70
furniture – $442
a bed + two nightstands
mattress – $220
bedding – $163
duvet cover + duvet insert + two pillow shams + two pillow cases + two pillow inserts + throw blanket + three throw pillows
decor – $143
upholstered cube + two mirrors + two lamps
rug – $102
$1140 total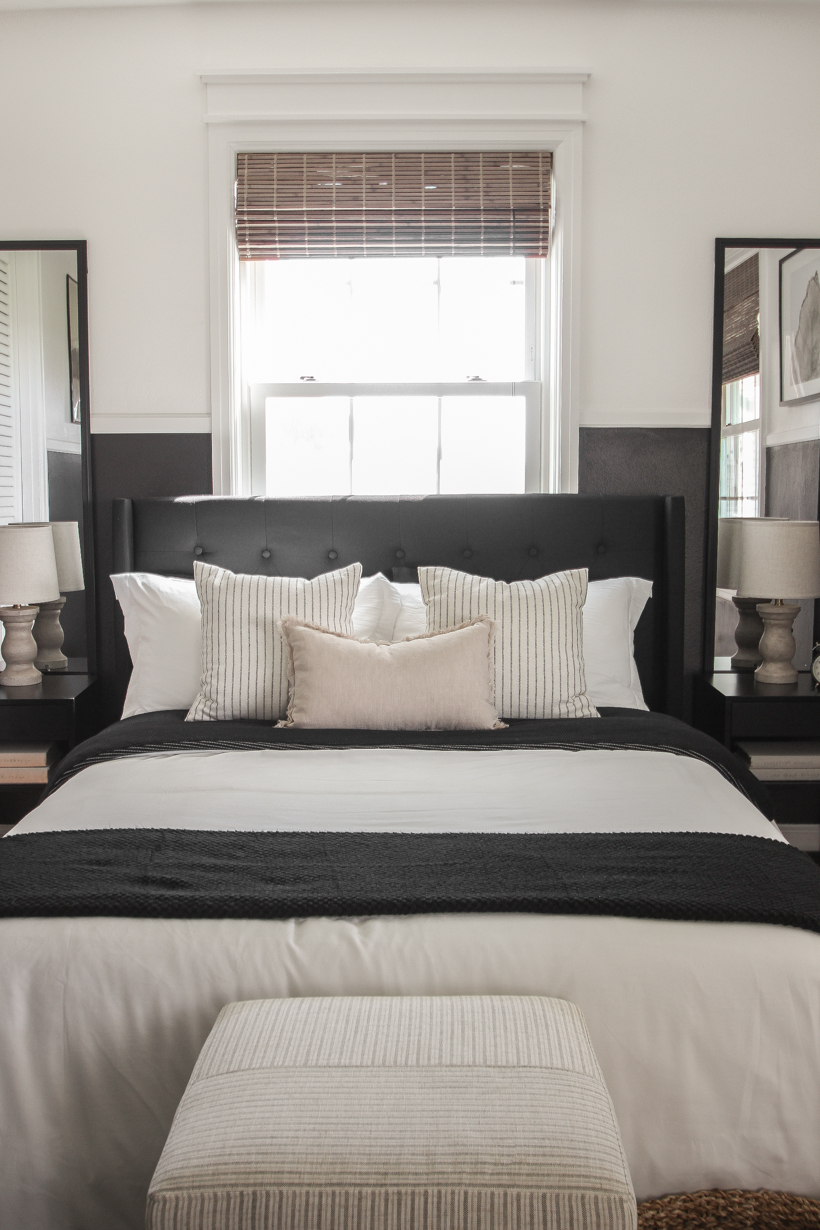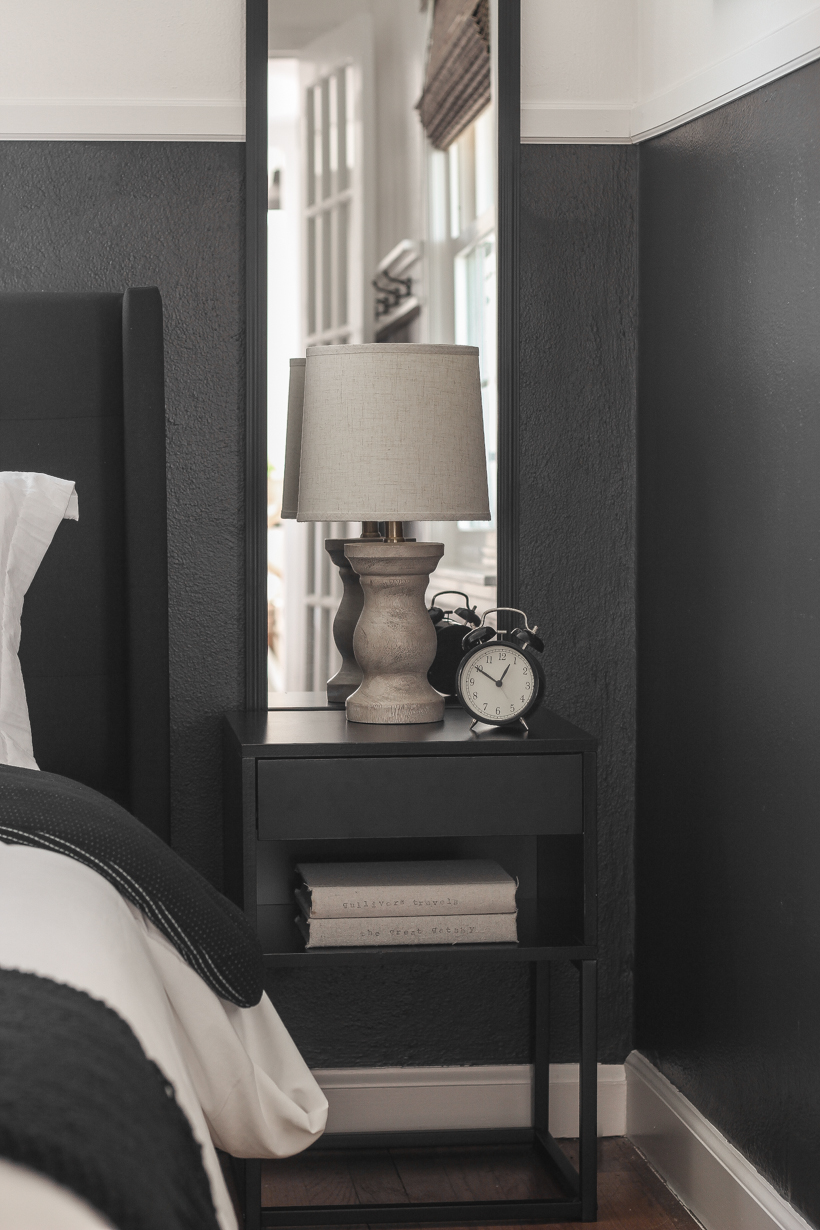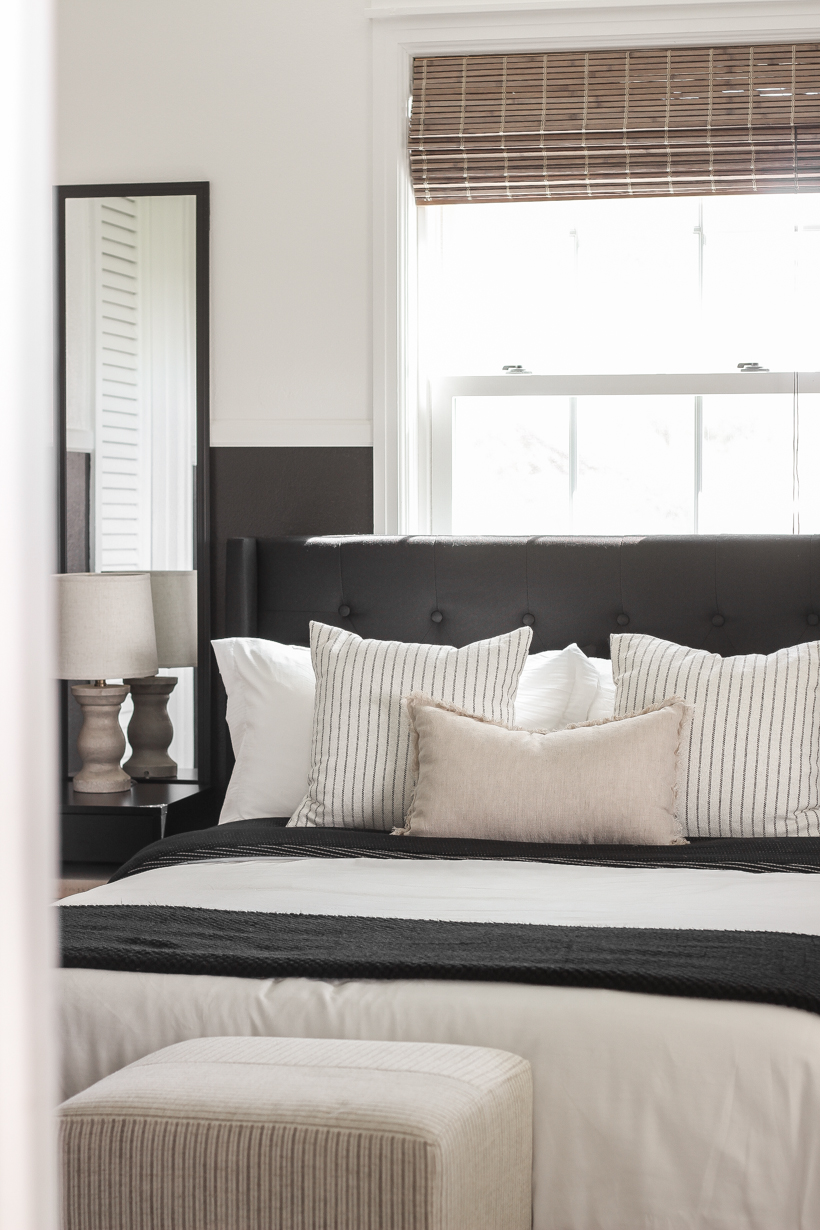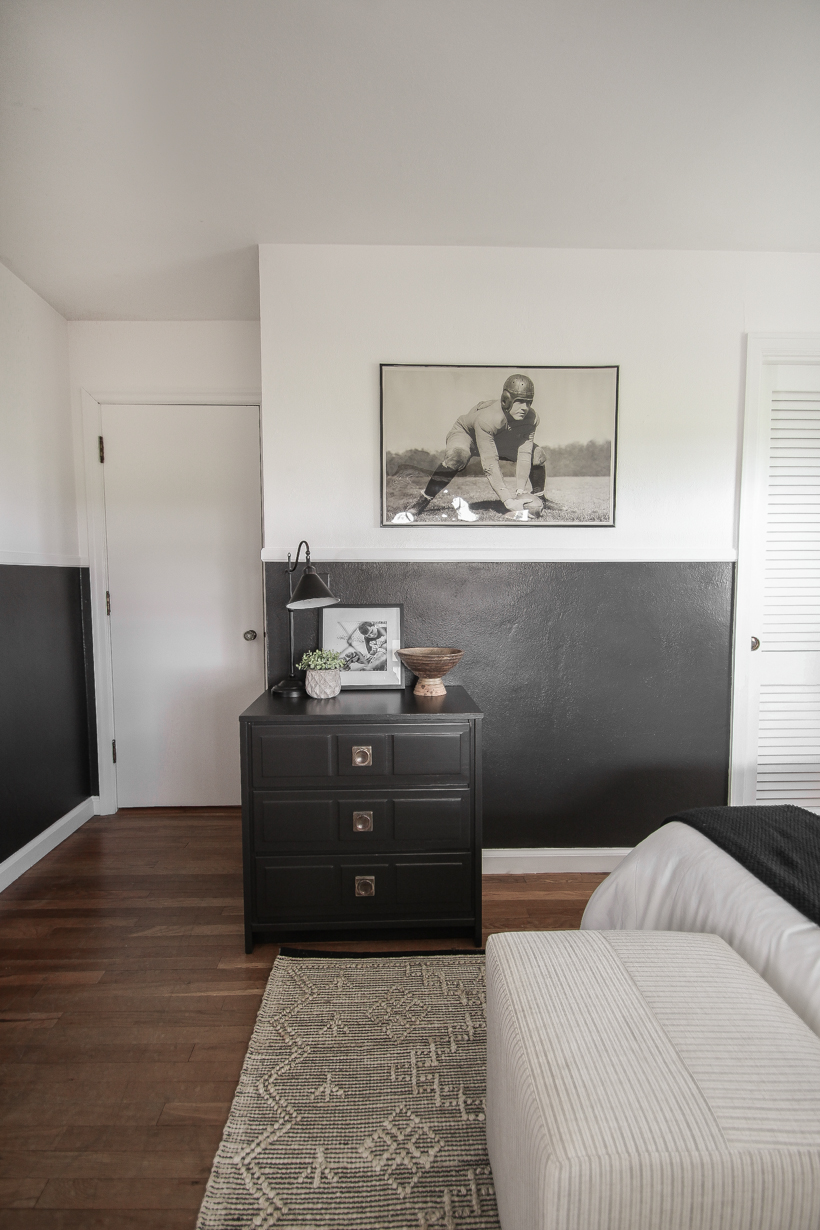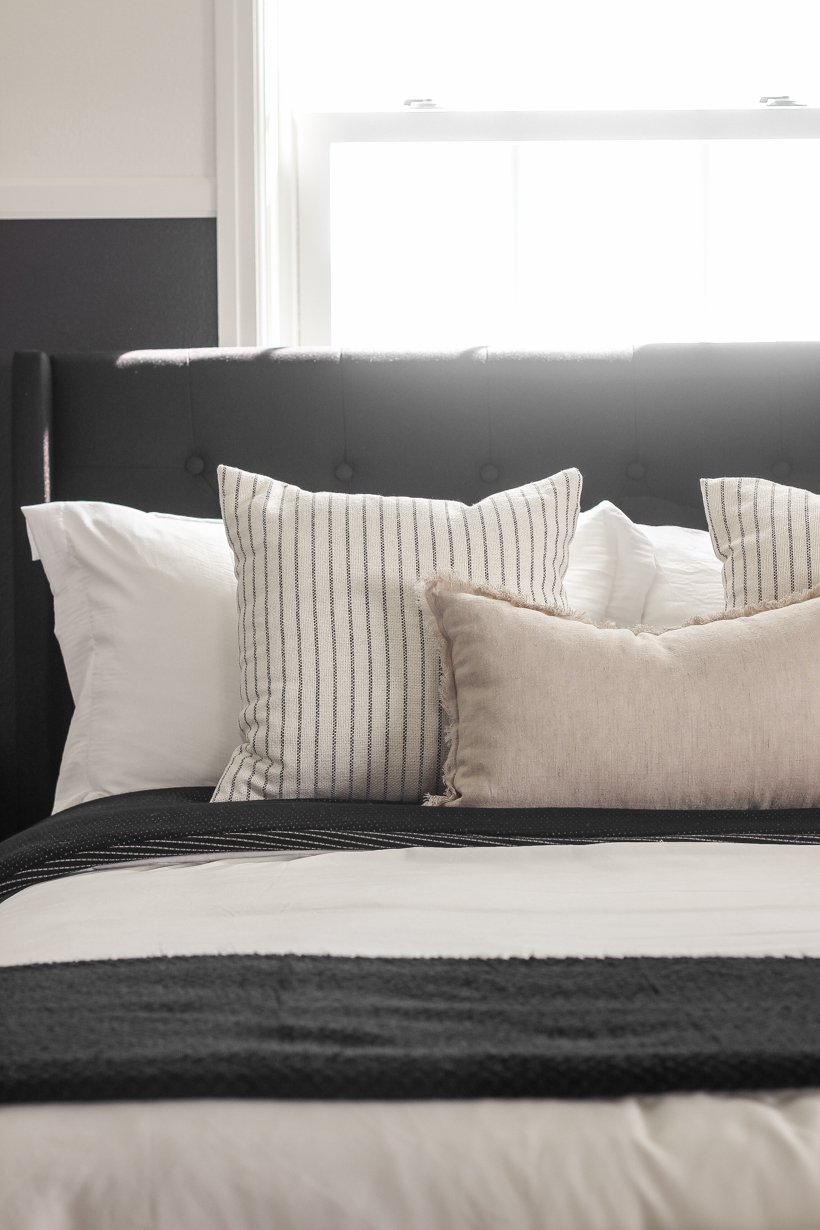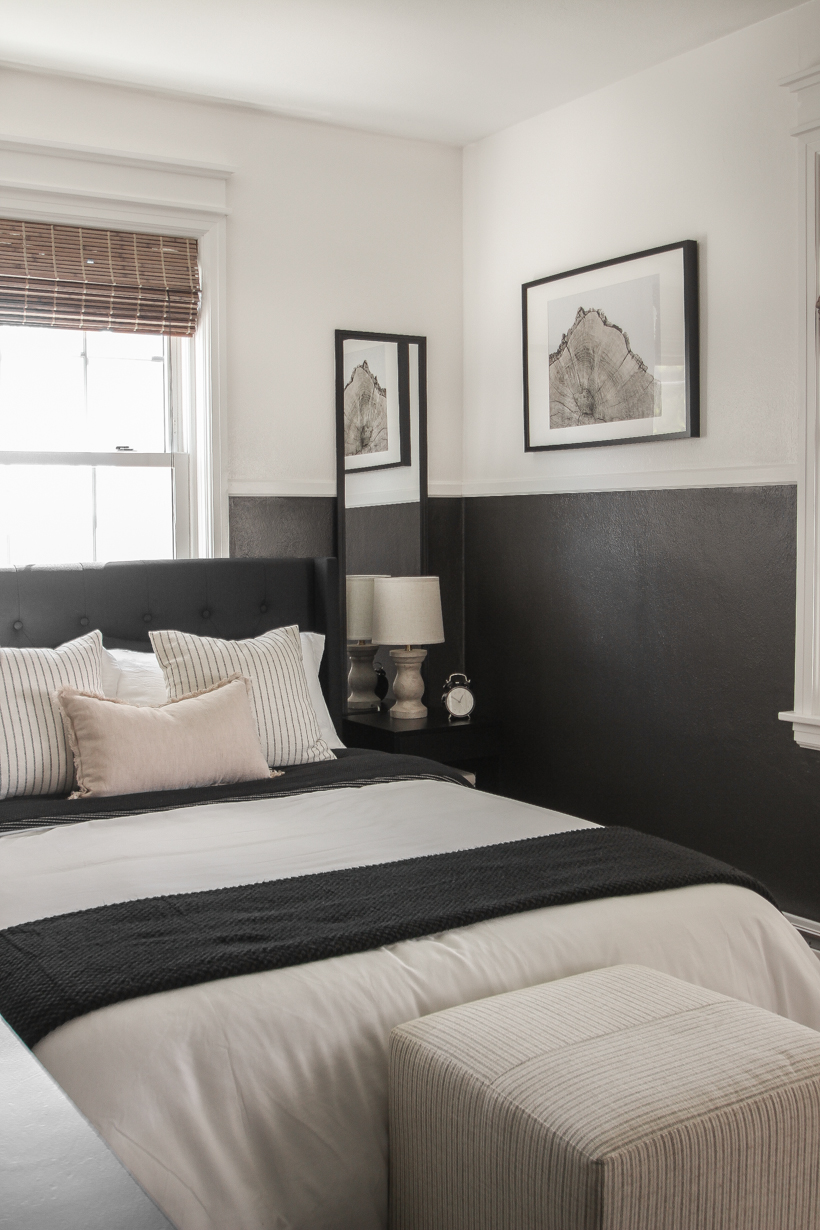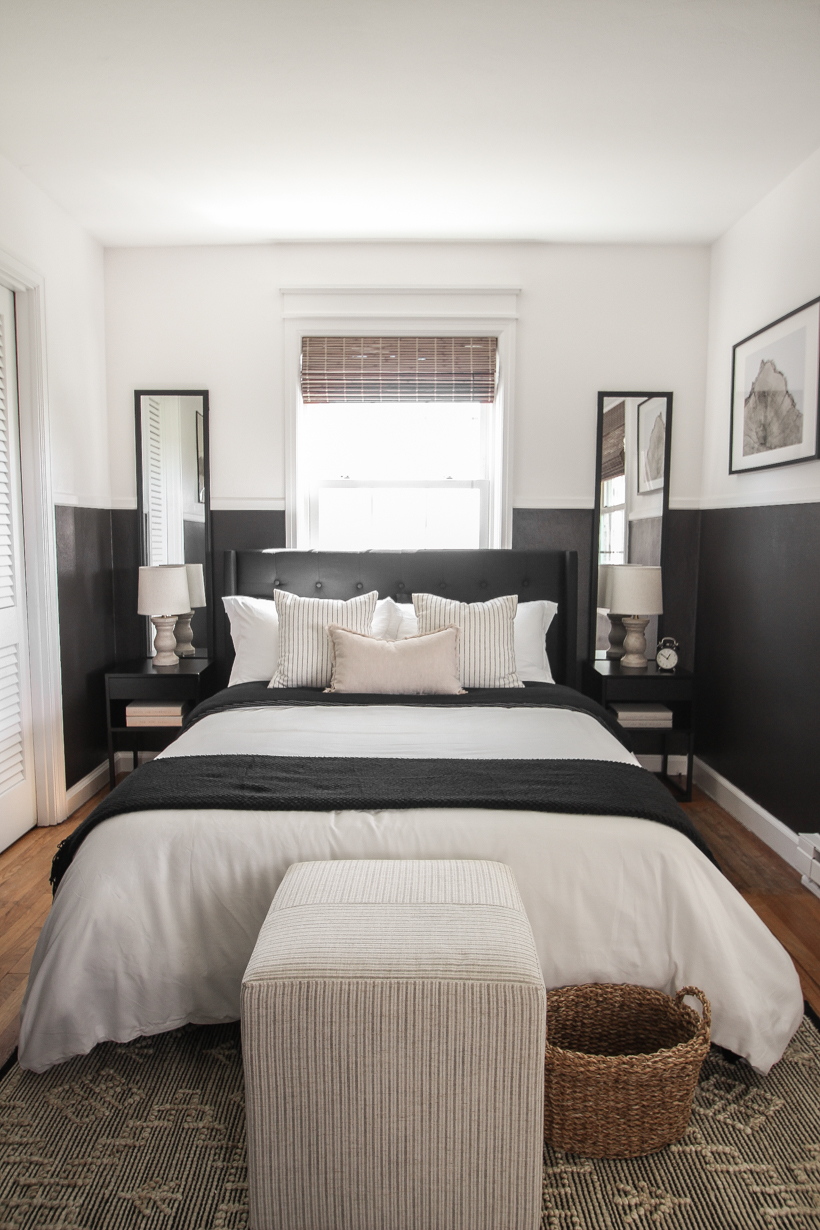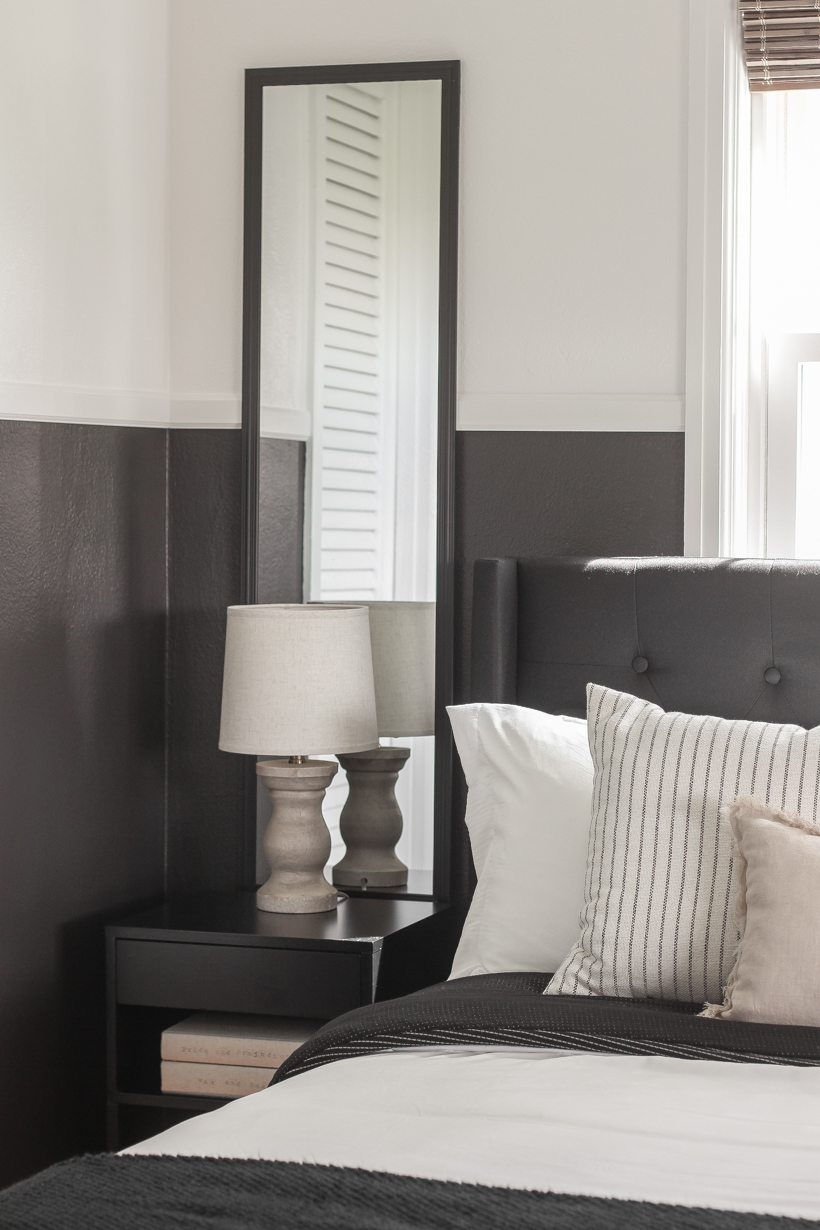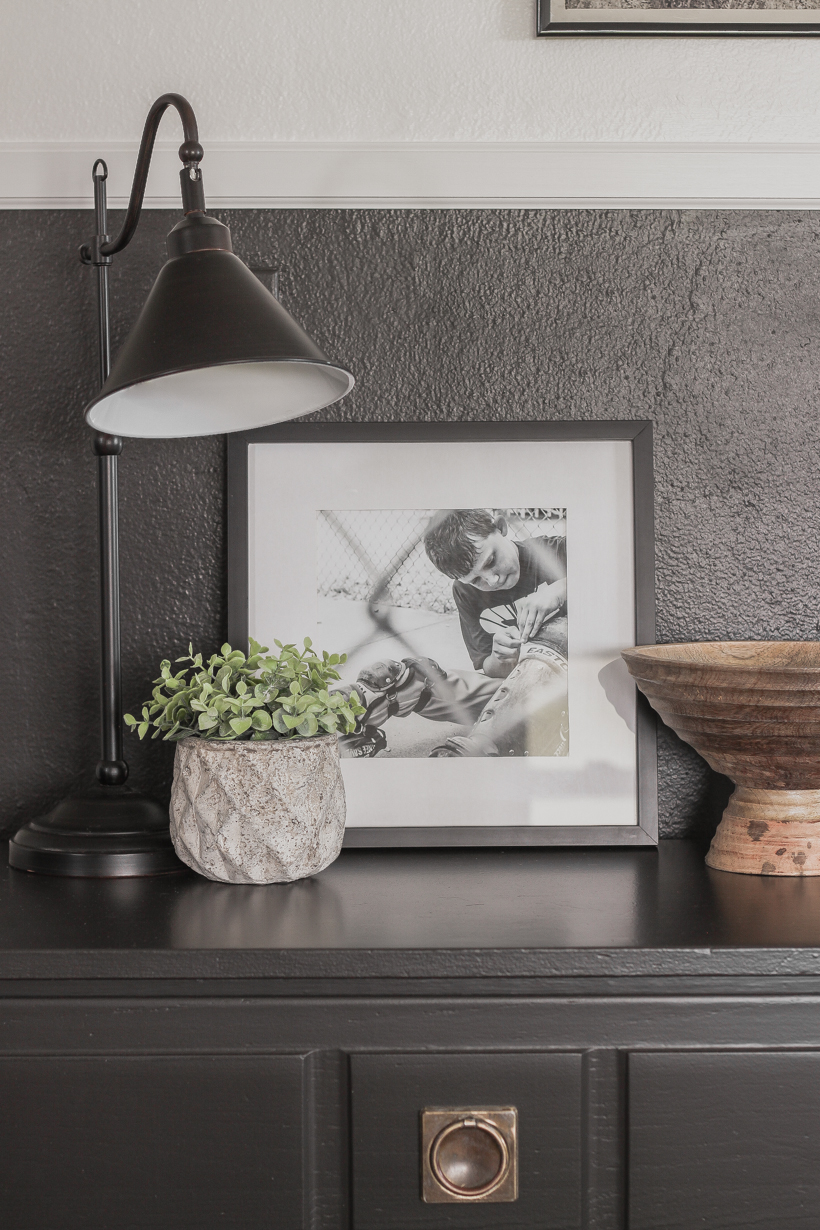 Okay friends, tell me what you think! I'm sure if you're here because we have similar design styles, this black and modern bedroom probably isn't exactly your cup of tea, and I totally get it! But for a teenage boy's bedroom, I think it's just perfect, and if my babe is happy then so am I.
Did it turn out cold and harsh or cozy and inviting? Would you ever paint a room (even just partially) black? What about just a door or a piece of furniture? I can't wait to hear your thoughts! And from the bottom of my heart, thank you for being here and following along my and our family's journey. I hope you know you are very much a part of our extended family!
– SHOP THE POST –

– SOURCES –
tufted platform bed | nightstand | white lamp
duvet cover | duvet insert | throw blanket
pillow insert | black pillowcase | stripe throw pillow
linen lumbar pillow | framed mirror | area rug
bamboo roman shade | upholstered cube | tree ring art
vintage football art | mattress | desk lamp
Note: As always, I sincerely appreciate you shopping through the links I share, which allows me to make a small commission from your purchase while your purchase price stays the same. When you use my affiliate links, I'm better able to create content for this blog as well as support my family, and I thank you from the bottom of my heart for supporting what I do!
---
Subscribe to Blog | Follow on Instagram
Follow on Pinterest | Follow on Facebook