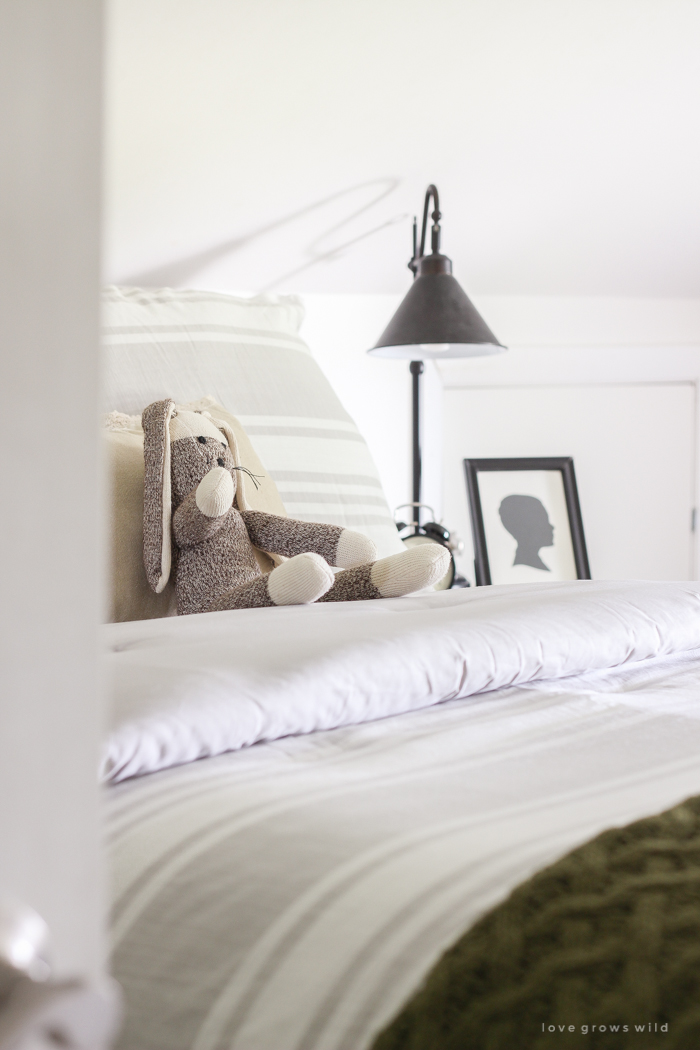 Sponsored by Stearns & Foster // Now that the boys are out of school for summer, I've finally had some time to work on updating their bedroom with them, and we've made quite a bit of progress in the last few weeks! I don't show the kids' spaces on the blog very often because normally they are messy and full of blanket forts and toys, but I've never really done a full blog post on what their bedroom looks like since we moved into this house, oh… 5 years ago. So I figured it was about time, and you guys would enjoy seeing more of our little farmhouse! I also tend to decorate for kids a little differently than I do the rest of our house, so I thought it would be fun for you to see a design that's a little more bold and playful from me. Still very neutral and farmhouse and very "Liz", but a little more pattern and color thrown in the mix!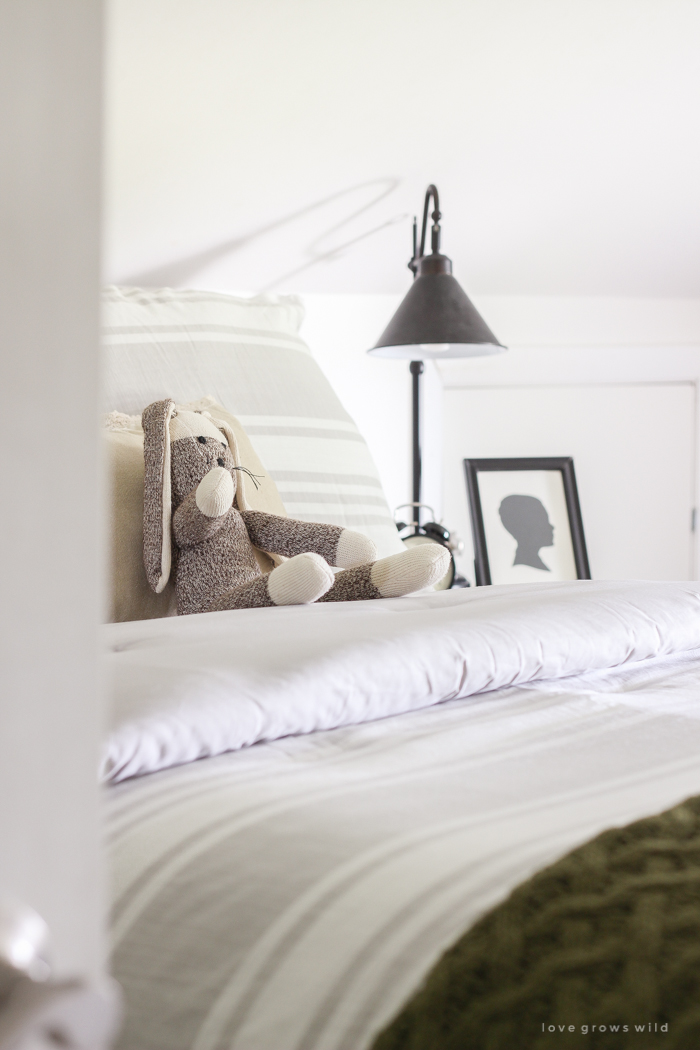 The boys are getting older (whether I like it or not), and their bedroom needed to grow with them too a little bit. When we first moved here, the unused attic space was converted into two bedrooms, mine and the boys'. All they basically had to start with was a bunk bed that we couldn't bunk because of the short, angled attic ceiling and two small dressers. I dug these old photos out of the archives to take you on a trip down memory lane…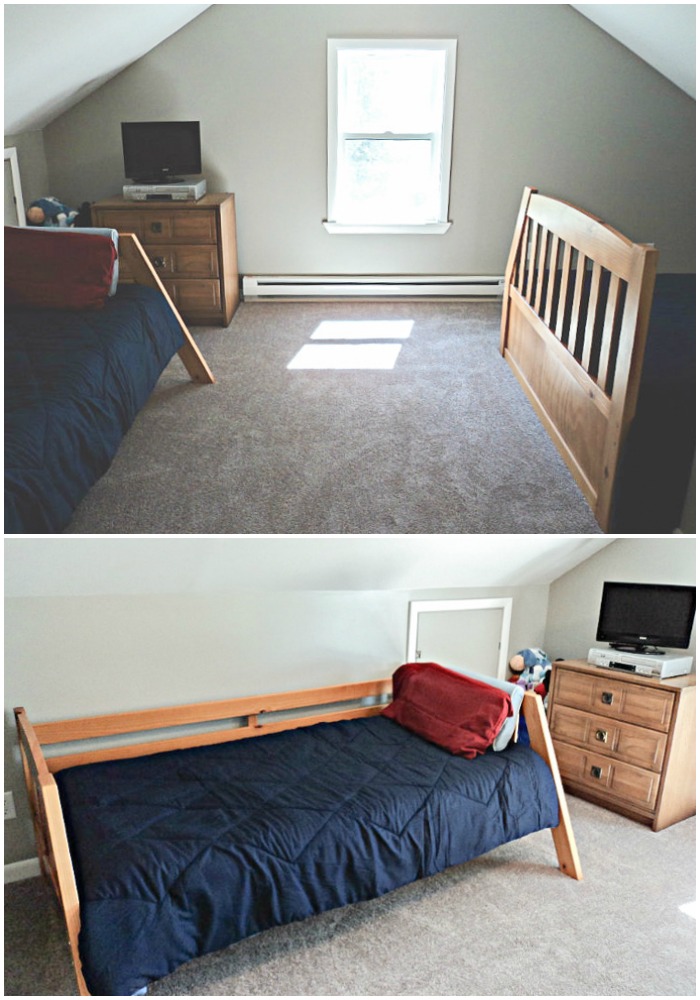 Slowly but surely we started bringing in some different furniture and giving their room a little more style. I painted a fun accent wall on the far wall with the window (you can find that tutorial in my book) and replaced their bulky bunk beds with smaller simple bed frames to make the room feel more open. Even though it was a big improvement, their room still never felt finished to me. I wasn't crazy about the layout, and poor Wyatt, my youngest son, was sleeping on an uncomfortable hand-me-down mattress from his great GREAT grandmother. Yep, that's two greats. That thing was pretty old! These photos were taken for the book last year and show the progress we had made up until now…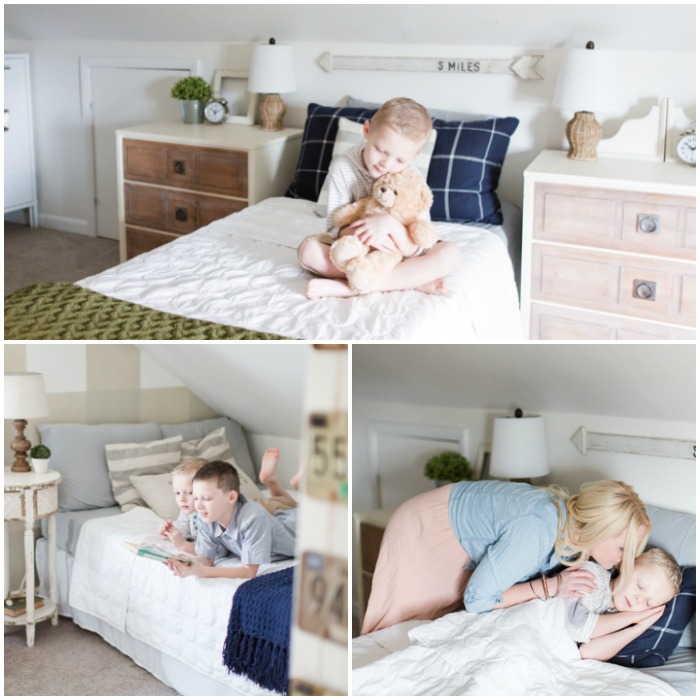 There were a lot of elements I loved about their room (like the gingham accent wall and color palette), but that crusty, old mattress had to go and I wanted to get them new bedding that was nice and comfy to crawl into after their long days of school and baseball games. We also use this space as a guest bedroom when people come to visit, so I definitely wanted to make it feel cozy and inviting for company staying with us too. When I started to think about updating the design and layout, I wanted the bed to be the main focus as soon as you enter the room. A nice, big, cozy bed with layers of soft blankets, comfy pillows, and the perfect new mattress.
The first thing I did was haul Wyatt's old mattress, which I found had springs poking out of the bottom of it, out to the garage. Yikes, it was time to let that bad boy go! I decided to go with a Stearns & Foster mattress because of the quality and craftsmanship I've always heard they put into their mattresses. I was doing some research online, and as soon as I mentioned the Stearns & Foster name, my mom and aunt chimed in that they are a well-known brand and their mattresses are built to last for years and years. And after the new mattress arrived, I agreed with them completely!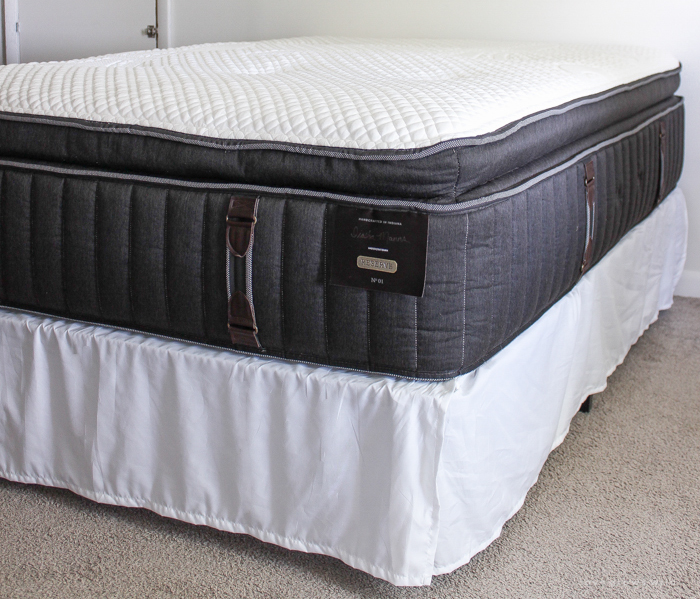 You can tell how well this mattress was made because it was a beast to get it up our steep, narrow stairway, but after a minute of laying on that pillowy softness, it was totally worth it. I love the "handcrafted in Indiana" tag that came with the maker's name on it. These mattresses are definitely handcrafted with a lot of attention to detail. You can find local Stearns & Foster retailers here, and learn more about the HGTV Bedroom Suite Sweepstakes with Stearns & Foster here!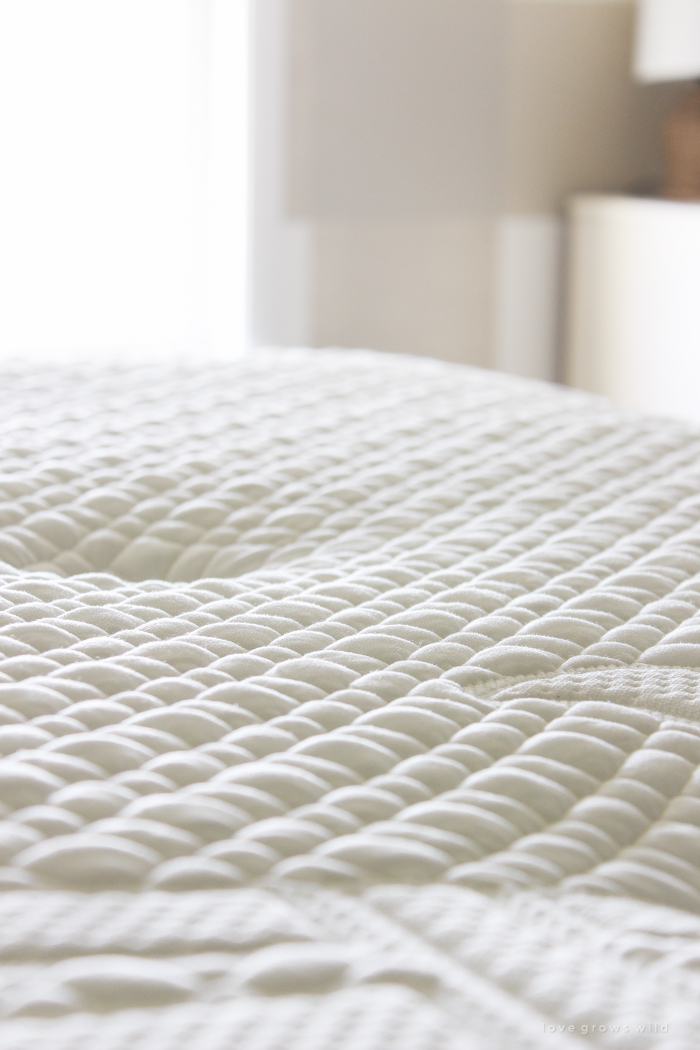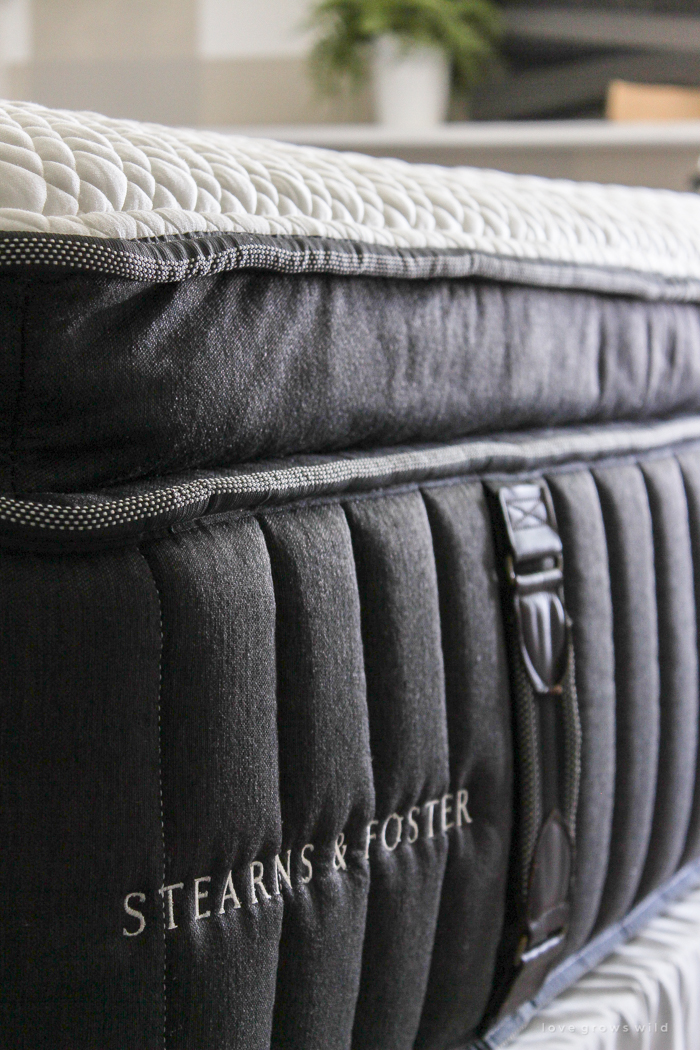 So, funny story… as the delivery guy is getting the new Stearns & Foster mattress off the truck, I look over to see Wyatt, who is seven, welling up with tears. "What is wrong??", I ask. Between sniffles, he tells me that sleeping on his great, great grandmother's mattress was like sleeping on a piece of history, and he doesn't want to let that piece of history go. Oh boy…
I guess I can't fault the kid for knowing the value of history and how much I love keeping timeless treasures around the house, but I'm pretty sure this is one antique we can afford to let go of, son! Bless his sweet, little heart.
But let me tell you, once we got his new mattress upstairs and he saw how huge and plush and comfy it was, he changed his tune pretty quickly and said he felt like the king of the house with his new big boy bed. I believe there was also quite a bit of bragging going on between little brother and big brother over the new mattress, so I have a feeling there will be another Stearns & Foster purchase happening sometime in the near future.
Next week I'll be sharing all the rest of the changes we made in their bedroom and a full reveal with lots of photos! I can't wait to show you the bedding and the new layout and… it's all just so good!
P.S. Not sure which mattress is right for you? Find more information here!

LET'S KEEP IN TOUCH!
---
Subscribe to Blog | Follow on Instagram
Follow on Pinterest | Follow on Facebook
This is a sponsored conversation written by me on behalf of Stearns & Foster. The opinions and text are all mine.