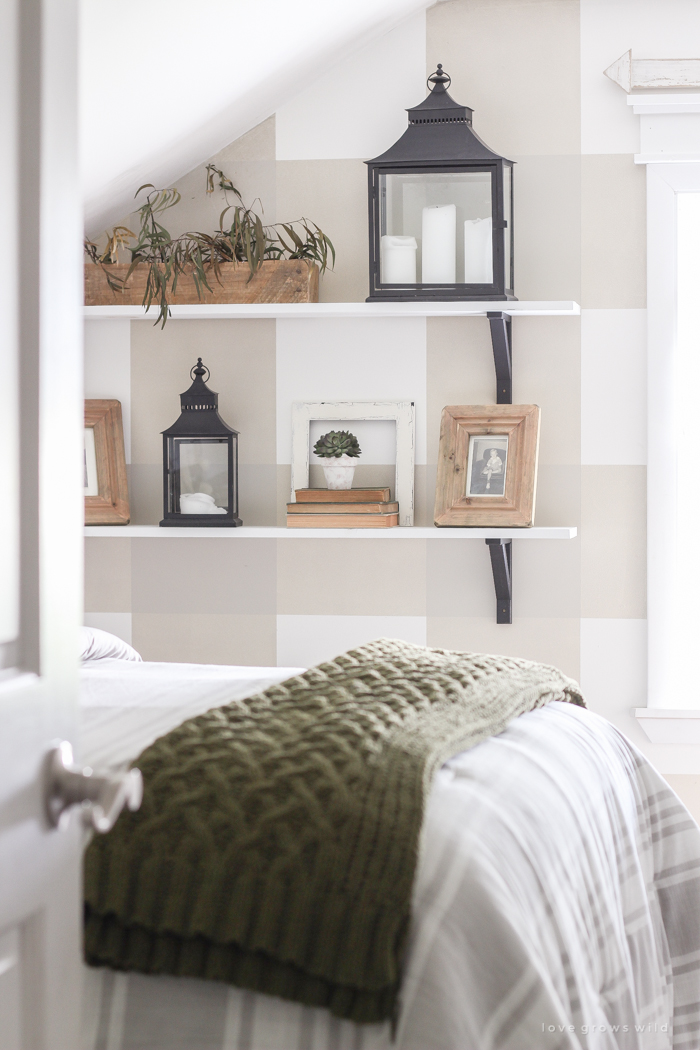 Sponsored by Stearns & Foster // Last week I shared how I've been working up in my boys' bedroom to create the perfect, little space just for them. I want their room to be a cozy, fun place for them to hangout and relax in, but I also need it to double as a guest bedroom when the need arises. So I revamped the layout of this awkward attic bedroom to maximize space, upgraded their beds to make them super comfortable, and added some fun accessories to give the room a charming vintage vibe. I finally feel like we hit a home run in here, and I'm so excited to show you guys my sweet boys' farmhouse bedroom!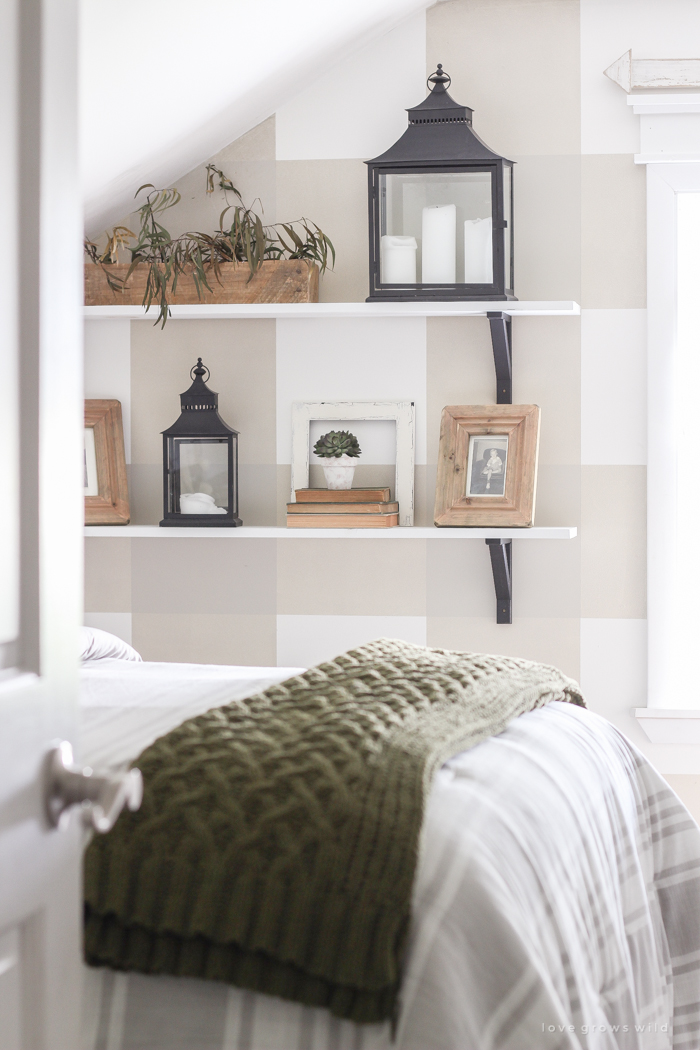 Note: I have links to all the items and decor in this room listed at the bottom of the post!
To remind you of where we started in this room five years ago, here's a photo from the archives…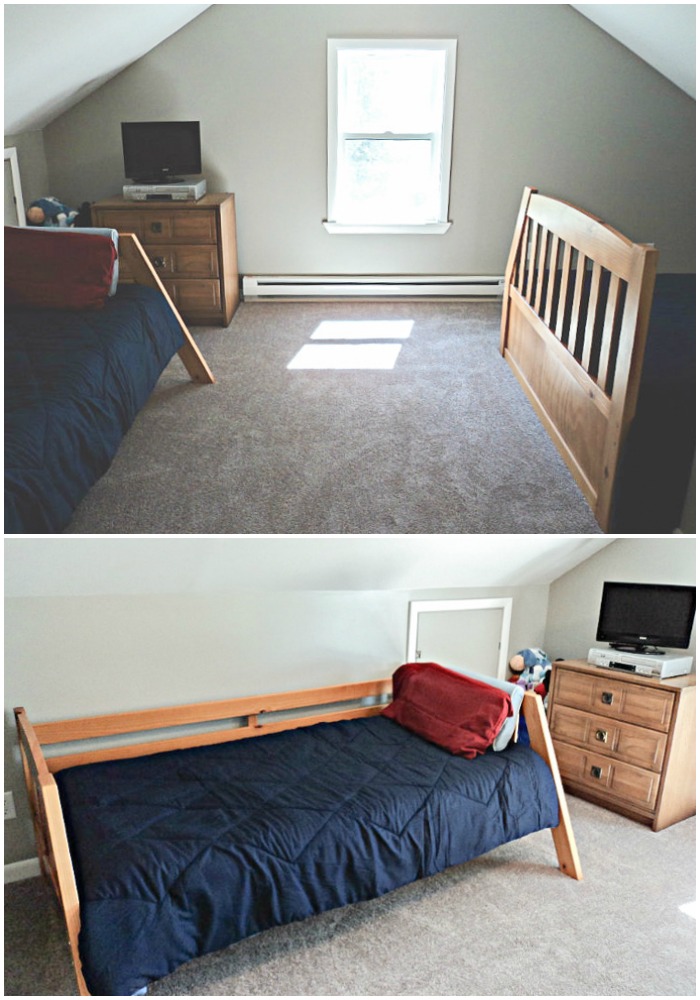 I wanted the bed to be the main focal point as soon as you enter the room, with layers of soft blankets, comfy pillows, and the perfect mattress. It was an easy way to start designing the room and add a nightstand, a dresser, and other elements around it. The first thing we needed to update in here was my son's mattress that belonged to his great GREAT grandmother many, many years ago. It was horribly uncomfortable and definitely due for a replacement. I couldn't be happier with the Stearns & Foster mattress we went with, and as soon as it arrived here at the farmhouse, I was impressed by the high quality materials and attention to detail that these mattresses are crafted with. The first night my son slept in his new bed, I don't think he got up until almost 11:00 the next day! We've gotten into a routine on most nights now where we all lay in his big, comfy bed and read books together before bedtime. It's something we have done on and off in the past, but since this little bedroom makeover, it's brought back our bedtime story ritual!
By the way, you can find local Stearns & Foster retailers here, and learn more about the HGTV Bedroom Suite Sweepstakes with Stearns & Foster here.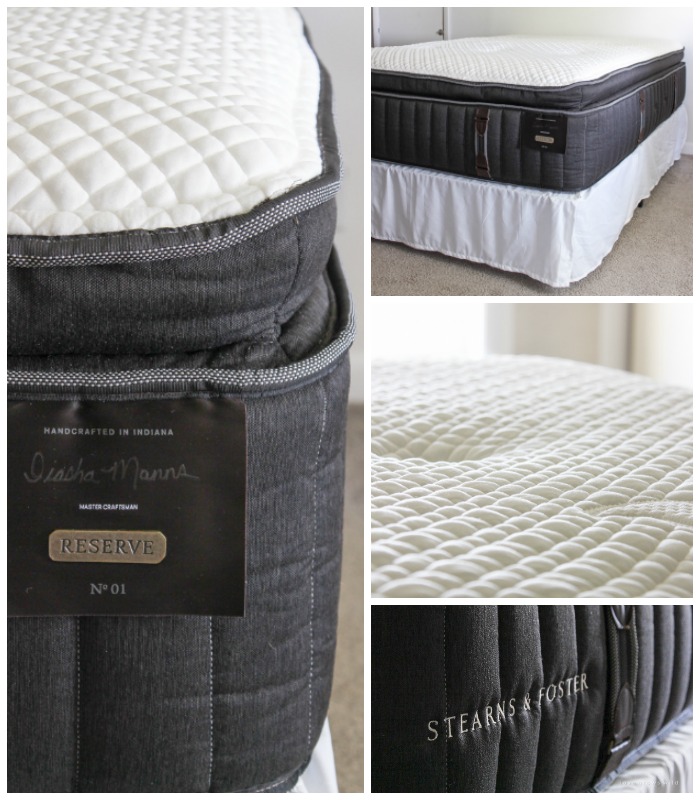 Once we had the foundation of the bed upgraded, it was time to update their bedding too. I personally love having lots of layers on my bed, even in the summer time. Some nights you might only want a soft sheet covering you, but other nights it might get chilly enough to open the windows or the air conditioning might have you reaching for an extra blanket in the middle of the night. So I layered navy and white striped sheets (which I'm obsessed with and may pick up a set for my bed too!) with a basic white quilt, topped with a plush gray and white striped comforter and an olive green throw blanket folded at the end of the bed. It seems like a lot of layers, but I find that it makes the bed look and feel extra cozy and inviting, almost like a fancy hotel bed.
And one trick I've learned over the years for decorating bedrooms is not to buy an entire matched set of bedding. Mix and match sheets and pillowcases and comforters and blankets that are all slightly different, but stay in the same general color palette. White is always my first choice, and I blended in warm grays, soft navy, and muted green to round out this boy-themed room. Stripes are also a reoccurring theme in the bedding and also on an accent wall I created with paint. You can find that paint tutorial in my book, A Touch of Farmhouse Charm.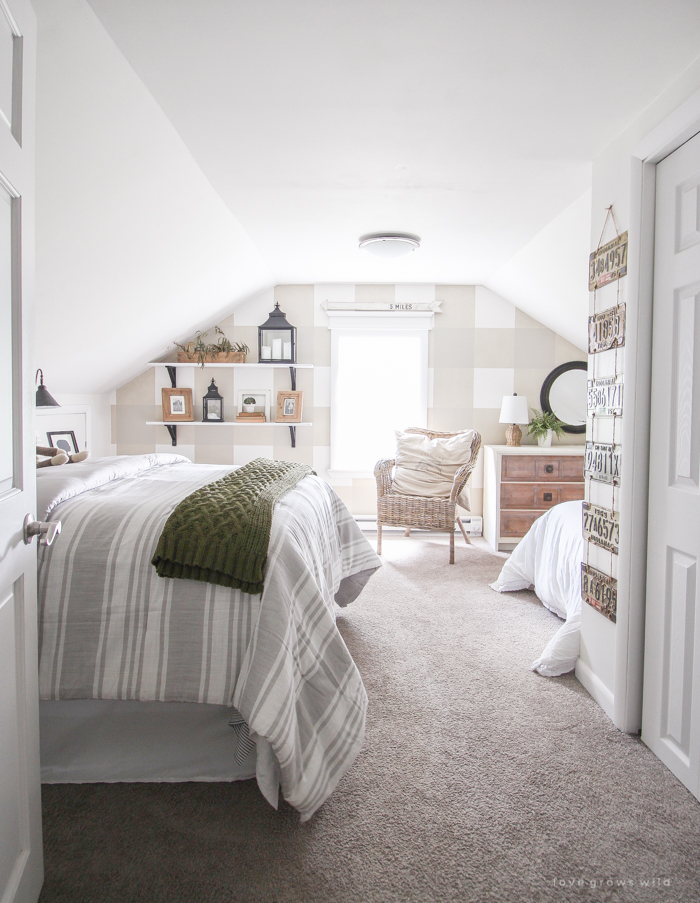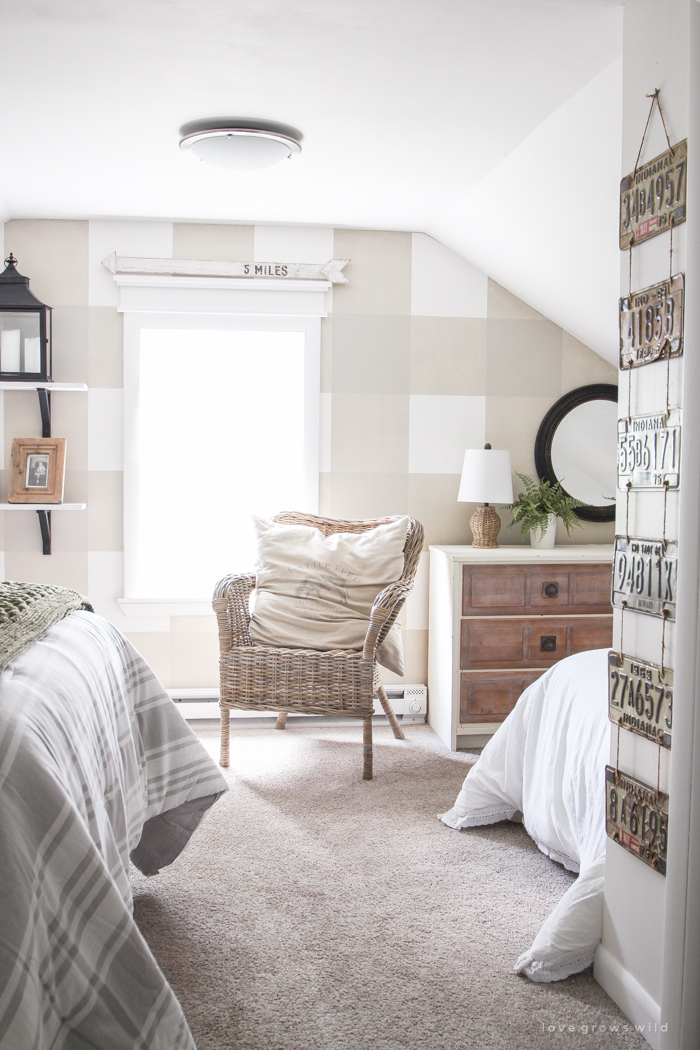 I like having the boys' beds on opposite sides of the room so they are less tempted to goof around after I tuck them into bed for the night. It also gives them enough space for a nice changing area where their dressers are and some shelving with storage underneath for stuffed animals and a few toys that migrate upstairs from their playroom.
I love that I was able to use so many pieces of decor that I made myself in this room… the 5 miles arrow sign, license plate collection, framed silhouette art on the nightstand, and open shelving were all tutorials from my book!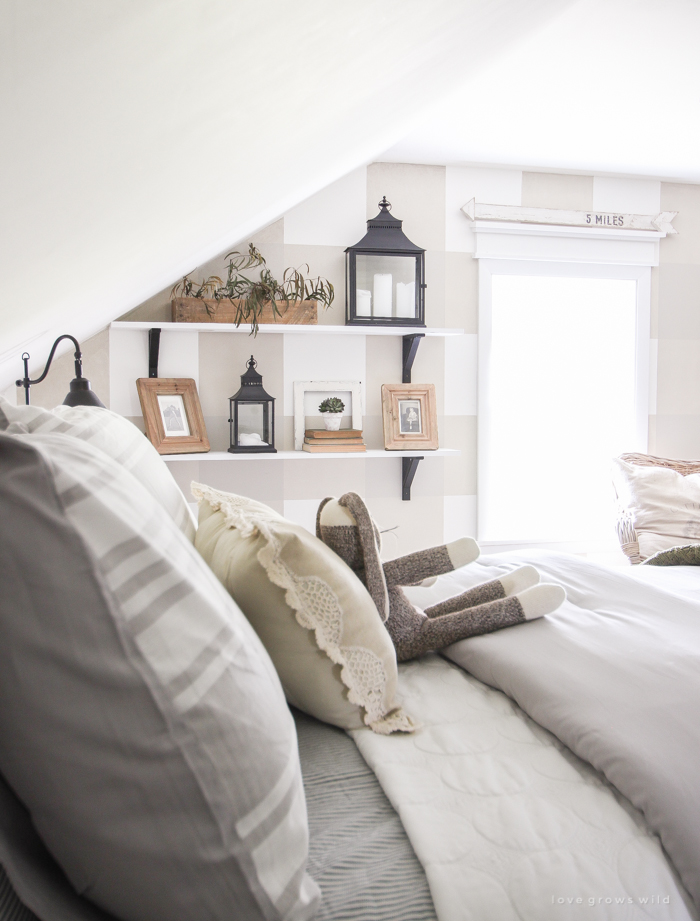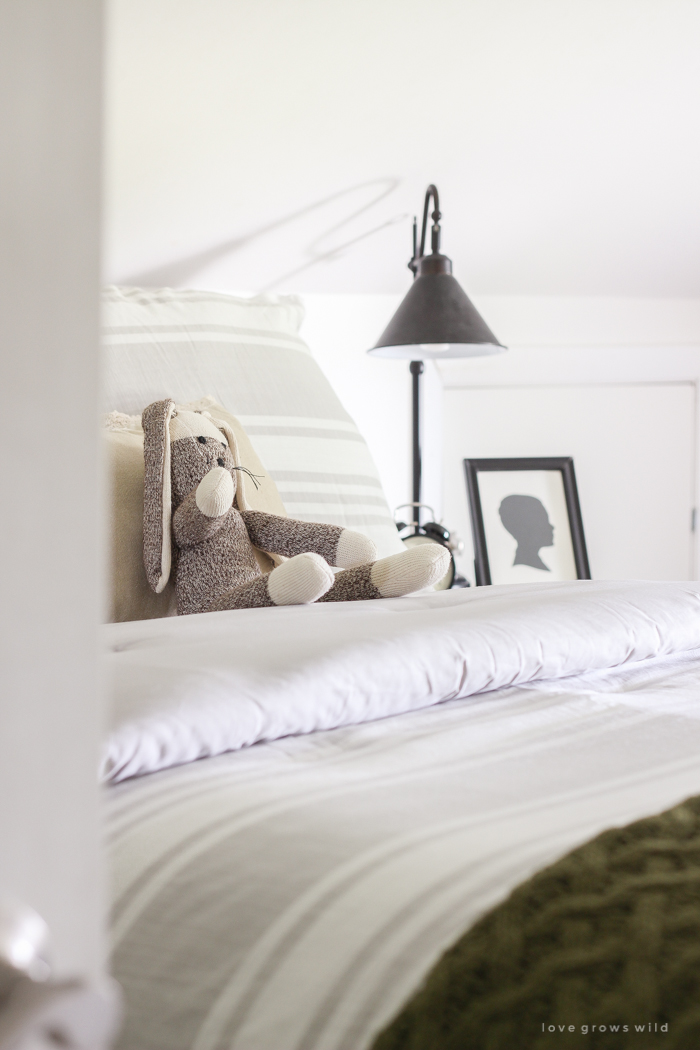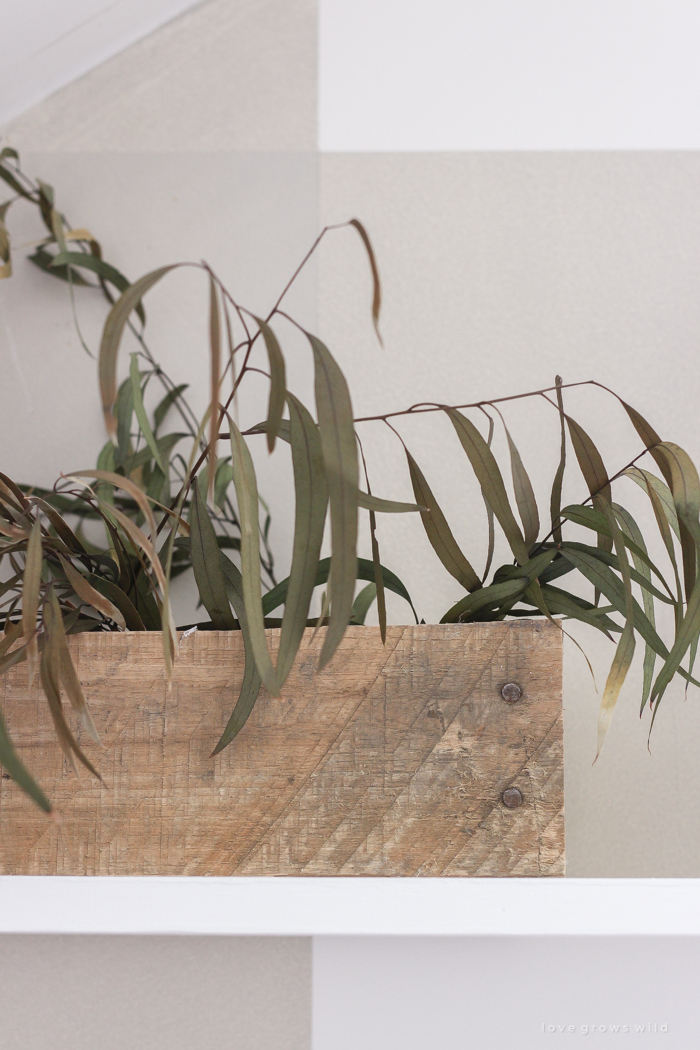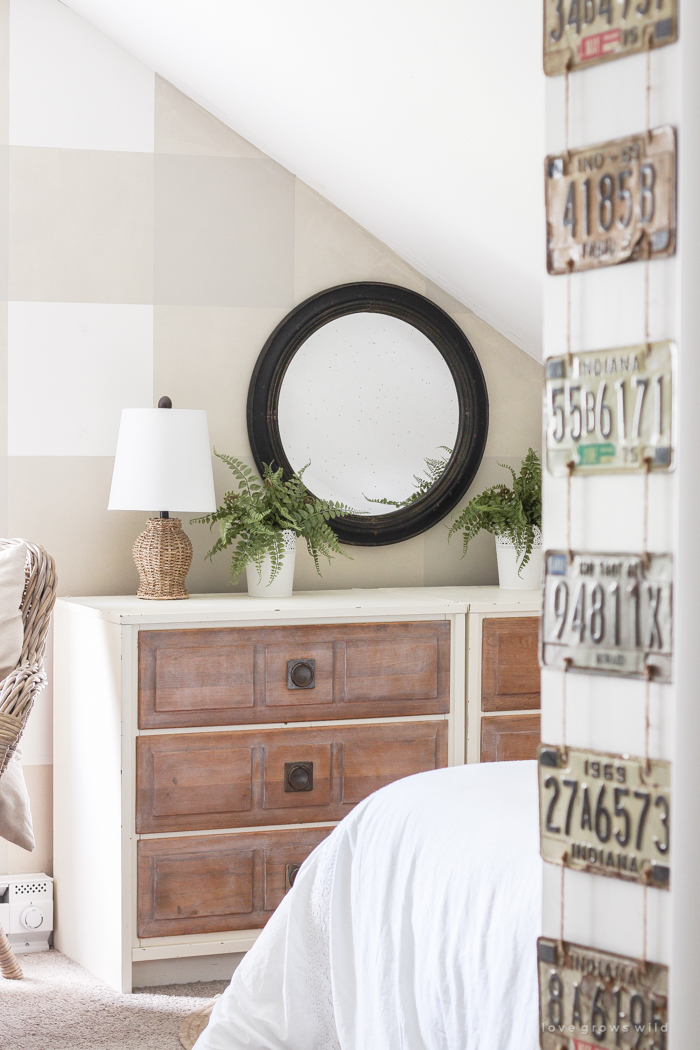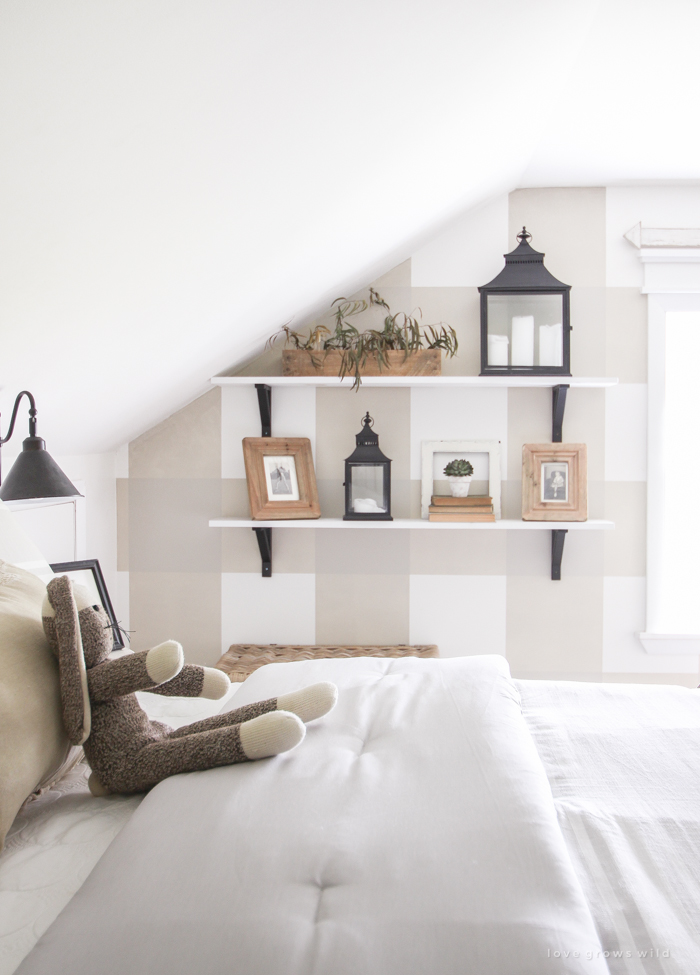 I feel like an attic bedroom can be a major design challenge and total pain in the neck, but it also has a way of feeling extra cozy and inviting because of the sloped walls. I had such a hard time designing my master bedroom too in the beginning, but ended up embracing the uniqueness and turned it into my own little private retreat. A lot of charm and character can come from these types of challenges!
I think both boys are pretty pleased with how their room turned out, and my little man is obsessed with his new bed. They can't wait to have friends spend the night in here, and when my sister and her family come to visit us next month, I know exactly where they'll be staying! It feels so good to have another space in our little farmhouse finished, or at least finished for the time being.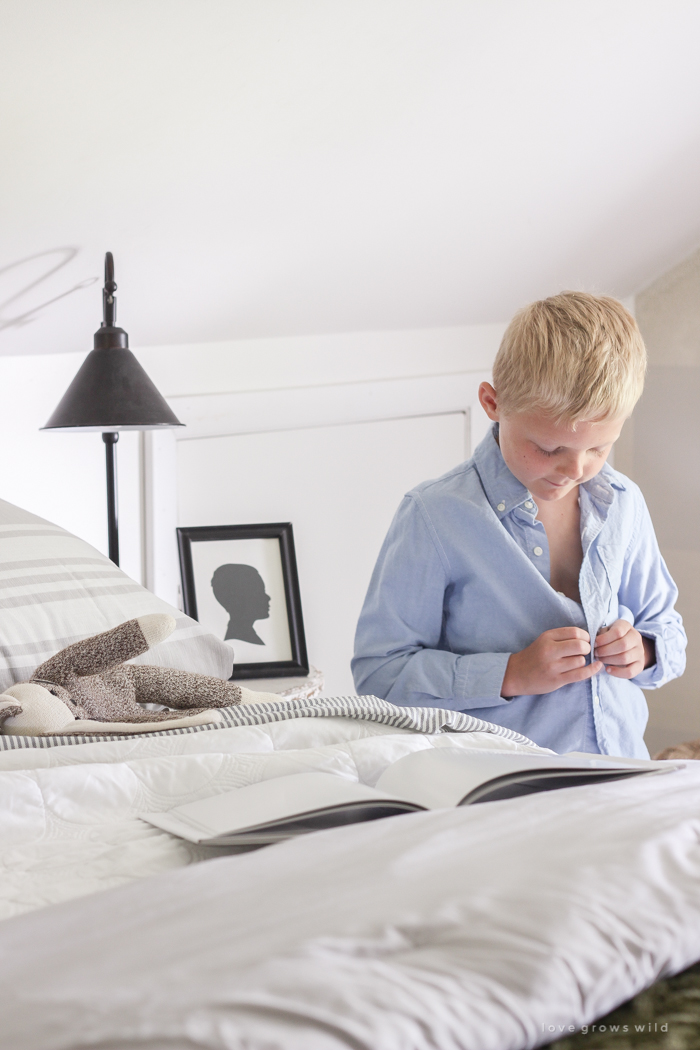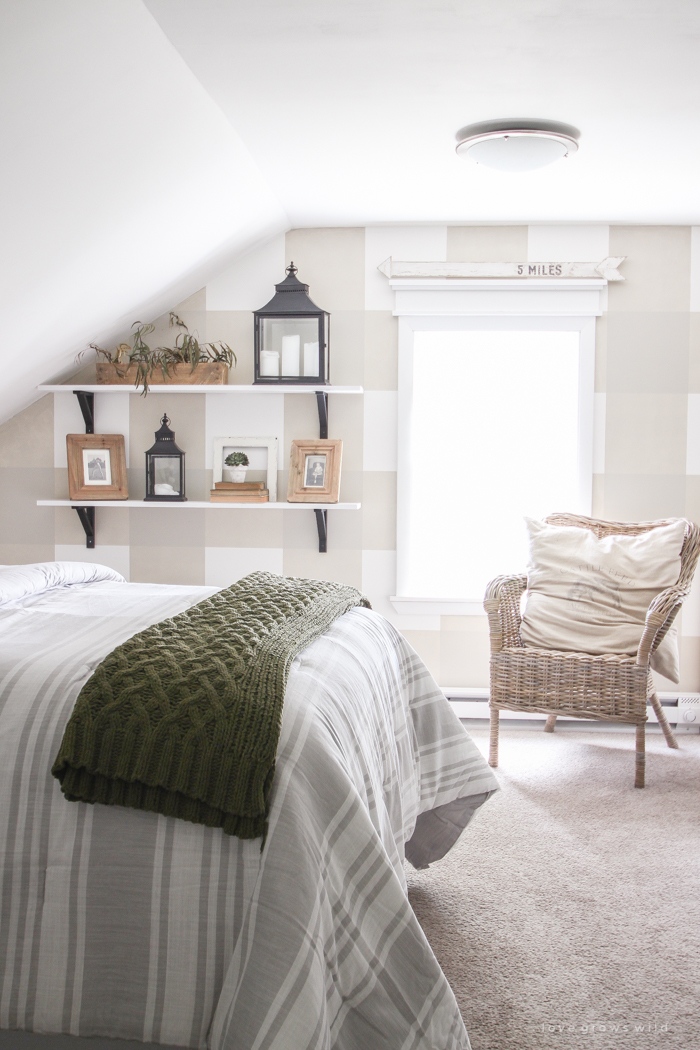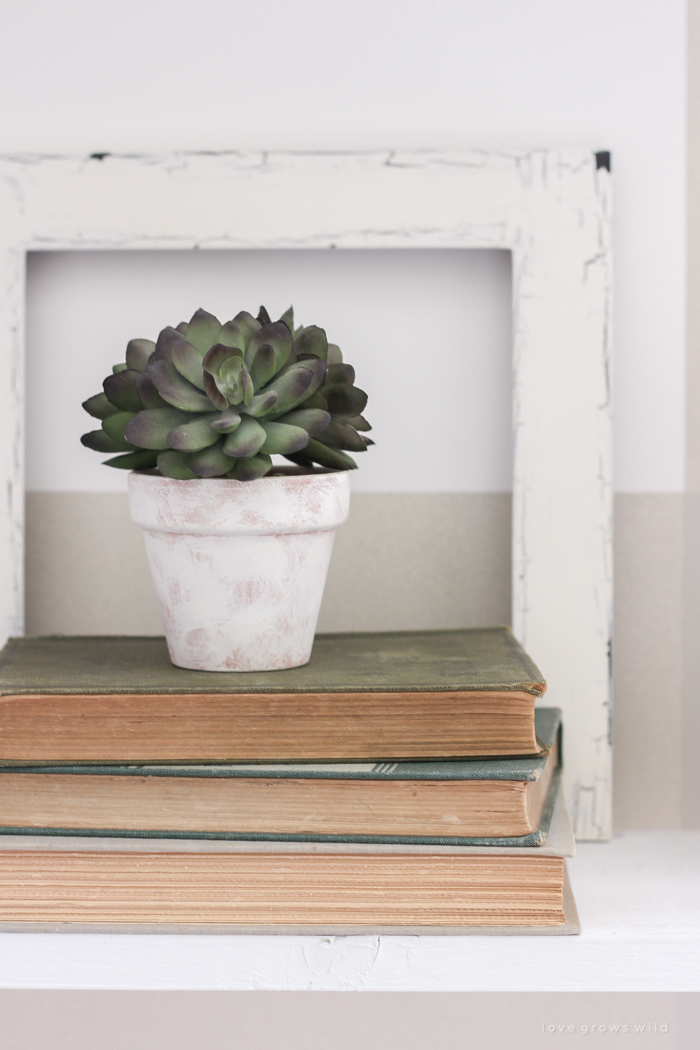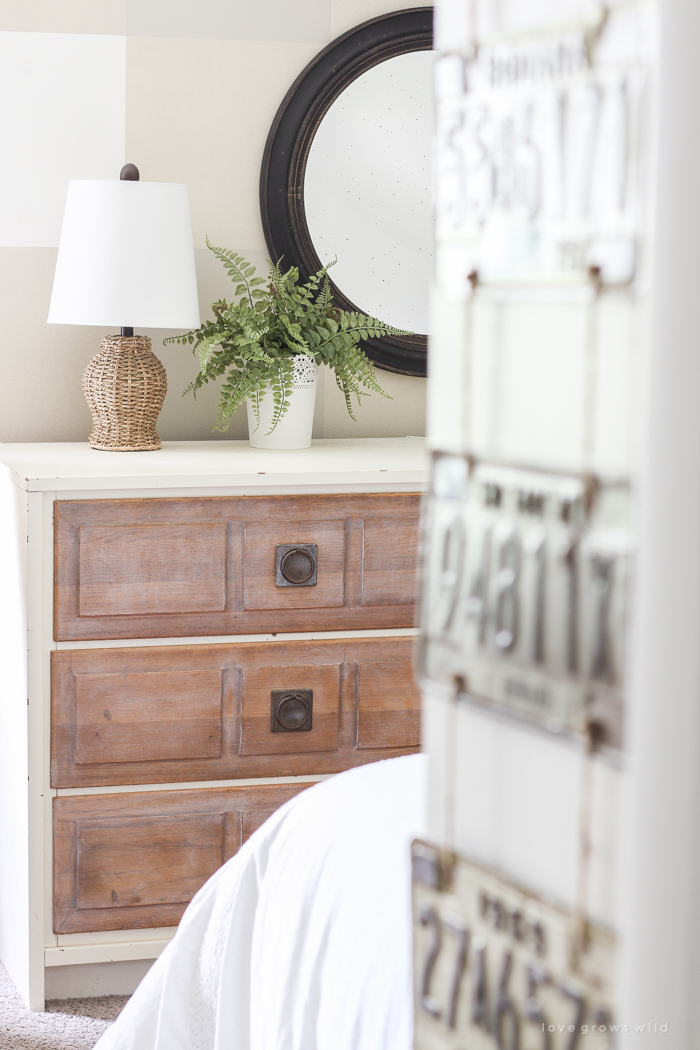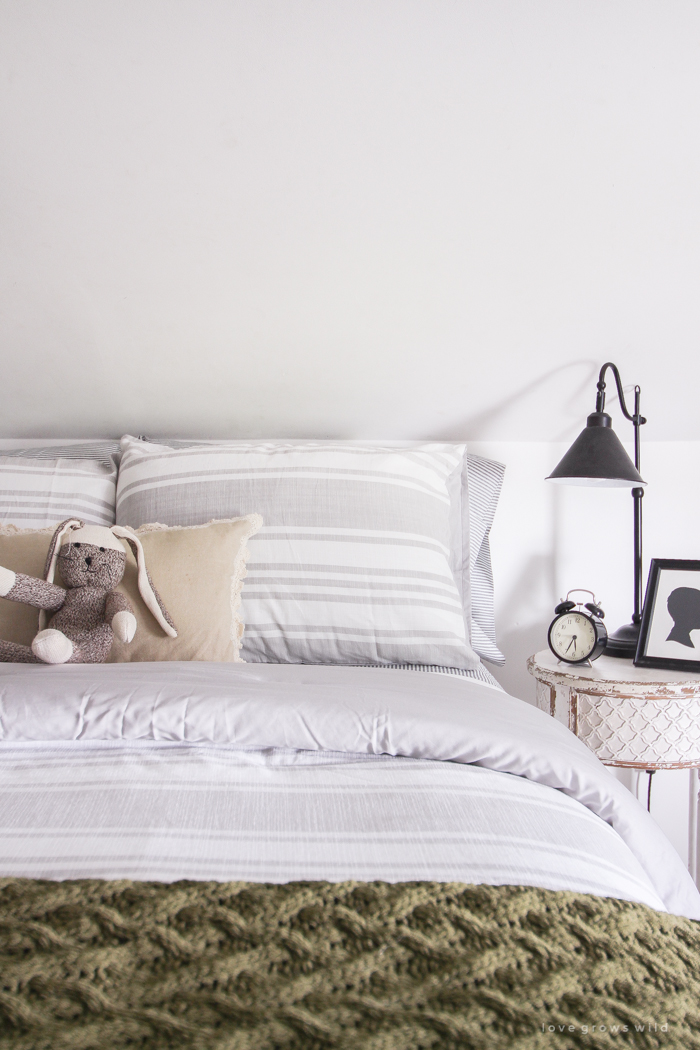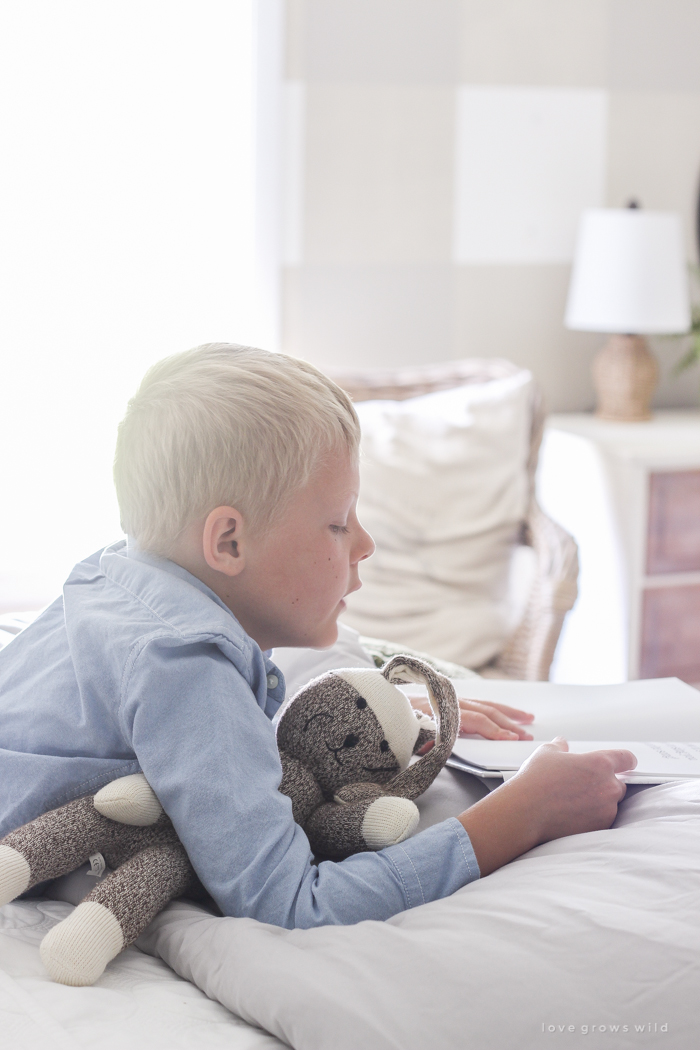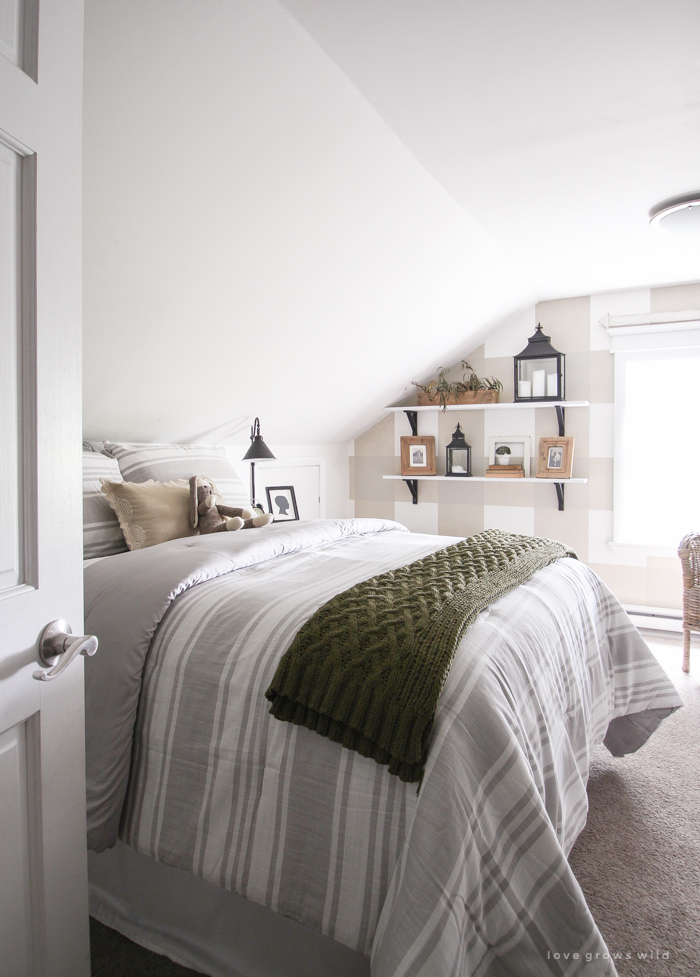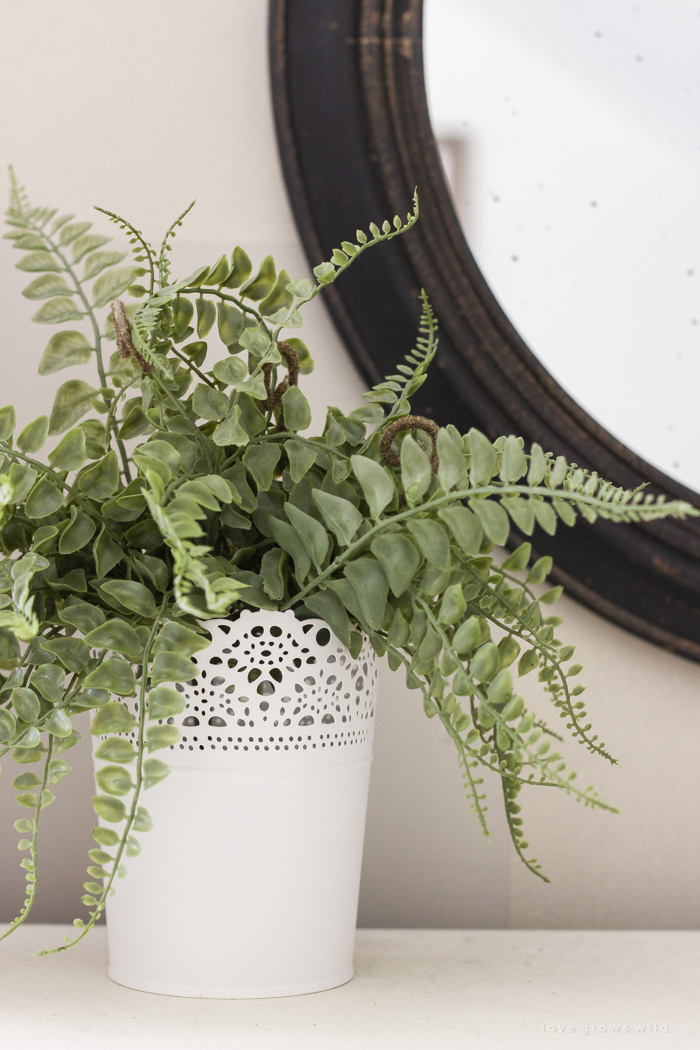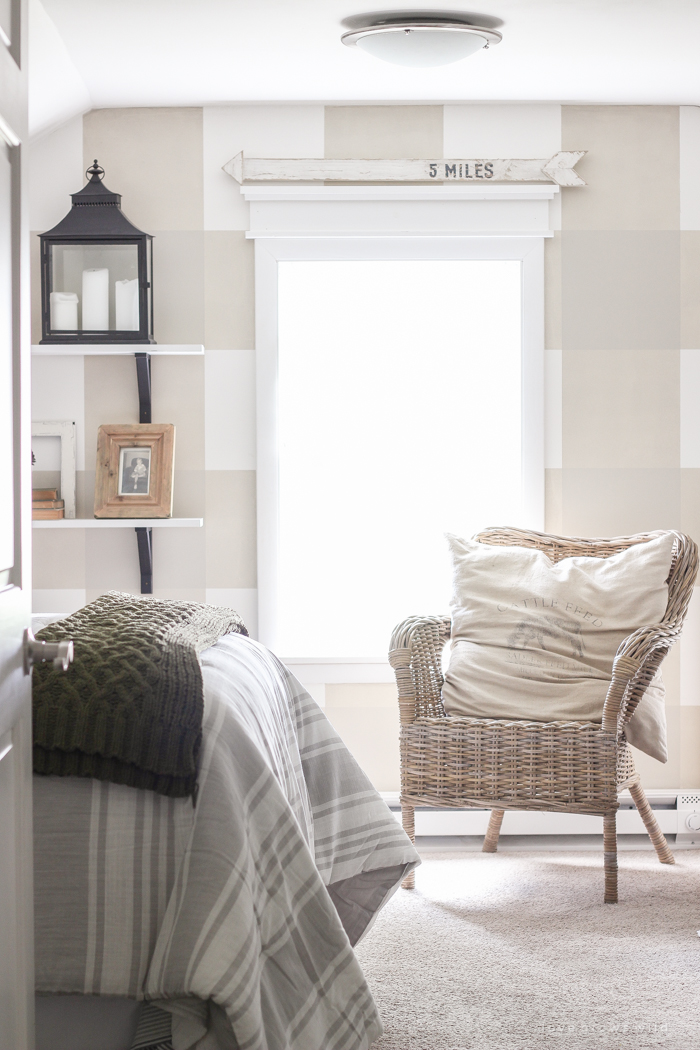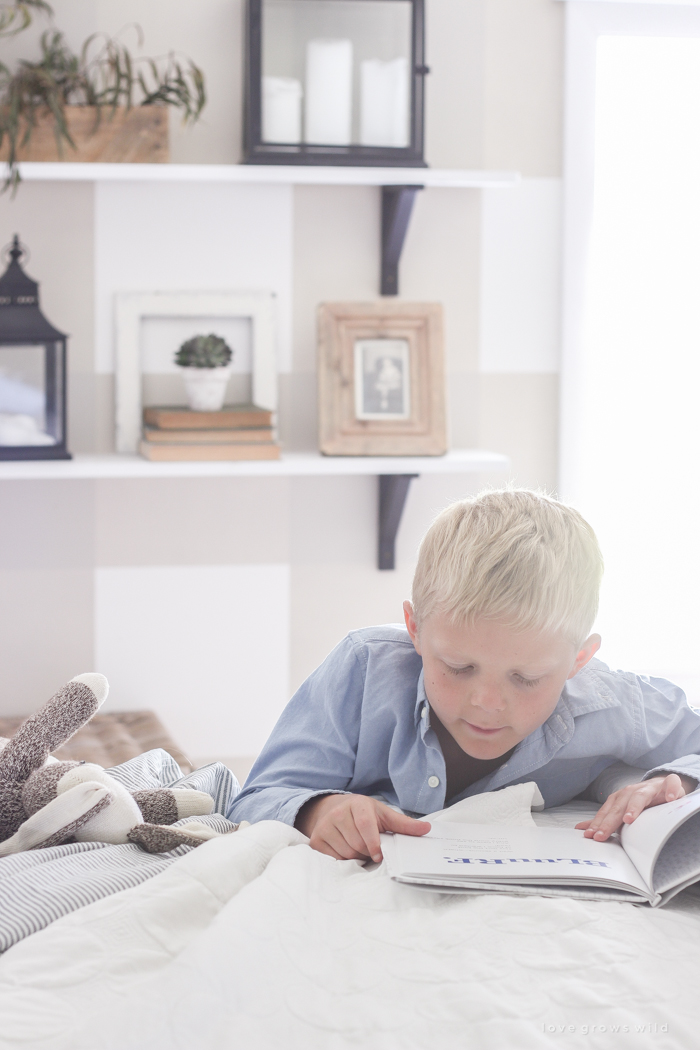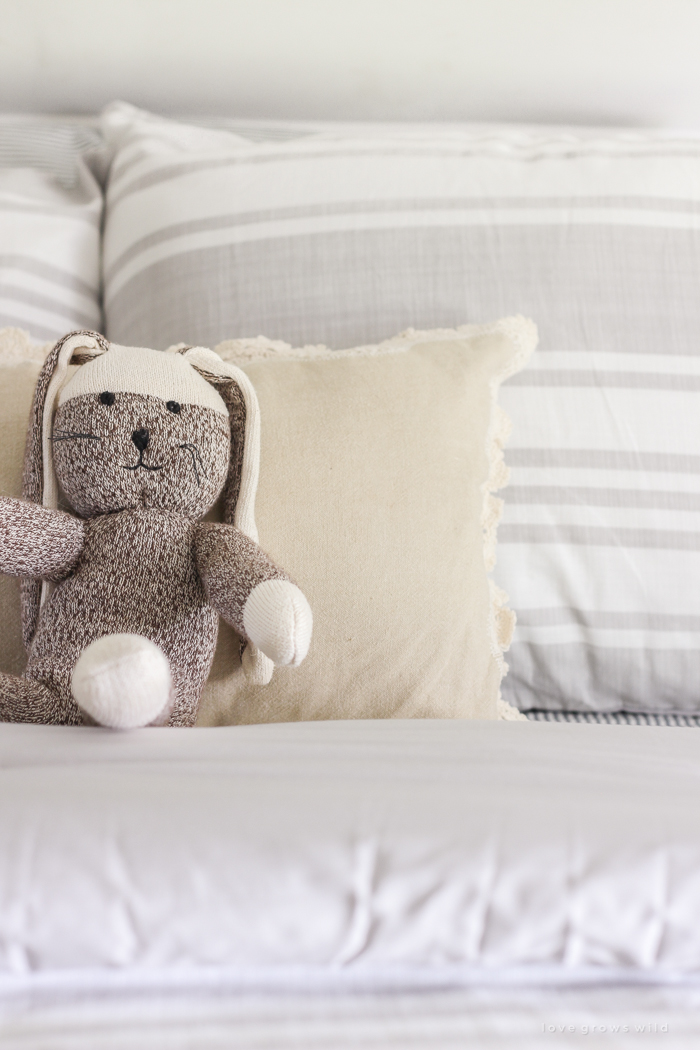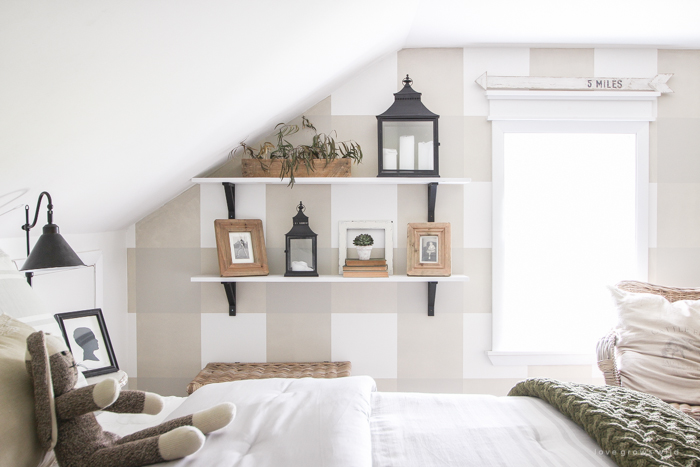 I hope you enjoyed getting to see this room finally after all these years! The boys told me to send you all a big thank you for coming to check out their pad!

---
SOURCES:
---
Note: Some of the links in this post are affiliate links, which allows me to make a small commission from your purchase, but your purchase price stays the same. Thank you for helping support our blog!
antiques/secondhand finds/handmade: dressers, wood pallet box with greenery
---
LET'S KEEP IN TOUCH!
---
Subscribe to Blog | Follow on Instagram
Follow on Pinterest | Follow on Facebook
This is a sponsored conversation written by me on behalf of Stearns & Foster. The opinions and text are all mine.