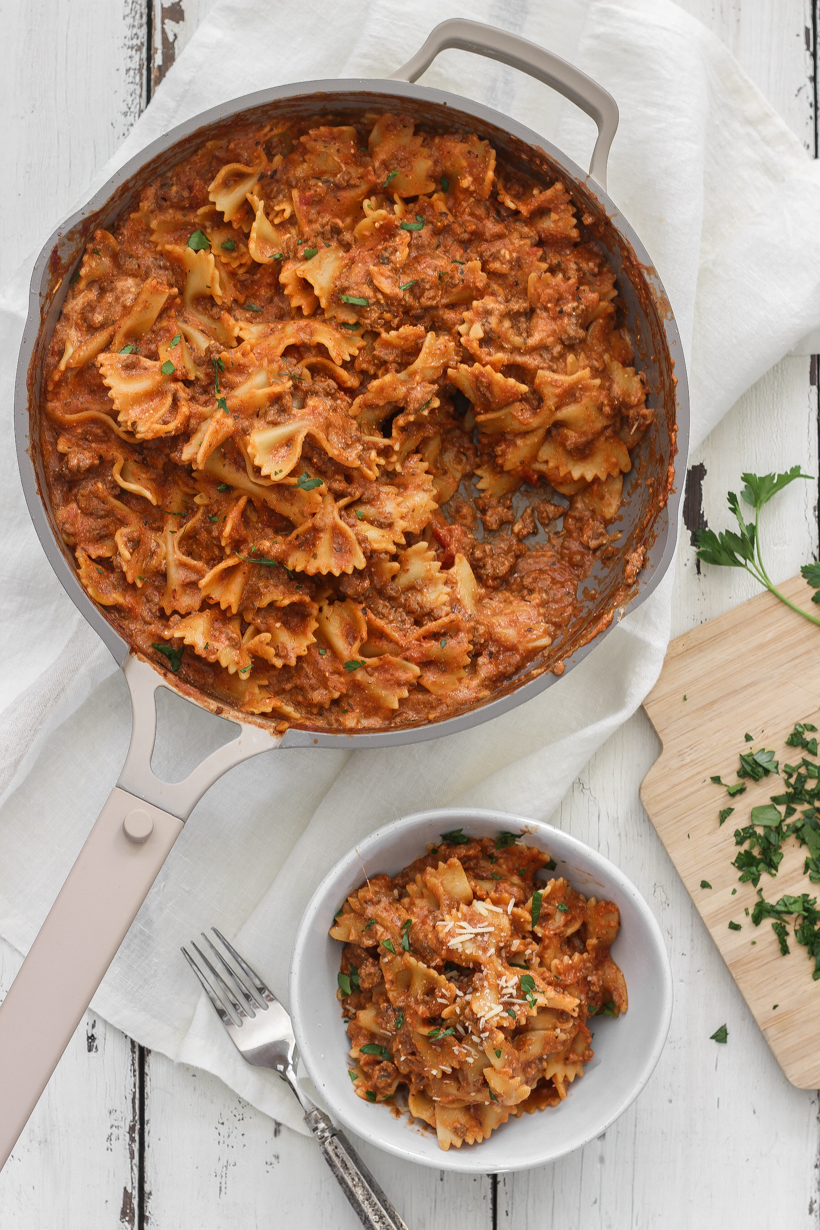 It's been a minute since I've posted any new recipes I've been loving, and I know you're mostly here for the decorating advice. 🙂 But I love to cook and want to share anything that can make your home life a little easier and more enjoyable. So let's talk about this delicious Easy One Pot Lasagna!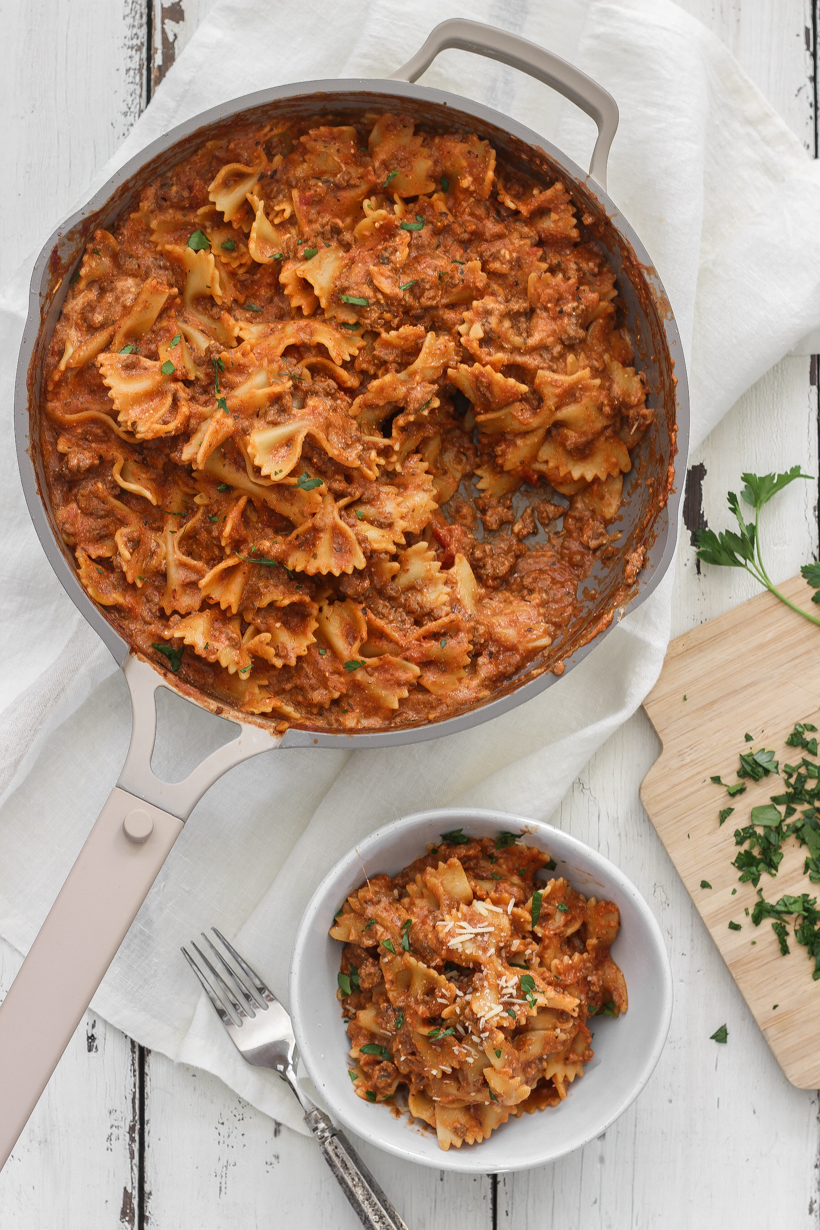 This dish has all the goodness of a classic lasagna, but with a much more simple method. Instead of making separate layers and baking the lasagna in the oven, I add everything to a large pan and cook it right on the stove… meat, noodles, sauce, and all! The cheeses go in right at the end to give that creamy finish to the dish, and the whole meal is ready in under 30 minutes. I like to add a salad and some garlic bread to go with it!
Be sure to read my notes in the recipe for easy swaps to make this dish on the lighter side!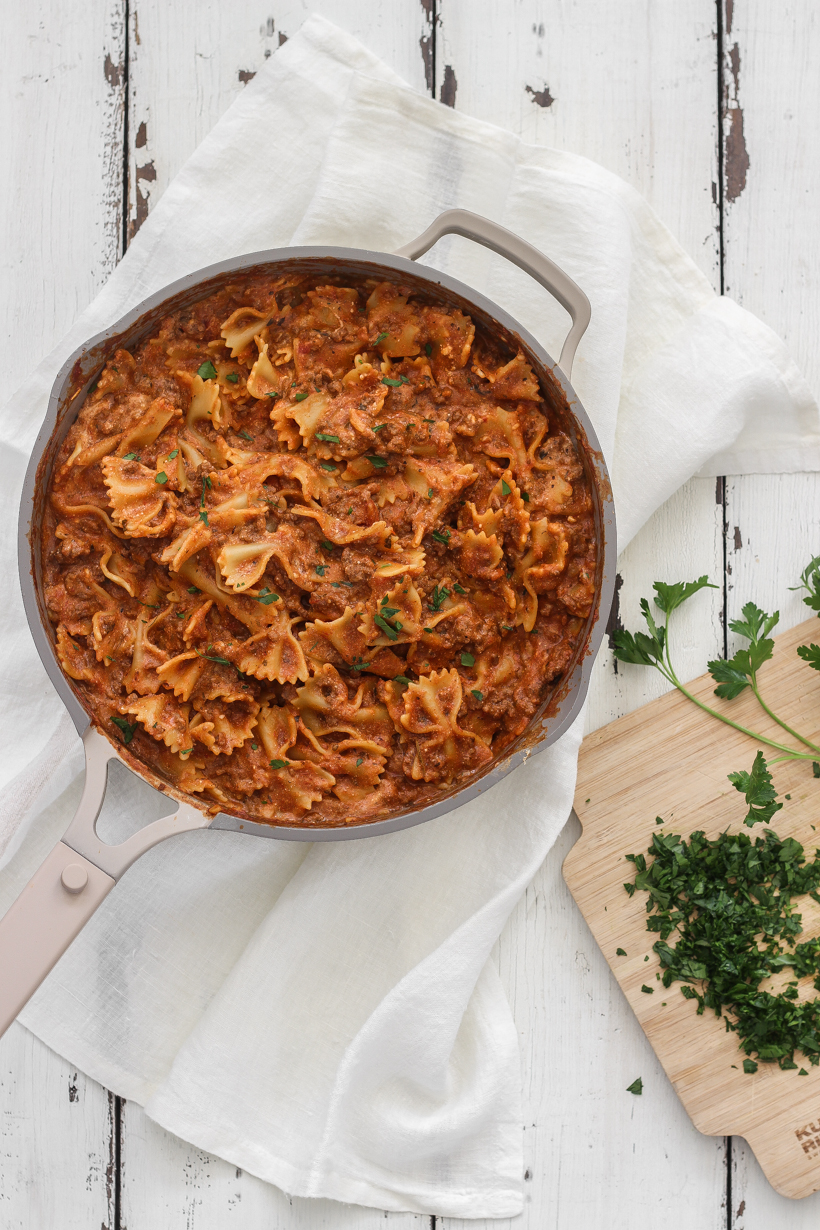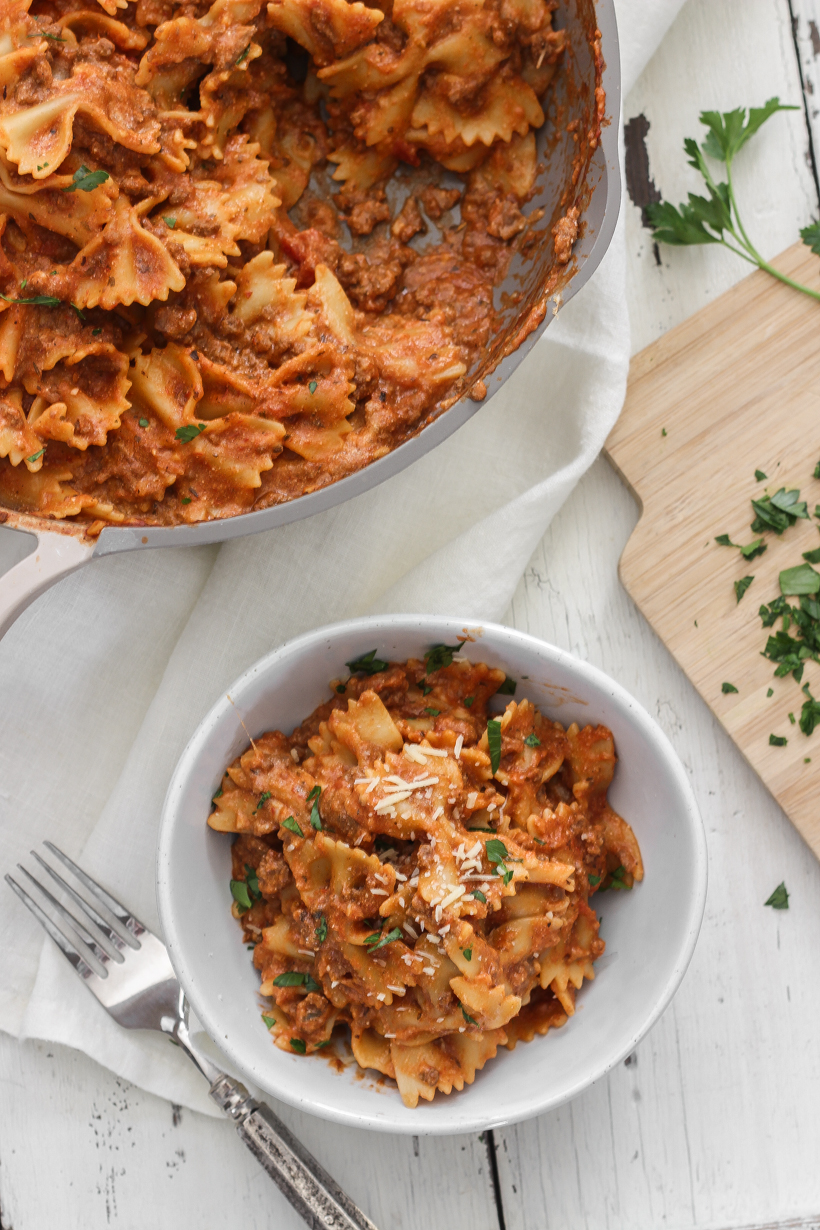 Easy One Pot Lasagna
INGREDIENTS
1 lb ground beef
3 cloves garlic, minced
12 ounces farfalle pasta
24 ounce jar spaghetti sauce
2-3 cups beef broth
2 teaspoons Italian seasoning
1 cup mozzarella cheese, shredded
1 cup ricotta cheese
¼ cup parmesan cheese
fresh parsley or basil for garnish, if desired
INSTRUCTIONS
Heat a large pot or deep-sided skillet over medium high heat. Add the ground beef and cook until browned, making sure to crumble the meat as it cooks. Drain fat from the pan. Add the garlic and continue to cook for another minute. Season with salt and pepper.
Add spaghetti sauce, 2 cups of beef broth, Italian seasoning, and pasta to the same pan and stir to combine. You want enough liquid for the pasta to be mostly submerged, so add more beef broth as necessary. Bring to a boil and reduce heat. Cover with a lid and simmer, stirring about every 5 minutes, until the pasta is tender, around 15-20 minutes. If the sauce appears too thick, you can always thin it with extra broth. Or if the sauce looks too thin, remove the lid for the last few minutes of cooking so some of the extra liquid can evaporate.
Remove from heat and add the mozzarella, parmesan, and ricotta cheese. Stir until the cheeses are all melted and combined. Top with chopped fresh parsley or basil for garnish, if desired. Serve immediately.
NOTES
Here are some easy swaps to make this dish a little lighter:
- use lean ground beef or ground turkey for your protein
- look for a spaghetti sauce that has "no sugar added"
- try switching to whole wheat pasta or a pasta that is higher in protein
- look for unsalted or low sodium beef broth and reduced fat cheeses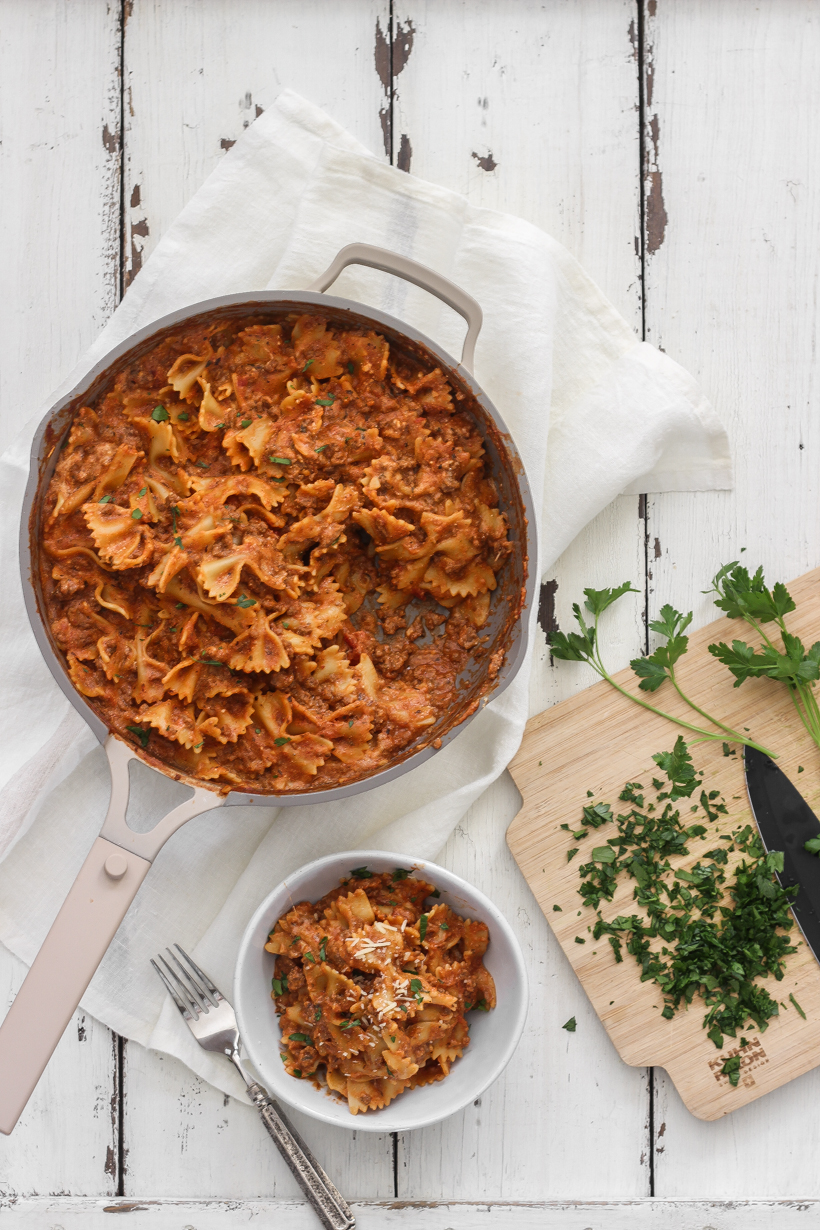 I'm going to do a cooking demo for this lasagna tonight (4/12) on Instagram at 8:00 pm EST and will save it as an IGTV so you can watch it back later also! I'd love for you to join me there! Enjoy the recipe, sweet friends. xoxo Liz
---
Subscribe to Blog | Follow on Instagram
Follow on Pinterest | Follow on Facebook