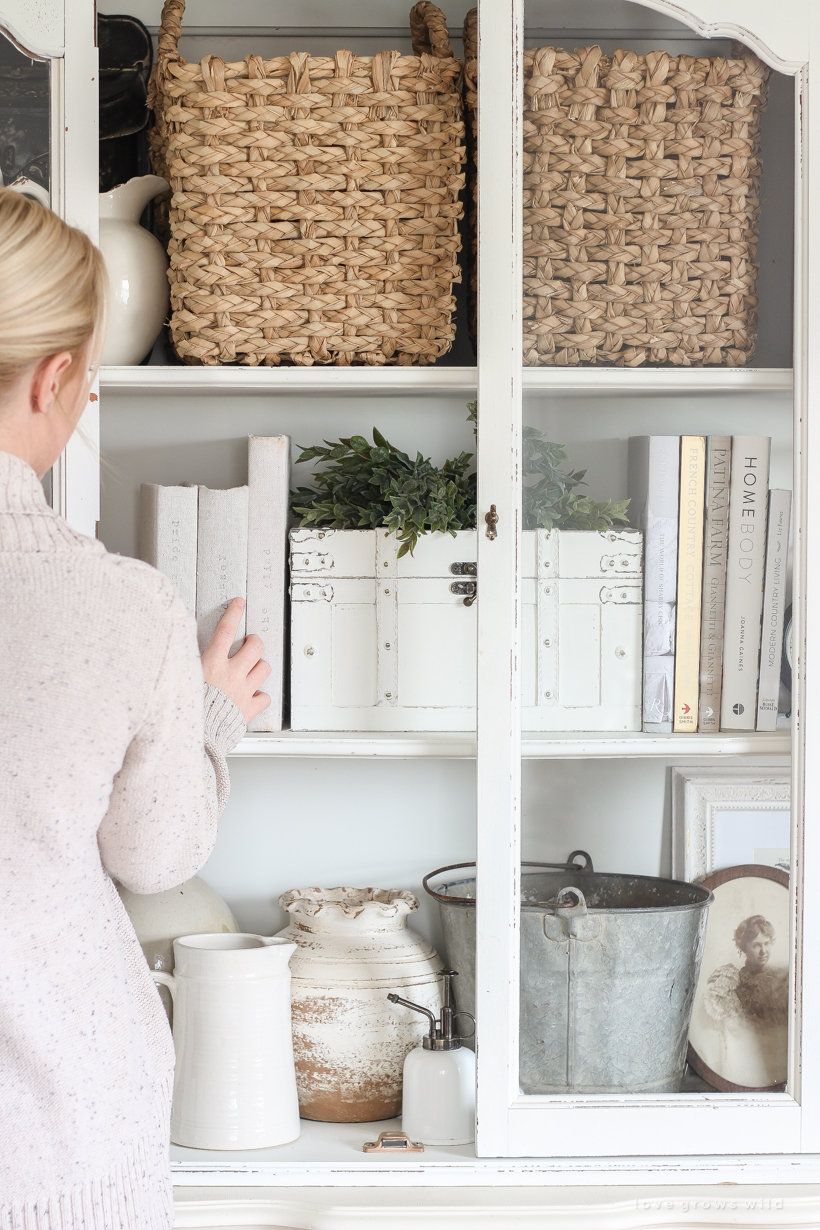 January seems to have a common theme of two things: healthy living and organizing. Over the last few weeks since I took down all the Christmas decor, I've been working on organizing some areas of our home that needed help, and I wanted to answer a common question I get asked by you guys…
How do I organize and store all my home decor?
So often I rearrange things in our home, whether it be seasonally or just a little decor refresh, and I always end up with a pile of decorative items without a home. It's not that I don't love these items; I just am not currently using them and need a space for storage. I'll be honest and admit that often these items sit in a pile on a table until I reshuffle things again (totally guilty there). But this week I worked on putting a system in place for organizing and storing our extra decor so that it is both easy to access when the mood to redecorate strikes and is also tucked away and out of sight!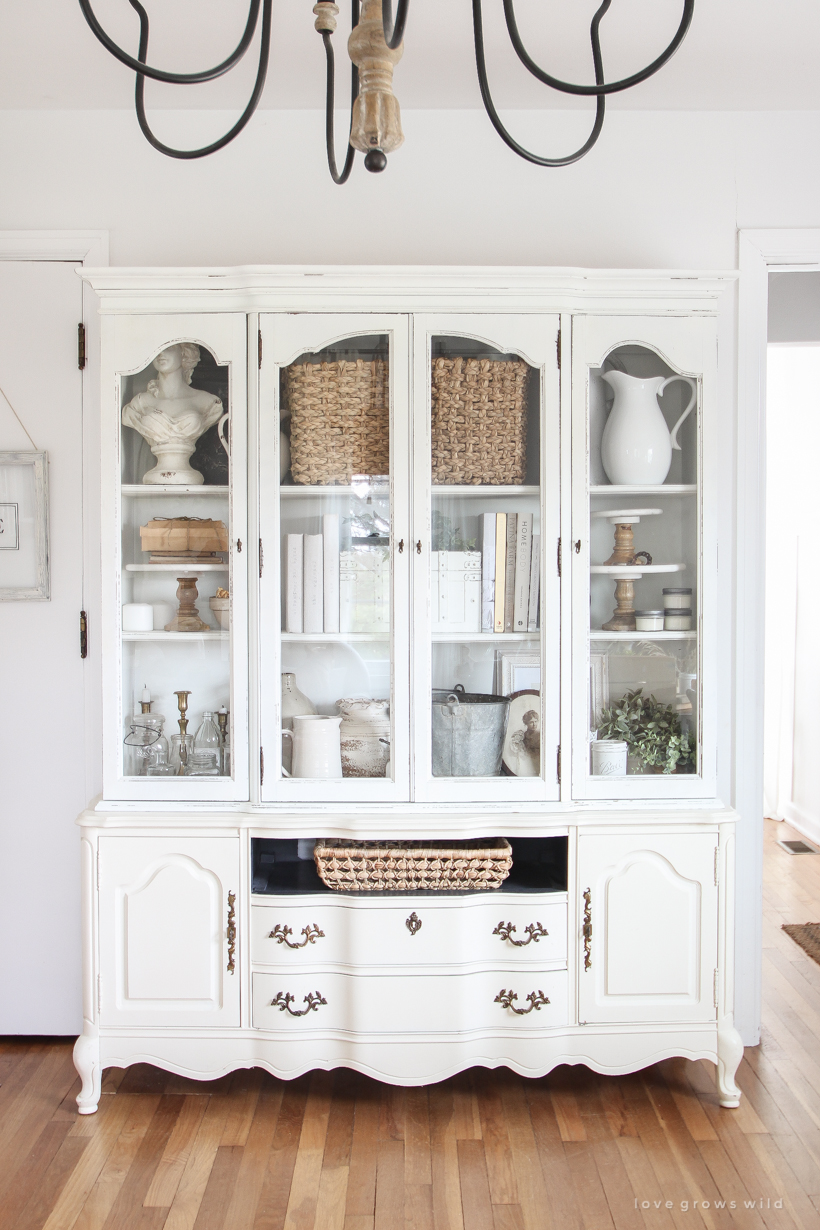 In short, the BEST way I've found to store our home decor is in a big cabinet or hutch like this one in my office. This particular piece has drawers and cabinets on bottom where I use baskets and dividers to store and organize smaller items such as linens and candles. And the glass doors on top allow me to easily see what I have on the shelves, which is a huge inspiration when I'm styling spaces in our home.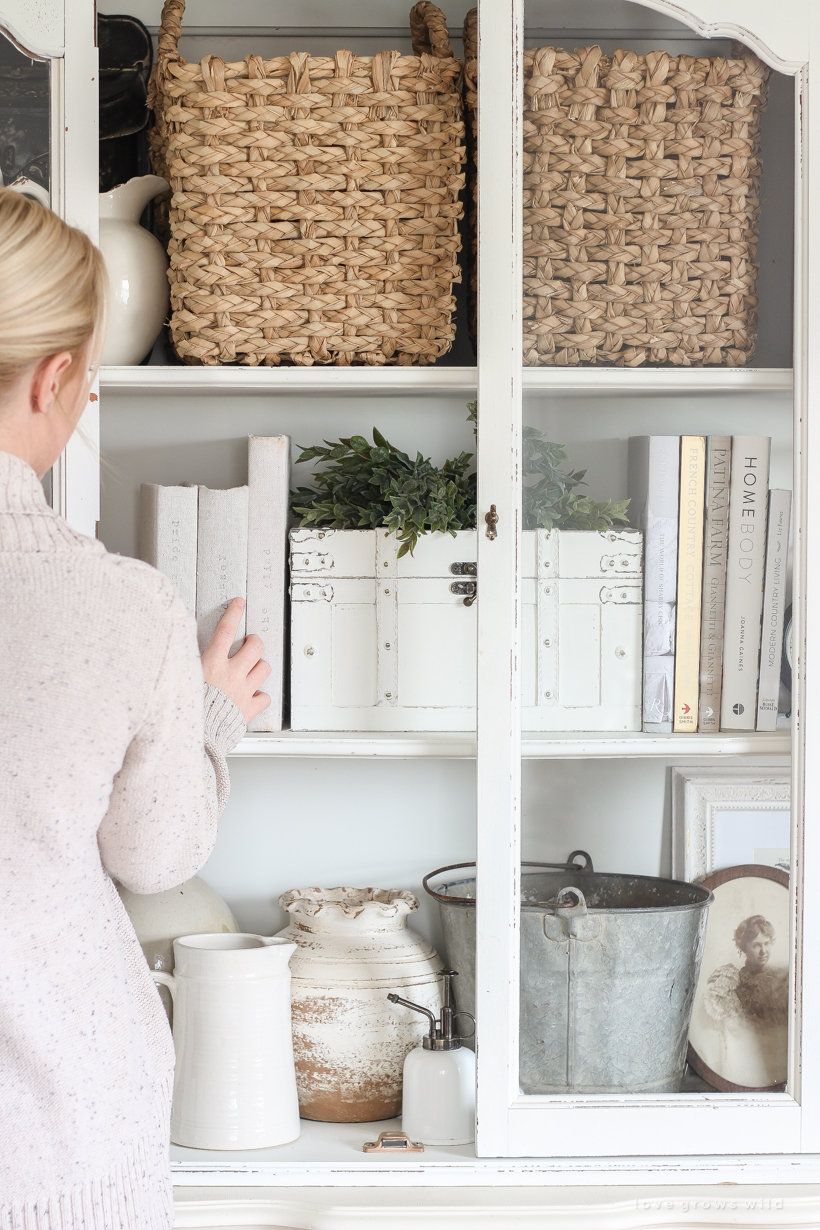 1. Purging
The first step in getting your decor organized is getting rid of what you don't use and don't love. I talk often about how your home should be a reflection of who you are and only be filled with the possessions you love most… the rest just becomes clutter. If you're not using it, have treasured memories of it, or are not inspired by it… it's time to let it go.
Bigger items like furniture are worth selling if they are in good condition. List them on Craigslist or garage sale sites or have a yard sale. For everything else, remember that there is always someone out there who could use what you don't need. Not only will donating give you more space and peace of mind, but it's also an act of kindness.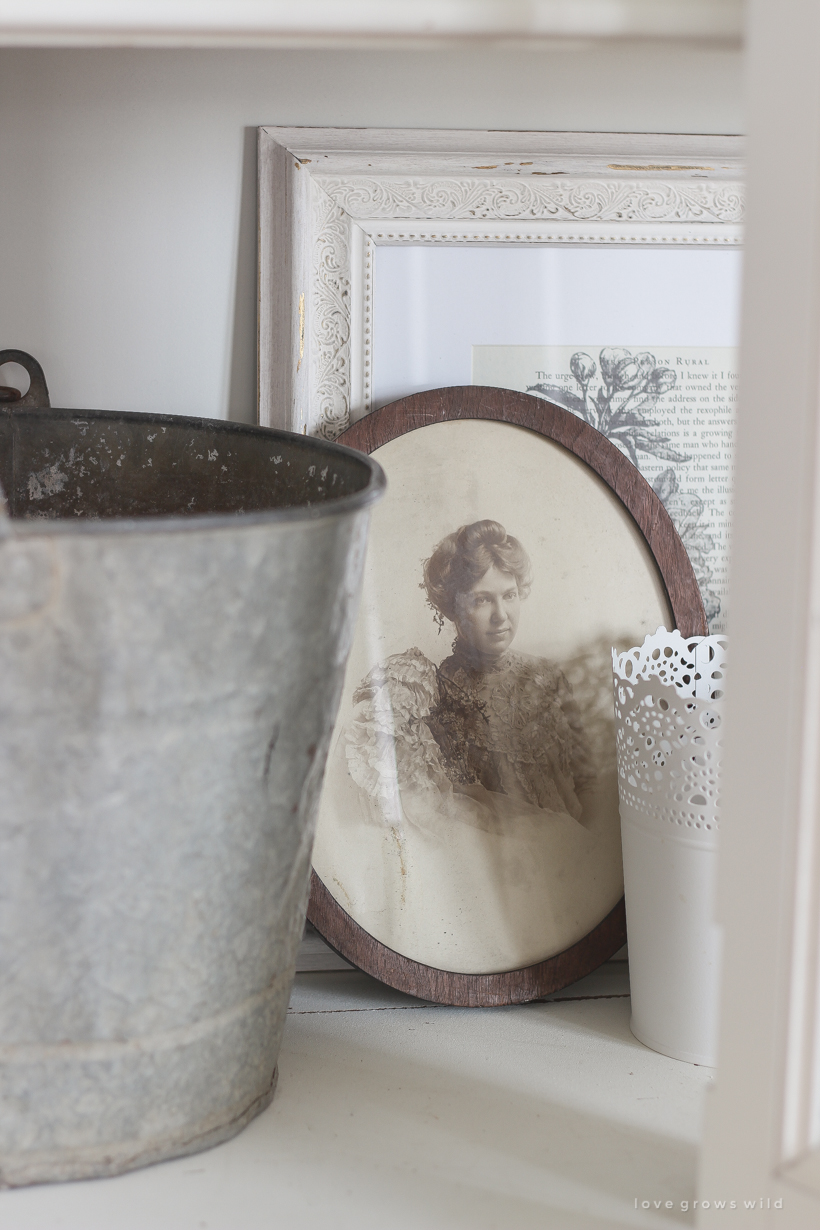 2. Grouping
Once you've narrowed your collection down to only pieces you love, it's time to sort and organize. Group similar items together either by type or finish. For example, you could group together books, vases, linens, and artwork or group together glass, metal, wood, wicker, and fabric. By having your decor somewhat organized into groups, it will be easier to find what you need and see what you have.
Putting all your decor together like this can also help you determine and refine your style. When you look at the items on my shelves, you'll notice:
everything is neutral colors
a mix of old, new, and handmade
a variety of textures: wood, woven, chippy
a touch of greenery
That pretty much sums up my style! If I had an item that was bright and colorful or glossy and modern, I could easily tell it doesn't fit my style and probably would be willing to get rid of it.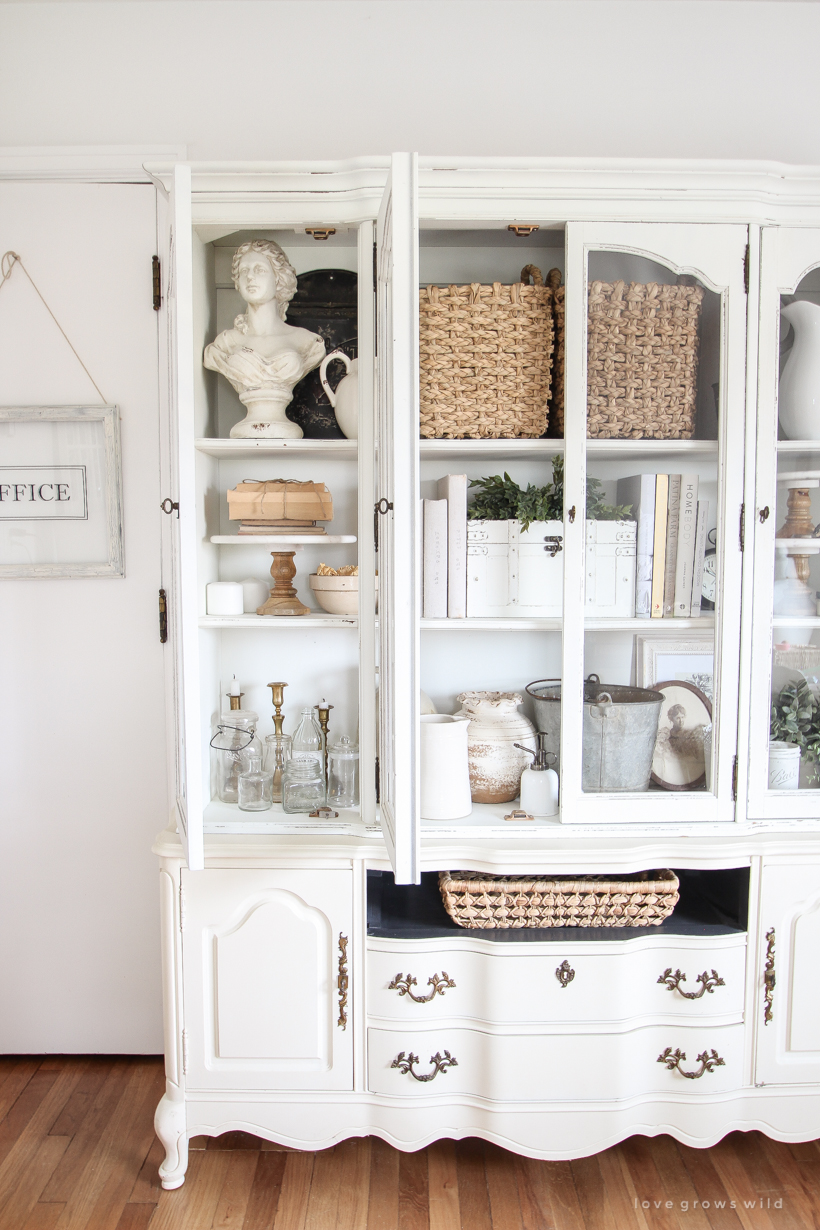 I also have a cabinet in my living room that has wood doors instead of glass, and I use this to store decor as well. Currently I have all my sets of dishes in here, but it would be a great place to tuck away items that I don't necessarily want on display. Even if you're not storing home decor, these types of antique cabinets and hutches are perfect for hiding board games, movies, workout equipment, extra pillows and blankets, and all kinds of items in the living room!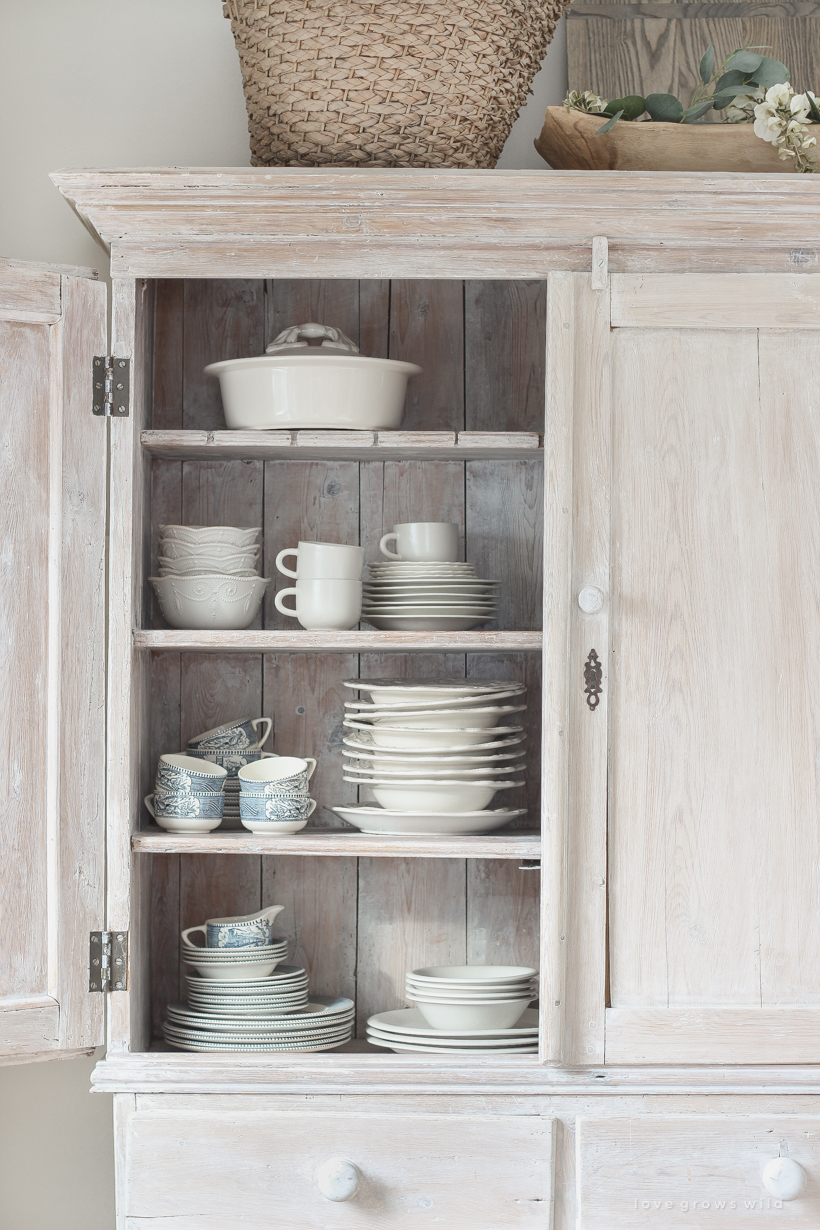 I thought it might be helpful if I shared the top items I like to keep on hand for decorating and styling, so here is my go-to list…
Key items for decorating and styling:
books – stack them under a vase to add height
baskets
candles
artwork + framed photos
vases, bowls, pitchers
plants + flowers – real or faux
trays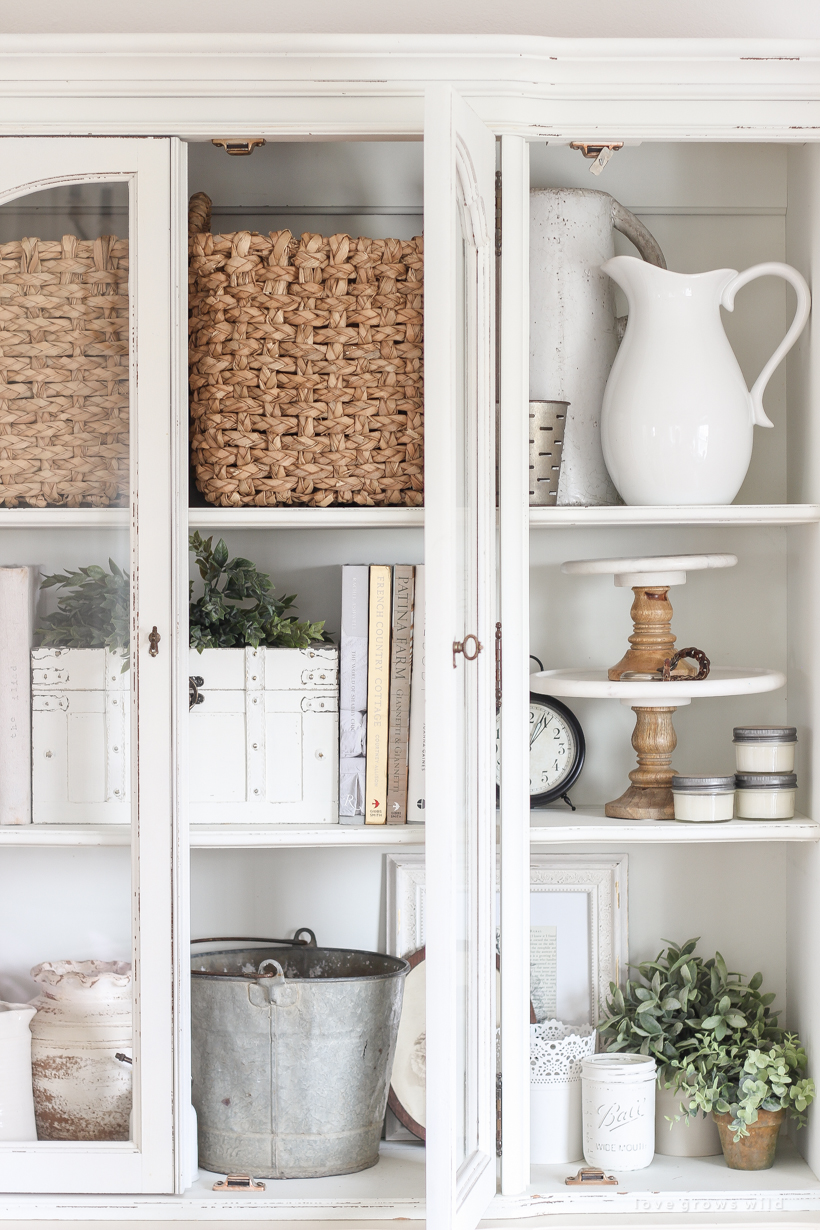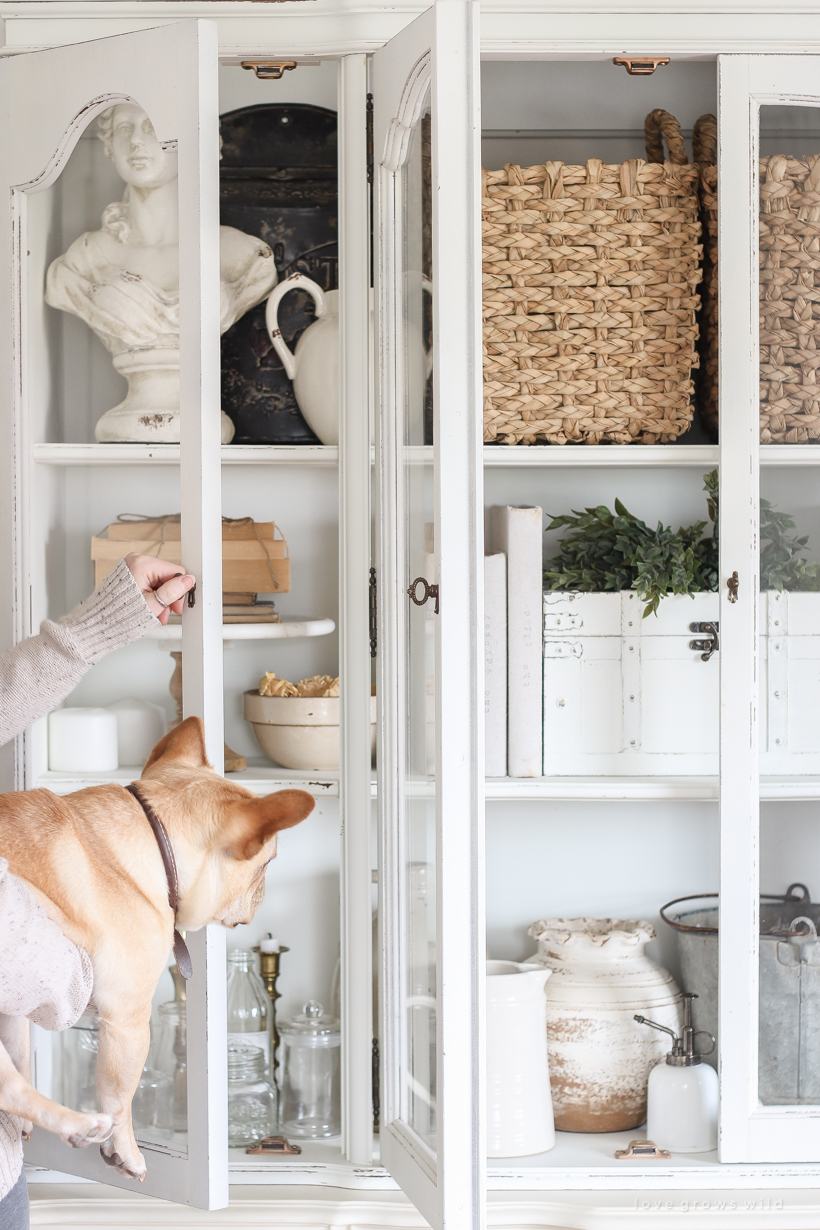 I hope this post gives you some ideas on how you can organize and store your home decor. I know I certainly feel more inspired to create and decorate when I have a clean, uncluttered space to work in! I'd love to hear ideas for how you store your decor as well!
I have several friends who are sharing organizing tips, tricks and even some helpful organizing printables today, and I hope you will join me in visiting them:
– More Organizing Tips and Inspiration –
Organizing & Storing Home Decor by Love Grows Wild
Whole House Cleaning Checklist by Nina Hendrick Design Co.
5 Habits for an Organized Home by A Burst of Beautiful
Free Printable Pantry Labels by Anderson & Grant
Kitchen Cupboard Clean-Out Checklist by Boxwood Avenue
Decluttering Checklist by Julie Blanner
5 Whole Food Pantry Labels for Food Storage by Zevy Joy
Organization Ideas by French Country Cottage
Hand Drawn Flower & Wreaths Journal Stickers by Craftberry Bush
Free Printable To-Do List by Summer Adams
Glass Labels by My Sweet Savannah
---
Subscribe to Blog | Follow on Instagram
Follow on Pinterest | Follow on Facebook