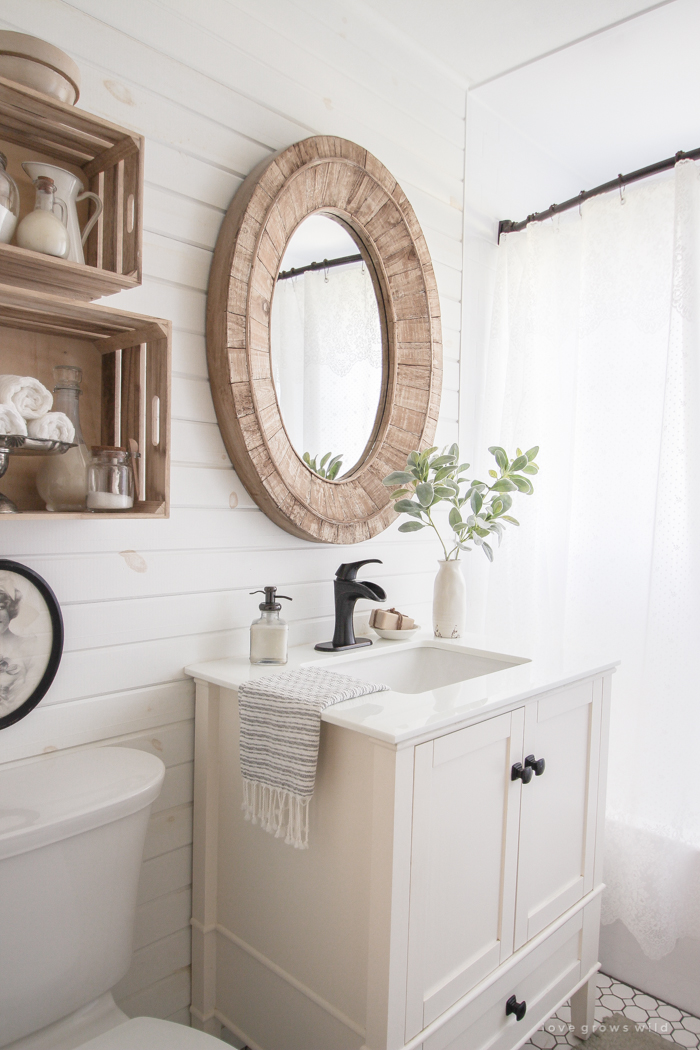 It's been on my to-do list forever to find or make some new artwork for the bathroom, and this week inspiration finally hit me. It feels so good to rearrange just a few things (most of which I already had at my house) and come up with a fresh, new look in hardly no time at all.
A few years ago I hung two wooden crates on the wall above the toilet (you can find that tutorial in my book), and every time I walk in the bathroom I think to myself, I should really re-style those shelves soon. So that's exactly where I started. I kept out some of the glass jars and bottles I had filled with bath soaps and salts and added a few new items that had an antique feel and gave the shelves some character:
a stoneware bowl
white pitcher
antique cake plate holding rolled hand towels
vintage photograph in an oval frame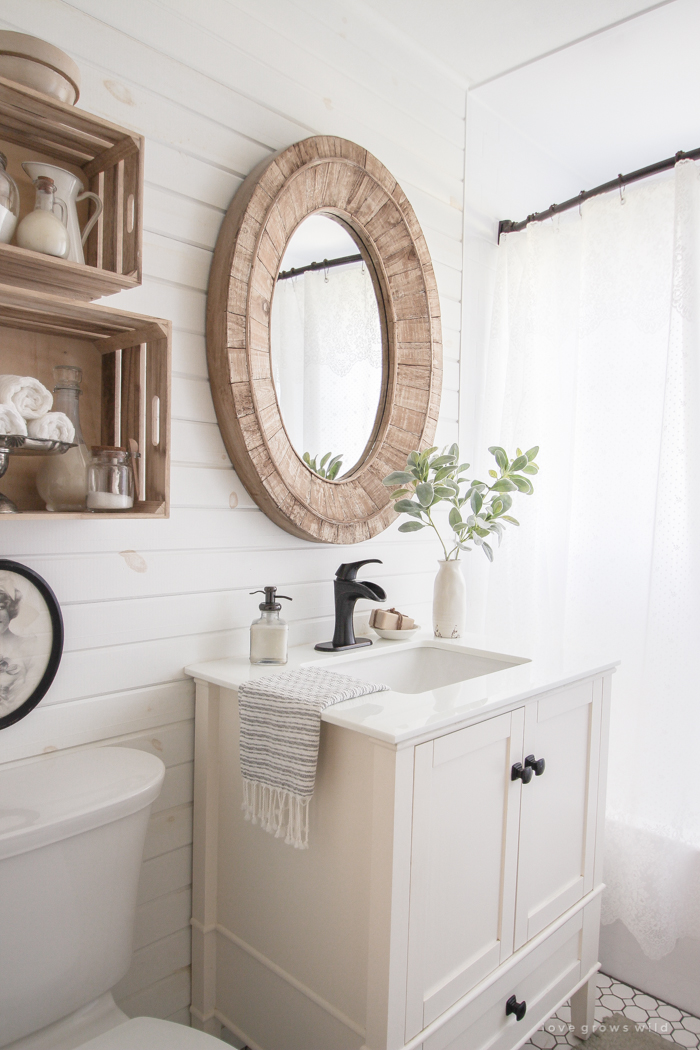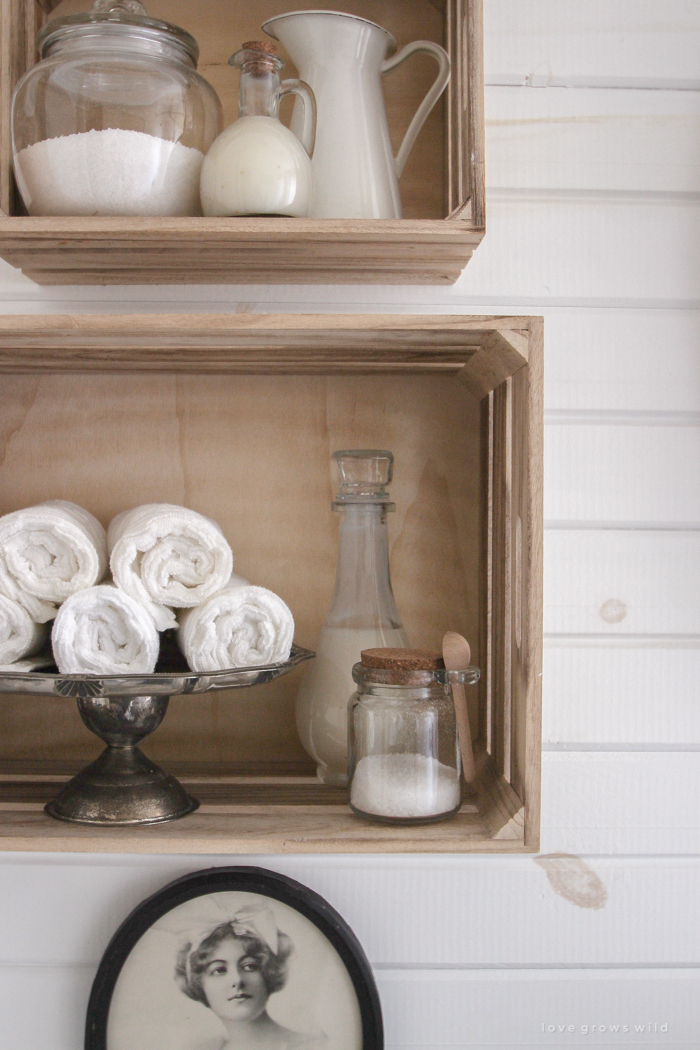 I fell in love with the way the photograph's oval frame played off of the mirror shape and the interest it added to this small space. So while I was bringing some new items into my booth at The Original Treasure Mart the other day, I looked around to see if I could find something similar that I could hang above my towel hooks on the opposite wall. I struck gold in one of my friend's booths… a 1941 military photo from Camp Shelby, Mississippi.
My boys (ages 8 and 11) were with me that day, and I asked them if it would be weird having this hanging in our bathroom. They responded, "ummm… probably, but I know you love it, Mom. So let's get it."
Having them involved in the process of decorating our home is something that means so much to me, and when they find a treasure at the antique store or help me finish a project, I love seeing their eyes light up with excitement. If you follow me on Instagram, you might have seen the day I was shopping for this photo, and I asked if it would be weird hanging in a bathroom. One person said, "that's a lot of eyeballs staring at you!" which totally had me laughing and was the reason I wasn't 100% sold on the photo yet, but the majority said it was really cool saving an old photo like that from the dumpster and turning it into art. I loved hearing your opinions and hung up the photo as soon as we brought it home. I think it is absolutely perfect above our towel hooks!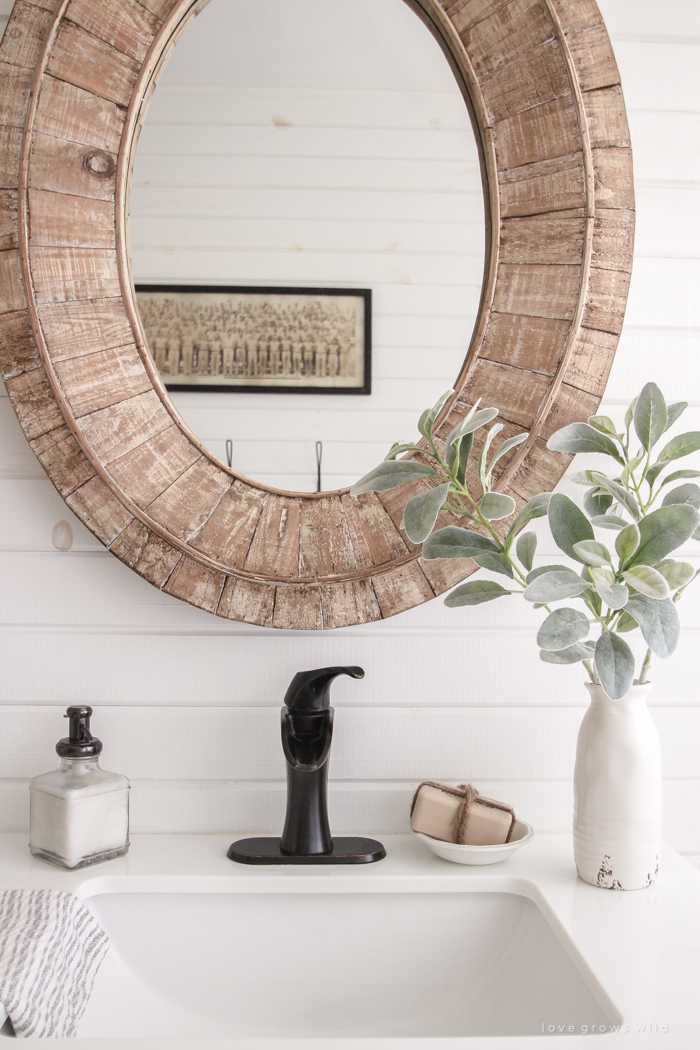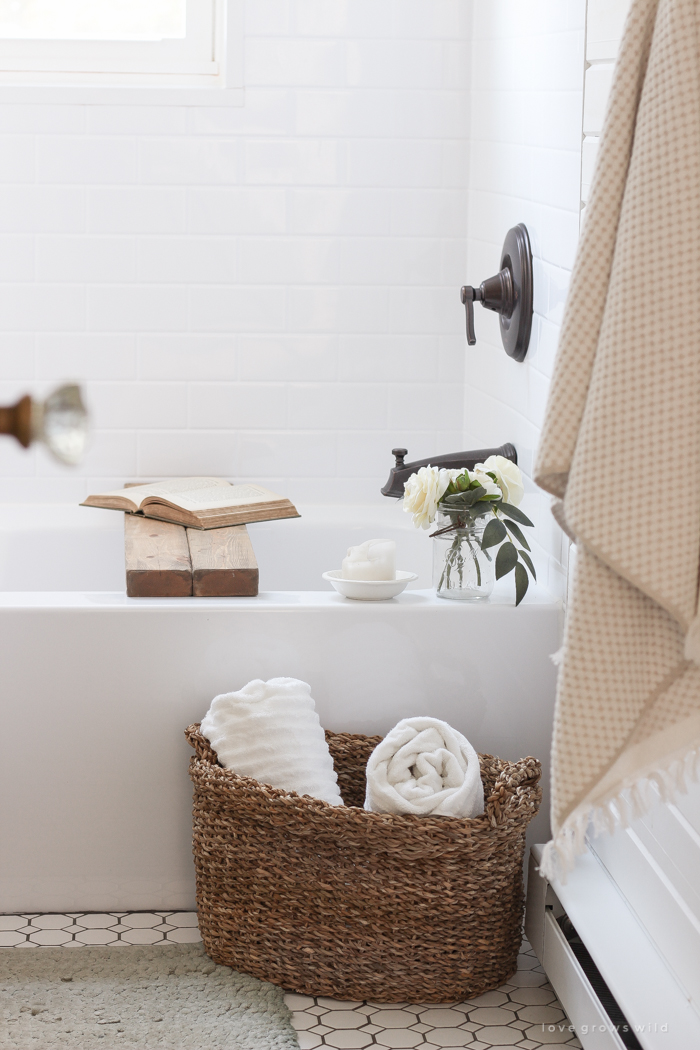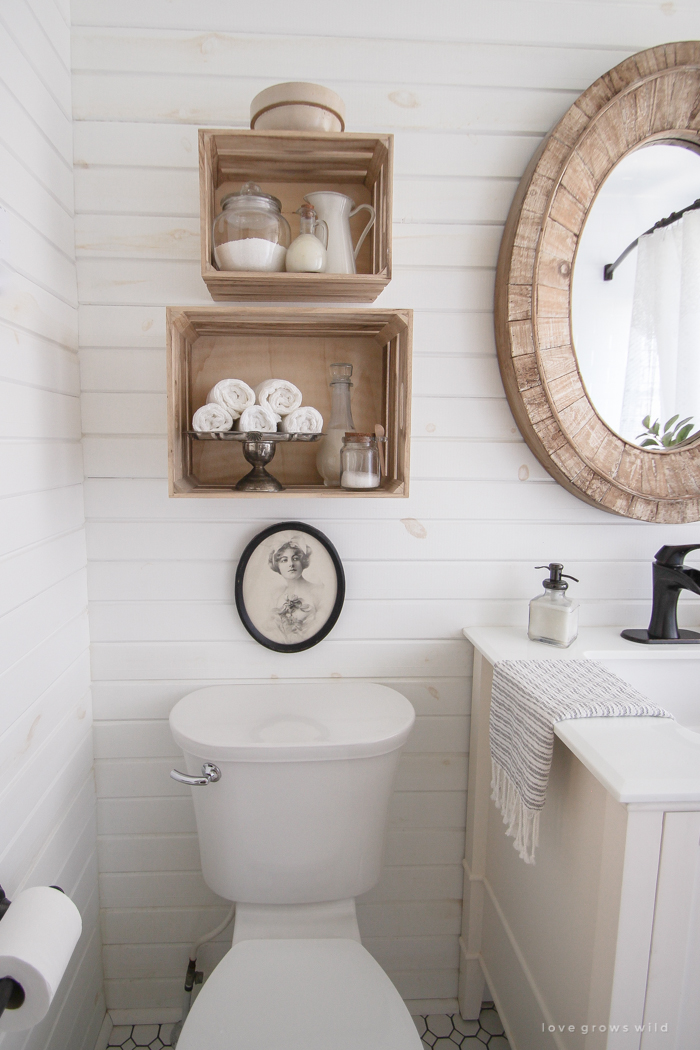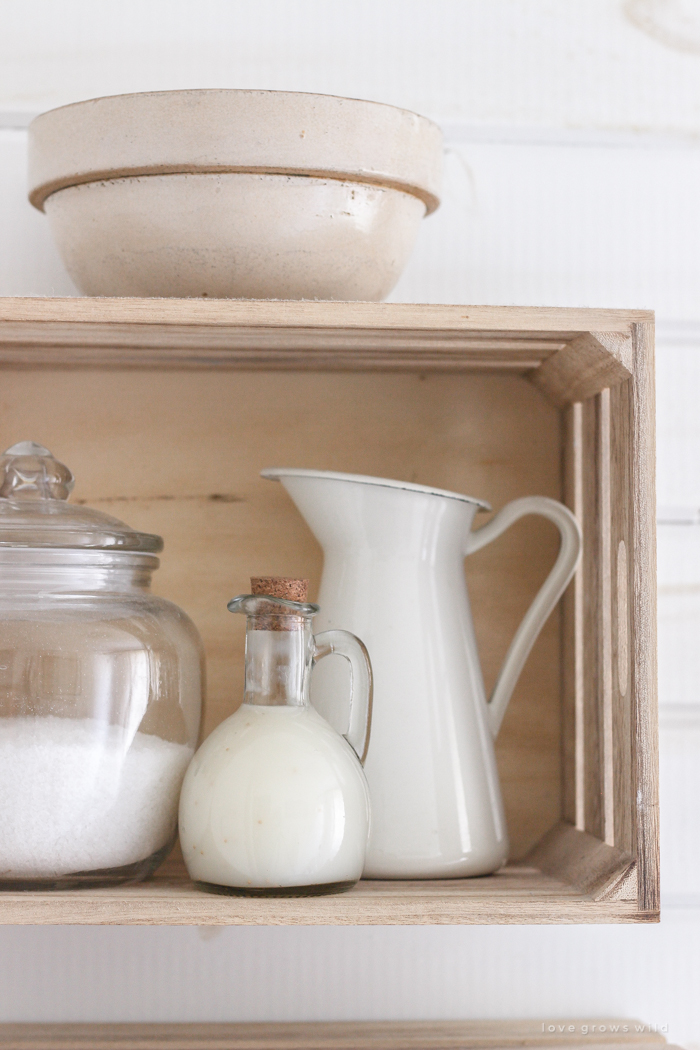 I love these simple changes in our bathroom, and I'm so glad I finally took a minute to check this off my to-do list. Sometimes I get so caught up in the big projects that I neglect these smaller spaces in our home that just need a little bit of love every now and again.
Oh, and before I forget, I wanted to share this little side note with you… I installed these tongue and groove boards in our bathroom a few years ago and painted them a beautiful bright white. Over time the knots in the wood have started to show through the paint, which really bothered me at first because I was so used to seeing them solid white. It was on my to-do list forever to re-paint the walls, but someone recently told me that it just gives the room some extra character and makes it look more authentic and natural. Sometimes all you need is an outside perspective to help you figure things out, and it didn't take much more convincing than that for me to scratch this project off my list!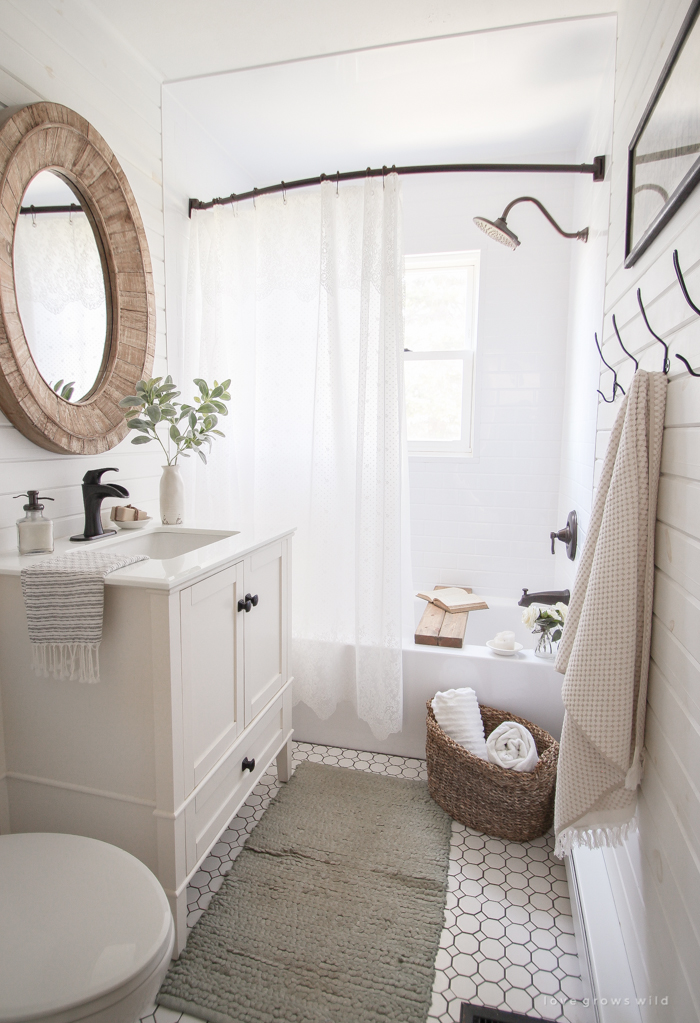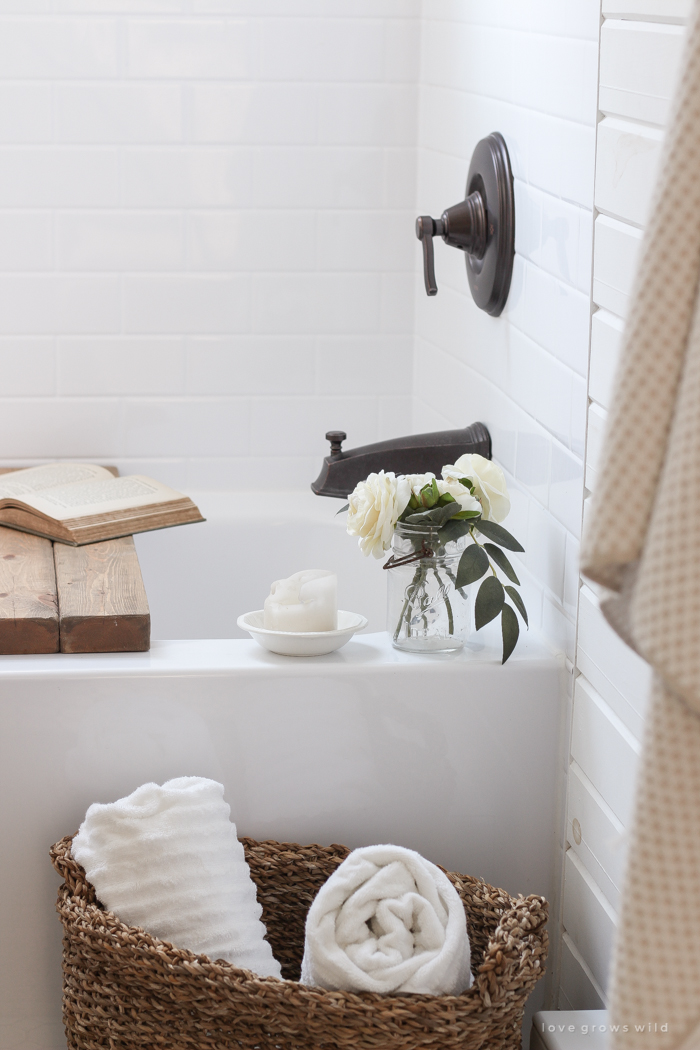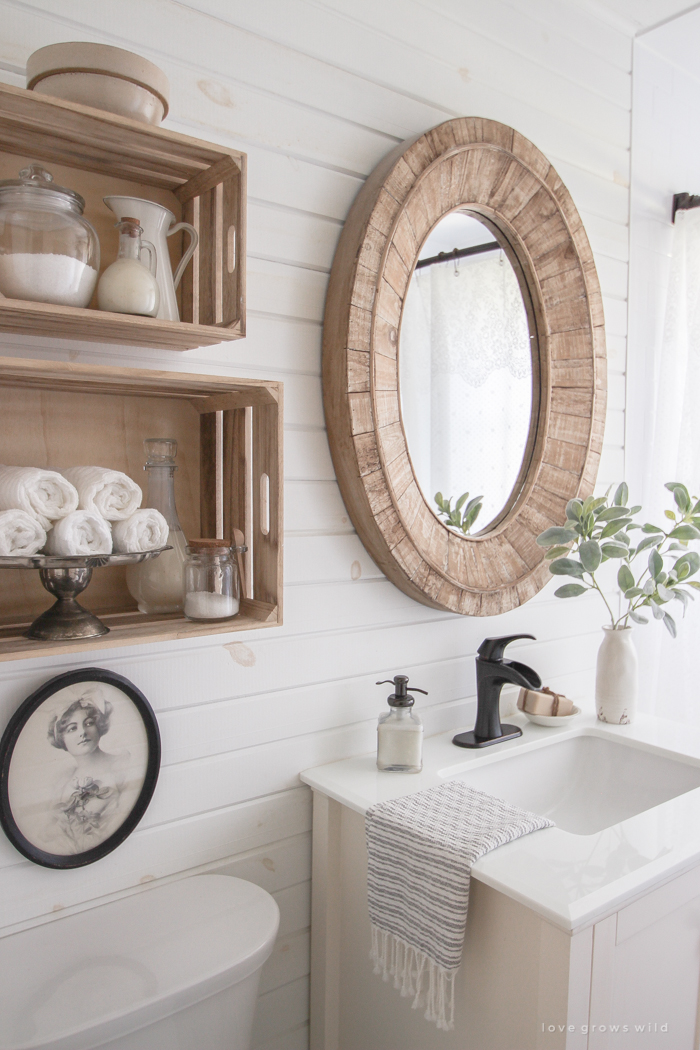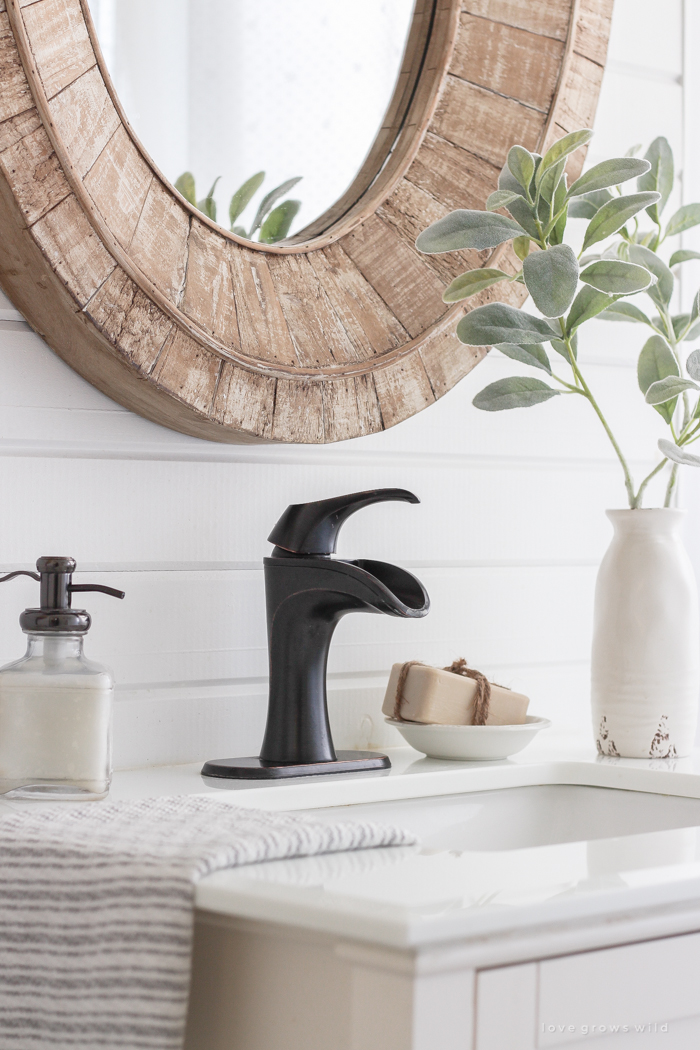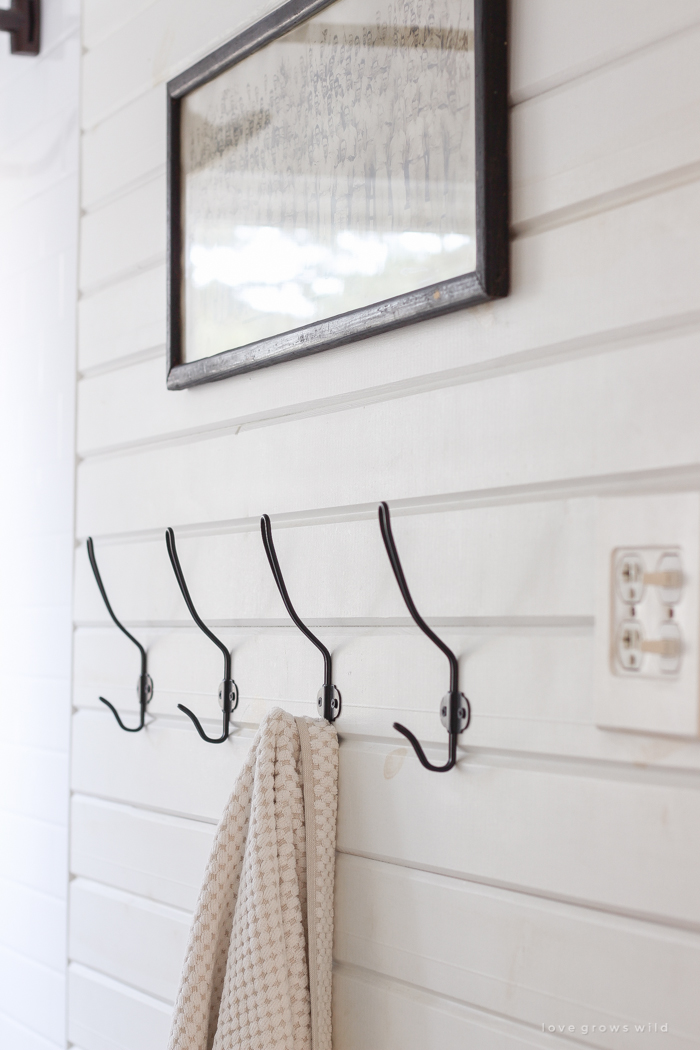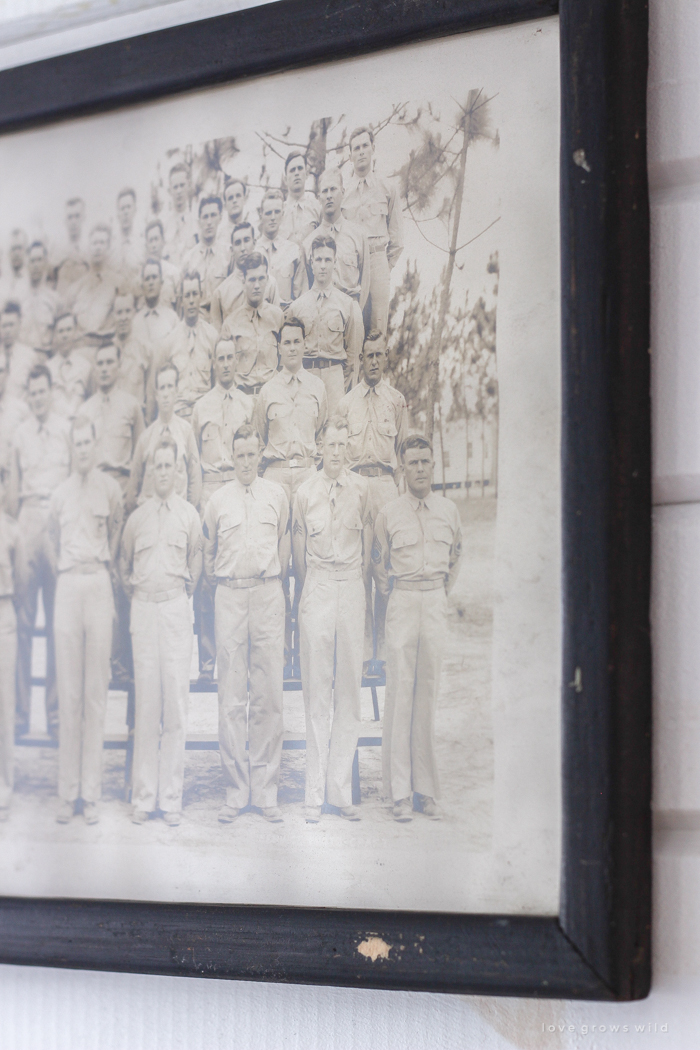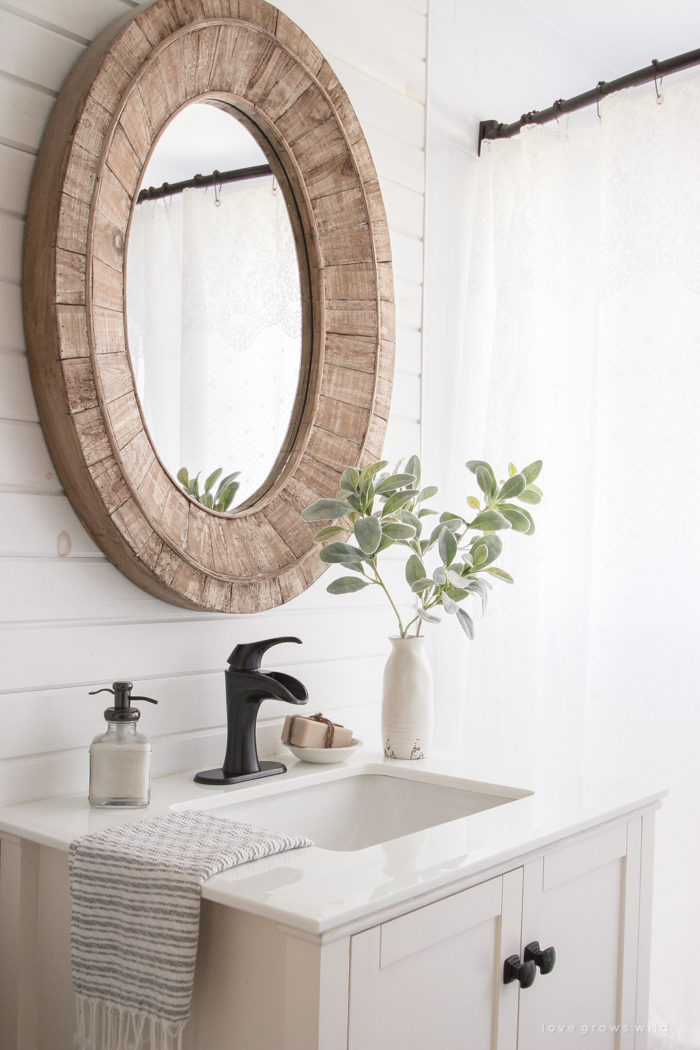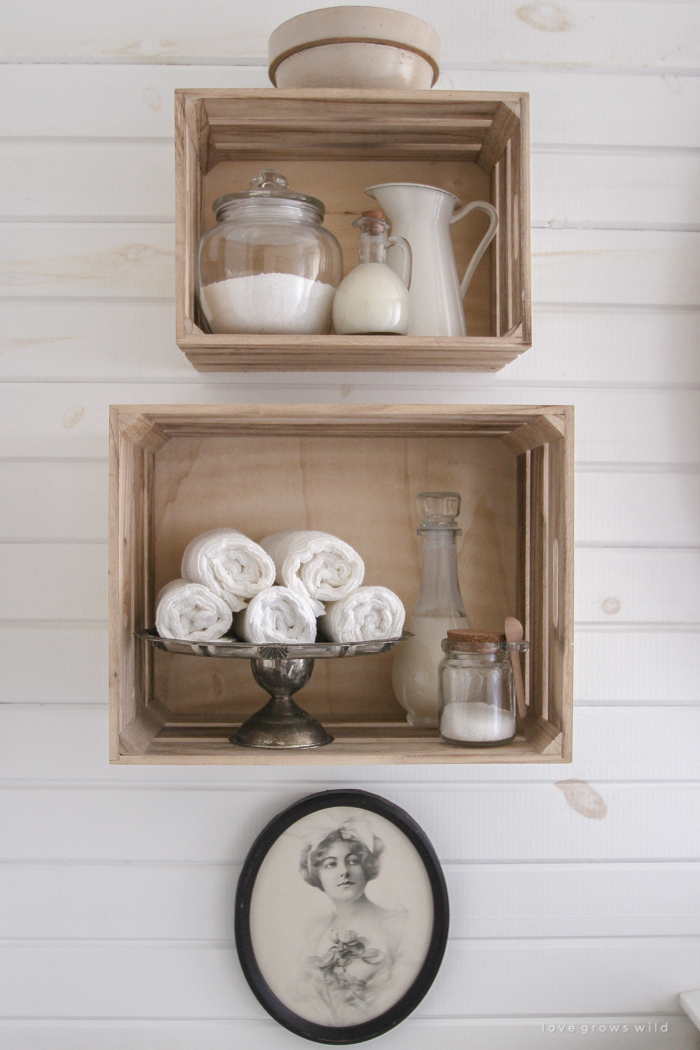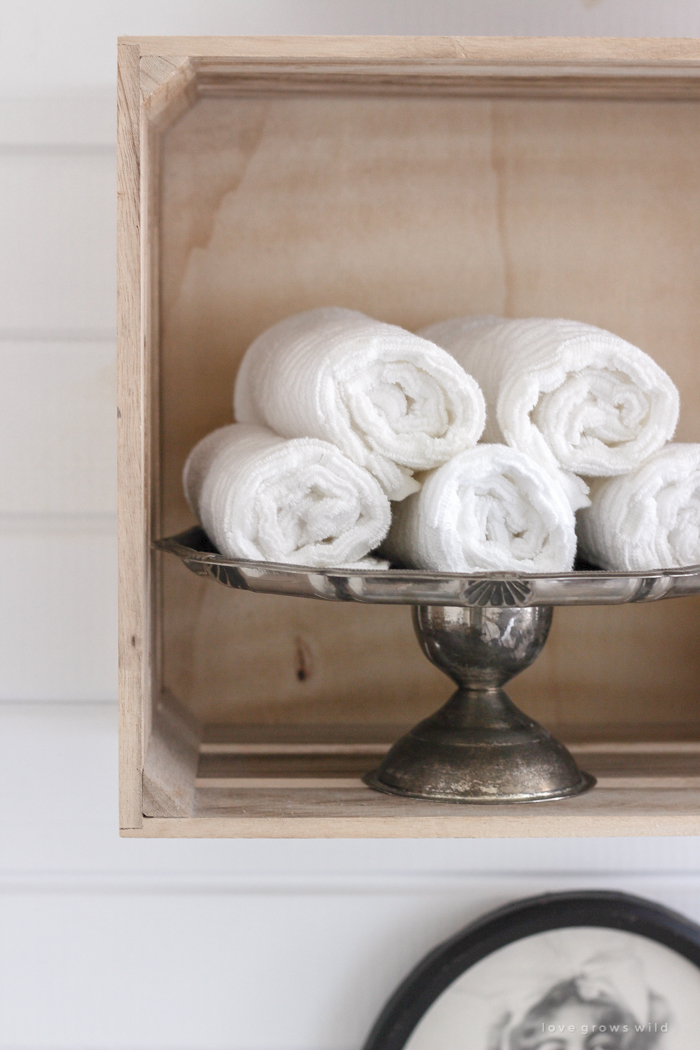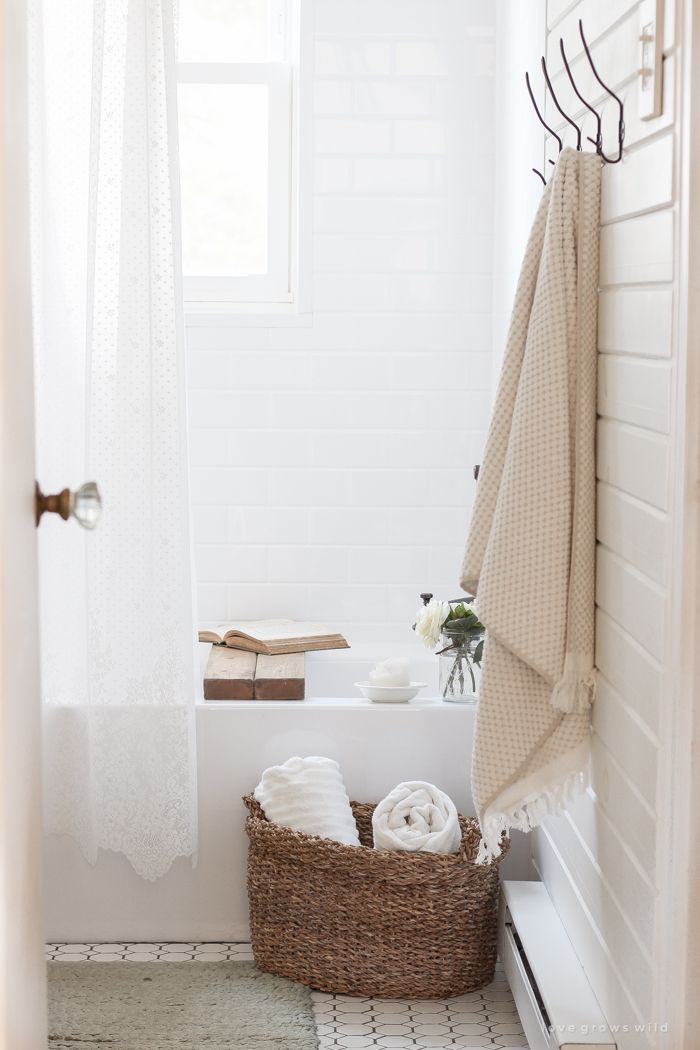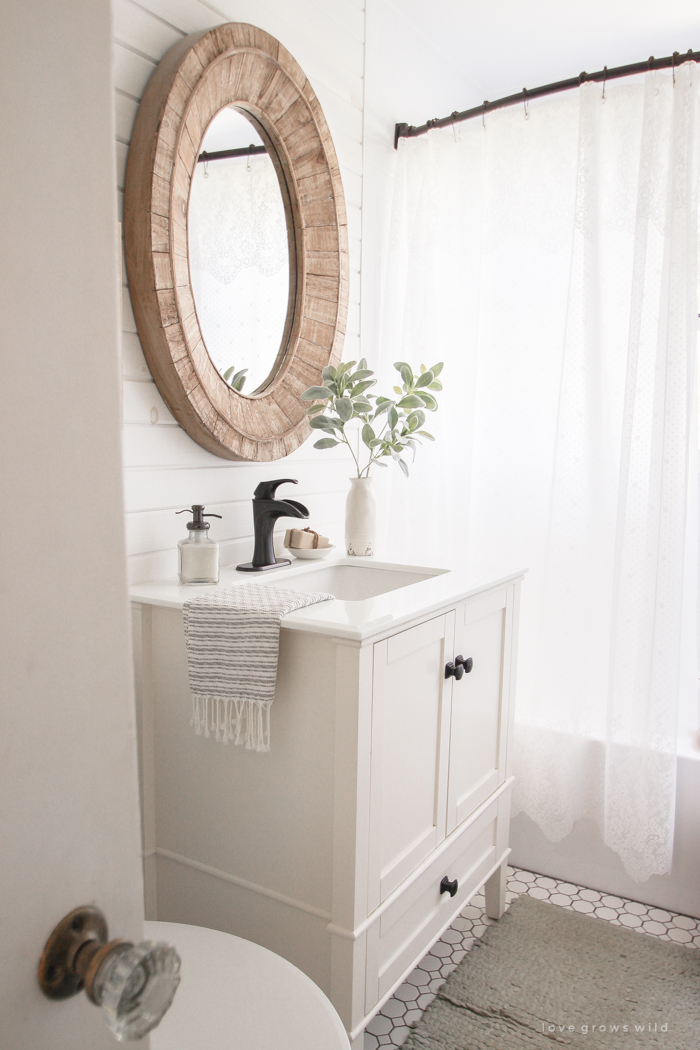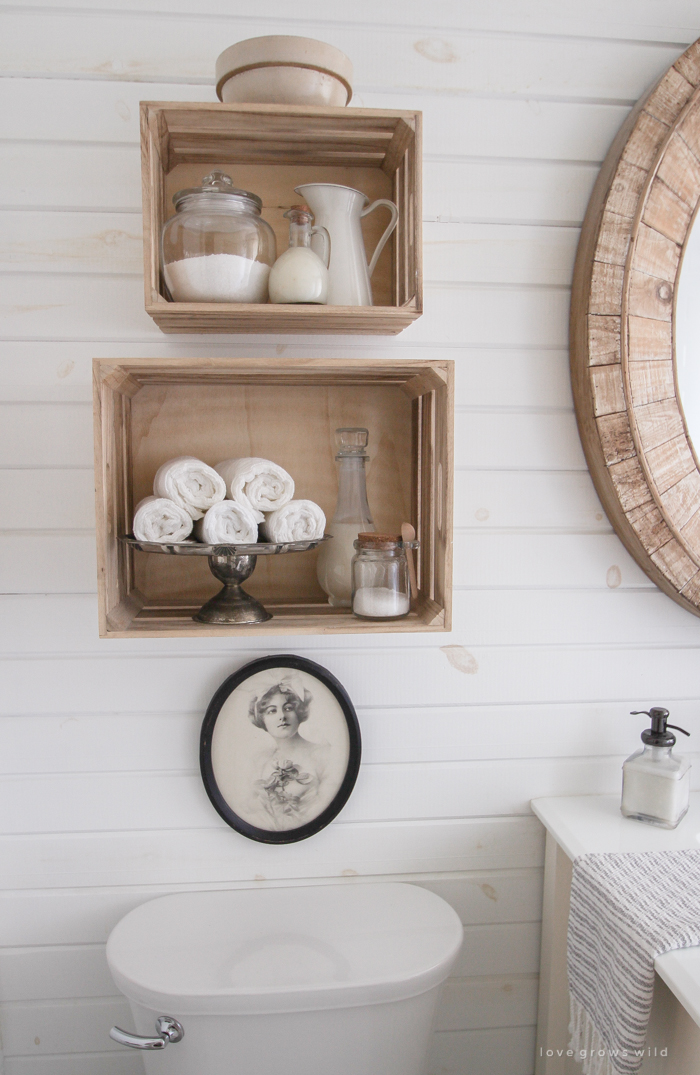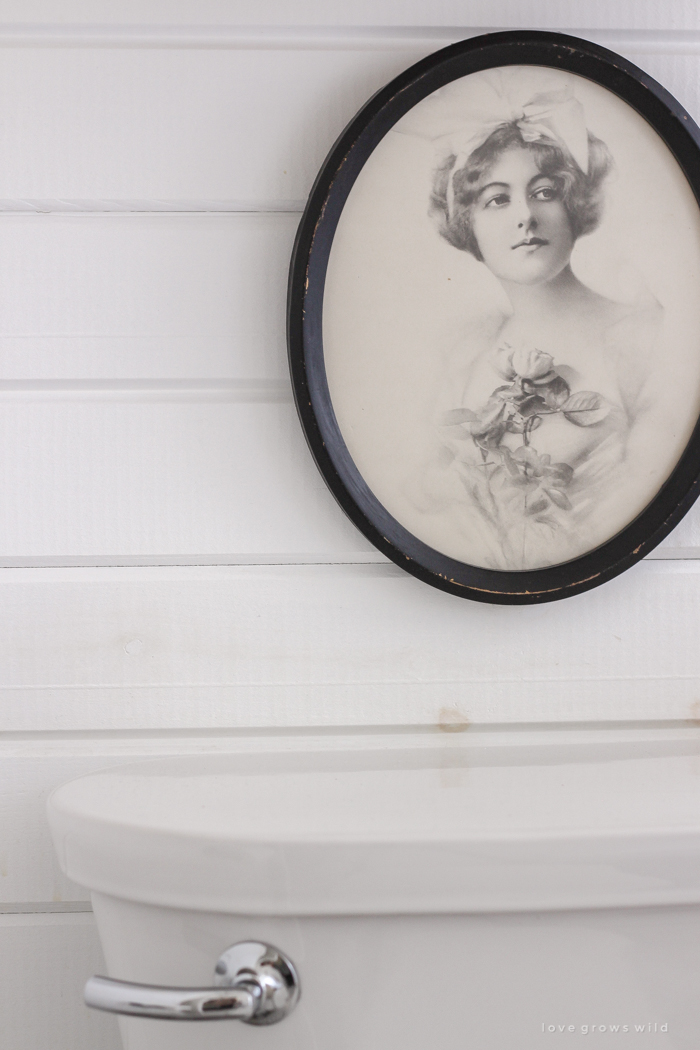 I hope you guys enjoyed this little update on our bathroom!

---
SOURCES
---
Note: Some of the links in this post are affiliate links, which allows me to make a small commission from your purchase, but your purchase price stays the same. Thank you for helping support our blog!
shower curtain – Heritage Lace
wooden stool – Joss and Main
mirror – Target (discontinued)
towel hooks – Amazon
soap dispenser – Target
wood crates – Joann Fabric
glass jars and bottles – Hobby Lobby
sink faucet – Amazon
knotted fringe bath towel – Target
wooden tub shelf – tutorial in my book
oval basket – Birch Lane
rug – Target
---
LET'S KEEP IN TOUCH!
---
Subscribe to Blog | Follow on Instagram
Follow on Pinterest | Follow on Facebook