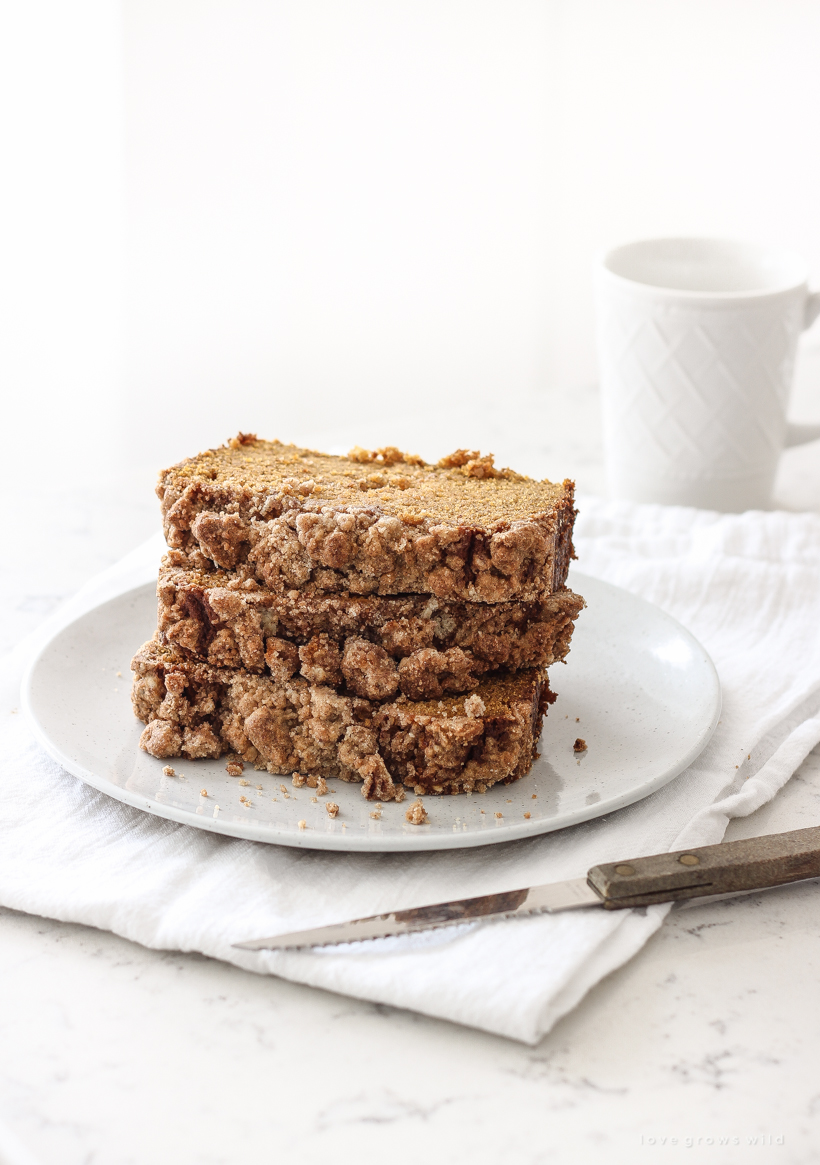 With the recent cooler temperatures, I've been in the mood to do some fall baking, and pumpkin bread is always the first thing that comes to mind. Sweet breads like this are so easy to make and are perfect for sharing and gifting too. I've been making this pumpkin bread recipe for years in a few different variations, but today I wanted to share with you one of my favorite versions with a sweet, crunchy cinnamon streusel topping!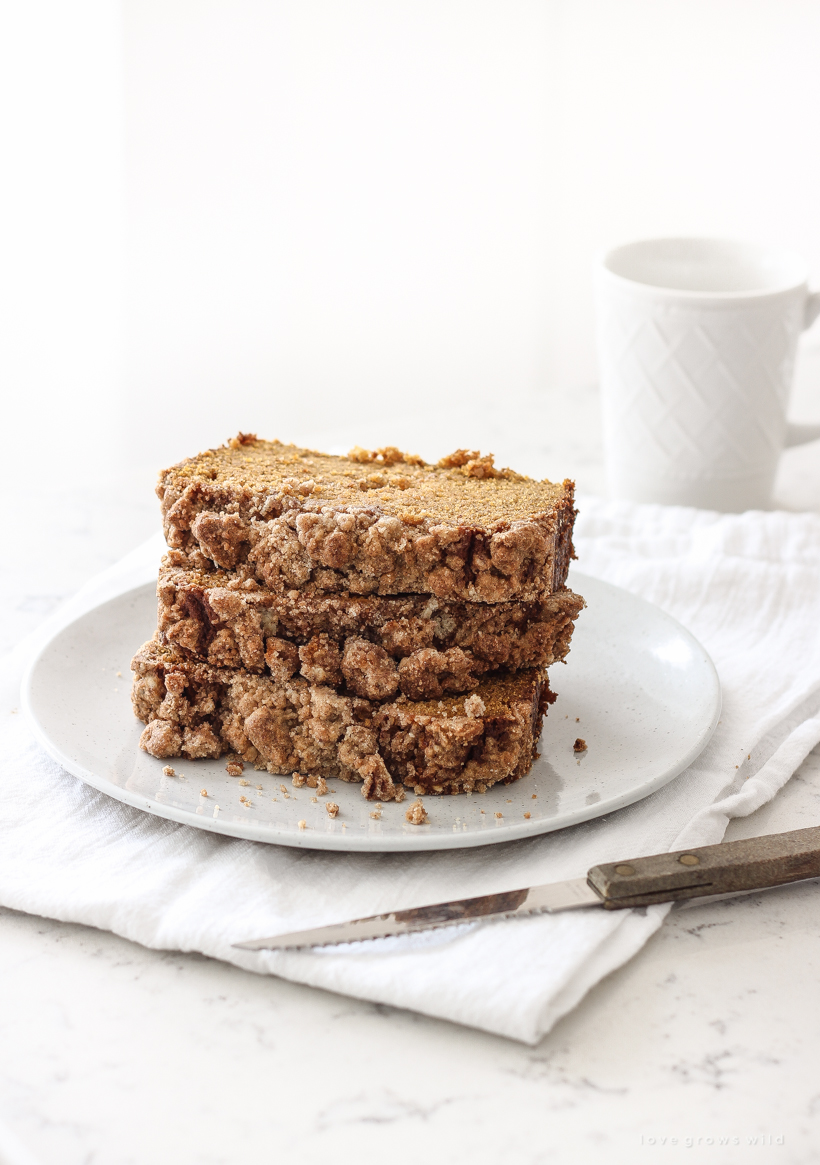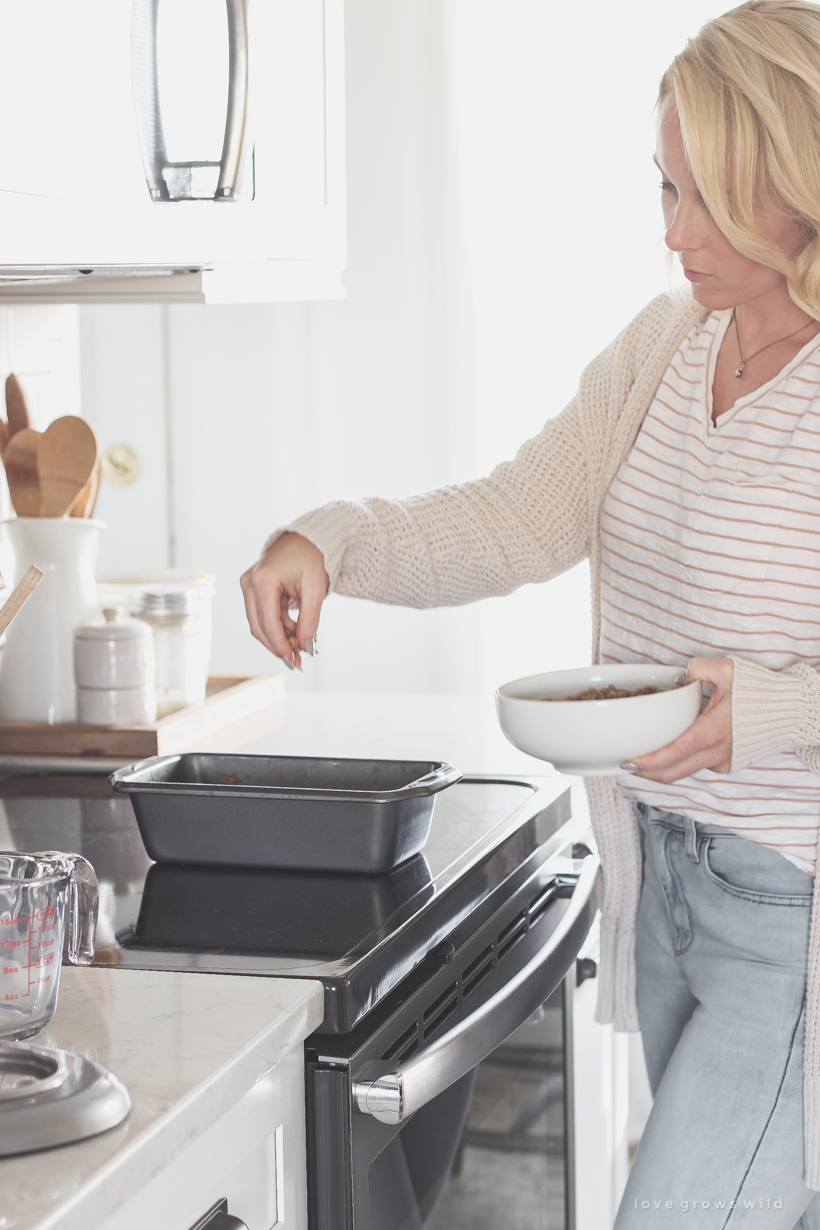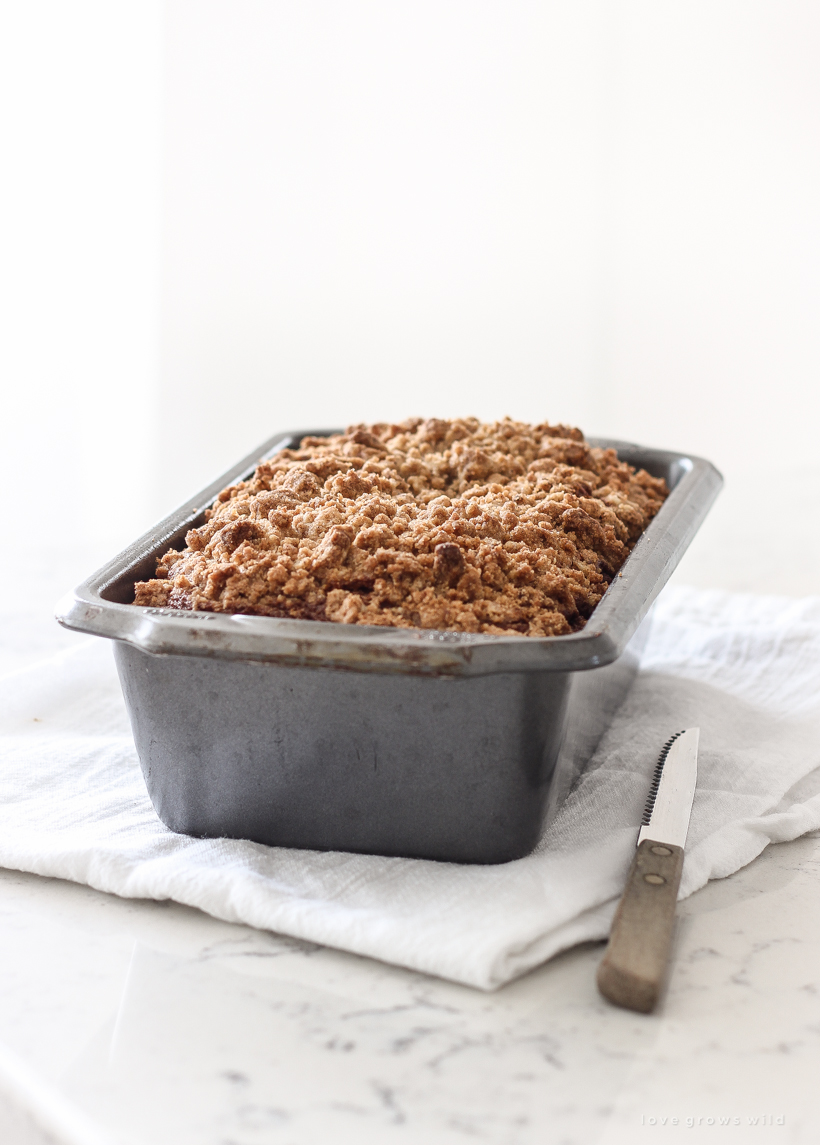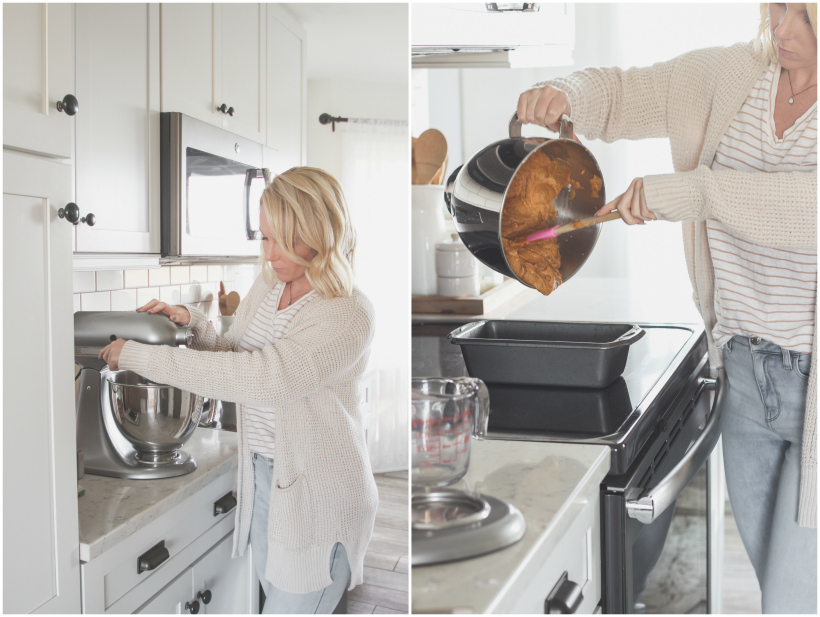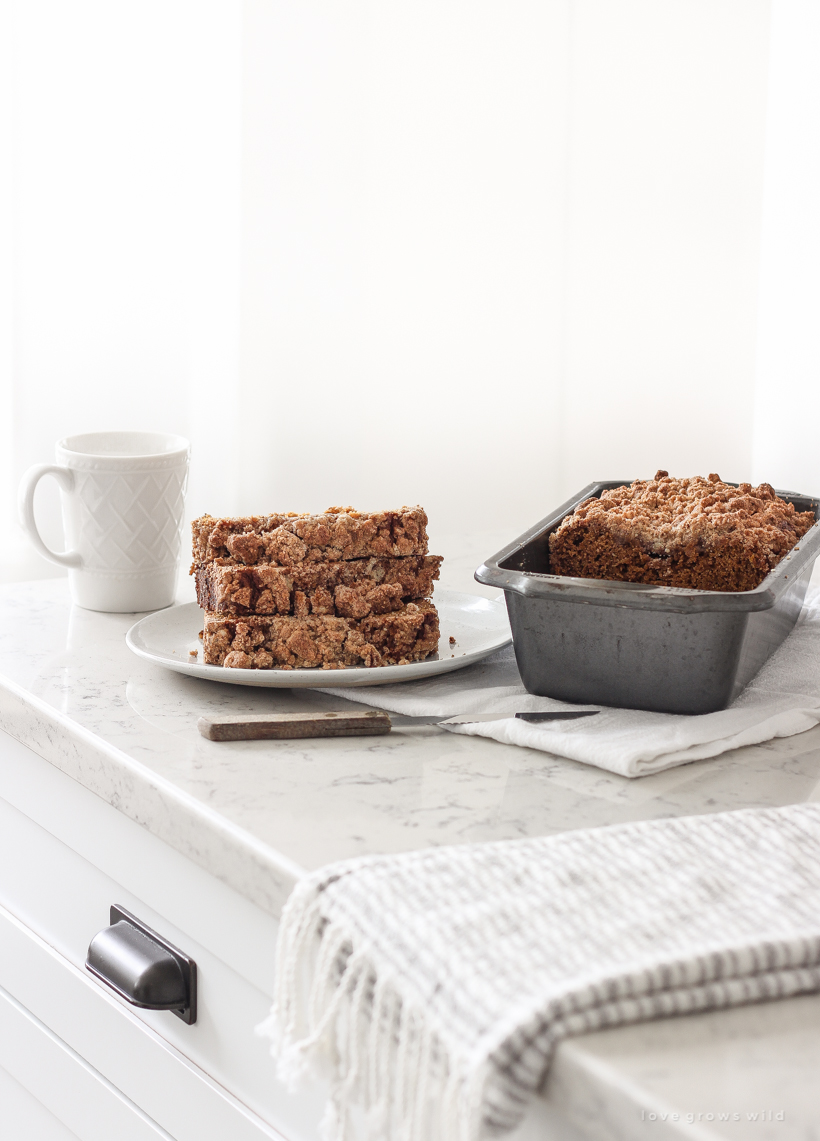 PUMPKIN BREAD WITH CINNAMON STREUSEL
INGREDIENTS:
for the bread:
1½ cups all-purpose flour
1½ teaspoons cinnamon
1 teaspoon baking soda
1 teaspoon salt
1 teaspoon ground ginger
½ teaspoon ground nutmeg
¼ teaspoon ground cloves
¼ teaspoon baking powder
6 tablespoons unsalted butter, softened
1½ cups brown sugar
2 large eggs
1 cup unsweetened pumpkin puree
1 teaspoon vanilla extract
⅓ cup milk
for the streusel topping:
½ cup all-purpose flour
¼ cup unsalted butter, melted
¼ cup dark brown sugar
1 teaspoon cinnamon
INSTRUCTIONS:
In a medium bowl, add the flour, melted butter, brown sugar, and cinnamon. Mix until well combined, and refrigerate while preparing the rest of the recipe.
Preheat oven to 350°F. Spray a 9″ x 5″ loaf pan with cooking spray and line bottom of pan with wax paper. In a medium bowl, sift together flour, cinnamon, baking soda, salt, ginger, nutmeg, cloves, and baking powder. Set aside.
In a large bowl, beat the butter until creamy. Add the brown sugar and beat for 4 minutes. Add the eggs, one at a time, mixing well after each addition. Then mix in the pumpkin puree. In a small bowl, stir the vanilla into the milk. Mix the dry ingredients into the pumpkin mixture in 3 additions on low speed, alternating with the milk mixture. Pour batter into the prepared pan in an even layer.
Once the butter in the streusel topping is cold again, use a fork to break the mixture into small equal size pieces. Sprinkle the topping evenly over the batter, and bake for about 1 hour or until a toothpick inserted in the center comes out clean. Let the loaf cool in the pan for 10 minutes, then carefully turn out onto a rack to finish cooling completely.
________
MORE FALL RECIPES: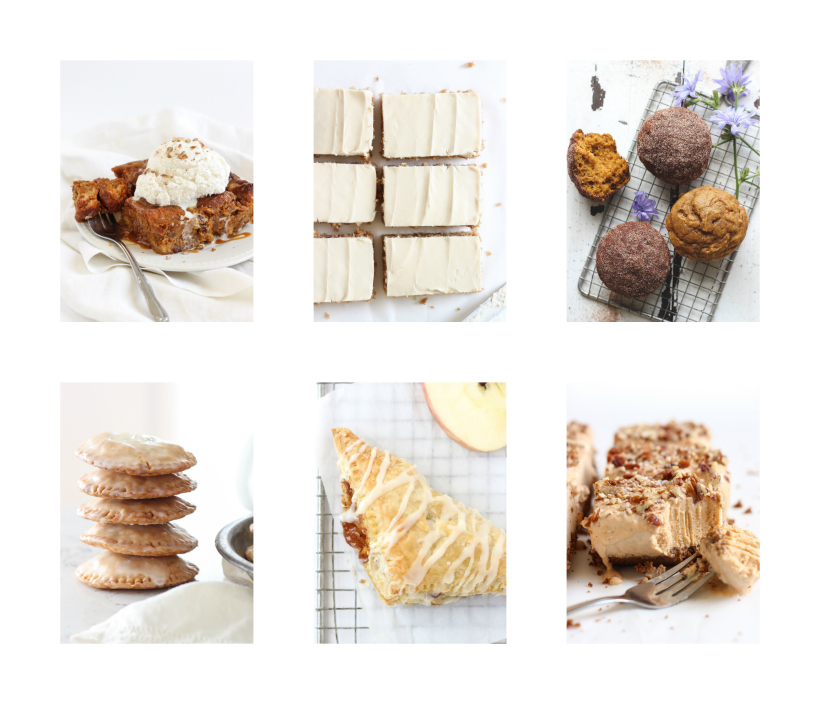 Pumpkin Bread Pudding | Applesauce Sheet Cake with Cream Cheese Frosting | Cinnamon Sugar Pumpkin Muffins
Maple Glazed Pumpkin Hand Pies | Apple Turnovers | Pumpkin Ice Cream Bars
________
Enjoy, sweet friend! If you try any of my recipes, I'd love to see what you make by tagging me in your photos!
IG: @lizlovegrowswild + #lovegrowswild
---
Subscribe to Blog | Follow on Instagram
Follow on Pinterest | Follow on Facebook