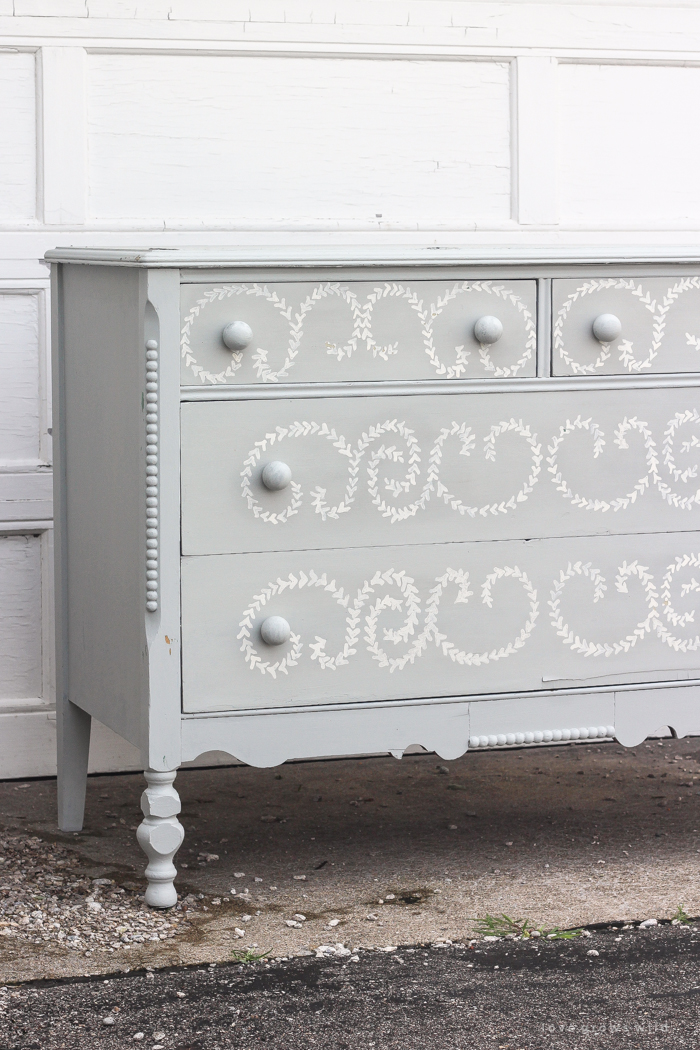 Hi friends! Today I'm going back to one of my favorite kind of projects that I haven't been able to do in awhile, but is something that I really enjoyed doing when I first started decorating our home years ago. Buying new furniture didn't always fit in the budget, so I learned to live with the hand-me-down pieces I had by painting them to better match the look I wanted. It saved me a lot of money and felt good seeing such a big transformation in our home after just a few hours with a can of paint and a paint brush. And I actually find it really relaxing to put on some good tunes and get lost in a paint project for the day. It can be very therapeutic!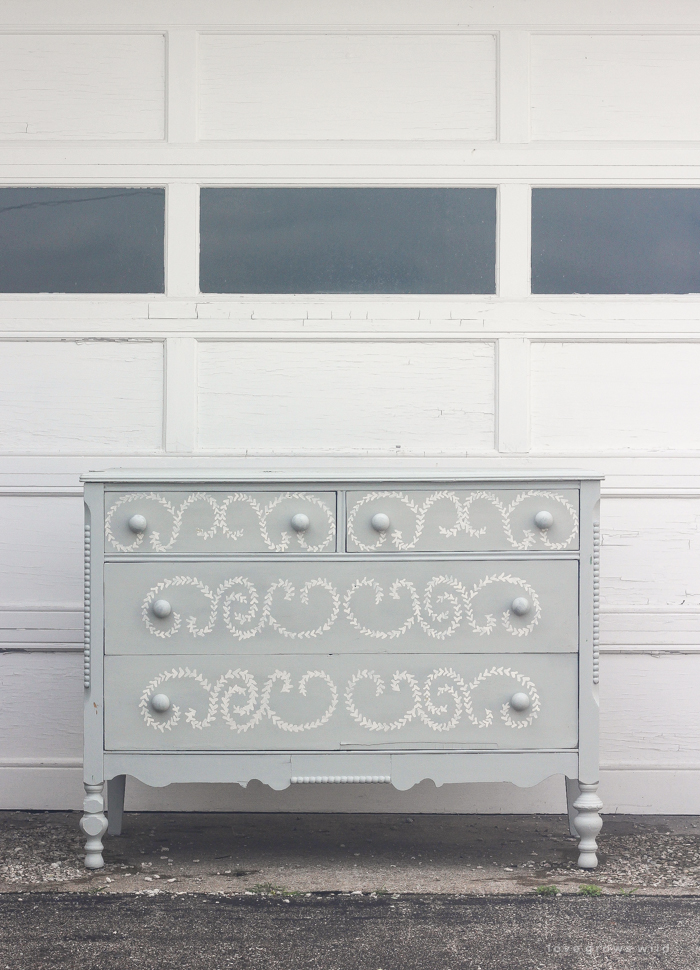 This dresser came along not because I needed it for our farmhouse, but because I wanted a few pieces of furniture I could refinish and sell in my shop. Although if I'm being totally honest, I've considered keeping it for myself a few times when I saw how cute it turned out! I found the dresser in a local garage sale group, and even though it had some imperfections, I loved the feet and details along the edges. I knew it would be darling again with a fresh coat of paint!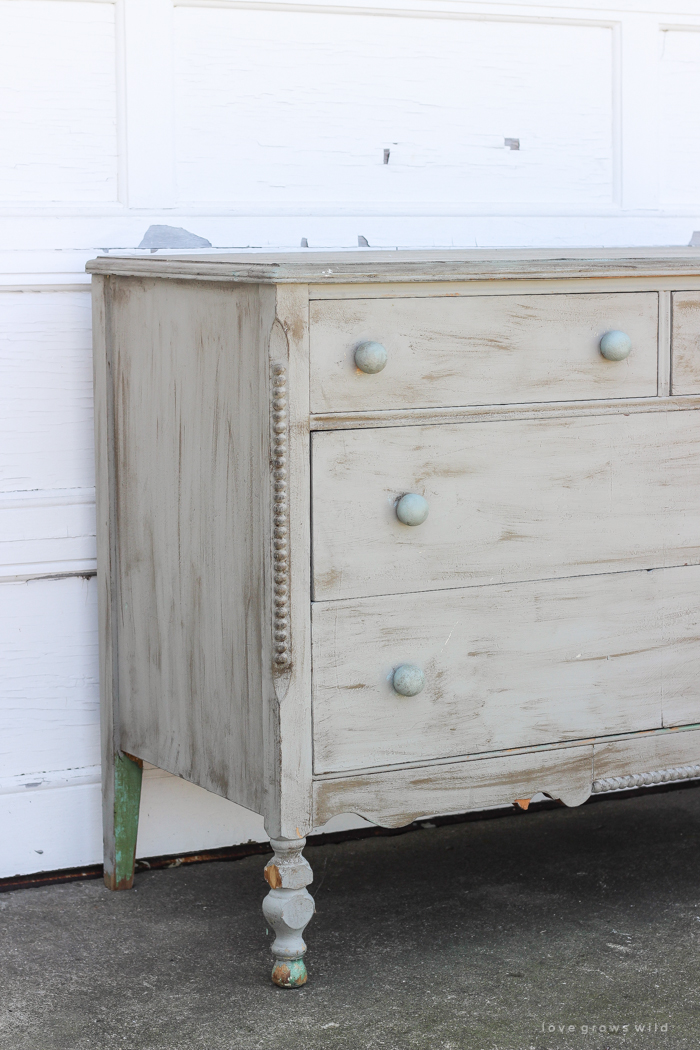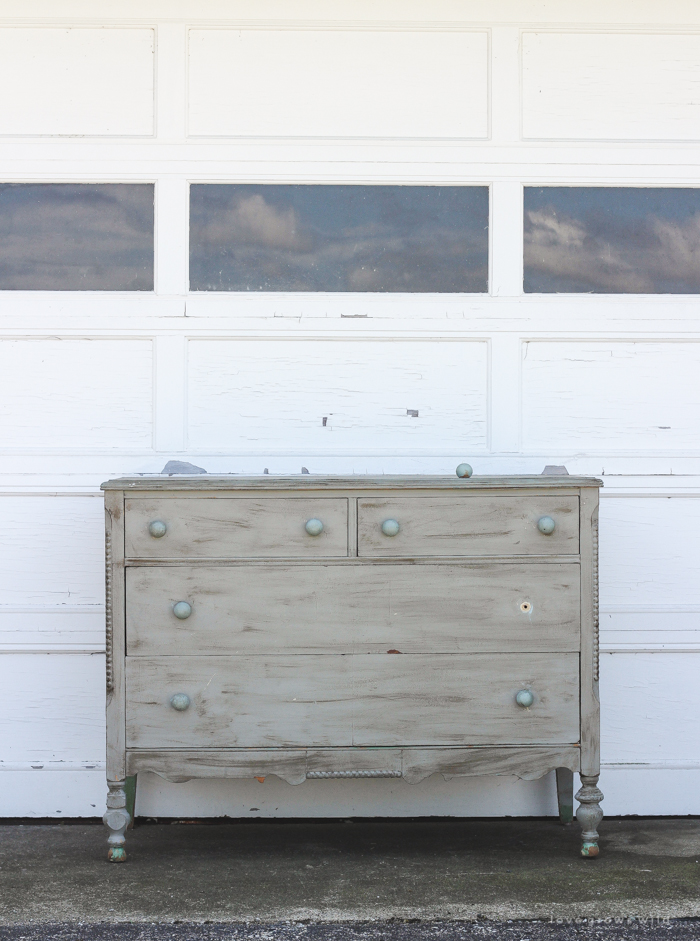 I liked the soft gray/blue paint job the dresser had gotten previously, but I wasn't crazy about the dark streaks that were added to try and make the finish look old and distressed. I've wanted to try Miss Mustard Seed's Milk Paint, which is created by my dear friend, Marian, for years, and this was the perfect opportunity to do it. I picked out the color Mora, which is almost a neutral gray with just a hint of blue mixed in.
In case you've never heard of or used Milk Paint before, let me give you a little bit of background. Milk Paint is made with milk protein (casein), limestone, clay, chalk and natural and non-toxic synthetic pigments. It comes in a powder form and is mixed with water to create the paint. Milk Paint is definitely unlike any other paint product I've tried, and here's what I LOVE about it…
The paint is VERY workable and easy to use. Sometimes when you're painting a piece of furniture by hand, it's hard to get an even coat on large surfaces like the top or sides of this dresser. Or in tight, awkward spaces you end up seeing a bunch of brush strokes in the paint. But the Milk Paint was very easy to apply and get a smooth, even coat without seeing any annoying brush strokes. It also dries really quickly, so you're able to apply the next coat with very little wait time. I painted this dresser out in my garage, and by the time I finished the first coat on the whole dresser and all the drawers, the first area I painted was already dry and ready for the second coat. I loved that! Marian expertly picked out a perfect selection of colors… pure whites, softer ivory whites, light blues, greens and grays, gorgeous neutrals, and a few pops of brighter colors. There are enough color options for any project you want to do, but not so many that it seems overwhelming to choose. And the finish once the paint dries is TO DIE FOR. It's perfectly matte and chalky and gives the piece you're working on that authentically old feel to it. You can create a solid painted surface or give it a chippy appearance depending on how you apply the paint.
The only things I didn't like was having to mix the paint yourself and that the paint has a short shelf life since it's made with milk protein. Neither would be a reason I wouldn't use this paint again, but I just have to get used to mixing a smaller amount of paint at a time so the leftovers don't go to waste. I also painted another dresser that had a dark wood finish with the color Linen and had a hard time getting full coverage on the dark wood surface underneath. But that could be an error in the way I mixed the paint, so I'll have to play around with that color and technique a little more.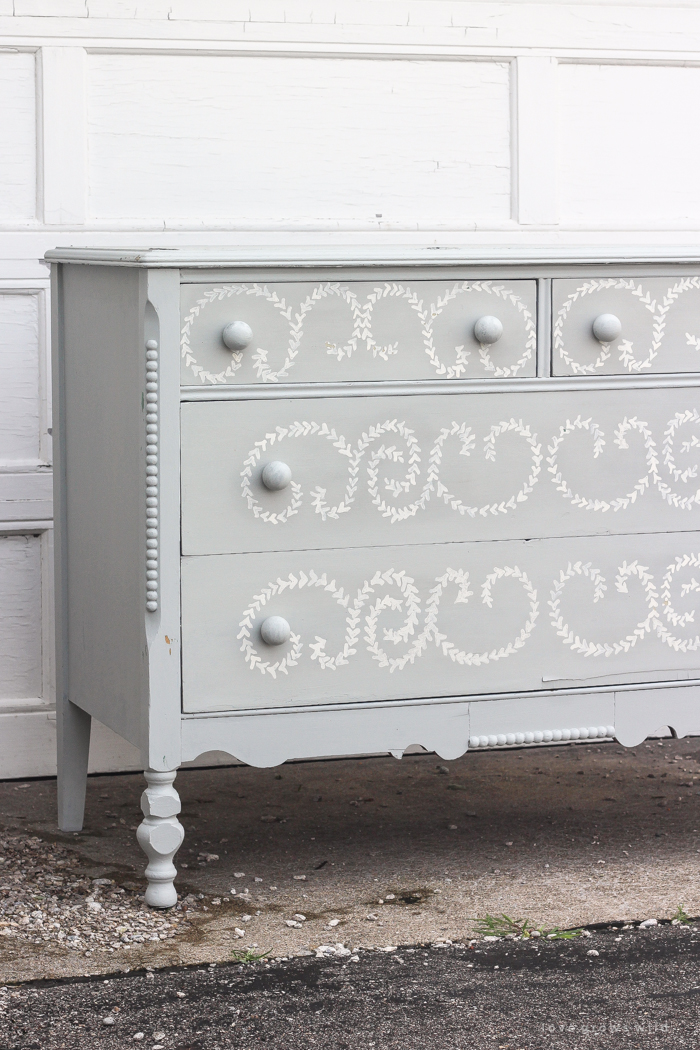 Once the Mora paint was completely dry (which took no time at all), I used a scraper on a few areas of the dresser to expose some of the paint layers underneath. There was a beautiful green color that came through, and even though I don't think I would like an entire dresser painted in that bright of a color, it looks gorgeous peeking out behind the soft blue paint.
I ended up ordering a few more Miss Mustard Seed products to try them out and decided to use one of her awesome hand painted stencils to give the drawers an extra bit of character. I used the Elizabeth stencil and the color Linen Milk Paint, but instead of actually painting on the stencil I drew faint pencil marks where the paint was to be applied and then removed the stencil and hand painted the design on myself. This way I didn't have to worry about cleaning up the stencil, and I got to practice my hand painting skills with a little bit of guidance from Marian's design.
I finished the entire piece with the Miss Mustard Seed Furniture Wax, which was smooth as butter to apply and smelled MUCH better than other waxes I've used. I just love the way the hand painted design swirls around the drawer knobs and gives the dresser so much more character. I could definitely picture this piece as storage in an entryway or dining room or even in a kid's or baby's room!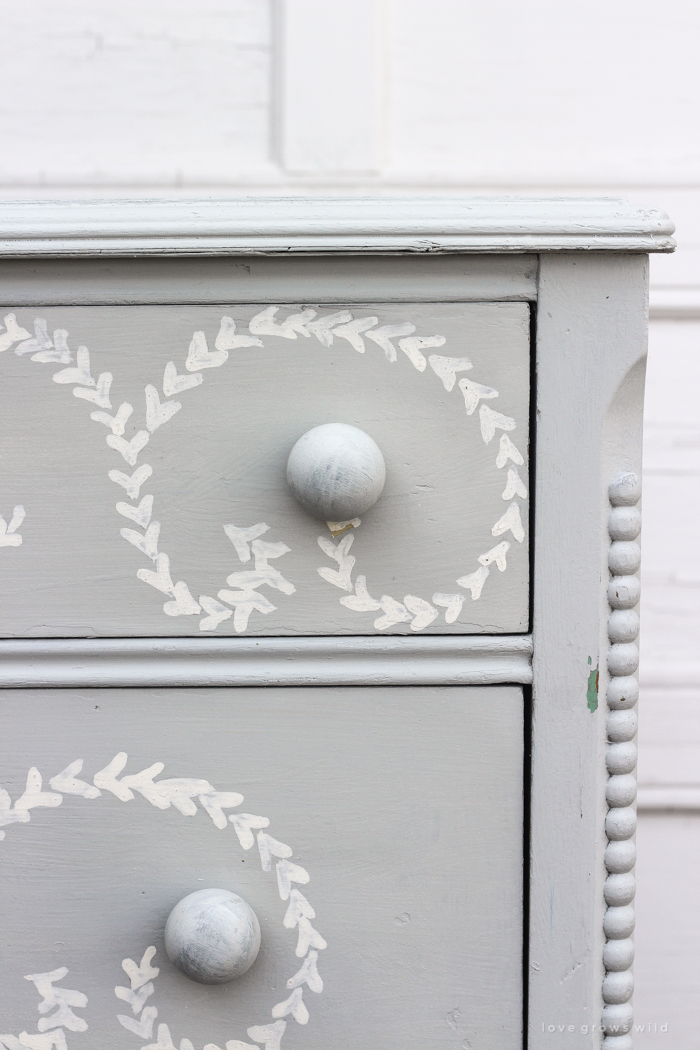 I moved this sweet dresser to the shop a few weeks ago, and for those of you who are in or close to Indiana, it's still available! You can read more about the shop location and details here. Like I said before, it's amazing to me what some paint and a brush can do, and it feels so good to complete a big transformation like this. Would you guys like to see more of the furniture makeovers I do here on the blog? Thanks for stopping by today, sweet friends!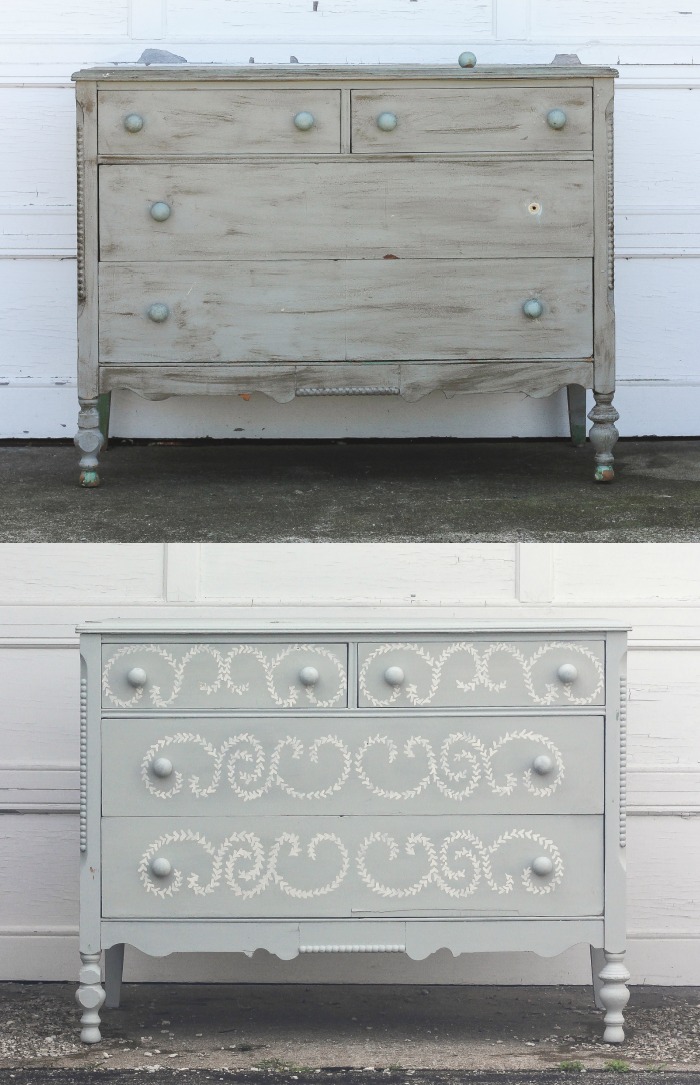 ---
---
Subscribe to Blog | Follow on Instagram
Follow on Pinterest | Follow on Facebook