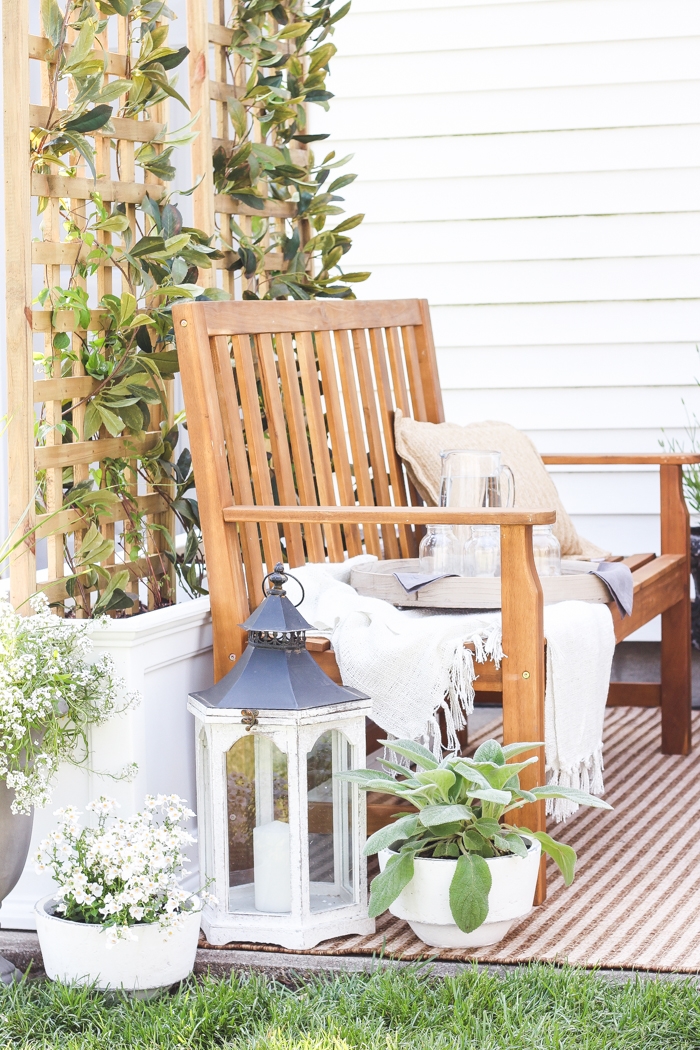 As promised in our Summer Patio Makeover I shared earlier this week, I am going to show you how I made these DIY Trellis Planters today! These are perfect for adding a little bit of privacy to your deck, garden, or patio, and this is a great project for beginners to try too!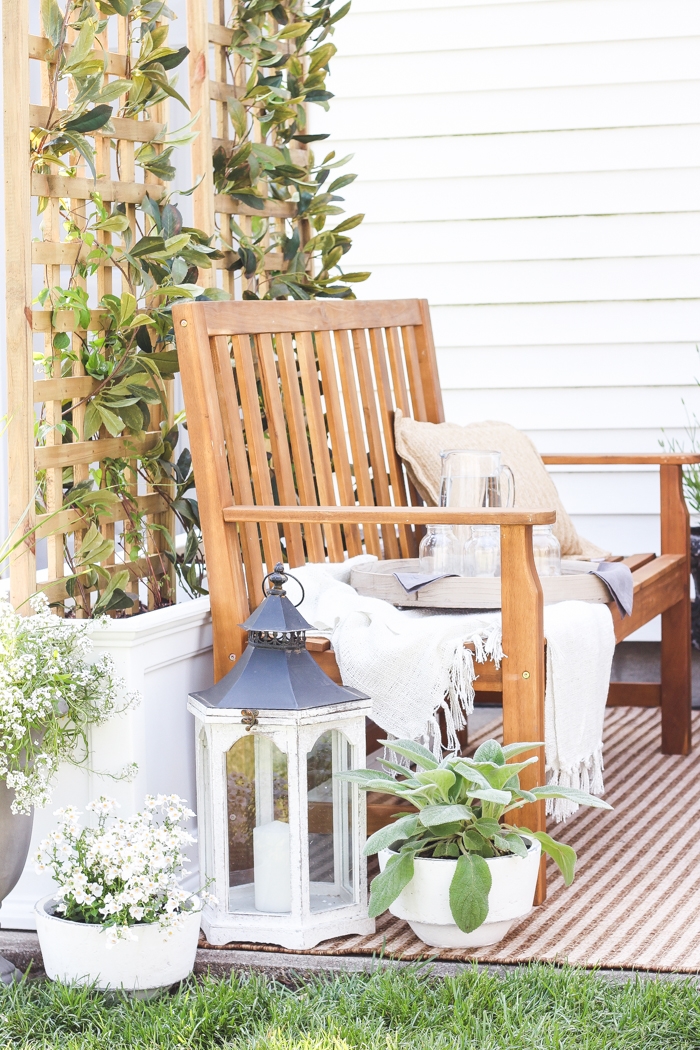 Before we get started, I want to say thank you so much for all your sweet comments on our patio makeover. They mean the world to me, and I hope you feel inspired to tackle your own outdoor spaces now too! And yes, I will have a tutorial coming up soon for the white potting bench we built!
When I first got asked to participate in this patio makeover tour, I thought, "oh boy… how am I going to make this work?"
For the last few years, our patio has been a catch-all for random outdoor furniture, the kids' toys, and other miscellaneous junk. Jeremy and I have plans for building a deck on the back of the house hopefully soon, so I have never really given much thought to doing anything with our patio. It's quite small and just to the left of the patio sits a big fenced-in area for our dogs that isn't exactly very pretty to look at. So what's a girl to do?
Well, I can't move the dog pen, but I CAN hide it a bit! I came up with an idea to install tall sections of trellis along the left side of the patio, creating a privacy wall. Once I get some vines growing up the trellis, the dog pen won't be as visible when we're sitting out here, and it will also help create a cozy atmosphere on the patio.
Note: Some of the links in this post are affiliate links, which allows me to make a small commission from your purchase, but your purchase price stays the same. Thank you for helping support our blog!
Here are the supplies needed:
2-foot x 6-foot trellis panel
2 x 2 pressure-treated lumber
circular saw
tape measure
wood glue
brad nail gun
2″ brad nails
wood stain
paint brush
large rectangular planter (I used this one from Joss and Main)
As far as the trellis/lattice goes, I found a few different types at my home improvement store. Some are thinner, some are thicker, some are pressure-treated, some have square openings, and some have diamond openings. I went with the squares because they felt more farmhouse to me, and I also bought the "heavy-duty" thicker trellis.
I decided to add a frame around the trellis with 2 x 2 boards to give the trellis a more substantial, finished look and also to make it a bit sturdier. To do so, I measured the length of the trellis (6 feet, in this case) and cut two 2 x 2's to that length. I applied a small bead of wood glue along the 2 x 2's and attached them to the sides of the trellis with brad nails. Then I measured the width of the trellis, which was 27-inches including the side 2 x 2's, and cut one piece of 2 x 2 to that length. Again, I applied wood glue along the edge, set the 2 x 2 on top of the trellis (it should be sitting flush with the trellis and 2 x 2 ends), and attached the piece with brad nails. Since the bottom will be inside the planter, I didn't worry about adding a piece on bottom. I repeated the process to build a second framed trellis so we would have two on our patio.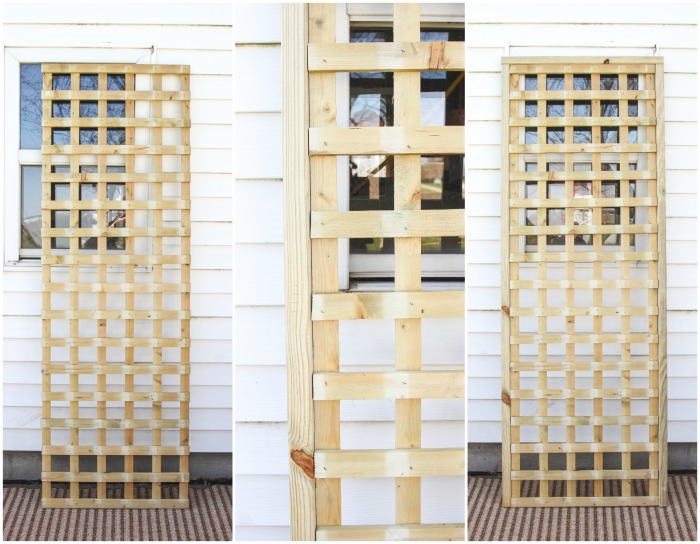 Adding the 2 x 2 frame is optional, but I definitely like the look it adds to the trellis! Once the framed trellis was finished, I stained the entire piece using a mixture of leftover stains I had on hand, but I would say it is closest to Minwax's Early American or Weathered Oak.
Once the stained wood was completely dry, I put the planters together. Getting the trellis to stay upright involved a little bit of trial and error, but we ended up using some large rocks and a few pieces of extra lumber to hold them in place. First, I filled the bottom of the planters with a little bit of potting soil to create a base. Then I set the trellis in the center of the planter and stacked large rocks on both sides to help hold it in place while I finished filling the planter up with soil. I was hoping the rocks alone would hold the trellis, but once the wind started blowing, I could tell that it needed some extra support. Jeremy measured and cut pieces of scrap wood to fit between the planter wall and the trellis frame and wedged them in tightly on each side. With the rocks at the bottom of the planter and the wood at the top, the trellis is staying in place beautifully now. I just added another layer of soil to hide the wood braces and headed to the garden center to pick out some plants!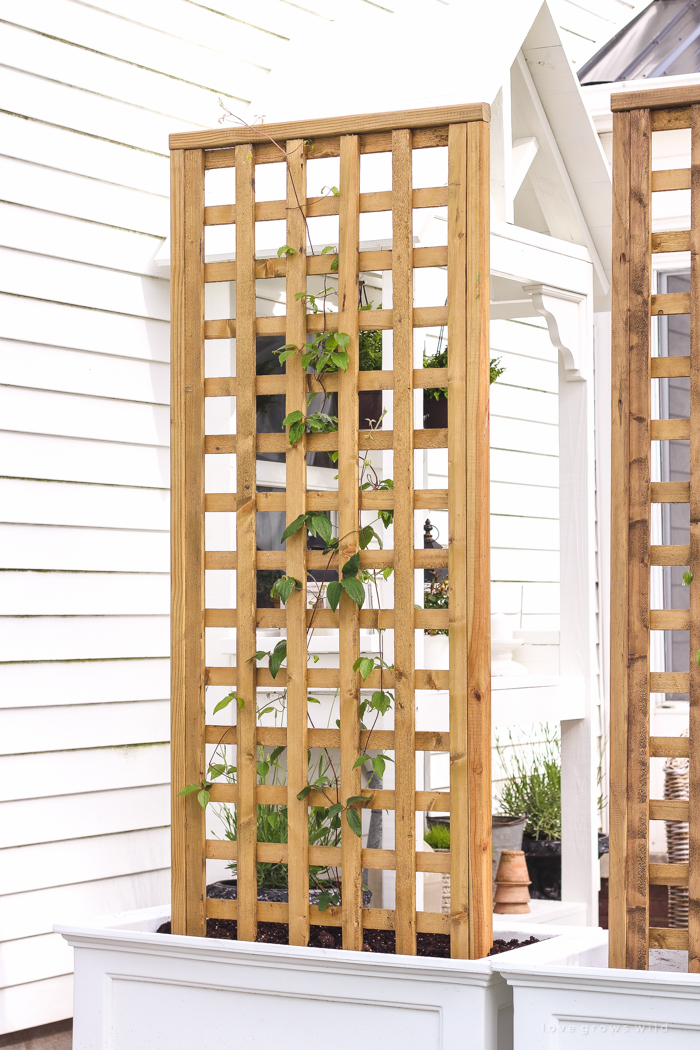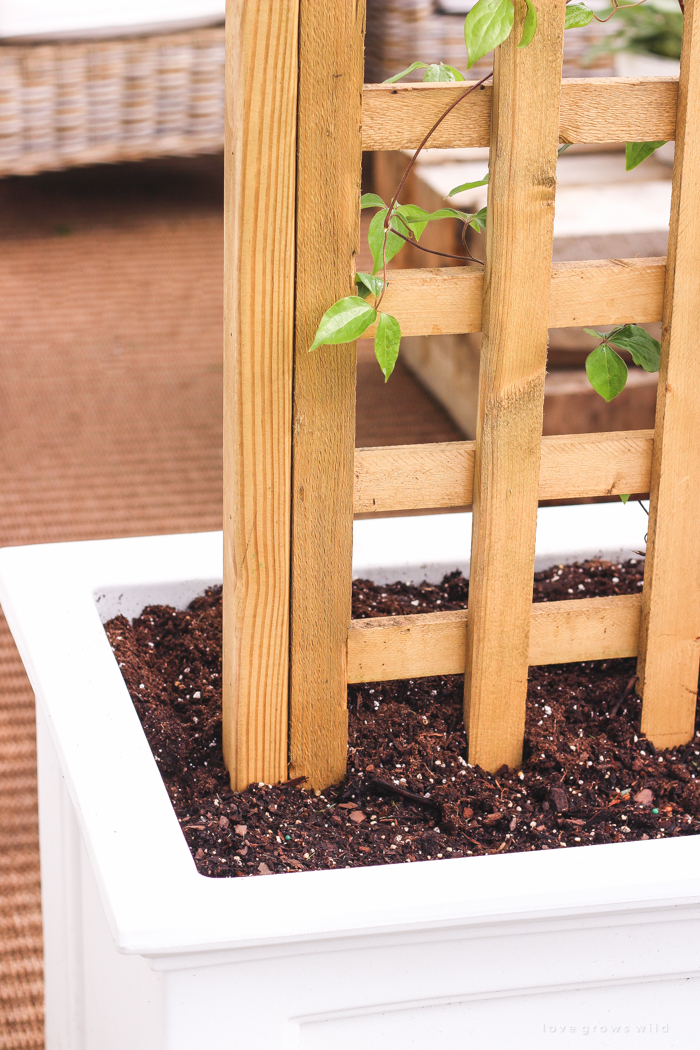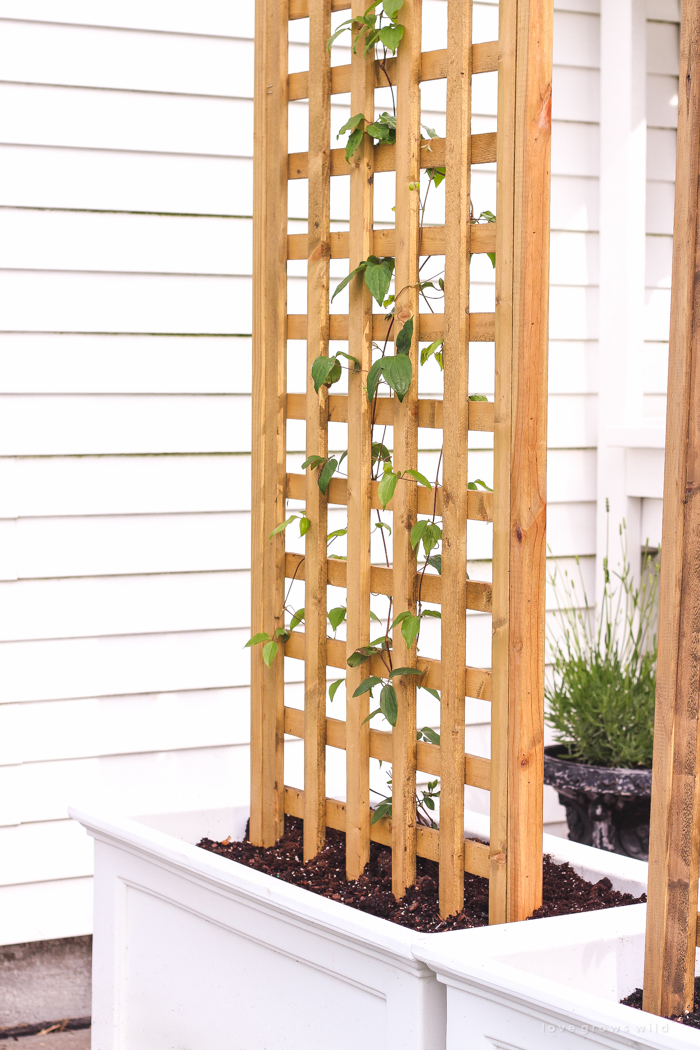 Now I am the first person to admit that I don't have much of a green thumb, but after some research I decided to try growing clematis on the trellis. I picked up two plants and planted one in each planter. They are supposed to spread out quite a bit, so I didn't want to overcrowd the trellis (plus, they aren't exactly cheap plants), but I hope they grow and fill in quickly!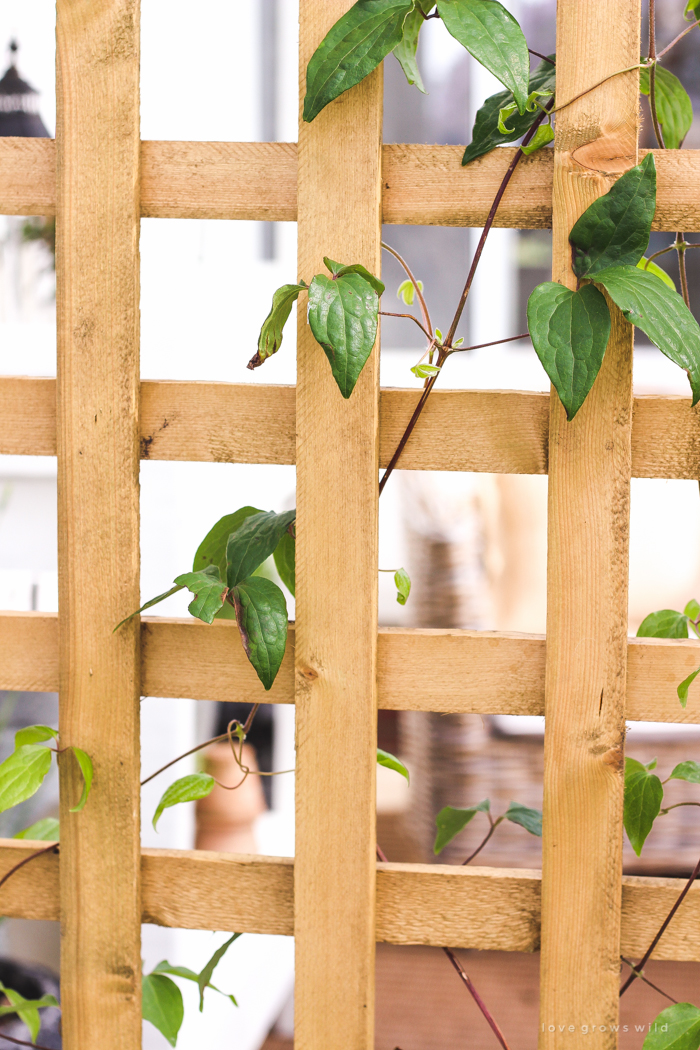 You may remember from my patio reveal post that I added faux greenery on the trellis just for the photos to give you an idea of what it might look like once the trellis is all filled in. Can you imagine this big wall of trellis all filled up with green vines and big, blooming white flowers? I can't wait to see how it grows this summer!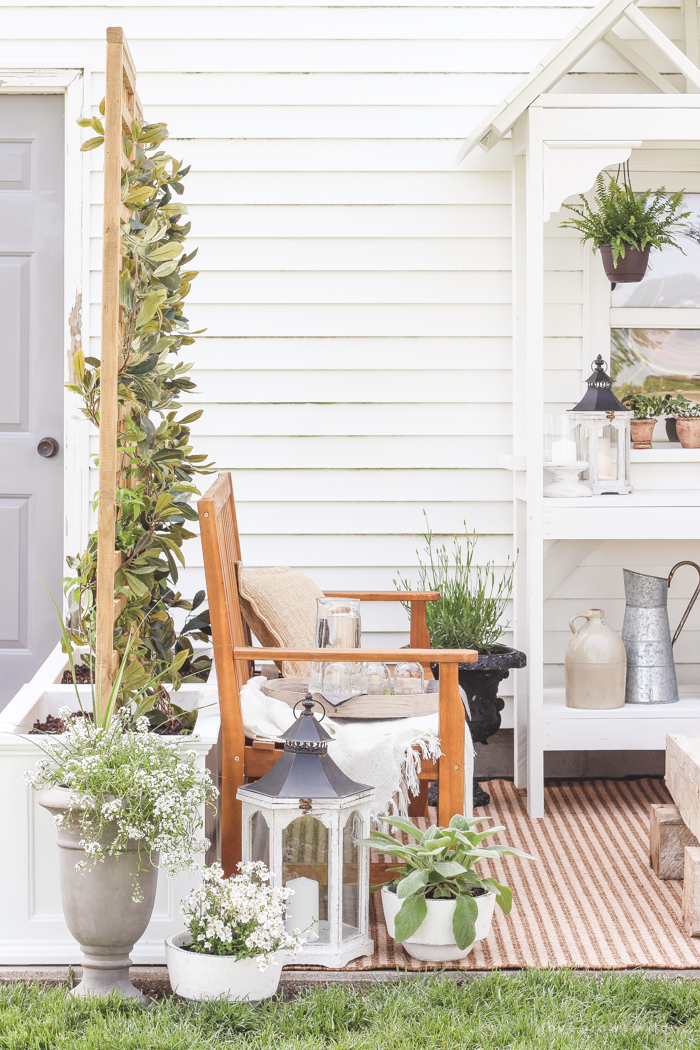 So far I think we're off to a good start…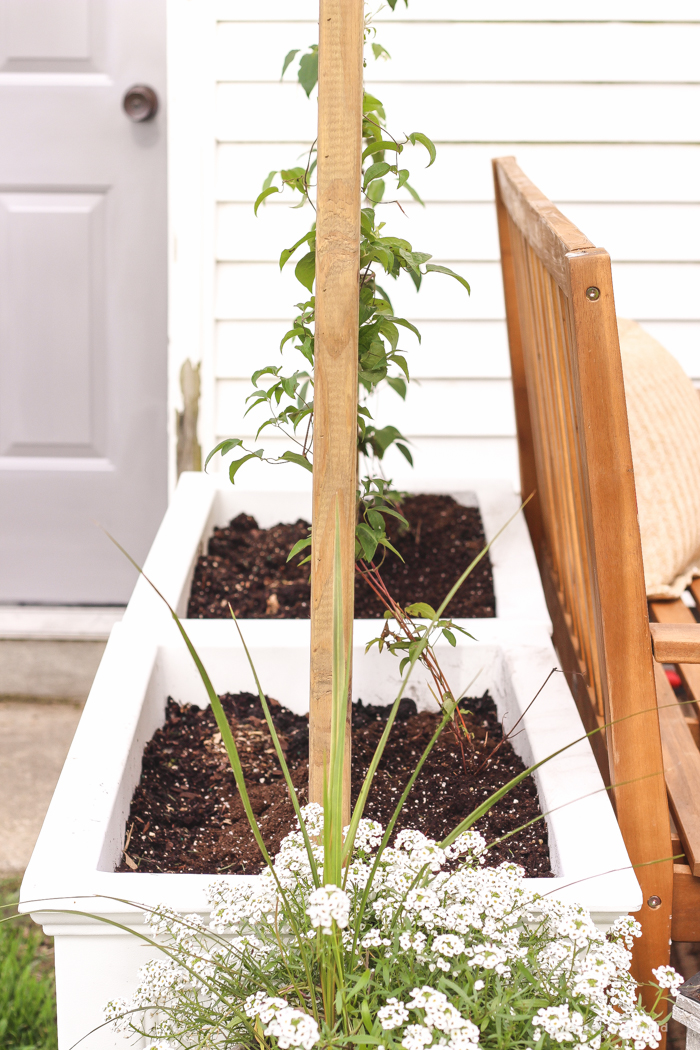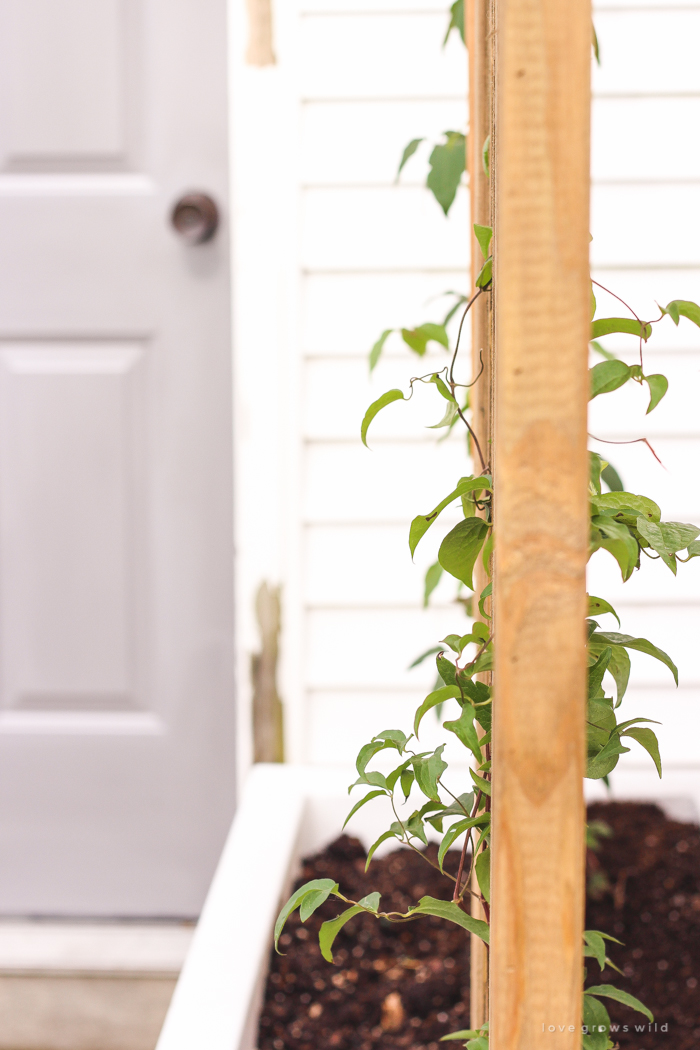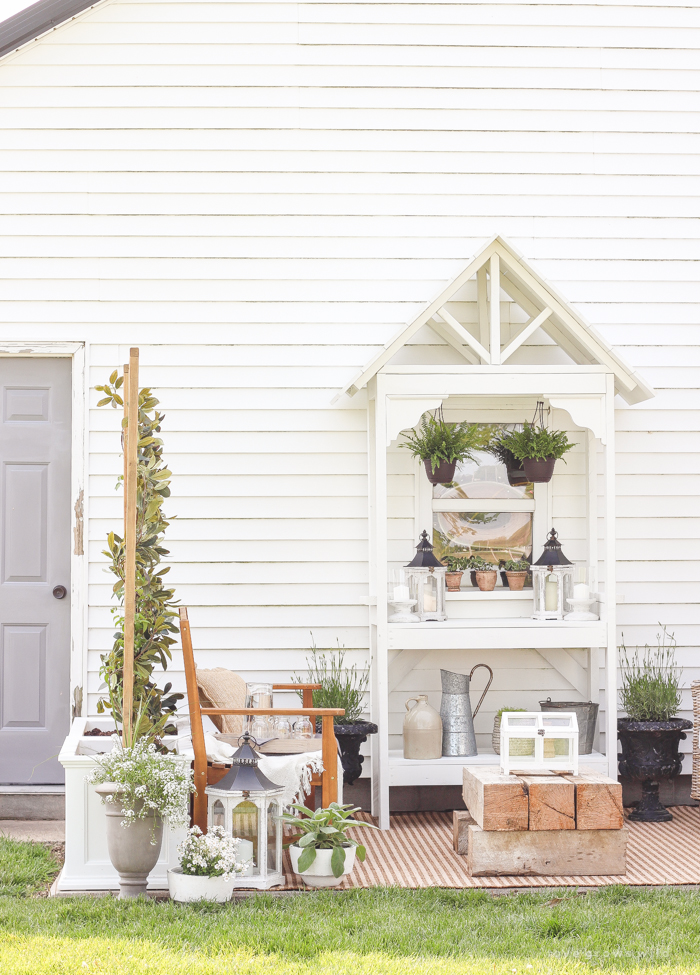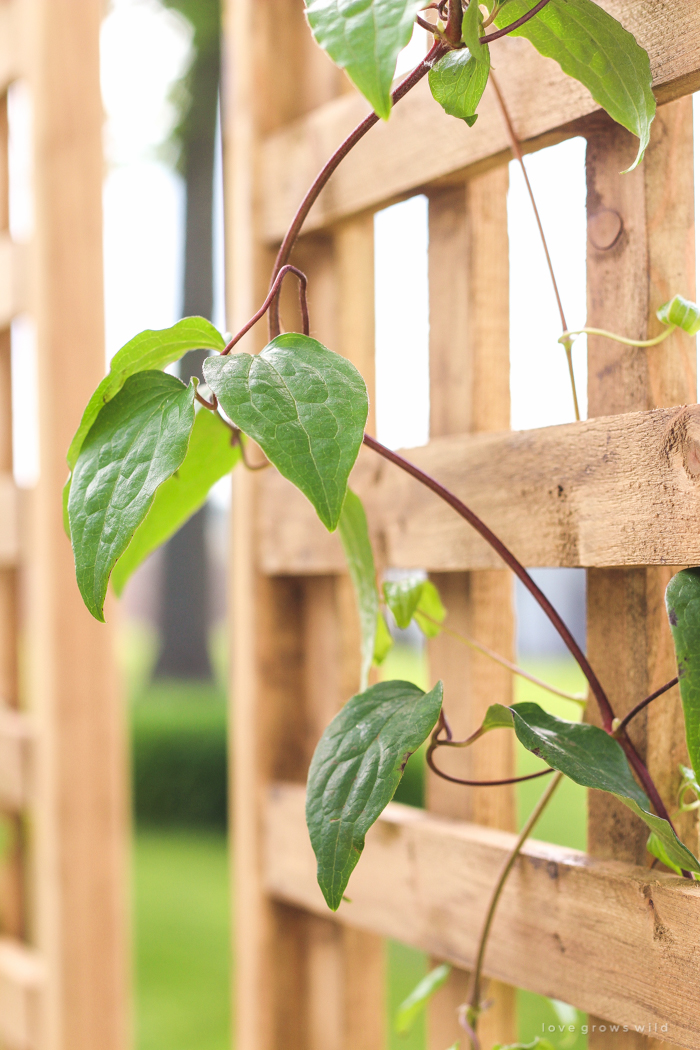 I just love how the trellis created a beautiful wall/divider on our patio, and makes it feel like such a cozy, intimate, and inviting space now.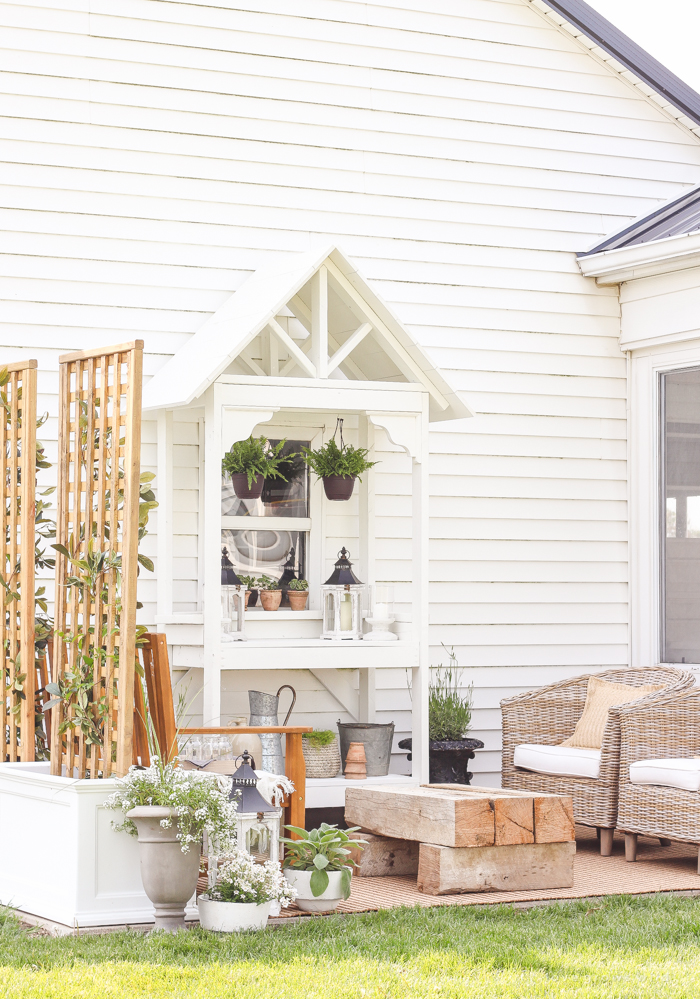 I hope you enjoyed this fun and simple tutorial from our patio makeover! I'll be sharing the potting bench tutorial soon, so keep an eye out for that! Thanks for visiting the farmhouse today!
Find more outdoor projects here:
Summer Patio Makeover
DIY Potting Bench with Decorative Roof
Little White Barn Spring Decor
Front Porch Makeover
Antique Ladder Shelving
Easy DIY Outdoor Bench

Patio Sources:
striped outdoor rug – Target
wood bench – Joss and Main
wicker chairs – Joss and Main
outdoor pillows – Target
white potting bench – tutorial
large white rectangular planters – Joss and Main
barn beam coffee table – tutorial coming soon!
gray concrete urns – At Home
white and metal lanterns – Joss and Main
white and glass candleholders – Joss and Main
small clay pots – Joss and Main
gray braided pot – Joss and Main
metal watering jug – Joss and Main
fringe throw blanket – Joss and Main
round wood tray – Joss and Main
---
LET'S KEEP IN TOUCH!
Subscribe to Blog | Browse my Shop | Follow on Facebook | Follow on Twitter
Follow on Google+ | Follow on Pinterest | Follow on Instagram