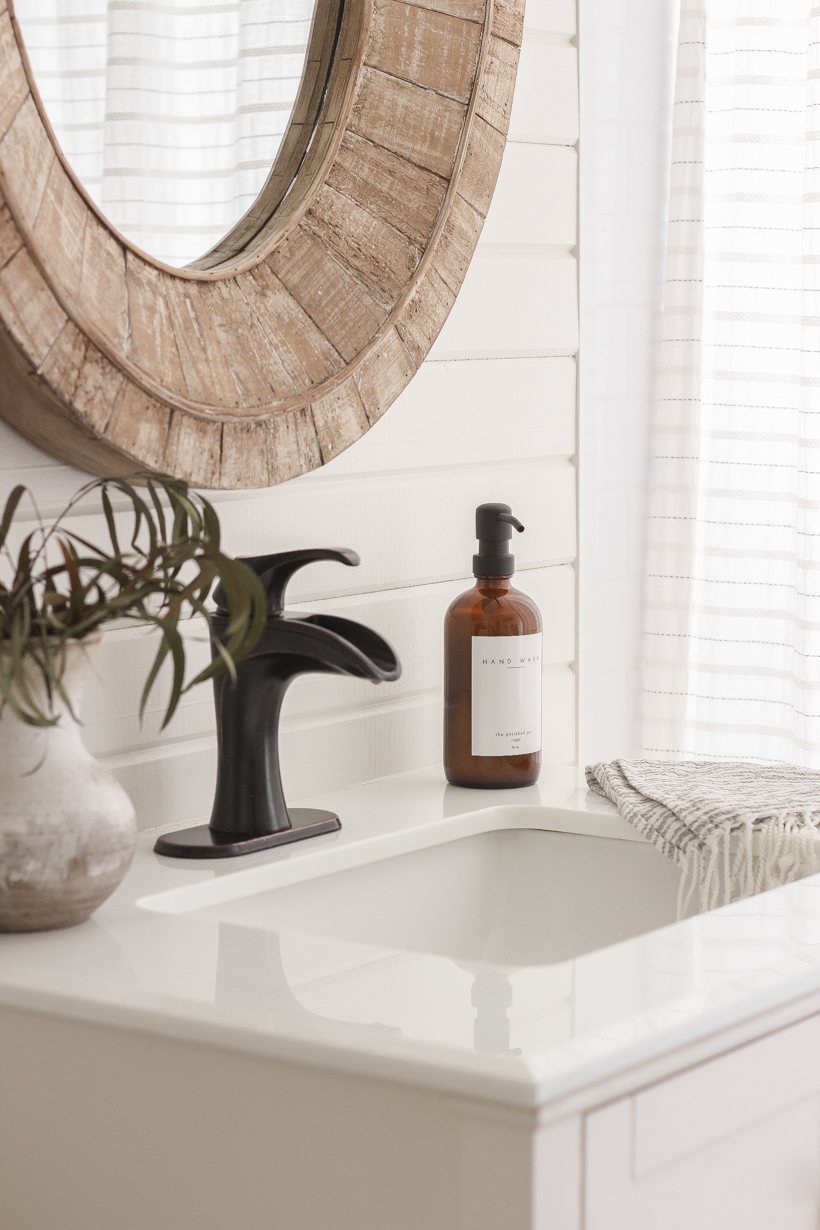 Today I wanted to share a quick decorating tip on how to style your sink that can easily elevate the look of your kitchen and bathrooms with one simple swap. I know sinks probably aren't the first place you think of when it comes to decorating, but they are used often by our families as well as guests, so we might as well make them look pretty, uncluttered, and clean… don't you agree?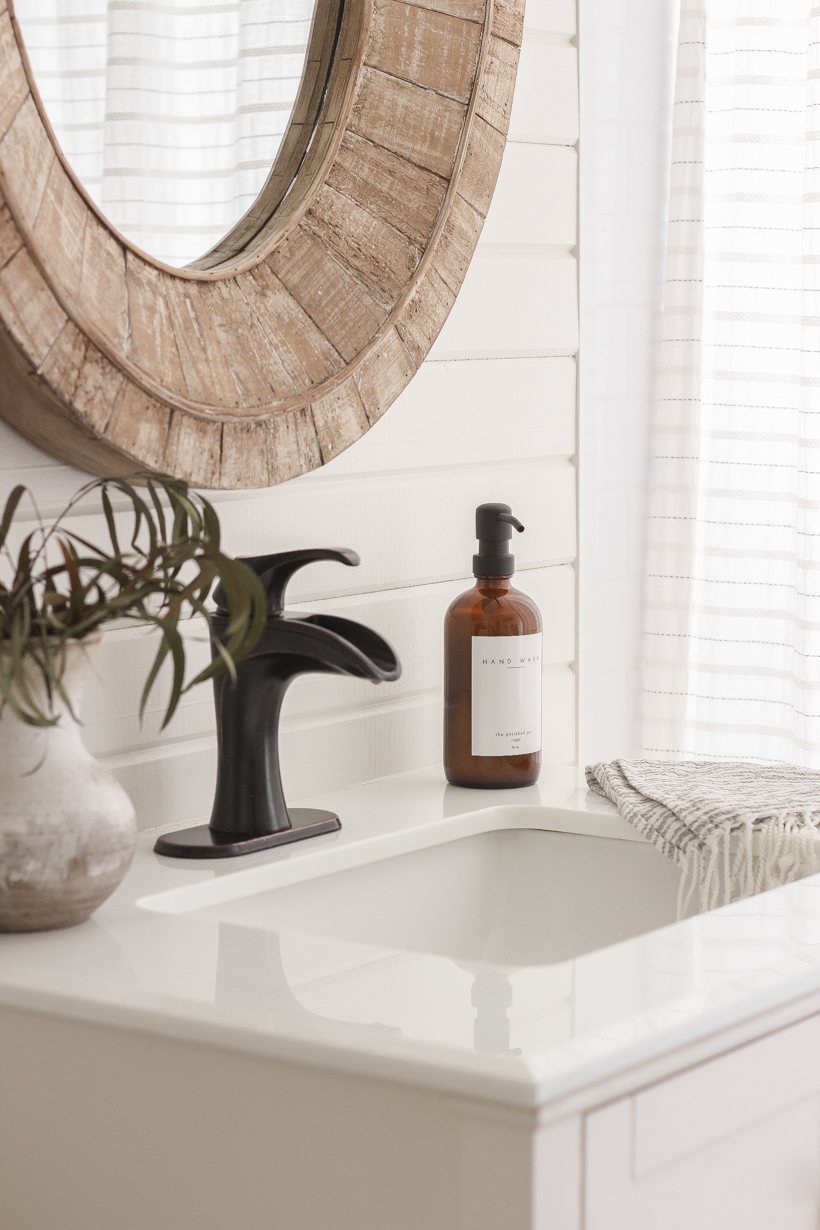 When I was a kid I remember my childhood home having all matching bathrooms accessories – a pump soap dispenser, toothbrush holder, water cup, soap dish, and sometimes even a matching tissue box cover. You picked your bathroom "theme" and bought the entire set to display on the vanity countertop. Then when stores like Bath & Body Works became popular, I remember the colorful plastic bottles of soap scents like cucumber melon or juniper breeze sitting next to the sink. You made sure to stock up on your favorites when they were having a big sale.
Does any of that bring back a little bit of nostalgia for you?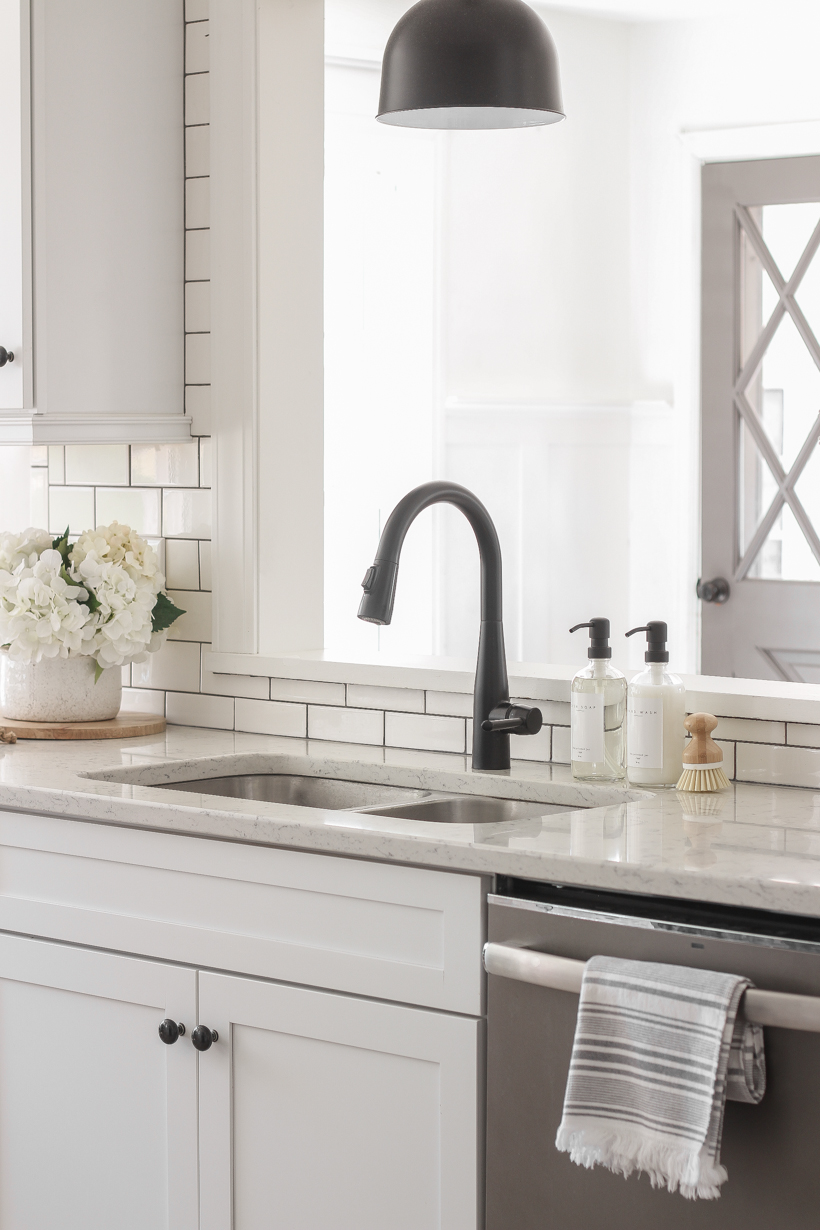 Now, I prefer a little more of a simple, sophisticated look and just ordered the prettiest soap dispensers from a company I found through Etsy.
I bought two clear glass dispensers with matte black pumps for hand and dish soap in my kitchen…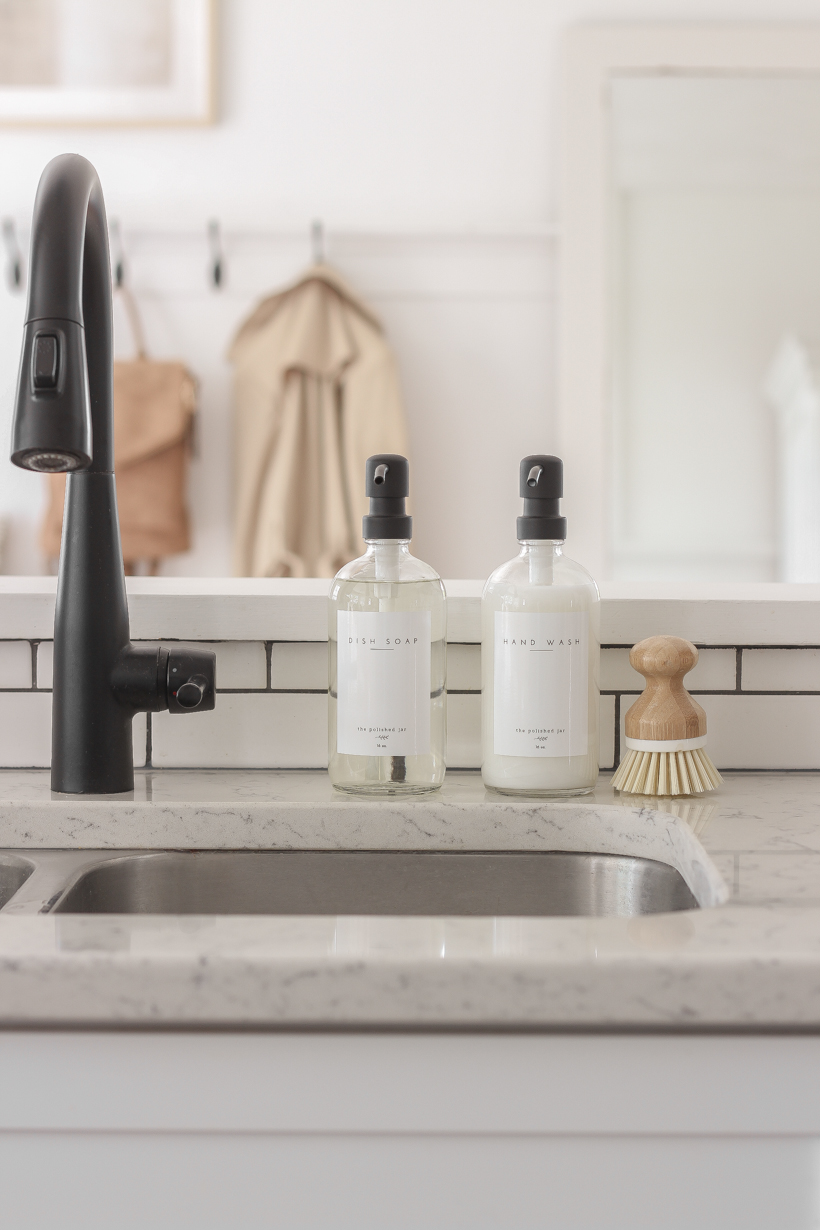 And an amber glass dispenser for hand soap in my bathroom…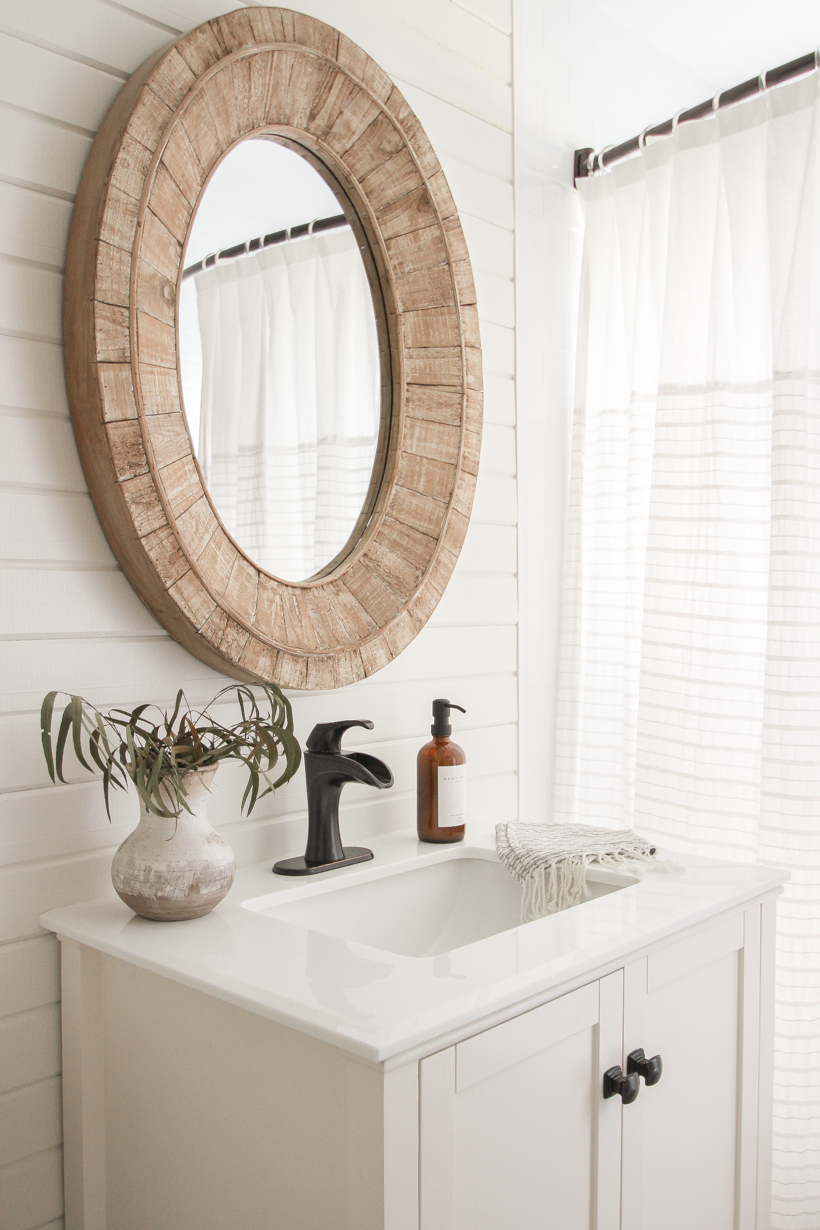 Yes… my decorating "tip" today is as simple as it sounds:
Find a pretty dispenser for soaps and lotions to keep your sink looking uncluttered, elegant, and clean!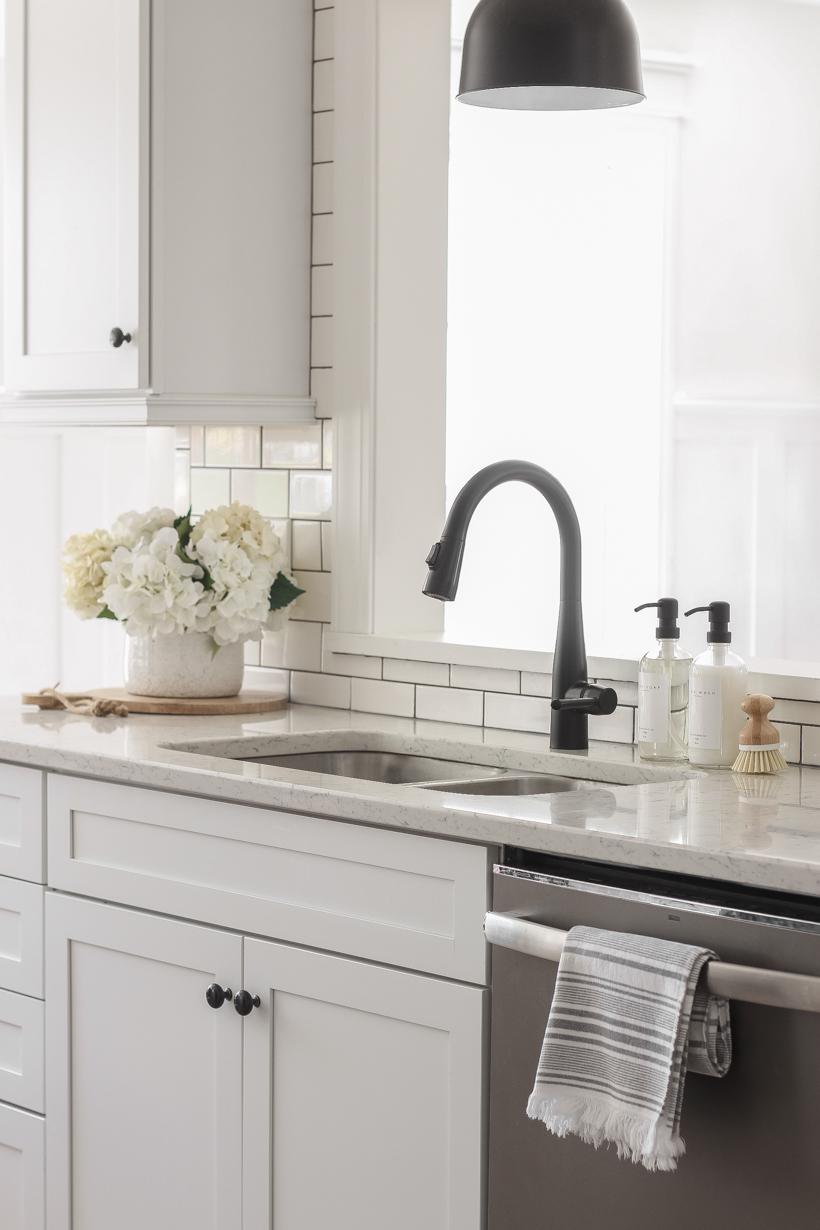 I try to keep my kitchen counters as tidy as possible, even though they always seem to be the collecting place for papers and miscellaneous things. So instead of having various bottles of hand soap, dish soap, and maybe even frequently used cleaners sitting out and adding to the visual clutter, I love the way these simple, clear glass bottles add a touch of purposeful and coordinated design to the sink area.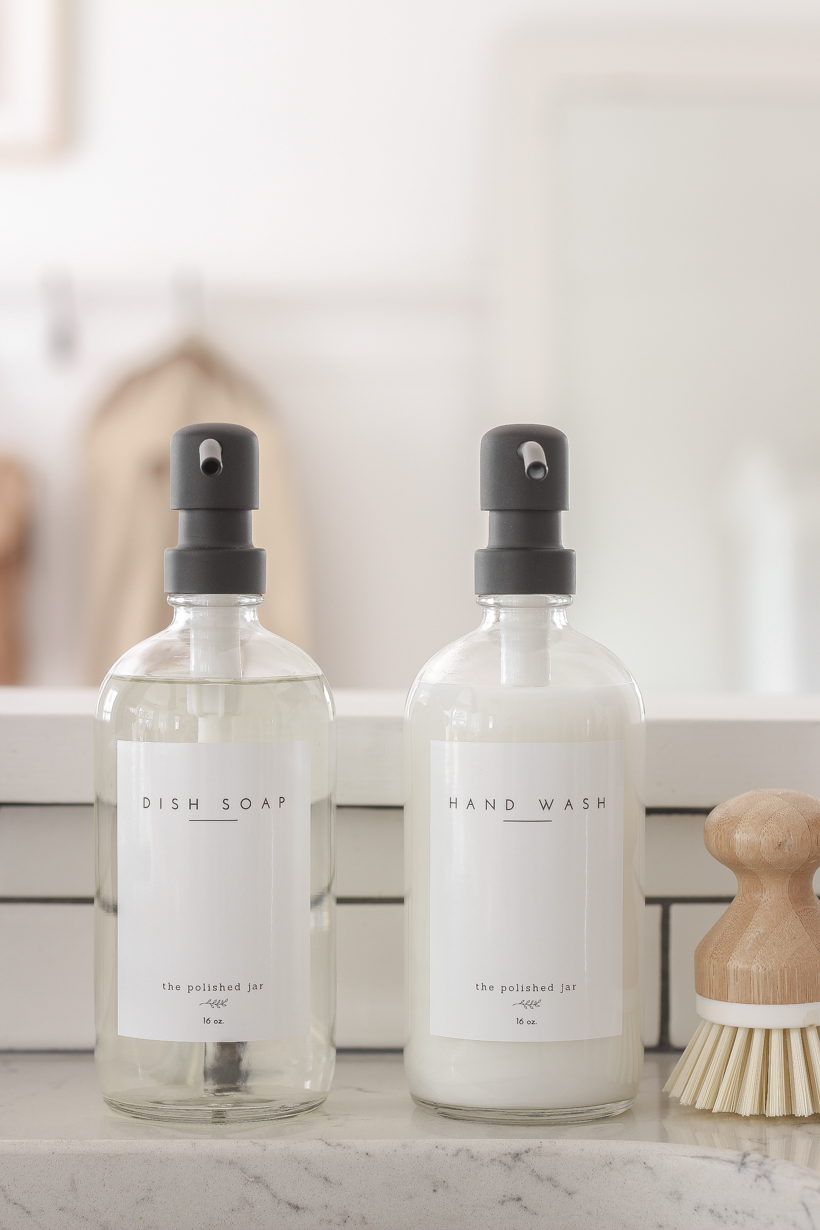 The amber glass I thought would be perfect for my bathroom and the more rustic feel of this space. The company I ordered these from makes the cutest labels for the soap dispensers, and you can even choose the bottle color, pump finish, and label design to best match your space.
I have more information on the dispensers I purchased and a special discount code you can use at the bottom of this post!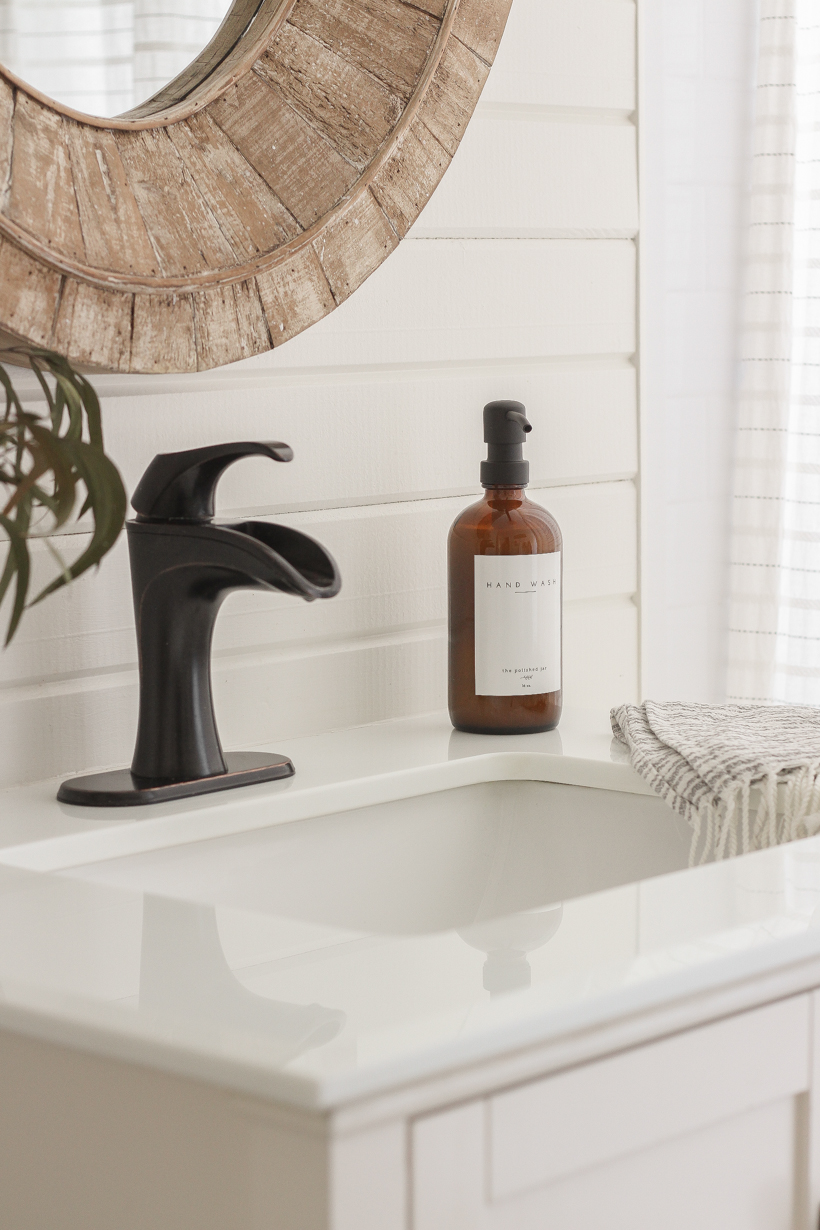 There are so many different styles of dispensers for your sink, and I rounded up a ton of the ones that caught my eye most to give you some inspiration…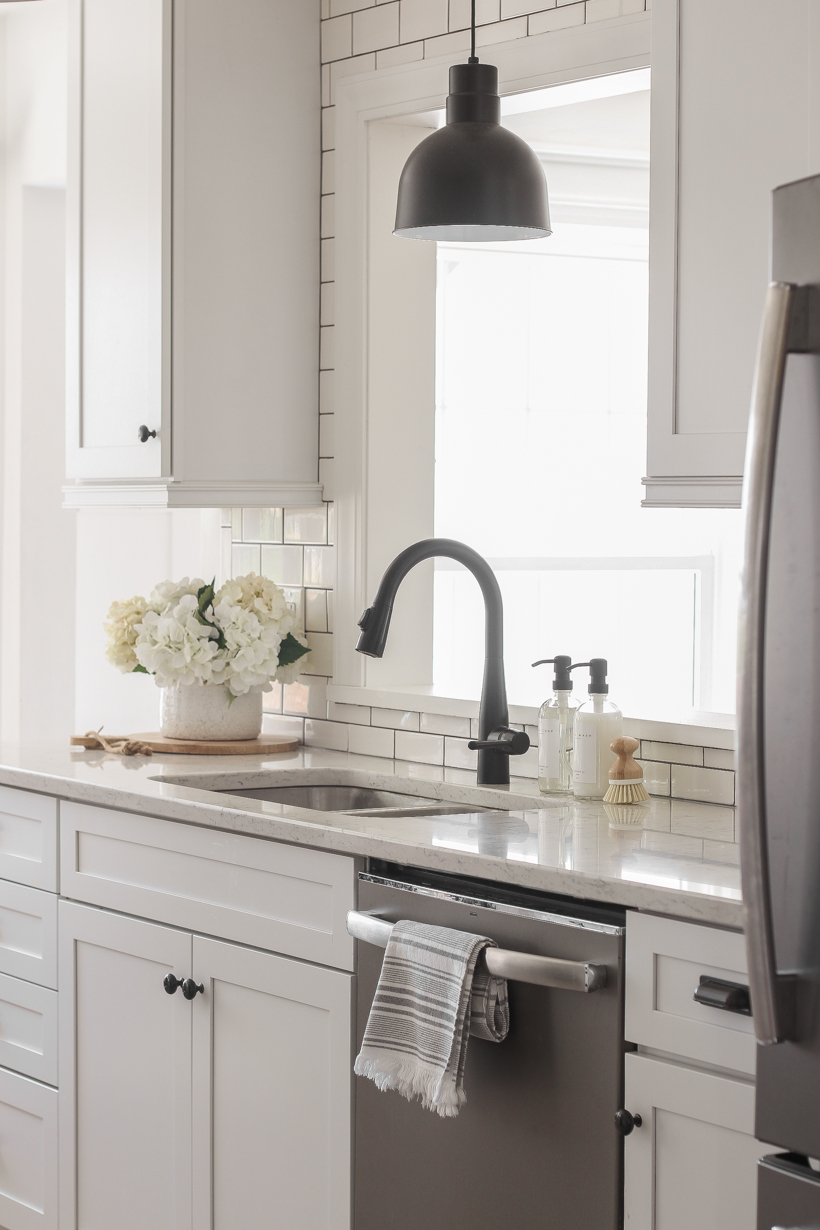 BLACK
click product photo for more information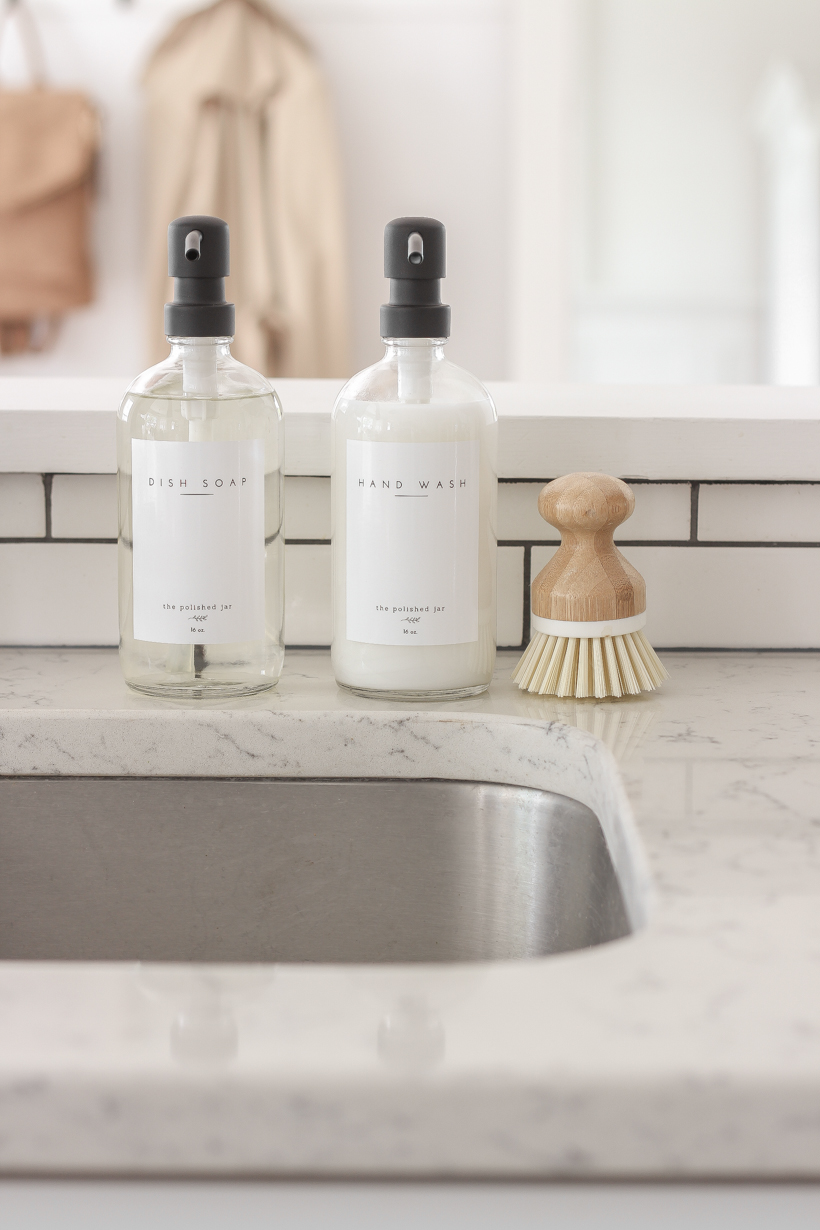 GOLD
click product photo for more information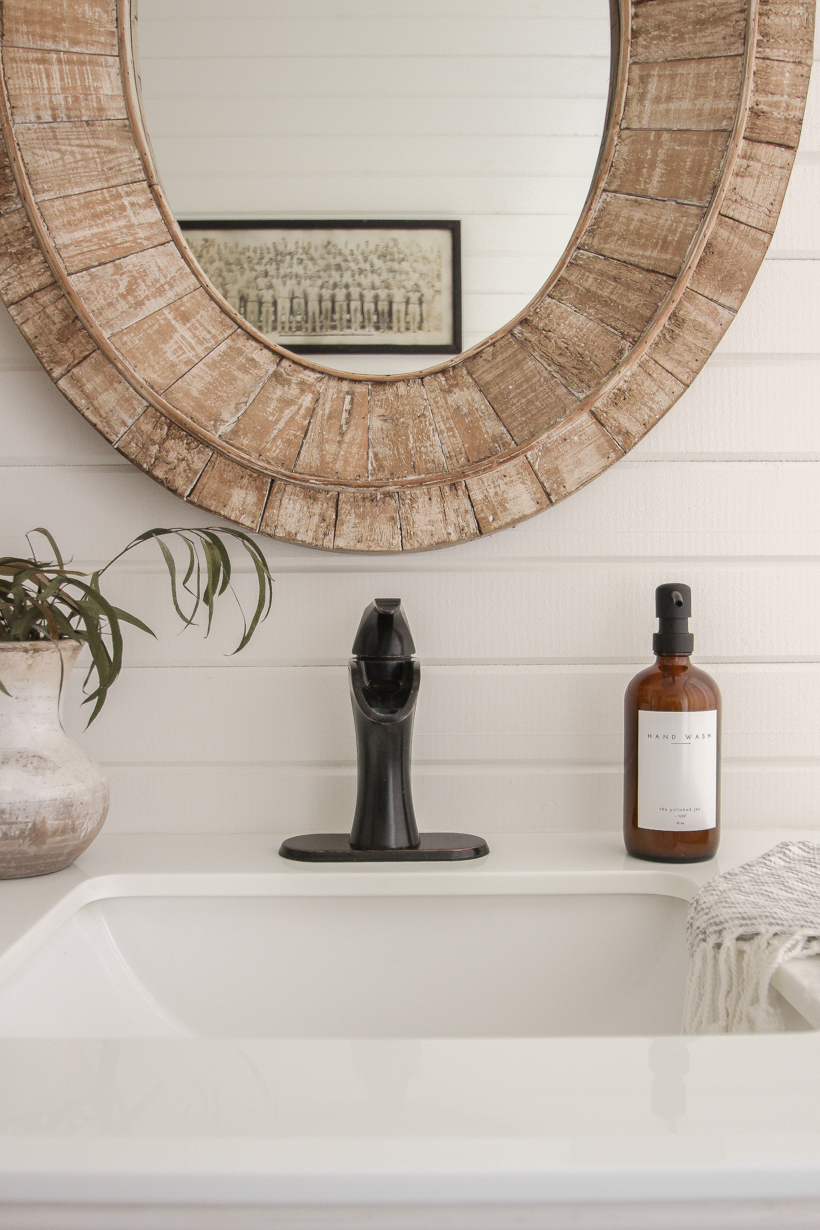 SILVER
click product photo for more information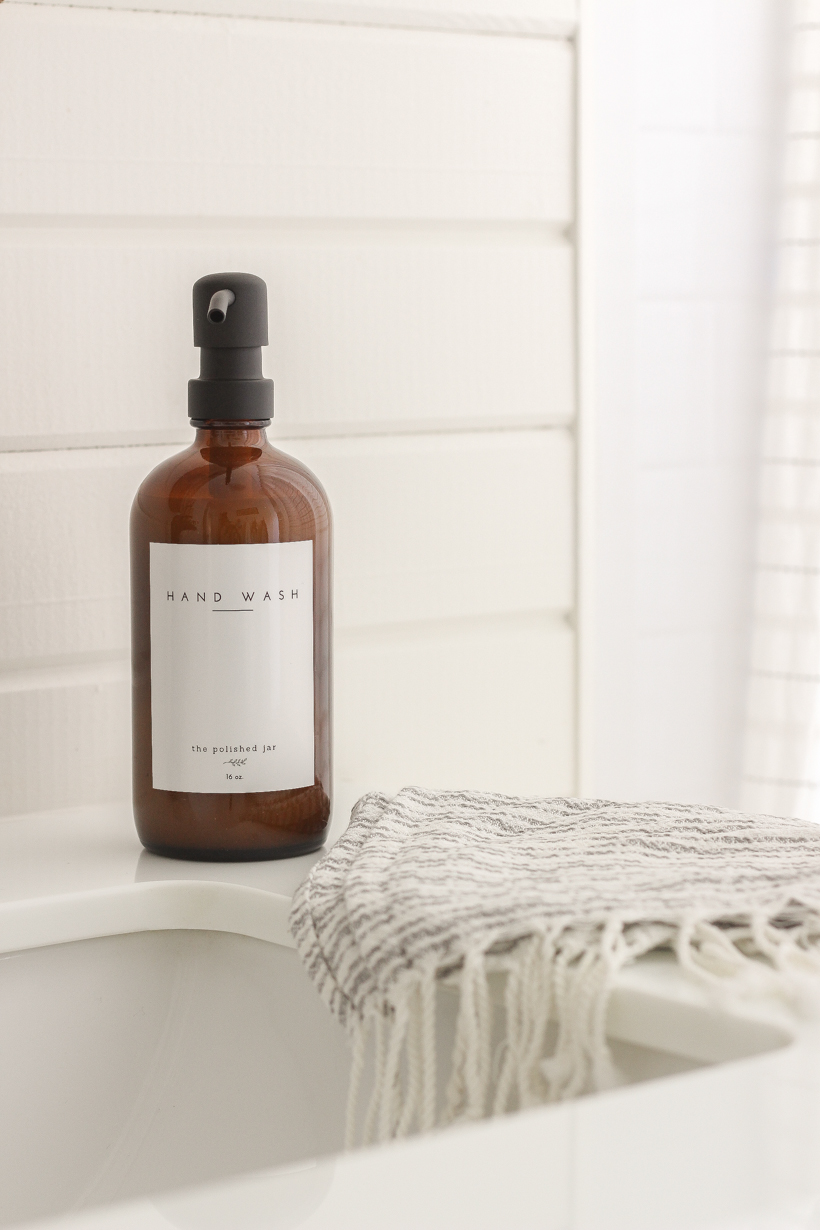 LABELED
click product photo for more information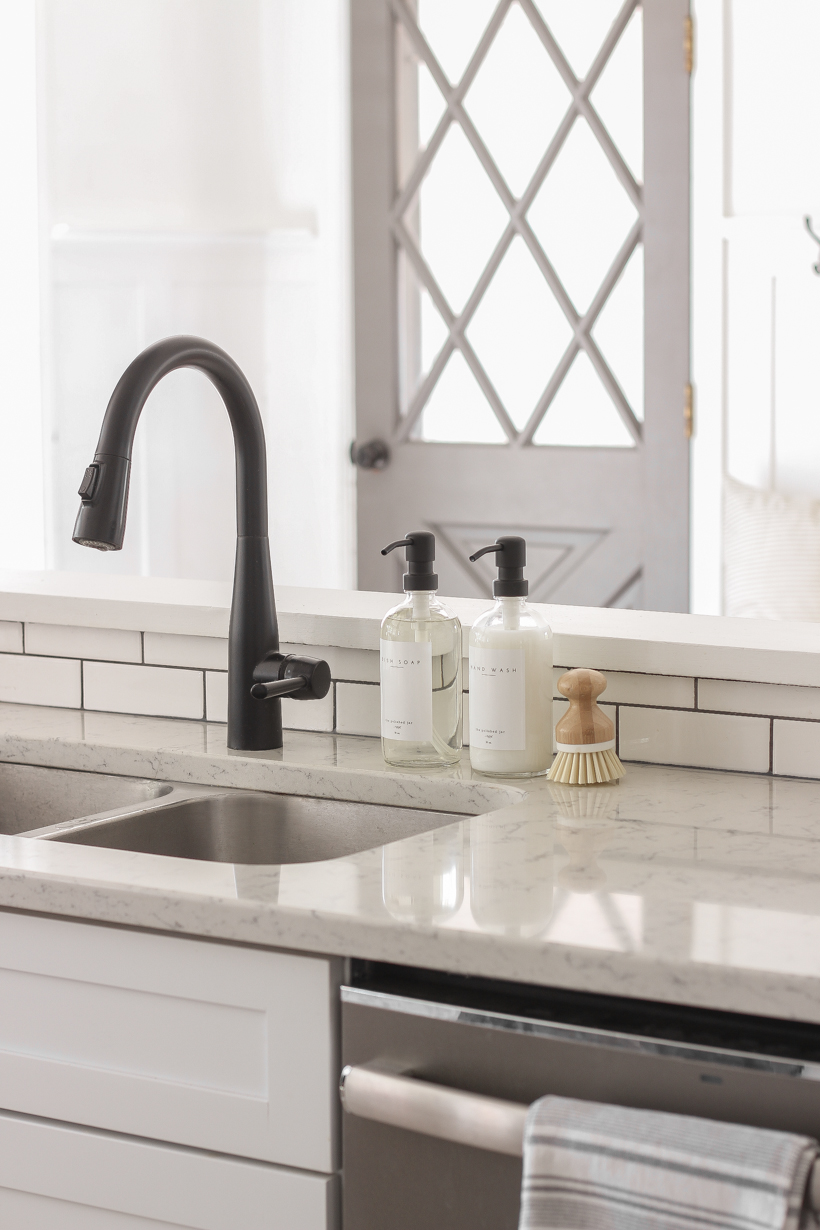 How do you like to style your sinks? Or have you never really given much thought to it? I hope you enjoyed today's post, and I'd love to see photos of your sink spaces on IG! Make sure to tag me @lizlovegrowswild so I can find them!
DISCOUNT CODE
I purchased the soap dispensers for my kitchen and bathroom from a company called The Polished Jar, and just looking at their website alone is inspiration enough to want to tidy and pretty up all your spaces. I went with the signature collection, but all of their label designs are super cute and perfect for both modern and classic styles. They also have customizable labels, monogram labels, bottle trays to hold your dispensers, bottles with triggers sprayers for cleaning products, plastic options for kids' spaces, and more.
You can use the code WILD10 to get 10% off your order now through 5/31/21!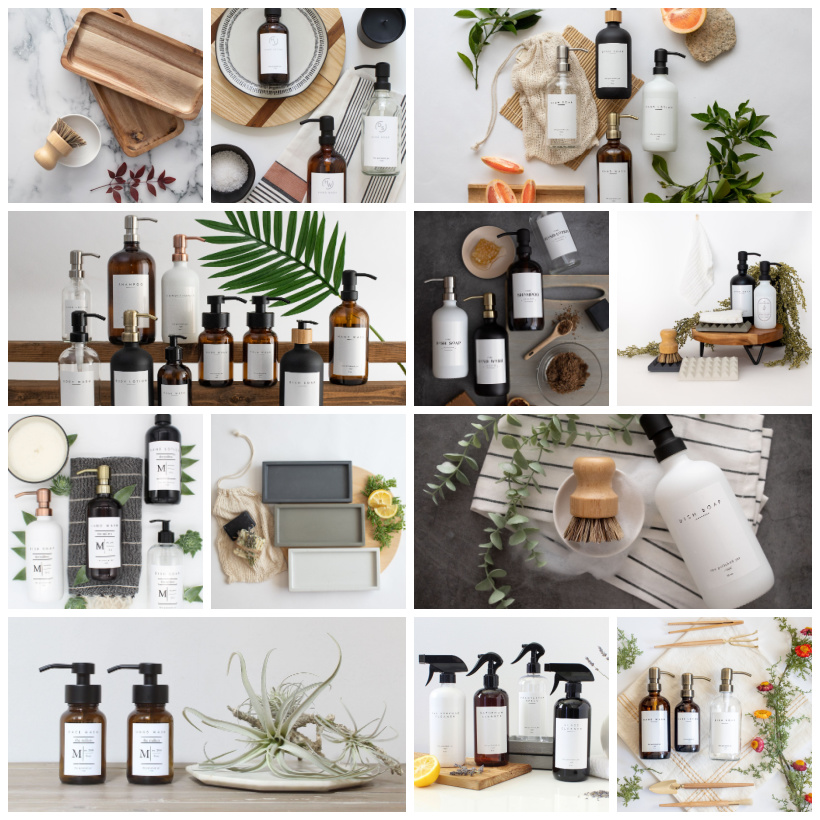 * I wanted to note that this post was not sponsored by The Polished Jar, nor was I gifted any product or discount. I wanted to genuinely share a product and company I discovered and love, and they graciously offered my readers a discount when I reached out to them!
---
MORE SIMPLIFYING HOME BLOG POSTS:
The Best Way to Hang Curtains
Shelf Styling 101
The Easiest Way to Keep your Home Tidy
How to Make Design Mood Boards & Use Them to Decorate Your Home
The Simple Pillow Formula for Your Sofa
Beautiful Books for Styling your Home
and more!
As always, I sincerely appreciate you shopping through the links I share, which allows me to make a small commission from your purchase while your purchase price stays the same. When you use my affiliate links, I'm better able to create content for this blog as well as support my family, and I thank you from the bottom of my heart for supporting what I do!
---
Subscribe to Blog | Follow on Instagram
Follow on Pinterest | Follow on Facebook