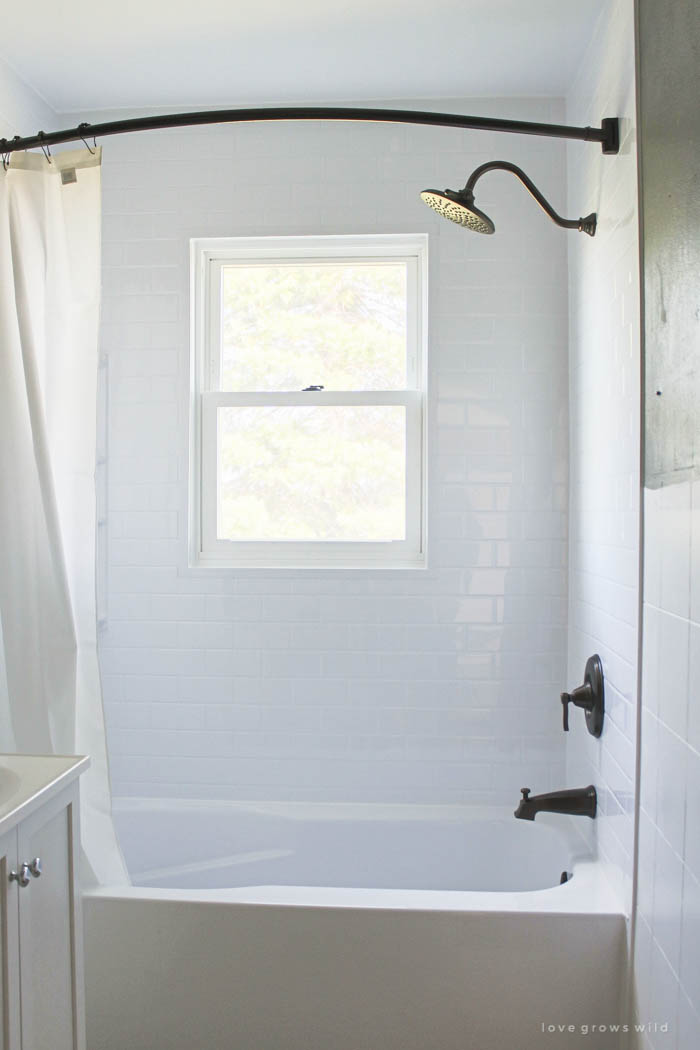 We're giving our bathroom a big makeover! This week our bathtub and shower installation happened… you can catch up on the rest of the bathroom series here! This post is brought to you by our friends at Bath Fitter.
---
This was a pretty big week for the bathroom makeover. Our tub and shower got a COMPLETE overhaul. The Bath Fitter vans pulled in just as we got the boys on the school bus, and the rest of the day I pretty much sat in my office, caught up on blog work, and let the installer do his thing.
As soon as they stepped foot into the house, a blue carpet was laid all the way back to the bathroom so they weren't tracking things in and out of the house, which was much appreciated. I said it in last week's post about our consultation appointment, and I'll say it again now: it truly is the little details like this that make a company really stand out from the rest.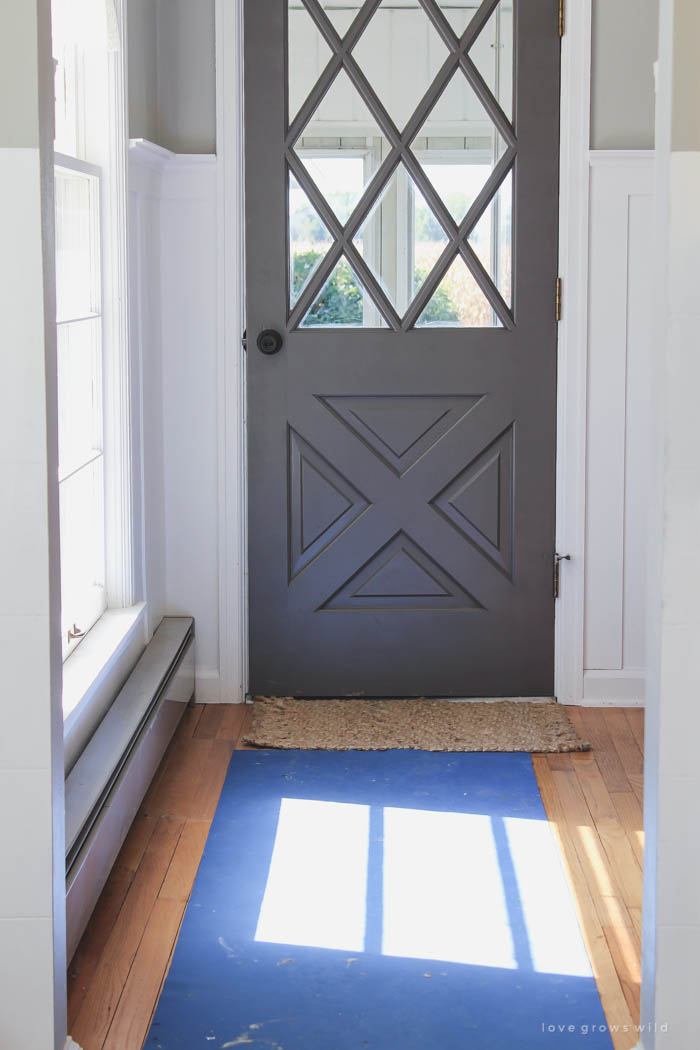 So just as a reminder, this is what our tub and shower looked like before: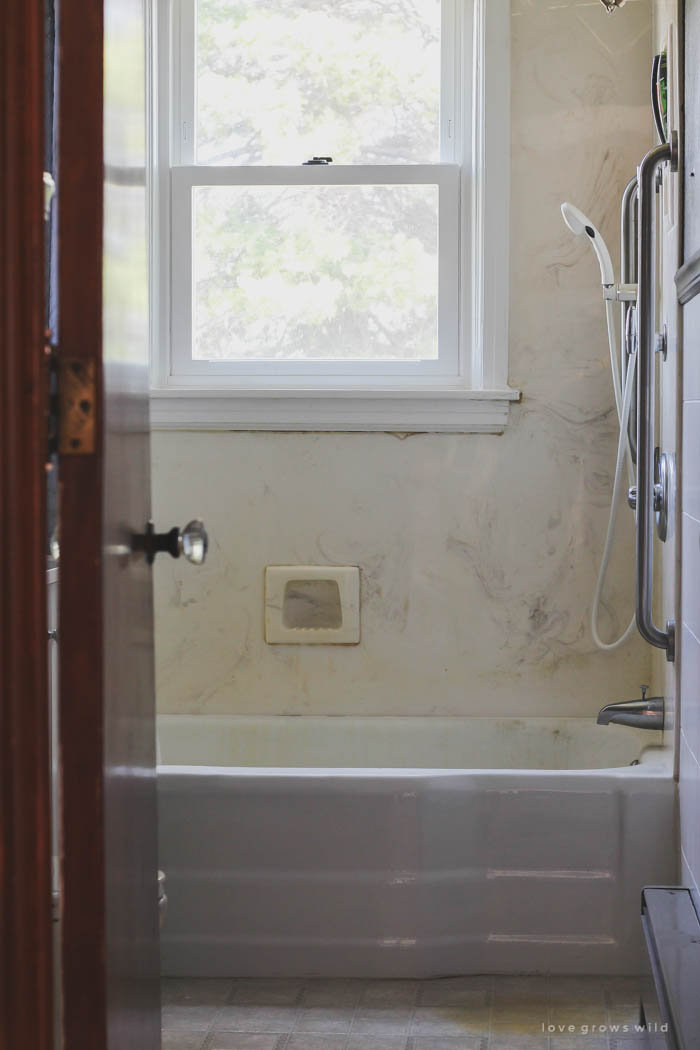 The installer got to work prepping the space for our new tub, and the plumber worked on… well, the plumbing. Another thing that I really like about using Bath Fitter is that all the work is done by their own employees. They don't contract out the plumbing or other aspects of the job, which gives them full control over the quality of their service. Have you ever done a renovation project that required 2, 3, or 4 different companies to get the job finished? It's not fun, and often times the project suffers because of it.
Once the plumbing and wall prep work was finished, our installer brought in the tub, which was custom made to fit our bathroom like a glove. After that, it was time for the shower walls to go up. This was the part I kind of geeked out over! Bath Fitter uses a unique one-piece unit with seamless corners, which guarantees a watertight fit. The wall starts off as a big, flat sheet of acrylic, and the installer uses a long heater to carefully create a bend where each corner goes.
As the acrylic cools, it holds the shape of the new wall surround. I LOVE that there are no seams where water can seep through!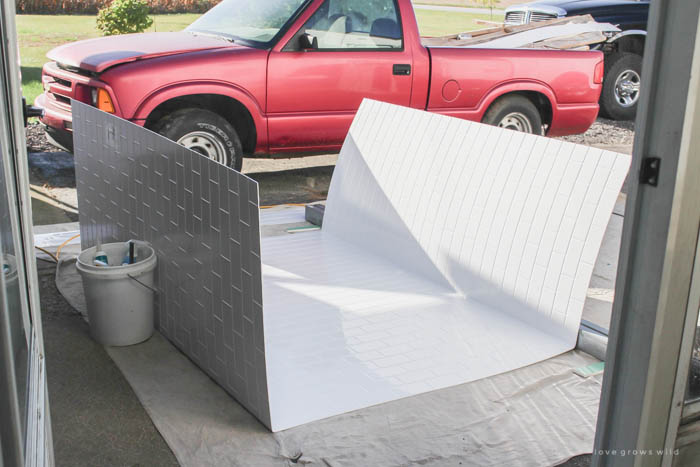 And um… do you see that subway tile pattern?? Swoon… for sure.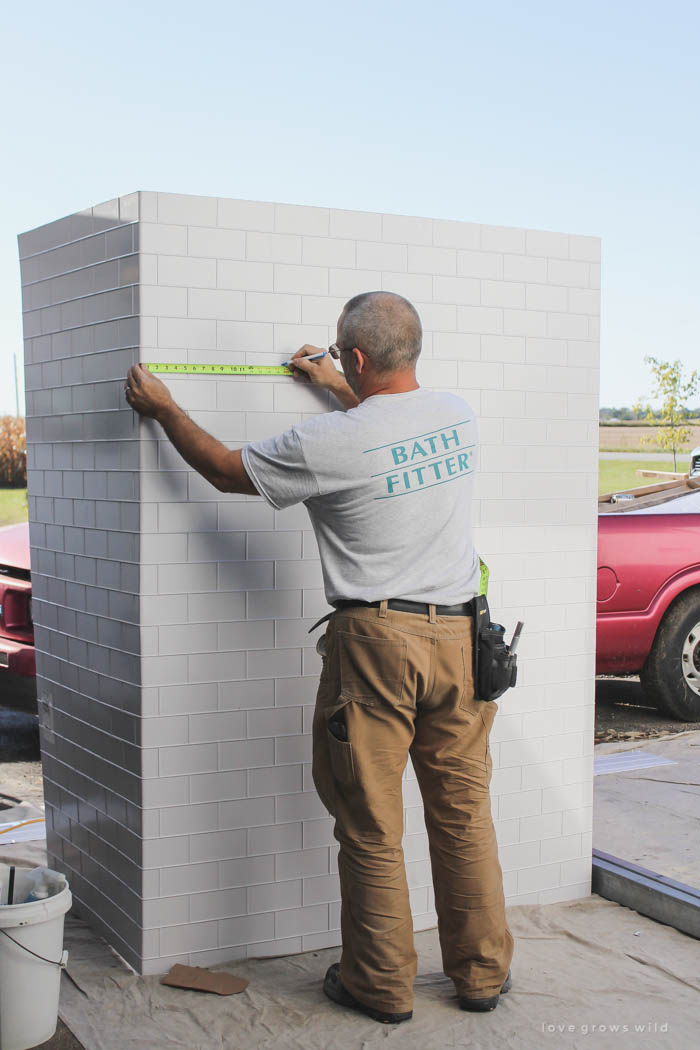 After the boys got home from school, they thought this was a pretty interesting process to watch and cheered him on as he finished each step. My 9 year old must have been feeling very inspired and poetic that day, because he told the installer more than once, "Sir, you do your job so well that it makes Van Gogh look like he doesn't even know how to paint a sunflower." It gave us a good chuckle, for sure!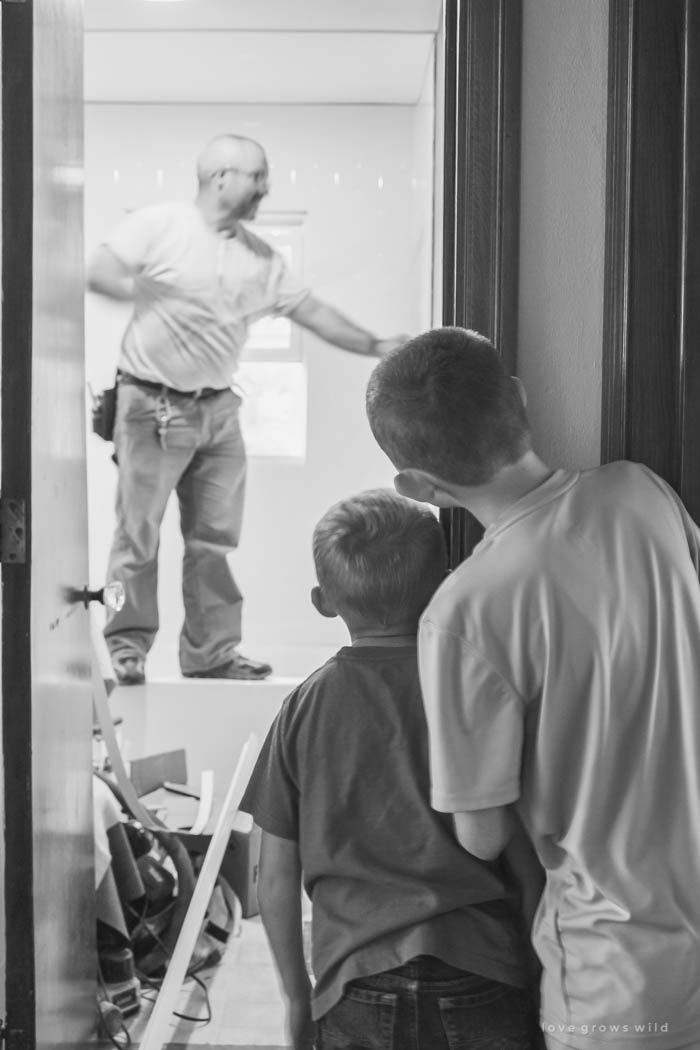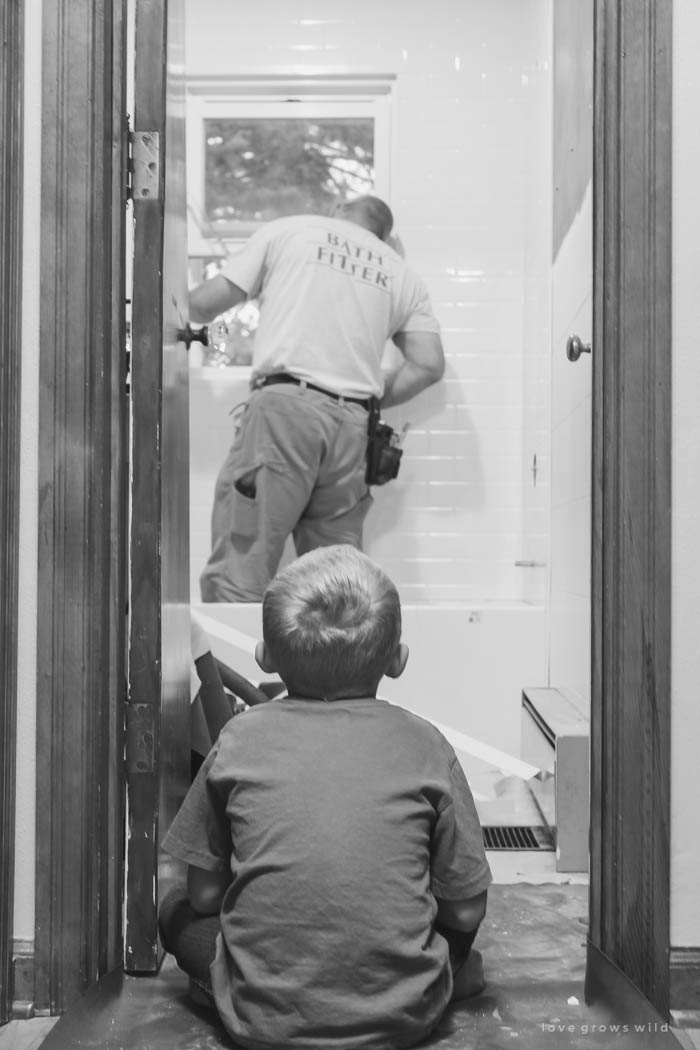 Once the tub and walls were in, trim was added around the window and walls to give a nice finished edge. We had an old wood frame window in here before, and I was so excited to see the new vinyl window go in with the shower trim sealing tightly around it. No more rotting wood, no more caulking and painting constantly… this is so much better!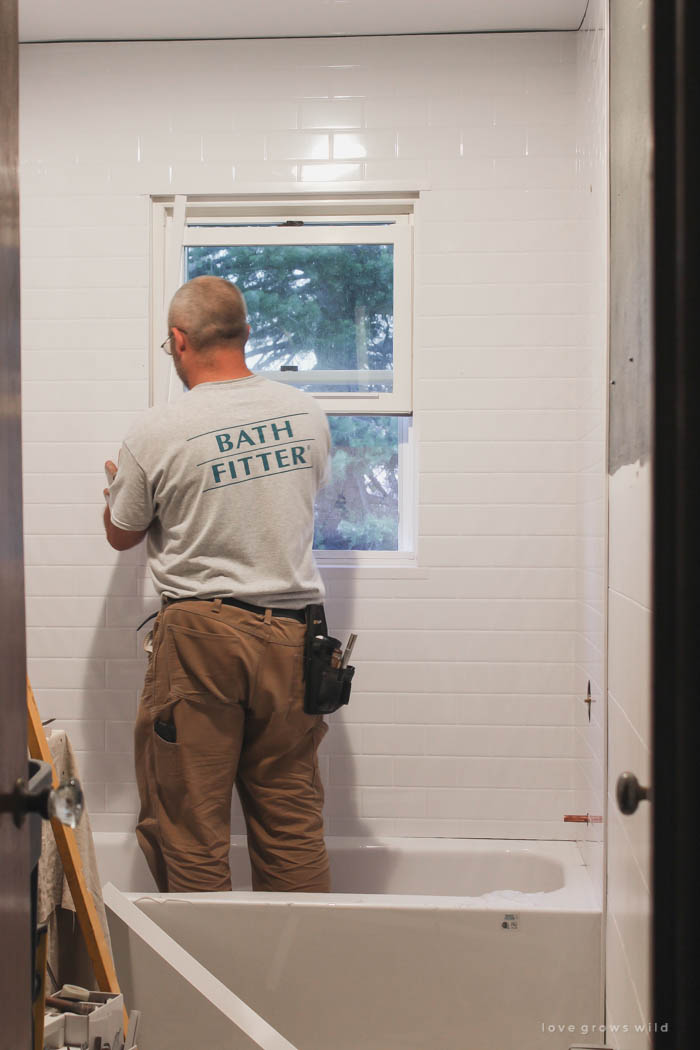 Then the gorgeous oil-rubbed bronze fixtures we picked out in the design meeting were installed.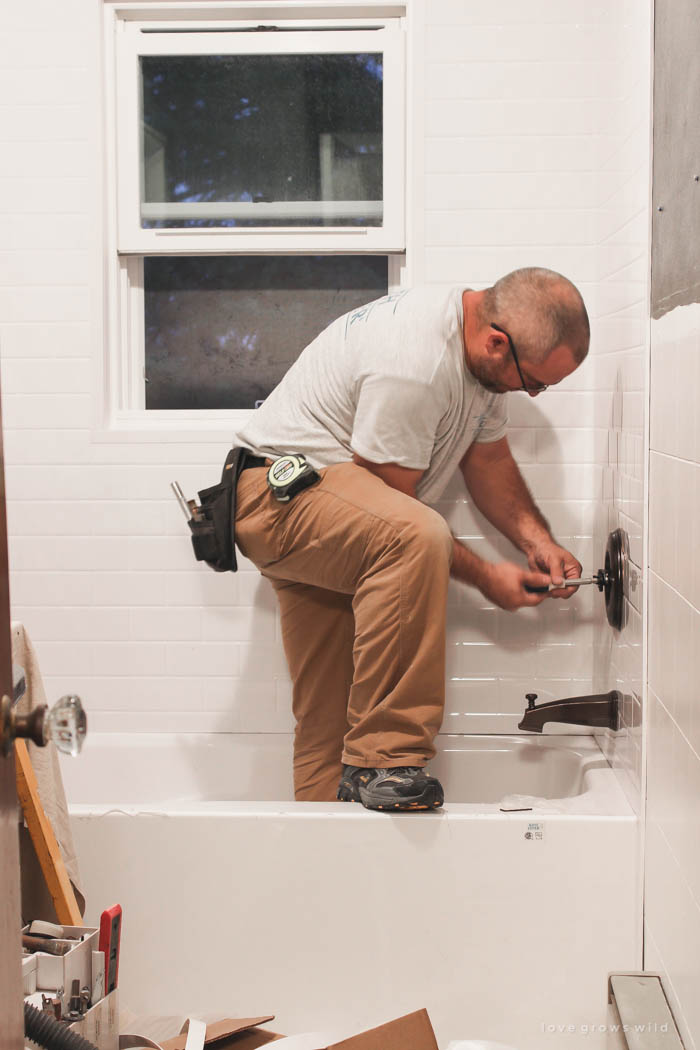 Is this really the same bathroom??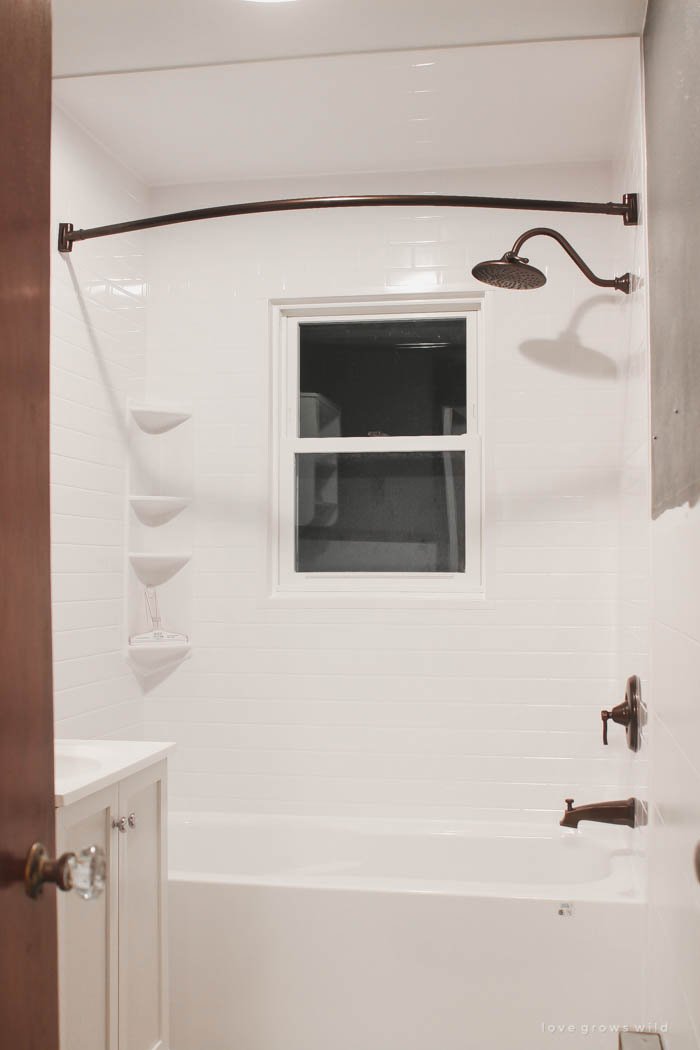 The final papers were signed, and the entire bathroom was cleaned before he left. This is probably a small detail to some, but being a DIY'er, I know how hard it is to get caulk lines that don't look like a 5 year old did them. His were all PERFECT, and I made sure he knew how much I appreciated that. I think we made him blush more than once that day.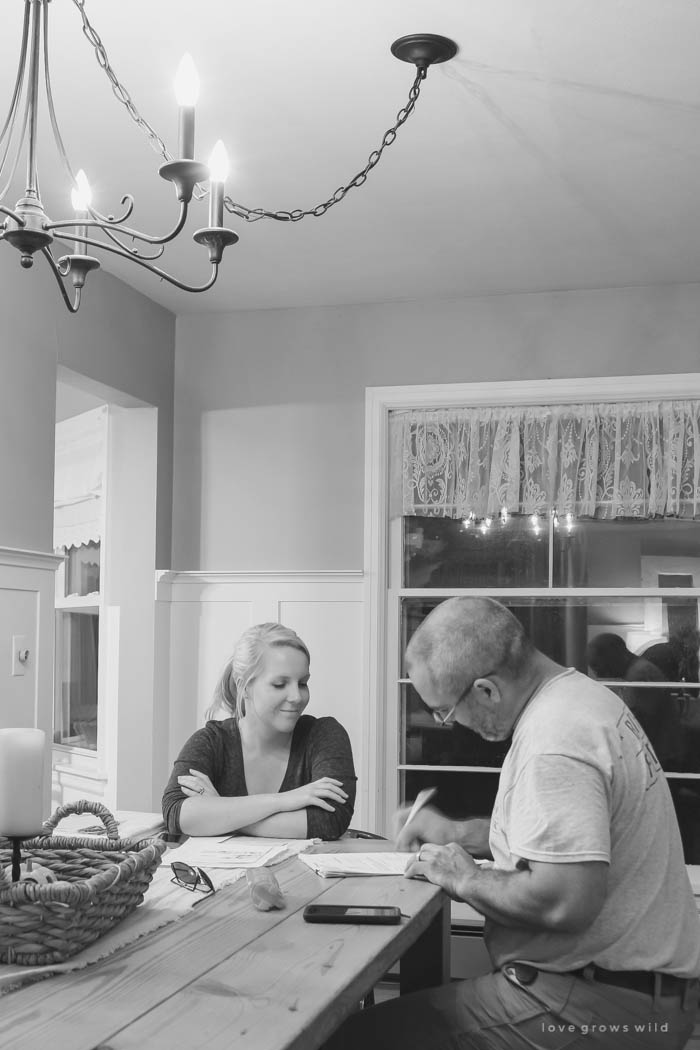 The subway tile pattern is exactly what I was looking for, and the tub is really spacious. I love the contrast of the dark oil-rubbed bronze against the bright white backdrop. The acrylic is so shiny and easy to clean, and the big corner shelf they installed in the back of the shower holds all of our soaps and shampoos perfectly.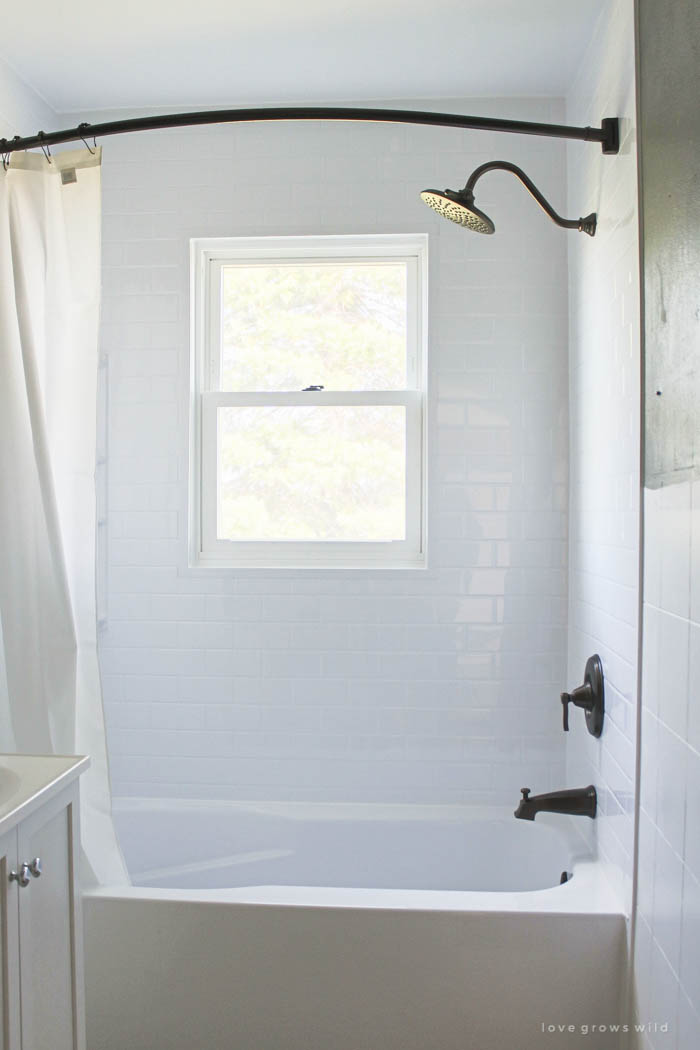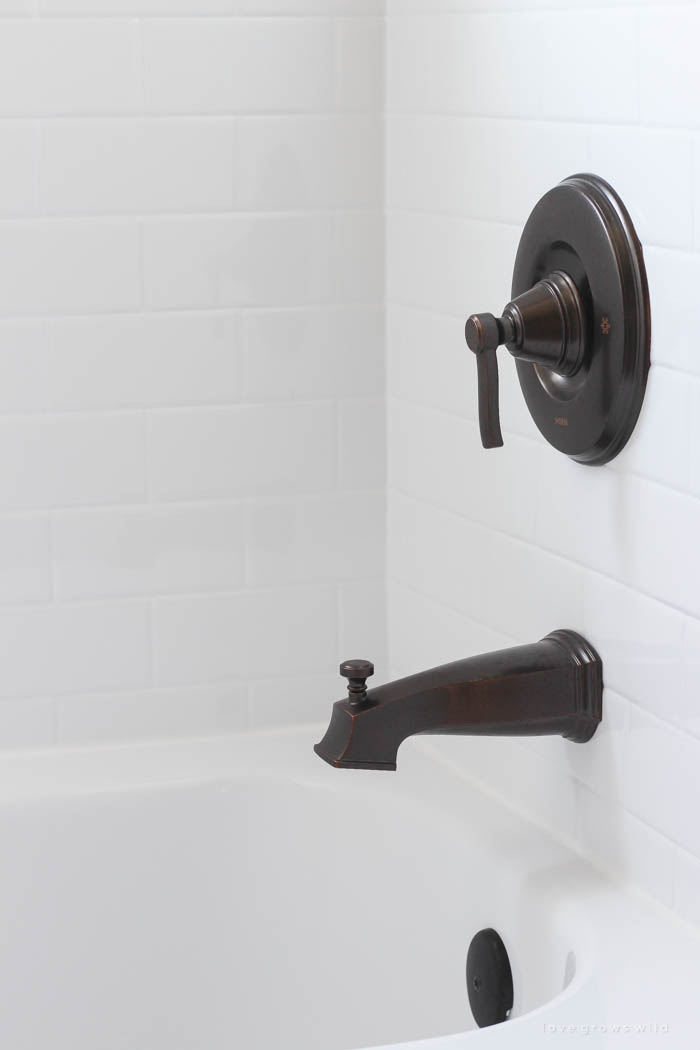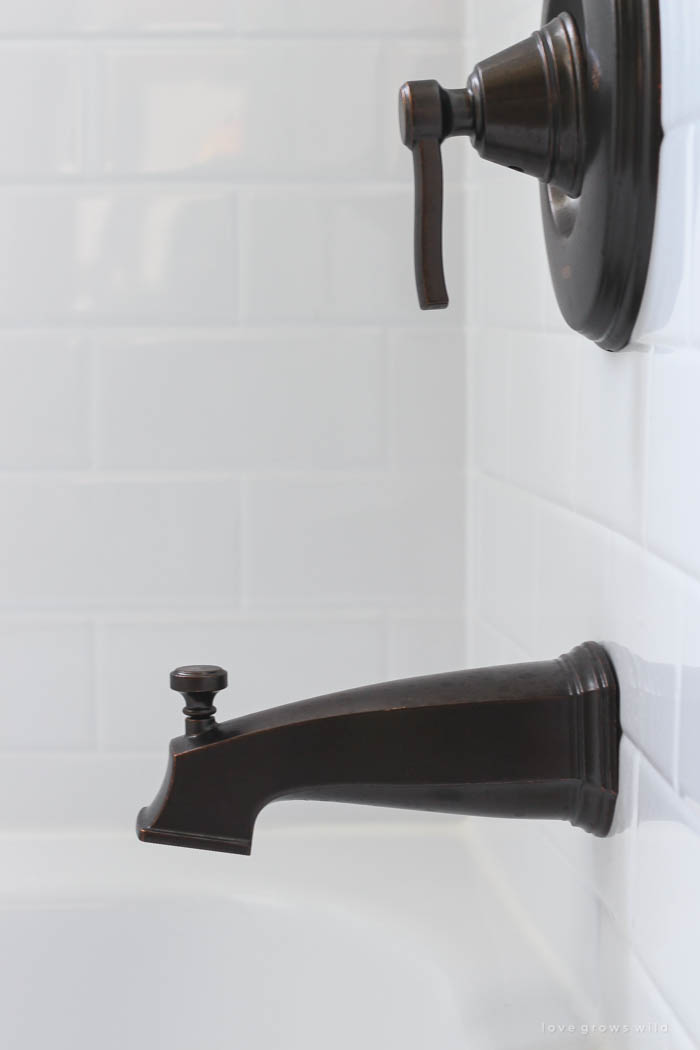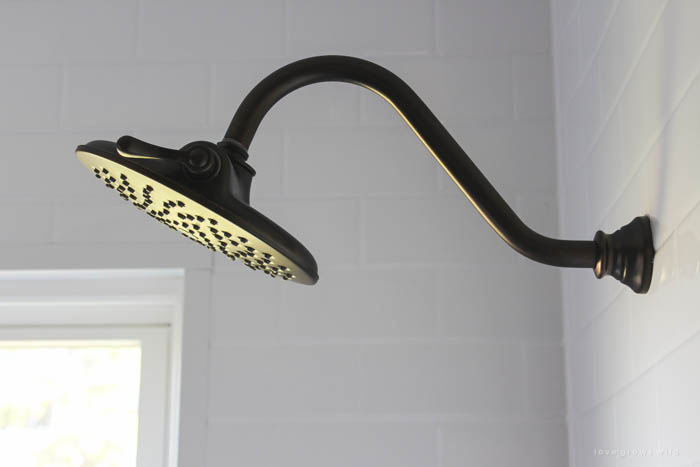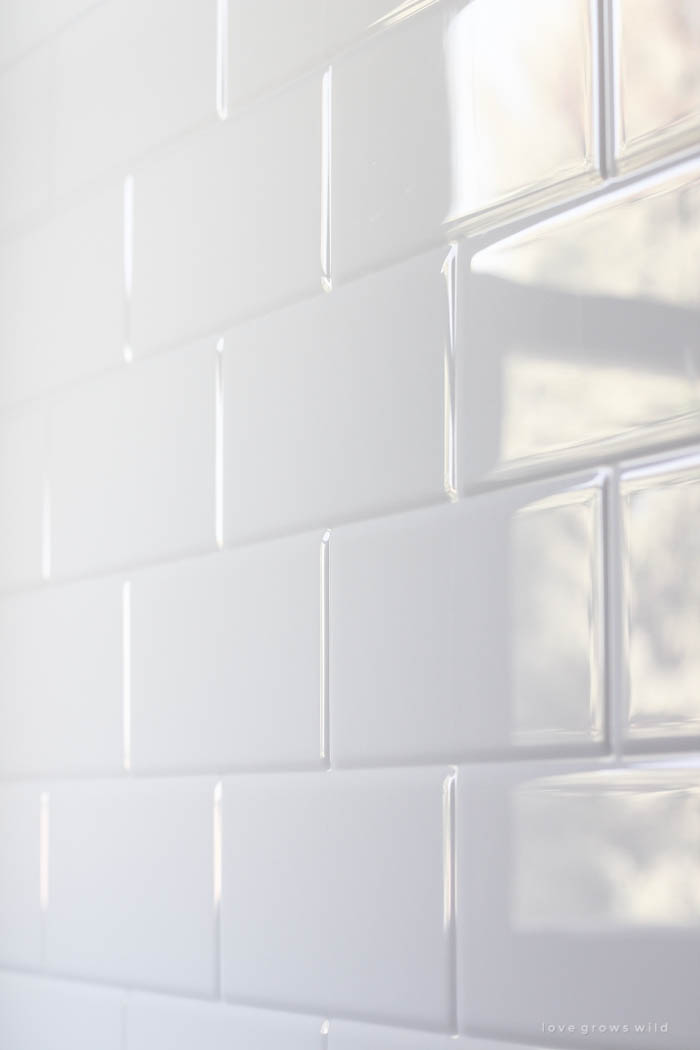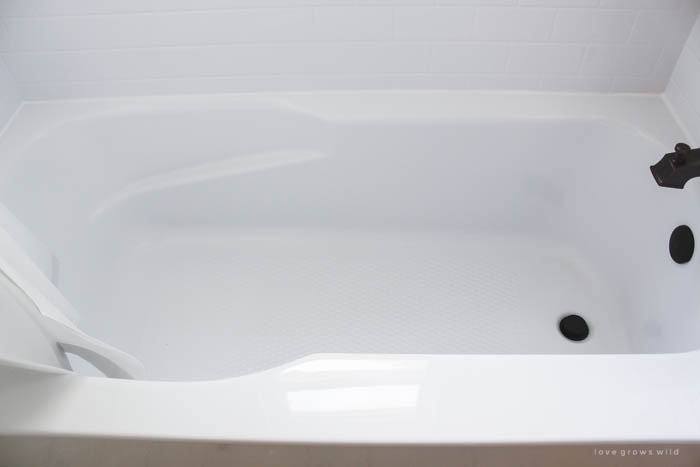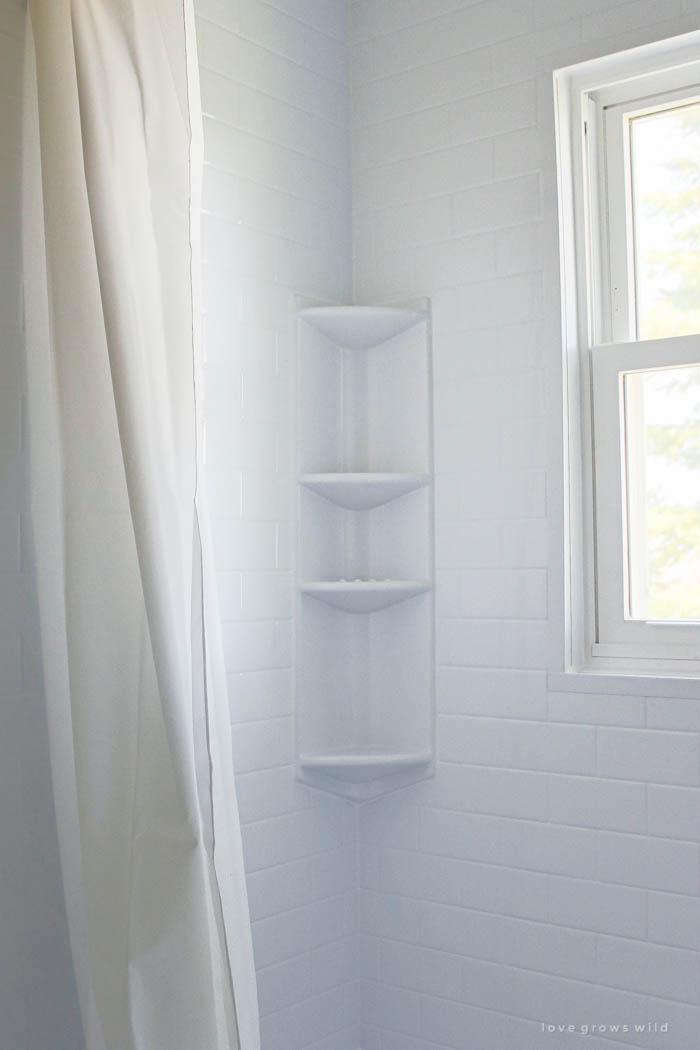 Our installation was scheduled for the day before our youngest son, Wyatt's, birthday, and we joked with him that his gift this year was a new bathtub. He couldn't wait to take his first bubble bath in here! We've only had a few showers in here so far, but I am beyond thrilled with the results. It looks amazing, feels so clean and fresh, and is better than I even could have imagined. Next week, we tackle the floors in here, so stay tuned for the next bathroom update! If you're interested in a Bath Fitter installation in YOUR home, click here or call (888) 673-3458 to schedule a consultation. You'll be very happy you did!
---
LET'S KEEP IN TOUCH!
---
Subscribe to Blog | Browse my Shop | Follow on Facebook | Follow on Twitter
Follow on Google+ | Follow on Pinterest | Follow on Instagram
This post is sponsored by Bath Fitter, but all thoughts and opinions are 100% my own. Thank you for supporting the brands that make this blog possible!