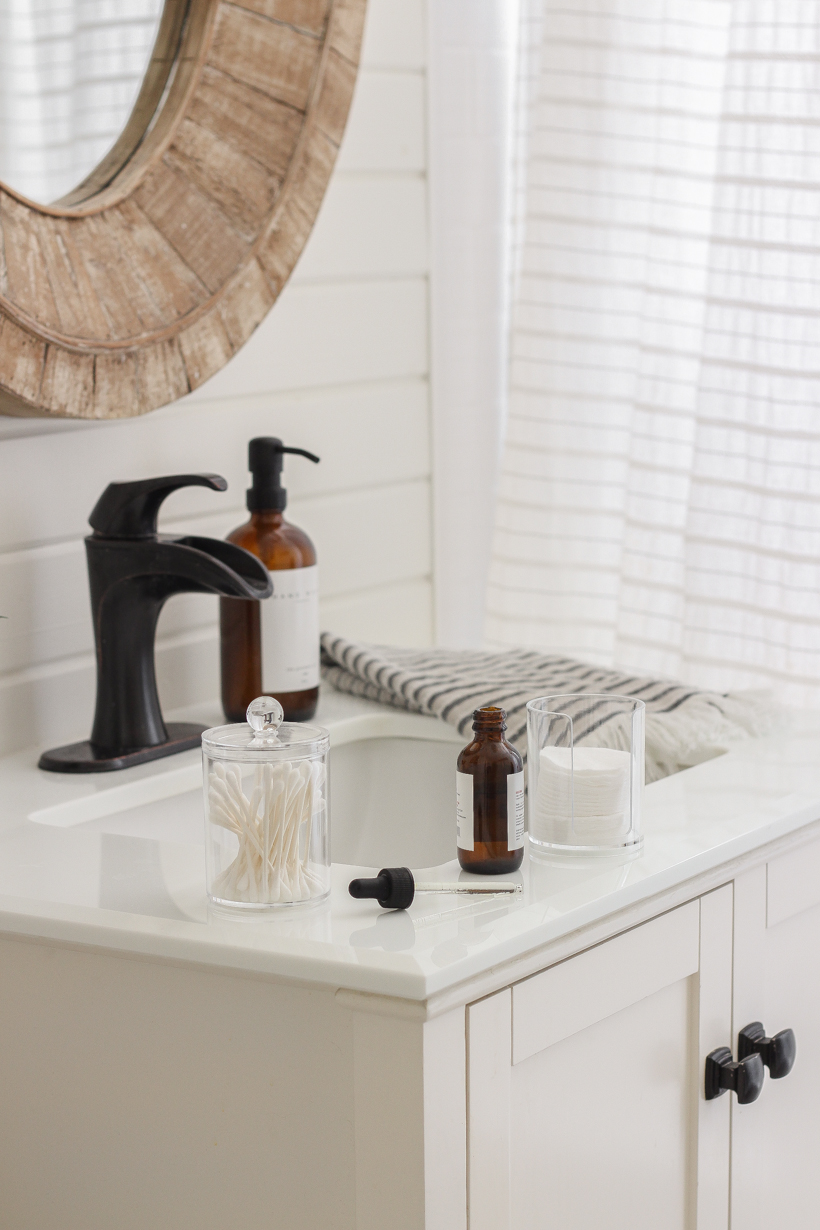 It's been a hectic few weeks here, which is a lot of the reason new posts have been slim this month. But several projects have been happening behind-the-scenes, and I'm excited to finally catch you up on everything!
One big project I wanted to tackle this month is organizing my disaster of a bathroom closet. We are a one-bathroom house, and it's not a very large one for all of us to share. I do have a nice big closet in the bathroom though, and over the years I've made a few mediocre attempts at organizing it. This closet was due for a major overhaul, and I've spent the last week painting, purging, and purchasing organizers to whip this space into shape.
… ready for a super satisfying before and after?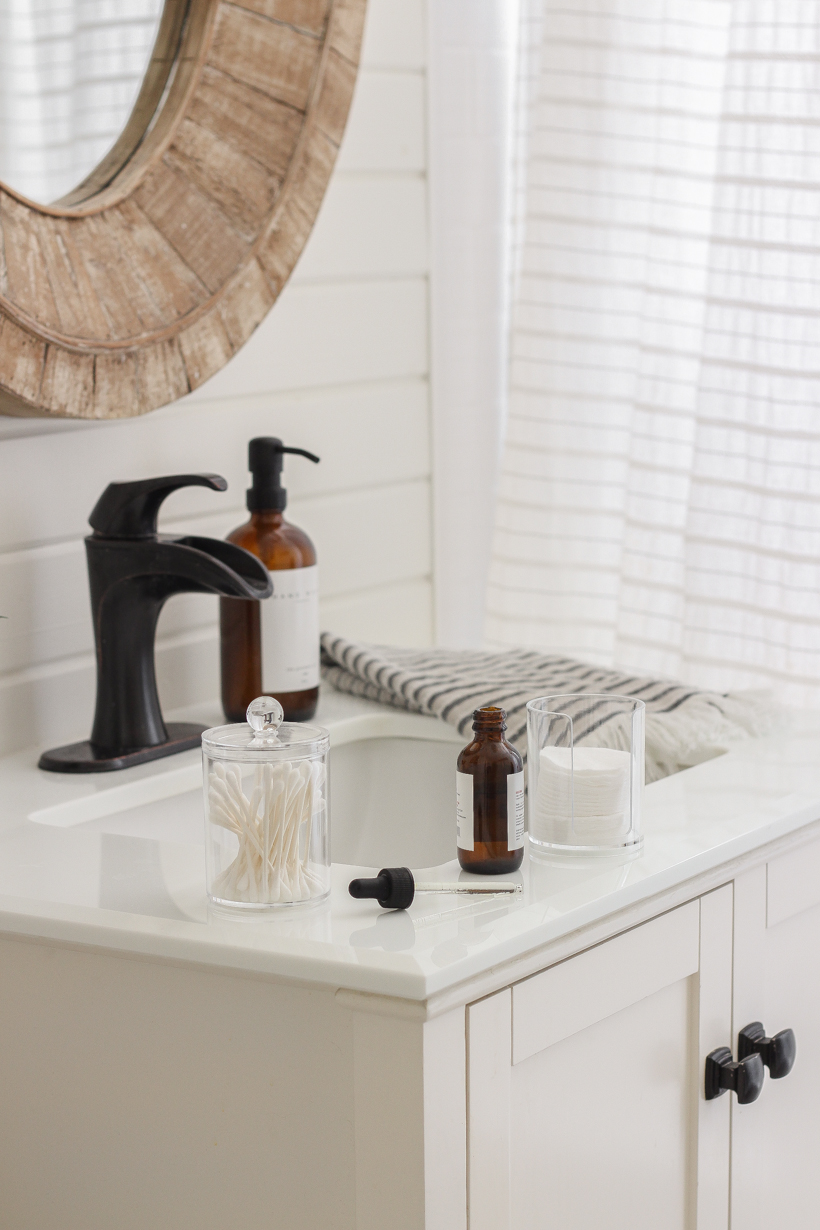 Our bathroom closet BEFORE…

Our bathroom closet AFTER…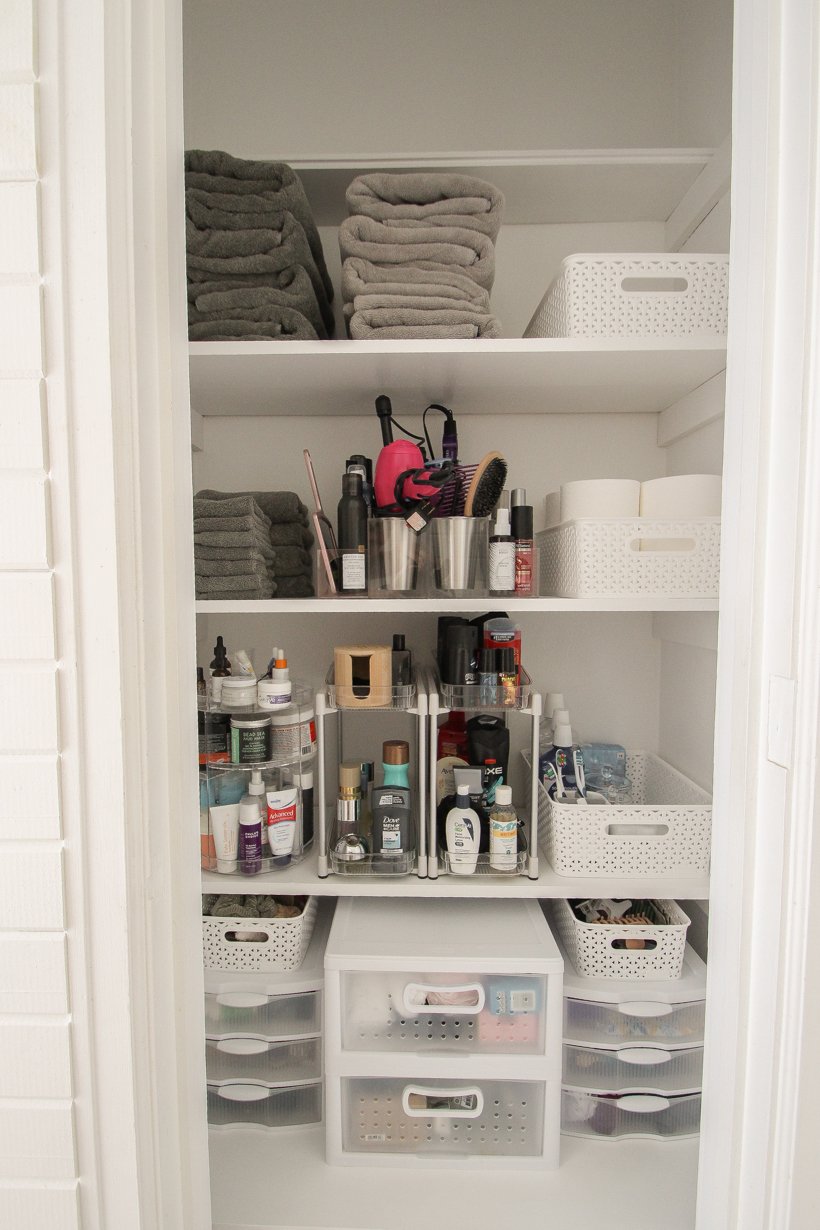 Huge improvement, right? Here is a video of the closet makeover & all the organizers I used (sometimes videos do better justice than photos!), and below I will go into more detail on what I did and where I found everything:
---
SHOP BATHROOM ORGANIZATION:

hair tool organizer | 360 rotating cosmetic organizer | 2-tier organizer with pull-out shelves
bath towel set | 3 piece apothecary jar set | toothbrush holder
silicone heat resistant hair tool mat | 3 drawer organizer | large stackable drawer
white plastic storage bins | reusable makeup removing pads with bamboo holder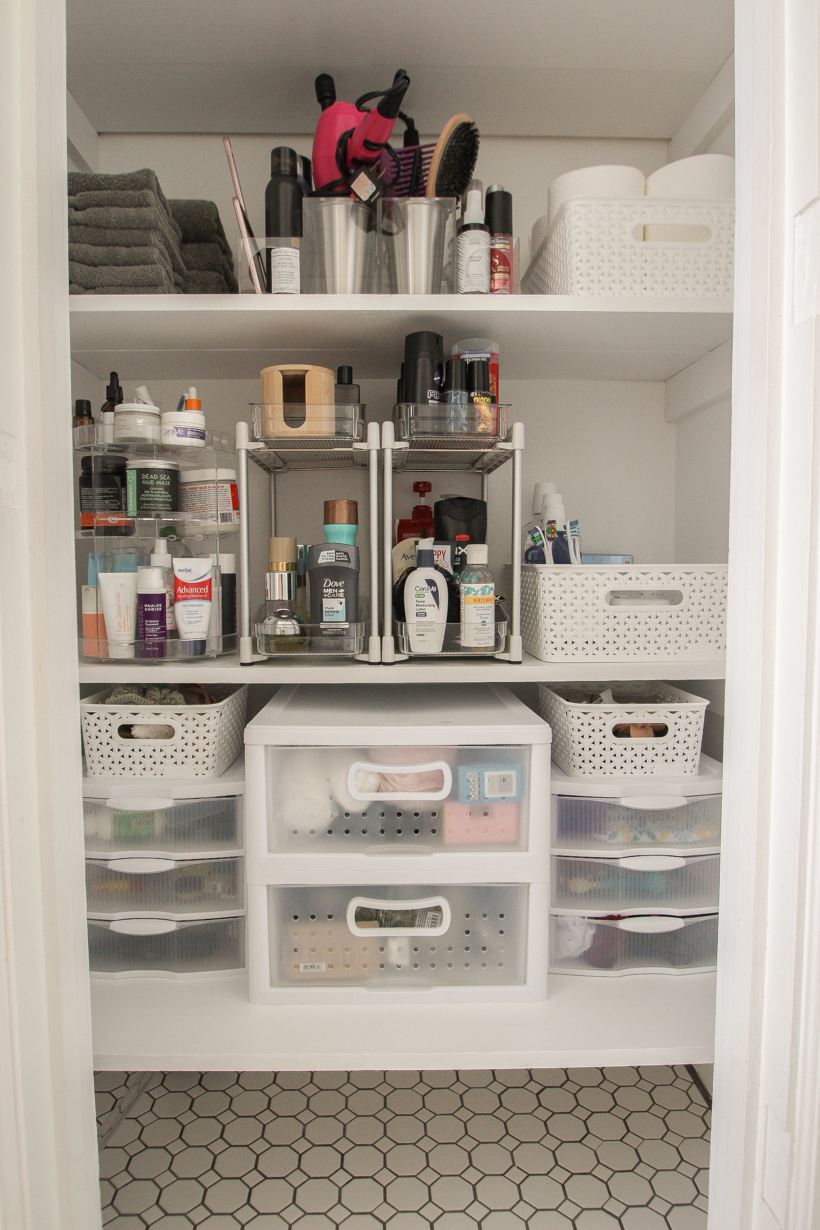 I tackled this project using the same method I used for our pantry makeover:
empty the entire closet – get rid of anything you don't use or need
clean & repaint walls & shelves
categorize everything you want to keep
find storage containers to make the best use of your space
Since this is a bathroom closet that tends to trap a lot of moisture towards the ceiling, I wiped all the walls down really well with diluted bleach and used a mold and mildew-proof interior paint.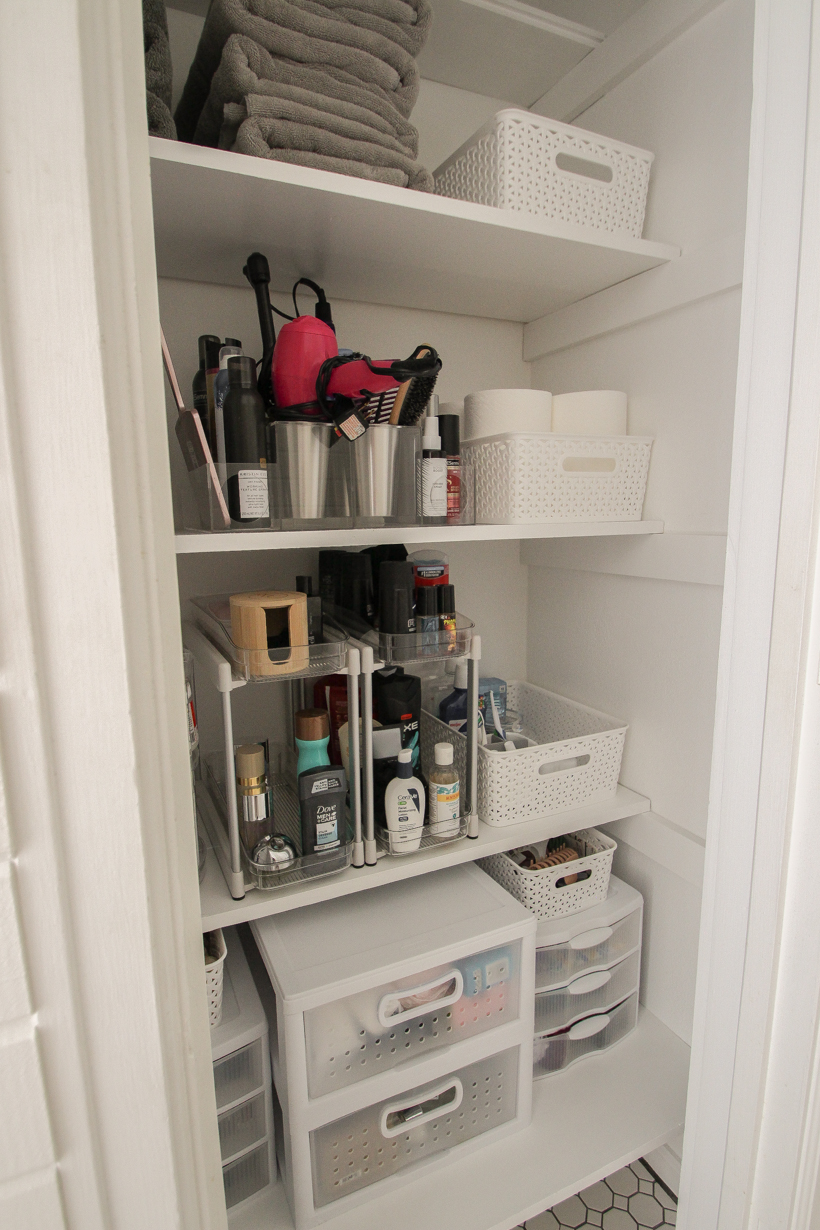 I tried to find organizers that maximized both the height and depth of each shelf, starting with simple white/clear storage drawers on the bottom shelf. I wanted to keep drawers on the lower half of the closet to easily see inside them, and I was able to fit:
nail products – nail files, polish, nail trimmers, cuticle oil
stuff for "eyes" – glasses, contact case, extra boxes of contacts, contact solution, eye drops
stuff for "mouth" – extra toothpaste, floss, lip balm/scrub, bands for braces, retainer case, teeth whitening strips
feminine products
extra razor blades
hair accessories
sunscreen, bug spray, body lotion
On the next shelf up I added:
a 360 degree rotating cosmetic organizer for all my skin care: moisturizers, toners, serums, masks, makeup remover, etc.
two 2-tier organizers with pull-out shelves, one for me & one for the boys' deodorant, cologne, skin care, etc.
a large white plastic bin for bottles of mouthwash, a toothbrush holder, my retainer cleaning cup, and clear jars that hold q-tips and retainer cleaning tablets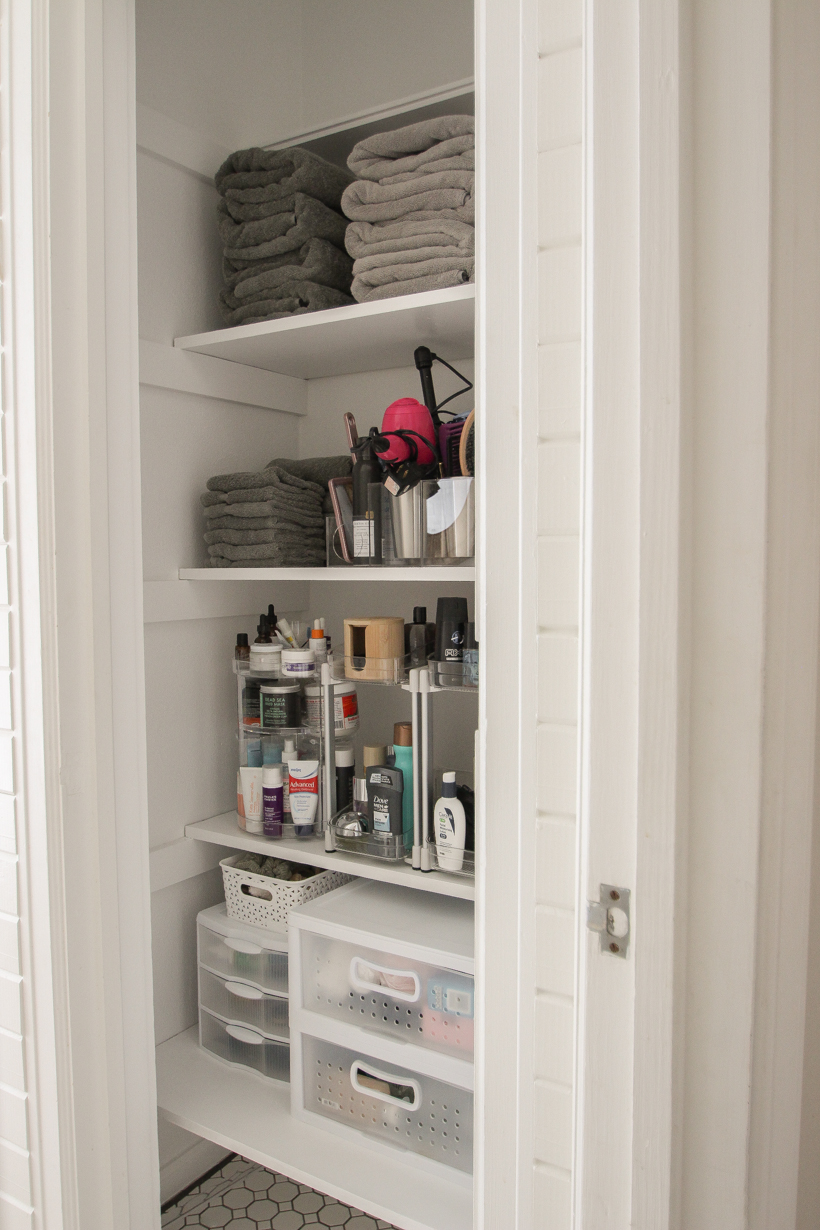 The next two shelves have:
I'm still working on staining a beautiful oak bifold door to hang in the closet and keep everything hidden, but already this closet organization has made SUCH a difference in the way our bathroom functions. I don't know why I waited so long to do this!
---
READER POLL:
How many bathrooms do you have in your home, and currently how organized are they?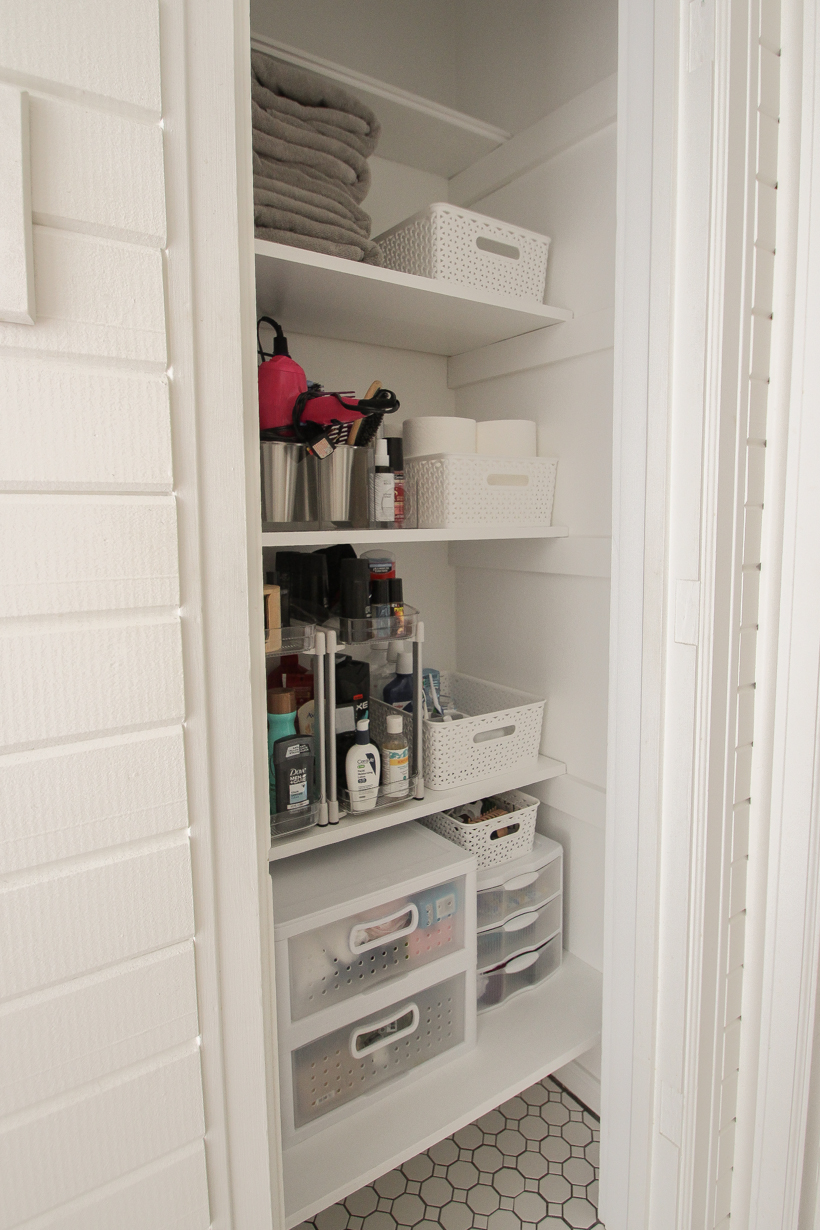 As always, I sincerely appreciate you shopping through the links I share, which allows me to make a small commission from your purchase while your purchase price stays the same. When you use my affiliate links, I'm better able to create content for this blog as well as support my family, and I thank you from the bottom of my heart for supporting what I do!
---
Join our Community | Follow on Instagram
Follow on Pinterest | Follow on Facebook