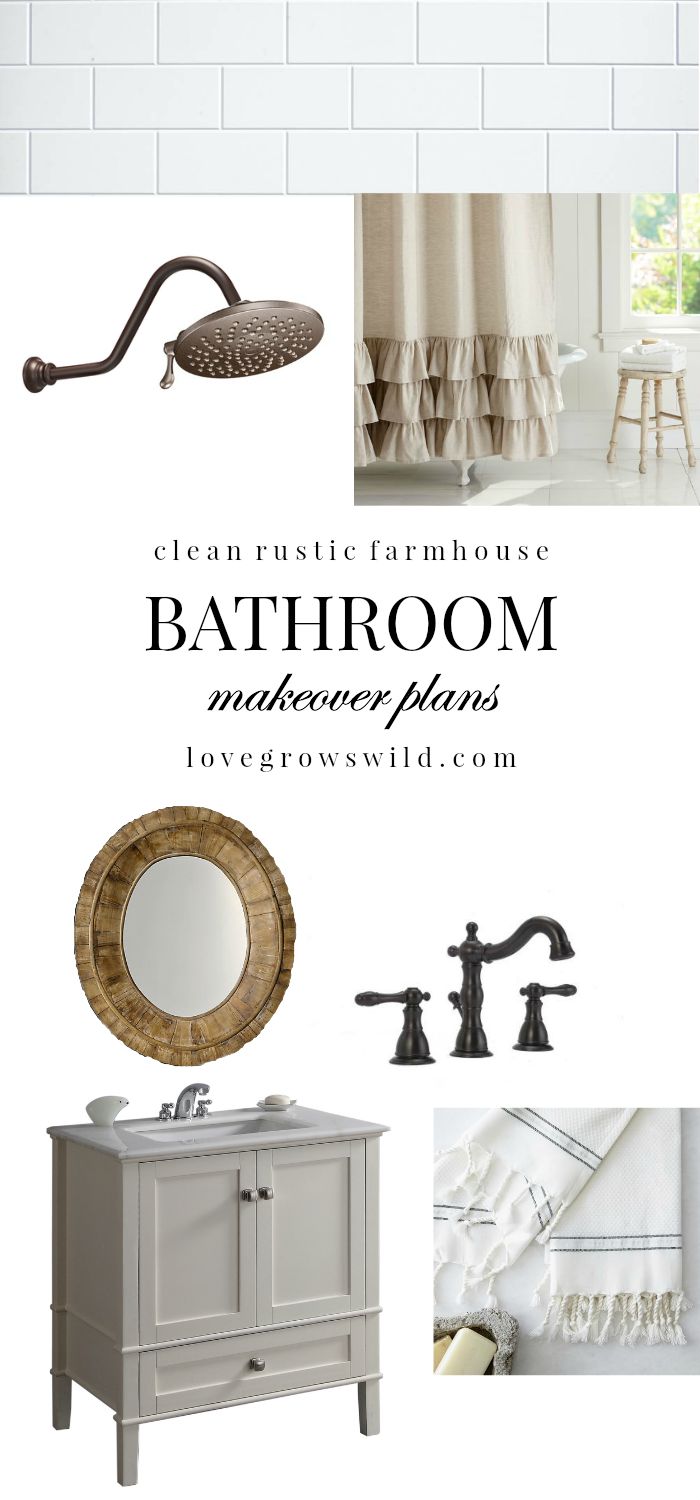 See our plans for transforming this dated, disgusting bathroom into a clean, beautiful space with a touch of farmhouse charm!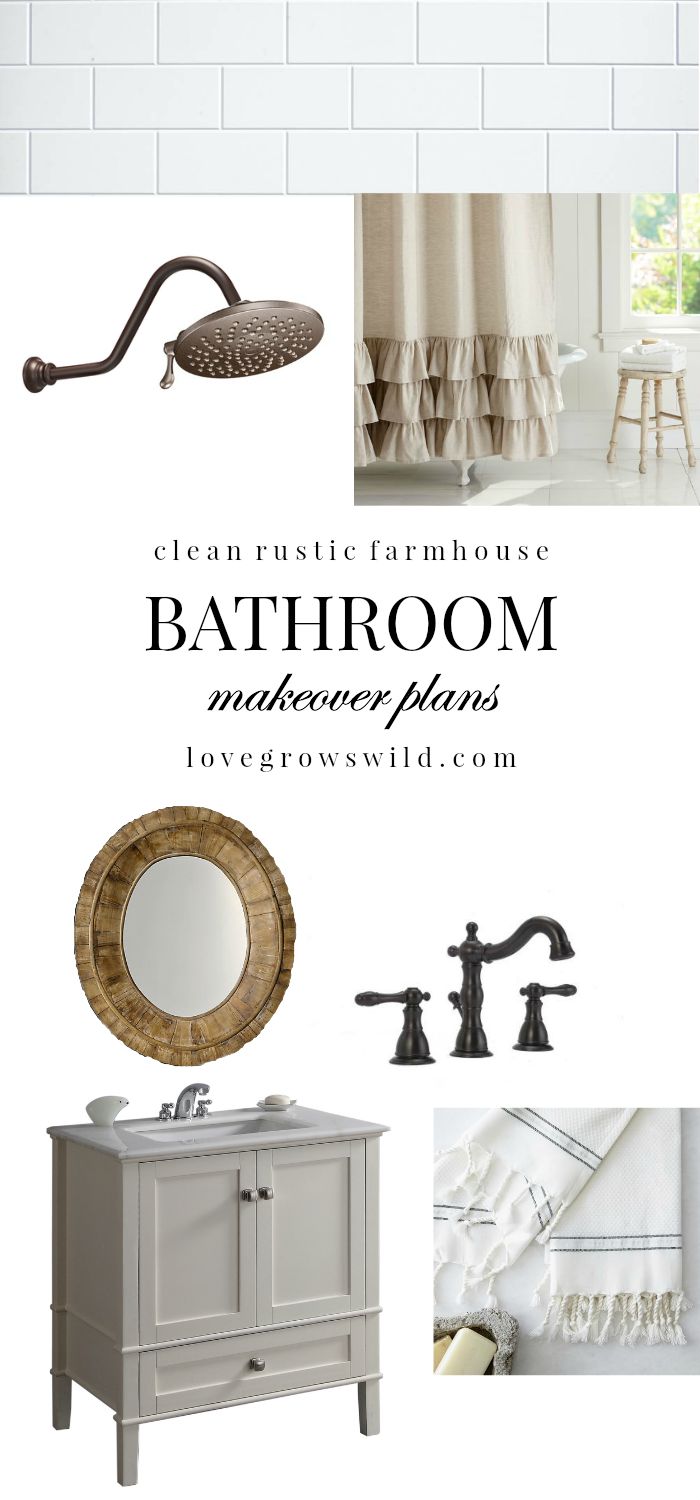 Wait a minute… a bathroom makeover?? Aren't we in the middle of a master bedroom makeover?
Why yes, friends… we are! The truth is that I'm in the middle of a whole bunch of projects going on behind-the-scenes right now, and while we're about 75% finished with the master bedroom, we've also been planning a bathroom renovation for the last few months, and the time has come to get started on it. So I'm pressing a very temporary pause button on the bedroom projects and switching gears over to bathroom mode, but I promise you'll see the finished bedroom soon!
So how did this bathroom reno come about? Well, earlier this summer I was outside staining some planters for our front porch makeover, and I got a call from the lovely folks at Bath Fitter. They were interested in working together on a bathtub makeover (their speciality), and knowing the state of our current tub, I was definitely intrigued. We have one bathroom in our house, you guys… ONE little bathroom. Four people, one toilet, one bathtub. And not only is there just one tub in our house, but it is in terrible condition. The finish has eroded in places, which makes it look dirty and gross no matter how much I scrub that thing.
As plans continued to fix our bathtub issues (more on that next week), Jeremy and I started to take a look at the rest of our tiny bathroom. The cheap vanity hasn't taken well to the moisture in the bathroom and has water damage spots all over it. We have a window in our shower (which seems to be a trend in the old farmhouses we've lived in) that is falling to pieces. Wood windows and wood trim do not mix well with water… just saying. The gray flooring is old and gross and has a HUGE yellow stain by the bathtub. It was there before we moved in, and my only solution so far has been to halfway cover it up with a bathmat.
Now I'm not saying that our bathroom is the ugliest bathroom in America or anything… we don't have a pink toilet or avocado green tile, but it's definitely not our style. The walls were already painted gray and white with black accents around the room before we moved in, and I think because there were so many other rooms that needed our immediate attention three years ago, we just completely forgot about the bathroom. I think it's time for a little upgrade to the ONLY bathroom we have in this house, don't you?
Jeremy and I planned out our budget and project list, and over the next two months(ish) you'll see a complete transformation of this space. My goal is to share a bathroom update with you once a week, and rather than waiting until I have a big, pretty bathroom DIY project to share with you, I'm going to give you a weekly play-by-play of our progress. Bathrooms aren't cheap or easy to renovate, so I really wanted to let you guys see each step of the makeover vs. just the pretty Pinterest-worthy ones. I am SO ready to tackle this room! But I suppose I can't dive in without first showing you how our gross, old bathroom looked "before"…
Sigh… I can't believe I'm about to share my toilet with the world… haha!
Welcome to our bathroom: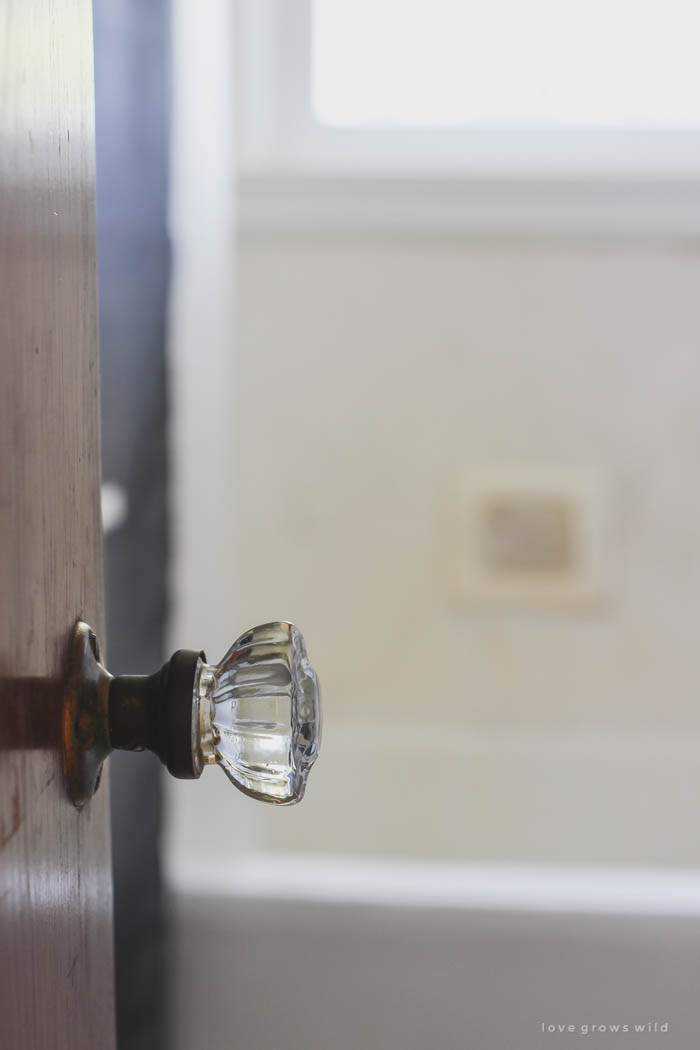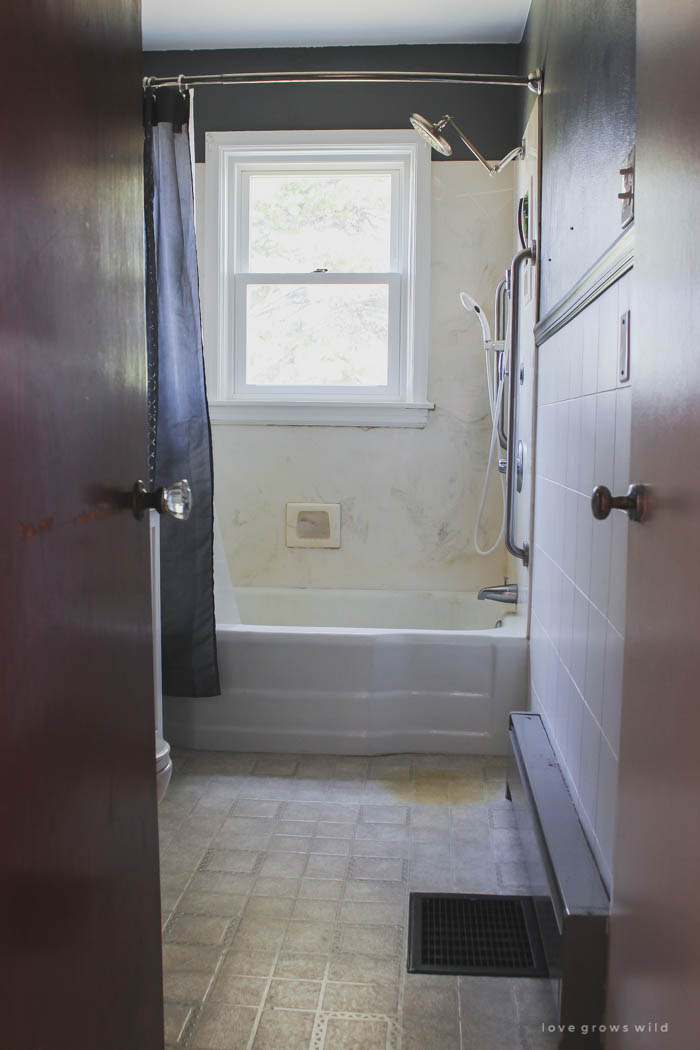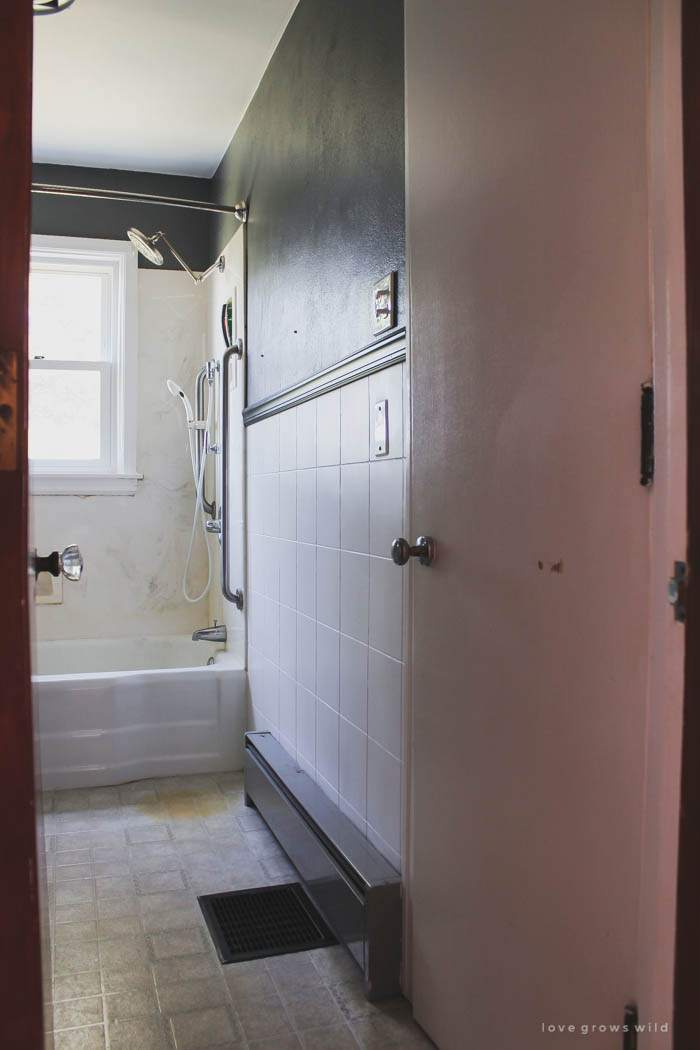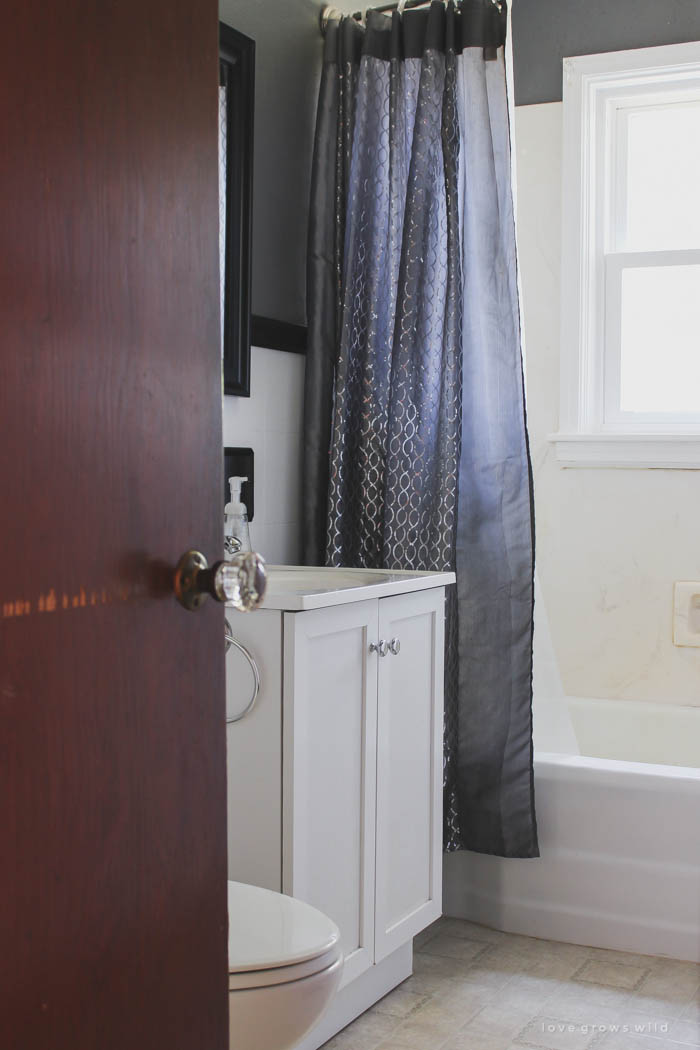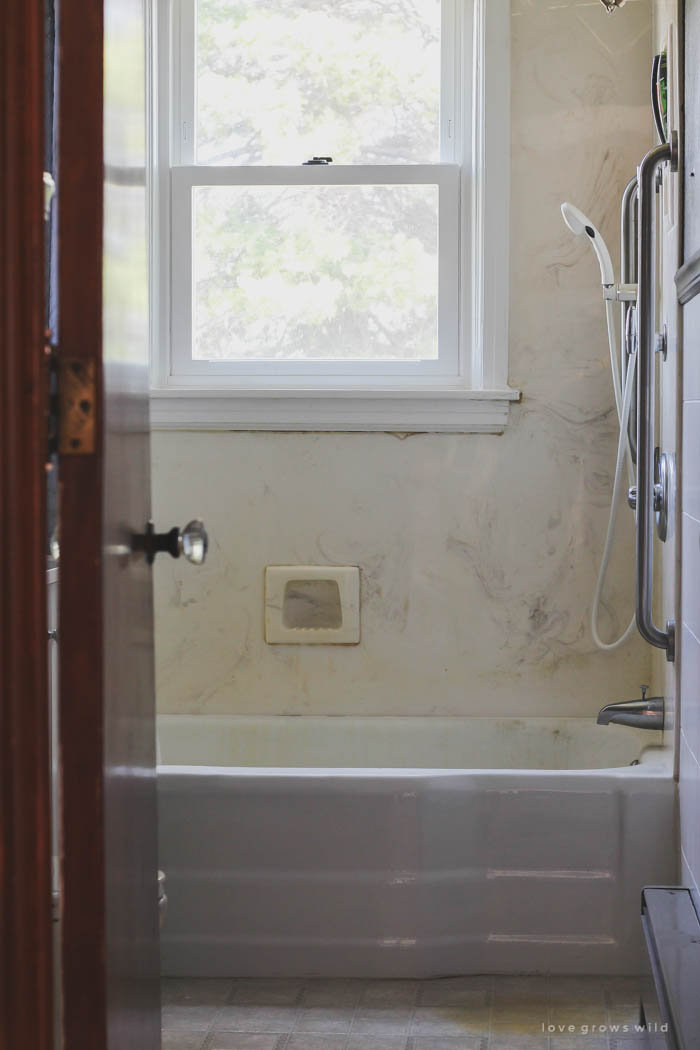 See what I mean about that stain??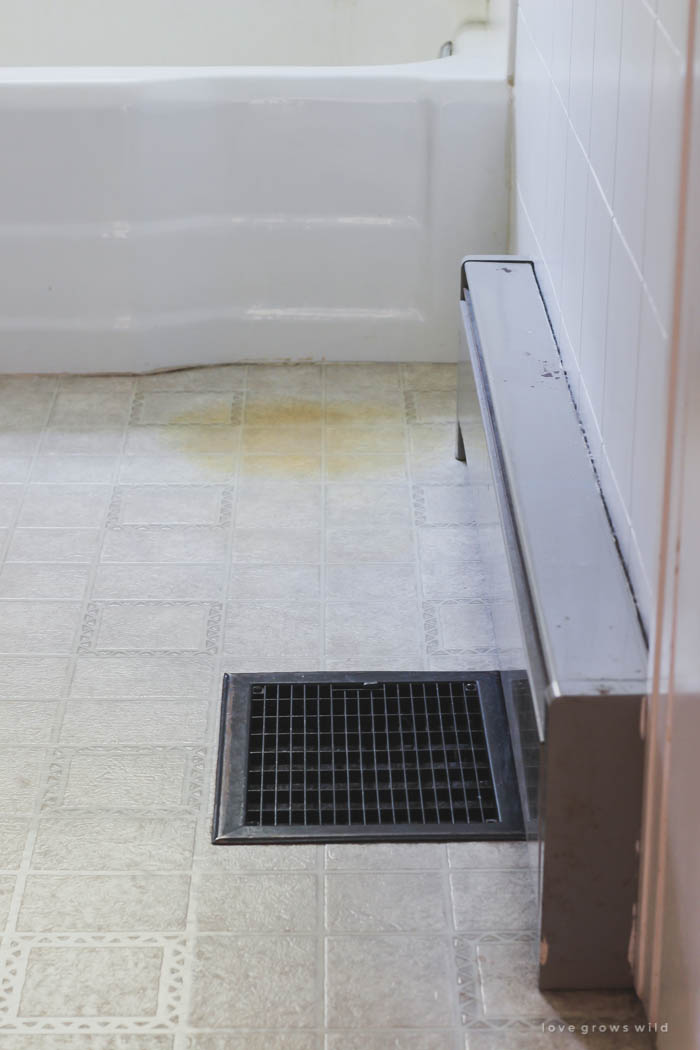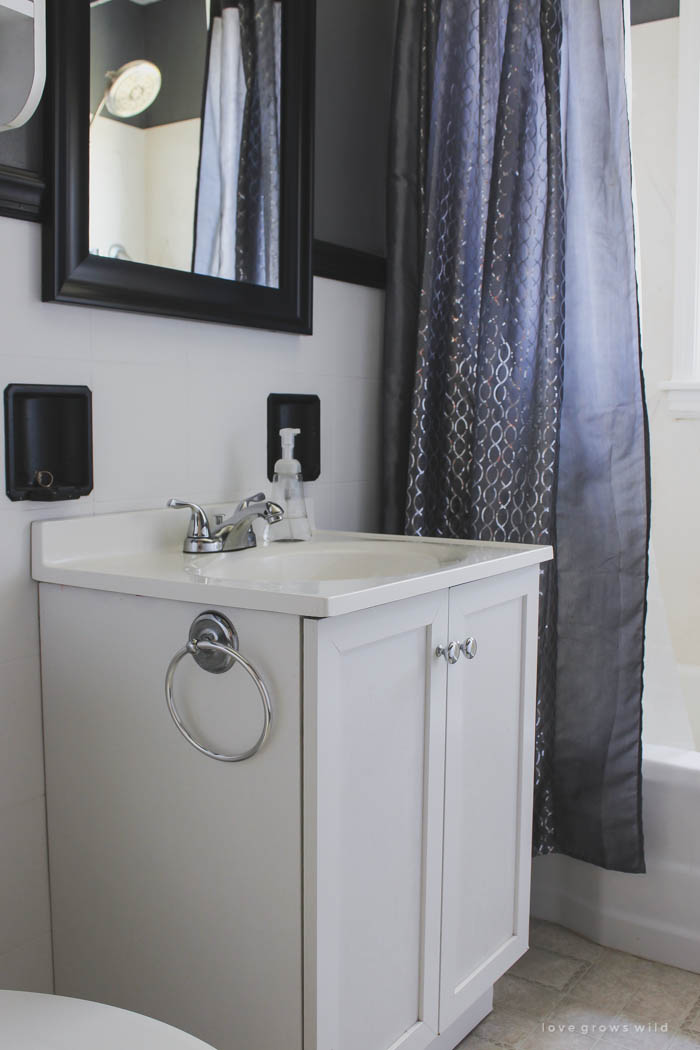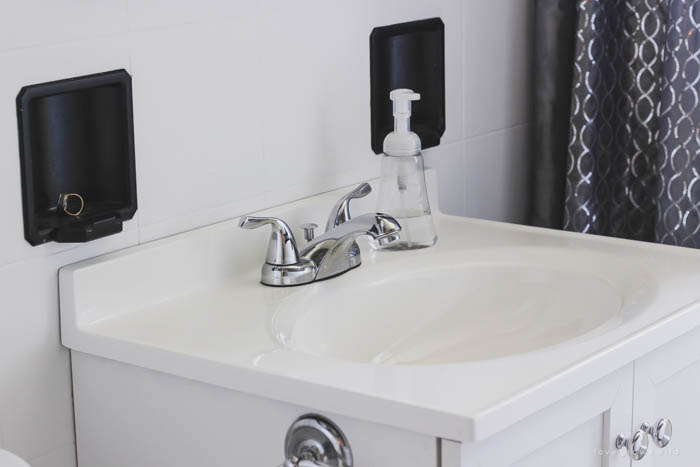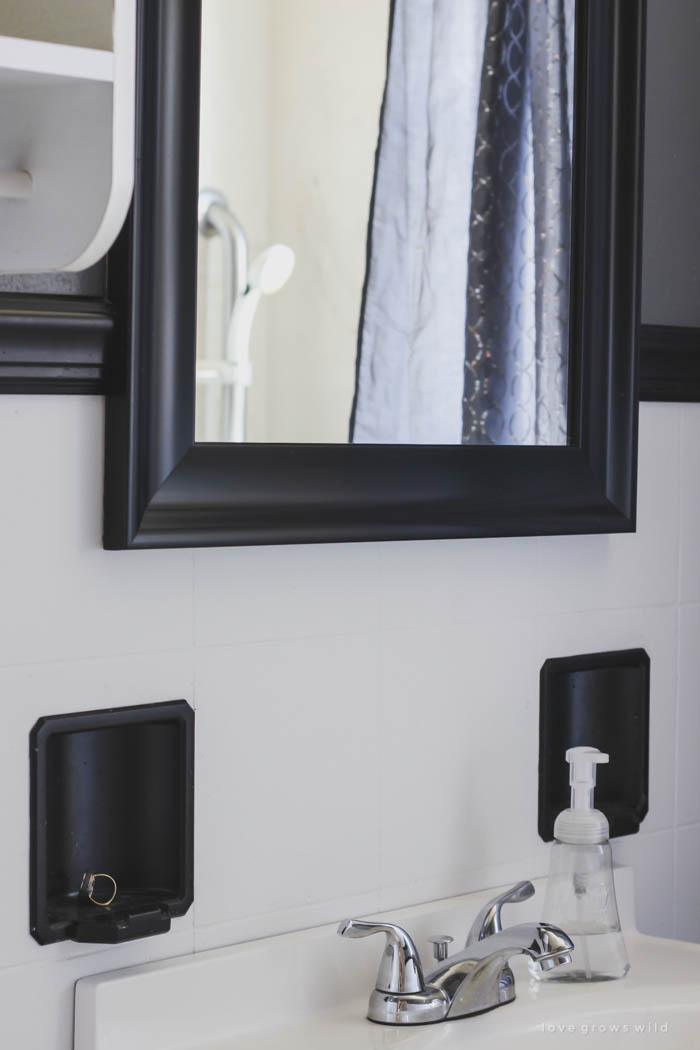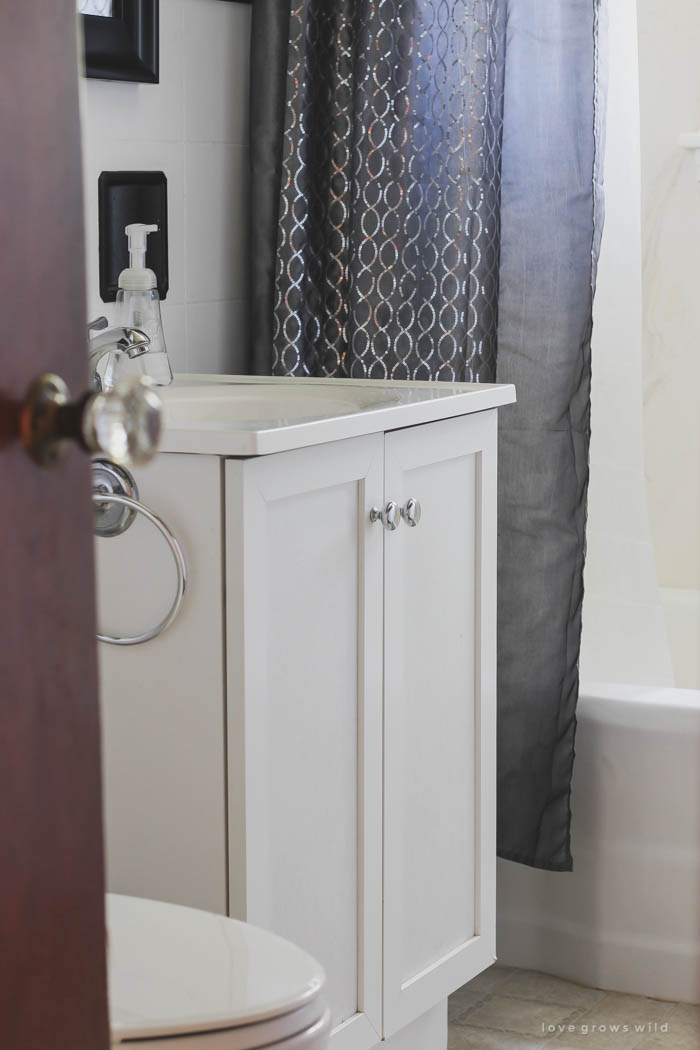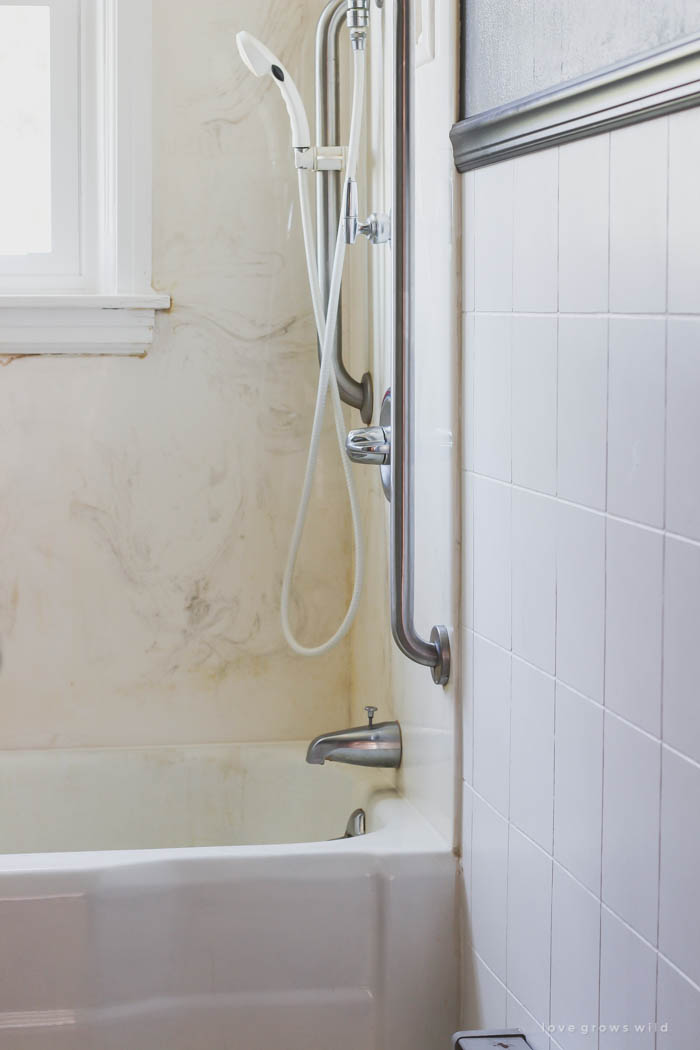 An elderly couple lived here for many years before us and needed extra handrails in the shower, which we obviously do not. The amount of rails, faucets, knobs, and shower heads in here could wash a family of ten all at the same time. Time for them to go!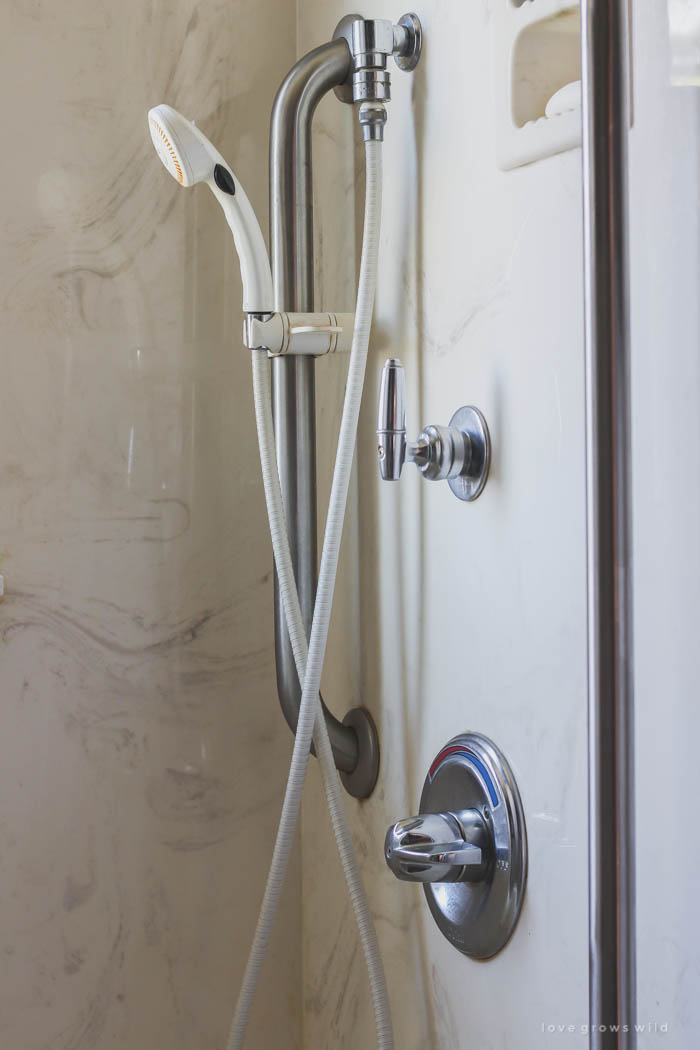 A fancy, sparkly, sequiny, silver shower curtain I bought from Bed, Bath and Beyond almost 4 years ago. Loved it then… not so much now.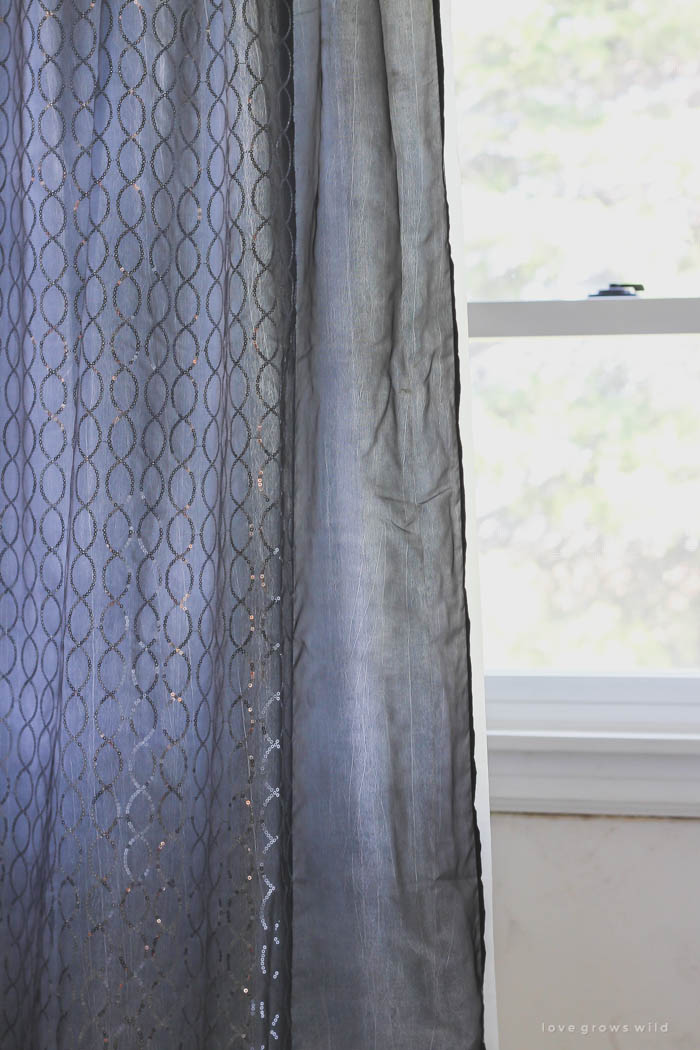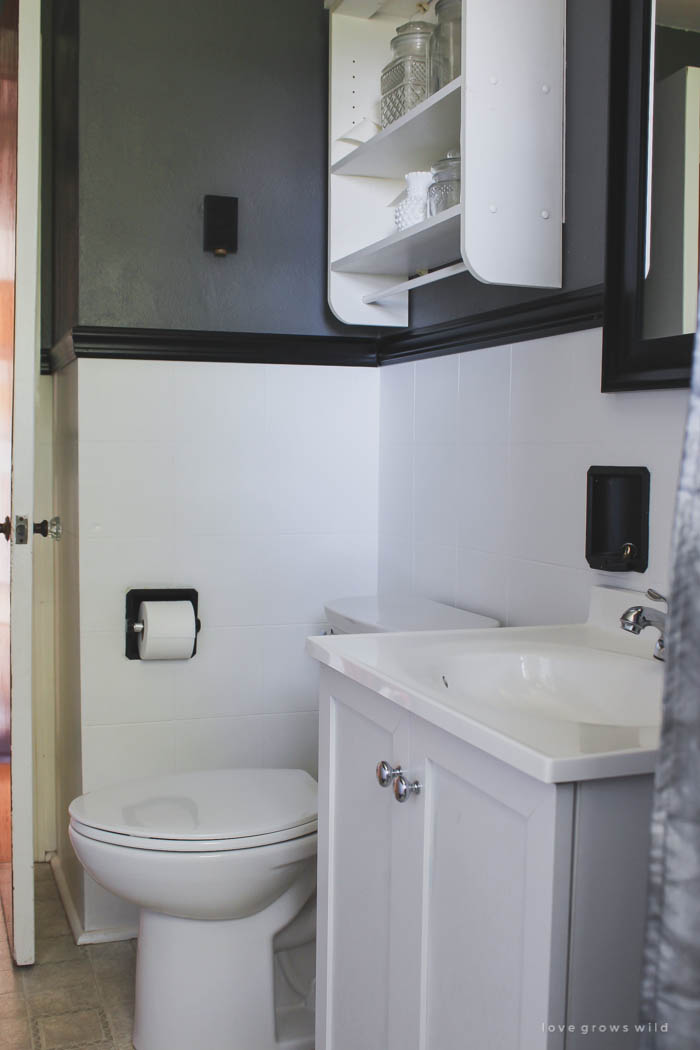 We have a sad, little shelf over the toilet that is falling apart and will definitely be coming down.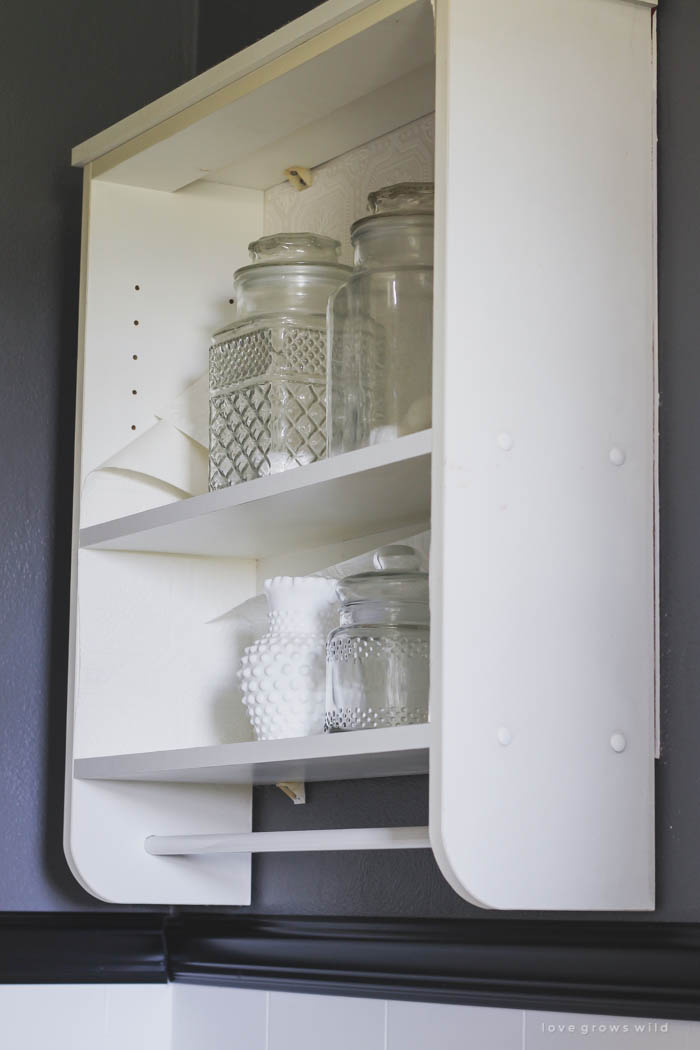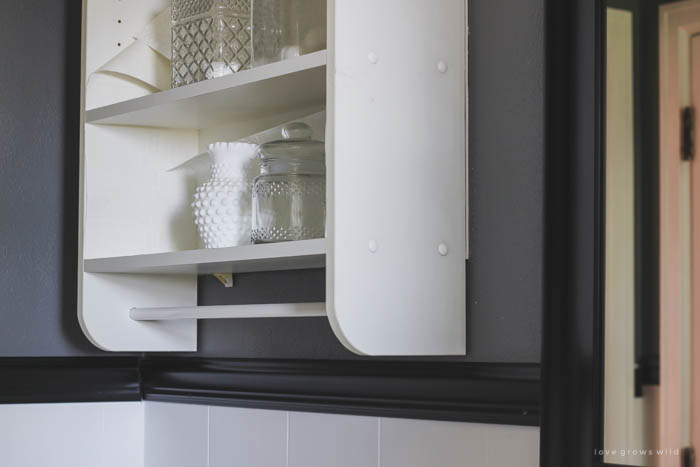 And my FAVORITE part of our bathroom is this… two doors side-by-side that get slammed, banged, and scraped together daily when someone tries to walk into the bathroom and have the closet door open all at the same time. I love having a nice, big closet in here for storage, but I need to figure out a better solution for the door.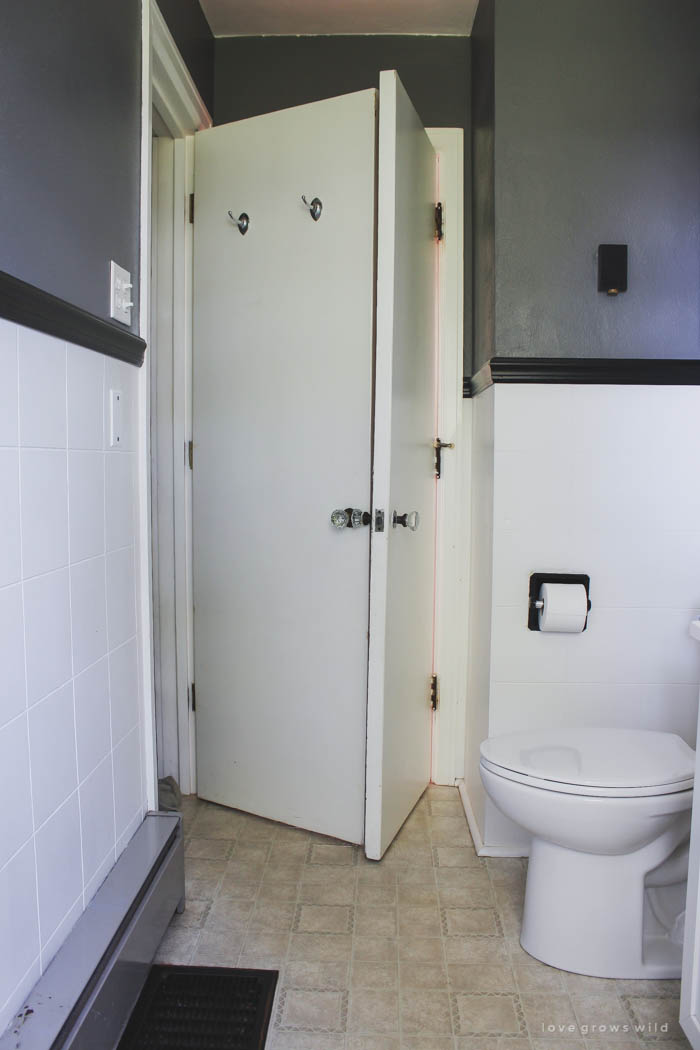 If I've shown you my toilet and gross bathtub, I might as well show you this too. Here's a look at my beautiful, organized, perfectly-styled linen closet…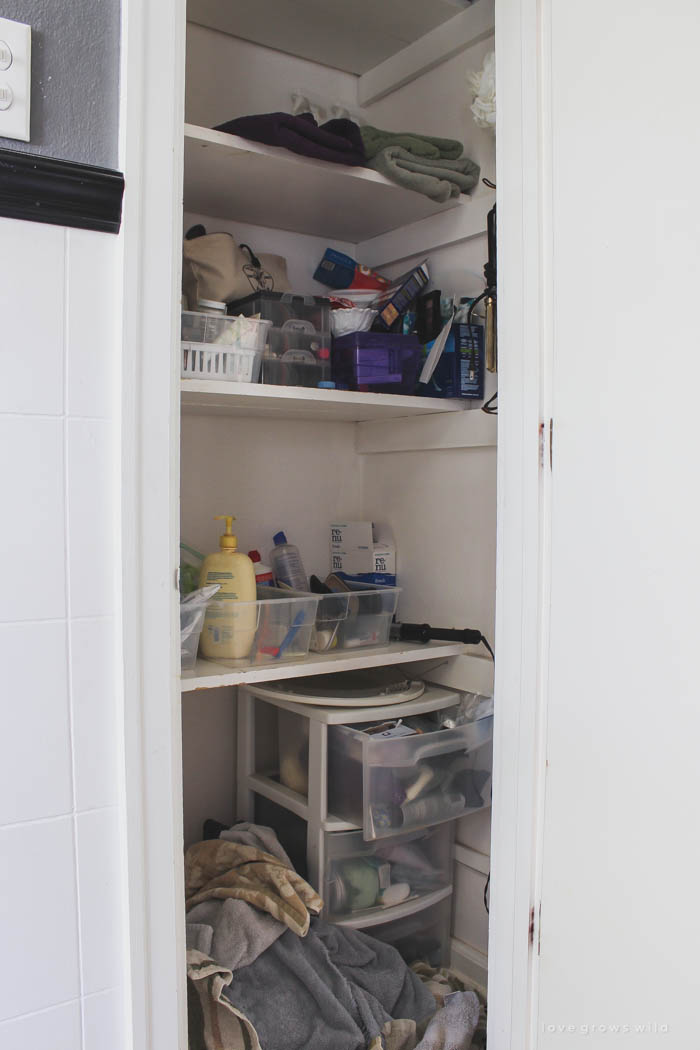 Please tell me that you feel so much better about the way your bathroom closet looks now… lol!
Before we get started on the bathtub makeover, the window in our shower needed to be replaced so the Bath Fitter crew can make a nice, watertight seal around it. We went with a Pella 350 series double-hung vinyl window and had it installed by Lowe's. With Jeremy being in the field now for harvest, I knew we wouldn't have time to do every little project on our own, so I decided to hire out the window and tile install. So far, I'm very happy with that decision! With old homes, you never know what you're going to find when you start tearing into things, so this was definitely the best decision for us right now. In fact, we're having Lowe's come back to replace the rest of the windows in our lower level in the next few weeks… if that tells you anything. 🙂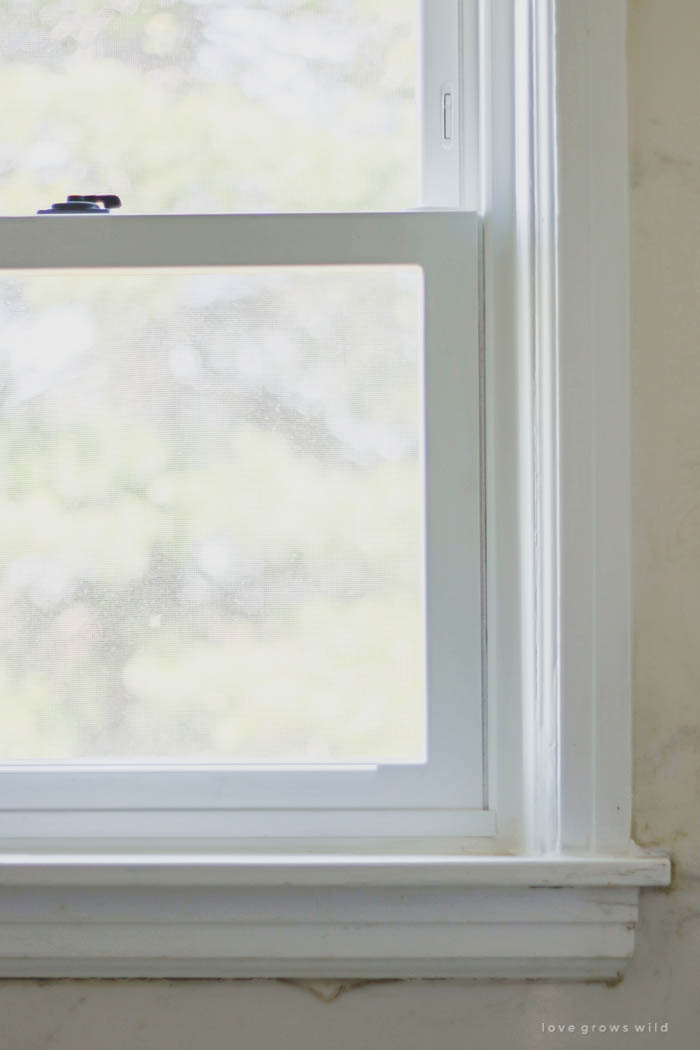 Well, now there are definitely no secrets between us. Once you've seen my bathroom, you've seen it all… haha!
Here's my to-do list for this makeover:
Replace window
Tub/shower makeover
New vanity, sink and faucet
New tile floor
Paint
Replace trim
Add towel hooks
New storage over toilet
New mirror
Clean and organize linen closet
Are you ready to follow us along on another makeover? Be sure to subscribe to our email updates and follow on Instagram for behind-the-scenes sneak peeks!
Any questions on our bathroom or plans for the makeover? Ask away! Just leave a comment below… I'd love to hear from you!
---
LET'S KEEP IN TOUCH!
---
Subscribe to Blog | Browse my Shop | Follow on Facebook | Follow on Twitter
Follow on Google+ | Follow on Pinterest | Follow on Instagram