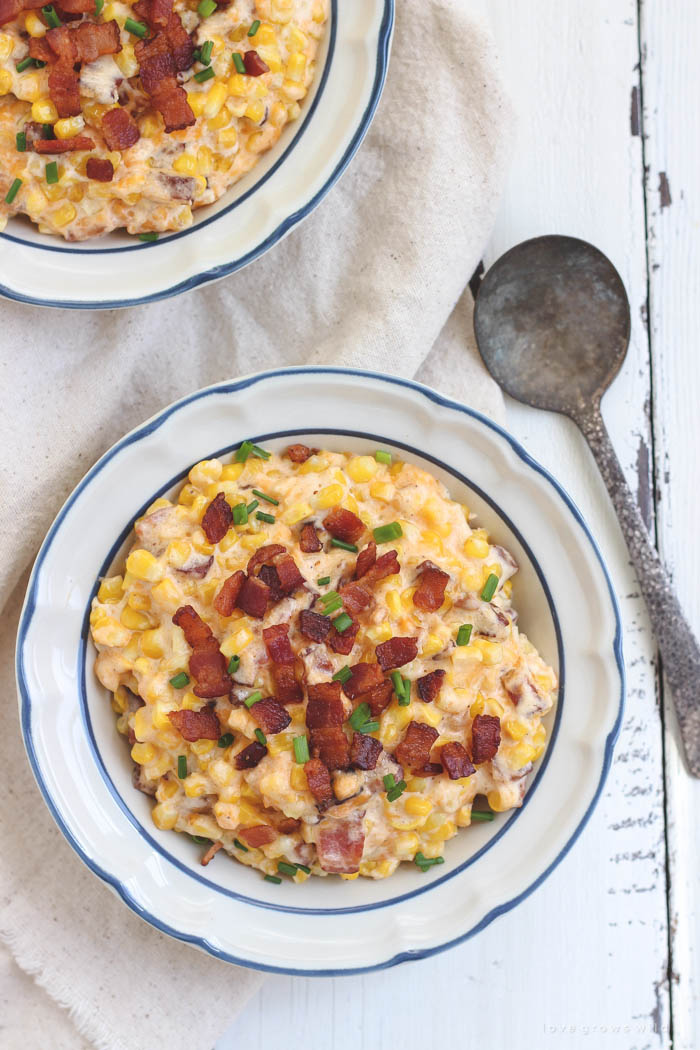 There have been several days over the last few weeks that have felt a lot less like summer and a whole lot more like fall! The temperatures have dropped, a cool breeze has kicked in, and I can already see our crops in the fields starting to change colors. Now I'm not saying that it's time to put away the flip flops and bust out the boots just yet, but the slight change in weather is definitely making me crave some comfort food!
My kindergartner was kind enough to share the cold he brought home from school with me, so I was stuck in bed all weekend sniffling and sneezing. I don't know about you, but colds ALWAYS make me crave comfort food too! It's kind of a weird sensation because when you're sick, you can't smell or taste a darn thing anyway, but at the same time you just want to eat all kinds of yummy food. My cold craving list for this weekend included mashed potatoes, strawberry milkshakes, pancakes drowning in syrup, and broccoli cheddar soup. Also on the comfort food craving list… this Creamy Bacon Corn Casserole!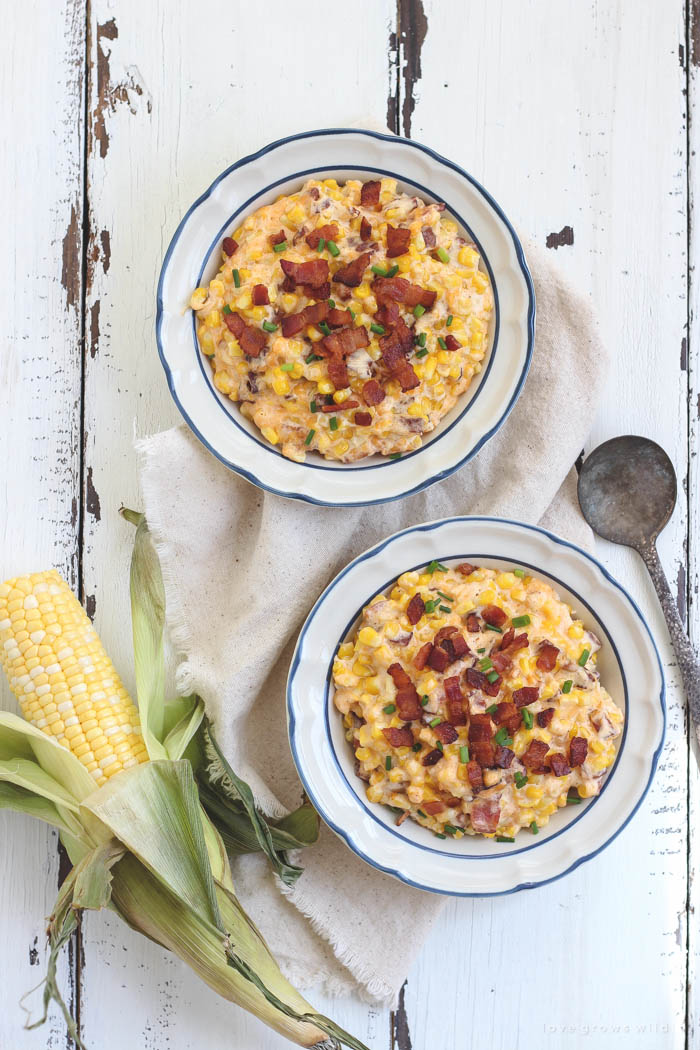 My momma made it for us a few months ago, and although it's completely different from the typical corn casserole you think of (the kind with the corn muffin mix), it is equally as delicious and has BACON. Lots of bacon! It's basically a creamy mixture of milk, butter, cheddar cheese and cream cheese mixed with tender corn kernels and crispy, salty bacon. This is one of those dishes where you pretty much throw all the ingredients together and bake until it's hot and bubbling. No fuss, no mess… just a super simple side dish to satisfy that comfort food craving.
This corn casserole goes well with just about any main dish and also is great for potlucks. It's warm, creamy, rich, cheesy, loaded with bacon, and super satisfying. I like to use frozen corn because we always have it on hand, but you could certainly substitute fresh or even canned if you need to. Try it with dinner tonight! You deserve a little comfort food! : )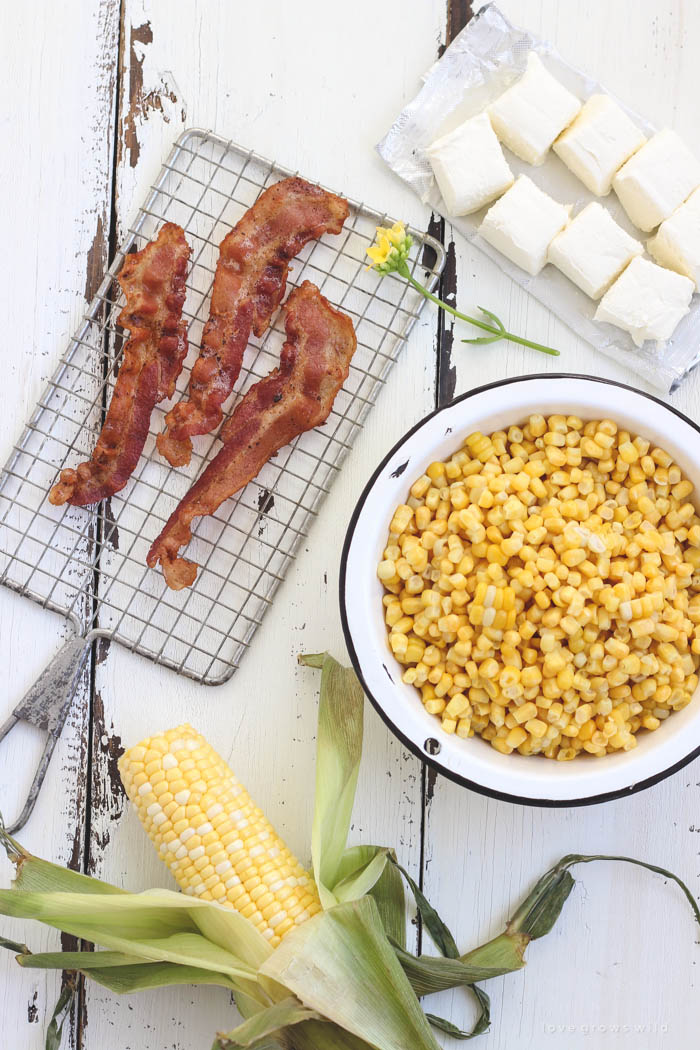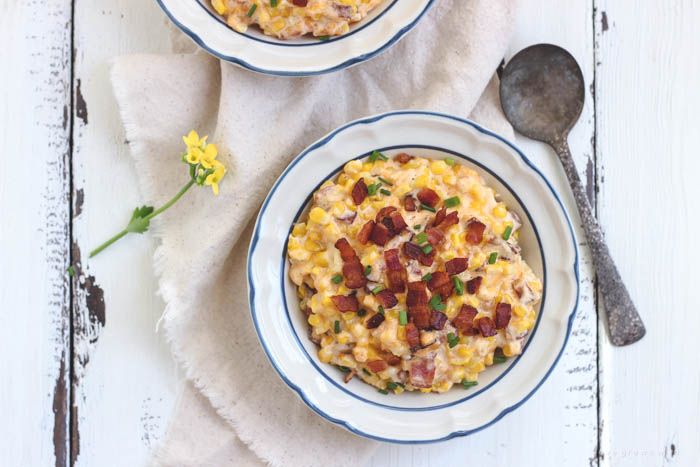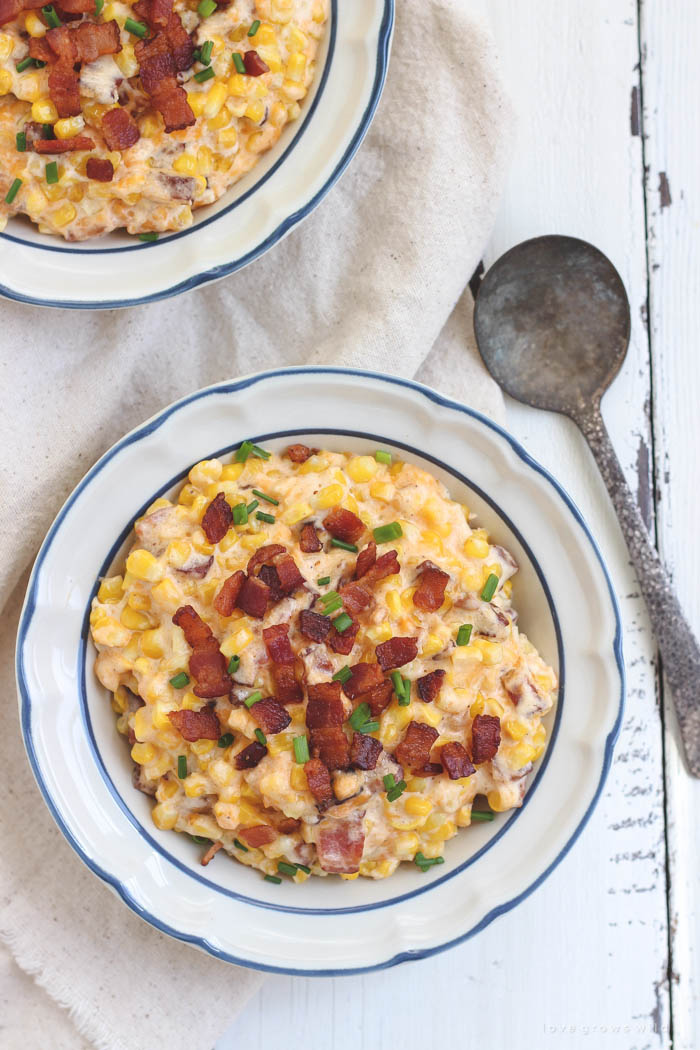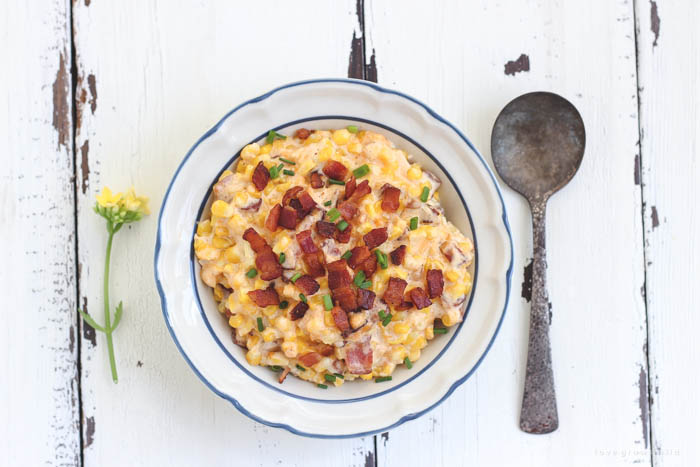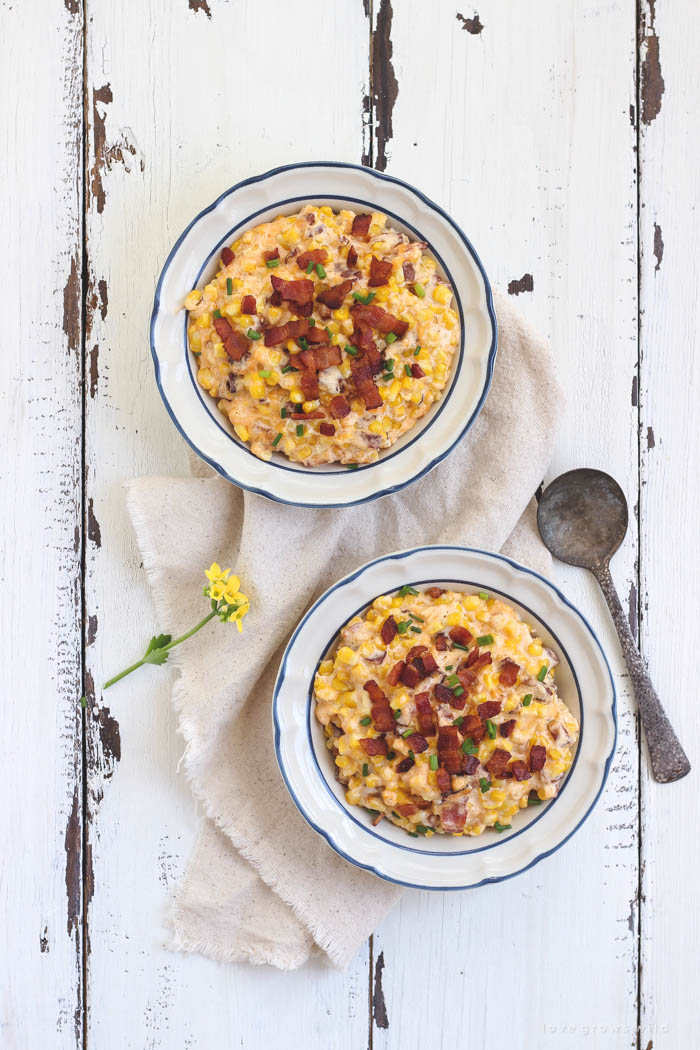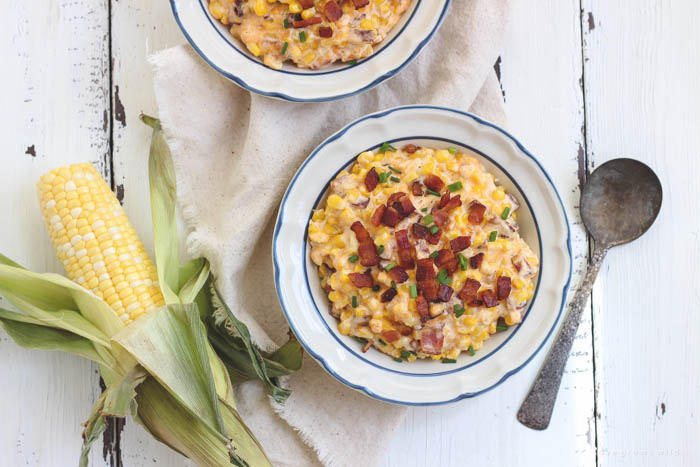 Creamy Bacon Corn Casserole
You must try this easy, mouthwatering side dish! Creamy, cheesy corn casserole hot out of the oven with tons of crispy bacon!
INGREDIENTS
8 ounces cream cheese, room temperature
¼ cup unsalted butter
⅓ cup milk
½ cup cheddar cheese, shredded
¼ teaspoon salt
¼ teaspoon pepper
18 ounces frozen corn kernels
1 pound bacon, cooked and crumbled
INSTRUCTIONS
Preheat oven to 350ºF. Add the butter and cream cheese to a large saucepan set over medium-low heat and stir until melted. Pour in the milk and stir until mixture is completely smooth and creamy. Add the cheese, salt and pepper and stir until cheese is melted. Stir in the corn and bacon and pour mixture into an 8 x 8 inch baking dish. Bake for 20 minutes until heated through and bubbling.
NOTES
- If desired, reserve some the of the cheese and bacon to use as a garnish on top of the casserole along with chopped chives.
---
More side dishes you'll love:
---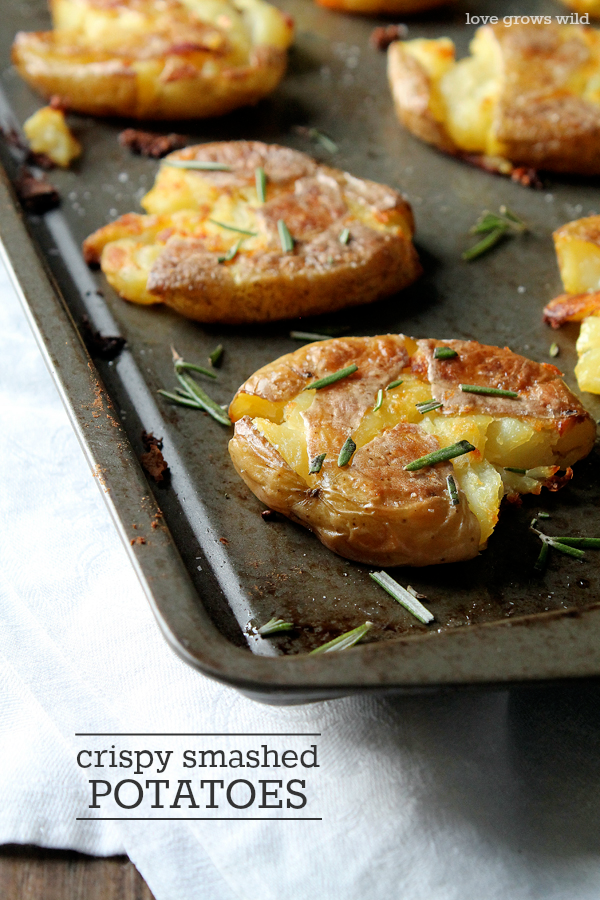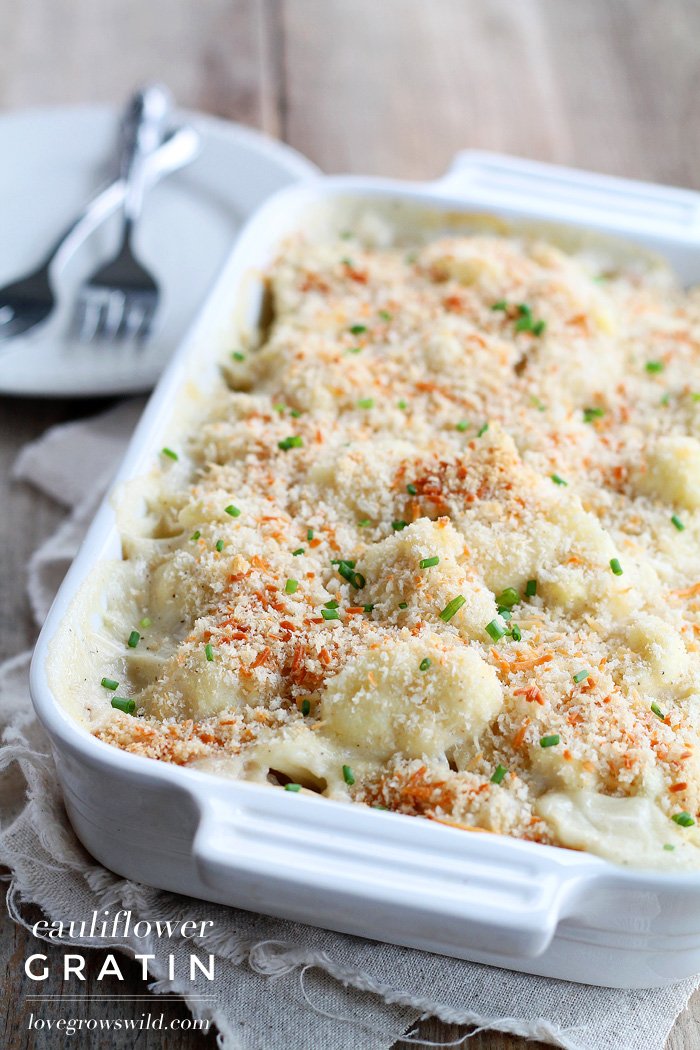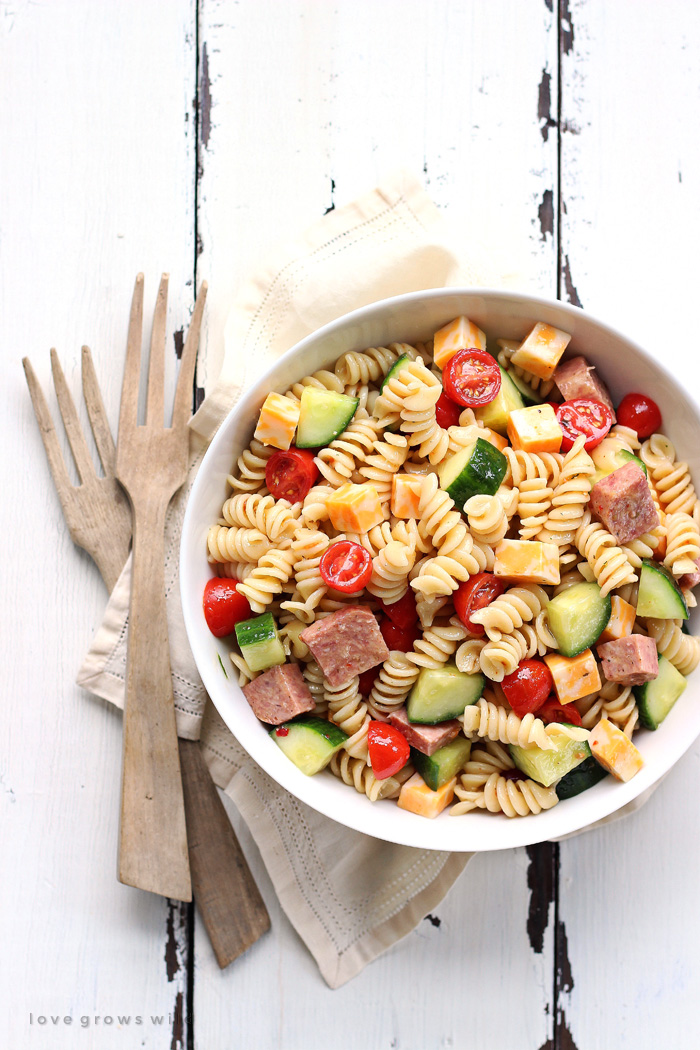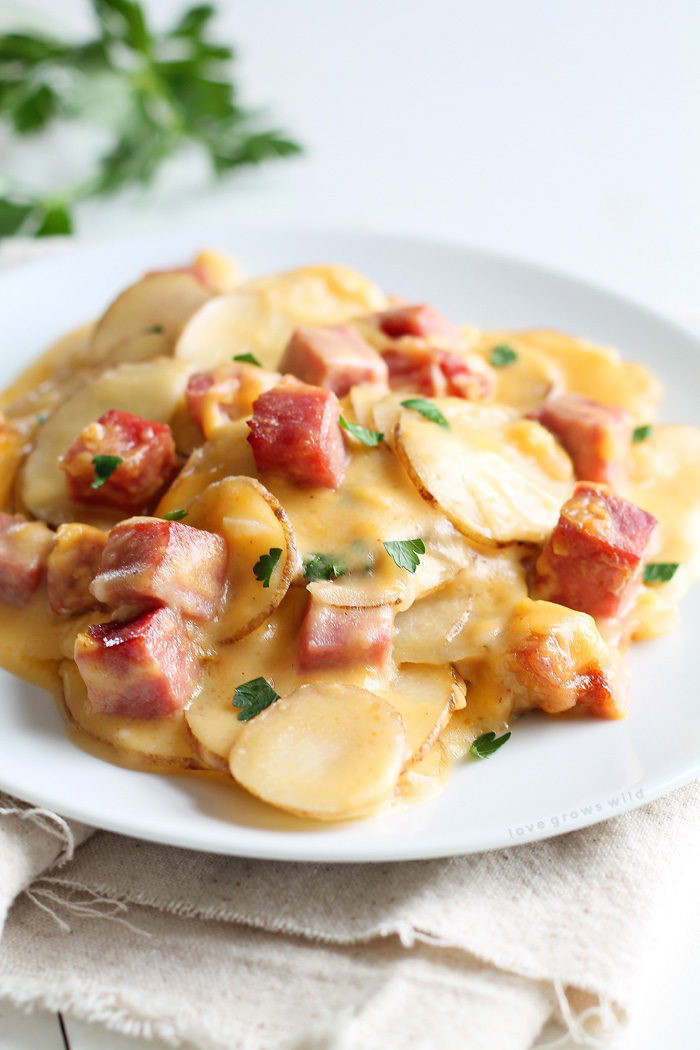 Cheesy Scalloped Potatoes with Ham
---
LET'S KEEP IN TOUCH!
---
Subscribe to Blog | Browse my Shop | Follow on Facebook | Follow on Twitter
Follow on Google+ | Follow on Pinterest | Follow on Instagram