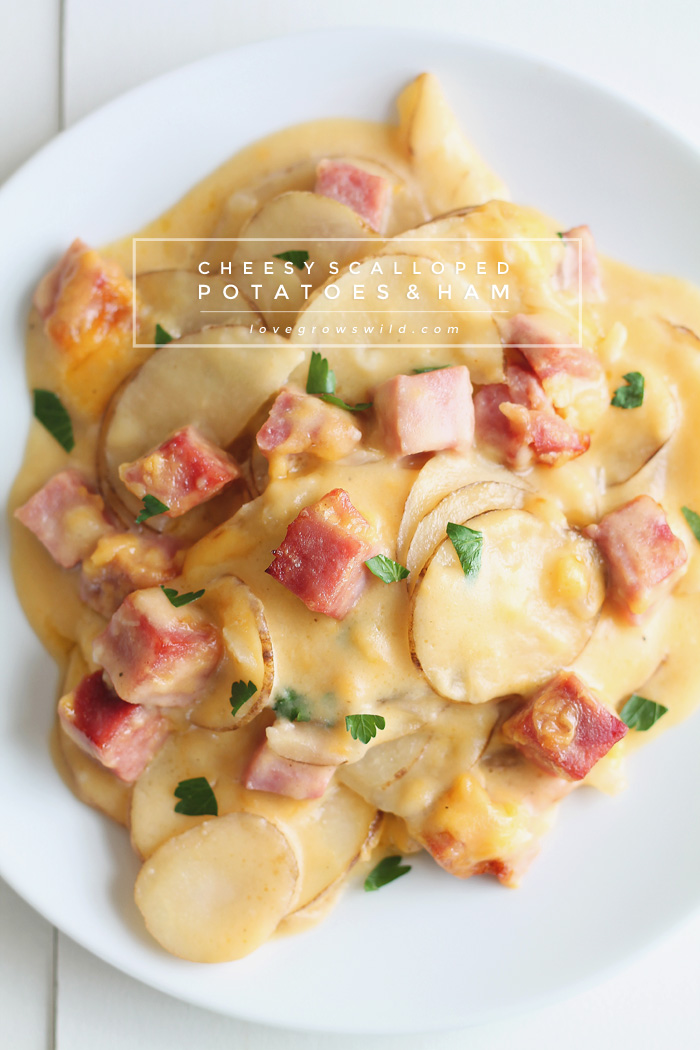 Thinly sliced potatoes and diced ham smothered in a creamy, super cheesy sauce and baked to perfection! This recipe is perfect for using up that leftover ham from the holidays and makes a delicious, hearty side item OR a comforting main dish.
How was your Easter? Did you eat lots of good food? Go on any Easter egg hunts? I'm pretty sure I ate my weight in Reese's eggs this weekend… yikes, how many weeks till swimsuit season starts??
Today I have the PERFECT recipe to make use of all that leftover ham you have sitting in your fridge. It involves lots of thinly sliced potatoes, bite-size chunks of that delicious ham you just cooked, and the most luscious, creamy, dreamy cheese sauce you've ever seen. We're making cheesy scalloped potatoes today, my friend!
These potatoes required a good amount of bake time in the oven, but the process of putting it all together is pretty quick and simple. First, you slice up 2 pounds of potatoes as thin and even as you can. If you have a mandolin, you'll definitely want to get it out of the cabinet for this recipe. A sharp knife will work fine too, but a mandolin lets you make nice, even slices much thinner than a knife will.
Side note: Keep an eye on your fingers, okay? These potatoes are good, but not worth chopping off the tip of your finger over. Always exercise caution and safety when it comes sharp knives and mandolins, friends. 🙂
Kitchen Tip:
The potatoes will turn brown pretty quickly as you slice them, so keep a big bowl of cold water next to you and drop the potatoes in the water as you slice. This will keep them from browning on you! When it's time to assemble the dish, just drain the potatoes and pat them dry with a clean kitchen towel.
Layer some sliced potatoes in a baking dish, then sprinkle on some of that leftover ham, and top with a layer of glorious cheese sauce. Now repeat… potatoes, ham, cheese sauce. Cover the dish with foil and bake for about 45 minutes, then remove the foil about bake for another 20 or 30 minutes. When the scalloped potatoes come out of the oven, they will be perfectly tender, and the top will be bubbling and golden brown around the edges. It really is a pretty dish, I tell ya.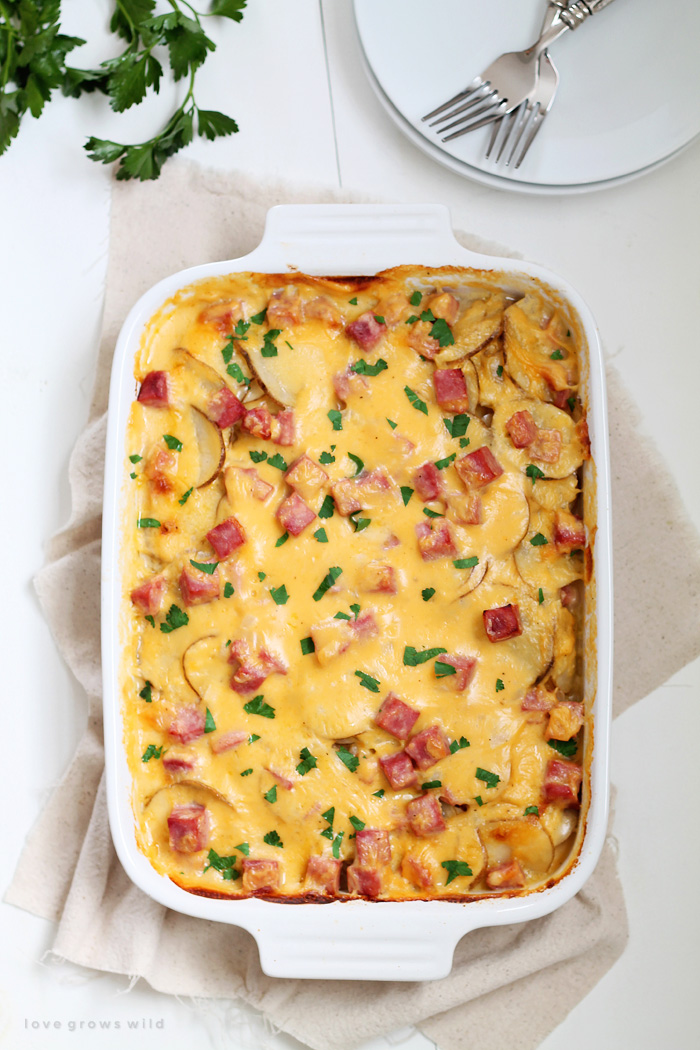 My last tidbit of advice: let this puppy cool about 10-15 minutes before serving. It needs that time to rest and let the sauce "set up" a bit before diving in. I actually think these potatoes get even better the longer they sit. I may or may not sneak bites of it cold out of the fridge. Just sayin'. 🙂 And of course, you don't have to wait until after a holiday meal to make this dish. You can pick up a small package of ham from the store or even leave the ham out of it entirely. I definitely prefer it with the ham, but that's always an option!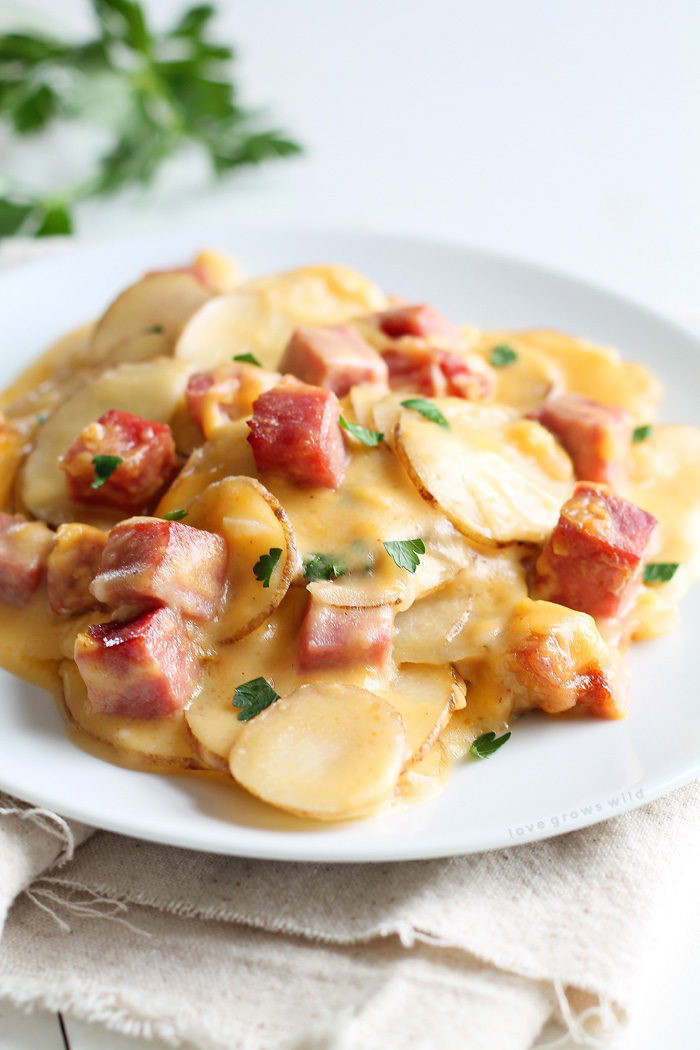 Now I have an honest confession to make… our oven has seen better days. It's basically older than dirt and could use a good cleaning, but especially after all the holiday cooking we did, it REALLY needed some love and attention.
Not only does a dirty oven look nasty, but it can sour the food you're cooking in there as well. I used a can of Easy-Off Fume Free to get rid of all the grease and spilled food in there, and now it's back in tip-top shape again. How does one family make an oven so dirty?? Easy-Off worked quickly, didn't stink up the whole house, and got rid of all that baked-on grease like a champ. See… 🙂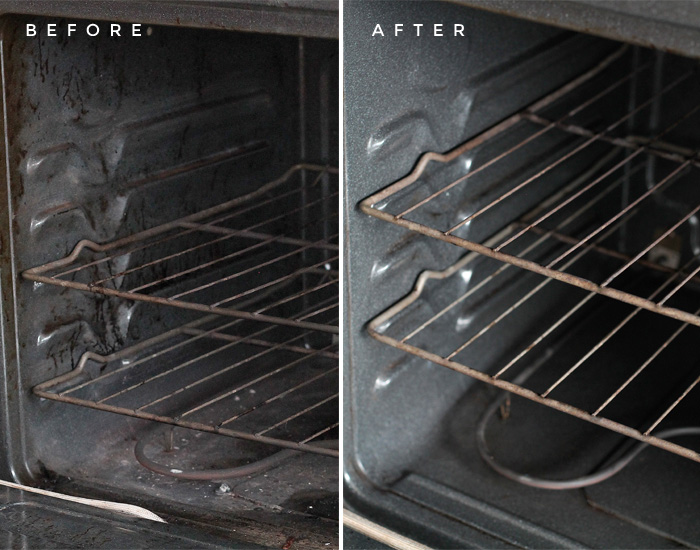 Visit Easy-Off at http://www.easyoff.us/ to learn more!
---
Like what you see? Subscribe to Love Grows Wild so you'll never miss a post!
Follow along on Pinterest, Google+, Instagram, and Facebook for more fun!
Cheesy Scalloped Potatoes with Ham
Thinly sliced potatoes and diced ham smothered in a creamy, super cheesy sauce and baked to perfection!
INGREDIENTS
4 tablespoons unsalted butter
1 cup diced onion
2 garlic cloves, minced
⅓ cup all-purpose flour
3 cups milk (I used 2%)
½ teaspoon salt
¼ teaspoon pepper
2 cups sharp cheddar cheese, shredded
2 pounds russet potatoes, washed and very thinly sliced
1 pound diced ham (about 4 cups)
fresh parsley, for garnish
INSTRUCTIONS
Preheat oven to 350ºF and coat a 3 quart baking dish in nonstick cooking spray. Melt butter in a large skillet over medium heat. Add onion and cook, stirring occasionally, for 4 minutes. Add garlic and cook for another 1-2 minutes until garlic is fragrant and onions are tender. Sprinkle in flour and cook, stirring, for 1 minute. Whisk in milk and cook until sauce is thickened and bubbly, about 4-5 minutes. Add salt, pepper, and cheese and stir until cheese is melted. Remove sauce from heat.
Place half the sliced potatoes in bottom of prepared baking dish. Top with half the ham, then pour on half the sauce. Repeat layers and cover dish tightly with foil. Bake covered for 45 minutes, then remove foil and bake for another 20-30 minutes until potatoes are tender and top is golden and bubbly. Let cool 10-15 minutes before serving. Garnish with fresh chopped parsley, if desired.
NOTES
- Using a mandolin to slice the potatoes is the easiest way to get super thin, even slices, but a sharp knife will also work. If your potatoes are sliced thicker, you may need to adjust the cooking time a few minutes.
- The potatoes will turn brown quickly while you're slicing them, so drop them in a bowl of cold water once they're sliced and drain when you're ready to assemble the dish.
– adapted from Better Homes and Gardens New Cookbook
---
Are you making this recipe? I'd LOVE to see it! Post a photo of your creation on Instagram and use the hashtag #MyLGWRecipe. It may just get featured!
---

This is a sponsored conversation written by me on behalf of EASY-OFF. The opinions and text are all mine. Thank you for supporting the brands that make this blog possible!
---
LET'S KEEP IN TOUCH!
---
Subscribe to Blog | Browse my Shop | Follow on Facebook | Follow on Twitter
Follow on Google+ | Follow on Pinterest | Follow on Instagram